October 13 - 19, 2019: Issue 424
Post Spring School Holidays Catch-Up On Pittwater Estuary And Beach Events

Palm Beach Sailing Club Hosts Round 1 WCAA Summer Series 2019/2020 + Royal Motor Yacht Club Broken Bay Multihull Division Hosts 2019 Lock Crowther Regatta + BL's Blast Off 2019
Palm Beach Sailing Club Hosts Round 1 WCAA Summer Series 2019/2020
Round 1 of the WINDSURFER CLASS ASSOCIATION OF AUSTRALIA 2019/2020 NSW City Summer Series was held at Palm Beach Sailing Club on Saturday the 5th of October 2019. This was the first windsurfing regatta held at the club in 40 years.

SPECIAL THANKS
WCAA for bringing the event to PBSC
Richard Lacey, Al Haynes, Peter Doolan, and their windsurfing crew for setup
Nick Elliott from RPAYC for bringing along his rib and the two young ladies who drove it around the bay adjusting the course as the conditions continually changed. Without your assistance it would have been a tough day !!! Very much appreciated.
The 20+ LT windsurfers that came along to make it a fantastic day
To my start boat crew of Joan and Sam for helping set the course, scoring, photos, etc.
Everyone that helped out and contributed
Below run our race report and results from Round 1 of our NSW WINDSURFER CITY SUMMER SERIES
A good start to our season and at such a friendly club just getting back into Windsurfing again. Thanks again Palm Beach Sailing Club and all the volunteers who helped along the way!
As a welcome relief to Peter Doolan and Al Haynes, Walshy assisted with preparation of race results on the day and Mal Rofe has taken on official scoring and spreadsheet duties as seen below.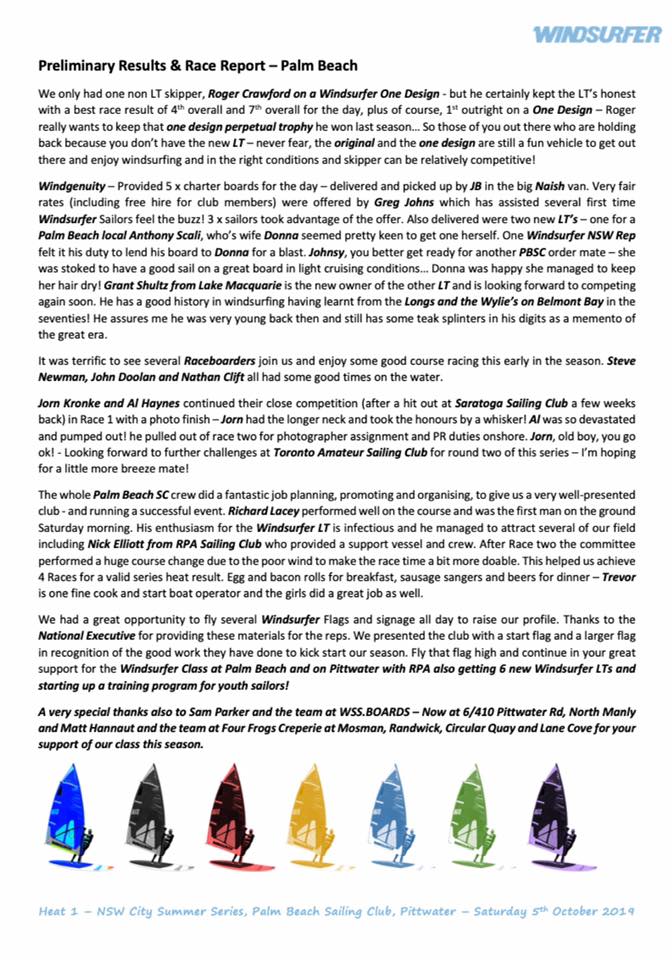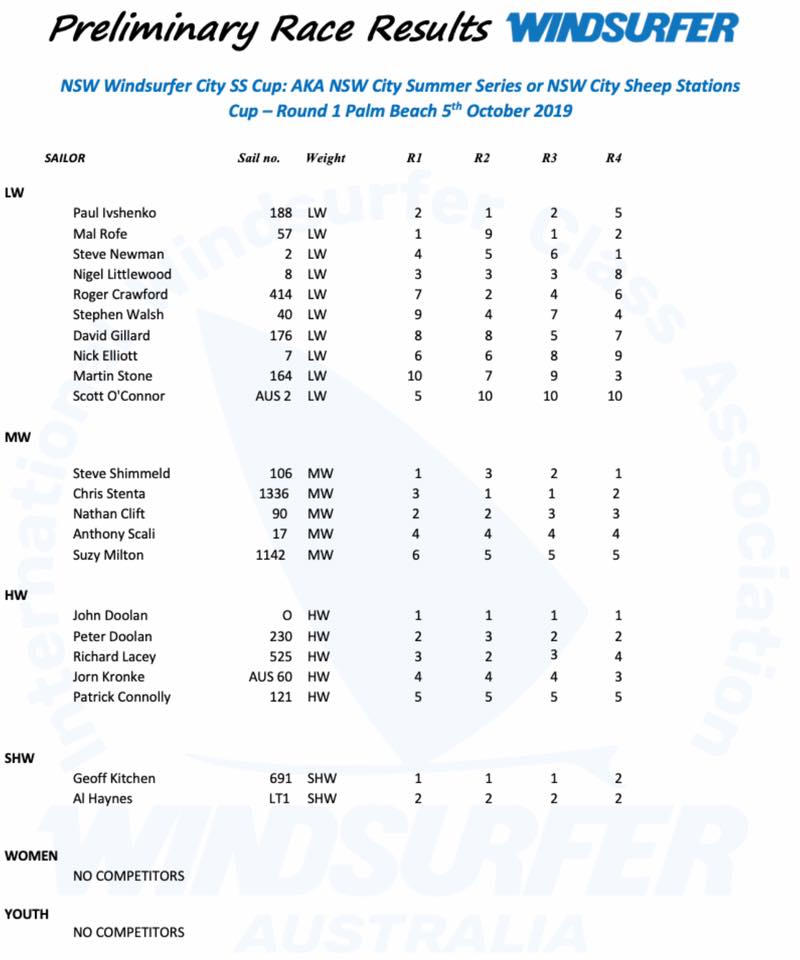 NSW Windsurfer Class Association: NSW Summer Series
The WCAA Summer Series is back - Bigger and Better.
5 BIG events, 5 TOP locations
Do one or do them all. Great racing and good times assured.
Enter the series!
Heaps of prizes and loads of fun.
Heat 1 - Saturday 5 Oct 2019 - Palm Beach Sailing Club
Heat 2 - Sunday 10 November 2019 - Toronto Amateur Sailing Club
Heat 3 - Sunday 12 Jan 2020 - Narrabeen Lakes Sailing Club
Heat 4 - Saturday 8 Feb 2020 - Dobroyd Aquatic Centre
Heat 5 - Sunday 22 March 2020 - Hunters Hill Sailing Club
A small selection of photos: By/from Trevor Gourlay, PBSC - MORE HERE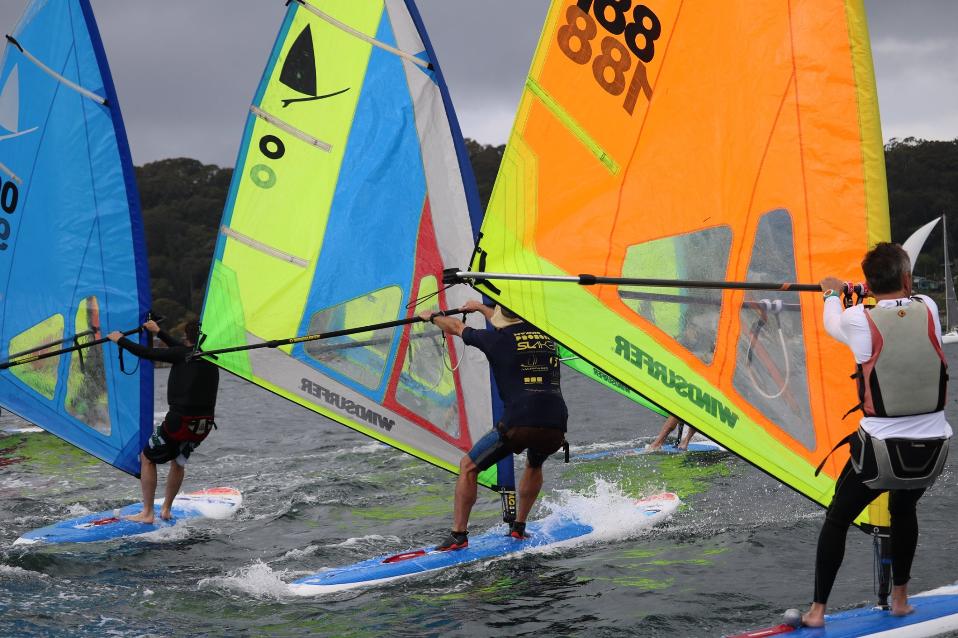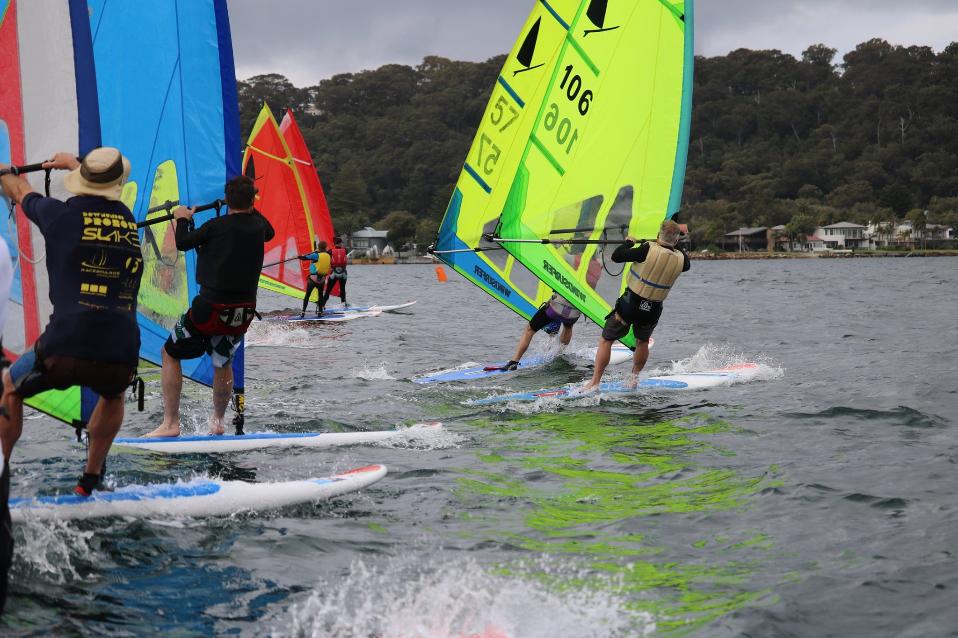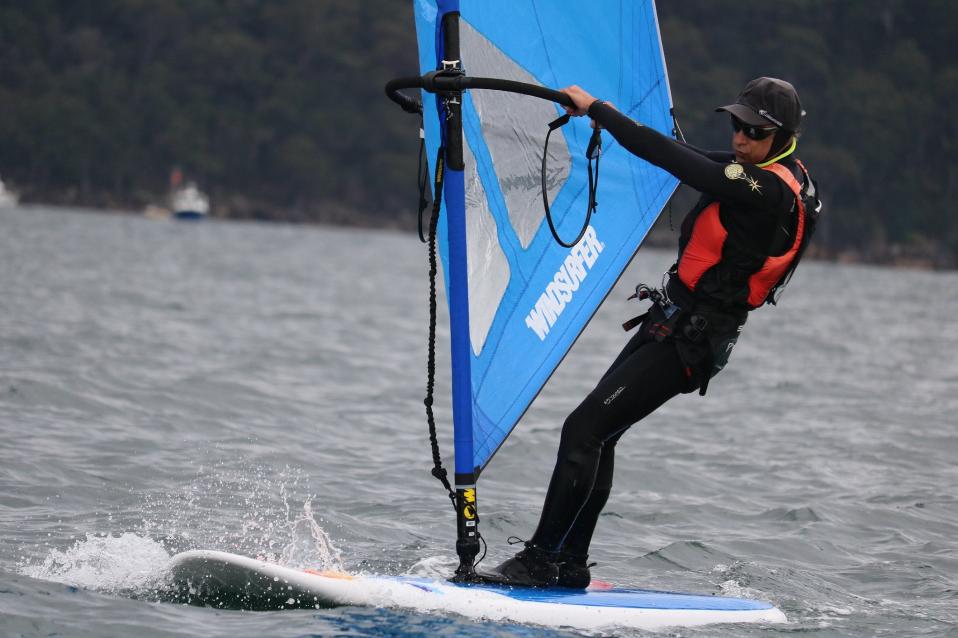 RMYC BB Multihull Division Hosts Lock Crowther Regatta 2019
Lock Crowther was regarded as a world class Australian pioneer of multihull yacht design. We recognise his dedication to the development of the modern multihull and name this Regatta in his honour.
The Lock Crowther Regatta has been hosted by the RMYC since 1996 and offers multihull owners both exciting racing and cruising programs.
Once again the regatta was held over the October long weekend on the beautiful waters of Pittwater and Broken Bay, NSW - starting with an optional Blue Water Classic ocean race on Friday 4 October 2019 for Safety Category 4 equipped boats with 4 inshore races to be sailed over Saturday 5 October and Sunday 6 October 2019.
We are pleased to announce Multihull Solutions has come onboard again as major sponsor of the 2019 event and we acknowledge and thank them warmly for their generous support.
Here's an outline of what was arranged for the weekend:
Five races over three days - Exciting prize pool on offer - First class marina facilities - PHS and OMR handicap formats - Launching area for trailable boats - Trailer storage area - Free skipper's regatta shirt - Family entertainment facilities, including swimming pool - Friday evening welcome BBQ - Breakfast and take-away lunch available - Sumptuous Sunday evening Presentation Dinner.
Lock Crowther Regatta 2019, Top Gun takes Line Honours every race, First OMR in the Ocean Race, Third Overall OMR, First Overall PHS, Second PHS Ocean Race.
Thanks to a great boat and an awesome crew. Well done and thanks Jamie, Tim, Carlee and Lee, you guys were all superb in getting the big boat around the short Pittwater courses.
Big thanks to the Crowther family represented by Lock's wife Beryl and daughter Michelle for presenting trophies and Stephen and Alan and all the volunteers that made this a fantastic regatta. - Darren Drew, Top Gun
Lock Crowther 2019 Ocean Race Results: PHS, Line-Honours and OMR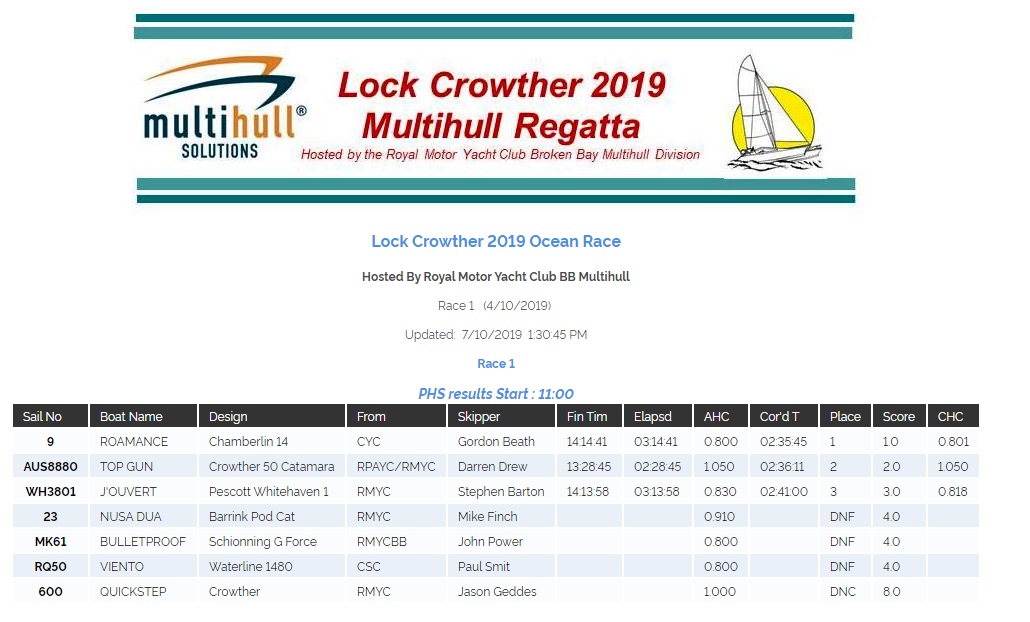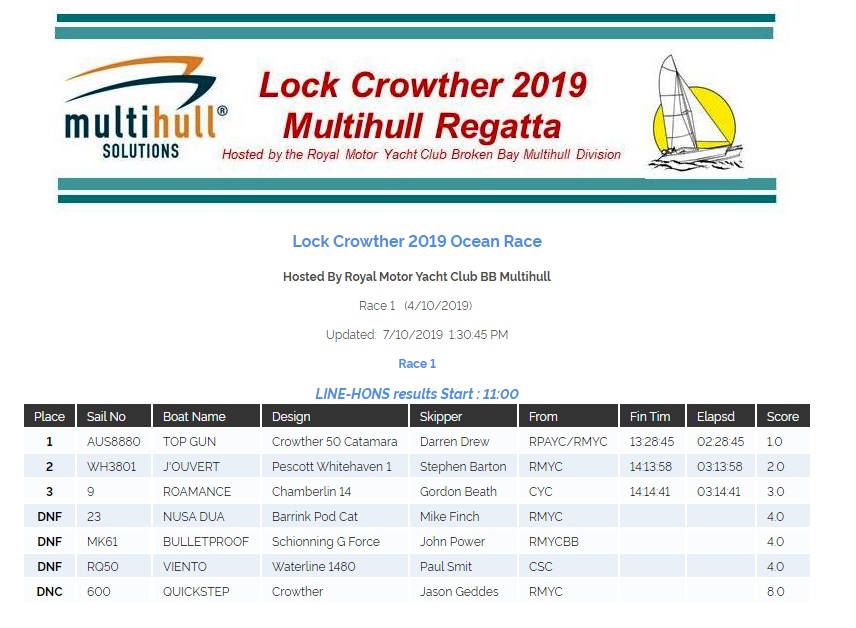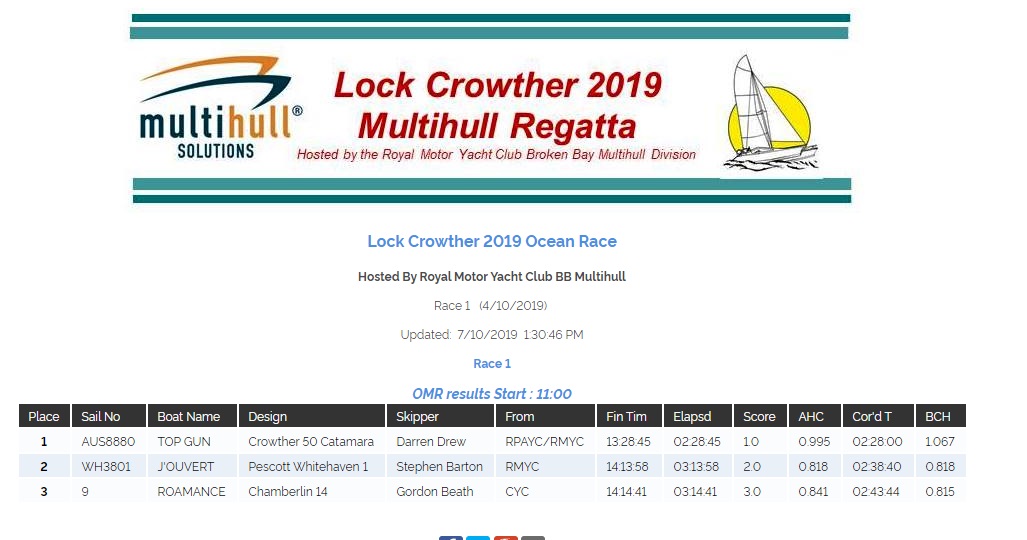 Lock Crowther 2019 Multihull Regatta Results: PHS and OMR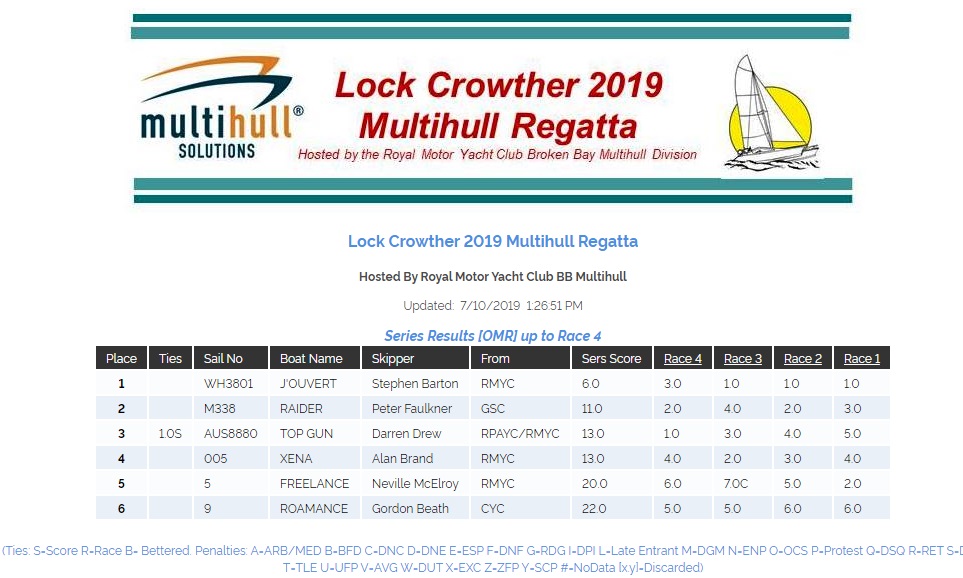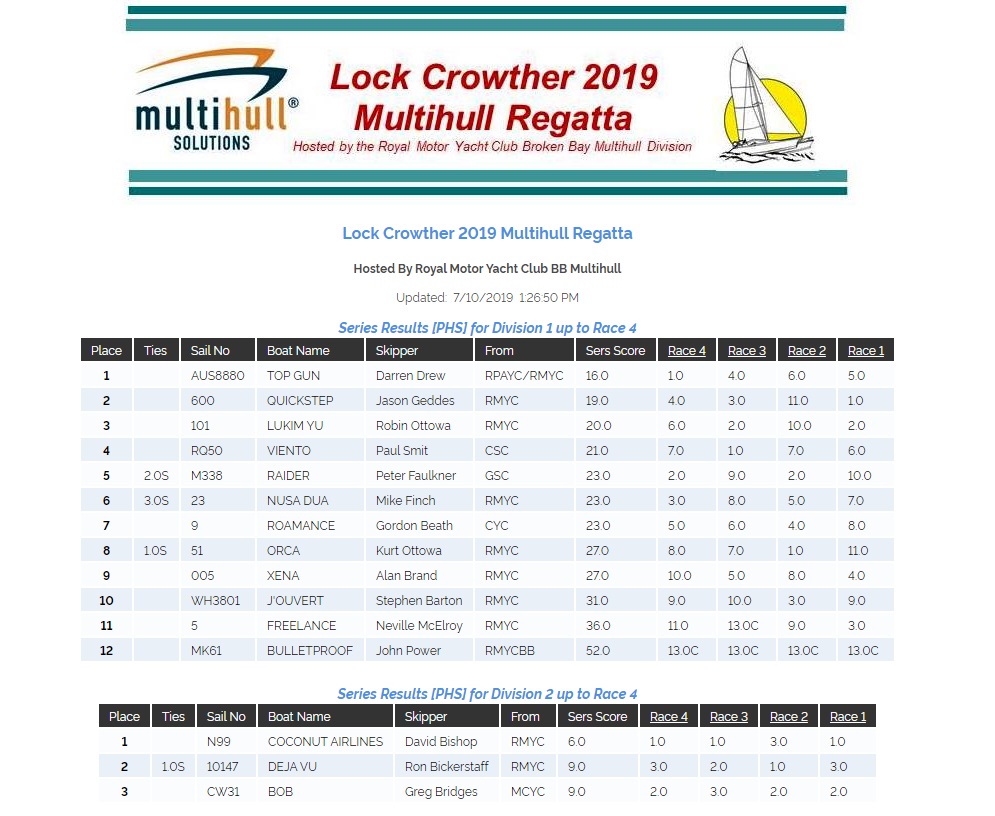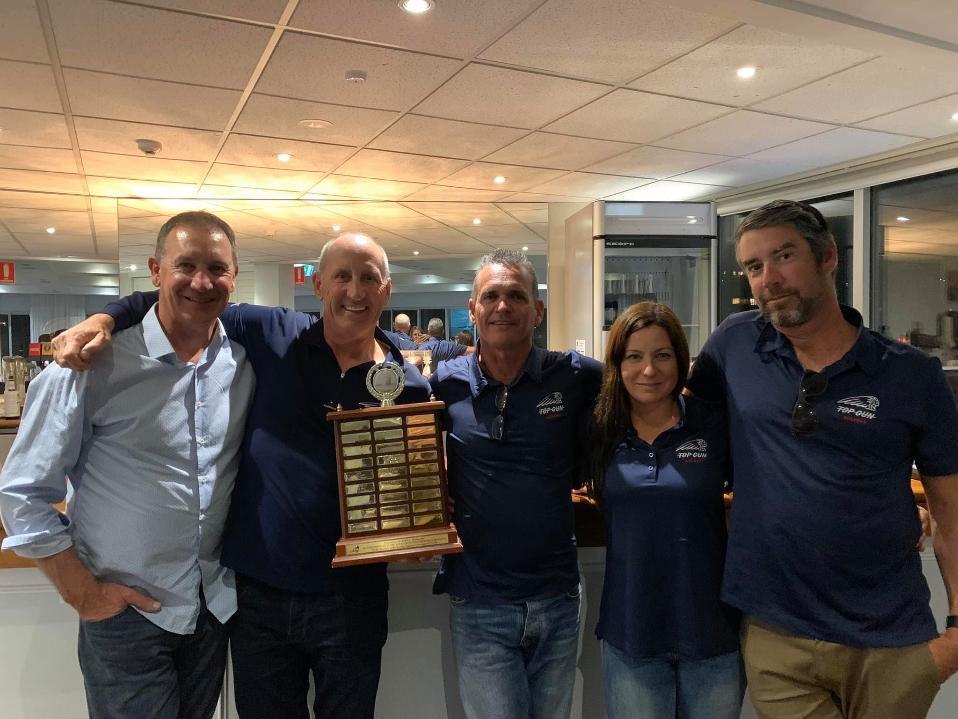 BL's Blast Off 2019
BL's BLAST OFF is Australia's largest youth surfing development event, run by 1988 World Champion Barton Lynch. In 2019, the 14th annual BL's Blast Off ran from Tuesday 1st through Friday 4th October, with heats and finals held at Whale Beach as this had the best conditions for surfing this year.
On Wednesday morning a visit from some passing whales made it all the more special!: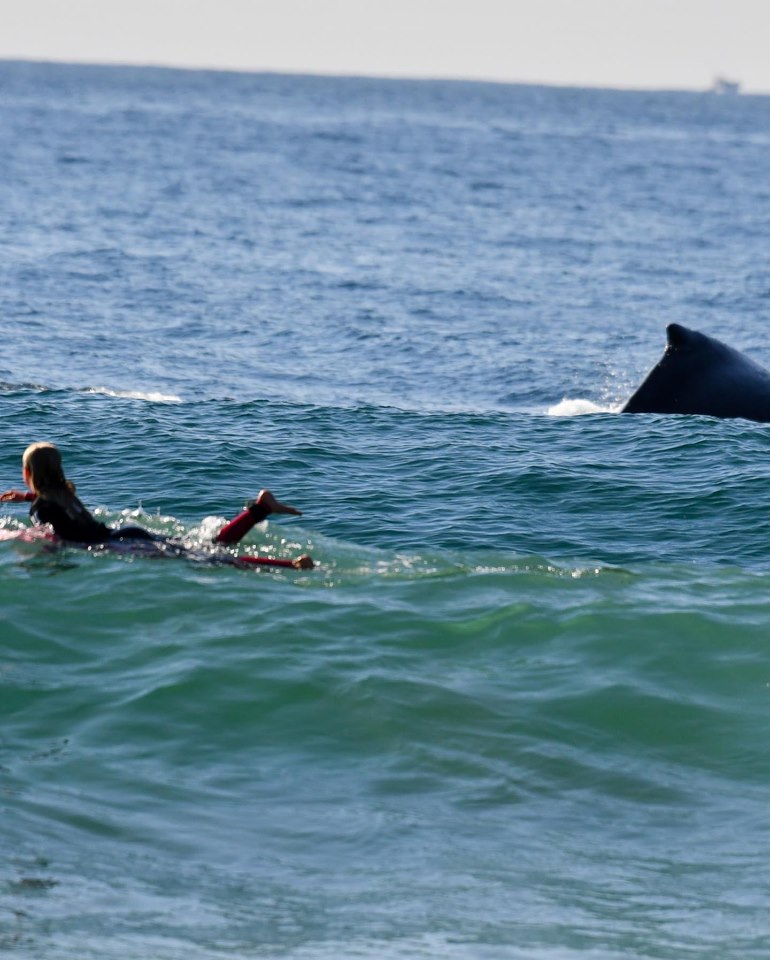 BL's Blast Off is a pre-junior surfing festival that is a fun-filled Spring school holiday program designed and organised by 1988 World Surfing Champion Barton Lynch to celebrate the coming of summer and contribute to Australia's rich surfing heritage. In its 14th year, Blast Off is for boys and girls 14 years and under and promises a school holiday activity like no other.
The aim is to introduce young surfers to the world of competition but in a friendly and encouraging environment that focuses on surf improvement and family fun. Blast Off Idol features during the surf comp. along with skateboarding clinics, barbecues and learning about aboriginal culture and building respect for our first people is an important part of the Blast Off program. Massive thanks to Uncle Terry Olsen for sharing his knowledge, dance and story with us again this year.
Major sponsors include Hurley, Beecraft, GoPro, Amazon Power, SunBum, Spy Optics, Surf Meal Co, Lifestyle Business Services, Health Space, Future Fins, Beach Without Sand, Coastalwatch.com, Surfing World Magazine, Perfect Wave Travel Co, Streetboardz, Lost by Mayhem, Komunity Project.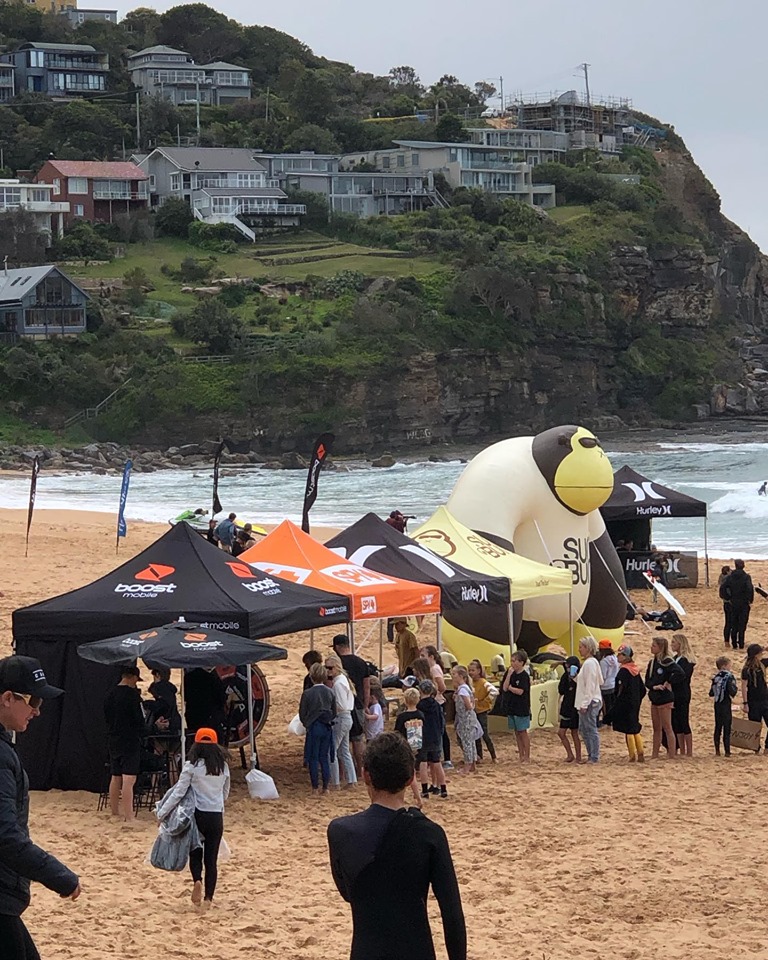 RESULTS
6 BOYS 6 GIRLS
1 Ollie Whitfield 1 Leihani Zoric (two 10s)
2 Nixon Clark 2 Isla-May Vaealiki
3 Daniel Maritz 3 Bella Wiseman
4 Brixton Ennion 4 Rosie Hall
5 Nixon Vaughan 5 Keira Bandy
6 Atlas Marlin Zoric 6 Ily Fraser
7 Clive Morriss 7 Billie Wilson
8 BOYS 8 GIRLS
1 Cruz Air 1 Keke Brain
2 Jaggar Phillips 2 Henley Smith
3 Zac Johnston 3 Isla Schomberg
4 Locana Cullen 4 Talia Tebb
5 Raphael Short 5 Ilaria Craven
6 Louis Taylor 6 Poppy-Mae Oheir
10 BOYS 10 GIRLS
1 Ocean Lancaster 1 Ruby Trew
2 Taj Air 2 Ocea Curtis
3 Sullivan Tucker 3 Pipi Taylor
4 Mitchell Peterson 4 Mia MacMahon
5 Joe Hatton 5 Gwenni Trew
6 Indica Corcoran 6 Roxanne Cameron
12 BOYS 12 GIRLS
1 Jimmi Hill 1 Oli Taylor
2 Fred Carmody 2 Leila Salt
3 Sol Gruendling 3 Milla Brown
4 Joshua Marsh 4 Amelie Lowrie
5 Kash Brown 5 Jordy Halford
6 Harry Farrer 6 Dhara Cullen
14 BOYS 14 GIRLS
1 Braxon Holmstrom 1 Gabi Spake
2 Manning Gregory 2 Coco Cairns
3 Hughie Vaughan 3 Bonnie Hills
4 Jay Pink 4 Charlotte Mulley
5 Clae Grubisa 5 Madison Davidson
6 Jack Ragen 6 Josie Fish