June 19 - 25, 2022: Issue 543

Elijah Thomson will form part of the team finally getting to head back to Soibada as the Pittwater Friends of Soibada (now Friends of Soibada) as Covid restrictions ease.
On June 16, 2022, Minister for Trade and Tourism, Senator the Hon Don Farrell was pleased to announce the conclusion of Australia's market access negotiations with Timor-Leste as part of its accession to the World Trade Organization (WTO).
His statement reads:
I am pleased to announce the conclusion of Australia's market access negotiations with Timor-Leste as part of its accession to the World Trade Organization (WTO).

I am particularly pleased to make this announcement following a meeting with my Timor-Leste counterpart H.E. Mr Joaquim Amaral, Coordinating Minister for Economic Affairs, in the sidelines of the 12th WTO Ministerial Conference in Geneva.

The conclusion of bilateral market access negotiations will be formalised with an exchange of letters between Australia's and Timor-Leste's Permanent Representatives to the WTO.

Australia looks forward to working with Timor-Leste to enhance its access to, and benefits from, the multilateral rules-based trading system. Its accession to the WTO will support Timor-Leste's further integration into the regional and global economy, and promote its sustainable growth and economic resilience.

Australia will continue to support Timor-Leste's accession to the WTO through targeted technical assistance and capacity building to help Timor-Leste accede and implement its WTO obligations.

Timor-Leste applied for WTO Membership in 2016 and is aiming for WTO accession by early 2023.
Although this is great news for Timor-Leste there is still much to be done immediately and long-term.
When Avalon Beach's Eli Thomson was school captain of Barrenjoey High he gave a Remembrance Day Address at our Cenotaph. (See transcript below.) Now a Registered Nurse, he is heading to Timor Leste as a volunteer with a couple of veterans who served there, and others, to make a difference in a community that was ravaged by war.
Eli's focus will be on gathering information on what medical equipment is needed. He is currently fundraising to supply 'Baby Bags' – an initiative commenced by Timor-Leste doctors to support mothers and babies during birth and afterwards.
You can be part of that by contributing at: https://chuffed.org/project/healthy-mothers-healthy-babies-invest-in-soibadas-future
Pittwater Online News spoke to Eli this week about his pending trip.
You're going to Soibada in July – why did you want to go there, in Winter?
It's actually the perfect time to go, outside of their rainy season and it's when Tamara usually visits. I've been helping Tamara with Friends of Soibada for ages, just doing little things here and there, when they are packing for trips. I actually first met her when I was doing some military insights for a work experience program and was introduced to Friends of Soibada by Tamara when working with her on that. I then joined the military myself, found it wasn't really what I wanted to do. I wanted to work in the area of medical service and heath, as I just loved physiology and pathophysiology. I brought this up with one of my bosses while working in the military and she told me to go and do a Nursing degree. So, I did that, completed my degree and while talking to Tamara she said she really needed some help with the medical aspects of what's needed in Soibada, and I said 'cool, I'm here to help.'
What kind of nurse have you trained as?
I am a Registered Nurse but am currently doing my post-graduate year in an Emergency Department.
Is that local?
Yes, at Northern Beaches Hospital.
Good place to work?
Yes – it's extremely busy at the moment as we're having a lot of people presenting with influenza, as well as everything else. It's a good place to be though, the management and work environment in the Emergency Department is second to none, and the job is challenging and forcing me to learn a lot.
Where did you do your degree?
I did this through the University of Tasmania, which has a campus in Sydney and they offer a two-year fast track. Registered Nursing is normally a three-year Bachelor but I did a lot of Summer School instead of having those huge holidays, and got it done in two years.
How many hours a week were you doing?
It was just like a full-time job, 8 hours a day, but I got to surf in my lunch break.
Were you working as well?
Yes, I was doing Assistant Nurse shifts here and there, when I could.
What made you want to go into Nursing?
It was never really a plan of mine – when I was a kid I was thinking 'Inspector, Police, go into the Military at one stage'. We had a family friend who was an Obstetrician/Gynaecologist, who actually delivered both myself and my sister, and he was always like a grandfather, very close. He spent so much time going through medical books with me, as he saw that I had an interest in this, and he would teach me so much so that I actually fell in love with it before I went away to the military– I got a scholarship with the Australian Defence Academy – I was doing Geography and Chemistry there – and I just realised that I loved all these insights into medicine and that's what I wanted to do, that I needed to do something in the medical fields.
I thought about what would be the best way to get into that and knew that with Nursing I'd definitely have a job, comparative to para-medicine, where I could be waiting a year to get a job, and thought I probably wouldn't get into Medicine as I didn't have a 99 ATAR. So Nursing seemed like a rewarding career; lots of avenues, lots of areas I could work in, as well as endless opportunities to feed my great love of learning.
What will you be doing in Soibada?
When I was speaking with Tamara she said she didn't really understand what the doctors in Soibada were talking about when speaking of medical requirements/ needs. I said I'd have a talk to them and see what they need and liaise with them about what equipment they are getting from their government and determine what the shortfall is equipment-wise.
The biggest problem in Timor-Leste is a shortfall of resources and getting the equipment they need, along with getting in date medicines (those that have not expired), as well as having adequate access to health professionals and infrastructure. Their health facilities were all torn down and destroyed during the referendum and although they are making good progress with rebuilding this system, there's still a shortfall. So, my job will be to work out with them what they actually need and what's going to be useful to them, as there's no point giving them supplies that are of no use in a rural setting or will not make a difference in healthcare outcomes. So my aim is to do what I can to meet those needs and then get a plan in place where we get to the point where we don't need to bring supplies over and we can just focus on building a friendship between our communities. In order to do this properly I need to be on the ground and meeting the people so I can compile that data.
You have also launched a fundraiser to meet some of those needs – what's that focused on?
This is for what we call 'Baby Bags'. I was amazed by the ingeniousness of the doctors in Timor-Leste – they saw so many mothers were getting sick or dying after delivering in unhygienic environments such as on the dirt floor of a hut. They do have doctors and some maternity facilities and there is a level of health literacy where the mothers know that they do need to get in contact with a heath care professional at some stage but there were still some who weren't confident enough or felt safe enough to go to a maternity clinic. The doctors came up with the idea of 'carrot' or a bribe which they will receive if they come in and deliver in the maternity unit – and that's the Baby Bag.
In doing so they have seen an increase in mothers coming in to deliver at the maternity clinic and a growing trust in the local health care team in Soibada. This means that not only are the mothers receiving good care and support in being able to give birth in a sterile environment with health professionals on hand, but also the babies are getting all the normal procedures that you do when a child is born; getting weighed, getting a health check-up, making sure mum is going to be able to take care of the baby at home, making sure the baby doesn't have any health conditions, and just giving them both the best chance to thrive – not just then and there but later on, in the future. If they are growing up healthier they are going to be able to contribute back to their community as well as seeing a lessening of children being ill overall.
So what's in the Baby Bag?
A whole range of things; Tote bag: used by mothers to carry baby supplies and other accessories, Blankets: hand-knitted by Northern Beaches volunteers, Baby clothes: some of which have been hand-knitted by local volunteer knitting groups in our area – which is just great, I love that community engagement we have here, 'Days for Girls' Maternity Kits: washable menstrual hygiene kits – so this is also a bracelet the mothers can use to track their cycles and have more control over that, Sanitary equipment: such as soaps and creams which are used to care for babies and a special gift for new mothers: to congratulate them on their baby's entrance into the world. Although this bag seems like such a small thing, it is actually really changing the way that mothers interact with the maternity clinic in Soibada, and for the better.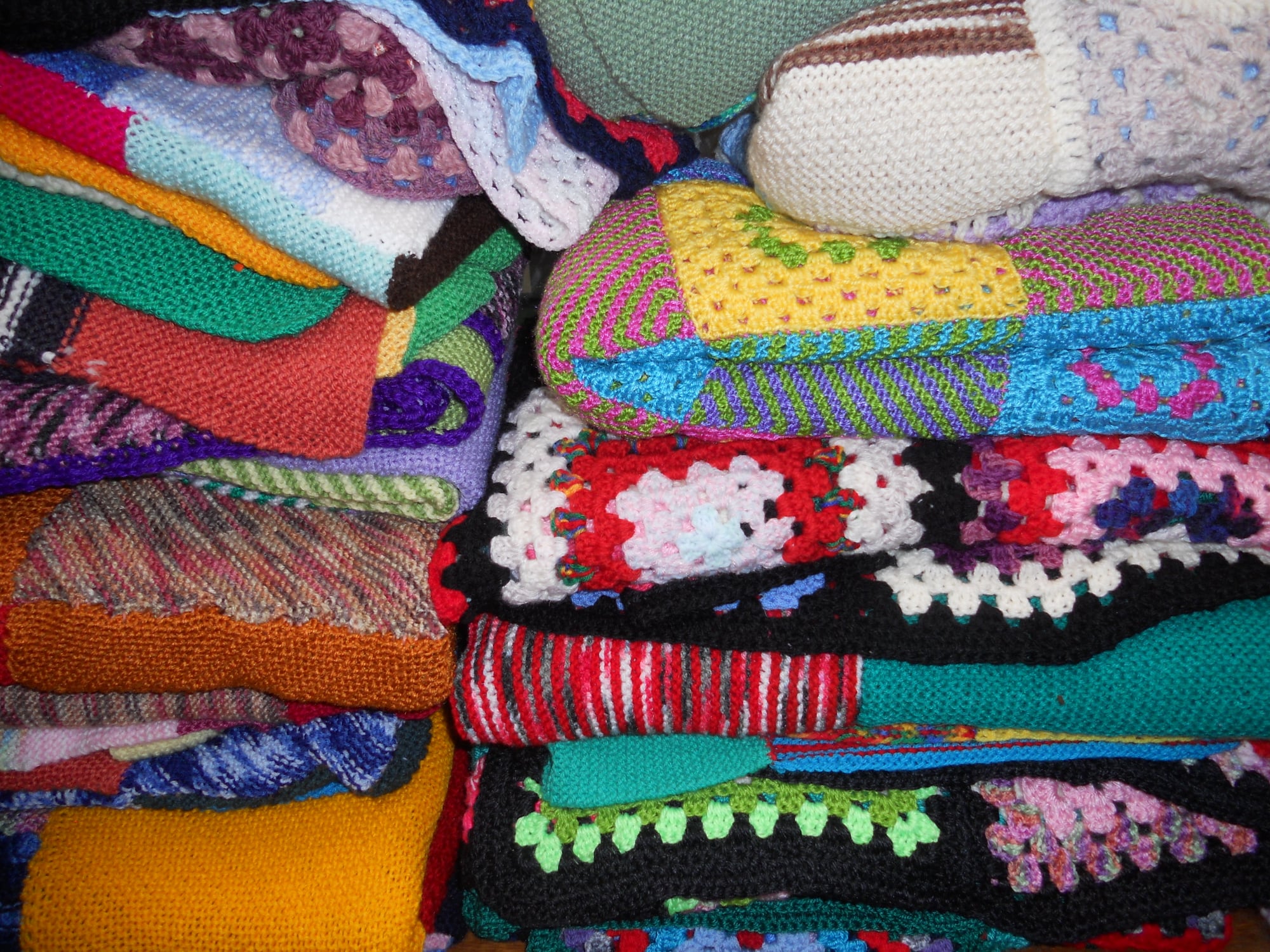 Blankets for Soibada - crocheted/knitted by the Soibada Knitters
What else is needed in the medical supplies department?
The doctors have been speaking of needing 'hetching' kits – which is Portuguese/Tetum for suture packs; the doctors are asking for suture kits to repair lacerations and wounds of that kind.
At this stage I'm trying to source some corporate funding so we can take some suture kits over for them. At the moment, we've decided to use disposable kits until I can go over there and see what their autoclaves are like as there's no point sourcing reusable ones if they can't sterilise them properly. They're doing the best they can at present, so if I can get these kits then that will keep them going until we sort out an alternative arrangement.
So I'm aiming to try and source suture kits for the 4 medical centres over there currently doing what they can with what they have, along with the sutures of course.
I'm looking forward as well - so we're going to try and get some defibrillators over there and I'd like to get a First Aid kit into every community centre or with every town chief. But I first need to assess whether this equipment would be beneficial there.
We also need to take cream to treat scabies with us as well – the permethrin cream; or Lyclear. This is a problem unfortunately. The doctors are working to try and stop this before it happens through hygiene practices or isolating but there are still cases that need to be treated; so we always need to take as much of that as people will give with us.
People can drop that (Lyclear) in to either Avalon RSL or Studio Hair in Avalon.
How can people or larger medical suppliers get in touch with you if they can help out?
They could email me via my Friends of Soibada address or if they can donate a few tubes they could drop it off to Tamara. (Eli's FOS email)
How long will you be there for?
Only 2 weeks, I can't get much more time off from work at present, there's a high demand here.
Are you going to be spending your holiday doing this?
Yes – it's my annual leave. I think I'll come home and be very grateful for our own medical system and easy access to what we all need.
There is a fundraiser page we can link to?
Yes, we've set that up as we want to keep the friendship between our community and the Soibada community growing and through getting involved in this way that includes everyone. That's what it's about really, a friendship between Soibada and everyone here, working together to make a difference.
What are your favourite places in Pittwater and why?
I'm a surfer so anywhere there's a good wave and not too much of a crowd is my favourite local place. I've been surfing Avalon lately, it's been great with the swell.
That's what you do for your exhale, get in the salt water?
Yes – I've been doing that my whole life. Dad is completely crazy about it, so he's always been dragging me out as long as I can remember. I'd put the BMX bike in the back of the car, go for a surf and then peddle to Avalon primary school, then after school I'd peddle to Barrenjoey high, where dad worked, and get in the water again. I continued to surf daily throughout High-school as well, it was great – until I got to the HSC and had to study a bit more – which paid off in the end, I did as well as I think I ever would.
You were Captain at Barrenjoey High School so you must have been doing something right?
I originally did that or applied for that position because I had a crippling fear of talking in front of people and so told myself 'you are just ging to do this speech so you get over that fear' – and then I ended up getting it and was doing speeches every week after that in front of 800 people. So I definitely got what I asked for. But really, I wanted the opportunity to serve my School community which had provided me with so much and it was a great opportunity to learn true leadership and to work with a great bunch of people, teachers and peers alike.
What is your 'motto for life' or a favourite phrase that you try to live by?
At the moment, I'm just trying to remember that the valleys and the mountains that we have in life are all just as beautiful in their own way. Sometimes we strive to conquer the next mountain in our life – to get to the next great view - but in doing so forget to appreciate the valleys we went through to get there. For me at the moment it's about just valuing what we have and taking in what we're going through, good or bad, so we don't just go racing through life looking for the next thing but actually stop and realise what we have now and the people who are around us and part of our lives.
Help Eli Make A Difference For Mothers And Babies In Soibada!
By Pittwater Friends of Soibada Inc
Sydney, New South Wales, Australia
Donations are 100% tax deductible
A little bit of context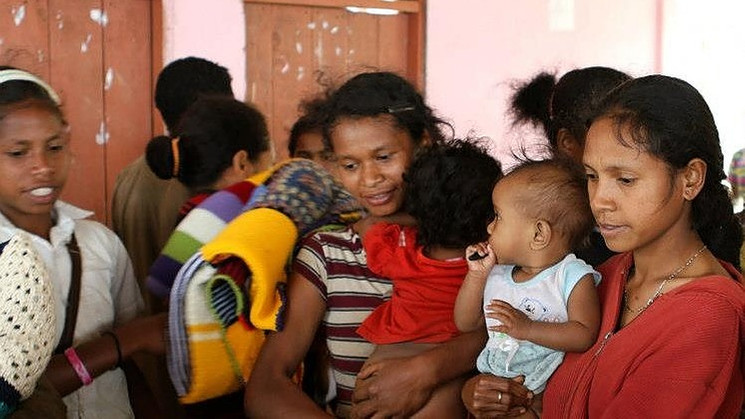 Healthy mothers and healthy babies mean a stronger future for the remote village of Soibada in the mountains of Timor-Leste. A healthy post-natal period is essential to the growth and development of newborns and infants, ensuring that these children have the best possible chance of achieving their full potential.
Friends of Soibada is a Northern Beaches based not-for-profit charity that supports the local people of Soibada in their efforts to achieve sustainable development. Soibada, like many villages of Timor-Leste, was ravaged by Indonesian occupiers following the referendum for independence in 1999. In an act of revenge, the Indonesian occupiers destroyed much of the infrastructure, that was integral to community functionality, including medical infrastructure, which ultimately disrupted the ability of Timor-Leste's government to provide equitable and holistic health care.
This project is headed by Elijah Thomson (Eli), the health and medical project manager for the Friends of Soibada charity. Eli has been in regular contact with the doctors in Soibada to ascertain their most pressing needs before he heads over to the village as a volunteer in July.
This year, they have once again stressed the immense impact that new-baby bags, that contain basic necessities for mothers and newborns, have had in the Soibada community for the health of mothers and babies and have requested more. In order to encourage the mothers to give birth in the maternity clinic, under the care of medical personnel, the bags are gifted to the new mums at the clinic.
Help Eli achieve his goal of supporting the healthy future of mothers and babies in Soibada.
But there's a problem
In Soibada, access to equitable health care is obstructed by unreliable access to medical personnel, medical equipment, and health-related education. Although Timor Leste's government is making great progress towards ensuring the provision of culturally safe and sustainable health care, the health care professionals in Soibada have asked for assistance in the acquistion of materials and funds to help in their health provision journey.
A large proportion of the medical materials and funds provided to Soibada by the Friends of Soibada Charity, encourages proper management of infectious diseases, such as scabies, and the accruement of medical resources and medicines. Ultimately, these efforts largely relate to ensuring the proper provision of safe, effective, and equitable health care to mothers and their children, especially in the post-natal period.
Here's what we're doing about it
New-born Baby Bags
Friends of Soibada is currently collecting donations to assist with the provision of baby bags. Baby bags are given to new mothers who have come into a medical centre to give birth. Baby bags contain:
Tote bag:

used by mothers to carry baby supplies and other accessories

Blankets:

hand-knitted by Northern Beaches volunteers

Baby clothes:

some of which have been hand-knitted by Northern Beaches volunteers

'Days for Girls' Maternity Kits:

washable menstrual hygiene kits

Sanitary equipment:

such as soaps and creams which are used to care for babies

A special gift for new mothers:

to congratulate them on their baby's entrance into the world
How do baby bags help with health care provision?
The doctors of Soibada have recognised that pregnant women are more likely to come into medical clinics to give birth when they receive a baby bag after delivery. There are many benefits to mothers coming into medical centres for the birth of their babies, including:
The provision of better post-natal care including the recording of birth weights and neonatal health assessments,
The provision of more sanitary and higher quality medical assistance during delivery,
The development of a community birth registry and,
The development and solidification of rapport and trusting relationships between mothers and health care professionals.
Ultimately, this simple intervention may lead to a long-term reduction in infantile and maternal mortality and morbidity rates in the post-natal period.
Medical supplies
The doctors of Soibada are in contact with Friends of Soibada and are asking for simple medical supplies that would help them provide better care to the Soibada community more immediately. These include:
First aid kits: These will be made available to trained first aid providers and health care professionals in the event of a medical incident. Kits would be kept in the village community centres for easy access by community members.
Scabies Cream (permethrin 5% topical solution): Scabies continues to have a large burden on the health of Soibada locals. The doctors of Soibada are working to reduce rates of scabies in the long-term through education and prevention strategies. Despite this, the doctors in Soibada still need access to in-date scabies treatments to manage the infections when they occur.
Other medical equipment: The medical staff of Soibada requests medical equipment prior to our visits to Soibada bi-annually. Friends of Soibada attempt to purchase this equipment and transport it to soibada for the doctors to use. Equipment includes: stethoscopes, suture kits, bandages, and more.
You can join us
We are currently looking to raise money for 100 baby bags to take this July (7/2022) to Soibada.
Baby bags cost on average $60 AUD per bag. Therefore we want to raise $6000 AUD so that we can deliver these bags to the birthing centre in Soibada.
Any additional funds in excess of $6000 AUD will be used to support our other medical and health-related goals.
And here's some amazing perks for supporting us that you can't live without
Through donating, you are positively impacting the lives of mothers and new-borns in Soibada, by providing babies with a healthier start to life. The achievement of this goal will mean one step closer to supporting Soibada in their health and medical related goals.
All donations are tax-deductible. Every donation made to this campaign is directed in its entirety to the health care teams of Soibada and the Soibada community to assist in the provision of adequate health care to mothers and young children.
To contribute please visit: chuffed.org/project/healthy-mothers-healthy-babies-invest-in-soibadas-future
Remembrance Day 2017 Address: Elijah Thomson
I am thankful of this opportunity to voice my appreciation of the service men and woman who have paved the road of freedom for myself and my generation to walk.
I will begin with the words of Gilbert. K Chesterton who said "The true soldier fights not because he hates what is in front of him, but because he loves what is behind him.". These words, I feel, cannot prove more relevant to the members of the Australian Defence Force both past and present.
This love. This sacrifice given by these defence personnel for each and every one of us brings hope and freedom to our everyday lives. I will not pretend war is glorious nor pretend I understand the horrors of war either.
But what is glorious is the service men and woman who pledge their lives for the preservation of their country and their people. Those men and woman who breathed hope and peace into the future of their country.
World War one was a test of the Australian spirit. Where 39 % of the male population aged between 18 and 44 enlisted to fight overseas. With almost 62, 000 ADF personnel dead, a massive blow had been swung at the moral of the Australian people. Leaving the families of the fallen behind.
It was only because of our strength and our faith in each other that we were able cope with the grievance of a Second world war. 27,073 brave Australians were killed in the second world war, it was because of the tenacity and spirit of the service men and woman that allowed even the enemy to form a respectful ideal of the Australian defence personnel.
Australia's service men and woman were praised for their presence in the Korean war. Combating the communist North Korea from taking control of the south. It was the Members of the ADF that effectively stood in the way of a country being totally engulfed by communist advances. 615 decorations were given to Australian Defence personnel for their acts of valour.
Australia is filled with loyal and courageous service men and woman and has always been. The War in Vietnam where Australia provided aid to the Americans and the south proved no different.
Our men and woman fought so bravely and chivalrously that the Vietcong themselves are respectful of the Australians, their enemy who buried the bodies of the fallen, no matter what culture or background. Further proving the humble and reverential nature of our Australian defence personnel.
This heroism has carried on into the more modern wars including the wars in Iraq and Afghanistan. Where Australia has provided aid to severely crippled societies. The Defence personnel of Australia giving up their safety and security to fight for others peace
This legacy left behind by our fearless service men and woman is what allows me to live in freedom and extreme gratitude. It is the solidarity of our Defence personnel that brings hope and comfort to me.
They will never be forgotten, their lives will never fade. But will join the prestigious list of names who forged Australia.
To the service men and woman I say, Thank you. You are the reason why we live in freedom. You are the reason why Australia is respected. You define honour, you define sacrifice.
Lest we Forget.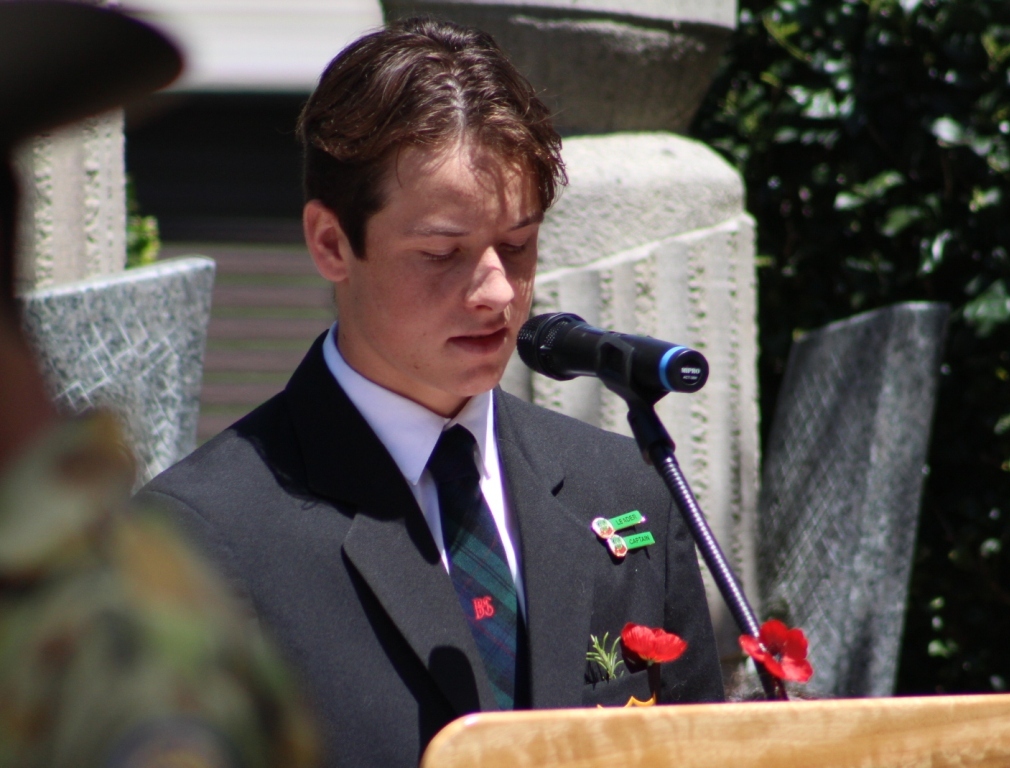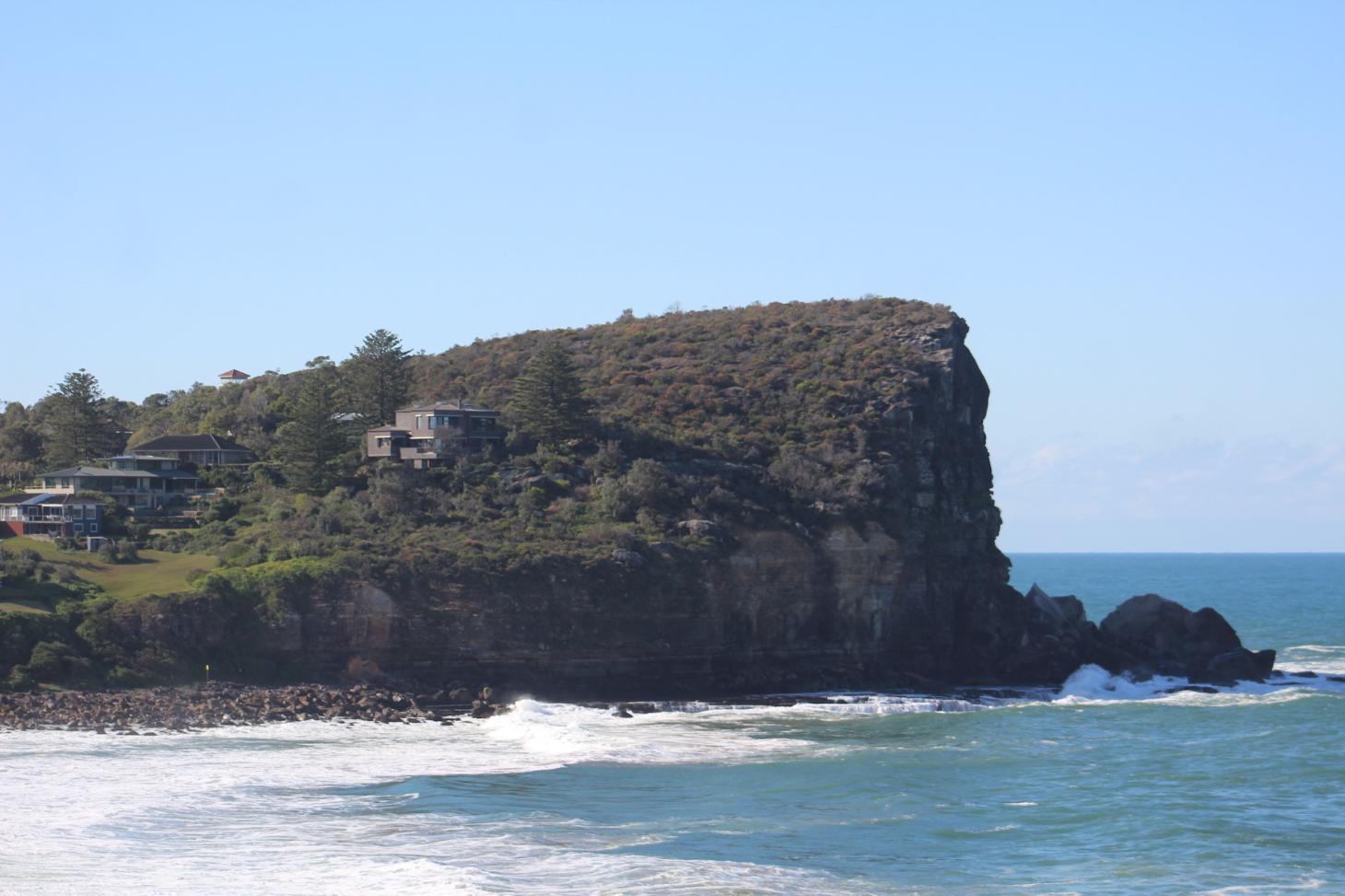 North Avalon Beach headland, Queens Birthday Weekend - Monday June 13, 2022