December 11 2022 - January 14 2023: Issue 566
Elanora Heights Public School's Great Initiatives: Composting – Eat a Rainbow - Bush Track
Eleanora Height PS has been having a GREAT year with the culmination of the Bush Track project this year, while two other ongoing initiatives focus on sustainability and setting the youngsters up for lifelong healthy eating.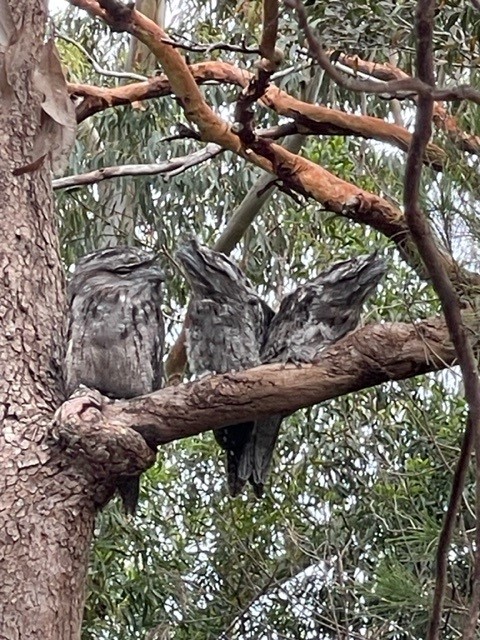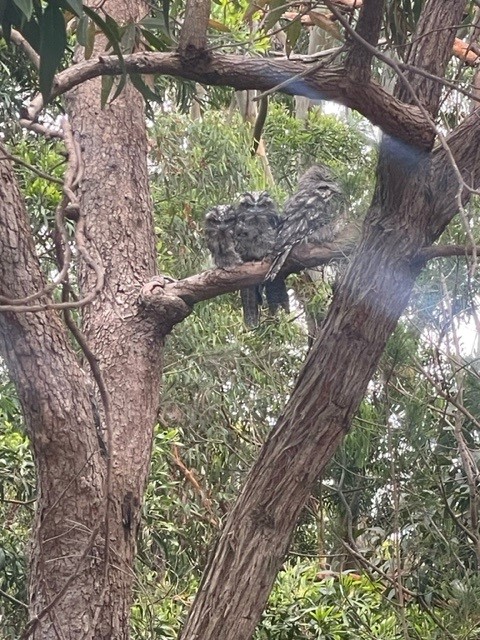 This Tawny Frogmouth family living by the Elanora school Bush Track approves! Photos: Jen Peachey
Composting for the future
The school has had a composting program going for many years.
One family, the Tutts, has had all three children contribute as they moved through the school. Madison, now 17 and in Year 12, Lachlan, now 14 and in Year 11 and Mitch, who is just finishing Year 6.
Mum Jenny says it was Madison who 'paved the way' and inspired her brothers to get involved.
All three children volunteered to be a Compost and Recycling Monitor at the start of Year 3 and did so every week for four years! Mitch received a school award to thank him for his service.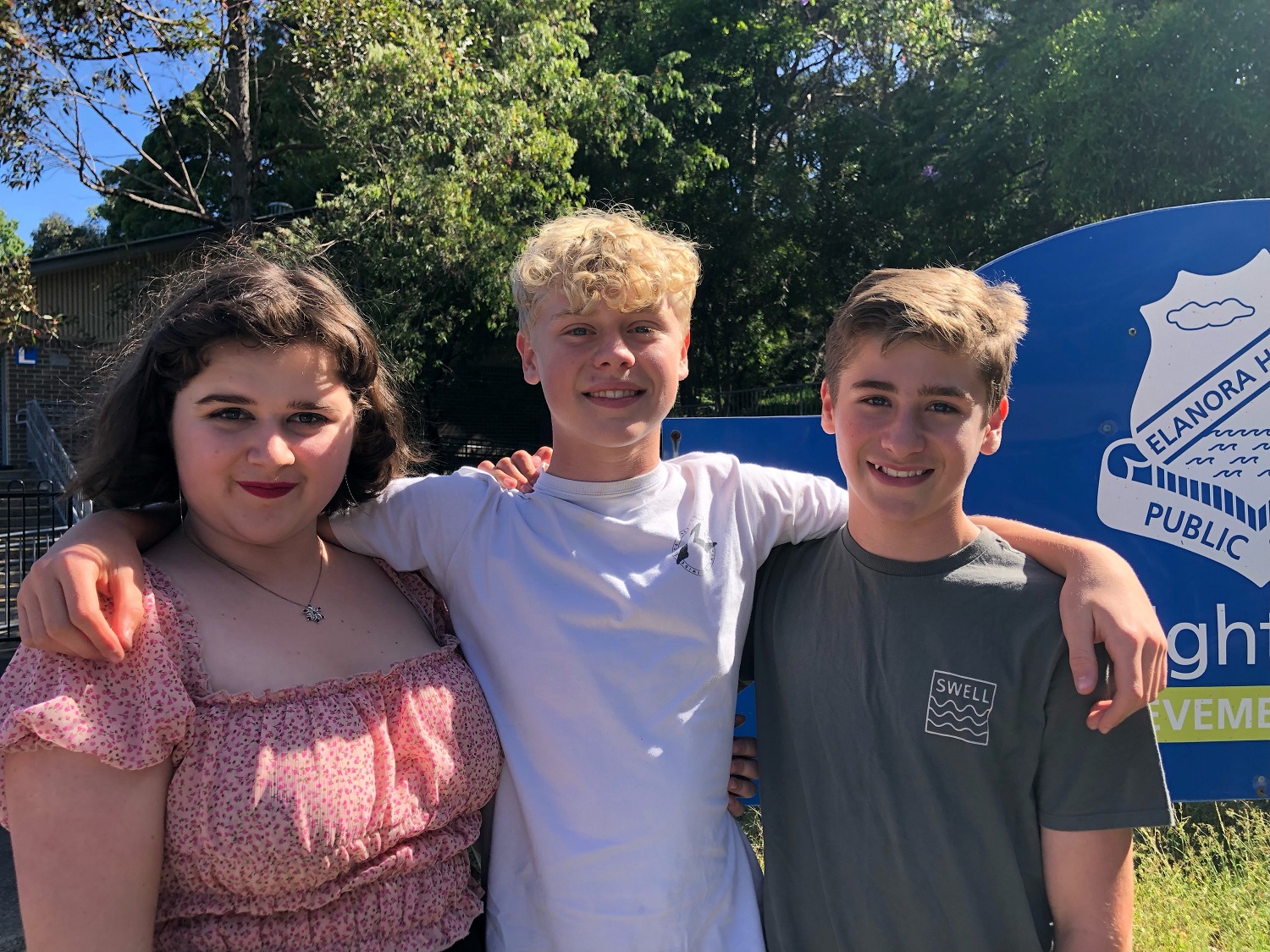 Three volunteers from the same family! Photo courtesy Jenny Tutt
Through composting, students at Elanora Heights Public School are learning great habits which make a huge difference over a lifetime. They see the magic of food scraps turning into rich soil, filled with worms and bugs doing the work of recycling.
Otherwise, the leftovers and paper bags would go to Kimbriki where organic matter, if buried in landfill, decomposes without oxygen and releases methane, a much more potent climate-changing gas than CO2. Making responsible decisions about waste empowers students to do something positive for the environment every day.
The compost is used for vegetable gardens in the school, reducing the need to source this from elsewhere.
Another project the school has undertaken is Eat a Rainbow.
Healthy smiles at the end of this rainbow...
Want your child to eat a wide variety of vegetables and fruits?
Eat a Rainbow!
K-2 students at Elanora Heights PS enjoyed sampling a huge range of unusual fruits and vegetables as part of their Eat a Rainbow morning. Pomegranate, mushrooms, brussel sprout, bean sprouts, dragon fruit, alfalfa and beetroot are all eagerly eaten, along with more familiar foods.
This is another unique Elanora parent initiative to encourage healthy eating habits that complements PDHPE units taught by Eleanora Heights teachers. Volunteer parents present a nutritional lesson to each class and provide an appetising array of fruits and vegetables cut into all manner of shapes. These are arranged in rainbow colours and children take at least one item of each colour to create a picture on a paper plate, then eat it!
This idea was parent Janine Ralston's brainstorm, cheerfully supported each year by other parents and the EHPS staff and school.
Eat a Rainbow is just one of the unique Elanora nutritional programs. 2022 was the tenth year of Make My Own Lunch where all students in Years 3 to 6 participate in a parent-led nutrition lesson followed by making either a wrap or salad jar from an enticing smorgasbord of delicious healthy foods. Classroom teachers support this initiative by making their own lunch and promoting the value in this.
How's this for a Christmas idea? Elanora canteen offers rainbow fruit platters as a healthy birthday alternative. Eat a Rainbow this Christmas!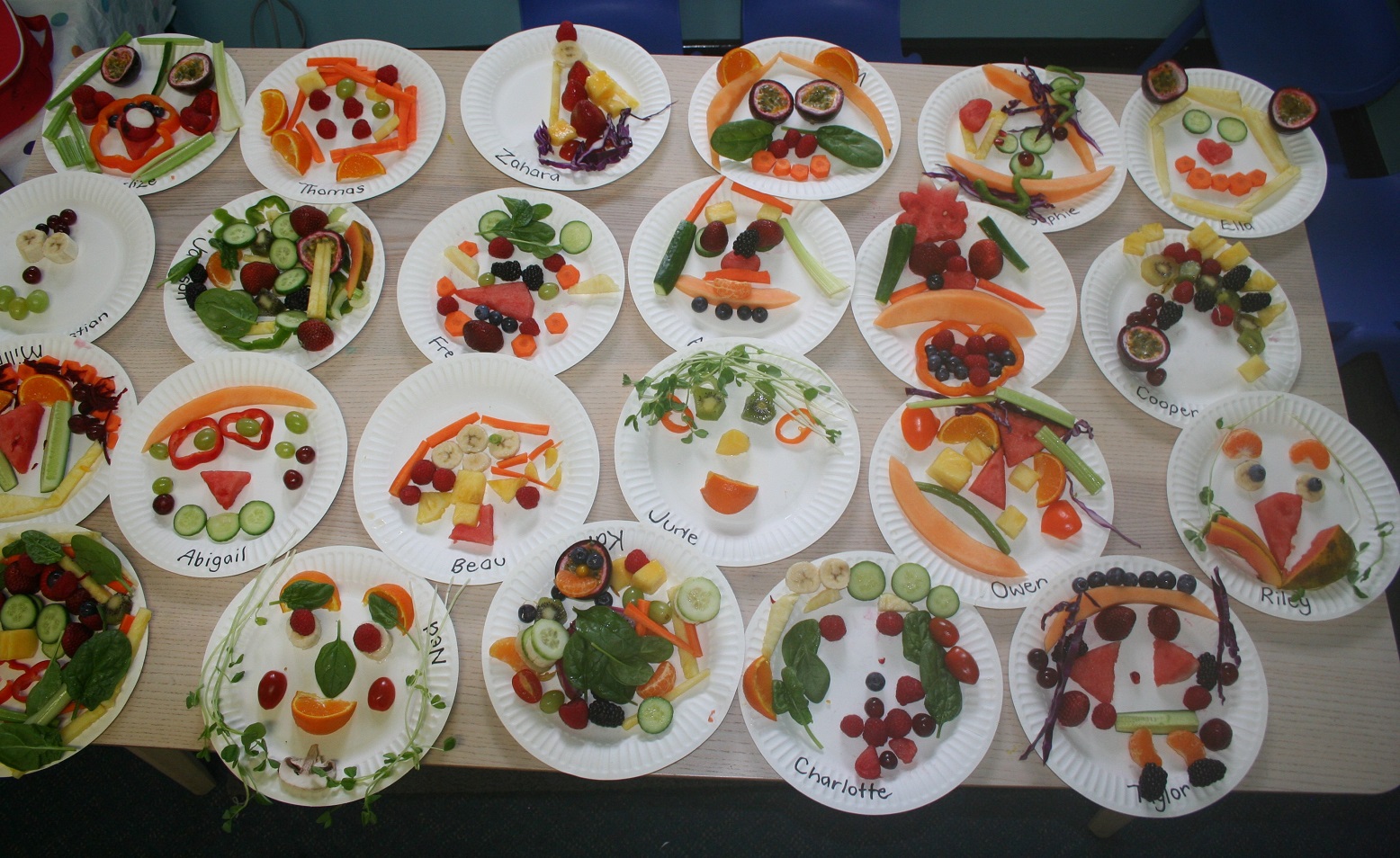 A Bush Track Leading Back…. To that Original Elanora
Elanora Heights Public School enjoys a wonderful location, facing east to the ocean breezes with large grassed grounds, surrounded by strips of remnant bushland. However, invading weeds are a constant challenge not covered by regular school funding. A $14,000 Sustainable Schools Grant, a passionate teacher, a school staff team and dedicated parents have transformed the Elanora Bush Track into a beautiful and inspiring example of what is possible. Rob Stokes visited last week to celebrate the completion of the grant project.
Children, parents and teachers walk up and down this track every day, but the surrounding bush was very degraded by weeds and major clearing in 2018 for bushfire risk mitigation. A site-specific Bushfire Risk Management Plan for the 0.3ha patch below Elanora Rd showed that much less fuel reduction was required, enabling regeneration to occur. With grant funding, professional bush regenerators led the attack on weeds with a keen team of parent volunteers and staff regularly assisting. Local native plants sprouted everywhere. Flannel flowers are flourishing in the sunny slope, along with violets and wetland plants beside the drainage line, now turned into a sandstone creek bed. Parents who are professional ecologists living nearby provided lists of the native flora and fauna, identifying 100 indigenous plants on the site, visited by 42 native birds, 5 marsupials, 9 reptiles and 4 amphibians!
This project has been led by teacher Jenny Cullen who has been keenly involved in environmental education since starting teaching in 1981. Jenny says, "This is the best Christmas present ever! I am overjoyed to see this patch restored to a place of beauty, filled with such an extraordinary diversity of local plants. If we don't keep these small areas of bushland, we lose the creatures too. It's so important for our children to understand and treasure our local bushland – and they just love learning about it."
Administration, executive staff, including the support of previous Principal, Leesa Martin and current principal Lisa Phillips, the P&C and generous help from parents have been vital. Northern Beaches Council provided tubestock for parents to plant in the adjacent road reserve, further enhancing the area. A parent also recently installed the attractive wooden signs and brass plaque which help the children appreciate this special path to school.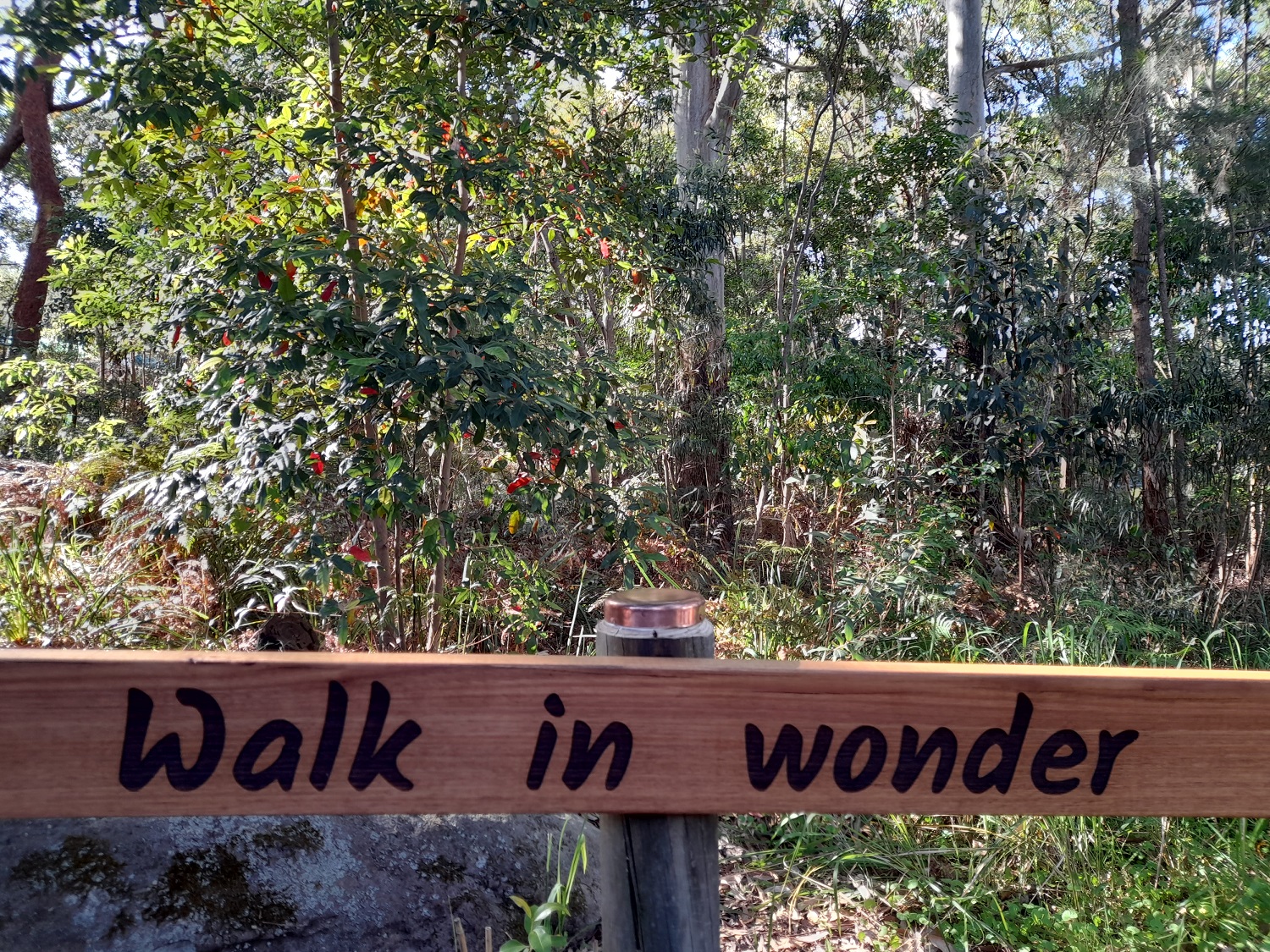 The Hon. Rob Stokes, MP for Pittwater recently paid tribute to the Bush Track project in a Private Members Statement in the NSW Parliament, stating;
''Elanora Heights Public School is one school way leading the way in bushland restoration. I was delighted to see the school secure a $14,000 Sustainable Schools Grant under a program that I introduced as Education Minister. Its Bush Track project is focused on the school's precious acre of remnant bushland. Jenny Cullen, who runs the school's environmental education program, conceptualised and embraced the project, and through her passion has inspired teachers, students, parents and neighbours.

Managing remnant bushland on school sites can have a range of wider community benefits. It provides an opportunity to teach young people how to understand, value and care for the environment that sustains us. Encouraging our kids to help, and spend time in, nature can improve their physical and mental wellbeing. It also provides an opportunity for the wider school community—teachers, parents, neighbours and alumni—to come together in common purpose, forging links that build a stronger society as well as a healthier environment. It provides the opportunity for a school to be a good neighbour—managing pests, weeds, and combating illegal dumping or other antisocial behaviours. It builds on the existing opportunities to share our school spaces, not just for recreation but for restoration. But beyond all these benefits, bush regeneration on school sites inspires young people to love, and care for, the environment. As Rachel Carson said, "The more clearly we focus our attention on the wonders and realities of the universe about us, the less taste we shall have for destruction."
On December 1st 2022 Rob visited the school to celebrate the completion of the grant project and the volunteer effort of parents and teachers.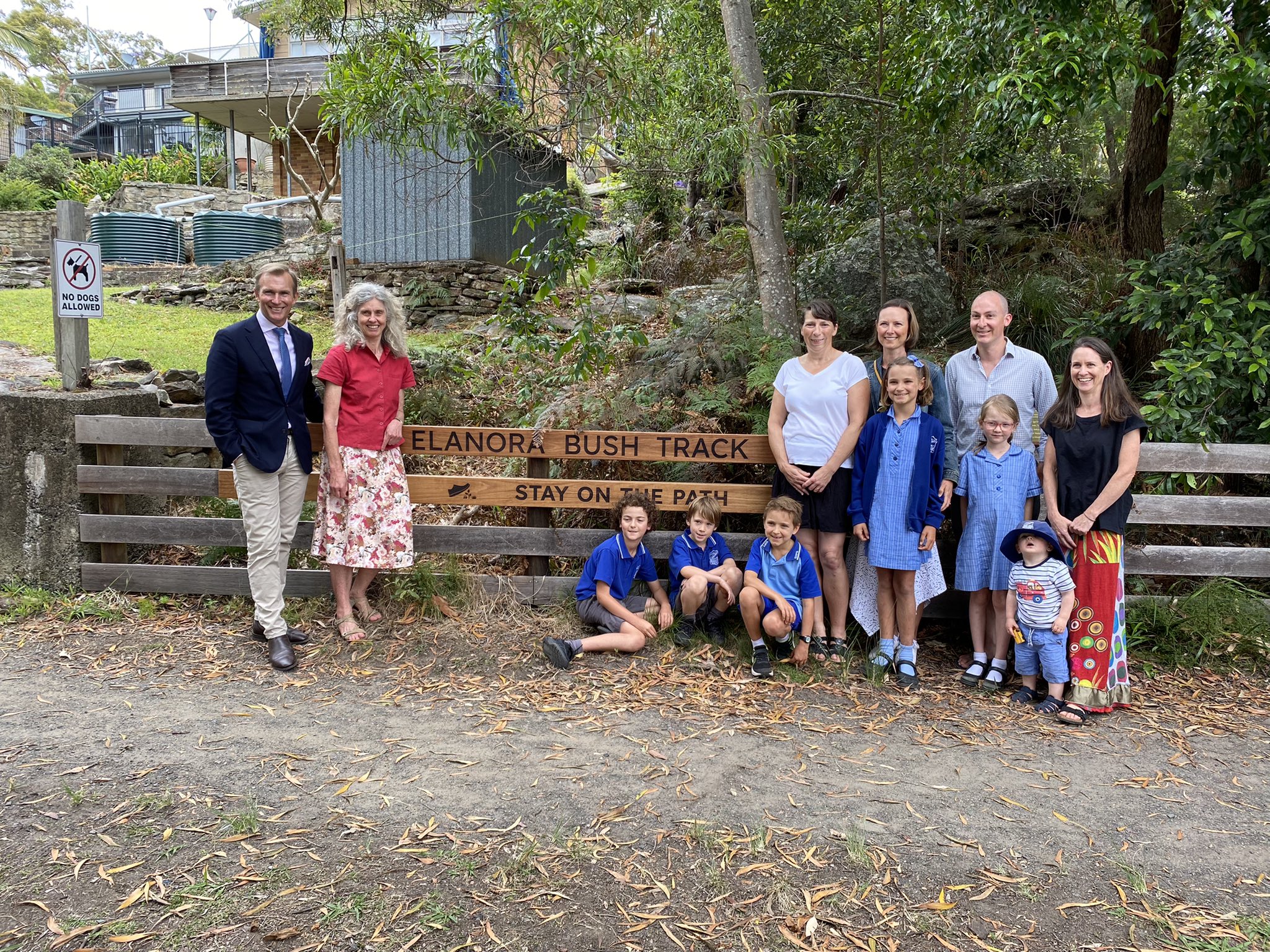 Photo: EHPS
The final grant works were the new signs to help the children and parents appreciate their special area. Children pause to "Walk in wonder" and tell each other to "Stay on the path". Older children read the more detailed brass plaque:
Pittwater MP Rob Stokes said this week;
"It's really encouraging to see the enthusiasm and interest this project has inspired among the students.
"The school contains a unique and special area of bushland and it's fantastic it's being incorporated and utilised as part of the learning experience.
"Hats off to Jenny, the school leadership team, and all the volunteers for embracing and protecting this wonderful opportunity.
Mr. Stokes is right!
Every single child at this great local school, and their support crew in the parents and teachers, deserves a loud round of applause from us all.
The plaque reads:
Welcome to the Elanora School Bush Track

On our Bush Track we walk through tall trees and wildflowers, over sandstone rock, past a creek bed and a cave. This bushland is a precious remnant of the rich diversity of plants and creatures once living here.

The plant community is called Coastal Enriched Sandstone Sheltered Forest because it grows where shale enriches soil formed by the main rock, sandstone.

In 2022 the following native species were identified in this small area:

100 indigenous plants, 42 birds, 5 marsupials, 9 reptiles and 4 amphibians.

There is a lot to learn, love and care for, right here.

Let Nature be your teacher.
This site was regenerated by volunteers and funding through a Sustainable Schools Grant.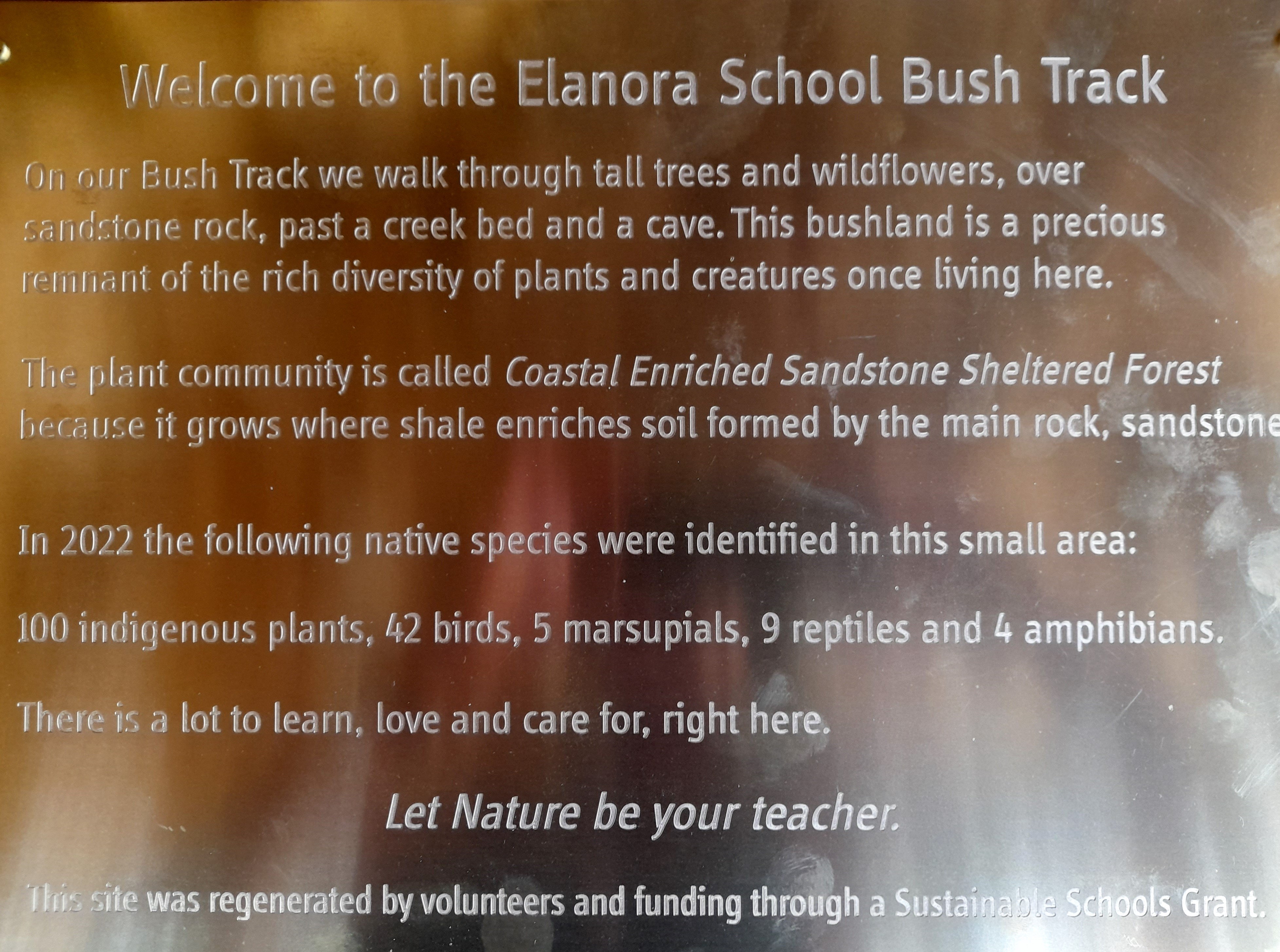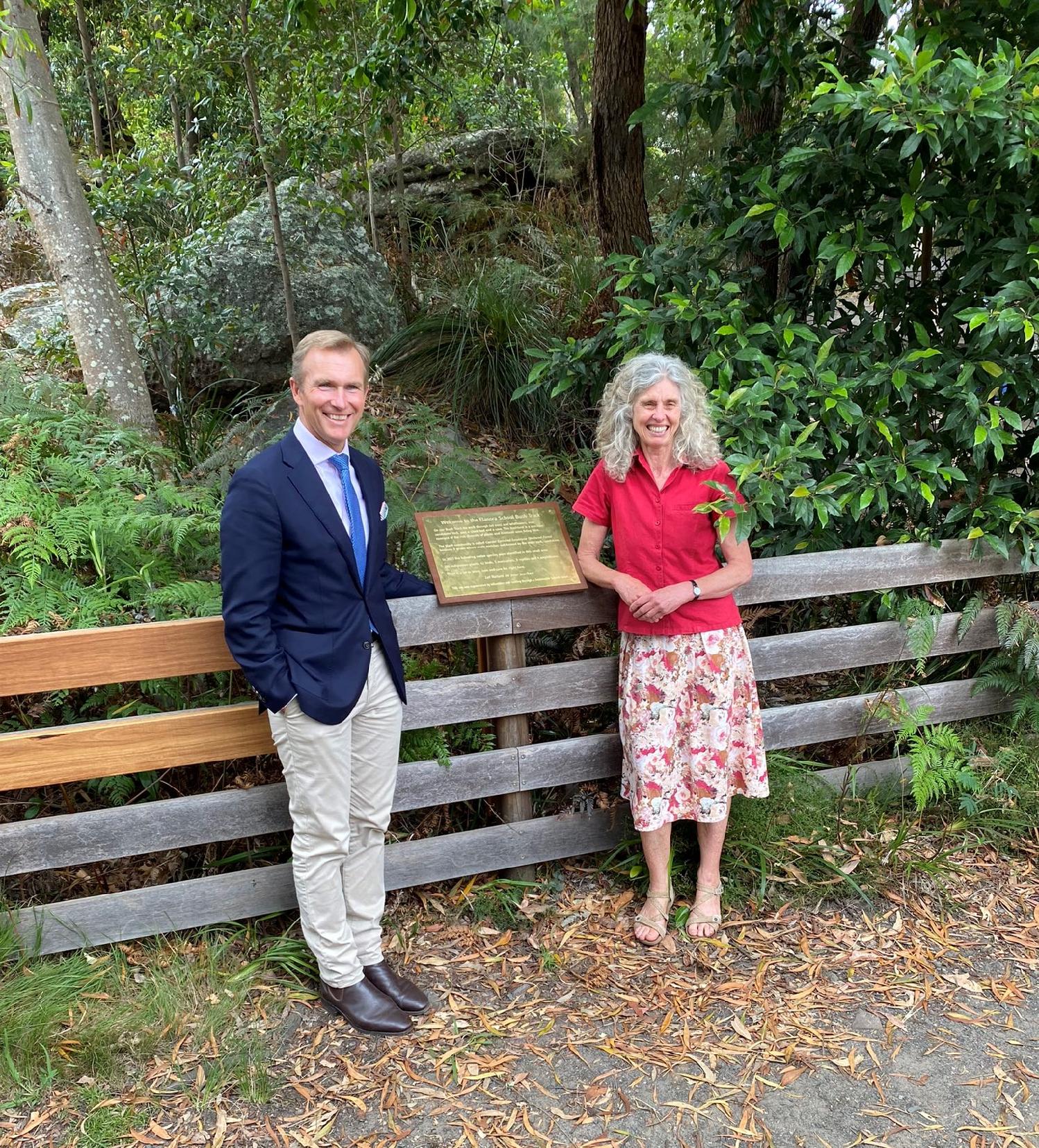 The Hon. Rob Stokes, MP for Pittwater and Jenny Cullen, EHPS.
Photo: EHPS