August 14 - 20, 2022: Issue 550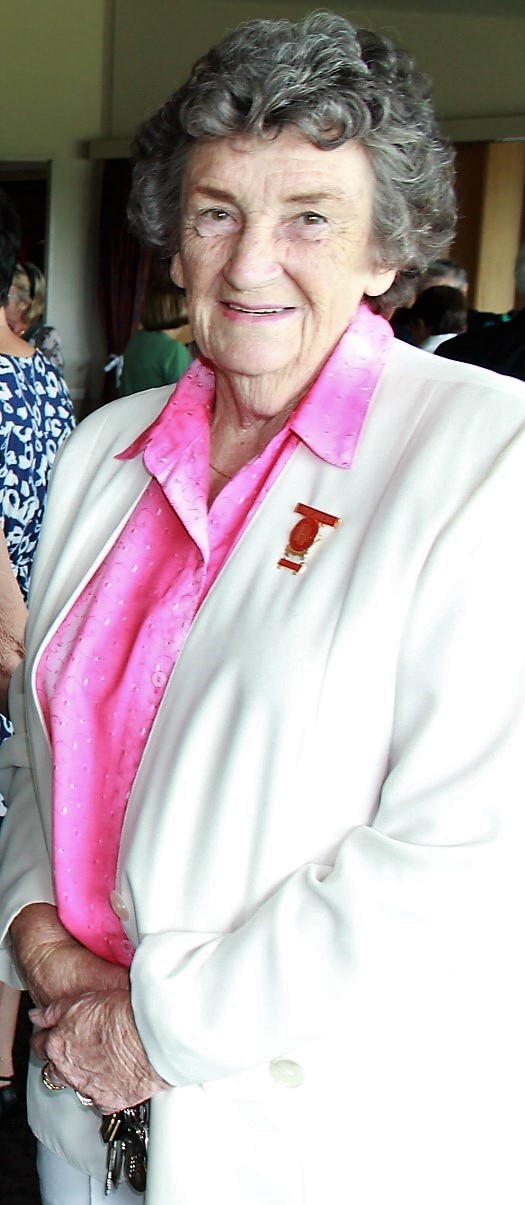 Eileen Carmel Gordon
1933-2022
Daughter of James and Dulcie Smith.
Beloved wife of John Lindsay Gordon (Dec.)
Mother of James and Ian, mother-in-law to Debbie and Christine.
Grandmother and Great Grandmother.
We trust by now you know that our amazing, talented, loving mother Eileen recently passed away.
Please find details below for Eileen's Service
Date: Wednesday 17th August
Time: 1.30pm
Location: Ann Wilson Funerals – Darley St, Mona Vale
Please note:
If you are available and wish to attend the service in person could you please RSVP via email to ian.gordon10@tafensw.edu.au by Mon 15 August so we know how many to accommodate.
If you are unable to attend in person but wish to participate remotely the event is being "live streamed". Please advise us by return email to ian.gordon10@tafensw.edu.au so we can forward the live link to you on the day to connect via your device.
We are asking people that, rather than send flowers to the service, please consider instead making a donation to the "Heart Foundation" via Eileen's tribute page at the following link.: inmemory.heartfoundation.org.au/fundraisers/iangordon/in-memory-of-eileen-gordon
You can also share your memories or thoughts on the tribute page.
Following the service we will be gathering for refreshments in the garden at Mona Vale Hotel.
James and Ian Gordon.
Eileen Gordon has been one of our foremost workers for Mona Vale Hospital through the Hospital's auxiliary, having given over 20 years service to the Mona Vale Branch. Prior to that Eileen was responsible for combining the original Mona Vale, Newport, Avalon, Narrabeen and Elanora Branches.

Mrs. Gordon held a number of Executive positions, including Assistant Treasurer, Narrabeen 2000-2007, President Combined Auxiliaries 2002-2007, President of Mona Vale Auxiliary 2008-2013.

With her passing on Saturday August 6th thousands of messages of condolence as well as tributes and thanks for her works have been expressed by community members.
Among these tributes is one by Pittwater MP, The Hon. Rob Stokes, who would have encountered her indominable spirit in pursuit of what was needed at Mona Vale Hospital even before becoming the MP for Pittwater in 2007.
Mr. Stokes stated Eileen spent decades volunteering in various roles supporting Mona Vale Hospital and was instrumental in many of the recent infrastructure additions, including the inpatient palliative care unit and expanded inpatient rehabilitation unit.
In 2010 Eileen was awarded as the Pittwater Woman of the Year, and in 2018 Eileen received Life Membership of the United Hospital Auxiliaries NSW, the highest honour conferred on a hospital auxiliary volunteer in NSW.
"Eileen was a giant of our community and one of our most respected and admired community leaders," Rob Stokes said.
"Eileen's compassion and kindness was equally matched by her determination and grit. There was simply no one else like Eileen.
"No matter the situation or challenge, Eileen was always the first to put up her hand to help out and was always willing to share her knowledge, advice and experience with others.
"There are very few people in our community who haven't benefited from Eileen's contribution and service in some way.
"It's surreal and saddening that Eileen is no longer with us. I will truly miss her friendship, passion, warm smile and enduring optimism.
"It's my expectation that a lasting tribute to Eileen's extraordinary contribution will be introduced at Mona Vale Hospital," Rob Stokes said
_______________________________________________
Eileen Gordon viewed everyone in our community as part of one big family – a point of view that originated with her own family and grew once she met and married her husband and had children of her own.
John L. Gordon explained in his 2013 Profile he and Eileen met while studying:
Where did you meet Eileen?
At Tech (Sydney Technical College – then at Broadway). She was a student and I was six years older then her. In the classes we were in in the early stages of Science, she graduated a year before me, with an Honours Diploma mind you, there were three girls in a class of one hundred.
She must have been pretty bright?
She was, she was. People say, "well why did she marry you?" but we've stuck together for 56 years!
Son James Gordon explained this week,
''Mum and Dad were married in St. Raphaels Church, Hurstville on May 12th 1956.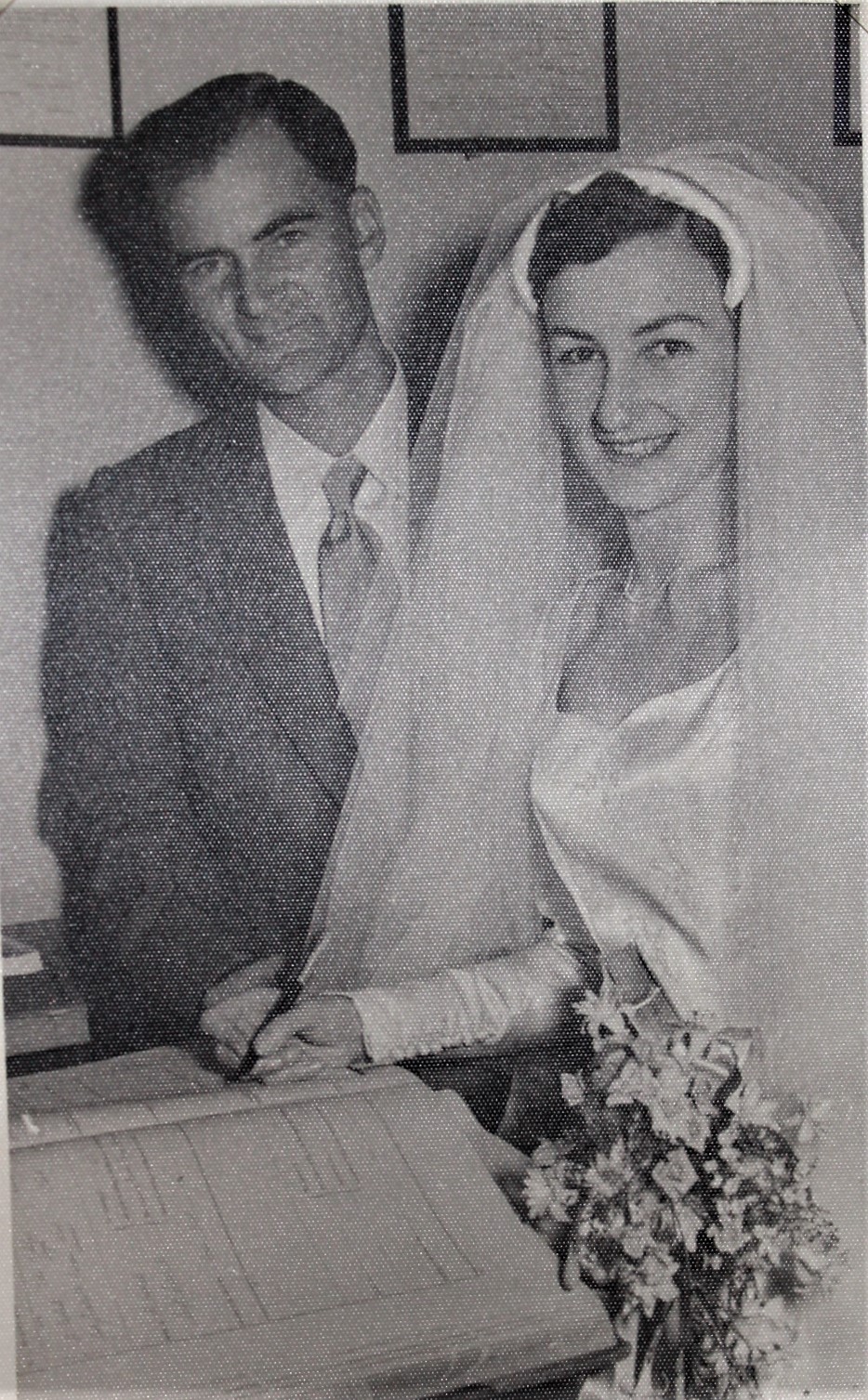 ''Mum was an Industrial Chemist and worked for the CSIRO for a while. Her last posting was working in the Bread Research Institute, where she was qualifying the quality of the wheat coming in to be made into bread.''
The Bread Research Institute of NSW, was established in 1947, and formed by a dedicated group of individual bakers within the NSW Bread Industry. The organisation began operating with the purchase of a property on the Pacific Highway in North Sydney in 1948. A single storey building containing laboratories, offices, a library and an experimental bakery was constructed with a second storey added in 1953.
Throughout the 1950s the organisation allowed CSIRO to relocate some staff to North Sydney. This coupled with the continued expansion of the organisation led to the realisation a larger facility would soon be required. In 1958 the organisation came to an agreement with CSIRO to locate to vacant land at North Ryde and shortly after commenced construction of new buildings. Subsequently the North Sydney property was sold and the organisation moved to its current site in North Ryde on a 99 year right to occupy from CSIRO. This move entrenched a long association with CSIRO who also used the facilities to house staff and conduct collaborative research work.
The work conducted by the organisation over many decades has had significant impacts on the development of the baking and associated industries, not only in Australia but internationally as well. Examples of this include:
Development of the Australian Rapid Dough Process which transformed the Baking Industry and drove productivity and quality
Research on doughs, yeasts and ingredient interactions together with hygiene and mould elimination
Quality evaluation of wheat varieties to increase bread quality in Australia
Research on the health and nutrition of bread
Engineering solutions for energy savings across the baking industry
Research into Asian noodle types and their wheat quality requirements
Leading international research on middle Eastern flat breads and Chinese steamed buns
Milling research on Australian wheat varieties to establish commercial quality profiles
Technical milling research on processes and treated grains
James says,
''She was still working when she was six months pregnant with me, which was almost unheard of at the time. Once you got married you gave up your career, and if you were having children as well, well that was it. It was more a case of there was no one to replace her so her boss asked her to stay on.''
They built the house at Mona Vale and moved into there on May 20th 1958, about six months before I was born in 1959. Mum has lived there ever since.
There have been lots of changes in that time – Mona Vale Hospital did not exist when they moved there.''
When they moved in there was a neighbour next door, a house at the bottom of the hill and then nothing for about a half mile around them.''
Eileen's husband John explained one of their favourite places at home was in their backyard as it afforded a view down the valley of the hospital. He also, smiling broadly, pointed out a personal marker he put in as part of installing their rotary clothesline - ''Come and have a look at this, I want to show you something...'':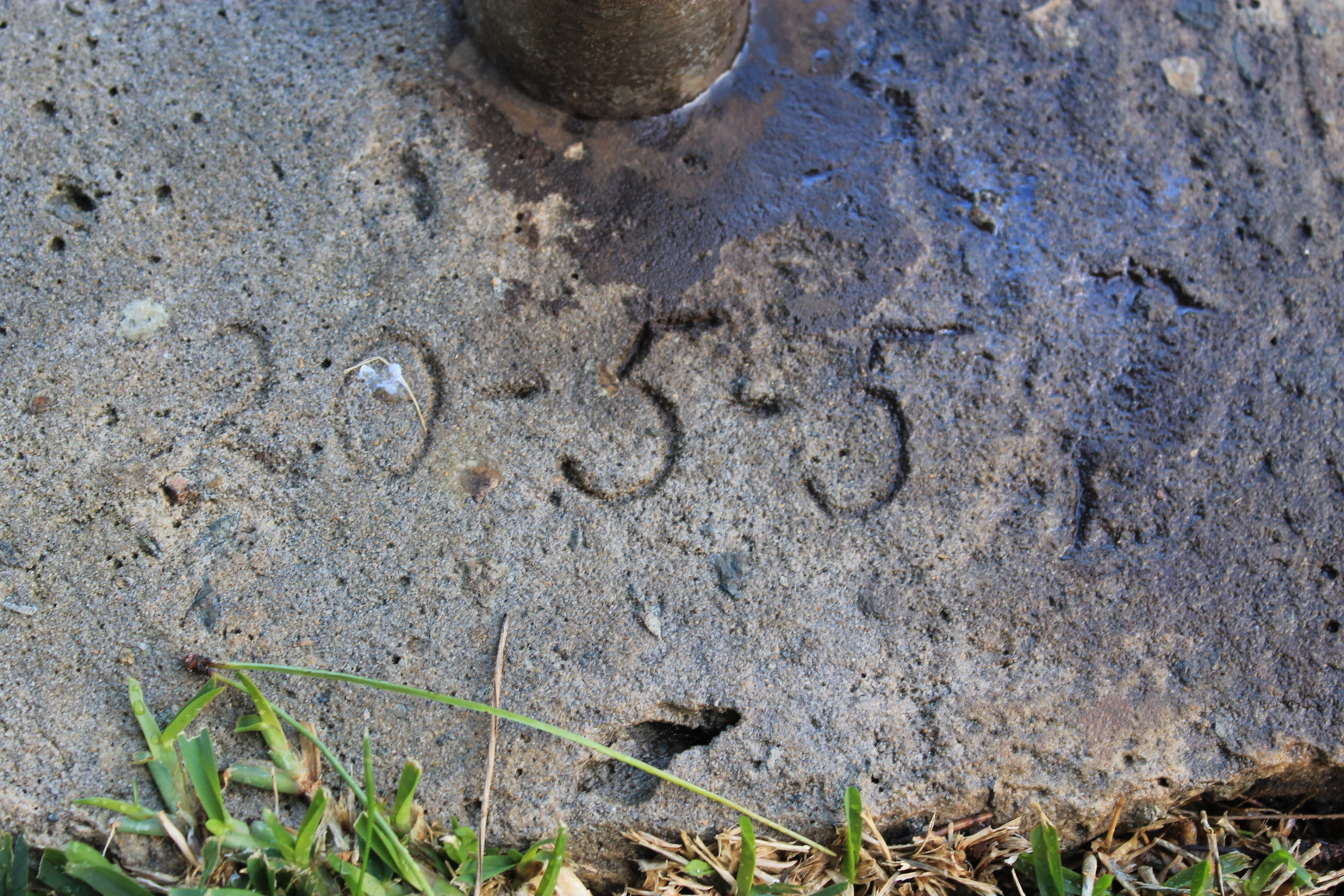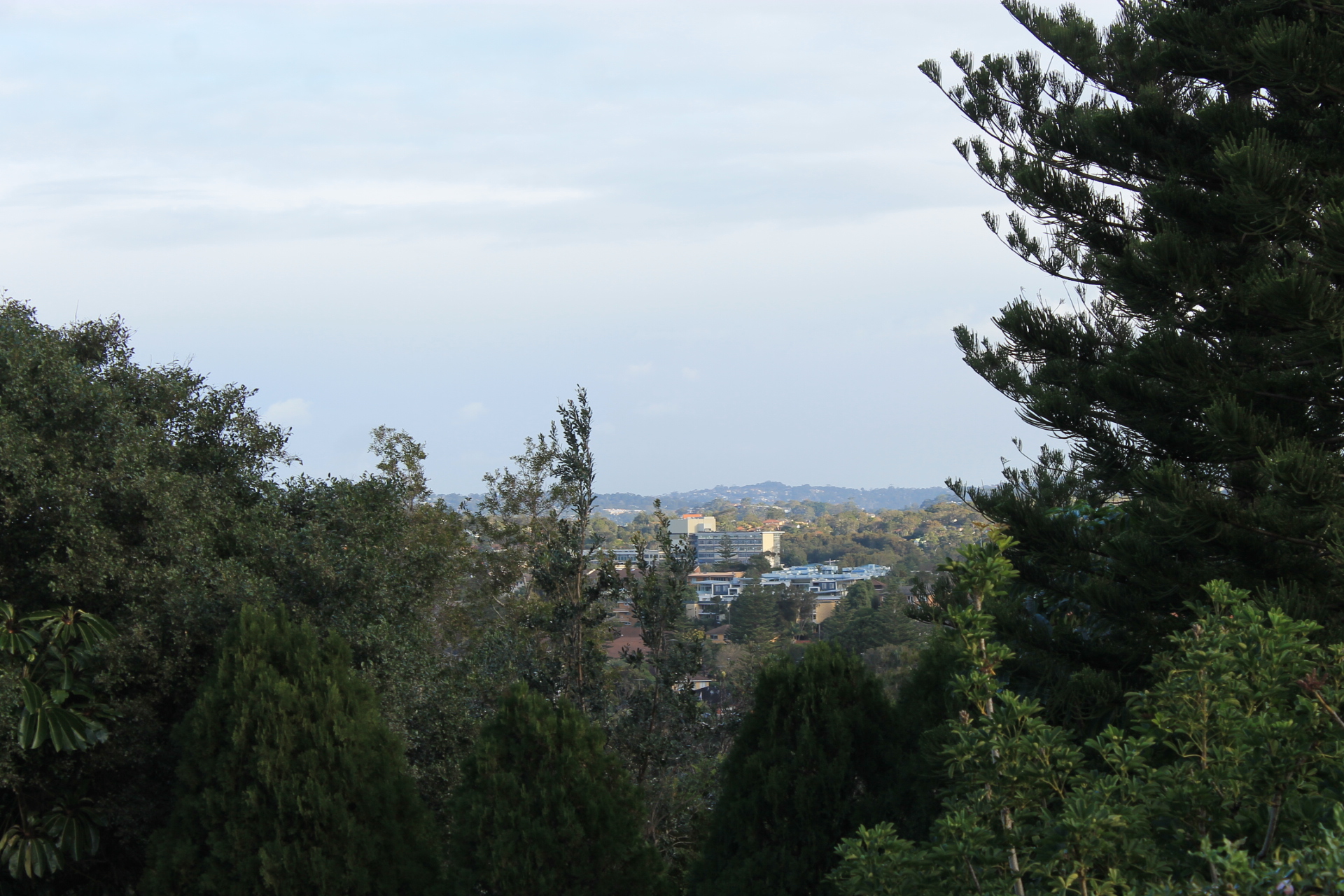 In explaining his mum's interest in the Mona Vale Hospital Auxiliary James stated that his grandmother, Eileen's mother Dulcie, had been a member of the Hurstville Hospital Auxiliary.
'I think mum saw it as an outlet for her organisational skills for one thing but her main reason was to be able to give something back to community.''
In husband John L Gordon, who took part in the first Sydney to Hobart yacht race, Eileen met a like-spirit – they were two people who would go 'above and beyond'. Both were heavily involved for decades at the Bayview Yacht Racing Association (BYRA).
James explains,
''The involvement at BYRA goes back more than 50 years – they were both Life Members. Mum also knew the Riddle family and when Ethel May passed away and left her in care of all her documents and photos mum made sure they were deposited with the Manly-Warringah and Pittwater Historical Society.''
''The sailing was very much dad's passion and mum tolerated it.''
''Mum's passion was, I think, being a great mum.''
'' Mum was also a bit ahead of the times in some ways. My first professional job was working overseas, where I met Debbie, my wife, who is actually Malaysian, and that's nearly 40 years ago now. Mum openly embraced having a daughter-in-law from another culture.''
James became an Engineer and Marine Captain, son Ian went into Education.
''Ian started off as a Mechanical Engineer and progressed on from there into the education field and is now a Director in TAFE NSW.''
''I got smart and retired instead.''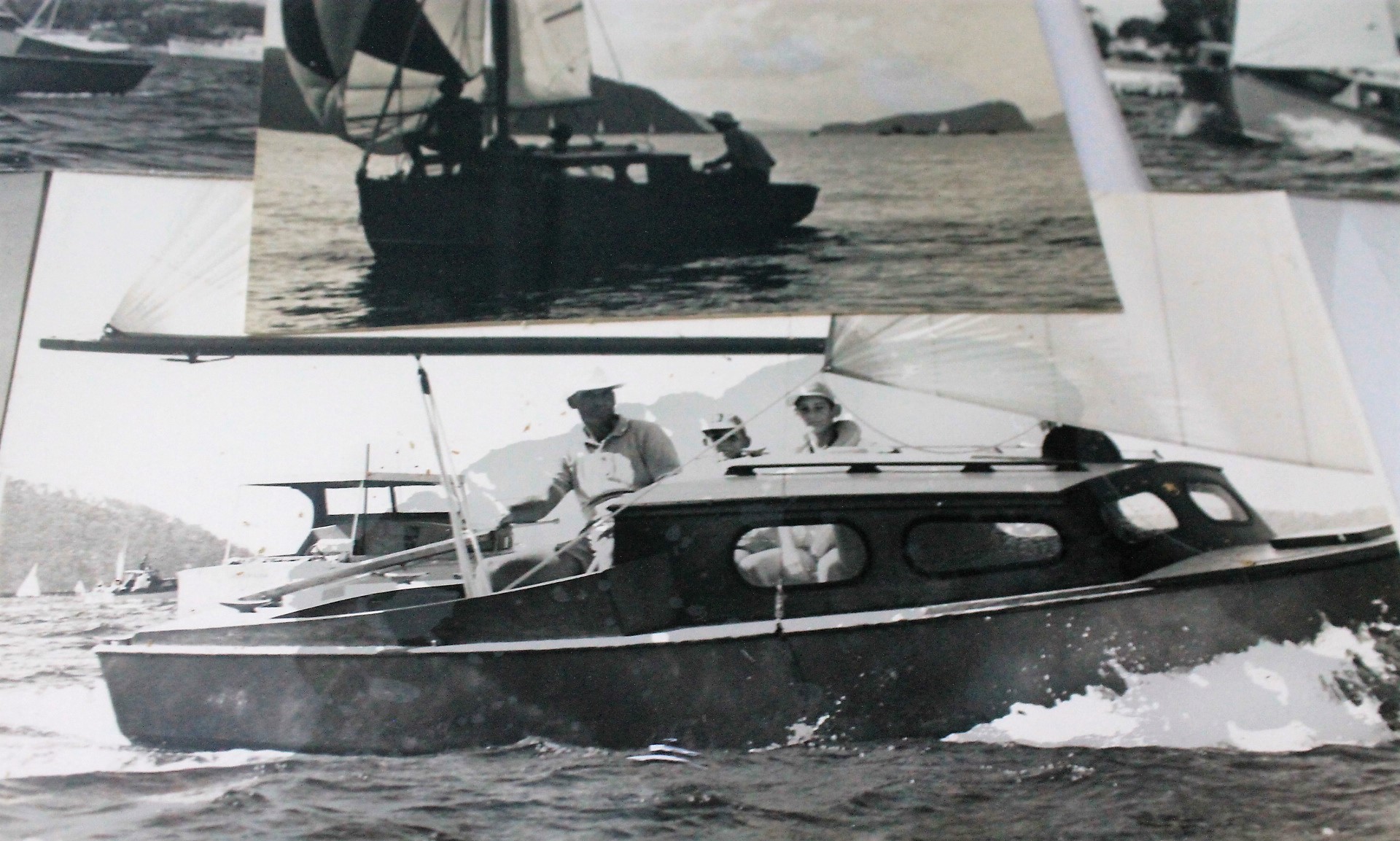 the Gordon men on Pittwater
The private family lady, with a clear and deep and abiding love for her sons, their wives and all her grandchildren and great-grandchildren also expressed this same love for people through the community for decades.
Once she set hers sights on something, Eileen just kept going until it was done, and just as she joined in BYRA activities in support of her husband, he too became a member of the Mona Vale Hospital Auxiliary.
Her speech from Mona Vale Hospital Palliative Care Extension opening 2013 charts the resolve community members had on adding to the Mona Vale campus.
Eileen Gordon – Address at the 2013 Opening of Palliative Care Unit Extension at Mona Vale Hospital:
After decades of work from members of the community and local state MP's the day has finally arrived.
Background: On 29th.October, 1989 the Palliative Care Service at Mona Vale Hospital was opened by the Honourable Bronwyn Bishop, Member of Parliament for Mackellar.
The Palliative Care unit was run by the widely-revered Dr John Doran, and offered 24-hour home support. He was soon joined by Jo-Ann Steeves as Volunteer Co-ordinator. This was a start, but a Hospice was needed too. A group of volunteers, led Volunteer Co-ordinator, Jo-Ann Steeves, started fund-raising with a concert in 1992, which raised a remarkable $10,000. Later, the Combined Auxiliaries, headed by Cora Adcock, donated $2,000 and commenced fund-raising in this community with fetes, raffles, concerts, etc.
In October, 1992, The Area Health Board requested funding for a Hospice at Mona Vale Hospital from health authorities. On 25th February, 1995, Community Services Minister, Mr Jim Longley, announced that a new 12-bed Hospice was to be built at Mona Vale at a cost of $2million, to be completed in August, 1997.
At this time, the Auxiliaries had raised $115,000. THEN came a change of State Government and Labor refused the Hospice at Mona Vale. The community fund stood at $187,368. All active fund-raising ceased and the Funds remained in a Trust Fund with the Health Department, attracting Interest and also an annual Management Fee.
Over the ensuing years, the delivery of palliative care services has changed, with the focus now being to keep people in their own familiar surroundings by providing the services they need instead of treating them in acute hospitals – better for the patient, better for the budget. The CORE of this is an adequate Palliative Care Day Hospital.
So, on 17th.May, 2007, the Mona Vale Hospital Auxiliary wrote to the General Manager of Mona Vale Hospital requesting that community funds held in Trust Fund 306704 be used to extend "The Cottage" where staff were doing their best to provide services in a facility that was inadequate.
And so began the Paper Trail from Auxiliary to Health Dept, Attorney General, Crown Solicitor and finally the Commissioner for Dormant Funds who ruled on 1st. September 2010 that the funds be released for the purpose of extending the Palliative Care building. A Trust was established with four Trustees and on 17th January, 2011 these community funds were finally released to the Palliative Care Trust Fund - $244,767. A process of a frustrating 3 years and 8 months.
In 2011 the Palliative Care Trust Fund had detailed plans for extensions to the Palliative Care Unit which might serve this community well then and in the foreseeable future. These detailed plans had been supplied pro-bono by a well-respected local architect, Emile Jansen, and approved by the Hospital Engineering Department.
With the extraordinary delays in releasing these community funds, building costs had escalated and we found that we could only fund the new administration section with adequate offices for doctors and nurses and the new physiotherapy unit, leaving the refit of treatment rooms, kitchen, bathroom, common room and reception plus the new physiotherapy deck and ramp exercise areas unfunded.
We really did not want a HALF-BAKED facility and so the Mona Vale Hospital Auxiliary asked the Health Department, NOT for the 1995 $2million, but to match the funding of this community with $244,767. After all, this was a Health Department Facility on Health Department Land. With the support of Rob Stokes, Member for Pittwater, the State Government agreed to honour the promise of Mr Jim Longley in 1995 to match Auxiliary funds and $240,000 was added to the fund, Mona Vale Hospital Kiosk donated $40,000, Rotary Clubs of Pittwater, Terrey Hills and Dee Why/Warringah added their support with combined donations of over $70,000, and Professor Vicki Taylor, CE of NSL agreed to waive the $60,000 fee that would normally be payable to Capital Works for overall supervision of the building project.
While all this was going on, Friends of Northern Beaches Palliative Care, led by President, Jo-Ann Steeves, were busy organising the refurbishment of the original Cottage – new carpet, painting etc with the help of a State Government grant.
The new building was going ahead, but disappointingly, we had exhausted all funds and had no means of building the $60,000 verandah which was a major feature and joined the two buildings. Then a miracle happened in the form of the Shirley Great Foundation, the Auxiliary found another $15,000 and the General Manager obtained $10,000. So we were able to build the beautiful verandah.
So, with all this help, this community has been able to provide a $660,000 purpose-built facility for the provision of Palliative Care Services.
Our thanks go to all the people who have supported this project and to the Trustees.
Eileen Gordon, 2nd, October, 2013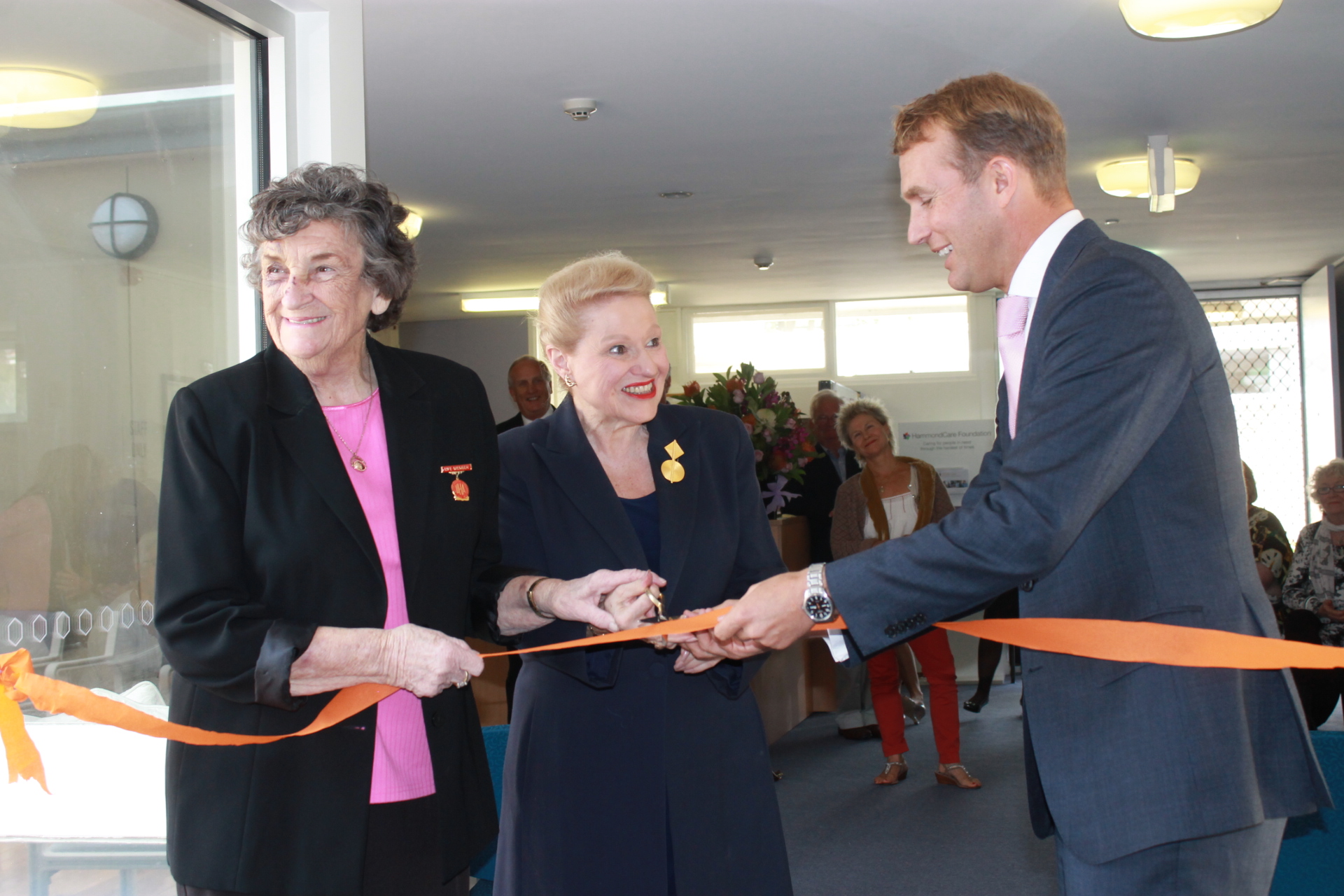 ___________________________________________________________________________
In July 2013 Eileen was awarded a 25 year certificate for her membership on the Mona Vale Hospital Auxiliary. Eileen was a dedicated worker and still attended some of MVHA's functions even though she was then in her 80s. Her main contribution by that time was growing the sought after Seville oranges which MVHA marmalade makers use for those quickly snapped up same items from MVHA stalls.
Waveney Perman of the MVHA explained in 2013;
''Eileen Gordon received a Life Member Award. Eileen has been the driving force behind the success of the Auxiliary and because of her its numbers doubled while she has been president. Eileen was the first point of contact for the Pittwater - Warringah community and so many donations have been made to the Auxiliary because of her prominence in it.

Eileen was involved with the new Maternity department, the refurbishment of the chapel, securing the funds for the new Palliative Care building and Rehabilitation Unit and liaising with staff to fulfil wish lists for the wards, particularly the Children's Ward, to name a few of her works.

Eileen secured Government grants and was on the 50 year hospital jubilee committee. Eileen was also an accomplished speaker and often informed groups about the hospital and auxiliary.

Eileen stepped down from her role as President of the Mona Vale Hospital Auxiliary in 2013 but took on the role of Public Relations Officer. The Auxiliary then had three vice presidents as no one was willing to take on her demanding job.''
In 2018 Eileen was Awarded Life Membership To UHA. Life Membership is the highest honour that can be bestowed on a UHA Member.
Eileen Gordon has been one of our foremost workers for Mona Vale Hospital through the Hospital's auxiliary, having given decades of service to the Mona Vale Branch. Prior to that, as stated above, Eileen was responsible for combining the original Mona Vale, Newport, Avalon, Narrabeen and Elanora Branches.
Mrs. Gordon held a number of Executive positions, including Assistant Treasurer, Narrabeen 2000-2007, President Combined Auxiliaries 2002-2007, President of Mona Vale Auxiliary 2008-2013.
With each new monthly fundraising activity, Eileen organised the initial activity and then passed that responsibility to other members of the Auxiliary. The MVHA relates Eileen instigated all the fundraising activities they now have; stalls, sausage sizzles, fashion parades, raffles etc. Under her leadership Eileen increased the amount of funds raised markedly. MVHA states Eileen was mainly responsible for the UHA certificates issued to their branch for funds raised year after year.
Her promotion of the Branch within the Community was phenomenal. Making the Auxiliary known to the public, interacting with clubs in the district such as the art centre, Mona Vale Garden Club, local bridge club, politicians, local council and the media to name a few, was her object and achieved aim.
Eileen was outstanding in nurturing new members and organising events. Her mentoring of new and existing members, after finding out their skills, meant many have taken a place in a suitable position.
Eileen was Pittwater Woman of the Year in 2010, and the recipient of the Federal Member's Award for Contribution to the Health Service to the Community in 2012.
ln 2013 Eileen was awarded the Community Service Award from the Rotary Club of Brookvale.
She continued her involvement in the branch as Public Relations Officer and organiser of the fundraising monthly Sausage Sizzle.
Every cent counted, would become one dollar and dollars, and could be added into the funds that would build something needed and of permanent value to the community.
Whenever Pittwater Online spoke to Eileen about what was needed next and how fundraising was going for the Palliative Care extensions, she would emphasise, first, that a large portion of this total, then held in the Trust Account overseen by the MVH Auxiliary and Trustees, had been raised by you, the people of Pittwater, and everyone who has bought any item, however small, at one of their countless stalls, or purchased a raffle ticket over the many years it took to get to this point, had 'given back' to their community.
Eileen also expressed her heartfelt thanks to Emile Jansen, the Avalon architect who drew up the plans for the upgrades pro bono, Vicki Taylor, the Chief Executive of the Local Health District, who ensured that the Project Management fee (usually 10%) was waived, and Pittwater MP Rob Stokes, who, in stating he would follow through on this project, was a key factor according to Eileen.
"This is something we need so badly." Eileen said, "People should be able to stay in their homes or where they live for as long as possible."
It's not just that huge project realised though. Eileen would quietly fix her steady gentle gaze on you if you were 'mucking up' and you subside, her advocacy was the conduit and touchstone for every local sports group that donated funds raised to MVHA for goodies for the children's ward, every craft group that donated show raffles funds to MVHA to provide items for the Maternity Ward, and everyone that bought a coffee or tea at the MVHA kiosk that could be invested in comforts for the Palliative Care centre and a thousand other 'gifts' to our community.
She brought us all together, inspired us to care about each other and care about our community.
As another stated this week:
A wonderful lady who was passionate about helping the hospital to make life easier for patients.

She will be sorely missed.

Thank you Eileen. A well lived life.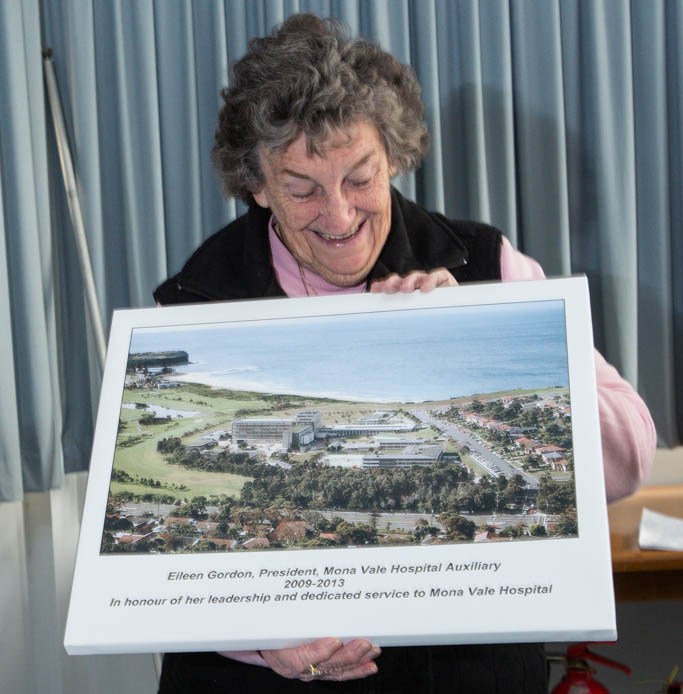 Eileen Gordon — Pittwater Woman Of The Year 2010
March 9, 2010
Member for Pittwater Rob. Stokes today announced Mona Vale Hospital Auxiliary President Eileen Gordon as the 2010 Pittwater Woman of the Year.
The award was announced at the annual ZONTA International Women's Day breakfast and recognises the outstanding achievements of local women, as well as their valuable contribution to the Pittwater community.
"Under Eileen Gordon's leadership, the Mona Vale Hospital Auxiliary last year raised more than $170, 000 for new hospital equipment", Rob Stokes said today.
"Eileen Gordon led the Mona Vale Hospital Auxiliary as it was recognised for raising the largest amount of money for any metropolitan hospital.
"Eileen's continuing vision is to expand the Cora Adcock Palliative Care Day Hospital on the grounds at Mona Vale for terminally ill patients.
"Eileen's invaluable contribution to our community hospital is greatly appreciated and her efforts have benefited thousands of local residents.
"Whether it's raising money for new equipment or assisting patients in-need, Eileen is always willing to lend a hand.
"The compassion and commitment which Eileen has for our community is truly admirable and this award is a great way to say thank you.
"Eileen was selected from a distinguished group of local women who all contribute to making Pittwater a fantastic place to live.
"Eileen is a remarkable member of our community and this award is a fitting tribute to her outstanding efforts" Rob Stokes concluded.