August 25 - 31, 2019: Issue 418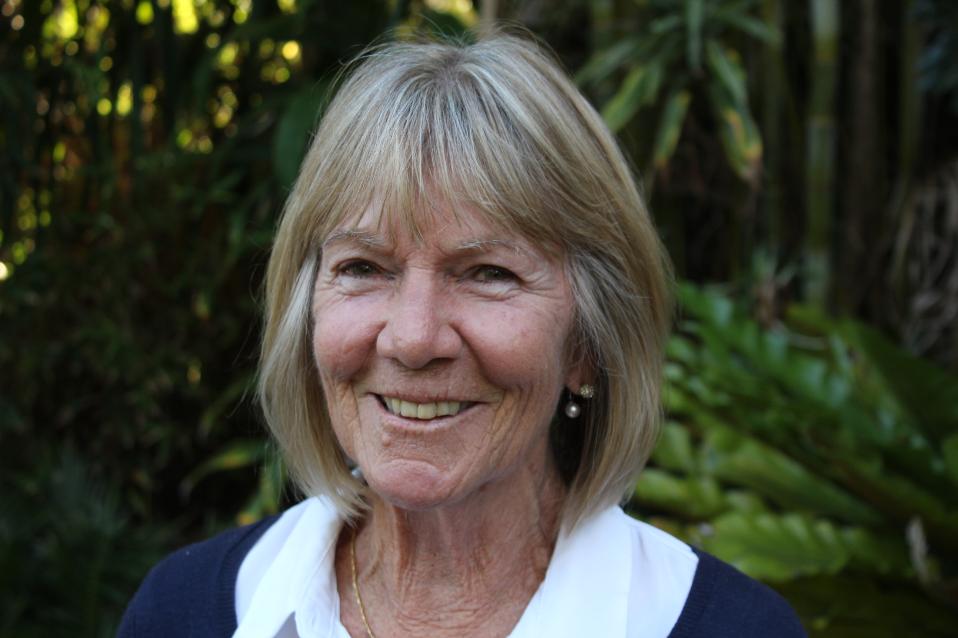 Dorothy De Rooy, (Vidgen) won the NSW open class women's surfboard riding championship in April 1964 while 16. It was the 3rd year in a row Dorothy had taken out the NSW Championship. 1964 year though was that year – when the World Championships came to Manly and surfing was beginning to take off throughout Australia.
While Dorothy and best friend Marilyn Bennett were among a group of accepting and respected male surfers, and were in fact among a group of pioneering and equally brilliant female surfers, she recalls a broader hostility to female surfers from those who thought they belonged on the sand in a bikini, watching the men. Even the foundling industry had a similar slant – decades later Dorothy still cringes at the way photographers favoured 'cheesecake' shots of her leaving the surf rather than ripping across a wave.
That didn't stop her winning competitions and riding waves though, or going on a 10 year round the world cruise on their own hand built yacht with husband Vic Vidgen decades later.
This week an insight into a lady who still has a passion for the ocean.
Where were you born?
A city called Breda, which is near the Belgium border and Holland, in 1948. I was one of the many many Europeans that came to Australia after WWII. I was three when we came here in 1951. I'm lucky that my parents chose Australia – we could have gone to South Africa or Canada, but thankfully they chose here.
My mother's parents were already here. They were living at Mona Vale. We didn't immediately come to Mona Vale, first we went to an Immigrant Camp in Bathurst and then went to Waterview Street in Mona Vale.
My maternal grandfather was here prior to WWII, he worked for BP.
I was the first one to go back and see my relatives in Holland, to see my grandmother – so it was good that my parents kept speaking Dutch at home so I could converse with her. I've since been back a few times and I feel like it's a second home.
So, you grew up in Mona Vale?
Yes. I went to Mona Vale Public School – the girls I went to school with lived around Mona Vale and the Mona Vale Basin. So it wasn't long before I got interested in surfing and borrowed a board and had my first surf down at The Basin in Mona Vale. I was bitten – that was it. I must have been about 11 or 12 then.
What sort of board was it?
It was a big old plank, very very heavy.
My grandparents passed away and we moved to Newport and I went on to Narrabeen Ladies College, as it was called then – Narrabeen Girls High School.
Didn't your parents have the Tennis Courts at Newport?
Yes they did, near Newport Primary school. Our house was next to the people who owned the block – then there was a little clubhouse for the night and day tennis courts. The whole block went down to Gladstone street. On what had been the half tennis court is where we built the boat. When my father was able to buy the whole lot he said we could move the boat and build it there.
He sadly passed away during the first year of us doing this. My mother sold one house, and then sold another part. My brother Robert had built his house on one part of it, and my father had built some units, those ones right next to Alcatraz. So it has changed a bit since then. This was a job dad did during his retirement years.
I think his aim, in building those units, was to be able to upgrade the little house we still have there.
Your dad must have been a hard worker?
Yes he was. They were both very hard workers – post war Europeans given a chance elsewhere. Mum had that shop down at Mona Vale called the 'Copper Nook' – she had that for about 25 years. Dad worked for a man who had a very successful company. They had this application, a specialist one, that had to be applied in a variety of places – windows, those in Australia Square when they were changed – I remember it was used on the tarmac at the airport too.
All of these people that came out from Europe after that war worked hard and those I met, aunts and uncles who were Dutch, all worked very hard and became very successful. Hard work was the key for all them, lots of it. They were Builders and Tradesmen and just all worked very very hard. They all had that work ethic.
What was Narrabeen Girls High School like?
There was a conservative side to it then but there was also a kind of St. Trinians side too. I was lucky enough to be introduced to the conservative side and even managed to become a Prefect, but there was always this lure of surfing; I just could not get it out of my system.
I should really have put my head down and studied, we were the last of the Leaving Certificates, that last five years, but I just threw myself into the surfing.
At any rate, I passed, and unlike my peers, who were either nurses or teachers, I became a secretary. This enabled me to pursue my wanderlust.
Who were you surfing with?
Marilyn Bennett, who I met when I was 13 and in my first year of High School. Marilyn and I are still good mates. Pearl Turton, the Binning girls, Chris and Tanya Binning.
Marilyn and I were always surfing down at Long Reef. The two of us would have to walk with a board from her place to Long Reef and would meet these guys along the way – they were known as the Collaroy group.
I remember Midget, a lovely chap, very straight up. I spent more time with his sister Jane though, she married a chap called Bob Pike, a lovely bloke and a great big wave rider from Manly.
Did you have to get a council sticker for your surfboard?
Yes, I did. They would confiscate the boards of those who didn't have one. They were also measuring the width of our bikinis too. It was prehistoric!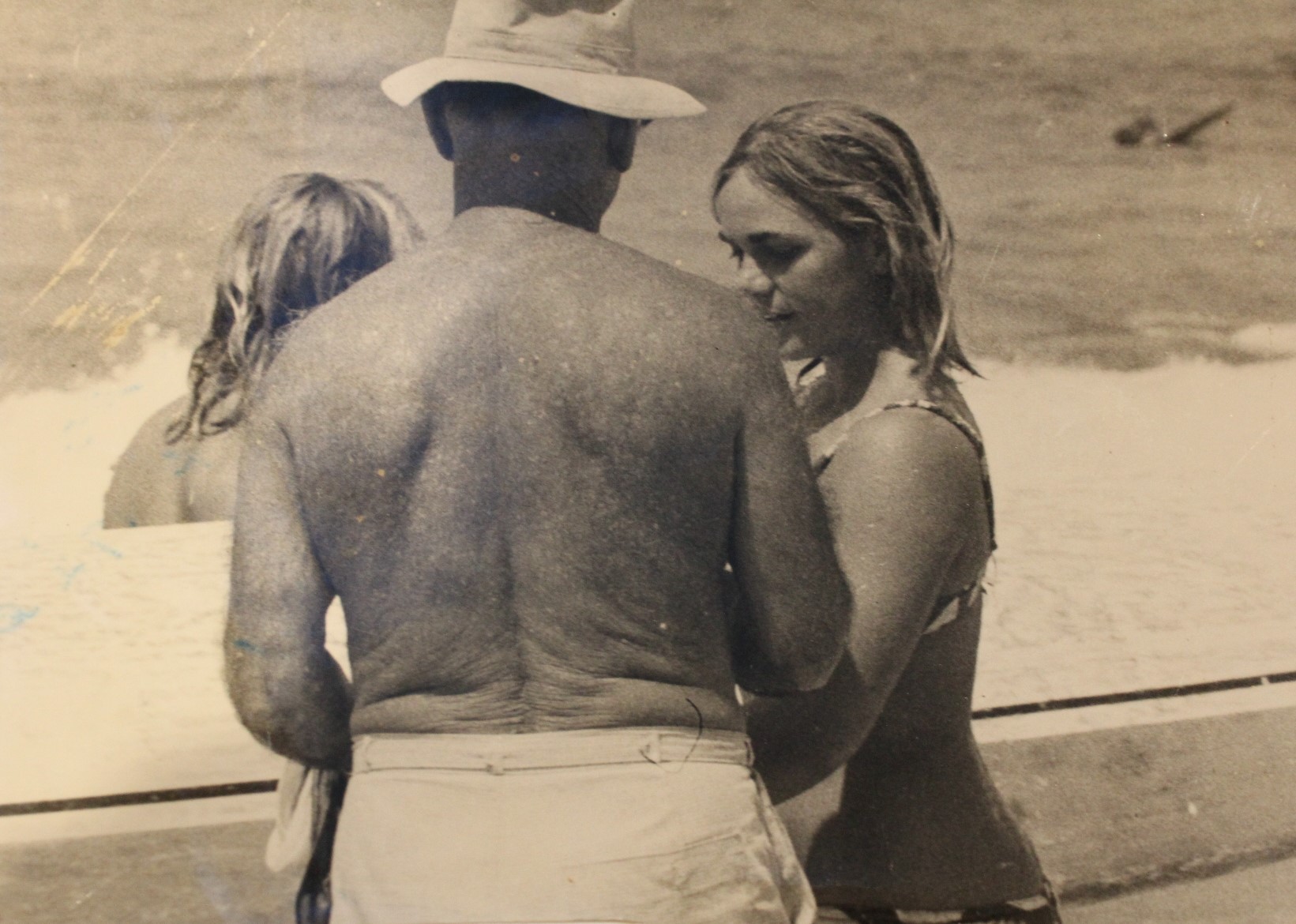 The Beach Inspector - checking Dorothy's board for her council permit sticker
Was there a camaraderie between all the surfers?
Yes there was. Not just between the girls up here but also between the southside girls from Bondi and Maroubra as well. We'd all meet up at the contests.
How did you begin entering surfing competitions?
I guess I was quite competitive – I didn't have that dainty type of style. I like to surf, get on the waves and do what I could with them. I think you have to be a little bit that way – if I wasn't then I would not have survived living on a boat for 10 years – such journeys are not for the faint hearted.
I remember the first one was in 1960, when I was 13. These competitions then aren't like what happens now.
Dorothy's Wins (Trophies):
1960 – NSW Championships – 1st
1962 - NSW Championships – 1st
1963 - NSW Championships – 1st
1963 - ASA – 1st
1964 - NSW Championships – 1st
1966 - NSW Championships – 1st
1967 - NSW Championships – 2nd
1966 Australian Championships 3rd
The first one would have been a local one – there was one at Avoca, there was one at Newcastle, another at Avalon Beach.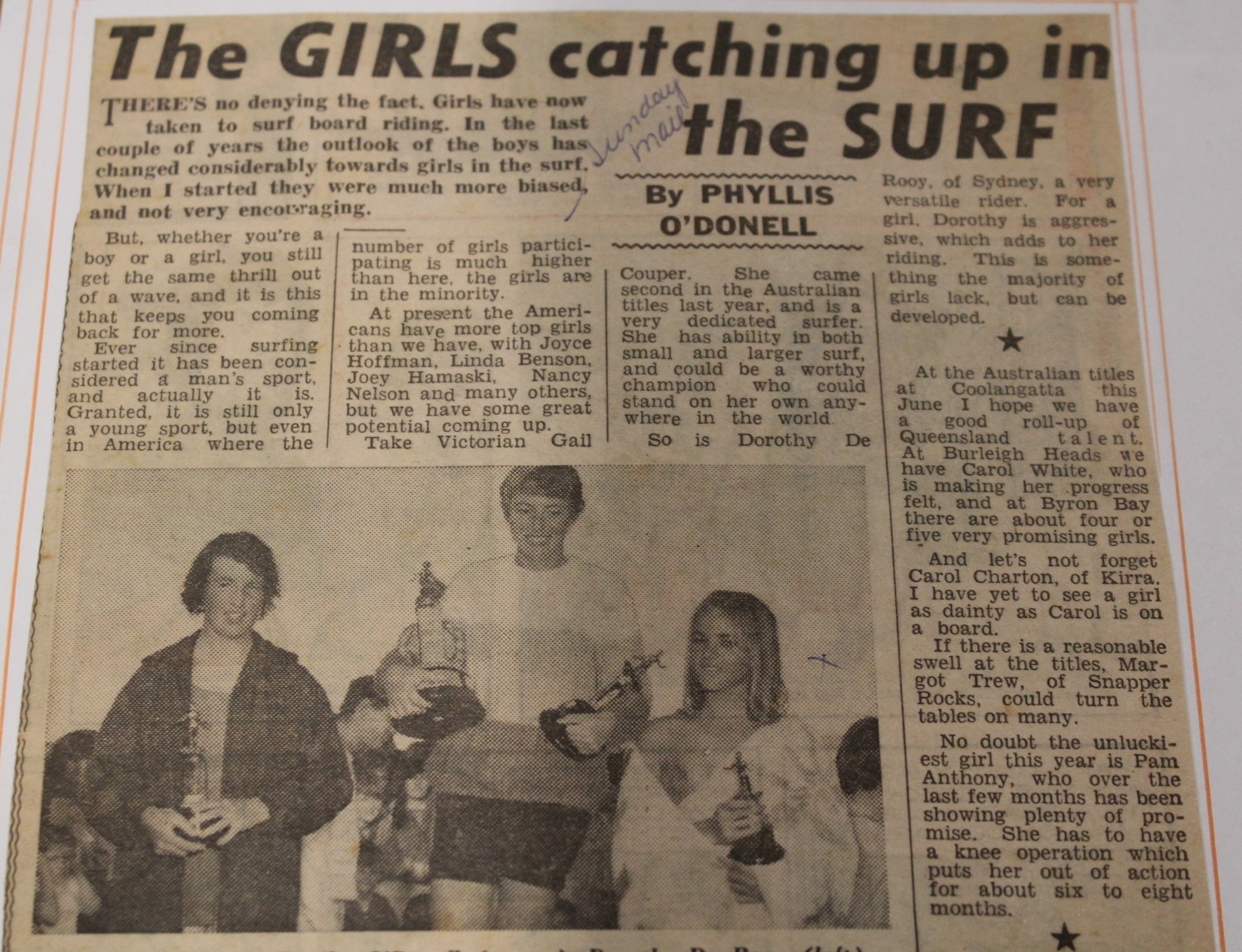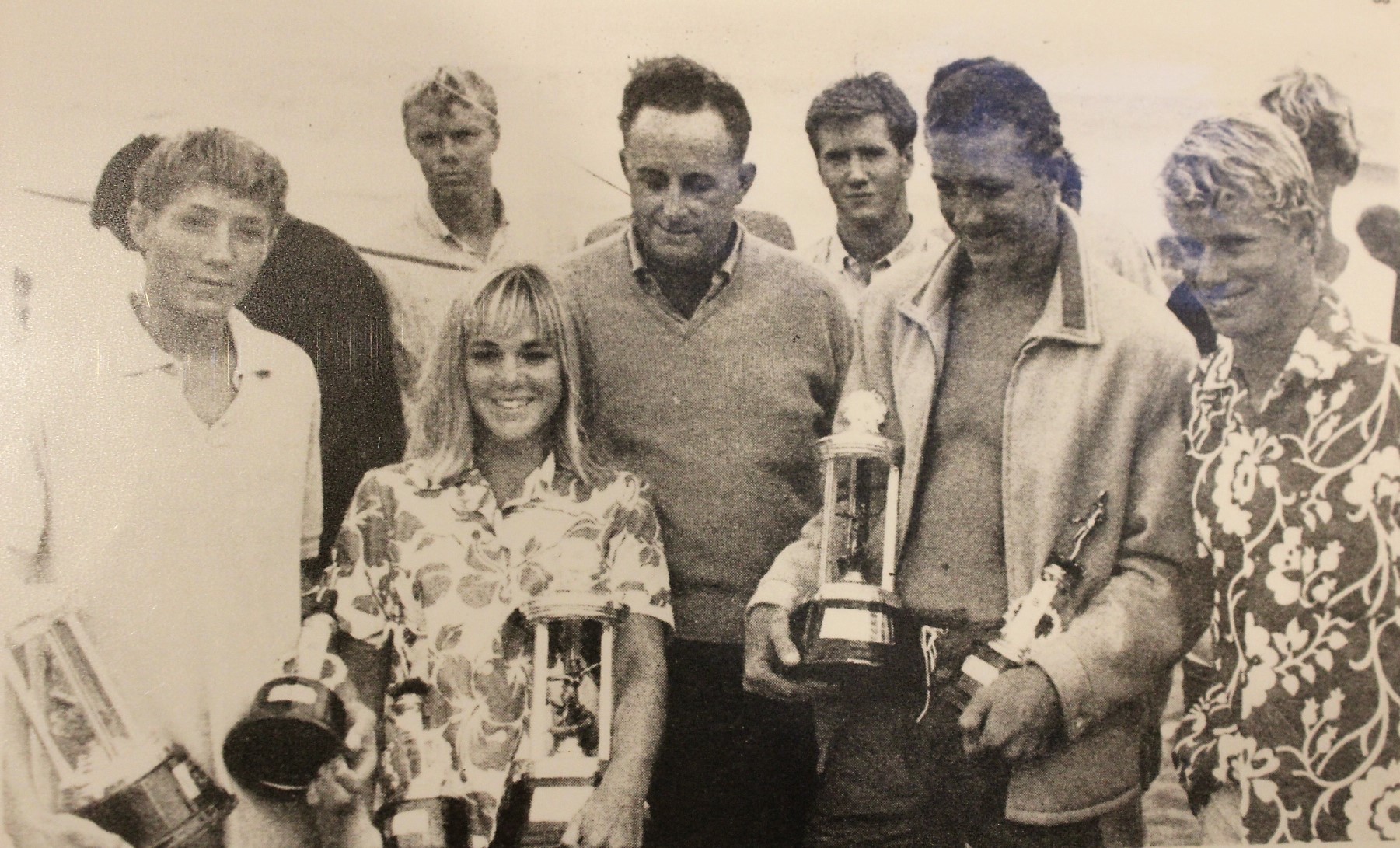 May 1964 - from Surfing World, page 44. Caption reads; Major Titles Winners at the NSW Championships pictured with World Champion 'Midget' Farrelly (right) and Ampol Petroleum's NSW Sales Manager Bert Hollings (centre. Robert Brown (left) won the Men's Senior Championship, Dorothy De Rooy the Women's Championship and Robert 'Nat' Young (second from right) the Junior Championship. Above from Dorothy's clippings - this was actually held at North Avalon Beach: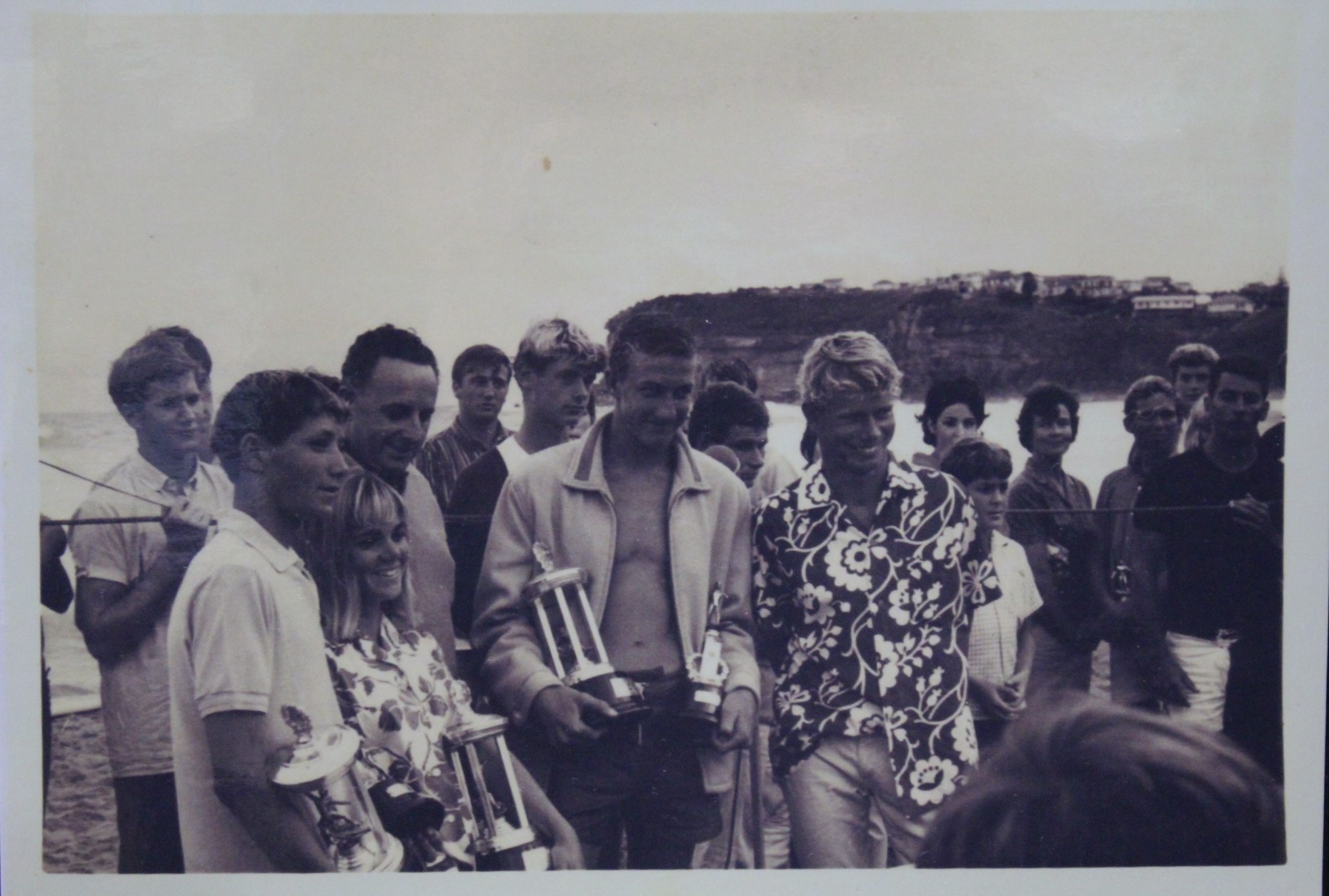 What was what you didn't like about those early women's surfing days?
They all wanted 'the look' – 'put the board as close to your bosom as you can' scenarios. It didn't matter that you could surf well, they wanted 'cheesecake' photos and images. They wanted you to look good and focused a little too much on those who did and presenting them in that way – it didn't matter about your talents or skills, we were just being exploited. I didn't like any of those photos. I always felt the girls were tacked on as an extra and not taken seriously – they were there because of the way they looked, wearing bikinis – that sort of thing. It's unlike today where the girls are just doing amazing surfing and given credit for that.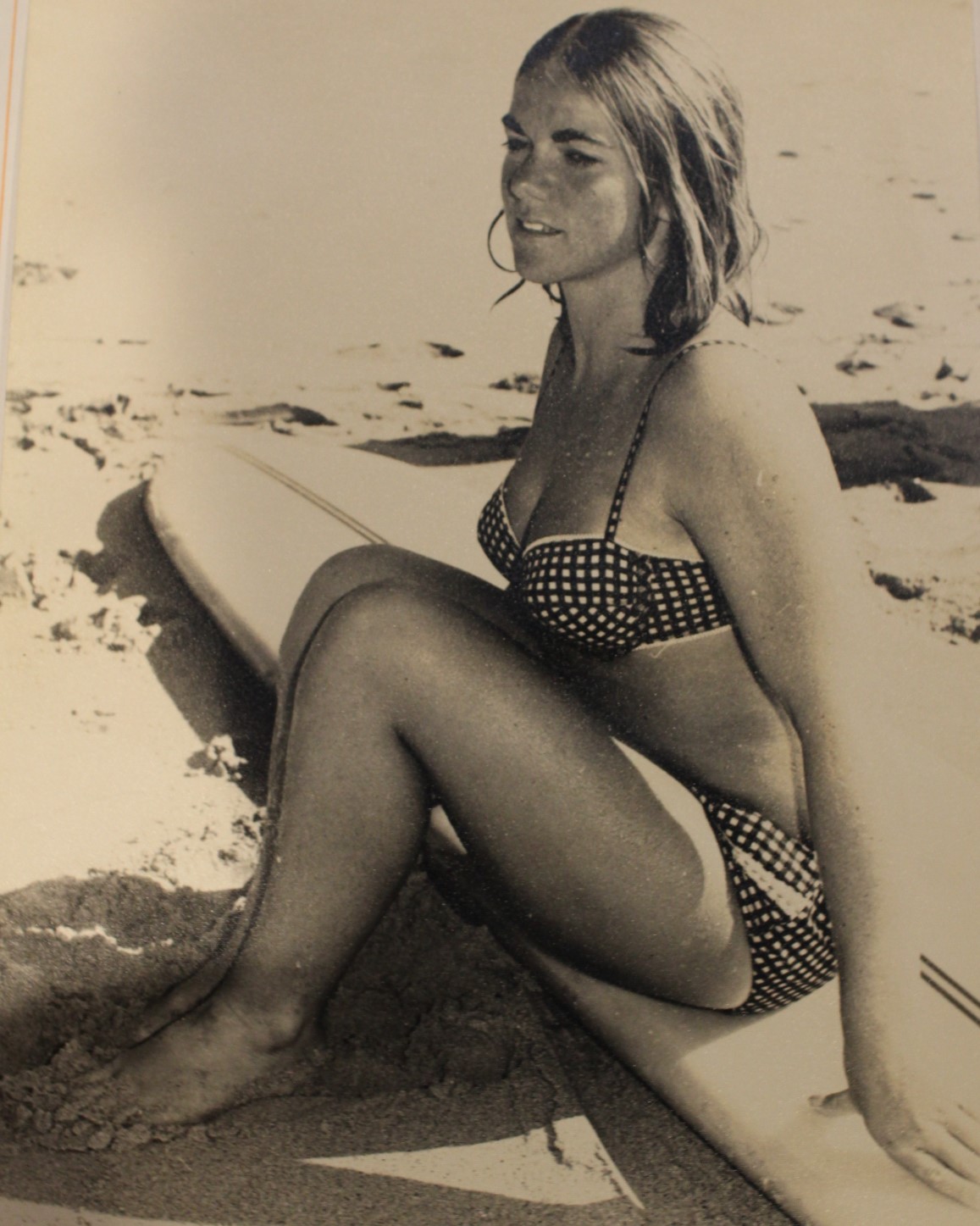 And of course for the men there were avenues open to them to make a living out of it – they could become surfboards makers and shapers and those avenues didn't exist for the women.
Even those who weren't involved in making up these cheesecake photos for promotion, just the guys you met surfing, there was also that element among them where they preferred if just sat on the sand, like an accessory in some ways, and didn't surf, and didn't talk, and just sat there looking good in a bikini or something – to make them look good I suppose.
You also had more people in the water as the sport exploded and this too chased women from the water at times. I've caught waves with some then and they'd just push you right off the wave. It became a little bit territorial, and apparently got worse after I'd stopped – during the 1970's there were too fee waves and too many surfing and not much politeness or sharing.
So I was lucky in that way – to have a decent go in the beginning. And having said all that, I remember that we were really just all friends at the beginning – we were just a group of people who all loved to surf. At a reunion I went to just a few years ago, with so many of us catching up, that's what stood out – we weren't male or female or surfing stars – we were surfing for the passion of it – for the waves, for the sense of freedom that gave. And in that we were all just mates.
The 1964 World Championships at Manly, how was that?
I was told I came 4th but it might as well have been 29th. I had won the NSW State championships three years in a row so I was automatically entered into the Worlds at Manly, the first ones.
There were thousands of people there. To me it was just going for another surf though.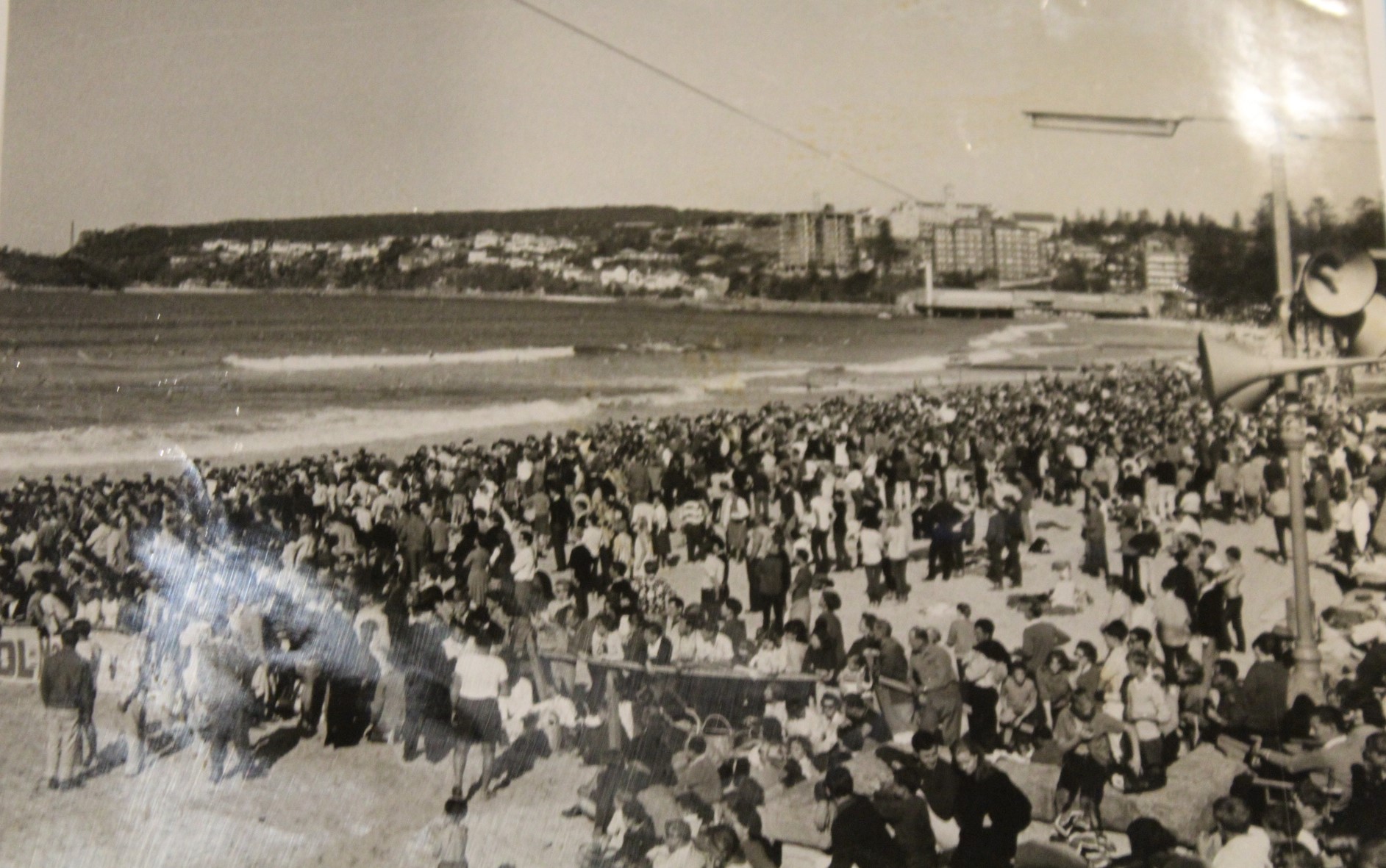 It was a wonderful experience. I was seeing people I'd only ever heard about, read about. Linda Benson was like a mentor to me, she was a movie star, larger than life. And all the Americans – Joey Cabell, Mike Doyle – surfers from all over the world, and they were all here. There was terrible surf that day though, very poor.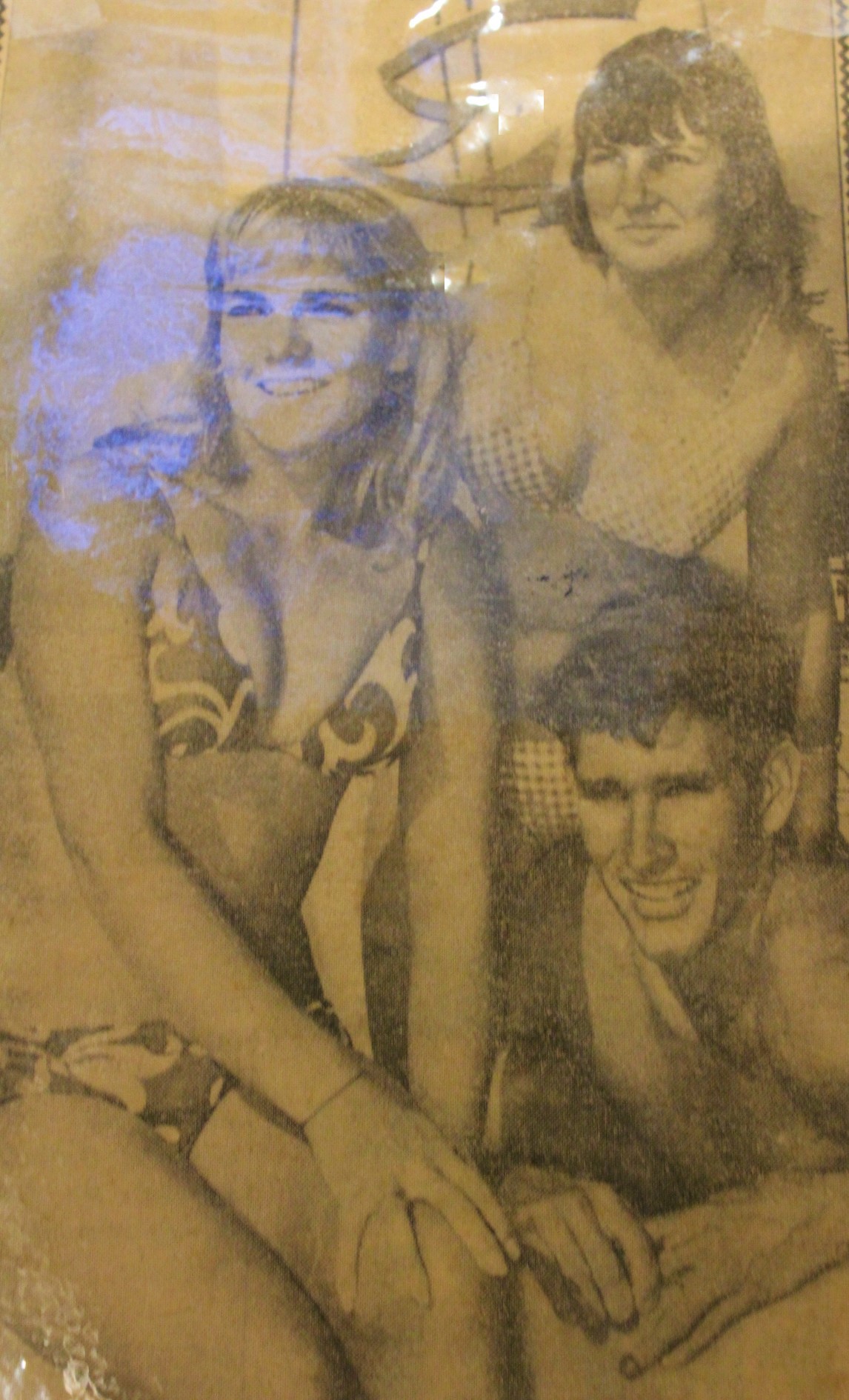 May 1964, caption reads 'Present world champion Joey Cabell, 25, of Hawaii, soon made the acquatinance of local board-riders when the World Championships began at Manly today. Here he is pictured with N.S.W. women's champions Dorothy de Rooy of Newport and (at rear) Maureen Horsley of Warriewood..
I remember all the hype of it, that and being made to feel special has stuck with me. I was very engrossed in the surfing just for the sake of surfing itself – not so much all the competitions and all the hype so much. I was in it to enjoy the waves; it was a way of life.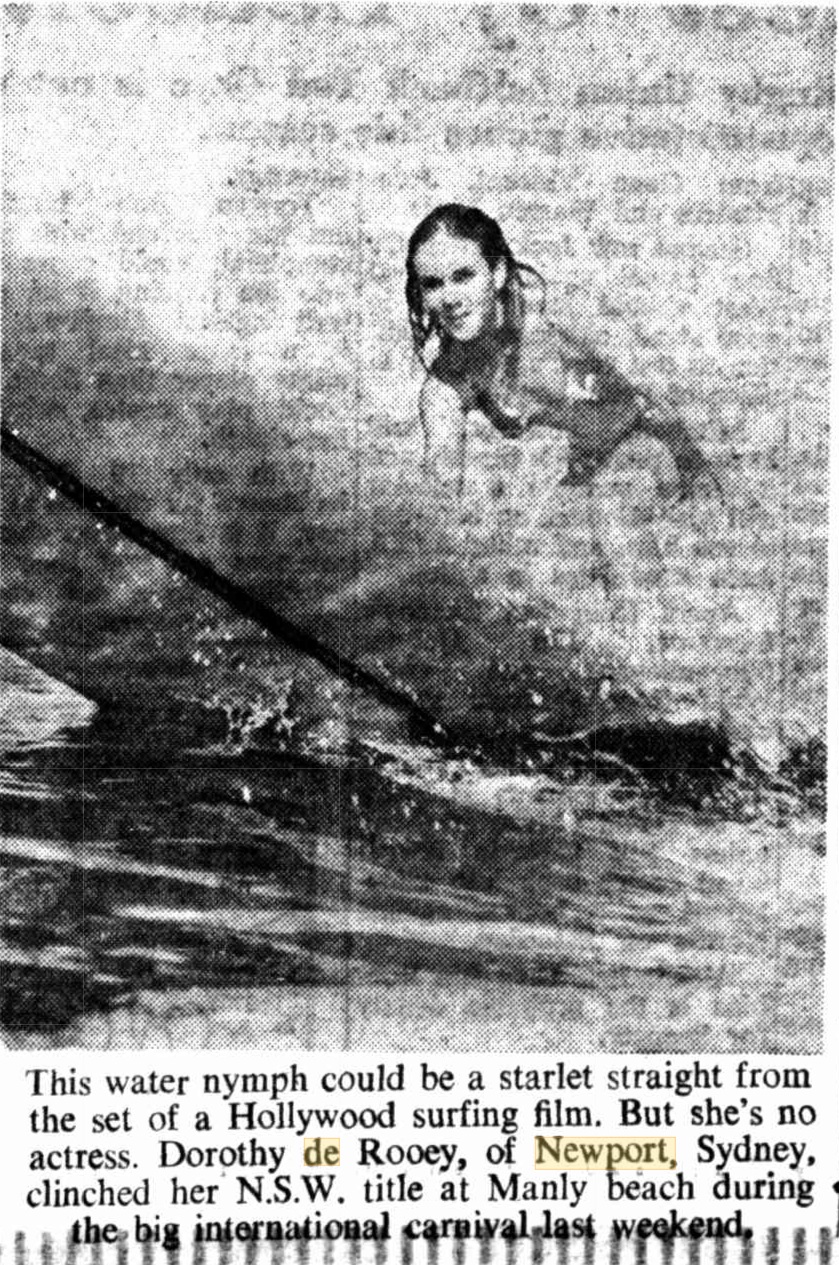 Everton Came May Be Cancelled (1964, May 21). The Canberra Times (ACT : 1926 - 1995), p. 43. Retrieved from http://nla.gov.au/nla.news-article104294196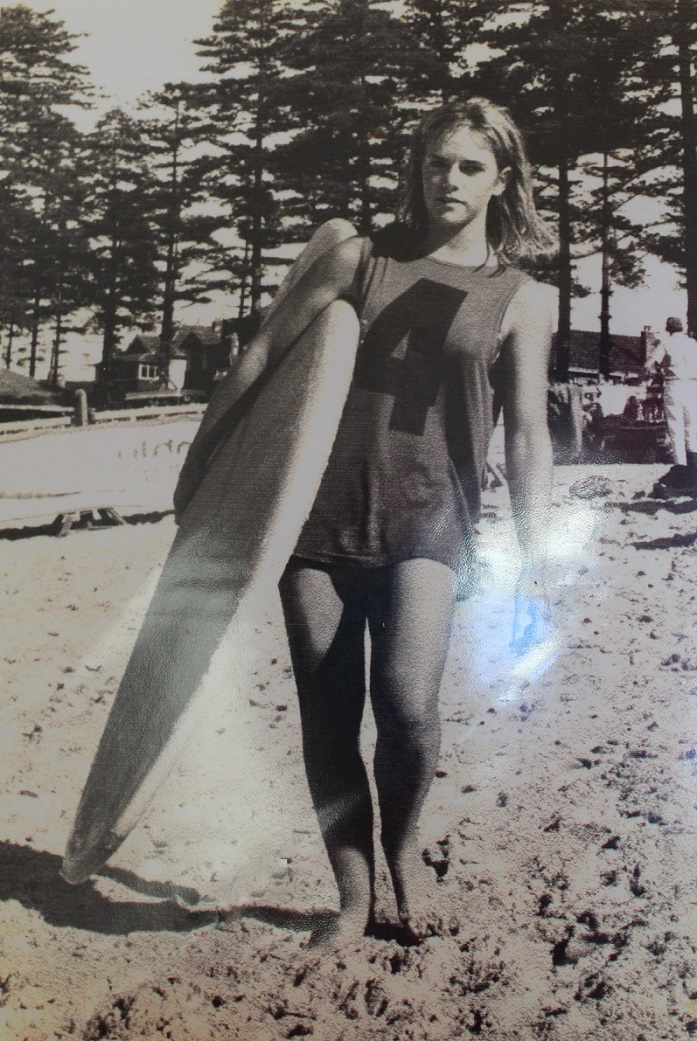 DUTCH SWIM SHINE
A FUTURE in surf-board riding is predicted for in a 16-year-old Dutch born girl who took part in the recent world surf-board championships in Sydney.
She is Dorothy de Rooy, pictured right, who finished fourth in the world championship final for women's surfboard riding against strong international competition.
Her competitors came from the United States, Hawaii, England, France, Peru, South Africa and New Zealand.
The men's champion. Bernard Family, from Sydney, praised Dorothy after the events.
" Her style won the admiration of many of the most senior competitors.
" She's certain to make a big name for herself in Australian surf-board riding, and I wouldn't be surprised to see her become a world champion."
Dorothy, who goes to Narrabeen Girls' High School, began surfing only 18 months ago.
She lives with her parents, Mr. and Mrs. Johan de Rooy, and Australian-born brother Peter, who is eight, at Newport, New South Wales.
DUTCH SWIM STAR SHINES (1964, July 1). Good Neighbour (ACT : 1950 - 1969), p. 8. Retrieved from http://nla.gov.au/nla.news-article176530671
My poor mother used to have to take Marilyn and I around everywhere.
My parents were very strict, and I was only young.
My father was very particular and I wasn't allowed to go anywhere just on my own.
I remember mum having to drive Marilyn and I all the way up to Byron Bay. I Remember her having to take me to Queensland.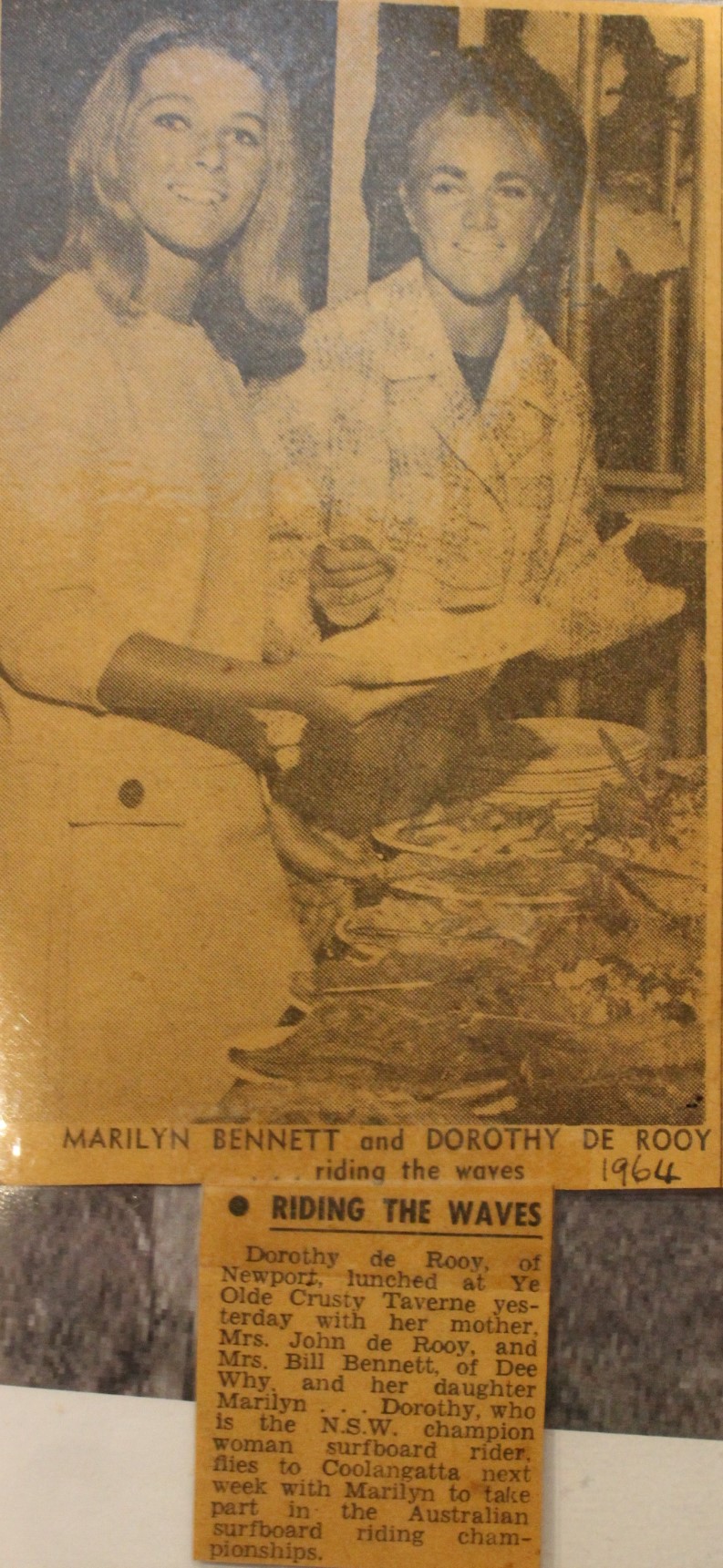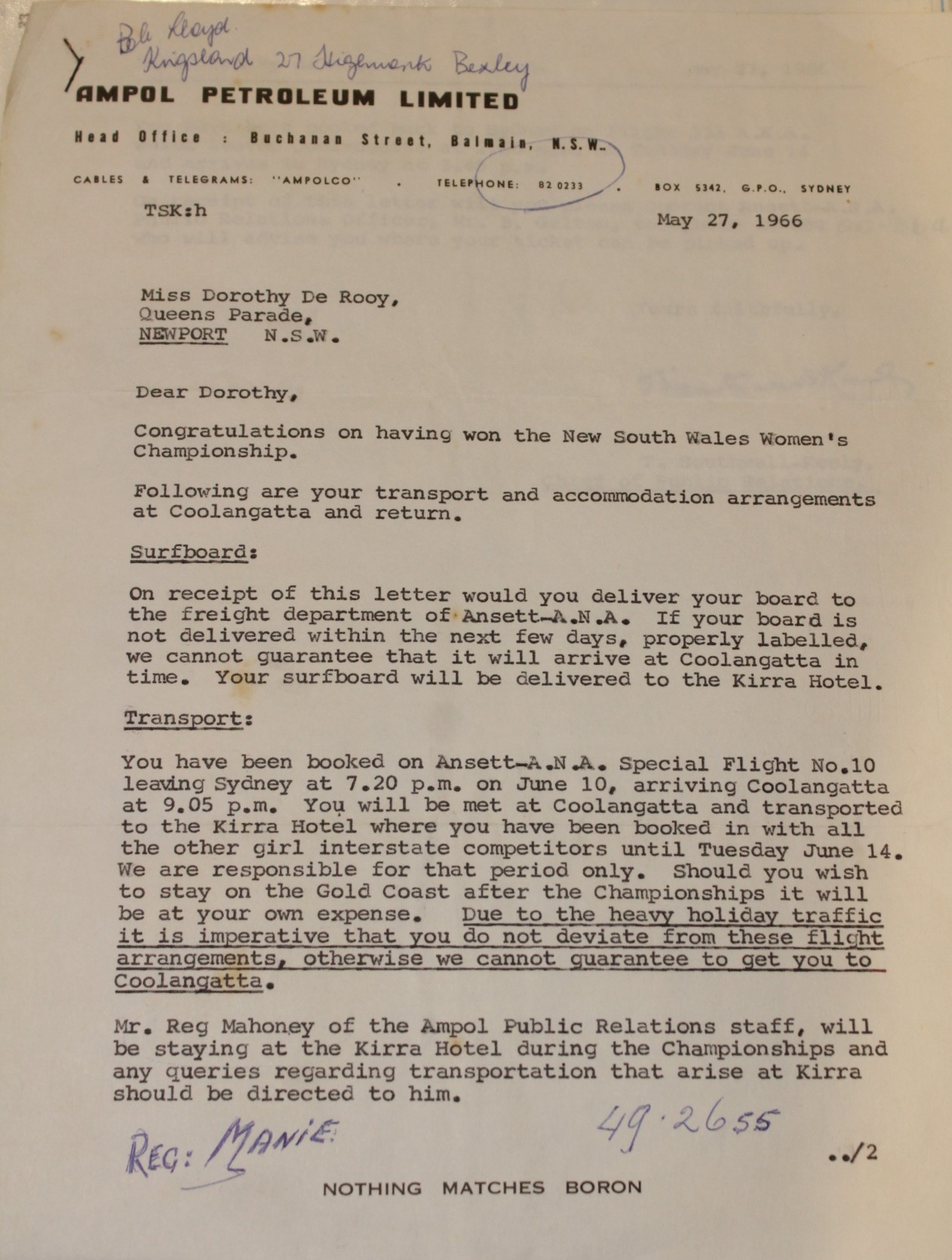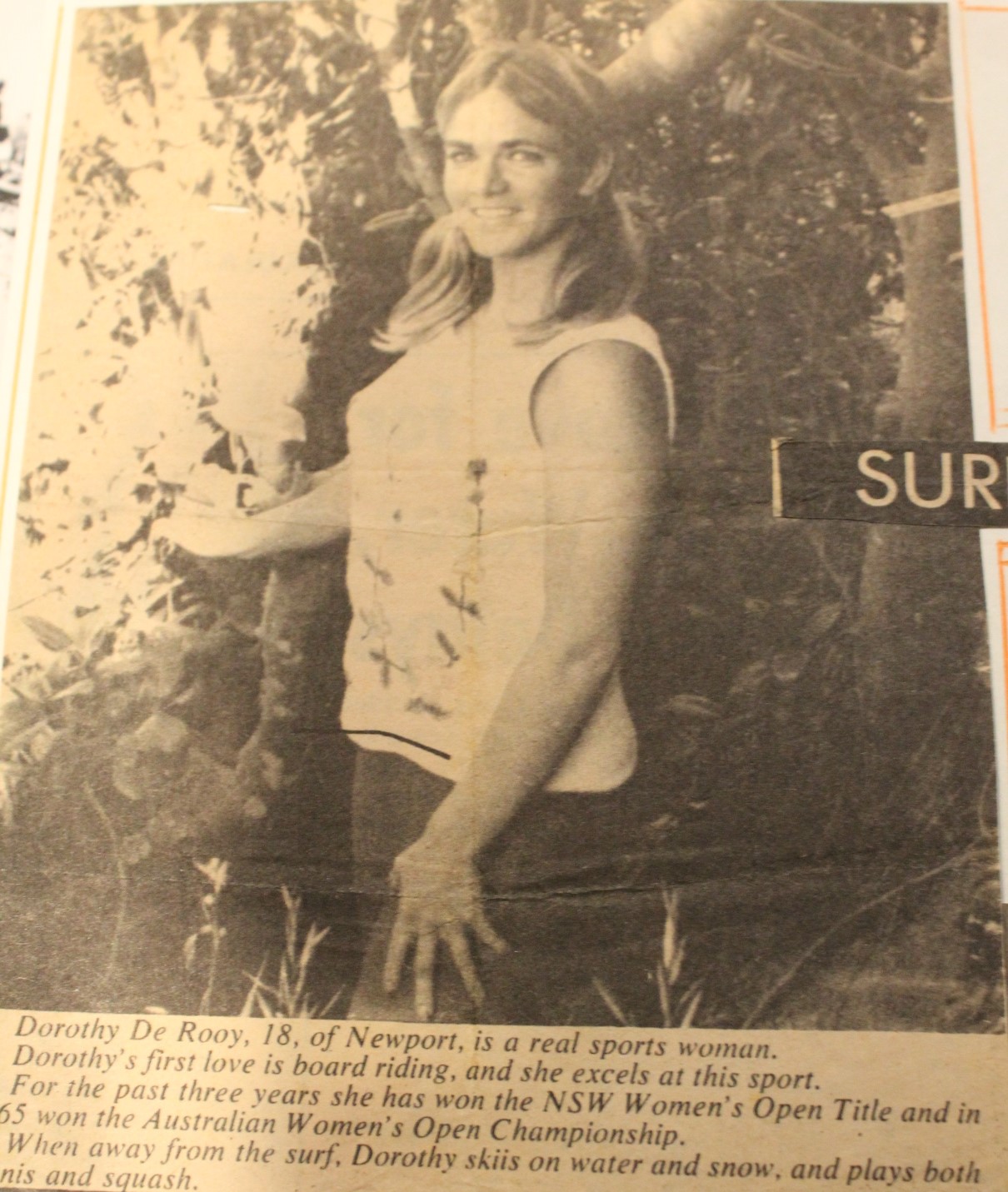 It was a bit hard to convince my father on a rainy day that I wanted to go to Long Reef just to surf; he was convinced I was just going to meet up with the guys. But then as I began to win contests he realised it was a real passion and allowed me a bit more freedom. If it was just to Long Reef or Collaroy and we could get one of the guys to pick us up he knew as part of that group it would be ok, but it took time.
Those days did have a turbulent aspect to them too – it was all so new, the surfing, the changes that were occurring in youth culture, the music. It was like an explosion of freedoms in a way, a lifestyle that hadn't existed before really.
I knew that I didn't want to do just that all the time – I knew I had to have a grounding in a job and being trained to do that. In doing that, following that there's one thing I'm very grateful for and that is that I didn't come into contact with that drug culture that attached itself to surfing then.
That evolution didn't really belong in surfing, which was about being fit and healthy – but the 1960's brought that with it too unfortunately.
Which were your favourite waves?
I remember having some really nice surfs at Dee Why, and some lazy days at Long Reef that were just fabulous. It was nothing like it is now. I remember the plants that grew over all the sand dunes, lying around in the sun – going to that pie shop at Long Reef.
There were so many good surfers at Long Reef in those days; Nat Young, Kenno (Robert Kennison), Mark and Niki Dion, Tony Raper, Robert Green, Rodney Black – all that Windansea Club group.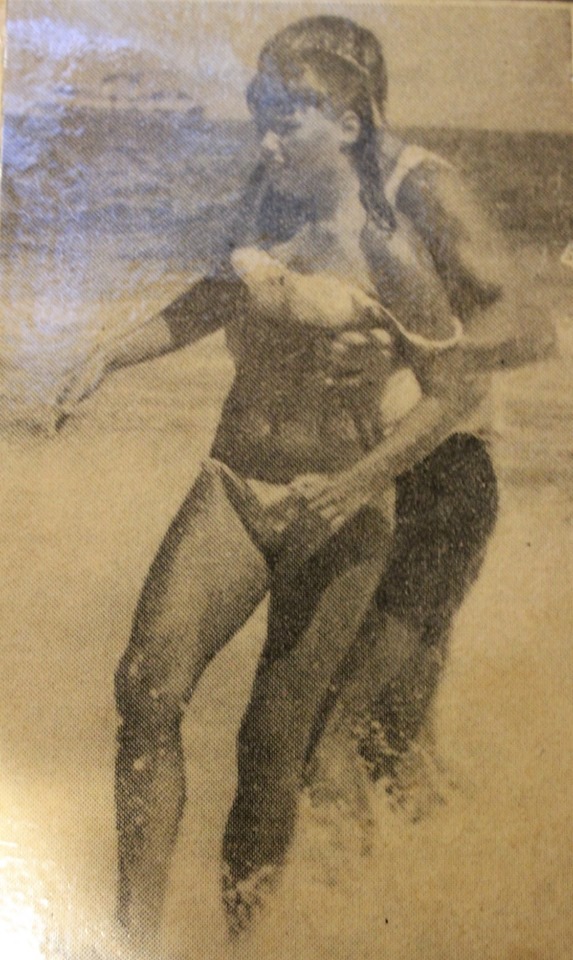 John 'Wheels' Williams and Jane Farrelly win 2nd in the State Tandem Surfboard Championship at Long Reef, 1962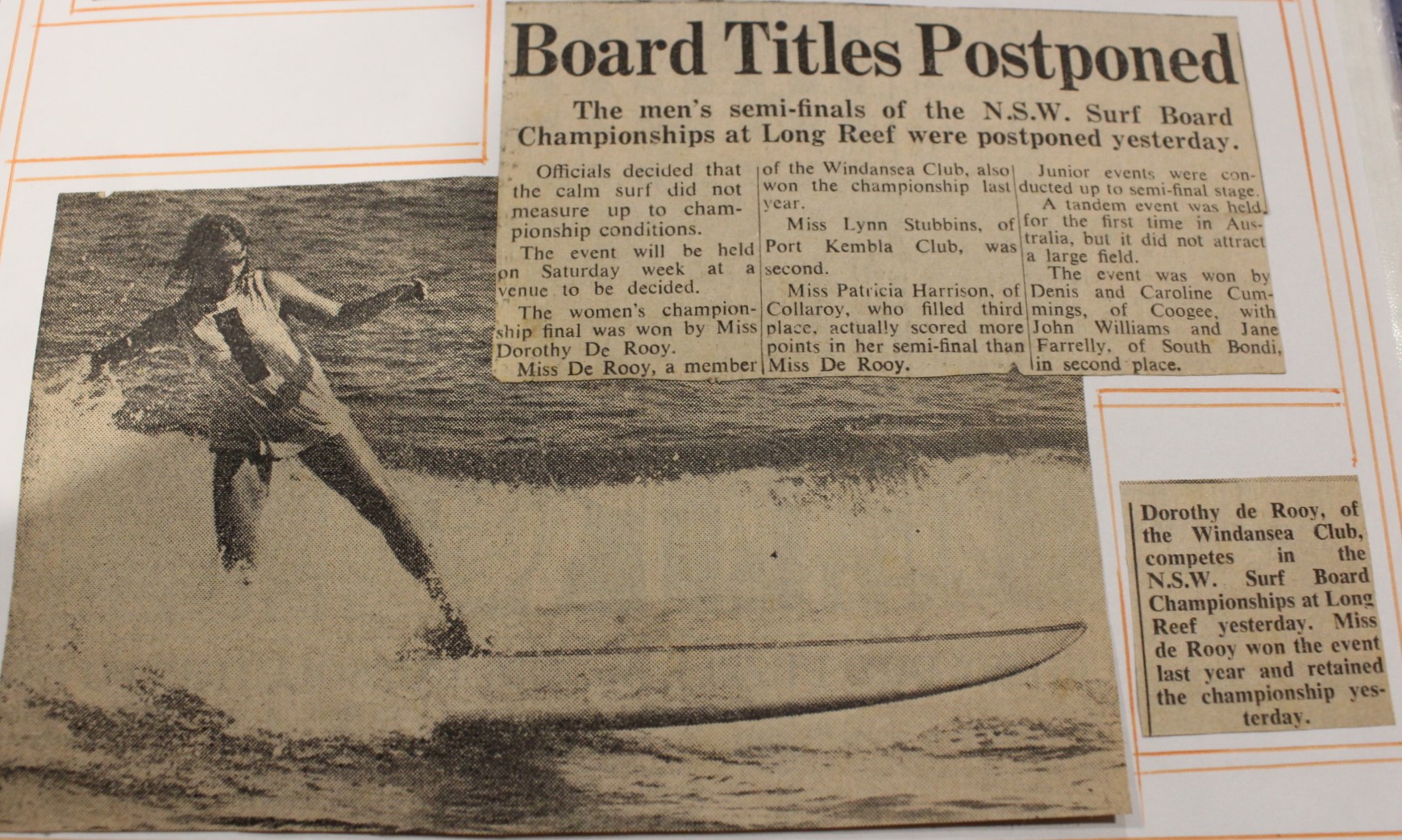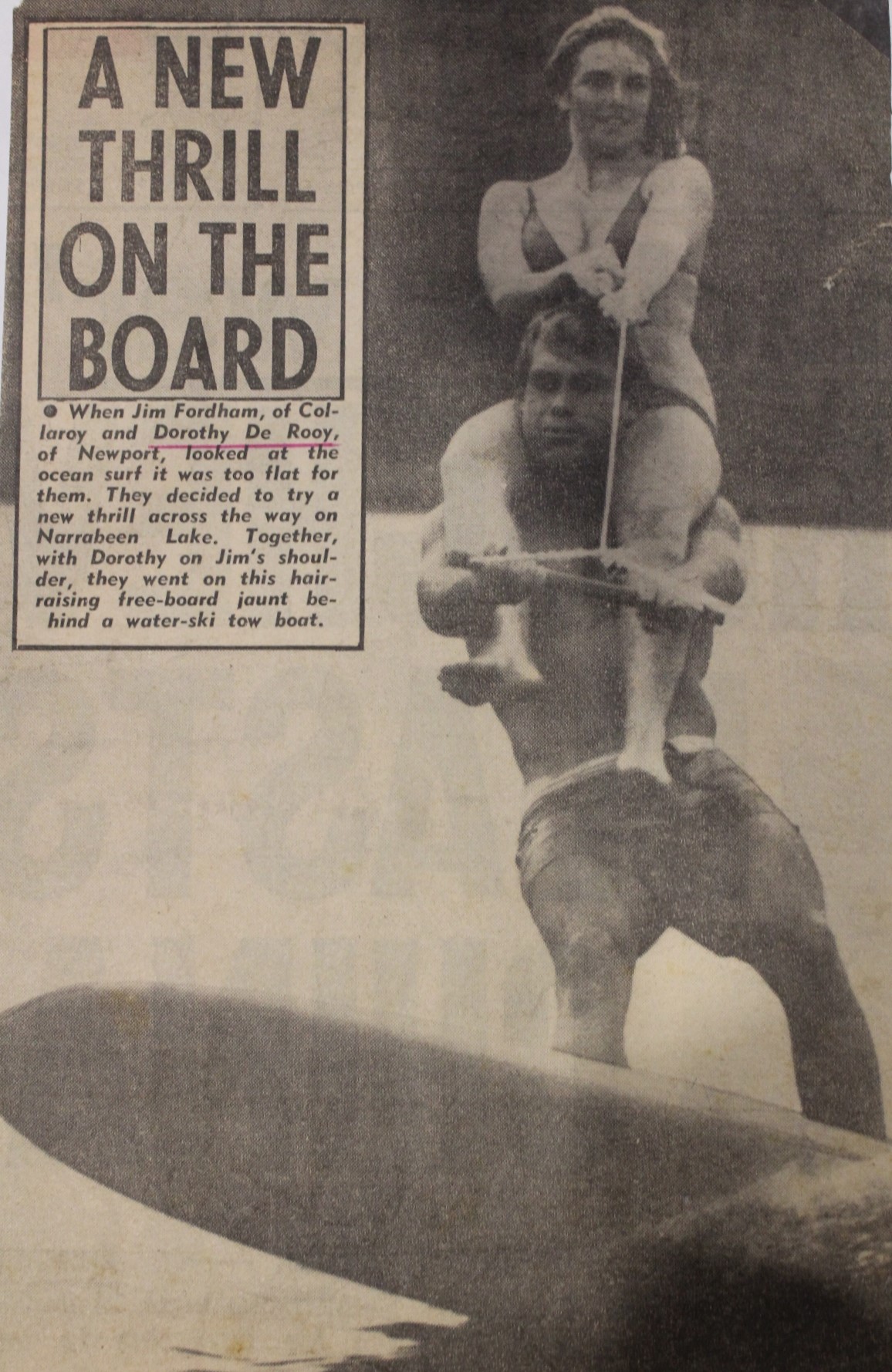 How many boards did you end up having?
Just the two – the one I got when I turned 69 and the one I had when younger. I had a boyfriend way back then, John Cormack, who was shaping for Danny Keogh, and that's how I got my surfboard. That board was eventually stolen from where I stored it at Marilyn's place. That was upsetting – you get very attached to your own board, and the guys are reluctant to lend you theirs for the same reason.
A few years ago I decided to get back into it – I can paddle on this new one and get up on it still, but by that time I am I'm into shore and have run out of wave, so more time needed to get it back. The want to get back into surfing is still there – I can't drive around the Bends without looking at the surf or when driving south, I'm looking at the waves.
What was the best thing about surfing back then, for you?
Being amongst it, being part of it. Having the youth and health and the freedom catching a wave gives you. Just being there when it was all evolving was pretty exciting. It was all so new and so few girls surfing, and so we were all on the same board I suppose – there was that about it. If you asked any of the other girls about then they will always remember that first wave that they caught.
Yours was at The Basin at Mona Vale – what was that like?
Just brilliant – that was it for me after that first wave – hooked. I was one of the 2 or 3 girls surfing down there then. There were a lot of guys there then, but just a few girls.
I remember this was just when wetsuits were coming in. In one competition I won a wetsuit and had to go down to Brookvale to have a fitting, I must have been about 15. I took Marilyn with me. What they had was basically a man's wetsuit and they decided to cut seams into it for the female chest and it was so obviously like one of those Madonna exaggerated bras; it was so uncomfortable and so unwieldy, and so thick – nothing like the spring suits they have now.
There weren't short boards then either, and no leg-ropes. My board was 8 foot 6 inches, and I'm 5 foot 2 inches. But I was fit.
What was the most challenging aspect?
Probably to go out on a bigger wave than you are tall and catch it and then ride it. Having the courage to go out was it, that and not lose your board.
You'd see this great big wave coming and then paddle hard for it, turn your board over and thrust it through the wave. If you got through that one you knew to just keep paddling for your life because they come in a set. Sometimes you knew you'd just have to jump off your board and swim for it – it wasn't easy.
Why did you stop surfing?
I stopped surfing after I had a really bad accident down at Dee Why Point. I fell and dislocated my should during Winter, when I had a wetsuit on. It was my own fault – I was just being a bit too smart. I was sitting too far in to the pool and the break came and there was just nothing there except rock ledge – it's still so vivid.
I almost drowned then and I'm very grateful that one of the surfer guys noticed what had happened and pulled me out.
It was such a bad dislocation that it used to come out in my sleep. My surfing was beginning to naturally peter out anyway, and I was going out with a guy who wasn't into it.
Many years later I thought 'I can't have this happening when we're on the boat' and so had an operation. I still have to be careful of it though.
What did you do for work?
I worked for an advertising agency in the city, McCann Erickson. So that was also a magic time really, living that advertising agency life. That was exciting too, nice clients, and it was through this that I went to South Africa for two years.
Everyone else was getting out and I was going in. I wanted to go – I'd met so many nice South African people and all the surfers went over there to surf and came back with all these stories about how wonderful it was to surf over there. I wanted to go and see this for myself and wanted to go somewhere where you weren't legally bound to stay for any length of time. I went one way, and they (the advertising agency) paid for that, and I had to get a work visa, and stayed there for two years.

I travelled around and saw a lot, went over to Holland and then came back here and met Vic at the Newport Hotel.
You met your husband Vic in 1979?
Yes. I was mixing with a group of Qantas people and so knew his son. His son had taken him to the hotel and wanted to introduce us. Vic was very handsome, quite youthful in looks. I hadn't met anyone I'd want to get married to prior to meeting him.
He wanted to build a boat?
Yes he did – 'do I want to share this dream'…and I had never sailed before. So we embarked on this great adventure of building a boat, which in those days was no mean feat; there were every few places you could do that and it takes a lot of time. The amount of times I walked up and down marinas; 'what should we build her out of; fibreglass, wood, the whole enchilada. We decided to build it out of steel. It took 10 years to build this boat and for of those it spent in the front yard of our house. It was bright yellow – you couldn't miss it.
It would be an impossibility today as we're surrounded by McMansions – but then we were lucky and could get a crane in and lift it over a house to the road.
When it became closer to finished and it was obvious this was going to become a real thing I had to go out and get qualified to go. I went and did my Navigation certificate and various other qualifications. We launched and then did various side trips and then took off to go around the world in 1996.
We didn't return into Pittwater until 10 and a half years later; and we returned still married – also no mean feat when you're on a small boat together for that amount of time.
How big was she?
She started out as 36 feet, but Vic being Vic, wanted to make alterations to her. So it was hauled out again and we made it into what is known as a lazarette and added another mast – and that took another two years.
But it was because he had built it, and I had contributed to it, that I felt very comfortable, after a year, when I realised this was going to be our life and what would happen – that this wasn't just playing around. She was called Neliandrahs – which is an aboriginal word for 'butterfly'.
We went around the coast then sailed off – and the rest is history. I'm so glad that I did that.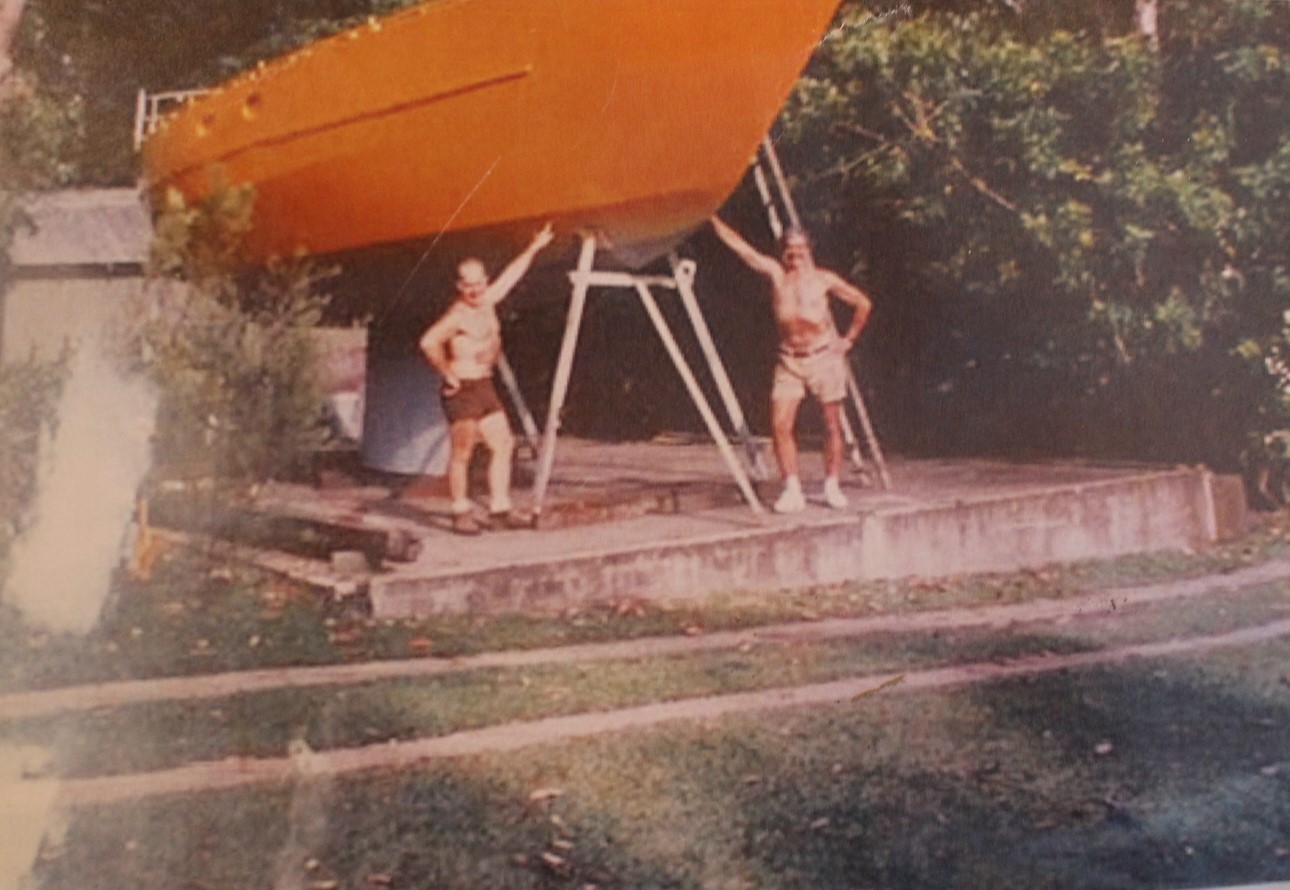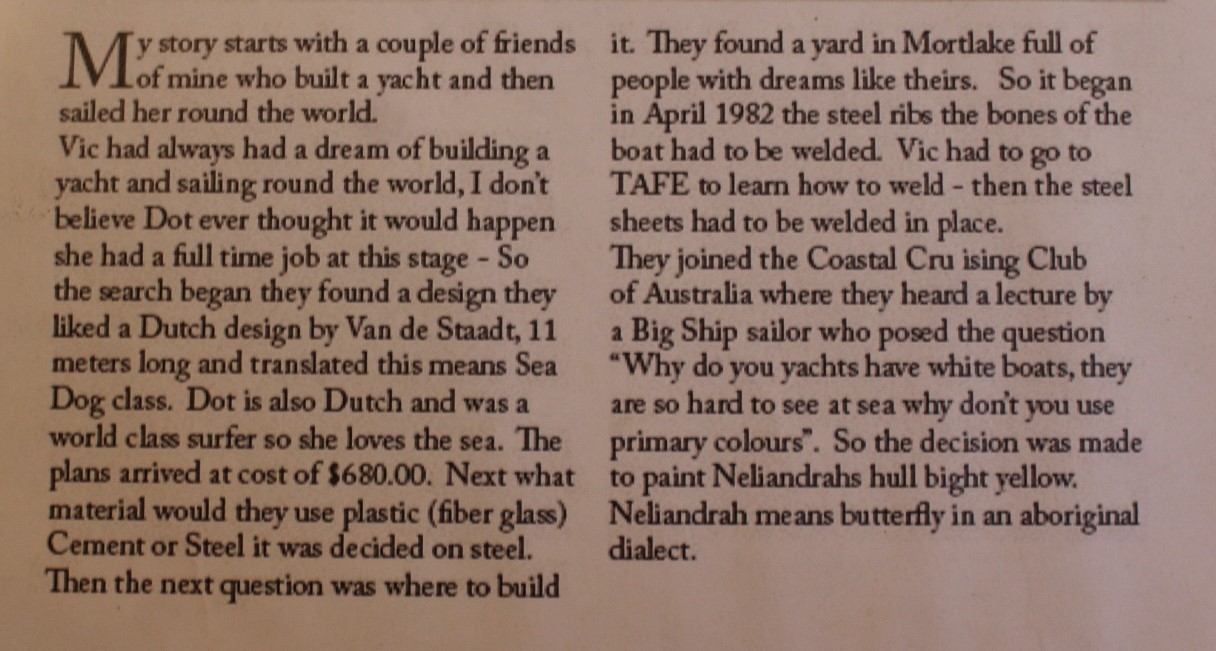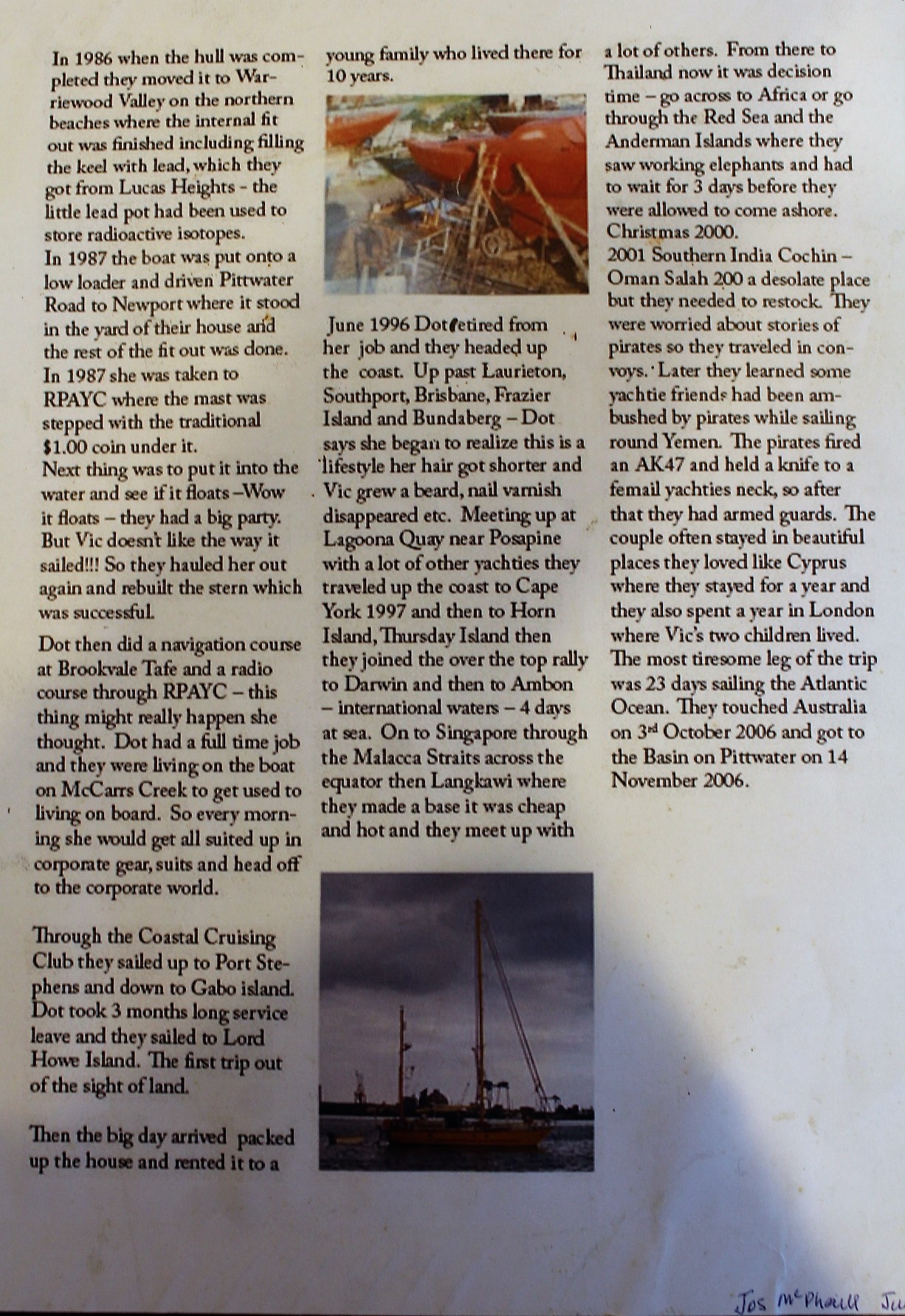 Where did you go?
Around the world. This was a geographical exercise as well as a seasonal thing – you can't just go anywhere at anytime, or you can but it makes it hard. You follow the seasonal winds, use those to get to places.
What was your favourite place along the way?
Oh, too many to name just one. When we first got to Asia, to Malaysia and travelling backwards and forwards to Thailand I thought, 'this is heaven'. It was cheap, warm, friendly – but then we went on to India and up through the Red Sea, out into the Mediterranean and over to Cyprus – we spent four years in Europe. It was amazing really; I'm not sure you could do it today – just going up the Suez Canal, politically, may be a problem.
Being out all year you'd experience not just one season but the whole lot. During cyclone season we got to Northern Queensland and of course you can't go hooning around the place then, so we had to stop.
I had a wonderful time, meeting so many like-minded people.
Just going out into the Atlantic, and then on to the Caribbean. We went to London for a year, left the boat in Italy and then went back. I remember we were in Italy during Winter, and it was freezing cold because we were in a steel boat in freezing water. Luckily we were in a nice marina, and they all do deals for cruising yachties, so there was access to heaters and that kind of thing. This one was a huge marina, filled with international travellers and so much fun.
I remember going into Rome and standing in line to go into the Sistine Chapel – visiting all these wonderful cathedrals – and you're living as though you're camping, only it's on a boat. The downside is you can't buy too many souvenirs, you haven't got the space and for every book you brought on board you had to take it off again, simply because they're so heavy.
We didn't work and you don't need that much when you're on a boat, and we'd rented out the house so we had that income. We'd catch fish. The problem with that was the fish you'd catch would be so jolly big you would need to share it with the whole of those around you where you're moored. Not only that, after you've hauled it on board you had to clean it, scale it, gut it; I don't want to see a tuna again.
The best times were when you were at sea too – and if course when you're at sea, a three week stretch for instance, you save a lot of money – there's no where to spend it. And when you are in shore you just stay on anchor, shop locally, and fish.
What was it like coming home?
By the time you get out of the Panama Canal and out into the Pacific you think you're almost home – the reality is you are not. But then a nice part of the world presents itself as you go to the Galapagos Islands and then on to French Polynesia, places like Tahiti – oh, so beautiful, such a wonderful part of the world and one of my favourites.
Then you have to head home, alert the authorities that you're coming into home waters. They thought we were heading to Coffs Harbour.
So when you came home you were living in McCarrs Creek?
Yes, I was so scared to leave there, I loved it. We were right up the very end, it was so cosy.
I think the surfing and the sailing are very closely linked. I always had an affinity with the ocean. Then seeing the boat grow from just a plan and knowing that Vic was very competent, and then learning what I would need to know myself – there is an affinity between the two.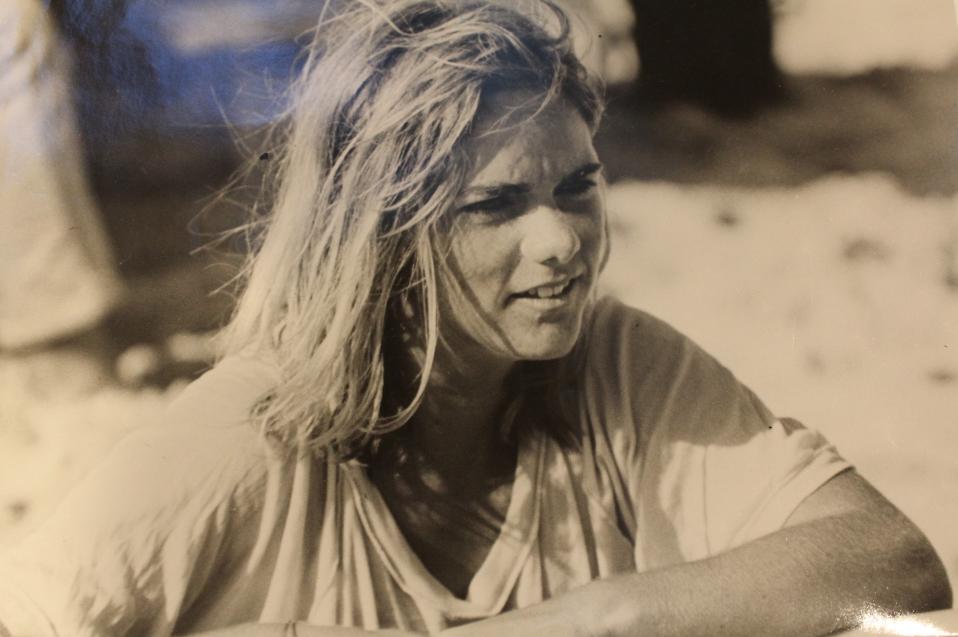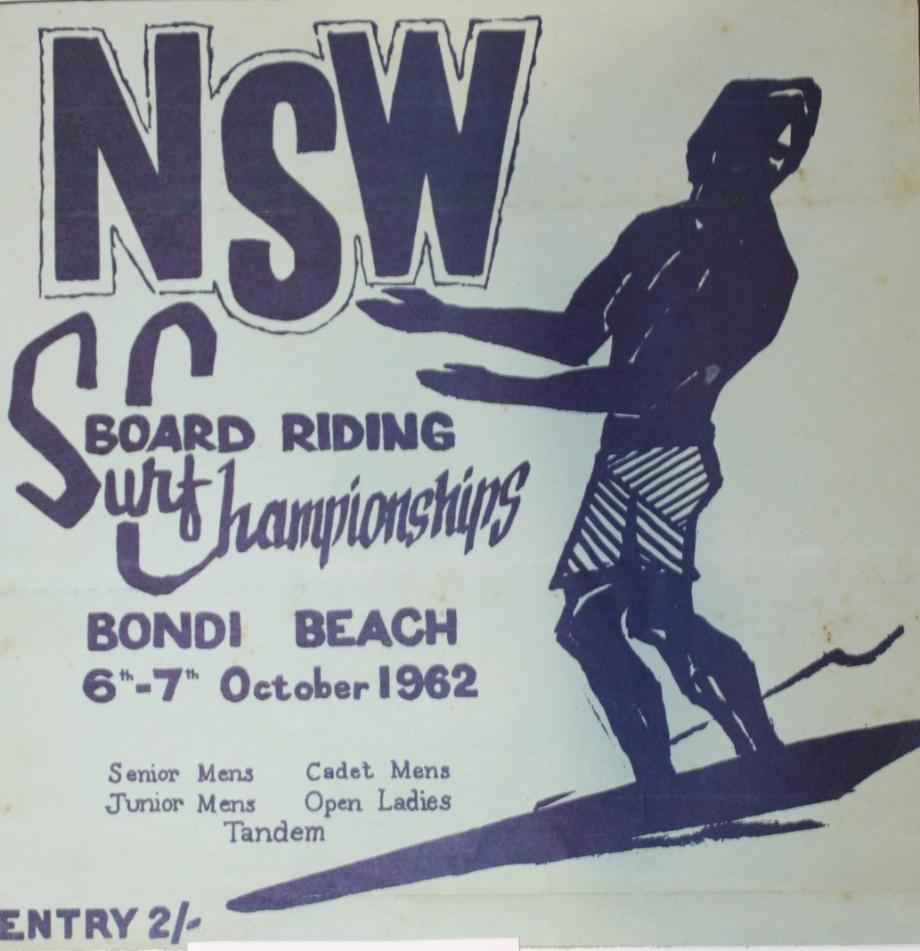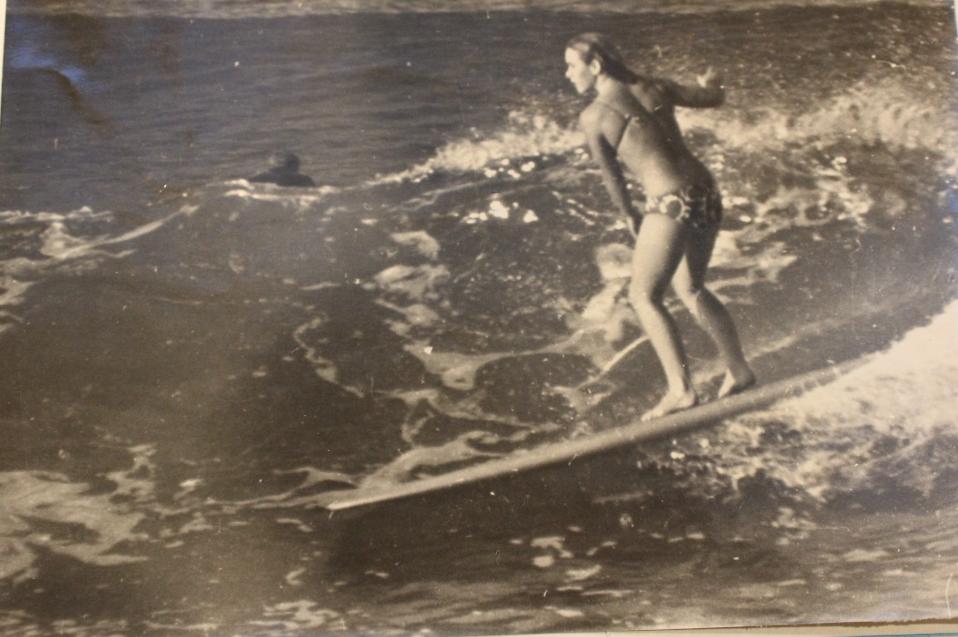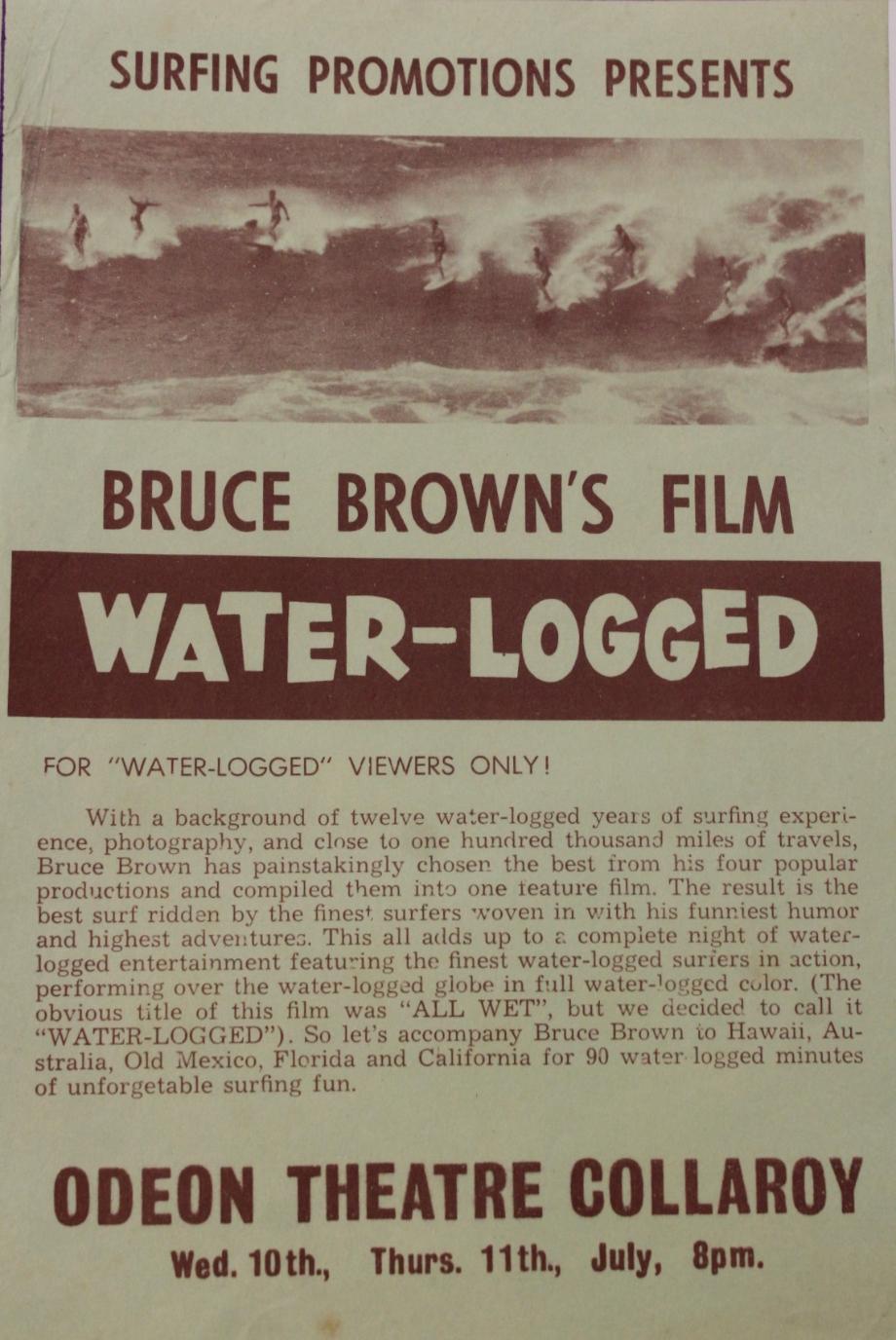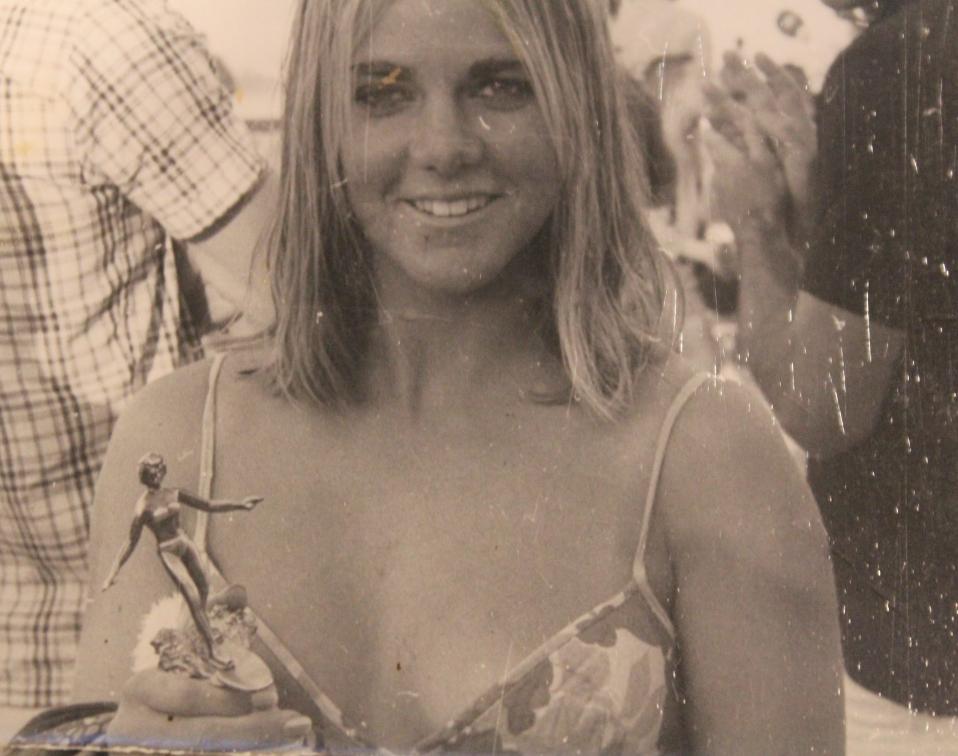 Our thanks to Dorothy for the use of her newspaper clippings and to her friends and relatives who collected and collated them over the years.