July 31 - August 6, 2022: Issue 548
david malin awards 2022: winners announced
In July 2022, the Central West Astronomical Society held its annual astrophotography competition. Amateur astronomers and photographers from around Australia were invited to take part in the competition and to submit their astrophotographs for consideration in the prestigious "David Malin Awards".
This year's competition had eight categories:
Deep Sky
Wide-Field
Nightscapes
Solar System
Animated Sequences
Smartphone Astrophotography
Theme - "Alignments"
Junior (18 years old and younger)
The competition continued with the judging structure that was introduced last year. In order to build on the experience of previous years, and to continue as the premier competition of its kind in Australia, a panel of distinguished Australian astrophotographers judged the category entries.
Dr David Malin judged the Overall Winner from the list of these winners, as the best in show. We were honoured that the judging panel included Phil Hart and Alex Cherney, previous winners of the "David Malin Awards", and of numerous other national and international astrophotography competitions.
Ingleside resident David Malin is a British-Australian astronomer and photographer. He is principally known for his spectacular colour images of astronomical objects. A galaxy is named after him, Malin 1, which he discovered in 1986 and which is the largest spiral galaxy so far discovered.
David Malin himself has had a long fascination with light and colour and the interface between art and science. He has been involved in scientific photography since the mid-1960s, initially using optical and electron microscopes and X-ray diffraction techniques to shed a new light on problems in pure and applied chemistry. Some of these images are featured on these pages.
In 1975, he joined the newly-created Anglo-Australian Observatory (AAO, now the Australian Astronomical Observatory) as its photographic scientist, and applied his imaging techniques to studying much larger and more distant objects, including Malin 1, the first giant, low-surface-brightness galaxy discovered and still the largest known spiral system. More here: www.davidmalin.com
The presentation of the 2022 CWAS "David Malin Awards" was held during the 2022 CWAS AstroFest on Saturday, July 23rd 2022. In attendance were the invited dignitaries, the competition entrants, and the members of the Central West Astronomical Society. The dignitaries included Parkes Mayor, Cr Ken Keith; Dr David Malin; Dr John Reynolds, Head of ATNF Operations; Tori Tasker, Senior Space Technology Officer - Human Spaceflight, Australian Space Agency; Blake Estes, itelescope.net Observatory Manager, Australia; Garry Copper, President, Tamworth Regional Astronomy Club; Selena Simpson - SunStudios; Colin Woods - MyPhotoClub.com.au.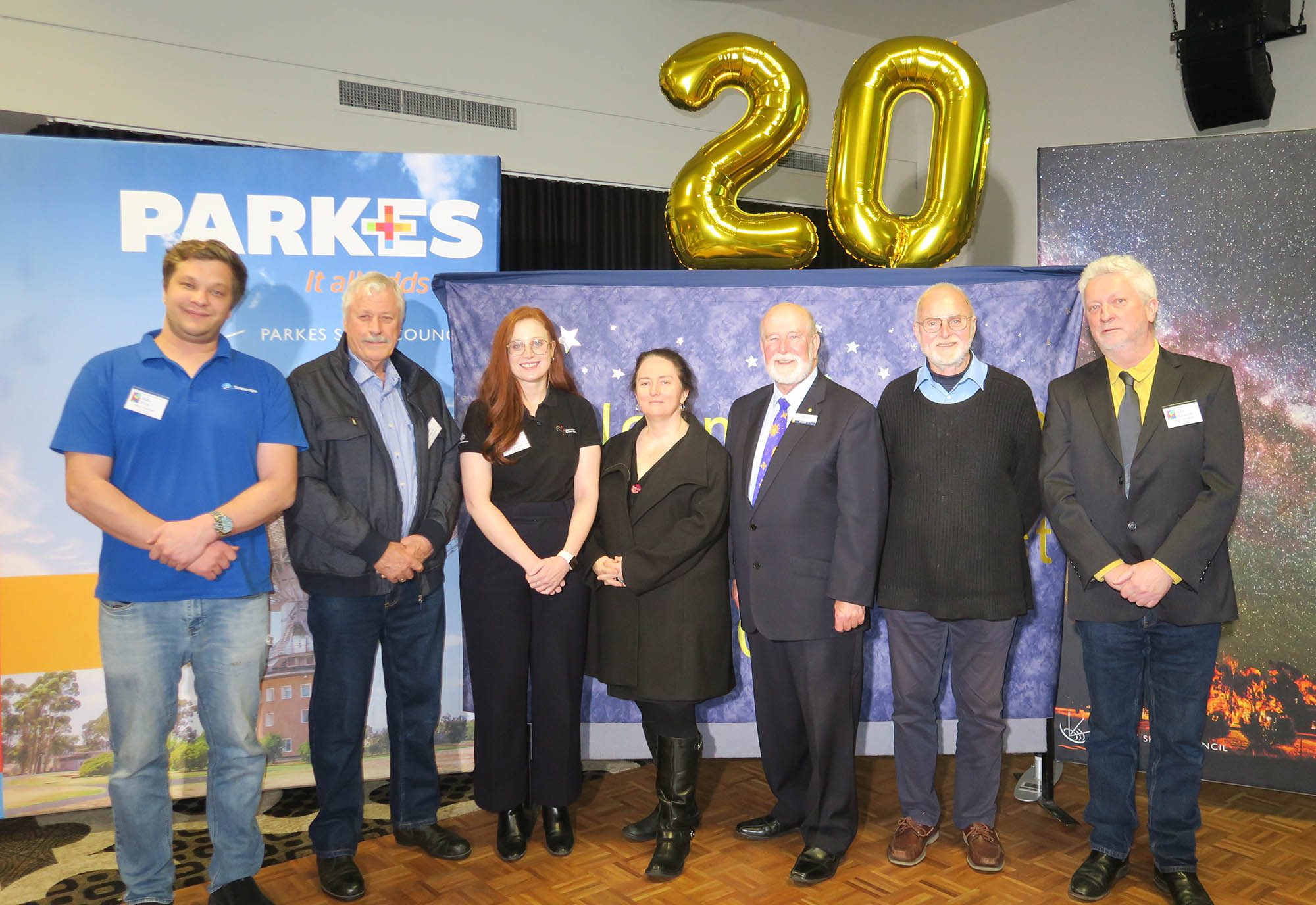 AstroFest Guests L-R: Blake Estes, Garry Copper, Tori Tasker, Selena Simpson, Cr Ken Keith, Dr David Malin, Dr John Reynolds. Not Present: Colin Woods. Photo © Maggi Barnard
The competition represented entrants from every State and Territory of Australia (NSW, Qld, Vic, SA, WA, Tas and ACT).
The overall winner of the 2022 CWAS "David Malin Awards" was Ian Inverarity of South Australia, for his beautiful image of "Old Giant in the Fog".
The quality of the images was a testament to the great skill and talent of Australian astrophotographers.
The very finest images will be exhibited in two parallel exhibitions. The first will be on show at the CSIRO Parkes Observatory's Visitors Centre for the entire year. The second exhibition is organised by the Museum of Applied Arts and Sciences and will tour Australia to selected venues, beginning in October 2022. Last year's exhibitions were a resounding success, with over 200,000 people viewing the exhibitions Australia-wide. As such, it is the largest photographic exhibition in Australia, in terms of its reach and the number of visitations.
The winners of the "David Malin Awards" were presented with the "David Malin Awards", in the presence of invited dignitaries, during the CWAS AstroFest conference on Saturday, 23 July 2022.
It was not just technical skill that was awarded. The prizes went to pictures that captured the beauty of the sky and the intrinsic interest of astronomy in an aesthetically pleasing manner. Celestron Australia supported the competition with prizes to the value of $10,000.
Mr Jeff Darmanin, a News Corp. Picture Editor, judged the "Photo Editor's Choice" awards and gave his pick from each category. His overall winner was awarded the Photo Editor's Choice Award.
Last year's exhibitions were a resounding success. The two parallel exhibitions were viewed by over 100,000 people Australia-wide.
This year's permanent exhibition will be on show at the CSIRO Parkes Observatory's Visitor's Centre for one year. A second touring exhibition, organised by the Museum of Applied Arts and Sciences, will travel to selected venues, beginning in October.
To have received any one of these awards is a great honour. Congratulations!
The Competition - Category Winners
Winner: Ian Inverarity
Nightscapes
OVERALL WINNER "Old Giant in the Fog"
Citation: "This is the finest image I have seen in this competition. It is simply beautiful, and no more needs to be said. No sign of stitching, either."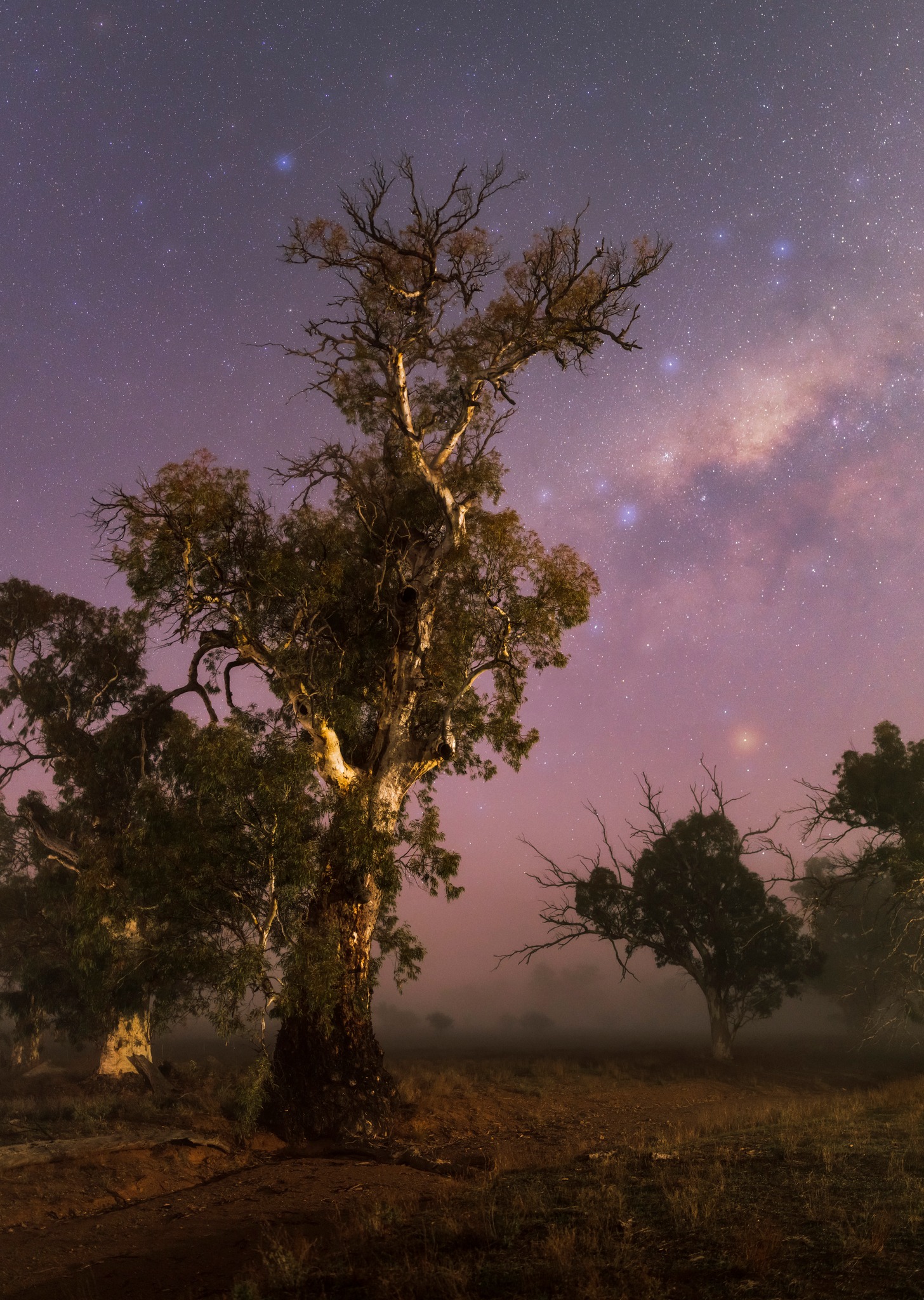 © Ian Inverarity
Winner: Jarrod Koh
Wide-Field
"Bluey"
Citation: "This is an unusual composition of a field that is not often seen. The resolution is impressive and background stars are tiny and the brown dust cloud dominates the scene. It becomes a blue reflection nebula when stars are involved."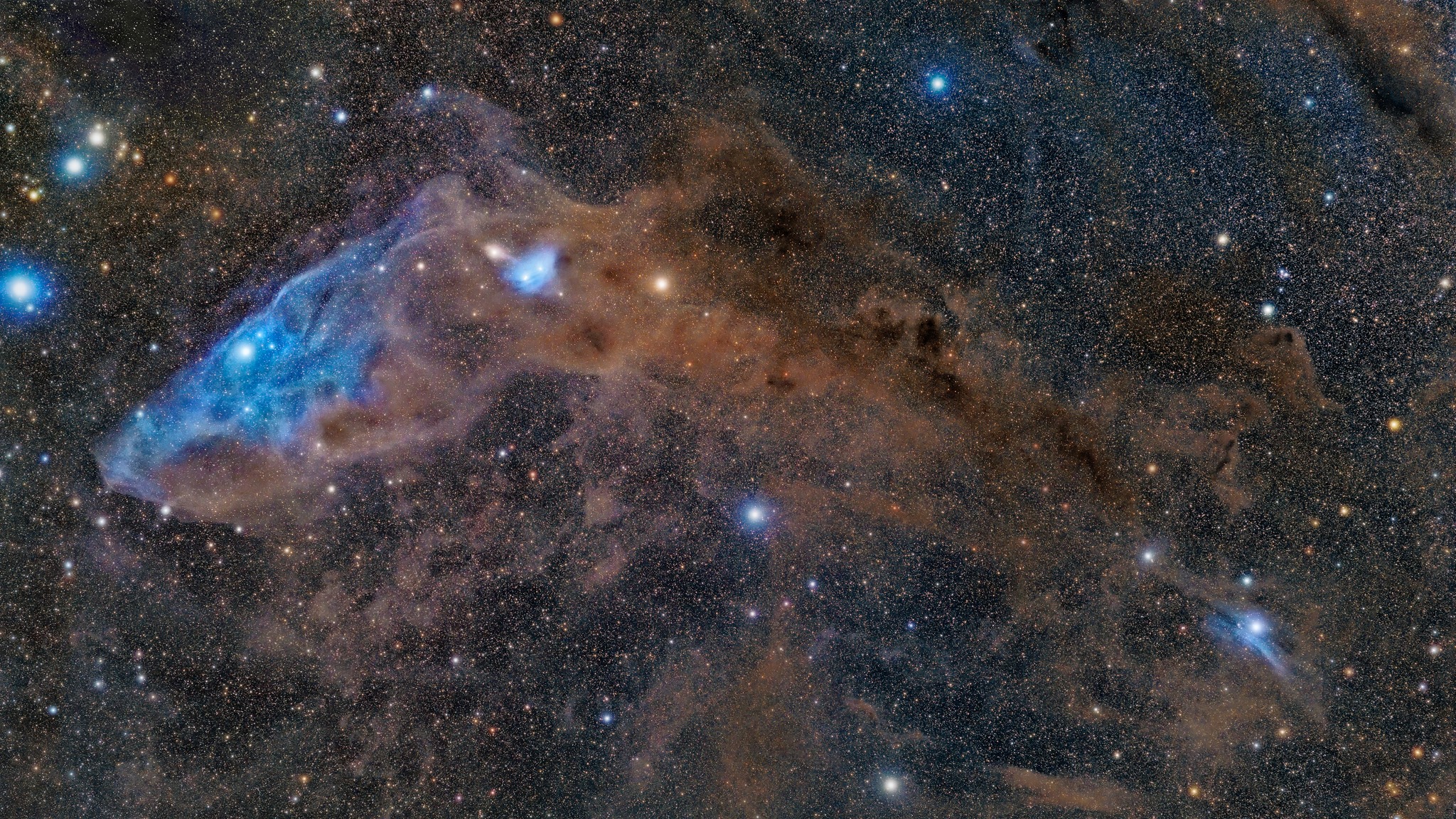 © Jarrod Koh
Winner: Shaun Robertson
Deep Sky
"NGC 6188 Immortal Kombat"
Citation: "This is a well-known field in the constellation of Ara, and it contains a wide range of objects and dynamic range. It's also very difficult to crop it so that it catches the eye. It has been widely photographed by amateurs, but this is the best I have seen in recent years. I particularly like the rendition of NGC 6164 and 6165 at lower right."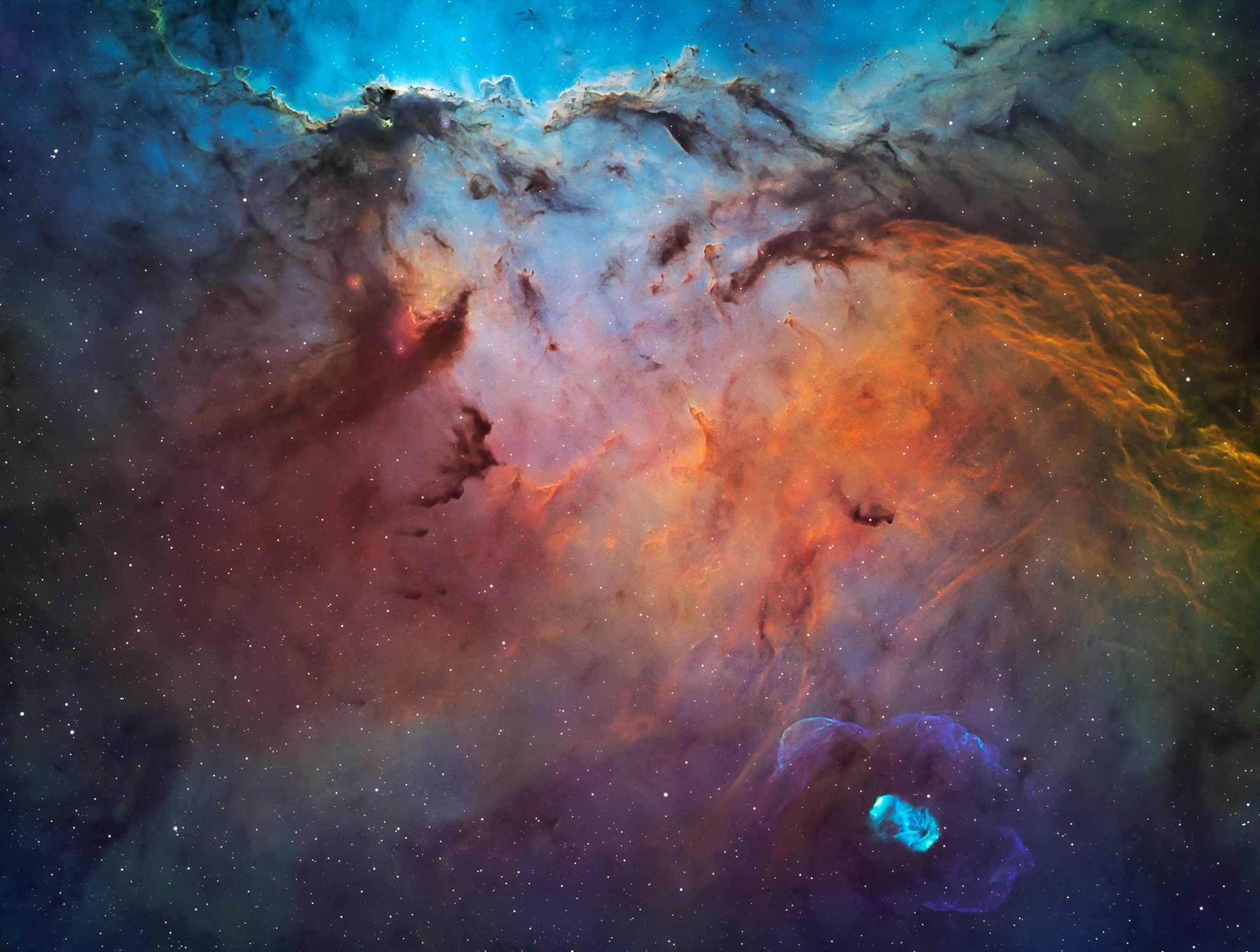 © Shaun Robertson
Winner: Stefan Buda
Solar System
"Mare Crisium"
Citation: "Seen at full screen, this beautifully rendered panorama of the Moon almost takes you there. I really like the texture and subtle detail on the surface, and I can't fault it in any way."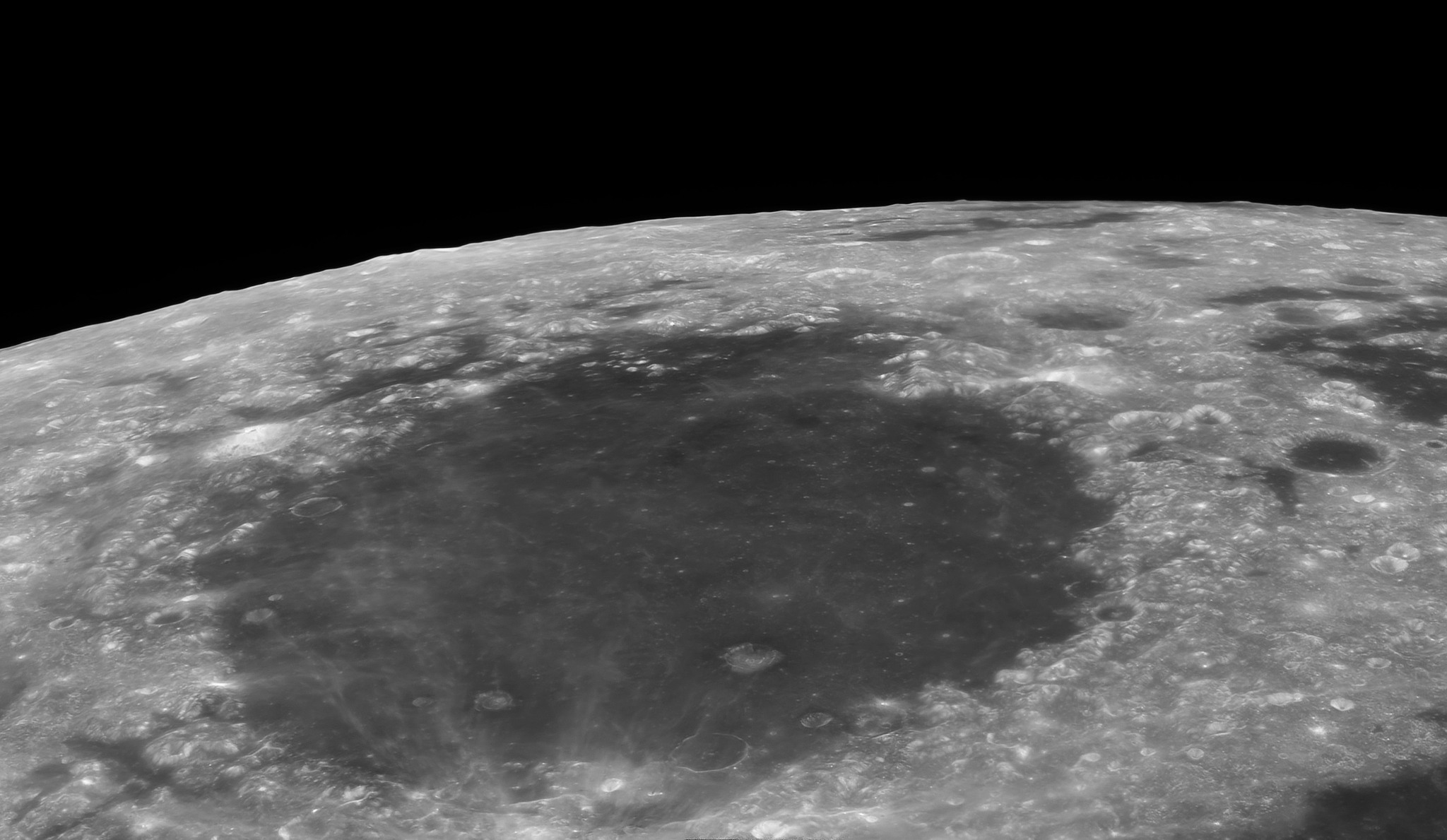 © Stefan Buda
Winner: Jong Lee
Theme - "Alignments"
"Origin of Stars"
Citation: "A very fine and striking image enhanced by an imaginative title and composition."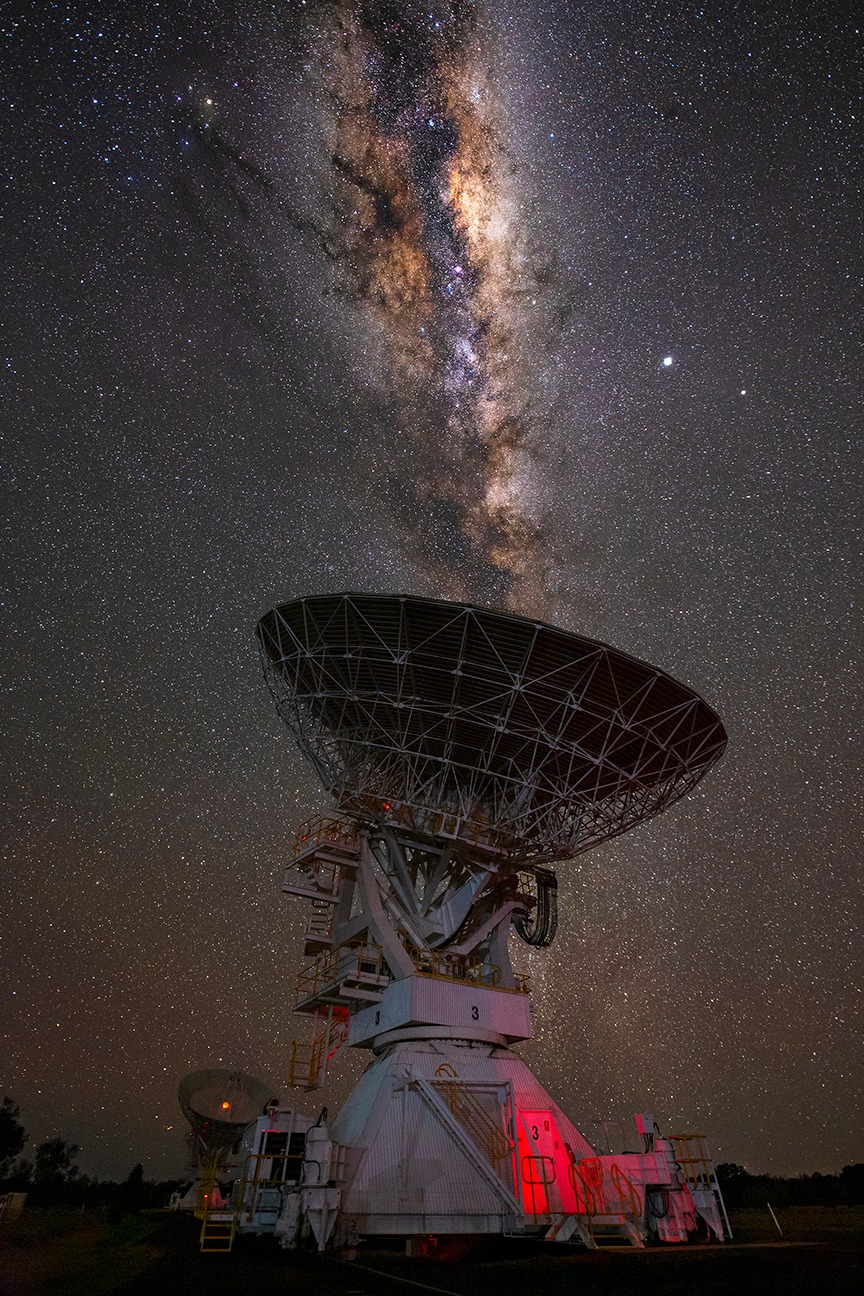 © Jong Lee
Winner: Lucy Yunxi Hu
Smartphone Astrophotography
"Celestial River Bifurcation"
Citation: "This is the best effort I have seen of a tracked image on a smartphone. While the resolution is relatively poor, as you might expect, the colours are very well captured, and an interesting foreground is well lit."
© Lucy Yunxi Hu
Winner: David Gray
Animated Sequences
"Saturn from Backyard Telescope"
Citation: "Interesting sequence showing how a lot of noisy raw data can be transformed into a striking image of Saturn and its moons."© David Gray
Winner: Lachlan Wilson
Junior
"Gems of Outer Carina"
Citation: "This is a very good composition of this field where there's no outstanding feature. The background is at a much better level than the Carina nebula, and many more stars are seen."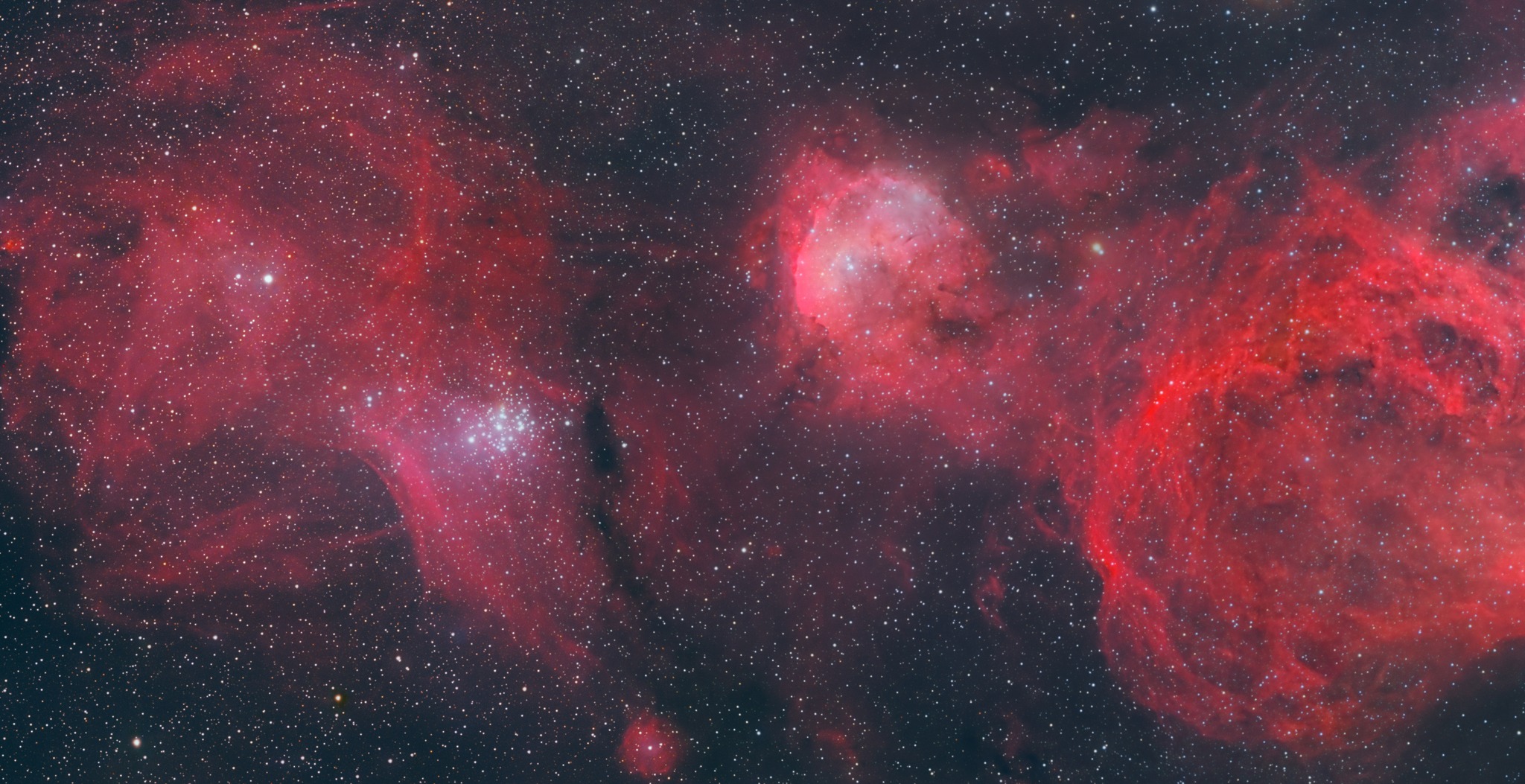 © Lachlan Wilson

The Photo Editor's Choice
Winner: Jarrod Andrews
Nightscapes
Photo Editor's Choice - judged by Jeff Darmanin (Head of Vision & Picture Editor, The Sunday Telegraph)
"Beams at the Arctic Henge"
Citation: "A wonderful and striking composition of stone and sky. Well done."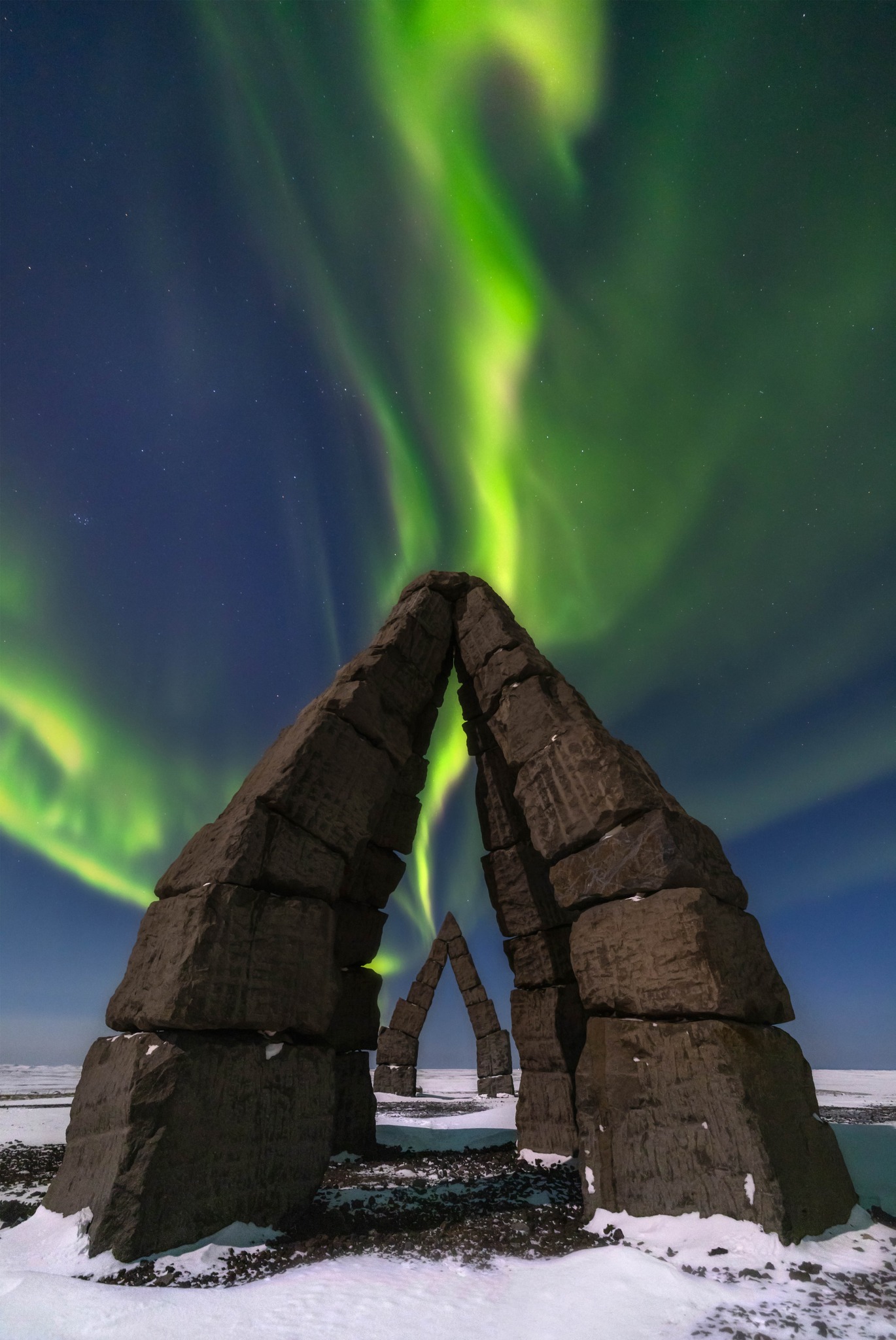 © Jarrod Andrews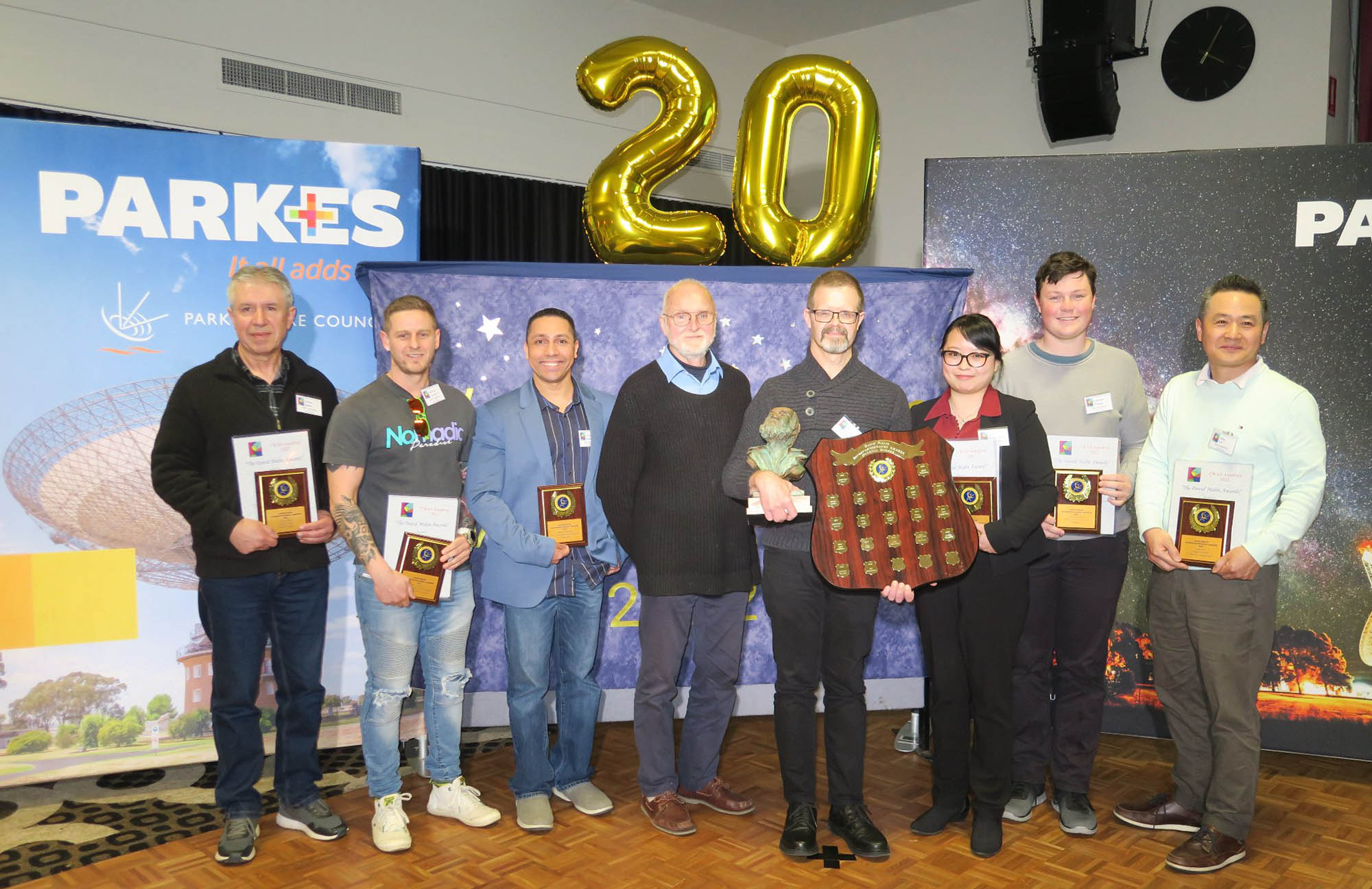 The category winners with Dr David Malin. L-R: Stefan Buda (Solar System), Jarrod Andrews (Photo Editor's Choice), Shaun Robertson (Deep Sky), Dr David Malin, Overall Winner Ian Inverarity (Nightscapes), Lucy Yunxi Hu (Smartphone Astrophotography), Lachlan Wilson (Junior), and Jong Lee (Theme - "Alignments"). Not present: Jarrod Koh (Wide-Field), and David Gray (Animated Sequences). Photo © Maggi Barnard
The Competition - Honorable Mentions
Solar System
"Solar Playground" by Andy Casely, "Gas Giants: 18th August 2021" by Niall MacNeill, "Comet Leonard - A Glorious Visitor" by Niall MacNeill (Plus Photo Editor's Pick)
Highly Commended - "Mars the Day After Opposition" by Niall MacNeill
Highly Commended - "Venus: False and Natural Colour" by Niall MacNeill
Highly Commended - "Solar Carpet" by David Gray
Nightscapes
"Lunar Spectrum" by Joel Stafford, "Beams at the Arctic Henge" by Jarrod Andrews (Plus Photo Editor's Overall Winner), "Aurora in the East Fjords" by Jarrod Andrews, "Swamped Skies" by Joshua Rozells and "Dissolution"by Ed Hurst
Highly Commended - "Sydney Harbour Bridge" by Jong Lee
Deep Sky
"Running" by Paul Haese, "The Dragon's Lair" by Paul Haese and "Cradles of Life" by Paul Haese
Highly Commended - "The Jewels on Orion's Belt" by Paul Milvain
Highly Commended - "The Barred Spiral Galaxy NGC 1398" by Paul Montague
Highly Commended - "Messier 8 in SHO" by Jacob Heppell
Highly Commended - "The Southern Pinwheel Galaxy" by Niall MacNeill
Highly Commended - "A Galaxy Smash Up" by Niall MacNeill
Highly Commended - "The Eye Looking Upon Us" by Paul Haese - Plus Photo Editor's Pick
Wide-Field
"The Milky Way over Bredbo" by Lucy Yunxi Hu and "Orion the Hunter" by Rodney Watters
Highly Commended - "Riding a Blue Horse" by Jarrod Koh
Highly Commended - "Heart of the Universe" by Jarrod Koh - (Plus Photo Editor's Pick)
Highly Commended - "Rho from Middleton" by Jarrod Koh
Theme - "Alignments"
"A Planetary Parade" by Rohan Hinton
Highly Commended - "Planetary Aviation" by Peter Patonai
Highly Commended - "Lunar Eclipse over Q1 Building" by Kelvin Hennessy - 9Plus Photo Editor's Pick)
Smartphone Astrophotography
"Pointers, Southern Cross, and Carina" by Kelvin Hennessy
Highly Commended - "Aurora Australis at Hanging Rock" by Luke Tscharke - Plus Photo Editor's Pick
Highly Commended - "Aurora Australis at Cradle Mountain" by Luke Tscharke
Animated Sequences
Highly Commended - "Animation of R-CrA Variable Nebula (NGC 6729)" by Igor Chakalin
Junior
Highly Commended - "Horsehead Nebula" by Lachlan Wilson - Plus Photo Editor's Pick
Highly Commended - "Carina Nebula" by Lachlan Wilson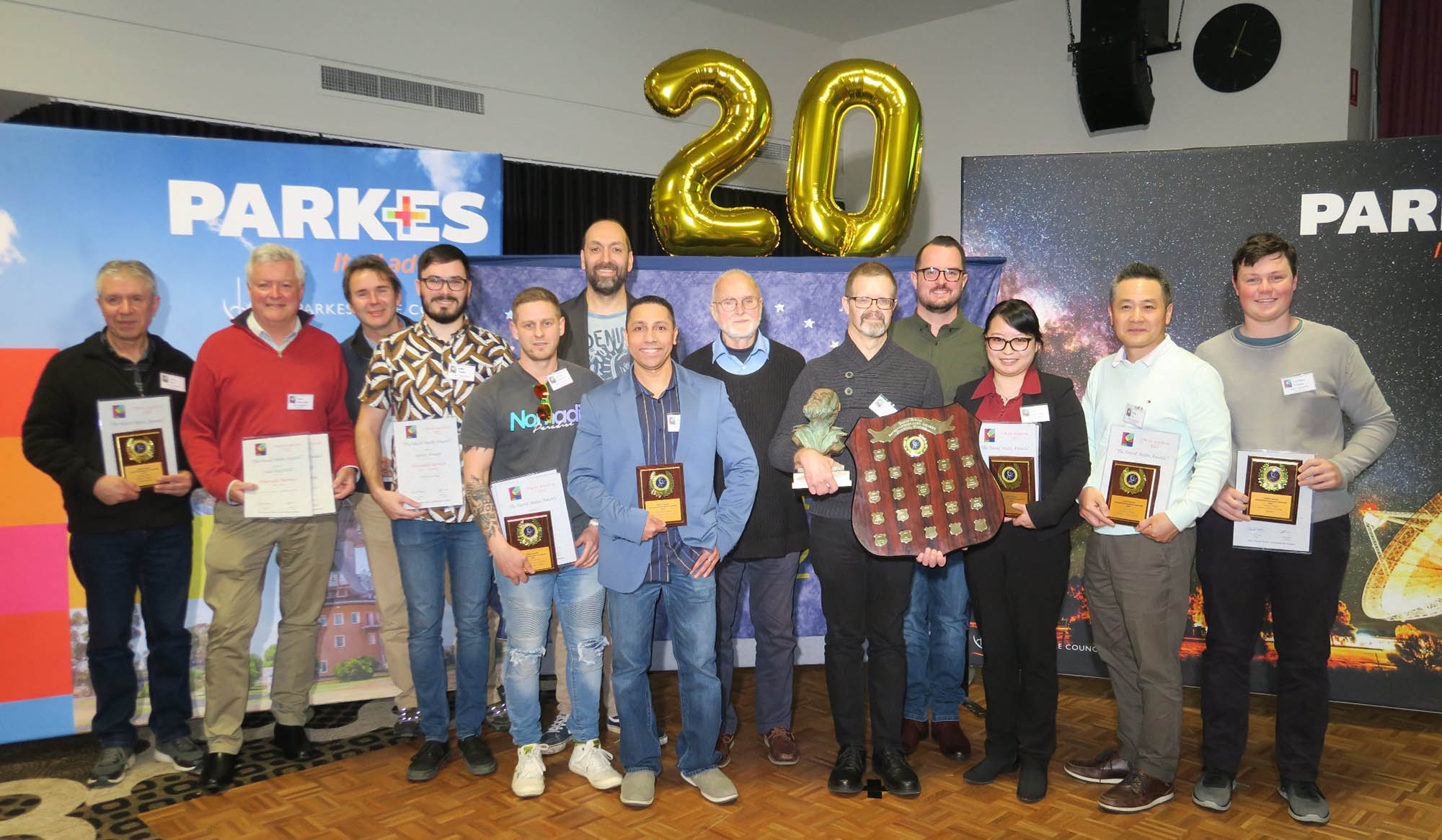 The awarded photographers with David Malin. L-R: Stefan Buda, Niall MacNeill, Kelvin Hennessy, Rohan Hinton, Jarrod Andrews, Ed Hurst, Shaun Robertson, Dr David Malin, Ian Inverarity, Joel Stafford, Lucy Yunxi Hu, Jong Lee, Lachlan Wilson. Not present: Andy Casely, Rodney Watters, Paul Haese, Jarrod Koh, Joshua Rozells, and David Gray. Photo © Maggi Barnard