January 26 - February 1, 2020: Issue 435
Cromer Heights Rock Engravings and Shelter Officially Declared A significant and important Aboriginal Place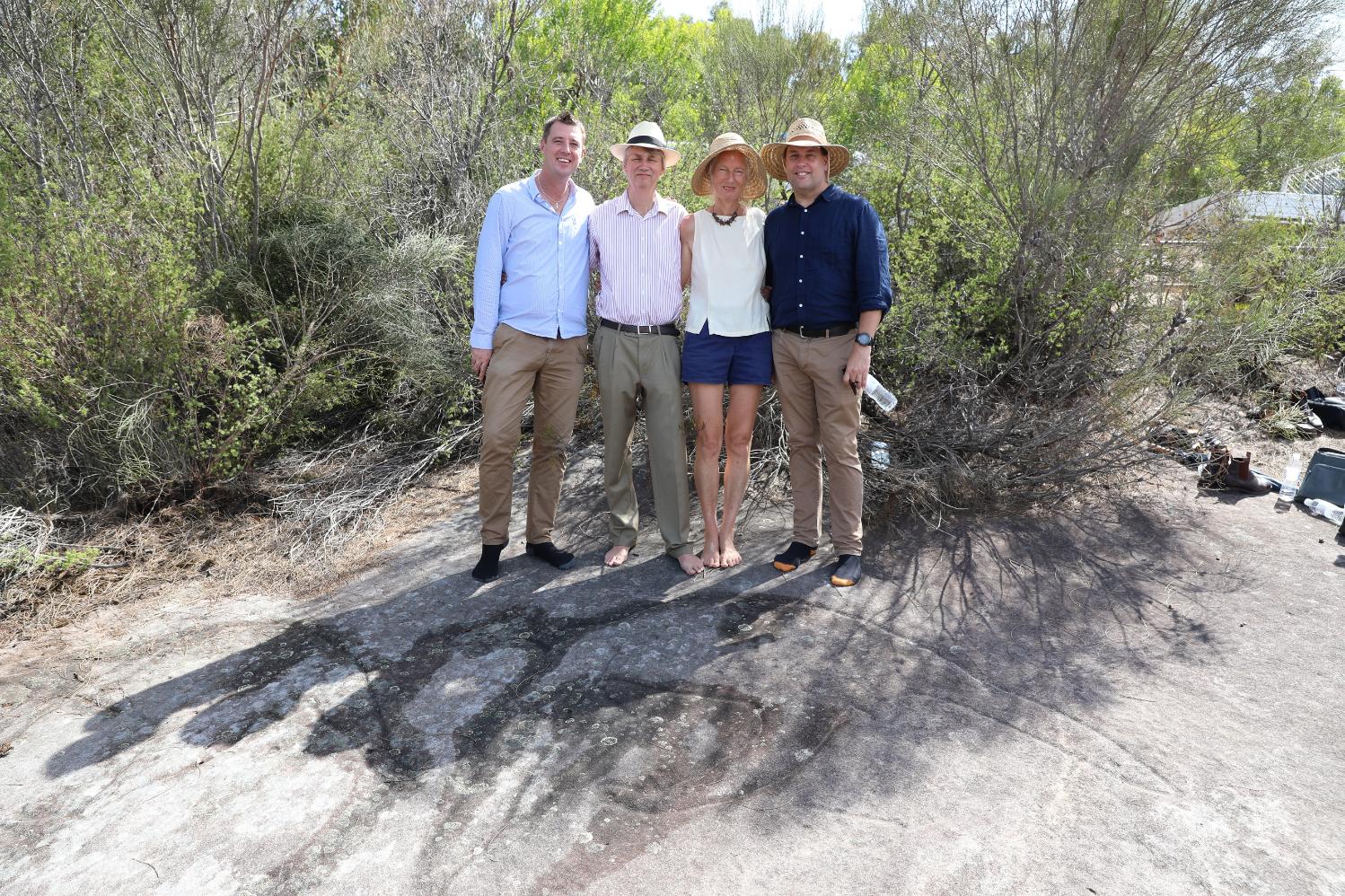 Photo - from left: Mayor Michael Regan, Anthony Harris, Conny Harris and MP for Mackellar Jason Falinski at the site this week.
The NSW Government has recognised the Cromer Heights Rock Engravings and Shelter as an exceptionally significant Aboriginal Place. The official declaration by the Minister for Aboriginal Affairs and Minister responsible for Heritage Don Harwin occurred on Thursday January 23rd at the important cultural site with highly intact carvings rarely seen so close to Sydney.
Mr Harwin said the Cromer Heights Rock Engravings and Shelter is an exceptional area for its cultural landscape values, which includes several distinct rock art engraving and a rock shelter occupation site.
"These places are highly expressive and significant for their evidence of occupation and traditional activities undertaken by Aboriginal people of the area."
"[In] the land of the Eora nation so much dislocation and dispossession took place over the almost 230 years since the occupation of this country by the Europeans began," Mr Harwin said in his speech. "The incredible thing we've got here is private landowners voluntarily seeking listing because they care so much about the country."
Pittwater Online News spoke to Conny Harris this week about the listing of the site. Conny and husband Anthony bought the six hectare plot of land when it was placed on the market to preserve it from inappropriate developments then being proposed that would have destroyed the carvings and bush surrounds.
The Harrises then commenced what was a three year long process to have the site listed as an Aboriginal Place under NSW Government, with Conny saying this week she learned a lot through the process.
"We saw this as the only and best way to preserve what is there. This is a very important cultural site and it is vital that we preserve and look after these sites and observe the right way to approach or be there. For instance, you can't walk on there with shoes on – even the Ministers and Mayor took their shoes off to visit this week." Conny said
"In other cultures, when you visit a church overseas or even here, there are protocols and a respect that is required – why would that be any different for these sacred sites?"
In New South Wales Aboriginal cultural heritage is protected under the National Parks and Wildlife Act 1974 (NPW Act) and the Heritage Act 1977 (Heritage Act).
Under the NPW Act, an Aboriginal Place may be declared over any area of land in New South Wales if the Minister declares that area is of special significance to Aboriginal culture. This declaration provides legal mechanisms to safeguard declared Aboriginal Places from harm or desecration unless the appropriate permit has been issued. The declaration of an Aboriginal Place does not change the status of or affect ownership rights; but a person must not modify, harm or desecrate a declared Aboriginal Place.
The site is highly significant to the local and metropolitan Aboriginal community as its Aboriginal heritage features, are part of a wider cultural landscape of our region.
The rock platform and shelter was a place where Traditional Owners of the land passed regularly and may have been associated with ceremonial activities and storytelling. The site is still used by school and interest groups as a site to learn about Aboriginal cultural heritage.
There are 36 rock engravings depicting people and animals, all exceptionally well preserved, along with the rock shelter, adding to the significance of the site.
"A lot of the plants used to make the pigments for ceremonies grow alongside the track leading to this place, " Conny explained
"Here you can see how aboriginal people lived in connection with the land. It is a very special place."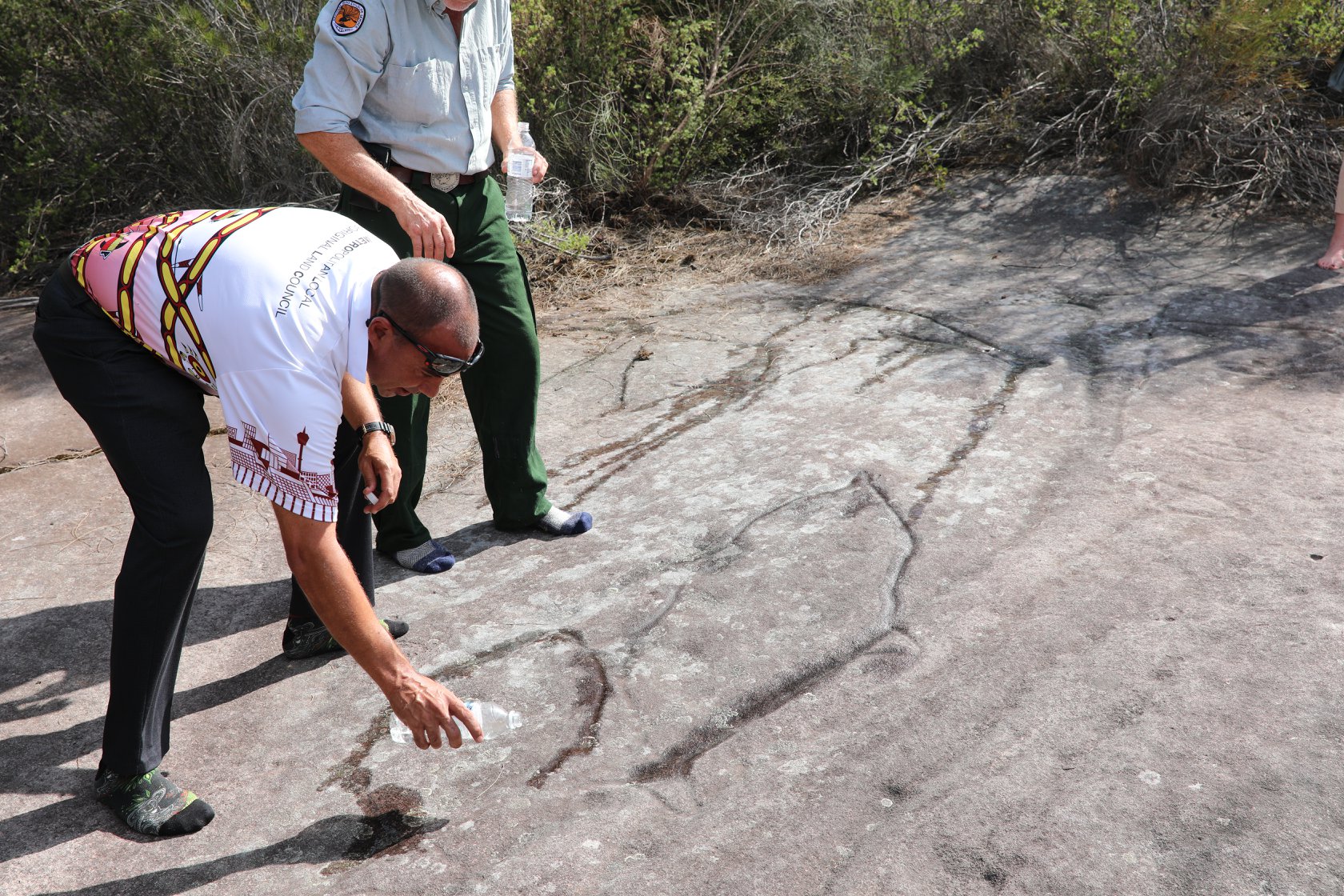 Nathan Moran, the CEO of the Metropolitan Land Council, at the site this week - photo supplied.

Federal MP for Mackellar Jason Falinski welcomed the decision by the NSW Government and expressed support for the protection of these significant sites.
"Australia is home to the world's oldest living culture, spanning over 60,000 years. It is important that we protect and preserve significant sites like this one. The Northern Beaches is lucky to have this as part of our rich community story," Mr Falinski said.
"I commend the work of the landowners to secure this place and support the continued access by Aboriginal people for cultural practices and education," Mr Harwin said.
Mayor Michael Regan also attended the official declaration, underlining the role of local government in identifying and protecting significant Aboriginal Places. Council also protects Aboriginal Places, including middens, rock carvings, camp sites, rock shelters and art.
Nathan Moran, the CEO of the Metropolitan Land Council and an Aboriginal man, joined in thanking the Harrises.
"Without their support in purchasing this site we feel we may not have been here today," Mr Moran said. "It's about as good as it gets, barring us getting it ourself. This area is sacrosanctly important – culturally, environmentally, humanly for us as the keepers of the area."
Mr Moran said more private owners needed to volunteer their land for protection.
Anyone can nominate an area to be declared an Aboriginal Place under the NPW Act. First, you need to read Declared Aboriginal Places: Guidelines for developing management plans and then complete and submit the Aboriginal Place Proposal Form (PDF 157KB).
The Heritage Division of Department of Premier and Cabinet (DPC) works with the community to identify items to be nominated for listing on the State Heritage Register (SHR).
Conny Harris is a member of the Friends of Narrabeen Lagoon Catchment and offers a chance to do Walks and Weeding as part of that local organisation – free walks and talks she has offered for years. Why is doing this, also, so important to her?
"You like to share the joys of the area we live in, and this is how I share the joy of where we live. These provide an opportunity to share an appreciation of Nature, the wonderful Culture we live amongst, and be in good company too."
"I also like the yummy cakes…" she laughs.
FONLC have recently published those Conny has listed for the first few months of 2020 – listed below. Please note that bookings are essential.
Friends Of Narrabeen Lagoon February 2020 Forum -
Catchment Secrets Of Narrabeen Lagoon Catchment: Discoveries So Far In The 21st Century

Next Forum: 7pm Monday Feb 24, 2020
Coastal Environment Centre, Pelican Path
Lake Park Road, Narrabeen
Catchment Secrets of Narrabeen Lagoon Catchment: Discoveries so far in the 21st Century
Jayden is always inspiring, telling us about finding various creatures in the wild. He will describe and show images of some of the very special wildlife that is in the catchment of Narrabeen Lagoon, especially recent sightings.
As of the time of writing this, bushfire has not impacted the catchment. Here's hoping this remains the case for the sake of the wildlife. Check that February 24 is in your diary and, so that you don't miss out,
book your ticket early by emailing Judith Bennett email@narrabeenlagoon.org.au
Jayden Walsh is offering a special guided night walk at Katoa close
from 7:30 to 9:30pm on Friday, the 28th February,
at Warriewood Wetlands to meet some of the creatures that he will talk about on the previous Monday. (See item above bout the Forum.)
Friends Of Narrabeen Lagoon Catchment: Bushwalks 2020
Sat 8/2/ 2020 Walk & Weed.
If dry conditions: Meet 7.30am at Deep Creek near dog training area; walk 1hr next to Deep Creek and contributory creek. Weeding (2hrs):small leaved privet, Crofton weed, Ludwigia peruviana and possibly some grass. Walk back and finish at 11:30am.
If wet, but not too wet: Terrey Hills to Morgan Road, with some weeding along 5 Mile Creek track.
Sun 1/3/2020 walk & plant identification
Meet 8am near 27 Morgan Rd for Narrabeen Lagoon Catchment Transverse.
Carpooling required as we finish at Deep Creek.
Sun 26/4/2020 Cromer Circle
Cromer Circle with 1 hr for weeding grasses along the track of Aboriginal carvings. Fabulous views over the lagoon and its valleys, and viewing of carvings.
10am - 3pm. Limited numbers.
Sat 23/5/2020 Explorative Walk
9am explorative walk from Morgan Rd to N/W catchment corner.
Sun 21/6/2020 walk & weed.
Meet 9am at Deep Creek near dog training area; walk 1hr next to Deep Creek and contributory creek. Weeding 1hr—crofton weed, Ludwigia peruviana etc. Continue walk to Baha'i temple and carpool back ~ 2pm.