December 11 - 17, 2016: Issue 293
Creative Creatures Film Festival 2018: Get Ready to get Those Red Shoes Tapping!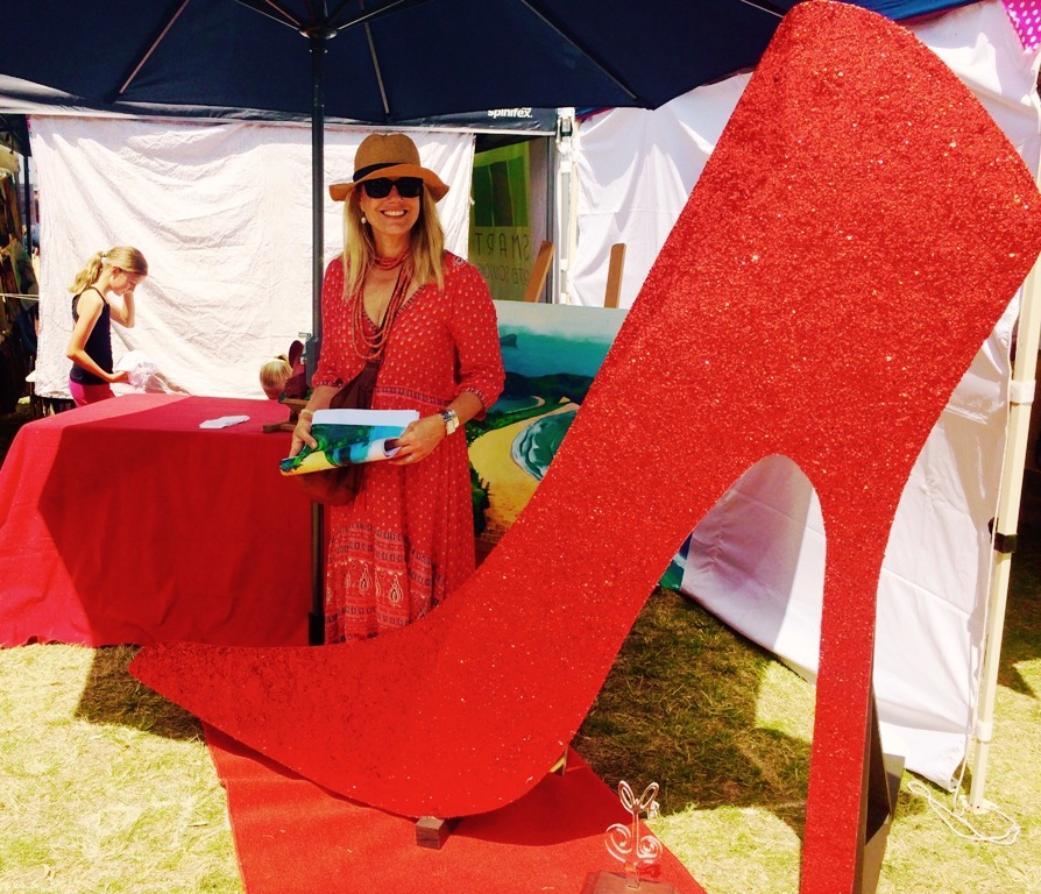 Visitors to Avalon Beach Market Day may have noticed the above rather large red shoes on display with Katy Young, the lady behind the Creative Creatures Film Festival, on hand to tell you why:
The Creative Creatures Film Festival No:5 will be the last Sunday of Summer 2018 so you have a whole year to make your 3 minute entry.
The Theme 2018, the n
ew image or reference to be included in your 3 minute edit is to relate to:
"red shoes"
The next festival includes prizes for Best Original Music Score and Best Movie Poster too!
The Creative Creatures Film Festival, the best film festival outside of....Sydney's CBD.... the one that has launched the careers of such luminaries as those kids you see on the beach, those kids you see eating an apple, those kids you see playing with rabbits, that dad being a bit glad about a green bin that recycled him into a kid, those blokes that started a fashion trend in blue and white striped t-shirts, or even the stunning bodysurfing images of 2013 Winner Best Cinematography, David Archer for "Procrastination".
Dave wrote Katy the following after his wonderful film screened:
Hi Katy, This is a VERY belated 'thank you' for the amazing film festival you organised. We had a great night, and was truly surprised and stoked to win an award! Based on the night, I was given a prod to enter the film into the San Diego Surf Film Festival.
I was lucky enough to be selected as one of the short films to be shown at the festival which starts 8th May. I'm now giving 'filmmaker interviews' – something I never pictured for myself!
Thanks again, and looking forward to next year. Cheers, Dave Archer.
This is a great place to get a start in film making. With judges who in the past have included Actors, an award winning Director of Photography, Artists, Casting Directors, Producers, even a Stuntman, you may get a few pointers on how to make something great even better.

What you could win!

Entrants 16+ Years
First prize – $1,000.00
Second prize – $750.00
Third prize – $500.00
Entrants 5 – 15 Years
First prize – $500.00
Second prize – $350.00
Third prize – $250.00
Time to get Creative !
There's no place like.... HERE, in late Summer, with another great Creative Creatures Film Festival to get involved and be part of.