November 7 - 13, 2021: Issue 517
Covid Safety Restrictions ease as vaccinations rise in NSW + NSW Embraces 1 November Roadmap Milestone + Dominic Perrottet And Daniel Andrews Agree To Open Borders Between NSW And Victoria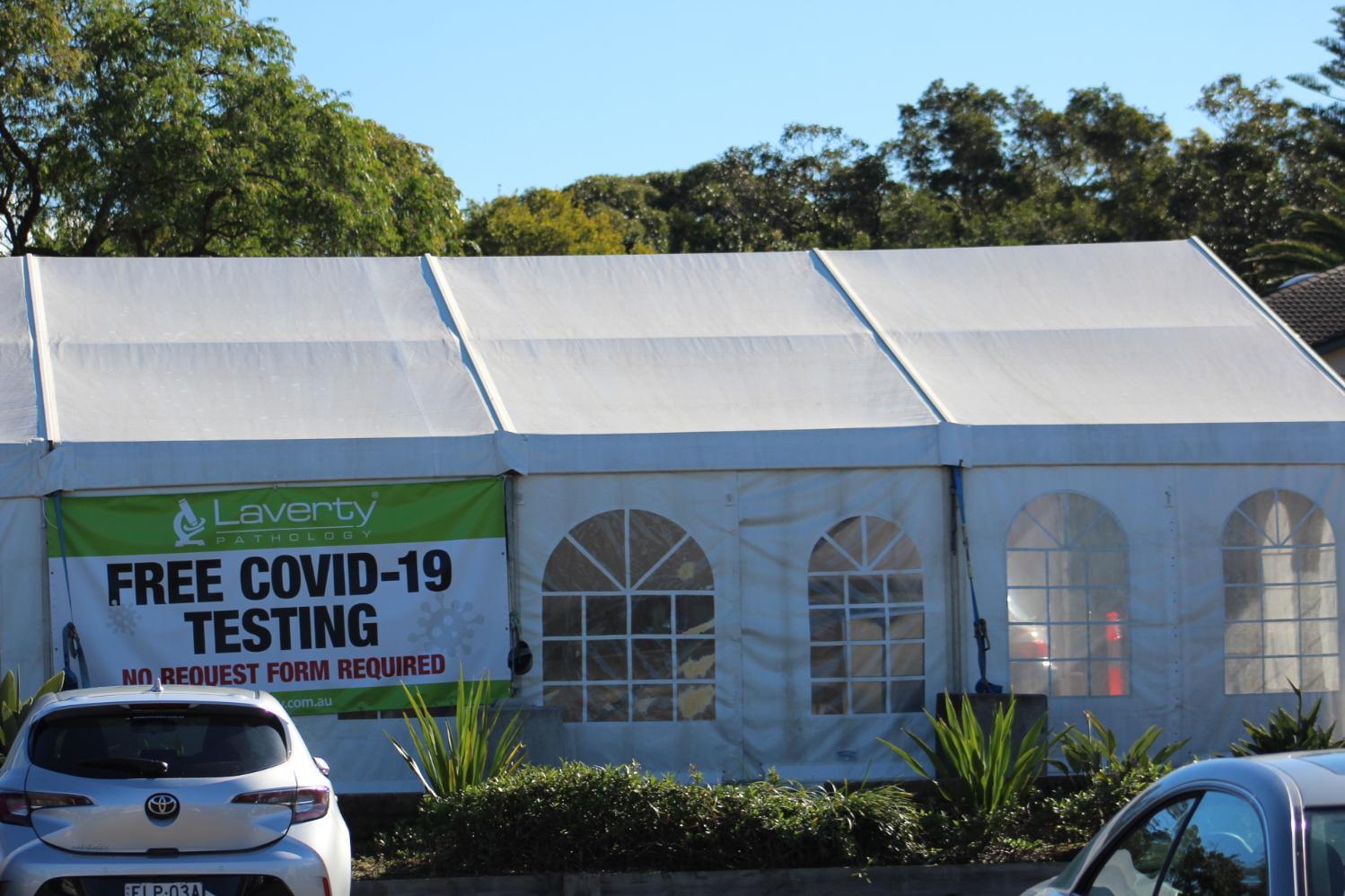 Covid-19 Testing Clinic at Avalon Bowling Club carpark.
In response to the faster-than-expected rate of vaccination, the NSW Government will further ease rules for those who are fully vaccinated by bringing forward many of the roadmap changes scheduled for 1 December to Monday, 8 November.
From November 8th there will be no limit on visitors to a home, no rules for outdoor gatherings with fewer than 1,000 people, and indoor swimming pools will re-open for all purposes.
Businesses will be able to welcome in more fully vaccinated customers with all premises to move to 1 person per 2 sqm rule, and nightclubs will be able to re-open dancefloors.
Caps will be removed for settings other than gym and dance classes (where the 20 person cap for classes will remain) and replaced by density limits or 100 per cent fixed seated capacity for major recreation outdoor facilities (including stadiums, racecourses, theme parks and zoos) and entertainment facilities (including cinemas and theatres).
These freedoms will only be available for people who are fully vaccinated, including those who have medical exemptions and children under the age of 16. COVID Safe check-ins and proof of vaccination will still be required.
Those who are not fully vaccinated must still abide by pre-roadmap restrictions until the State reaches the 95 per cent double vaccination target, or 15 December, whichever happens first.
The current settings for masks, which apply to everyone, will remain in place until the State reaches the 95 per cent double vaccination target, or 15 December, whichever happens first.
To maintain high levels of immunity across the community, NSW Health has commenced rolling out a booster vaccination program at its clinics to individuals aged 18 and older who received their second dose of a COVID-19 vaccine 6 months or more ago. Pfizer will be used for boosters regardless of the COVID-19 vaccine received for the first or second dose.
Premier Dominic Perrottet said bringing forward the easing of restrictions was only possible because of the State's high vaccinations rates and the roll out of booster shots.
"Everybody has done an incredible job to ensure NSW can ease restrictions in a safe and considered way earlier than we planned," Mr Perrottet said.
"We are on track to reach 90 per cent double vaccination weeks ahead of schedule and this is a testament to everybody across NSW and especially our health workers.
"There is still a long way to go but the NSW Government is standing with the community and continuing to do everything that we can, including booster shots, to keep people safe as we open up."
Deputy Premier Paul Toole said regional NSW had rolled up their sleeves for vaccinations and we're now ready to welcome back visitors.
"Regions across NSW answered the call when we asked them to come forward and get vaccinated. Thanks to the community for coming out and getting the jab," Mr Toole said.
"The time is right now for regional businesses to welcome back visitors safely in every town across the state and get tills turning over."
Minister for Jobs, Investment, Tourism and Western Sydney Stuart Ayres said reaching the 90 per cent target will be a significant milestone in the state's recovery.
"We are inching closer and closer to returning to many of our pre-pandemic activities, and this latest easing of restrictions will be welcome news for hundreds of businesses ready to re-open, expand their operations, and welcome back more customers," Mr Ayres said.
Health Minister Brad Hazzard said NSW has amongst the most vaccinated populations in the world and rolling out booster shots would continue to maintain that advantage.
"We are amongst the best in the world when it comes to vaccinations but we cannot forget that COVID will continue to circulate in the community and we must remain vigilant," Mr Hazzard said.
"Boosters are a key priority moving forward and we continue to work closely with the Commonwealth on the COVID-19 vaccination roll out. I want to encourage anyone who is yet to be vaccinated to make a booking as soon as possible."
Find more information about the 90 per cent easing of restrictions
Booster vaccinations are available across NSW:
NSW Health vaccination clinics will offer booster vaccinations from Monday, 1 November.
GPs and pharmacies will offer booster vaccinations from Monday, 1 November.
Find a vaccination provider on the Vaccine Clinic Finder.
Book your COVID-19 vaccine or your booster shot online
When face masks are required
All people in NSW over the age of 12 will be required to wear a face mask:
in an indoor area of premises other than a place of residence
in an indoor area on common property for residential premises
at a public transport waiting area
in a vehicle or vessel being used to provide a public transport service
working at a hospitality venue and dealing directly with members of the public
on a domestic commercial aircraft, including when the aircraft is flying above NSW.
A person can remove their face mask if they are:
eating or drinking
communicating with another person who is deaf or hard of hearing
at work, and

the nature of the work makes the wearing of a fitted face covering a risk to the person's, or another persons' health and safety
where clear enunciation or visibility of a person's mouth is essential
where the work is in an indoor area and no other person is in the area

in an office building and

they are fully vaccinated
they are not in the part of the building that is a retail premises, hospitality venue, or an indoor recreation facility

asked to remove their mask for identity purposes
in an emergency situation
providing goods and services and the person needs to remove their mask to provide those goods or services properly
doing exercise outside, in a gym or in a gym class
in a dance class
at a correctional centre, place of custody, or hospital (as a patient)
a resident at an aged care facility
a guest in a hotel/motel and in their room
in the process of getting married
in a vehicle alone or with another person from their household.
You need to wear your face mask again as soon as the reason for taking it off has ended.
Dominic Perrottet and Daniel Andrews agree to open borders between NSW and Victoria
November 4, 2021
New South Wales and Victoria will open their border to each other from 11:59pm on Thursday, 4 November, allowing free travel between Australia's two biggest states well ahead of the Christmas period.
With coronavirus (COVID-19) case numbers coming down and high vaccination rates continuing to rise in both states, New South Wales and Victoria are normalising living with the virus.
Victoria's Acting Chief Health Officer today declared that from 11:59pm tonight, the ACT and all remaining orange zone areas in New South Wales will become green zones under Victoria's travel permit system.
This means, for the first time in more than six months in Victoria, all Local Government Areas in all states and territories across Australia will be green zones for the purposes of entering Victoria.
Travellers, including workers, who are entering Victoria from a green zone face no testing or quarantine requirements, but are still required to obtain a permit from Service Victoria before they arrive, to verify they aren't COVID-19 positive or required to isolate as a close contact.
There are no requirements for fully vaccinated Victorians entering New South Wales, unless they have been to a place of high concern in Victoria. A Victorian who is over 16 years and not fully vaccinated is not allowed to enter NSW for recreation or a holiday. More information is available on nsw.gov.au.
This comes as 93.8 per cent of people in New South Wales aged 16 and over have received their first dose of a COVID-19 vaccine and 89.1 per cent have received both doses.
In Victoria 92.7 per cent of people aged 16 and over have now had at least one dose of a COVID-19 vaccine and 82.5 per cent have had two doses.
People entering Victoria must sill comply with any vaccinated economy requirements in place and can apply for a travel permit at service.vic.gov.au.
New South Wales Premier Dominic Perrottet said this announcement showed the rest of the nation the way forward.
"NSW is set to pass 90 per cent double dose vaccination in the near future, with Victoria not far behind, allowing family and friends to be reunited in the lead up to Christmas after many months of being separated," Mr Perrottet said.
"This milestone has only been made possible because people across NSW and Victoria have rolled up their sleeves and led the nation on the road back to normality thanks to our high vaccination rates."
Victorian Premier Daniel Andrews thanked people on both sides of the border for rolling up their sleeves and getting the jab.
"Thanks to the incredibly hard work of Victorians and people in New South Wales in getting vaccinated, we're delighted to be able to have free travel between the two states once again," Mr Andrews said.
"Victoria and New South Wales have been through so much over the last few months, and we're pleased that more families will now be able to reunite just in time for Christmas and the holiday season."
NSW embraces 1 November roadmap milestone
Families and friends will be reunited as Aussies start arriving home in time for Christmas, with NSW reaching the November 1 roadmap milestone and restrictions further eased for the double-vaccinated.
From today, fully vaccinated residents can travel for holidays and recreation between Greater Sydney and regional NSW, bookings for hospitality venues are no longer capped and fully vaccinated travellers from overseas can enter NSW without having to quarantine, subject to Commonwealth border restrictions.
Premier Dominic Perrottet said November could not start in a more positive way with families and friends reuniting after so long apart.
"Today is a day many people have been waiting for and our high vaccination rates have allowed us to re-open in a safe and considered way," Mr Perrottet said.
"Families and friends across NSW can now get together as well look forward to welcoming back home Australians who have been overseas trying to get home."
The NSW Government has removed quarantine requirements and caps for overseas arrivals who the Commonwealth Government recognises as fully vaccinated with a TGA-approved vaccine. Fully vaccinated travellers already in quarantine will also complete their quarantine requirements on November 1, even if it is less than 14 days.
Overseas travellers who are not fully vaccinated must undergo managed 14-day hotel quarantine, and the cap will remain at 210 people per week.
Parents of Australian citizens and permanent residents can also travel to Australia from today, with applications made through the Department of Home Affairs Travel Exemption Portal.
Deputy Premier Paul Toole said the easing of travel restrictions between Regional NSW and Greater Sydney would provide a huge boost to the state.
"Today is a great day for regional NSW. I know Sydneysiders are busting to head to the bush and we can't wait to welcome them back with open arms and for families and friends to get the chance to reunite," Mr Toole said.
"Around 82 per cent of the population in regional NSW has now been fully vaccinated - this an exceptional result and I want to thank every single person who has rolled up their sleeves so travel can resume and businesses can start to bounce back."
Minister for Jobs, Investment, Tourism and Western Sydney Stuart Ayres said it was time for Sydney to regain its title as the gateway to the nation with Australians coming home in time for Christmas.
"NSW is again open for business. People can come together in a safe way whether it be returning home from overseas or getting together for an end-of-year gathering at your favourite venue," Mr Ayres said.
More than $530 million has been invested in reviving events across the state and getting tourism back on track as part of the NSW Government's COVID-19 Economic Recovery Plan.
Health Minister Brad Hazzard said NSW was leading Australia out of the pandemic, with the state close to now reaching the 90 per cent double-dose vaccination rate.
"The people of NSW can be proud of our vaccination rate, and there's no reason we can't reach 95 per cent double-dose vaccination to help ensure we get on top of this pandemic," Mr Hazzard said.
"NSW can be one of the highest vaccinated jurisdictions in the world."
NSW residents across the state will still need to comply with COVID-Safe check-ins and provide proof of vaccination to staff in most settings.