September 19 - October 2, 2021: Issue 511
Covid Update: NSW to run home quarantine pilot program - Doherty Modelling Revised, Children From 12 Years vaccinations open, National Cabinet Statement, NSW Government expands support payments, NSW Police disrupt super spreader protest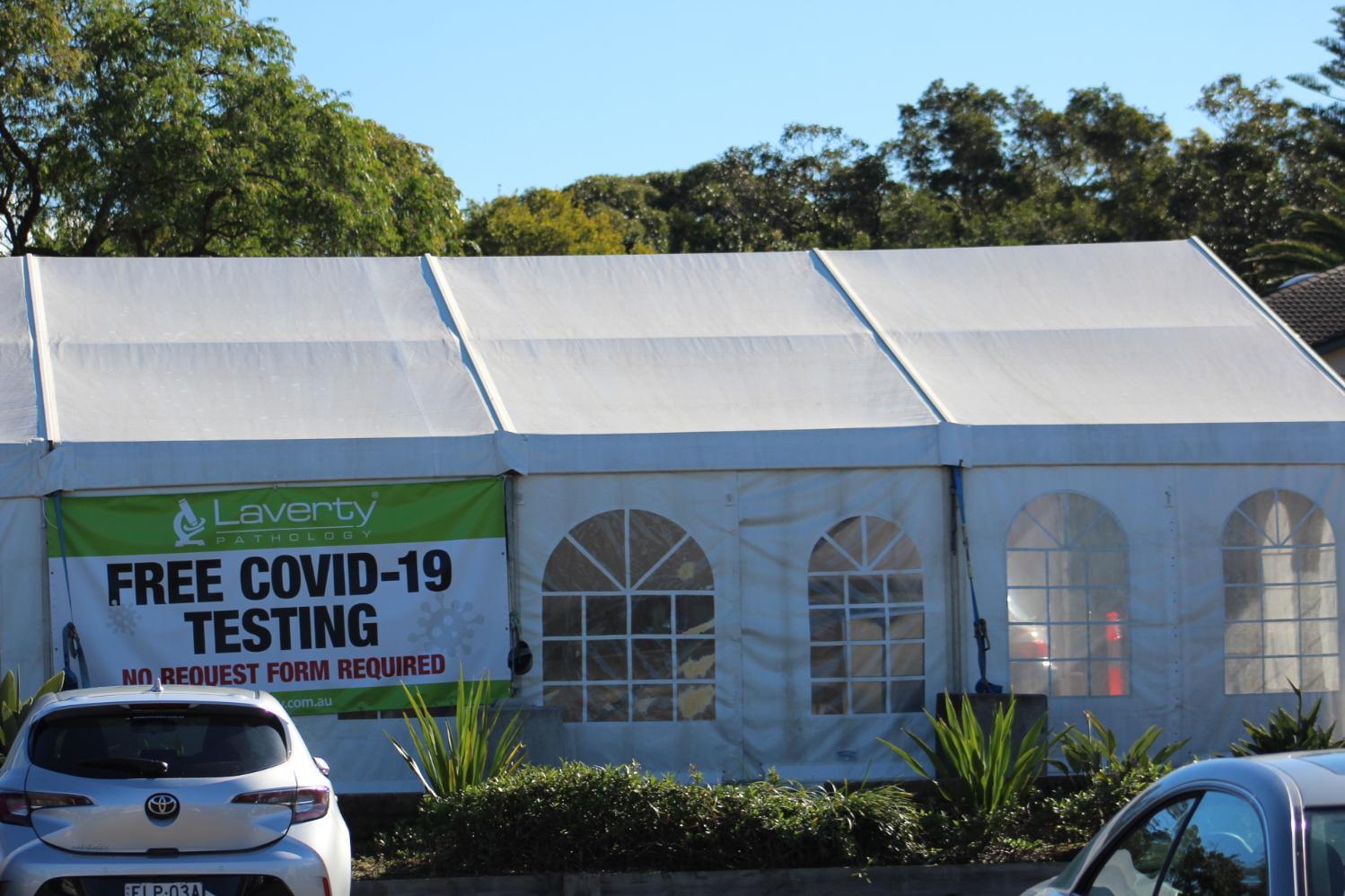 Covid-19 Testing Clinic at Avalon Bowling Club carpark.
As of Wednesday September 15, 2021 there are 67 active cases in the NB LGA
Cromer/Dee Why remains the highest with 14 cases, Manly Vale has 9, Balgowlah/Clontarf 9, Seaforth has 6. Avalon Beach has 3 cases, all other Pittwater suburbs have none or 1 case.
There have been a number of announcements this week from State and Federal Government, which run as issued below.
Daily case numbers are still well over 1000 per day. The NSW Health update for Saturday September 18:
NSW recorded 1,331 new locally acquired cases of COVID-19 in the 24 hours to 8pm last night.
Two cases were acquired overseas, and 25 previously reported cases have been excluded following further investigation. The total number of cases in NSW since the beginning of the pandemic is 50,730.
Sadly, NSW Health is today reporting the deaths of six people with COVID-19 – four women and two men from western and south western Sydney.
One person was in their 40s, one person was in their 60s, two people were in their 70s and two people were in their 80s.
Three of the six people who died were not vaccinated and three had received one dose of a COVID-19 vaccine.
One person, a man in his 70s from western Sydney, acquired his infection overseas.
NSW Health extends its deepest sympathy to their loved ones.
There have been 228 COVID-19 related deaths in NSW since 16 June 2021, and 284 in total since the start of the pandemic.
There have been 45,085 locally acquired cases reported since 16 June 2021, when the first case in this outbreak was reported.
There are currently 1,219 COVID-19 cases admitted to hospital, with 233 people in intensive care, 123 of whom require ventilation.
There were 120,954 COVID-19 tests reported to 8pm last night, compared with the previous day's total of 155,334.
NSW Health administered 32,994 COVID-19 vaccines in the 24 hours to 8pm last night, including 5,125 at the vaccination centre at Sydney Olympic Park.
Across NSW, 81.2 per cent of the over-16 population has received a first dose COVID-19 vaccine, and 50.6 per cent are fully vaccinated to 11:59pm on Thursday 16 September 2021.
The total number of vaccines administered in NSW is now 8,720,728 with 3,183,957 doses administered by NSW Health to 8pm last night and 5,536,771 administered by the GP network and other providers to 11:59pm on Thursday 16 September 2021.
Of the 1,331 locally acquired cases reported to 8pm last night, 400 are from South Western Sydney Local Health District (LHD), 326 are from Western Sydney LHD, 164 are from South Eastern Sydney LHD, 160 are from Sydney LHD, 75 are from Illawarra Shoalhaven LHD, 47 are from Nepean Blue Mountains LHD, 40 are from Northern Sydney LHD, 30 are from Hunter New England LHD, 29 are from Central Coast LHD, 17 are from Western NSW LHD, 8 are from Southern NSW LHD, six are from Far West LHD, four are from Murrumbidgee LHD, eight are in correctional settings and 17 cases are yet to be assigned to an LHD.
NSW Health's ongoing sewage surveillance program has detected fragments of the virus that causes COVID-19 at the Byron Bay and Wardell sewage treatment plants in Northern NSW LHD, the Eden sewage treatment plant in Southern NSW LHD, the Balranald sewage treatment plant in Far West LHD, and the Griffith sewage treatment plant in Murrumbidgee LHD.
Everyone is urged to monitor for the onset of symptoms, and if they appear, to immediately be tested and isolate until a negative result is received.
If you are directed to get tested for COVID‑19 or self-isolate at any time, you must follow the rules whether or not the venue or exposure setting is listed on the NSW Health website.
It remains vital that anyone who has any symptoms or is a close or casual contact of a person with COVID-19, isolates and is tested immediately. When testing clinics are busy, please ensure you stay in line, identify yourself to staff and tell them that you have symptoms or are a contact of a case.
Please check the NSW Government website regularly, and follow the relevant health advice if you have attended a venue of concern or travelled on a public transport route at the same time as a confirmed case of COVID-19. This list is being updated regularly as case investigations proceed.
There are 500 COVID-19 testing locations across NSW, many of which are open seven days a week. To find your nearest clinic visit COVID-19 clinics.
Read the latest COVID-19 information.
NSW to run home quarantine pilot program
September 17, 2021: by The Hon. Scott Morrison, Prime Minister of Australia, The Hon. Gladys Berejiklian, Premier of NSW, The Hon. Stuart Ayres, NSW Minister for Jobs, Investment, Tourism, and Western Sydney
The NSW and Commonwealth governments will launch a home quarantine pilot in Greater Sydney next month, as NSW transitions towards opening up international borders.
The pilot, to be operated and monitored by NSW Health and NSW Police, will trial a seven-day home quarantine program for around 175 people.
Participants in the pilot will have had both doses of a TGA-accredited COVID-19 vaccine.
The participants will be selected by NSW Health, based on a risk assessment framework, and may include some NSW residents, some non-Australian residents, and some Qantas aircrew.
The isolation period will be reduced from 14 to seven days.
The pilot program is being run in partnership with the Commonwealth Government and findings will inform future quarantine programs.
Prime Minister Scott Morrison said the pilot would help secure Australia's safe reopening plan.
"This is the next step in our plan to safely reopen, and to stay safely open," the Prime Minister said.
"NSW has carried the lion's share of quarantining returning Australians and will be leading the way with this trial that could set the standard for the next phases of the way we live with COVID-19.
"This could mean more families and friends being able to reunite more quickly, more business being able to be done here, and more workers for key industries being able to fill critical jobs."
NSW Premier Gladys Berejiklian said the home quarantine program is critical to bringing more Australians home while keeping the community safe.
"NSW has quarantined over 245,000 travellers throughout this pandemic, by far the most of any jurisdiction in the country and this pilot will lay the foundations for us to reunite even more families and friends who are fully vaccinated," Ms Berejiklian said.
"Hotel quarantine has been an important line of defence throughout this pandemic but as we move towards our vaccination targets, we have to look at new ways of doing things."
"The safety of the community remains our number one priority and the rules around this home quarantine pilot will be strictly enforced."
NSW will use a mobile phone app based on that already in use in South Australia. The app uses geolocation and face recognition technology to monitor isolation compliance. The app will also provide people with a testing schedule and symptom checker.
Privacy will be protected through the same mechanisms as the current Service NSW check-in regulations.
Random in-person police checks will also be conducted, and the existing penalties for individuals who breach conditions of their isolation still apply.
The Commonwealth Chief Medical Officer has discussed the pilot's arrangements with the NSW Chief Health Officer and supports the shortened quarantine period proposed for this pilot and for the proposed cohort of fully vaccinated travellers, vaccinated with a TGA-approved vaccine.
Minister for Jobs, Investment, Tourism, and Western Sydney Stuart Ayres said improving vaccination rates mean a home quarantine trial is now a viable option.
"As more people around the world and here in NSW get vaccinated, we can start to consider things that make lives easier, like home quarantine," Mr Ayres said.
"NSW looks forward to reopening and to accepting a greater number of international arrivals.
"Now is the ideal time to pilot a home quarantine solution as we transition towards opening up."
The pilot will run from later this month and operate for four weeks.
COVID support payments expanded for workers and vulnerable communities across NSW
September 14, 2021
The NSW Government today announced an additional $287.5 million in COVID-19 financial support to assist workers and vulnerable communities in metropolitan, regional and rural NSW.
The additional funding will see the COVID-19 emergency hardship payments, test and isolate support payments and community empowerment grants expanded across all of NSW.
Deputy Premier John Barilaro said the funds will assist workers and vulnerable people under financial strain due to the COVID-19 restrictions across the State.
"The expansion and extension of the emergency hardship payment will provide assistance to people across all of NSW who are under severe financial strain but are not eligible for other support payments and grants," Mr Barilaro said.
"The test and isolate payment will help people to test early and isolate if they have COVID symptoms. This payment will help take the pressure off if an individual does not have access to leave entitlements or other support payments.
"Grants for culturally and linguistically diverse groups have also been expanded to connect multicultural communities with essential services throughout the pandemic."
NSW Treasurer Dominic Perrottet said the new $287.5 million funding commitment is in addition to the NSW Government's existing commitment of $7.7 billion in COVID-19 support measures.
"As lockdown continues, we want to make sure support is provided where it's needed and no communities are forgotten," Mr Perrottet said.
"We're providing those under severe financial strain money in their bank accounts to help them through the lockdown and we're supporting workers to test early and isolate so we can save lives and livelihoods across the State.
"We're also supporting multicultural organisations which are best placed to connect migrant communities with vital health services to ensure our vaccination rate keeps climbing – as that's really key to our State's recovery."
The NSW Government's additional $287.5 million funding commitment includes;
The emergency hardship, one-off payment of $400 administered by the Red Cross which has been expanded to temporary visa/no visa holders in NSW who are facing severe financial hardship and are not eligible for other government income. To apply visit the Red Cross website.
The test and isolate payment of $320 which has now been expanded state-wide. It is available for eligible workers aged 17 and over, who have symptoms of COVID-19, to get tested and isolate until a negative result is returned. The payment is available to NSW workers who do not have sick, carer's or pandemic leave. To apply visit the ServiceNSW website
Community supports grants which have been expanded across NSW to help organisations deliver emergency food relief, promote vaccination and testing services, and provide culturally appropriate support and care to diverse communities.
ATAGI update following weekly COVID-19 meeting – 15 September 2021
An update from the Australian Technical Advisory Group on Immunisation (ATAGI) following their weekly meeting on 15 September 2021.
ATAGI met on Wednesday 15 September 2021 to review the latest developments relating to COVID-19 and COVID-19 vaccine safety. In addition, ATAGI continues to monitor COVID-19 epidemiology in Australia including current COVID-19 outbreaks involving the Delta variant, including in New South Wales, Australian Capital Territory and Victoria.
ATAGI stresses that vaccination is a key public health intervention to prevent infection, transmission and severe disease due to SARS-CoV-2. ATAGI recommends COVID-19 vaccination for all Australians from 12 years of age.
ATAGI notes the lower but increasing vaccine coverage in Aboriginal and Torres Strait Islander populations and is encouraged by strategies to address barriers to vaccination in this important population.
As at 13 September 2021, over 23 million doses of COVID-19 vaccines have been administered in Australia. ATAGI has noted emerging national data demonstrating that only a small proportion of patients with severe COVID-19 were reported to be vaccinated, consistent with a high vaccine effectiveness against severe disease.
ATAGI notes the TGA's registration of Pfizer and Moderna for use in children from 12 years of age. ATAGI has reviewed the evidence and now supports COVID-19 vaccination in all adolescents from 12 years of age. These statements can be found in the Resources section below.
'Below' is in full at: https://www.health.gov.au/news/atagi-update-following-weekly-covid-19-meeting-15-september-2021
National Cabinet Statement
September 17, 2021: The Hon. Scott Morrison, Prime Minister of Australia
National Cabinet met today to discuss Australia's COVID-19 response, recent outbreaks of COVID-19 and the Australian COVID-19 Vaccine Strategy.
National Cabinet continues to work together to address issues and find solutions for the health and economic consequences of COVID-19.
Since the beginning of the pandemic there have been 82,202 confirmed cases in Australia and, sadly, 1,138 people have died. More than 35.2 million tests have been undertaken. Testing has increased nationally over recent days with 1,574,446 tests reported in the past 7 days.
Globally there have been over 226.9 million cases and sadly over 4.6 million deaths, with 674,536 new cases and 11,033 deaths reported in the last 24 hours. The COVID-19 pandemic continues to surge in many countries around the world.
Australia's COVID-19 vaccine roll out continues to expand. To date over 24 million doses of COVID-19 vaccines have been administered in Australia, including 302,141 in the previous 24 hours.
In the previous 7 days, more than 1.9 million vaccines have been administered in Australia. More than 70.4 per cent of the Australian population aged 16 years and over have now had a first dose of a COVID-19 vaccine, including over 85.3 per cent of over 50 year olds and more than 91.9 per cent of over 70 year olds.
More than 45.3 per cent of Australians aged 16 years and over are now fully vaccinated including more than 64.5 per cent of over 50 year olds and more than 73.2 per cent of Australians over 70 years of age.
Today, Chief Medical Officer Professor Paul Kelly provided an update on current outbreaks of COVID-19. The Chief Medical Officer noted the outbreaks in New South Wales, Victoria and the Australian Capital Territory.
All leaders reiterated the importance of Australians, especially those in vulnerable groups, to get two doses of a COVID-19 vaccination.
Professor Brendan Murphy, Secretary of the Commonwealth Department of Health, provided an update on the work being done by the Commonwealth and all states and territories looking at health system capacity for managing COVID-19 cases during Phases B and C of the National Plan, and the Chief Medical Officer provided an update on the Test, Trace, Isolate and Quarantine (TTIQ) work underway through AHPPC. Leaders discussed in detail the health system capacity within jurisdictions, with further analysis to come back to the next meeting of National Cabinet. NSW and Victoria provided an update on the detailed planning already underway in their jurisdictions.
National Cabinet received a briefing from Lieutenant General John Frewen, DSC, AM, Coordinator General of the National COVID Vaccine Taskforce (Operation COVID Shield). National Cabinet welcomed the roll out through pharmacies of the Moderna vaccine from next week. Further work is underway to support booster shot roll out, subject to approvals.
State and territory leaders received an update on work underway in some jurisdictions to progress home quarantine trials for fully vaccinated Australians. All jurisdictions agreed to integrate an individuals' record of COVID-19 immunisation history into state and territory check-in apps. The record of COVID-19 immunisation history will be used within these check-in apps as per requirements under state and territory public health orders.
All leaders agreed that National Cabinet has strengthened relationships between governments by facilitating regular discussions in the national interest, founded on the same principles of trust, confidence and collaboration which underpin State, Territory and Commonwealth Cabinets. Today National Cabinet members have provided a joint statement reaffirming this, which is attached.
National Cabinet agreed to meet next on Friday, 1 October 2021.
COVID-19 Risk Analysis and Response – Taskforce
National Cabinet received an update from Professor Jodie McVernon of the Doherty Institute and Mr Phil Gaetjens, Secretary of the Department of Prime Minister and Cabinet, on the Doherty modelling of additional scenario and workstreams, and the Taskforce report on reopening.
Doherty's sensitivity analysis found that the Delta variant can be managed at vaccination rates of 70% and 80% when combined with appropriate test, trace, isolate and quarantine (TTIQ) practices and public health and social measures (PHSMs) to control transmission and to manage capacity of the health system.
Doherty's sensitivity analysis showed that, even if an outbreak starts with hundreds or thousands of cases, its original conclusions for transitioning to Phases B and C of the National Plan at 70% and 80% vaccination rates respectively remain robust.
The sensitivity analysis confirms that, when daily case numbers are in the tens or hundreds, movement to Phase B can be achieved with vaccination rates of 70% when combined with low-level PHSMs and partial TTIQ or alternatively baseline PHSMs and optimal TTIQ.
When daily case numbers are in the thousands, applying medium PHSMs in the locations of concern would be prudent and improve outcomes as Australia moves to Phase B at 70% vaccination rates, before shifting to low PHSMs from 80%. Given the pace of the vaccination roll out, the transition from 70% to 80% by jurisdiction is modelled to take around two weeks.
Doherty is now undertaking further work that focuses on synergies between vaccination, TTIQ and PHSMs at a small area level and for high-risk groups and settings, including Indigenous Australians and schools.
Professor McVernon noted the impact of COVID-19 on children is already incorporated in the Doherty's previous modelling and the setting of targets. The best way to protect children is for the adult population, including their parents, to get vaccinated, as they are more likely to transmit COVID-19, and children experience less severe health outcomes from COVID-19.
The Doherty modelling confirms that with high vaccination and appropriate TTIQ and PHSMs to constrain outbreaks, overall cases and deaths are expected to be similar in order of magnitude to annual influenza.
The updated Doherty scenario and Taskforce summary is available on www.pmc.gov.au.
National Code on Boarding School Students
With school holidays starting in some states today, National Cabinet endorsed the National Code on Boarding School Students, previously considered by the AHPPC. The Code provides nationally consistent arrangements that help boarding school students, parents, carers and boarding school staff travel across borders between school and home, while also allowing states to take a risk-based approach to health and safety.
Statement on the Doherty Institute modelling sensitivity analysis
September 18, 2021: by the Doherty Institute
Following the release of the Technical Report and Addendum to National Cabinet on 10 August, the Doherty Institute-led modelling consortium was asked to provide "sensitivity analyses" of the scenarios represented in the Report.
Specifically, the consortium was asked to test the robustness of the recommendation to transition to Phases B and C of the National Plan at 70% and 80% vaccination coverage if COVID-19 infection was already established in the community. The original report compared outbreaks that were seeded with 30 cases at a time when "COVID-zero" was the goal. However, some states are now reporting significantly more than this number of infections each day. At these higher case numbers, it's also recognised that test-trace-isolate-quarantine (TTIQ) responses are likely to be partially, rather than optimally, effective.
The modelling consortium considered three levels of case numbers at the time of transition to Phase B – low (tens, approximately 10-100), medium (hundreds approximately, 300-1000) and high (thousands, approximately 1,000-4,500) infections.
In the majority of cases the model's conclusions were unchanged, with one important exception. If transitioning to Phase B at the 70% coverage threshold, seeding of thousands of infections in the context of partial effective TTIQ, with only baseline public health and social measures (PHSMs), resulted in earlier and larger outbreaks. While vaccine rollout continued throughout all the simulations, in the time window between 70% and 80% coverage, the epidemic was still growing from thousands to tens of thousands. As coverage increased beyond 80% coverage, the epidemic came under control. But starting from a point this high led to more cases overall.
Much less impact on the overall size of epidemics was observed when these seeding scenarios (tens, hundreds, thousands) were introduced from the 80% coverage timepoint. It is therefore recommended that case numbers continue to be strongly suppressed through Phase B until 80% coverage is reached.
In all scenarios, health outcomes were improved if a maximally effective TTIQ response ("optimal" TTIQ) were maintained. Similar impacts were achieved by combining partially effective TTIQ with a "low" level of PHSMs (above baseline restrictions). At high caseloads, additional "medium" level PHSMs may be needed while coverage increases from 70% to 80% to achieve target outcomes and protect the health system. The requirement for PHSMs above baseline will depend on how the epidemic is growing at a local or regional level and the anticipated impacts on the health system based on that epidemiological assessment.
These findings confirm our earlier strategic advice that even high levels of vaccination will not be sufficient to stop COVID-19 in its tracks. Maintaining at least partial (and ideally optimal) TTIQ responses will be essential for ongoing COVID-19 control. These measures will need to be supported by ongoing application of "low" PHSMs (above baseline) to keep case numbers down and achieve best health and economic outcomes for Australia.
This model is a high-level abstraction of the Australian context to guide strategic policy making. In reality, the national COVID-19 epidemic has been and will continue to be focal in nature, a "fire" fought on multiple fronts. Implementation of this strategy will guided by ongoing assessment of local epidemic growth and clinical load, vaccine uptake and risk factors.
Definitions
Baseline PHSM – No stay-at-home orders, low density requirements, no retail restrictions, schools open.
Low PHSM – As per baseline PHSM, but with capacity limits on recreational activities, limits on retail group sizes and restrictions on workplace capacity.
Medium PHSM – Stay-at-home except for work, study and essential purposes, retail and cafes/restaurants open subject to density restrictions, working from home if possible with density restrictions in workplaces. Indoor recreational venues closed, small numbers of household visitors allowed. Closed or graduated return to schools.
High PHSM – As per medium PHSM but with no recreational gatherings, movement distance limits, no household visitors, two person rule for exercise and curfew.
Partial TTIQ – The observed reduction in transmission (43%) resulting from test-trace-isolate-quarantine Reponses at the height of the Victorian 'second wave' when case numbers were in the hundreds per day and the system was under strain resulting in delays.
Optimal TTIQ – The observed average reduction in transmission (54%) resulting from test-trace-isolate-quarantine responses implemented in NSW over a period of several months including the Christmas/New Year outbreak. Responses remained timely over variable case loads.
Seeding – The initial number of daily cases present in the population at a given vaccination threshold.
Low seeding – ranging from 10-100 cases per day
Medium seeding – ranging from 300-1000 cases per day
High seeding – ranging from 1,000-4,500 cases per day
Small area effects – The change in transmission caused by relatively small groups, such as geographic or cultural differences, that are not explicitly modelled in this work.
Reports
Doherty Modelling Interim Report to National Cabinet - 17 September 2021
Addendum to Doherty Modelling Report Revised - 30 August 2021

"First Things First" - Australia launches next phase of COVID-19 vaccination communications campaign
September 12, 2021: The Hon Greg Hunt MP, Minister for Health and Aged Care
The next phase of the Australian Government's COVID-19 vaccination communications campaign launches today, reminding people that the first thing they need to do is get vaccinated.
With the arrival of millions more vaccines, easier access through an expanded network of GPs and pharmacists, and opening up the vaccination program to everyone aged over 12, the campaign kicks off this major ramp up of the vaccination program.
The First Things First campaign will air from tonight and encourages Australians to get vaccinated so they can start enjoying the things they are missing or to keep enjoying the things they love.
The campaign has two key themes, to speak to those who have been living in areas of lockdown and are looking forward to our first tastes of freedom again, and to those who are already enjoying the things we love to get vaccinated in order to keep them without the risk of lockdowns.
It mobilises all Australians to make the decision to get vaccinated. It particularly speaks to a younger age group.
The Australian Government's comprehensive COVID-19 vaccination communications campaign is being supported with an additional investment of almost $50 million to extend the suite of elements through 2021–22.
The latest research shows the continuing positive trend in attitudes to being vaccinated. 81 per cent of people say they will be or intend to be vaccinated. This is extremely encouraging as we strive to reach the 70 and 80 per cent vaccination rates as important targets in the phases for re-opening.
This campaign targets those who are still unsure to be vaccinated, as it will enable them to do things they enjoy, such as being with family, attending weddings, going to concerts and travelling.
To date, more than 66 per cent of the Australian population aged 16 and over has had at least one vaccine dose, and more than 22 million doses have been administered across the country.
We are setting vaccination records on an almost daily basis – and the next phase of the communications campaign will seek to keep this momentum going.
More broadly, committees representing Aboriginal and Torres Strait Islander communities, people with a disability and the multicultural communities are being consulted regularly to ensure the vaccination messaging is clear, appropriate and disseminated through the best communication channels to reach all Australians.
The communications campaign also supports on-the-ground engagement with the public, including information kiosks at shopping centres and events, and community in-reach activities with CALD and Indigenous communities.
First Things First campaign assets can be viewed at Australia.gov.au from 9am Sunday 12 September.
Police disrupt planned COVID-19 protests across NSW
Saturday, 18 September 2021
NSW Police have prevented the mass gathering of people in various locations across NSW, arresting 32 people and issuing 265 Penalty Infringement Notices in a coordinated and mobile response to planned protest activity.
Earlier today (Saturday 18 September 2021), a high-visibility policing operation was launched across Sydney and parts of regional NSW, to prevent, disrupt and respond to any mass gathering or protest activity.
More than 1700 police were involved in the operation across the state, including general duties officers from the Central Metropolitan Region, assisted by specialist police from the Public Order and Riot Squad, Operations Support Group, Police Transport Command, PolAir, Traffic and Highway Patrol Command and the Dog and Mounted Unit.
Of the 1700 police, approximately 1500 resources were deployed across the Sydney area, with a further 200 on the ground at regional locations including Tweed Heads, Byron Bay, Central Coast, Wollongong and on the South Coast.
Movement of potential protesters was once again restricted following a prohibition notice to taxi, rideshare and passenger services from conveying passengers to the Sydney CBD.
Further, officers from Traffic and Highway Patrol Command checked more than 60,000 vehicles at 19 stationary traffic points on major roads and mobile units were also deployed across our roadways.
During the state-wide operation, 20 people were arrested in Greater Sydney and 236 PINs were issued, 11 people were arrested and 28 PINs were issued in Byron Bay, and one person was arrested and subsequently issued with a PIN in Tweed Heads.
Minister for Police and Emergency Services David Elliott acknowledged the majority of people who made the right decision and stayed home.
"I'm pleased to see that common sense has prevailed and the vast majority of people have complied with the existing public health orders," Mr Elliott said.
"As always, we've seen the officers of NSW Police Force working together to keep us safe, and I thank them for their professionalism and commitment.
"We are close to reaching the end-goal, which will see the significant easing of restrictions, and I want to thank everyone who made the right choice today for the greater good of their loved ones and the entire state," Mr Elliott said.
Assistant Commissioner Peter Thurtell, Operation Commander was pleased to see the police strategy successful in disrupting protest activity.
"We take the health and safety of the community extremely seriously and we are glad our policing response, supported by road and transport strategies, effectively reduced the movement crowds and potential for disruptive protest activity," said Assistant Commissioner Thurtell.
"During the state-wide operation, 32 people were arrested and 265 Penalty Infringement Notices for breaches of the public health orders were issued to individuals who did not have a reasonable excuse to be travelling outside their local government area (LGA) or were not wearing face coverings.
"Most importantly, I want to thank the community who did the right thing and stayed home today. Also, I acknowledge the 1700 police officers who were deployed across the state for their professional response during today's activities," added Assistant Commissioner Thurtell.
Police continue to appeal to the community to report suspected breaches of any public health order or behaviour which may impact on the health and safety of the community by contacting Crime Stoppers: on 1800 333 000 or via https://nsw.crimestoppers.com.au. Information is treated in strict confidence.
The public is reminded not to report crime via NSW Police social media pages.