September 23 - 29, 2018: Issue 377
Council Shows Weedos Leading Weed Control Technology On The Northern Beaches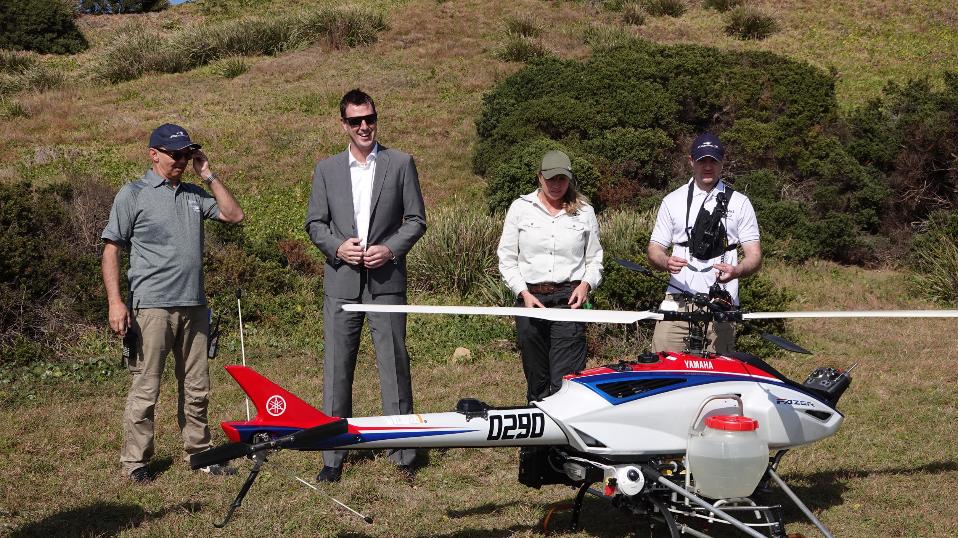 Yahama reps with Mayor Regan - photo by John Illingsworth
Council shows Weedos leading weed control technology on the Northern Beaches
Weedos is the light-hearted term to describe the group of researchers, scientists, agronomists and weed control experts from around Australia and New Zealand who gathered in Manly last week to talk about the latest weed control strategies at the 21st Australasian Weeds Conference.
This biennial conference carries a long tradition of bringing the weed management community together to discuss new developments and share information about cutting-edge and best weed management practices.
On Thursday (13 September), several fields trips were planned for the 300 attendees of which Northern Beaches Council conducted a demonstration at Long Reed Headland. Council showed the group cutting-edge technology they are currently using to control weeds.
Northern Beaches Mayor Michael Regan said the RMAX is helping Council lead the way in managing weeds in the area using the safest and most effective technology around.
"In a Council first, we've looking to use the RMAX Yamaha unmanned helicopter to help with the control of weeds on the Northern Beaches.
"The innovative weed control techniques we intend to use will help to get to hard to access areas like cliff faces between Palm Beach and Manly.
"Our area, like a lot of the east coast, has a problem with bitou and bone seed weeds which if not controlled displace native vegetation and species and contribute significantly to land degradation.
"It great our staff can network with up to 300 experts from all over Australia and New Zealand to work towards a common goal of controlling weeds in the conservation of our natural environment.
The RMAX has the following capabilities and specifications:
Delivers precision applications of chemical herbicides and pesticides with lowest risk of overspray or hazardous drift by using lance safe spraying which projects out and not down




Remote control and unmanned operated with a two-stroke or four stroke electric starter engine




Highly accurate spray path width of 4 metres




High endurance, longer flight time than battery drones




30 year's experience in precision in providing aerial application




Visual range up to 400 metres




Liquid sprayer has 2 x 8 litre tank capacity



The conference celebrated its 21st anniversary and was hosted by the NSW Weed Society on behalf of the Council of Australasian Weed Societies Inc.
Council intends to apply for funding to hire one RMAX helicopters to roll out across the region in late 2018.
by Northern Beaches Council Media Team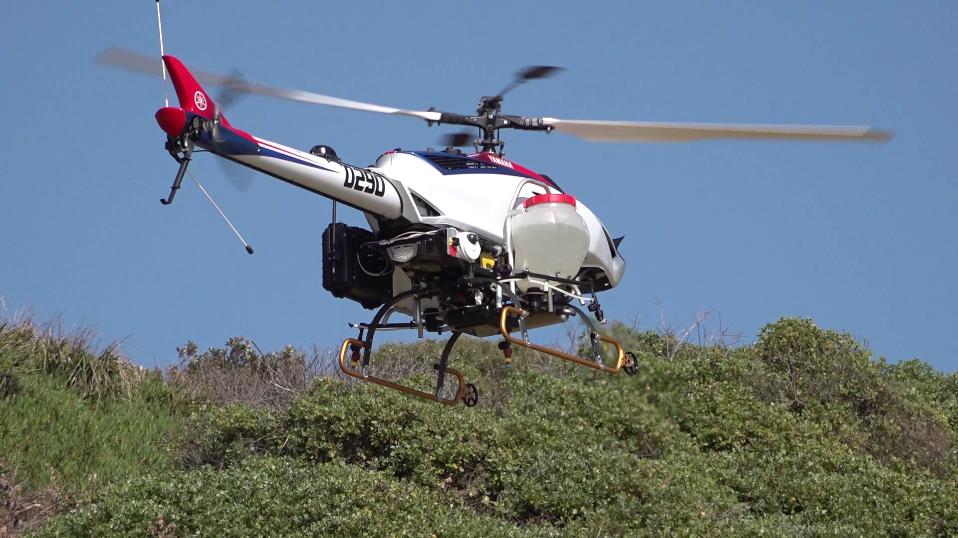 The RMAX Yamaha helicopter - photo by John Illingsworth