July 1 - 7, 2018: Issue 366
Northern Beaches Council Budget Report June 2018
Council Passes Budget Amidst Acrimony Over Rates And Amalgamation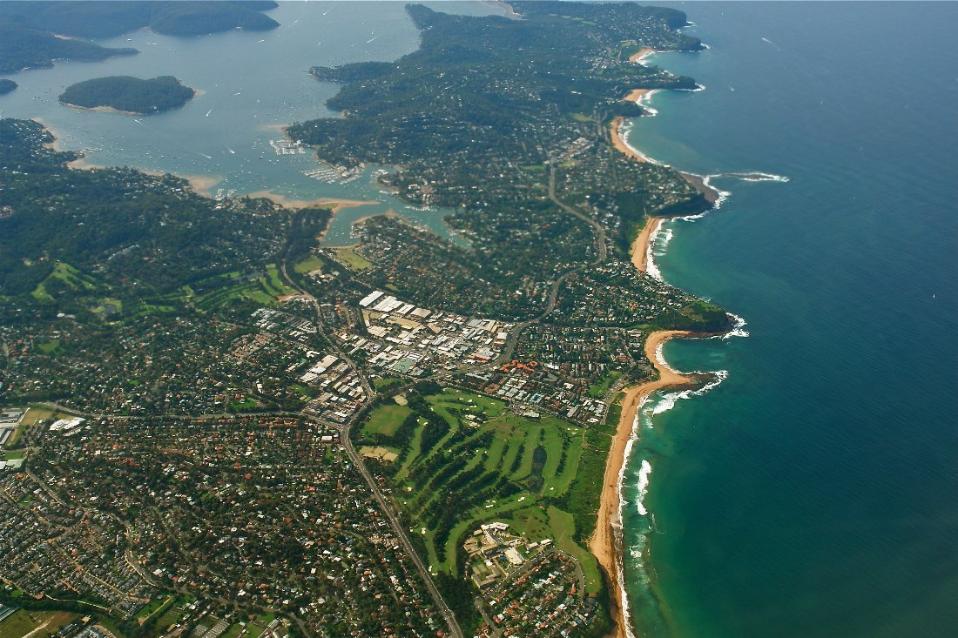 Aerial view of Pittwater (Scotland Island in top left corner) - photo by Alex Proimos
The Northern Beaches Council has passed its first budget since its election last September, after an acrimonious debate about rates and who was responsible for the merger creating the council.

The controversial budget forecasts total expenditure of $437.7 million, including a capital works program of $109.9 million and rates increases of $4 million.
Council papers said the budget "shows that our financial position is sound, with a projected surplus before capital grants and contributions of $8.7 million".
Placed on public exhibition from late April to late May, the budget attracted 784 submissions from individual residents, with 739 of them opposed to the 2.3 per cent rate rise.
Defending the rate rise, Mayor Michael Regan said the average increase would amount to only $31 per household per year, whilst those in Pittwater and Manly would save $91 on the cost of waste collection.
"Most people don't understand how rates work," the Mayor said.
"We don't collect more when property prices go up."
Manly Your Independent Team Councillor Sarah Grattan, applauded the budget saying it had started to identify savings.
"To achieve all of this with a 2.7 per cent surplus is outstanding," she said.
However, Pittwater Independent Councillor Alex McTaggart pointed out a number of problems with the figures.
"Let's note that the amalgamation expectation was that it would take pressure off rates and also create efficiencies," Councillor McTaggart said.
Instead, he said income from the budget included a rate rise "slightly above" CPI.
Councillor McTaggart was also perturbed that the council had not developed a policy on borrowings.
"We have not had the philosophical debate about borrowings and how to fund our assets through borrowings and having intergenerational change," he said.
He raised concerns that although council had substantial numbers of contracts, "Contracts and Materials" were listed in only a single line item in the budget, amounting to $119 million.
Consequently, councillors were unaware of "what contracts are out". Similarly, the council held licences and leases but did not appear to have a register of these.
However, Councillor McTaggart voted for the budget saying: "Let's move on and have councillor oversight over a lot of the things that we are not actually doing at this time."
By contrast, Narrabeen Liberal Councillor Rory Amon said the reason the budget was put on public exhibition was so the community could have its say.
The 700-plus submissions against the rate rise amounted to an "unprecedented response" in NSW for a line item in a budget.
"This rate rise is not acceptable to the community because during the amalgamation debate, our mayor campaigned for one council on the basis of better services and better rates," Councillor Amon said.
However, Mayor Regan countered that: "It's their (the Liberals') government that forced amalgamations."
Councillor De Luca also joined the fray on the history of the amalgamation, saying: "The council amalgamation was actually proposed by you, Councillor Regan, and not the government."
Speaking against the budget proposal, Councillor De Luca also cited the large number of submissions against the rate increase.
"If we go ahead with this rate increase despite us having a projected surplus, we are absolute hypocrites, particularly in view of the fact that certain councillors in this chamber, while expecting the community to pull in their belts, voted for a fee increase for their own salaries," he said.
"I concur with Councillor McTaggart that we haven't undertaken a proper analysis of cost cutting."
Councillors voted themselves a 2.5 per cent pay rise in May, although some will donate the increase to charity.
Councillor De Luca was also concerned about legal costs related to the aborted Manly Oval carpark project and that more than $5 million had been spent on council staff vehicles since the amalgamation – a greater figure than for any other council of comparable size, he said.
Independent Manly Councillor Candy Bingham supported the budget proposal because she believed that councillors had done their best.
However, she was concerned that the $400 million budget was becoming a "political football", whilst backing up the Mayor about who was responsible for the council merger.
"I feel for our Liberal councillors," she said.
"They're in a real bind. It was their government that forced the amalgamation and their government that promised a rate freeze."
She also pointed out some of the costs of the mergers, such as the $2 million lost on parking stickers.
The budget was eventually passed by a majority, with Pittwater Liberal Councillor Kylie Ferguson, Councillor Amon, Councillors De Luca and Curl Curl Liberal Councillor Dave Walton voting against it.
The budget papers include allocations for the following projects (amongst others):
Narrabeen Aquatic Trail Boardwalk (to be reviewed on environmental grounds after a presentation at the public forum by former Pittwater Mayor David James) - $1.23 million in 2018/19 and $1.2 million the following year.




Mona Vale Regional Performing Arts Centre - $2.5 million in 2018/19.




Creative Arts Space at the Northern End of the Northern Beaches - $150,000 in 2018/19 and $834,000 the following year.




Currawong Cottages (new cottages, games room and amenities) - $500,000 in 2018/19 and $850,000 the following year.




Coastal Walkway and Cycleway from Palm Beach to Manly - $21 million in 2018/19.




Beach Buildings including Surf Clubs - $2.21 million.




Sportsgrounds - $20 million.




Collaroy-Narrabeen Coastal Protection Works - $1.6 million in 2018/19 and $5.9 million the following year.



Avalon, Mona Vale and Manly Place Plans – Unfunded.




Satellite University Campus "utilising existing assets" and with a feasibility study and Expressions of Interest to identify a suitable partner – Unfunded.



Report by Miranda Korzy