July 30 - August 5, 2023: Issue 592
Concerns about delayed hazard reductions in high fuel loads areas - Pittwater MP calls for new fireboat for offshore RFS's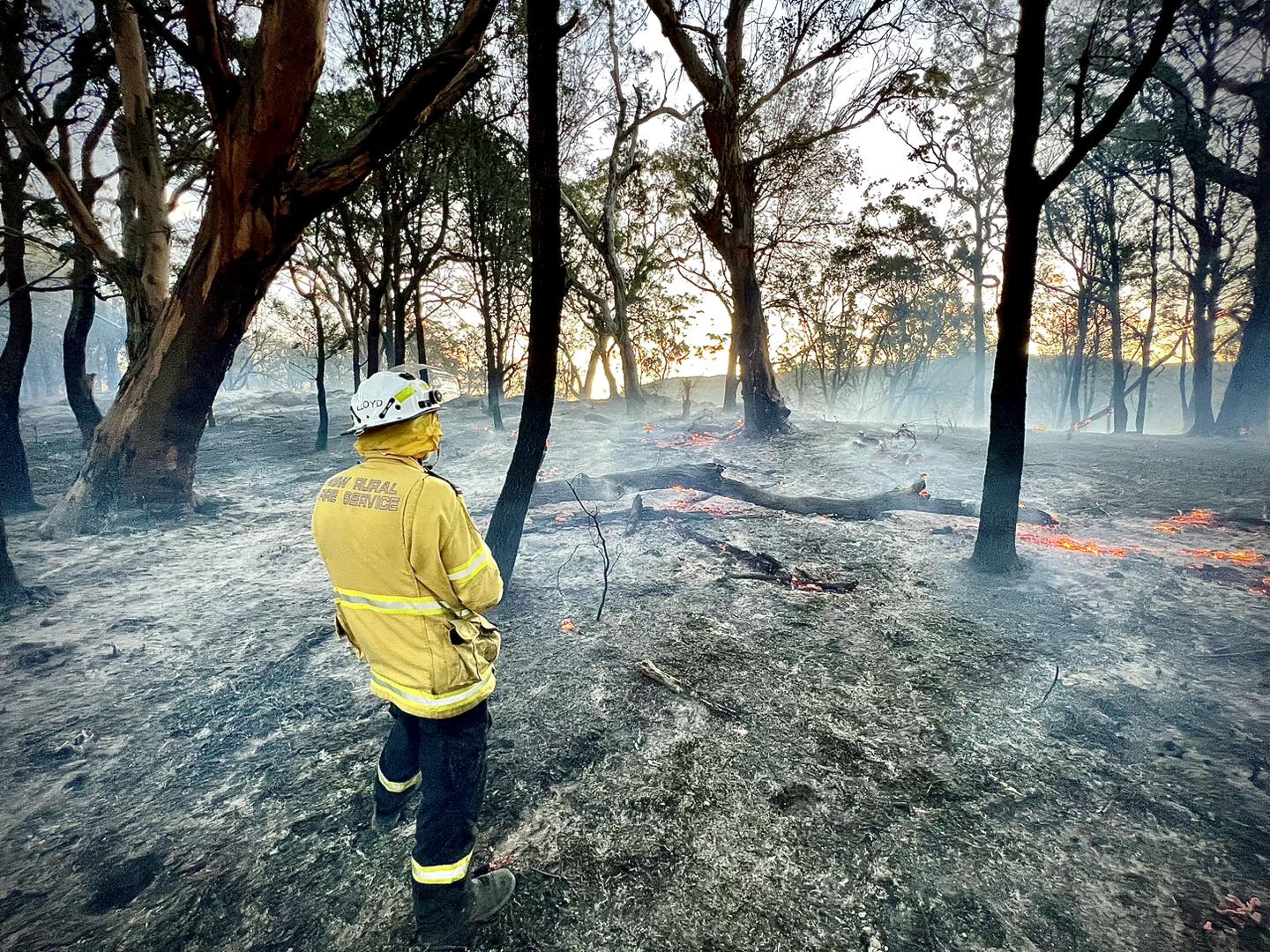 Coasters Retreat fireground, July 9, 2023 - his fire started Saturday July 8th. Photo: Northern Beaches Rural Fire District
The NSW Labor Government has announced $10 million boost to prepare for the forthcoming bushfire season on Monday July 24th, just days before unveiling a $9 million high-capacity waterbombing helicopter at Richmond on Saturday July 29th.
However hazard reductions in our area have been postponed recently due to rains falling on the days they were scheduled until more favourable conditions return. What's more, none are listed on the NSW RFS HR webpage advising of these, despite a growing fuel load in bush areas that is drying out quickly under warm mid-winter conditions. On Saturday July 29th the temperature in Pittwater was a balmy 23 degrees.
July was the month the fires leading into the December 2019 and January 202 inferno, 'black summer', commenced its unstoppable burn across NSW, with local NSWRFS fires deployed north at the same time to help fight the fires that were destroying koala country.
What's more, Pittwater already has one instance of a fire already occurring at Coasters on July 8th and burning into the next day. Fortunately a rising wind was blowing the fire towards the coast rather than into the Ku-ring-gai Chase National Park where it could have destroyed the bush and raced towards communities on the perimeter.
The current RFS 'fires near me' map shows scores of fires are already burning across the state, fortunately all listed, at present, as under control.
The state government has said in a statement that hazard reduction burns are underway across the state as rural firefighters try to take advantage of favourable conditions to help keep local communities safe ahead of the 2023-24 bushfire season.
The statement reveals that only 20 per cent of planned hazard reduction burns were able to be completed during the past year due to the prolonged wet weather and severe flooding across large areas of NSW.
The NSW Government and its fire services are working to complete as much hazard reduction as possible with the $10 million program to develop a statewide mobile workforce to accelerate this critical work ahead of the coming fire season.
The funding, the government states, will enable the Rural Fire Service (RFS) to employ an additional 100 mitigation crew members to carry out vital hazard reduction and mitigation works in identified high risk areas of the state, with the extra mitigation crew members based mainly in regional areas of NSW, where it is already very dry in grassland areas.
The crews will help prepare areas for hazard reduction, such as preparing trails and establishing control lines, and assist with burns during the week when volunteers may not be as readily available.
The Bureau of Meteorology has declared an El Nino Alert, meaning a likely return to hot, dry and windy conditions this summer. Under these conditions, NSW can expect a return to a more traditional fire season compared to the last two summers which have been extremely wet.
The roles will include a mix of casual and temporary roles, starting with existing RFS members who are trained and able to travel to any part of the state where hazard reduction is taking place.
Minister for Emergency Services, Minister Dib said, "With warm, dry conditions expected to return in coming months, we are potentially looking at a serious fire season and it's important we do everything we can to support our fire services and land managers to prepare."
"Due to recent rain over the past few months, we are facing a significant backlog in hazard reduction burns, so we need to accelerate our efforts heading into the next fire season and these additional crews will help make a difference."
"It is important to plan ahead and come up with a proactive approach to maximise our narrow window for hazard reduction, as a result of unfavourable weather conditions. We are implementing a range of hazard reduction options, this is just one way we can complement existing efforts and enhance our ability to respond to future fires."
"I want to thank our hard-working RFS mitigation crew members and volunteers for their efforts as they work hard to keep each of us safe."
Rural Fire Service Commissioner, Rob Rogers stated: "With the change in weather systems seeing an end to frequent rain and the return of dry, windy conditions, we need to get our teams out there doing hazard reduction burns at every opportunity.
"Over the last three months, almost 55,000 hectares of work has been completed, work critical to protect more than 50,000 properties and safeguard lives."
"There is plenty more to be done and this boost in mitigation personnel will enable even more vital work to be undertaken. While we are doing what we can, home and property owners also need to assess what they can do to prepare for the upcoming fire season as well."
On Saturday Rural Fire Service (RFS) aerial firefighting capabilities received a significant boost with the arrival of a $9 million high-capacity waterbombing helicopter at Richmond. The new helicopter will allow for aerial firefighting at night and expand on existing air capabilities.
Minister for Emergency Services Jihad Dib was joined by Commonwealth Member for Macquarie Susan Templeman and Commissioner of the RFS Rob Rogers, to welcome the CH-47 Chinook at RAAF Base Richmond.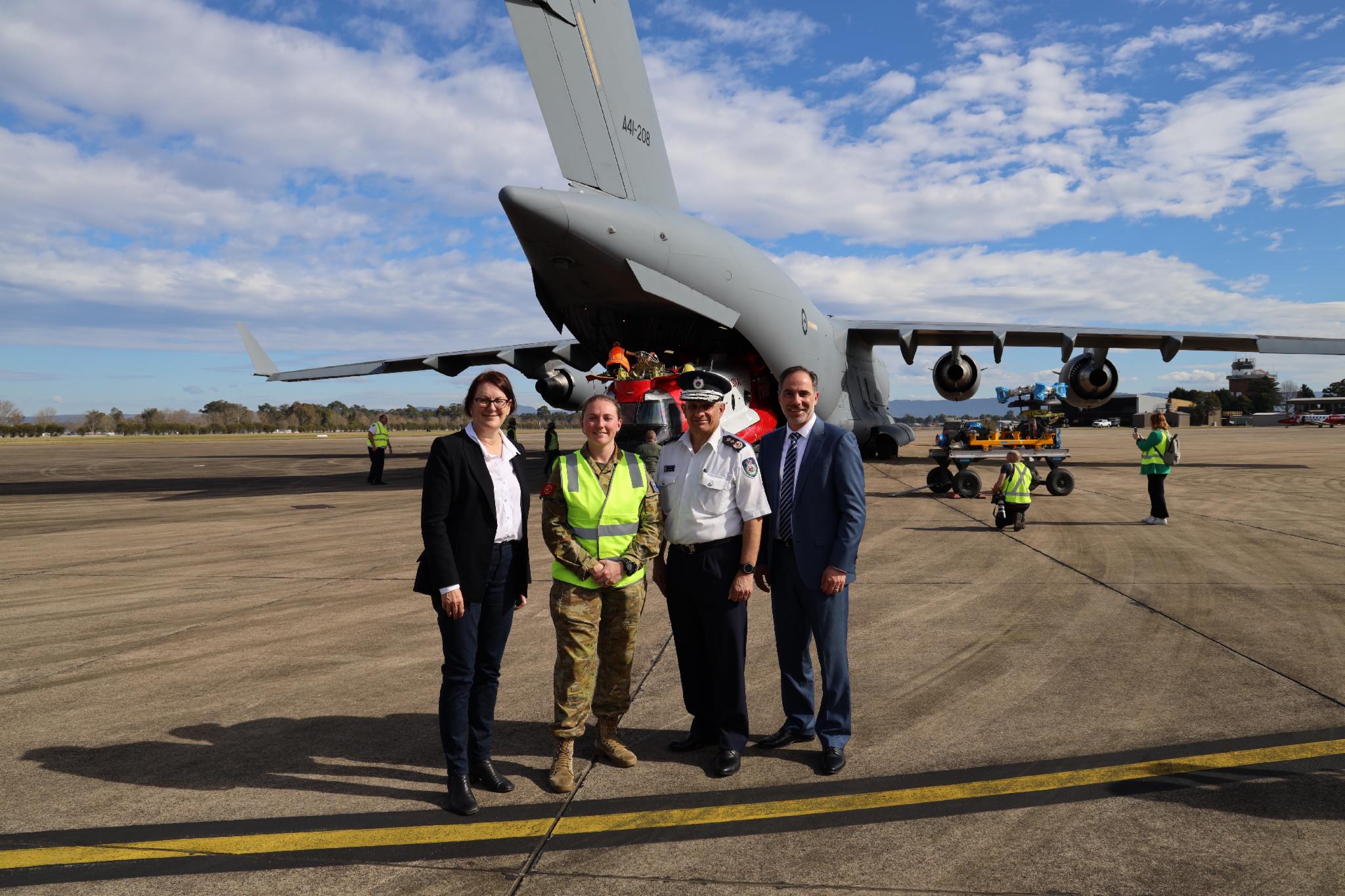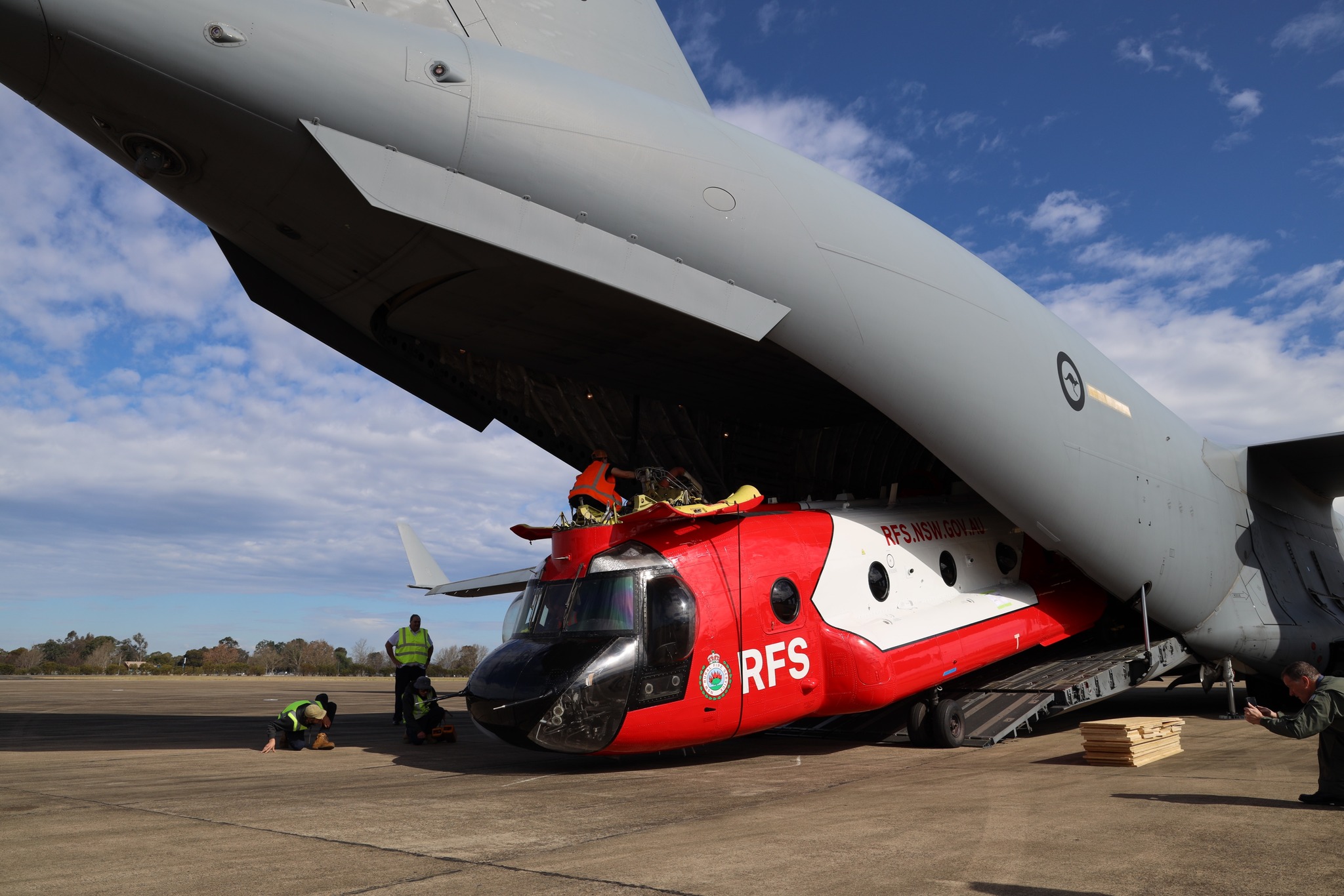 The impressive aircraft will carry up to 11,000L of water or retardant — a payload comparable to that of a Large Air Tanker — and will soon have the capability to support firefighting operations at night.
In its first year of operations, the Chinook will assist firefighters on the ground using a bucket of up to 10,000L. An 11,000L internal tank will be installed during the winter of 2024, which will allow it to commence night-time aerial firefighting.
The arrival of the aircraft comes ahead of the start of the Bush Fire Danger Period in six local government areas (Armidale Regional, Walcha, Uralla, Glen Innes Severn, Inverell and Tenterfield) on 1 August, and with fire conditions expected to return across NSW after three years of wet weather.
Minister for Emergency Services Jihad Dib said:
"The RFS Chinook will be the first helicopter of its kind to be permanently based in Australia. This helicopter will be a valuable asset and is one of a number of proactive steps we are taking to ensure we are prepared for bushfires in the summer ahead."
"The helicopter brings a new capability to the RFS, including the future ability to use it at night which means we can directly attack fires at times when weather conditions are more favourable and fire activity is typically lower."
"The NSW Government is providing the resources and facilities to protect people across the state. The helicopter will be based in Richmond but can be moved around the state depending on the fire risk."
Commissioner of the RFS, Rob Rogers said: "The Chinook carries a similar load to a 737 Large Air Tanker but can fill up and turn around faster, protecting people and homes from fires."
"We're very grateful to the Royal Australian Air Force, with which the RFS has had a strong working relationship for over a decade, for its assistance in delivering this helicopter in time for the coming fire season."
The great addition to the NSW RFS firefighting fleet is tempered by the lack of action on keeping local communities safe though.
After the Coasters fire Pittwater MP Rory Amon, an RFS volunteer himself, stated he had sought urgent Ministerial intervention to expedite the provision of adequate fire boat firefighting resources for Pittwater's offshore communities. The call was made in the aftermath of a significant fire at Coasters Retreat over 8 and 9 July 2023, and after years of bureaucratic wrangling.
The 18.4 square kilometre area of the Pittwater waterways is served by two fire boats – Elvina Fireboat and Scotland Island fire boat. The fire boats serve to protect those on the water, often attending boat fires. They also serve as first responders for fires in Pittwater's offshore communities with electoral data disclosing that community at over 700 full time residents, and hundreds more part timers and weekenders.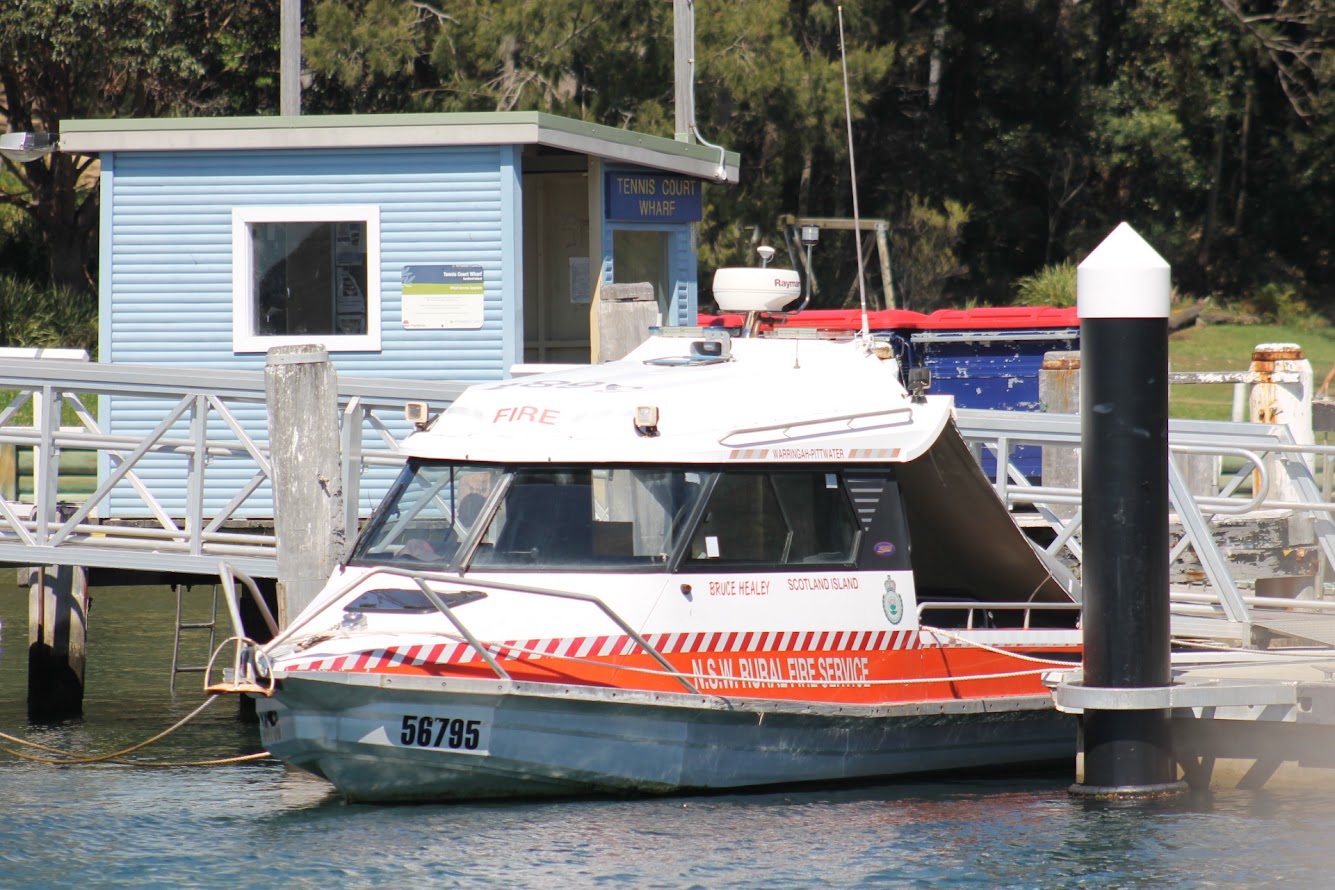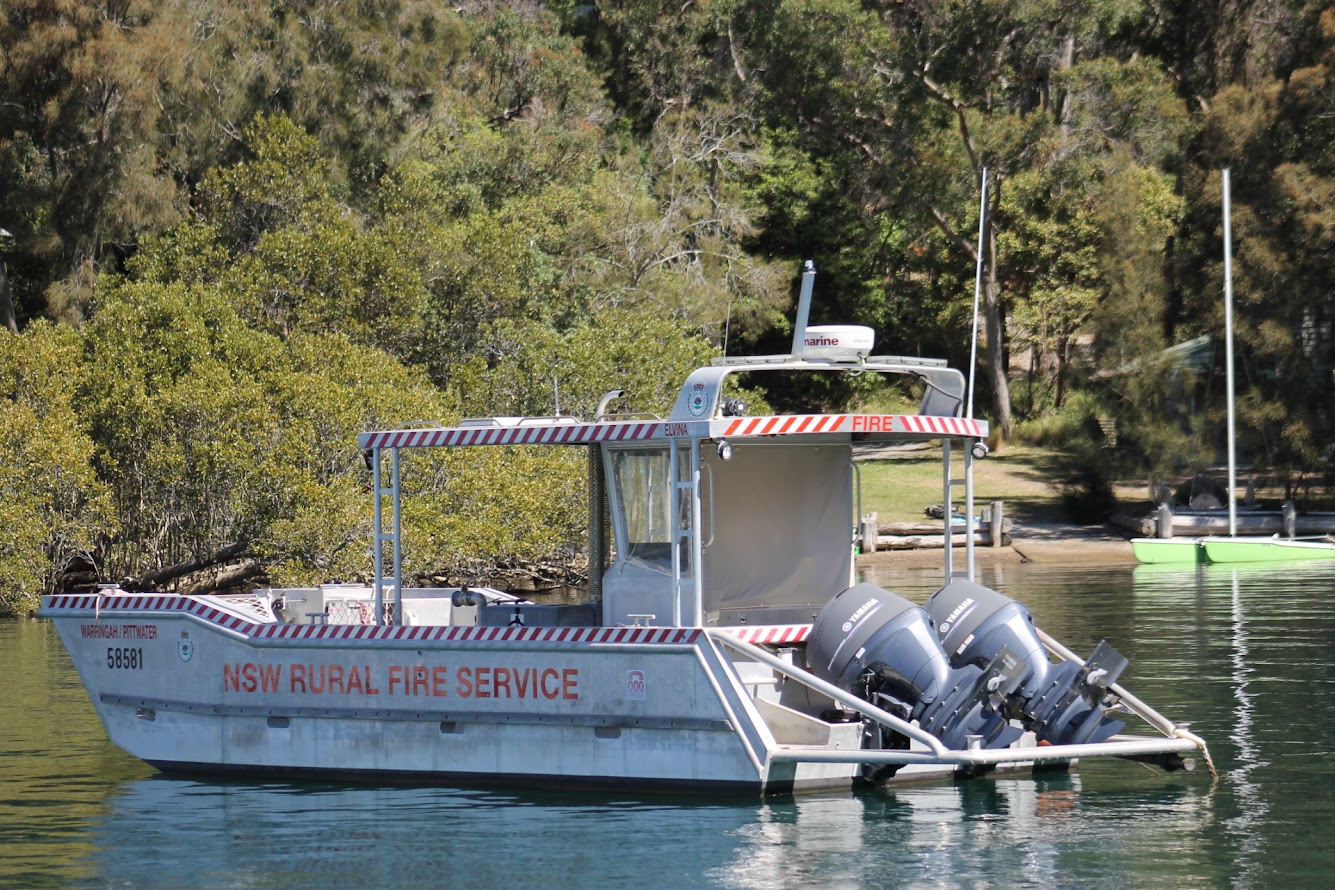 "The Scotland Island Volunteer Rural Fire Brigade currently has a fire boat which is not fit for purpose and has been in use for 17 years. This vulnerability was highlighted last weekend with a fire at Coasters Retreat over 8 and 9 July 2023. This vulnerability is putting lives and property at risk across Pittwater's offshore communities."
"For several years now, the Brigade has been working with the Rural Fire Service seeking a replacement fire boat. Minister, this matter is now urgent, especially as we enter a drier and hotter fire season. I fear the worst for Pittwater's offshore communities, and, in that setting, I now elevate this matter to your direct attention" wrote Mr Amon in a recent letter to Minister for Emergency Services, Jihad Dib.
Mr Amon has asked the Minister to provide urgent advice as to:
a. What approximate month and year it is anticipated that a new fire boat will be handed over to the Scotland Island Rural Fire Brigade, noting their current boat is nearly 20 years old and no longer fit for purpose;
b. What the type, design, make/model, approximate length and width the new fire boat will be for the Scotland Island Rural Fire Brigade;
c. What the specifications of the pump on the new fire boat will be?
"With dry weather ahead, the upcoming fire season could replicate the 2019/20 tragedy. I urgently seek the Minister's intervention so that our communities are kept as safe as possible," said Mr Amon.
In the meantime, residents can commence their own Bush fire survival plan and 'get ready activities, such as clearing away all those dead leaves from your roofing gutters. Information is available at: www.rfs.nsw.gov.au/resources/bush-fire-survival-plan
Hazard reductions planned for our area will be listed as they are scheduled at: https://www.rfs.nsw.gov.au/fire-information/hazard-reductions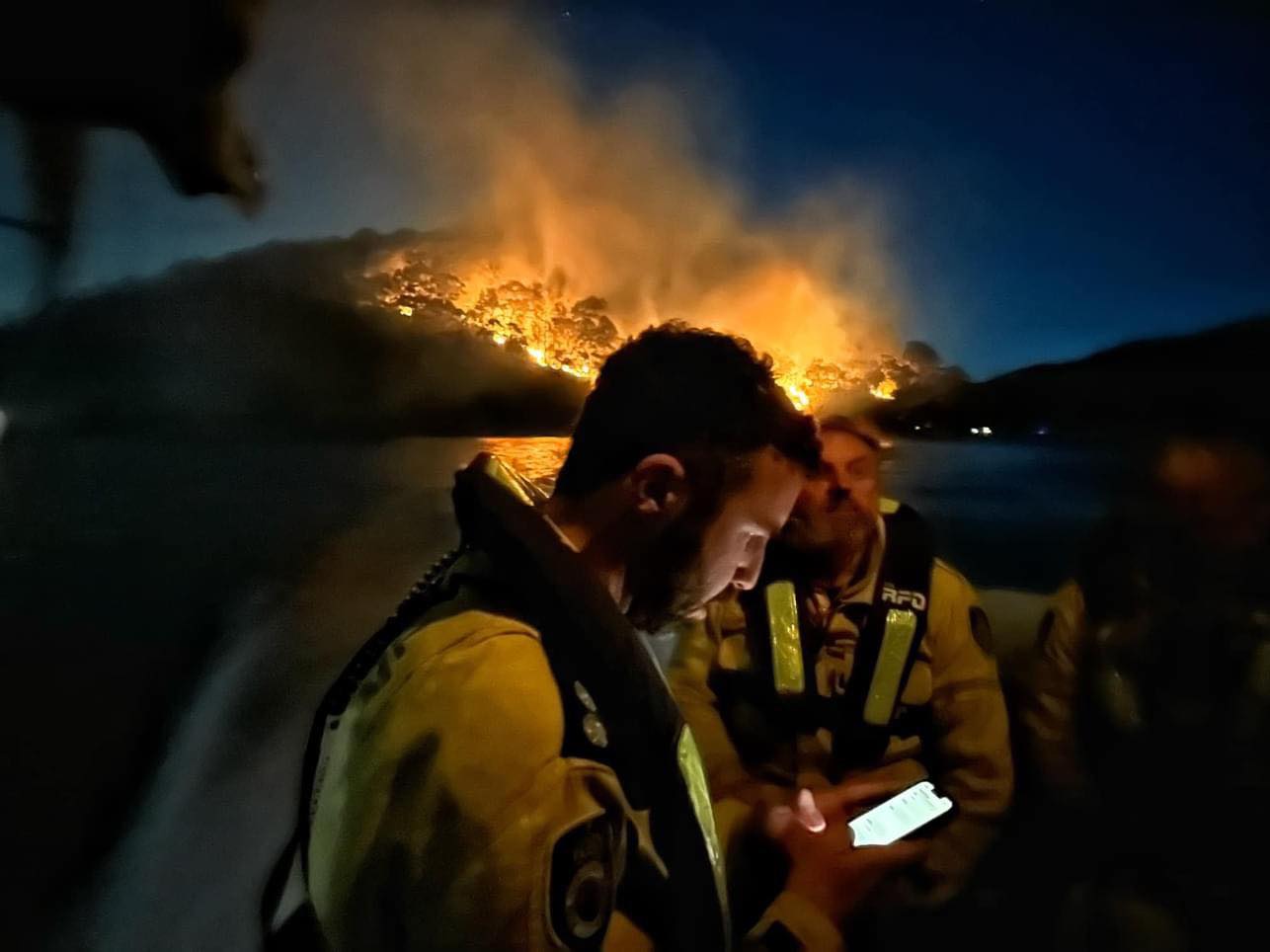 Heading into the Coasters Retreat fireground, Saturday July 8th. Photo: Northern Beaches Rural Fire District