March 10 - 16, 2019: Issue 396
Clean up Australia Day 2019: two hours on land and in the water- an all schools & all peoples pittwater mission!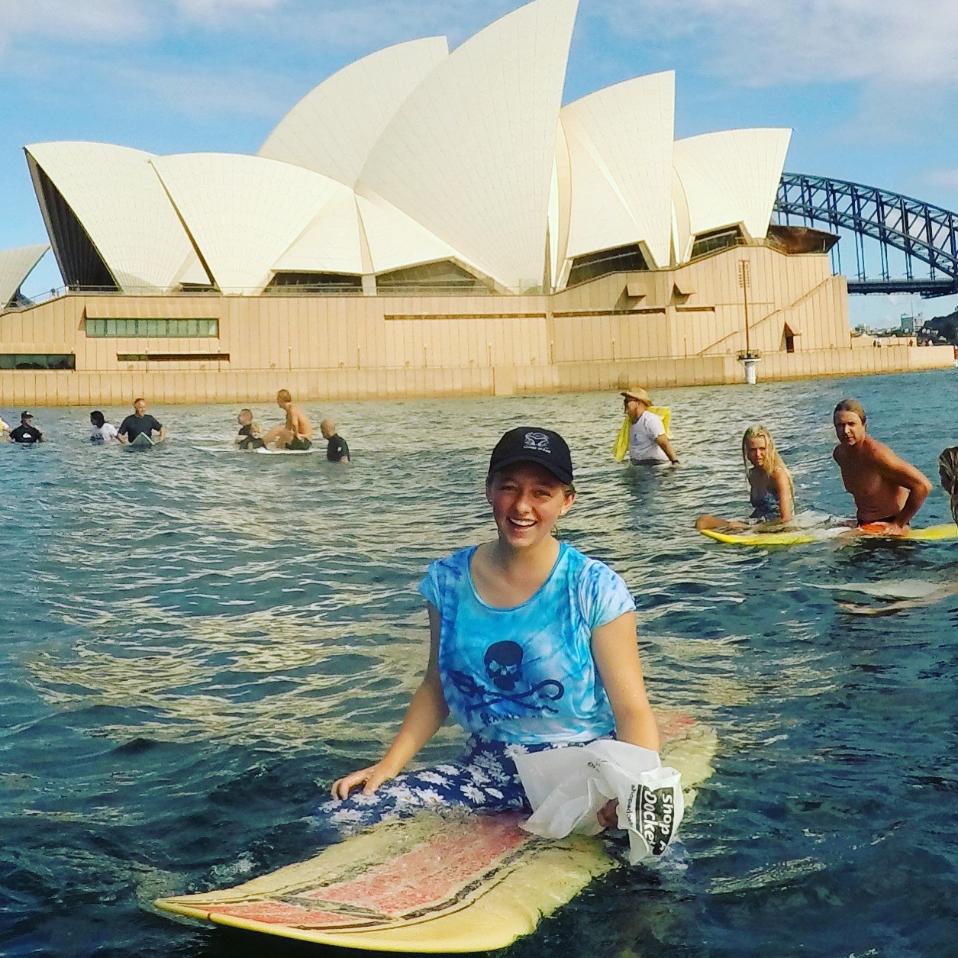 Zoe Kemp taking part in Surfrider Foundation's Clean Up Australia Day - photo by
Living in a coastal, lagoon and estuarine community means we're well aware how the tide may recede but also comes back again, often bringing a wave of rubbish with it. We know sea-breezes are great for catching our sails, but they also blow rubbish carelessly discarded across the parks and into the trees and sometime, into the waters.
Commencing on March 1st at the Narrabeen Lakes Public School, who say; 'As our school lies between the lake and the ocean, we have a huge responsibility to keep our school and our surrounding community clean and green. NLPS is kicking off our 2019 sustainability program by hosting a Clean Up Australia Day event.' who were among many local schools who took to their playgrounds on that same day, and culminating with Barrenjoey High School's Vice Captain and Ocean Lover (volunteer for Living Ocean, Sea Shepherd and BHS Sustainability Group Leader) Zoe Kemp taking part in Surfrider Foundation's Clean Up Australia Day on Sydney Harbour last Sunday as part of the 30 year anniversary of that first harbour cleanup!
Some words by Surfrider Foundation Australia on this year's harbour event:
The sky's were clear and 'Ian' was most definitely looking down on us smiling from ear to ear. Surfrider Aus together with all our beautiful support group, who made this event so majestic, put on a display of true RESPECT and POWER. The truly beautiful Opera House was definitely overshadowed by the character of our participants and the strength of PEOPLE POWER. Surfrider Australia would like to thank and give huge hugs to every single person who helped make this day happen. You are all Legends and you will never die.
Sunday was the 30 year anniversary of Clean Up Australia Day 2019! Bittersweet in many ways. A moment of silence for Ian Kiernan, Clean Up Australia founder and tireless ocean eco warrior.
Then the hard work of cleaning our precious Harbour...still! Incredible work from the free divers who collected garbage from the sea floor; thank you surfers, SUP boarders and kayakers for collecting; Surfrider Foundation Australia for organising, our Ambassadors, friends and families for making it such a heartfelt event.
Surfing World Champs, Tom Carroll, Rob Bain and Surfing legend Simon Anderson were among the 'fleet' aboard the Clean Up Sydney Harbour event.

Clean Up Australia organisers stated this week;
'A huge thank you to the more than 680,000 volunteers who rolled up their sleeves yesterday at over 6,830 sites around the country as we continue his work into the future.
Surfriders Australia, along with an incredible group of world renowned surfers, volunteers and divers held a paddle out and shared a minute of silence in tribute (to Ian Kiernan AO 1940-2018). We thank everyone who made yesterday possible and all the volunteers who have helped make Ian's vision a reality for the last 30 years.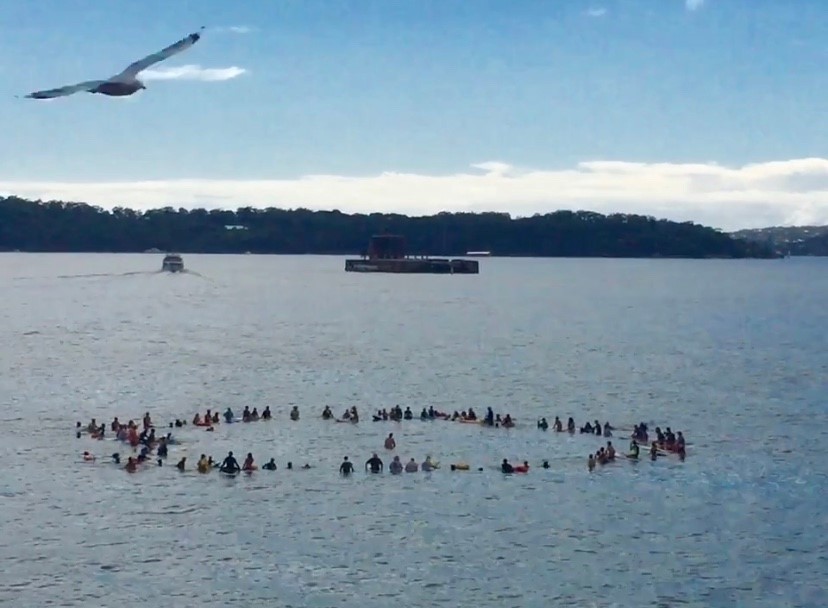 Sydney Harbour paddle-out Tribute - photo by Rowan, Surfrider Australia
Littlies, biggies, the very young and the slightly older all did their bit last weekend - others did their bit on the Sunday, across Pittwater.
Pittwater Natural Heritage Association (PNHA)'s Cleanup Australia Day was focused on the Careel Bay mangroves and saltmarsh which is now looking better thanks to our clean up site with 10 helpers at end of William St Avalon, being 'relieved' of its rubbish.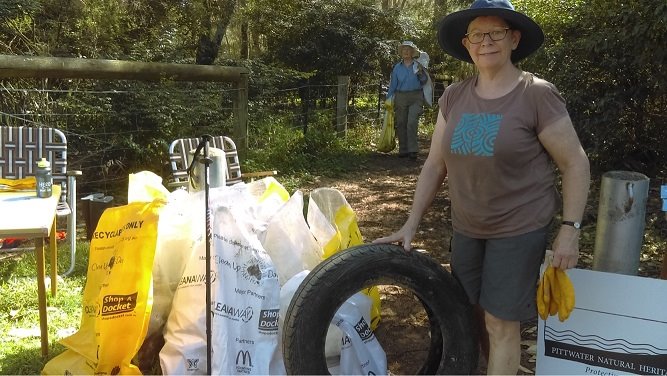 PNHA photo: Gillian May with her prize find. For some a first visit to this lovely area of Pittwater.
The Clean up event wasn't the only good environment news to come out of Pittwater this week as Barrenjoey High School now has Ocean Friendly accreditation:
Congratulations Barrenjoey High School!
First Ocean Friendly accredited school cafe in Australia!!!!!
First school to be included in the Top 100 Northern Beaches Ocean Friendly venues
As usual, it starts with a conversation...after the Plastic Free July celebration at BHS last year P&C Mum Christy Bishop & ocean-loving daughter Zoe, chatted to teachers about what more could be done to reduce the school's plastic footprint. TAS Head Teacher and like minded ocean lover Caryn Harrington ran with it🏃‍♀️.
The BHS Sandbar Cafe was already initiating sustainable f&b practices, so it was easy for them to fulfil the remaining Ocean Friendly criteria for accreditation.
In addition to the OF mandatory criteria, the cafe sells keep cups, has reusable cups, gives generous discounts for BYO cups, gives food scraps to their worm farm, and puts the used coffee grounds in the community garden compost.
Their newly created volunteer student Sustainability Group is bursting with "can do" ideas, and is aiming towards a carbon neutral, energy saving school, with their next goal being an Ocean Friendly canteen.
It was such a delight to hang out with a bunch of energetic bright sparks, and we look forward to helping BHS reach your plastic free ambitions.
Our oceans, waves and beaches thank you!
Words Ocean Friendly / Surfrider Foundation's Rowan Hanley

Looks like every day in Pittwater is becoming a Clean Up Australia Day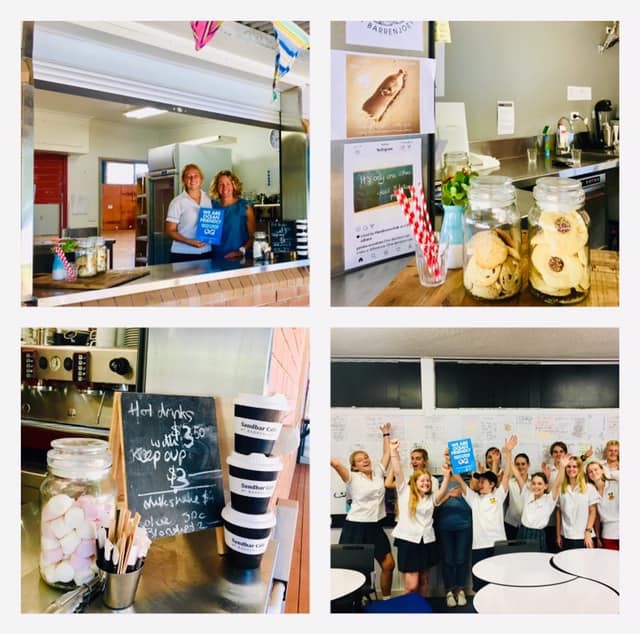 Carryn Harrington and the BHS Sustainability Group students - montage supplied.