December 15, 2019 - January 19th, 2020: Issue 433
Christmas sees loss of Mona Vale Hospital's main building but hospital inquiry a win for transparency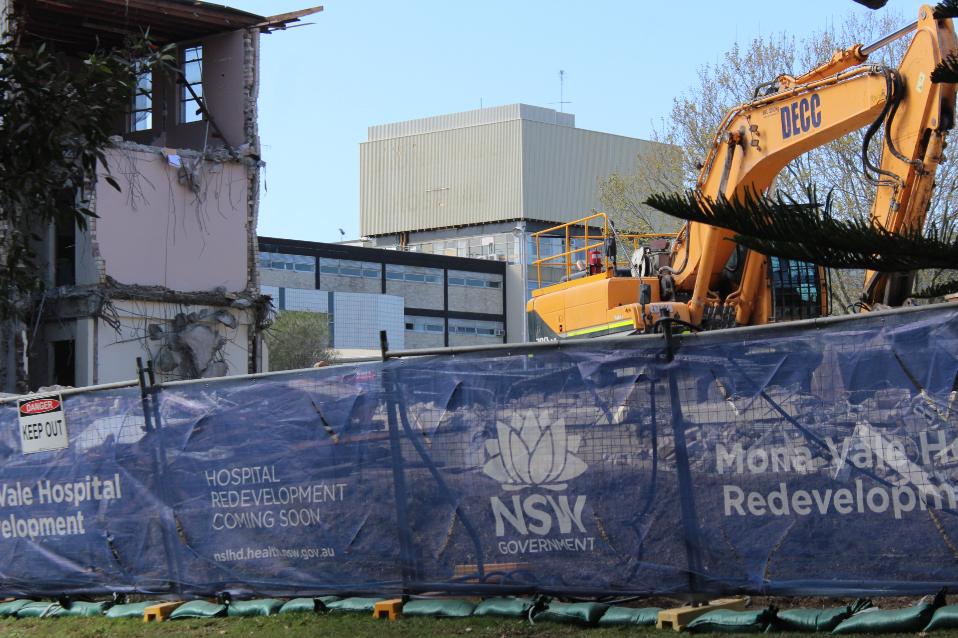 As the Christmas holidays approach, Pittwater is losing one of its most valuable public assets – the main building of Mona Vale Hospital. A structure, which has served the community for more than 50 years but is relatively young compared to some of Sydney's major hospitals, is being torn down, purportedly due to asbestos. Core services, including emergency, surgery and maternity, closed in October last year and the current parliamentary inquiry into their replacements at Northern Beaches Hospital has heard doctors' accounts of numerous serious problems there.

The Save Mona Vale Hospital community group, which has fought along with thousands of members of the Pittwater Community for over 20 years to retain all services at our local hospital, has no choice but to acknowledge that the campaign has fallen on deaf ears. Many in Pittwater are outraged that our voices have not been listened to and the state government has been able to take constituents votes for granted.
So how did we get here over the last year?
The Save Mona Vale Hospital Committee was set up in 2000 after the NSW government announced plans to replace it and Manly Hospital – eventually settling on a new site at Frenchs Forest. The campaign continued until 2007, when Pittwater state MP Rob Stokes won his seat after promising to retain Mona Vale Hospital.
Early last year, health officials and a representative of Healthscope - the private company that operates the new Northern Beaches Hospital - visited community groups around Pittwater, outlining services that would be offered at Mona Vale as well as the new hospital.
Many residents were appalled to learn that the heart of Mona Vale Hospital – its acute services - would no longer be offered at the hospital. Officials also said that the Urgent Care Centre would treat only minor illnesses and injuries, and its staff comprised of two doctors and two nurses on any one shift and that doctors would not be required to have accreditation as members of the Australasian College for Emergency Medicine.
The fight to save MVH was reactivated and closure of acute services there met in the months leading to the March state election with a series of demonstrations organised by SMVH: including a wake outside the NSW Parliament House; large rallies in Mona Vale Village Park; another outside NSW Health Minister Brad Hazzard's electoral office; and a capacity crowd at a public meeting in February at Pittwater RSL's auditorium. These protests attracted thousands of residents – sending the message loud and clear that Pittwater wanted our public hospital retained and all services returned.
More than 11,000 residents also signed a petition – at least the third to be circulated in the last 20 years – calling for acute services at MVH to be retained.
The campaign has scored a number of wins over the years, the most significant being the establishment of a palliative care unit at MVH and, last year, the return of imaging services and anti-venom for snake bites to the hospital's Urgent Care Centre.
Another notable outcome of the campaign over the last 12 months – creating public awareness and igniting resident outrage - was that Pittwater MP Rob Stokes experienced a drop of more than 10 per cent in his primary vote at the state election – to 57.4 per cent compared to the 2015 election.
However, residents took little comfort from the opening of the Northern Beaches Hospital at Frenchs Forest in late October 2018. From the first night of its operations, SMVH began receiving reports on its Facebook page and via other means, from patients and doctors, of serious problems at the hospital. These included: patients experiencing long waits; shortages of supplies and equipment; and inadequate training and procedures leading to life threatening emergencies. However, NSW Premier Gladys Berejiklian and Mr Hazzard dismissed these reports as "teething troubles".
It must be counted as a major achievement of the SMVH campaign that we were able to alert nationwide and local media to the problems at the hospital – and in June secure an Upper House inquiry into its operations, sponsored by then Labor Health spokesman Walt Secord.
The community's claims and concerns have been vindicated at hearings of the inquiry. In fact, at its final hearing in November, Dr Jonathon Page, an oncologist who resigned from Northern Beaches Hospital over his concerns for patient safety, confirmed that "patients were in great danger", when NBH first opened - and was not prepared to vouch for their safety there now either.
He drew a parallel between the safety of passengers on an aircraft coming into service for the first time and those of patients at the new hospital on its opening.
"It would be inconceivable to launch a new plane without all the safety checks and yet a hospital was opened without that having been done ...," Dr Page said.
"This was like a plane flying without any connection to the flight tower."
The inquiry, into the operations of Northern Beaches Hospital and its impact on Mona Vale and Manly Hospitals as well as the local community, has received more than 200 public submissions. See https://www.parliament.nsw.gov.au/committees/inquiries/Pages/inquiry-details.aspx?pk=2524#tab-submissions
Amongst these is an extensive document from the SMVH committee (Number 121), which includes:
discussion of contractual issues (such as sale of the operator Healthscope to Brookfield, an owner of major infrastructure in Australia, which paid no tax here over the last three years despite a local income of $9.9 billion);
problems for residents with the hospitals expanded catchment, local population growth and staffing problems, childbirth and mental health treatment;
issues related to distance of the new hospital from Pittwater residents; the merits of local emergency departments and issues with ambulances.
A proposal for a networked hospital model for the Northern Beaches encompassing a redeveloped Mona Vale Hospital was also submitted to the committee.
One of the first witnesses at the hearings was SMVH chairman Parry Thomas. Despite aggressive questioning from one of the inquiry panel members in particular – a Liberal MLC – Mr Thomas outlined the problems our community now faces accessing hospital treatment at all – let alone reliable and safe treatment.
Phil Walker, from the informal group Friends of Mona Vale Hospital, also presented evidence at the first hearing in August from his Freedom of Information requests into the construction of the new hospital – in particular raising questions about the safety of its cladding and the external fire stairs.
Equally impressive was Helena Mooney, from Friends of Northern Beaches Maternity Services, who outlined the problems with the private model of obstetric care adopted by the hospital – especially the high rate of interventions at other Healthscope run hospitals. As a privately-operated hospital, statistics for NBH will not be available until the end of next year despite the publication of outcomes for major NSW public hospitals this week.
One of Pittwater's most eminent doctors and a surgical professor at Royal Prince Alfred Hospital, Richard West, catalogued the shortcomings of our hospital arrangements at the next hearing in September, saying his main concerns were: the lack of medical services at NBH including treatment for cardiac disease, thrombolysis (clot-busting drug treatment for strokes), major trauma and urgent surgery for children; downgrading of services at Mona Vale Hospital; lack of ambulances and long waits for them in the Pittwater area. He also condemned the lack of transparency over availability of services and the fact, reported by private hospital Healthscope at the previous hearing, that some services at the NBH are available to private patients only. Prof West called for the hospital to be upgraded to the same level as RNSH - a Level 6 hospital - and "in the interest of patient safety, the NSW government should take over the NBH".
"They have a public/private model run by Healthscope," he said. "This model has failed in the past and is failing again at the NBH."
Describing ambulance waiting times as a lottery, Newport GP Dr Suzanne Daly, at the same hearing, told of a case the previous week in which a grandfather was forced to carry out CPR on a toddler at Bilgola, while waiting 35 minutes for paramedics to arrive "until it was almost too late". Dr Daly said she was fearful for local residents, given the peninsula's many beaches, surfers and rock fishermen – with the closest hospital now so far away.
Other GPs to speak included Dr Elana Roseth, who told of a patient labelled "Not for resuscitation" without consultation with him or his family, who was allowed to die. She also revealed a list she keeps of problems at NBH including a lack of communications with GPs, particularly a failure to send them patient discharge summaries, meaning local doctors sometimes have no idea of what illness a patient has experienced and treatment received for it at NBH. This included patients with serious issues ranging from heart attacks to suicide attempts.
Concerned about increased costs for services at the NBH, Dr Caroline Rogers reported patients telling her they had been pressured to use the private system there because the services they needed were unavailable in the public system. In fact, the loss of public outpatient clinics that existed at Mona Vale and Manly Hospitals – including cardiology and neurology – meant that patients are now forced to seek paid consultations with specialists in their rooms, Dr Rogers said.
The inquiry will report early next year and given that our closest reliable public hospital, Royal North Shore, is now nearly 40km away from parts of Pittwater, SMVH looks forward to its findings. However, we already know the inquiry has been a win for transparency. We also know the Northern Beaches' population is ageing and expected to grow by 45,000 to just under 300,000 by 2036, so that we need acute services returned to Mona Vale Hospital. Standing with the community, the hospital committee will fight to retain in public hands MVH's "village green" - the land cleared by demolition of many of our local hospital's buildings. That will enable the development of modern, asbestos-free public hospital buildings as soon as possible.
Finally, the committee would like to offer special thanks to our chairman, Parry Thomas and member Eunice Raymond, veterans of the 20-year campaign to Save Mona Vale Hospital, still in the saddle and ready to ride into battle again next year.
Miranda Korzy
Save Mona Vale Hospital Community Action Group
Save Mona Vale Hospital Update And AGM 2019
You are invited to the
Annual General Meeting of the
Save Mona Vale Hospital Community Action Group
The Program
Chairman's report
Parry Thomas will provide an update on:
* What is happening at the Mona Vale Hospital site
* the Parliamentary Inquiry
* SMVH plans for the campaign in 2020
This will be followed by the SMVH Annual General Meeting.
Apologies
Confirmation of the minutes
Business Arising
Treasurer's report
Election of Management Committee
Election of Public Officer
General Business