September 22 - 28, 2019: Issue 422
Champions crowned at the Woolworths Surfer Groms Comp in Kiama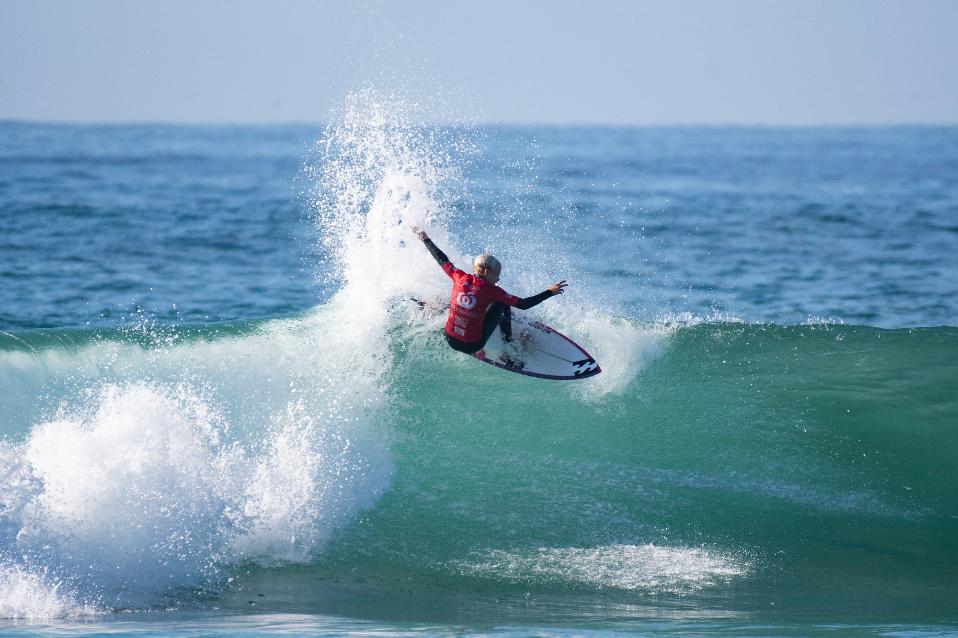 Fletcher Kelleher (Freshwater) bagged his first Woolworths Surfer Groms Comp victory of 2019 - photo by Ethan Smith/Surfing NSW
Last Issue Pittwater Online shared some of the great news coming out of Surfing NSW about the
2019-2020 Woolworths Surfer Grom
Comps and the great fun, experience and results peninsula surfers have had in the first two rounds.
Event 3 wrapped up last Sunday, September 15th, and once again local surfers showed they can do well in any conditions on any beach. Below runs the Surfing NSW report received at the conclusion of Event 3 in Kiama.
Event 4 will be held at Coffs Harbour at the end of the Spring School Holidays on October 11th and 12th.
JONES BEACH, KIAMA
Sunday, September 15, 2019
Report by Surfing NSW
Photos by Ethan Smith / Surfing NSW
The Woolworths Surfer Groms Comps event at Kiama saw all champions crowned today following an action-packed day of surfing in picture-perfect three-foot waves at Bombo Beach.
Fletcher Kelleher (Freshwater) bagged his first Woolworths Surfer Groms Comp victory of 2019, taking out the Under-14 Boys division. After taking out all four NSW events in the Under-12 Boys in 2018, Kelleher appeared to be destined to repeat the same results this year and so far has appeared in the final in the last two events, but only taking a win in Kiama. Kelleher notched up a respectable two-wave 13.34 heat total to get the win over a stacked field.
Shyla Short (Austinmer) ensured a title stayed south of Sydney, taking out the Under-14 Girls division. Short put on a decent performance over the course of the final to get the win with a respectable 10.6 heat total. Shyla is the second Short sister to take out the Under-14 Girls division at a Woolworths Surfer Groms Comp event in 2019 after her older sister Zahlia Short took out event one in Cronulla in a fortnight ago.
Ocean Lancaster (Merewether) surfed well beyond his years in the Under-12 Boys division, taking top honours with a massive 15.24 two-wave heat total. Lancaster's fluent backhand attack was flawless over the course of the final as he posted the aforementioned total and left his fellow competitors needing two-wave combinations to take away his lead.
Ruby Trew (Curl Curl) added another Woolworths Surfer Groms Comp Title to her overflowing portfolio of results, notching up a solid 12.16 heat total to take a convincing win over her opposition.
All other results can be viewed below.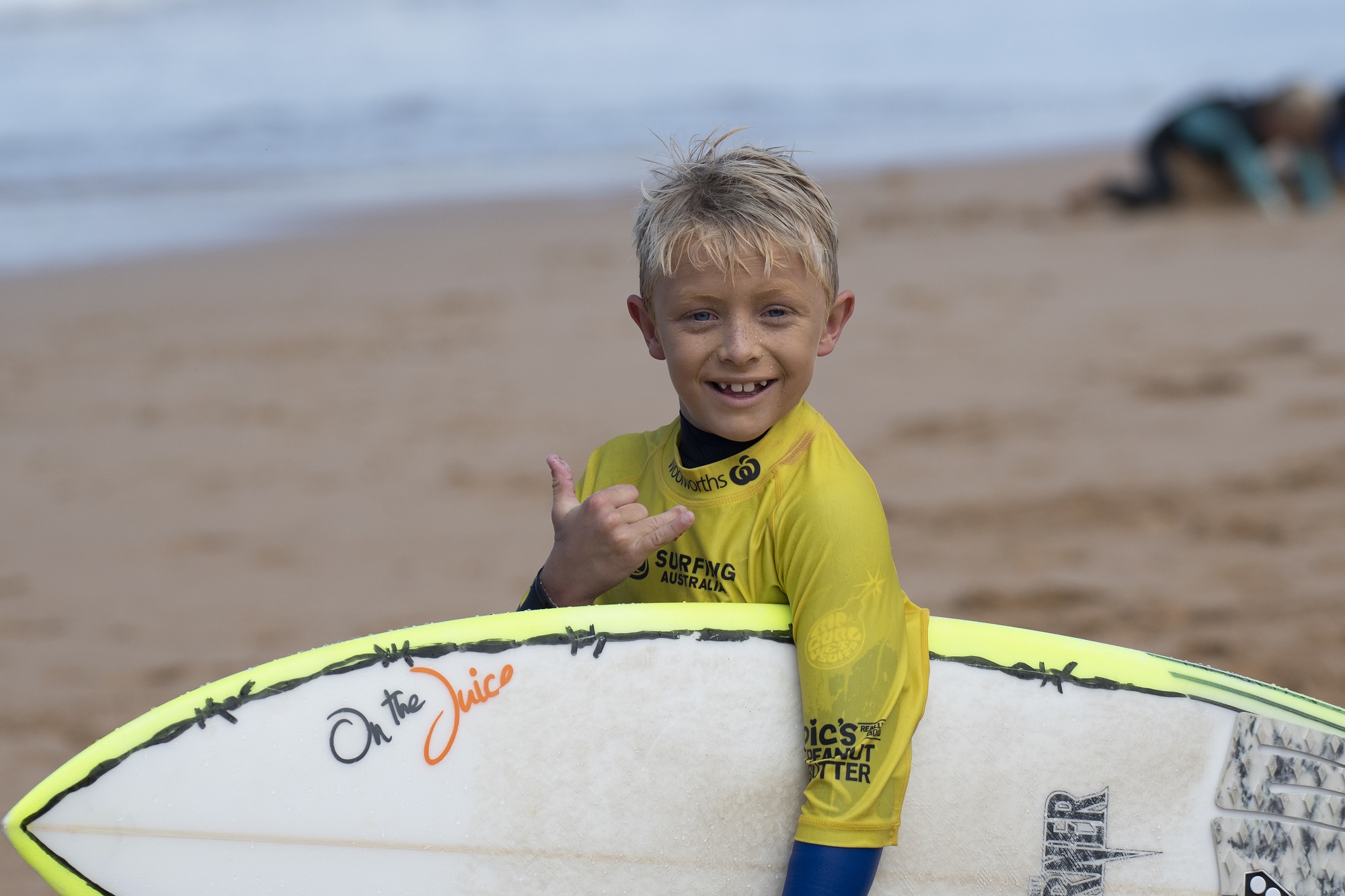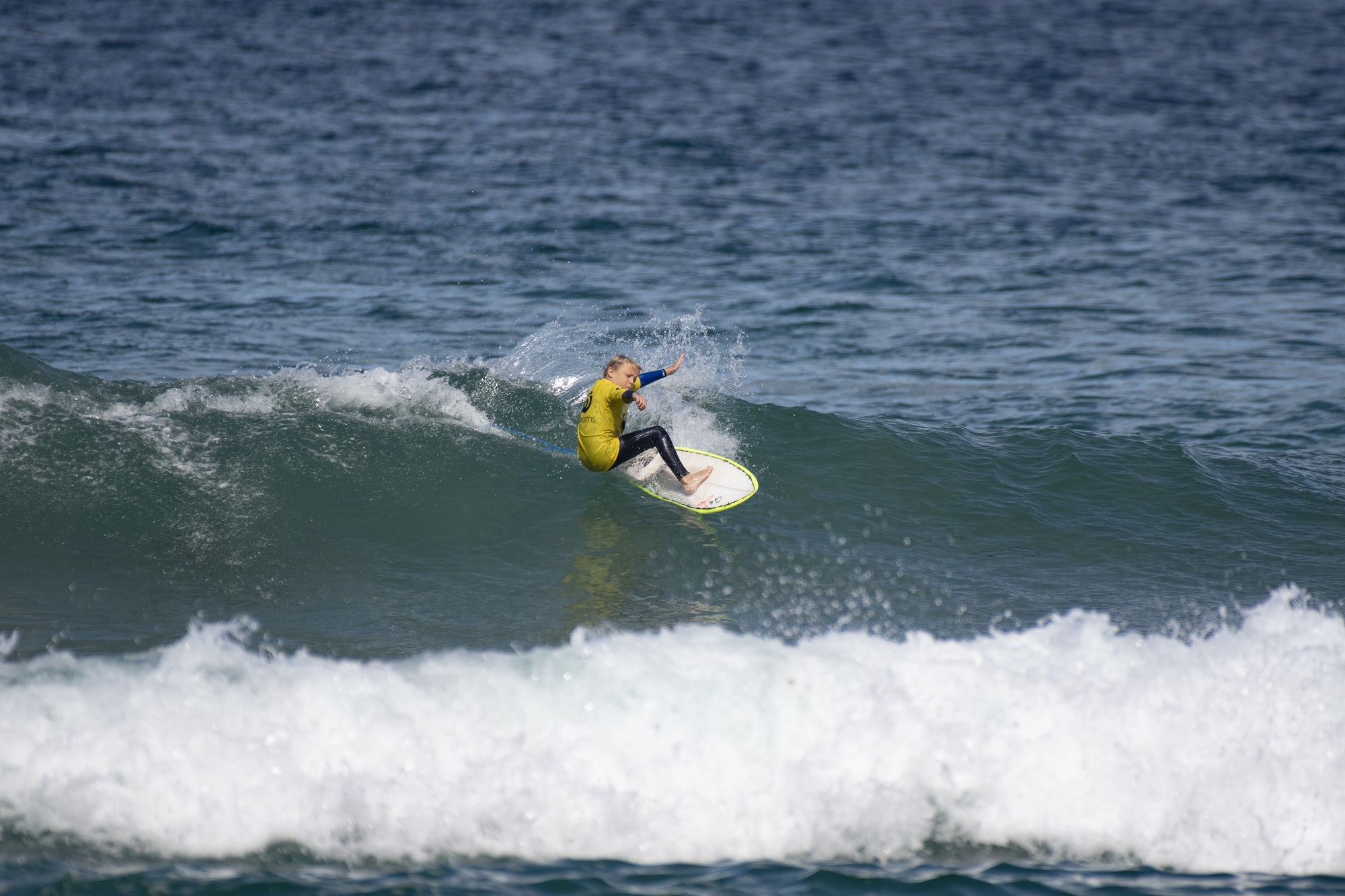 Jaggar Phillips - photos by Ethan Smith/Surfing NSW

The main location for event three of the Woolworths Surfer Groms Comps Series was Jones Beach with backup locations of Bombo and Werri.
Regarded as one of the major stepping stones in the development of young Australian surfers, the 10-event Woolworths Surfer Groms Comps series caters for surfers from Under 8 to Under 14 and will be held in New South Wales, Queensland, Victoria, Western Australia, Tasmania and South Australia over summer.
As an added bonus, the respective winners of the Under 14 boys' and girls' divisions from each event will receive an invite to attend an all-expenses-paid, three-day Woolworths Surf Camp at the Surfing Australia High-Performance Centre (HPC). For the South Australian, Victorian and Tasmanian events, the Woolworths Surf Camp prize will be awarded to the highest place Under-14 Boy and Girl who reside in that respective State.
Adding to the high stakes at the Woolworths Surf Camps will be the Pic's Peanut Butter Pathway Performers, which will be awarded to a surfer at each respective camp including a $1,000 prize.
Each entrant will also receive a Woolworths Surfer Groms Comps participant pack of an Oakley hat and a pair of socks.
The Woolworths Surfer Groms Comps Series has helped to launch the careers of many of Australia's most promising junior surfers with almost 800 children set to take part in the 2019/20 event series.
Speciality awards to be provided at each event include the Woolworths Fresh Wave (boy and girl) and the Pic's Peanut Butter Star Performers (boy and girl).
For more information visit www.surfingaustralia.com
The Woolworths Surfer Groms Comps are proudly supported by Pic's Peanut Butter, 2XP, Surfing Australia and the State Surfing Branches.
Results:
Under-14 Boys
1 – Fletcher Kelleher (Freshwater)
2 – Manning Gregory (Merewether)
3 – Eden Hasson (Boat Harbour)
4 – Mannix Greentree-Squires (Corrimal)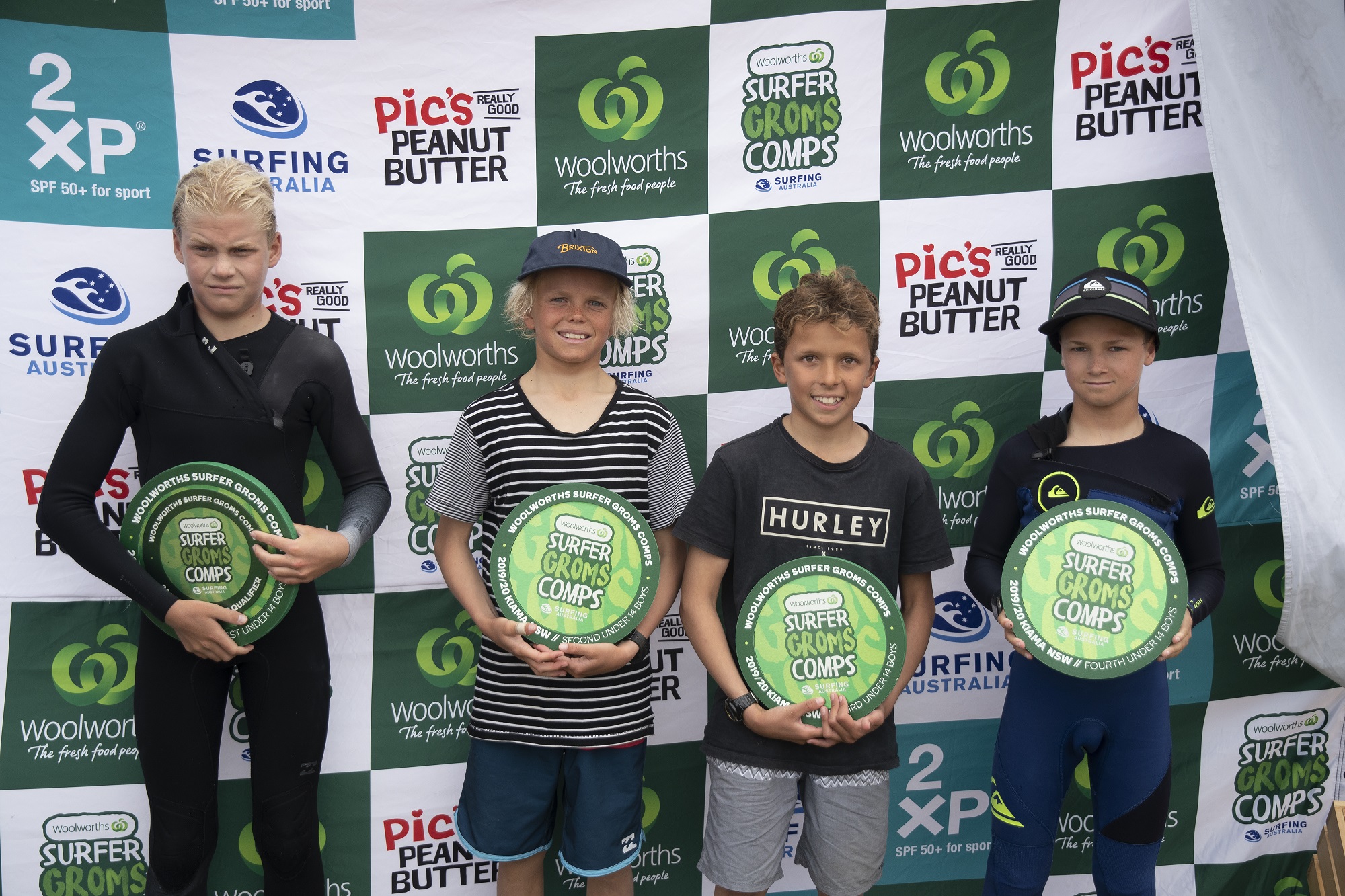 Under-14 Girls
1 – Shyla Short (Austinmer)
2 – Ruby Trew (Curl Curl)
3 – Tyla Hurst (Port Kembla)
4 – Jessica Ikin (Ulladulla)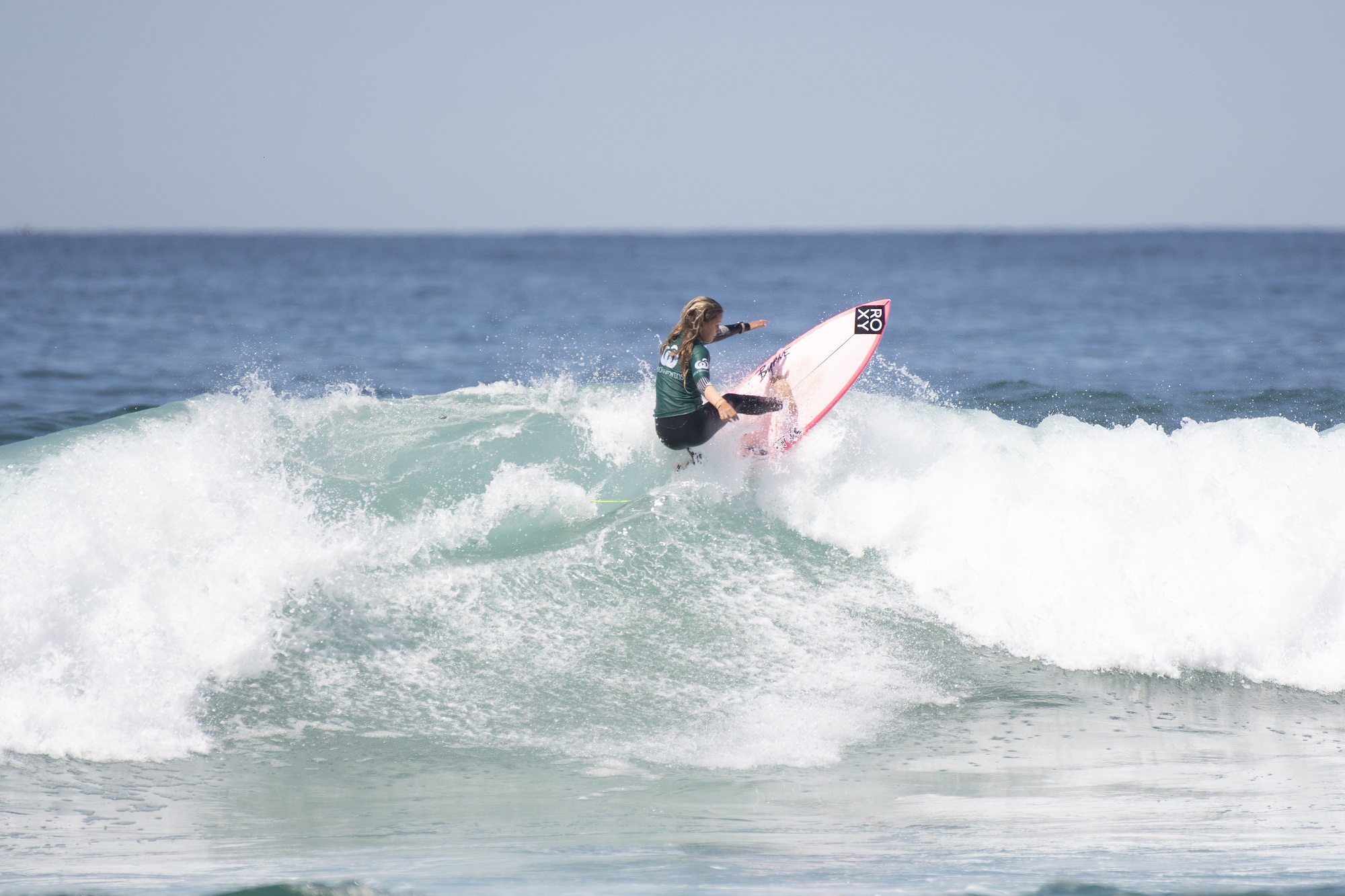 Shyla Short - photo by Ethan Smith / Surfing NSW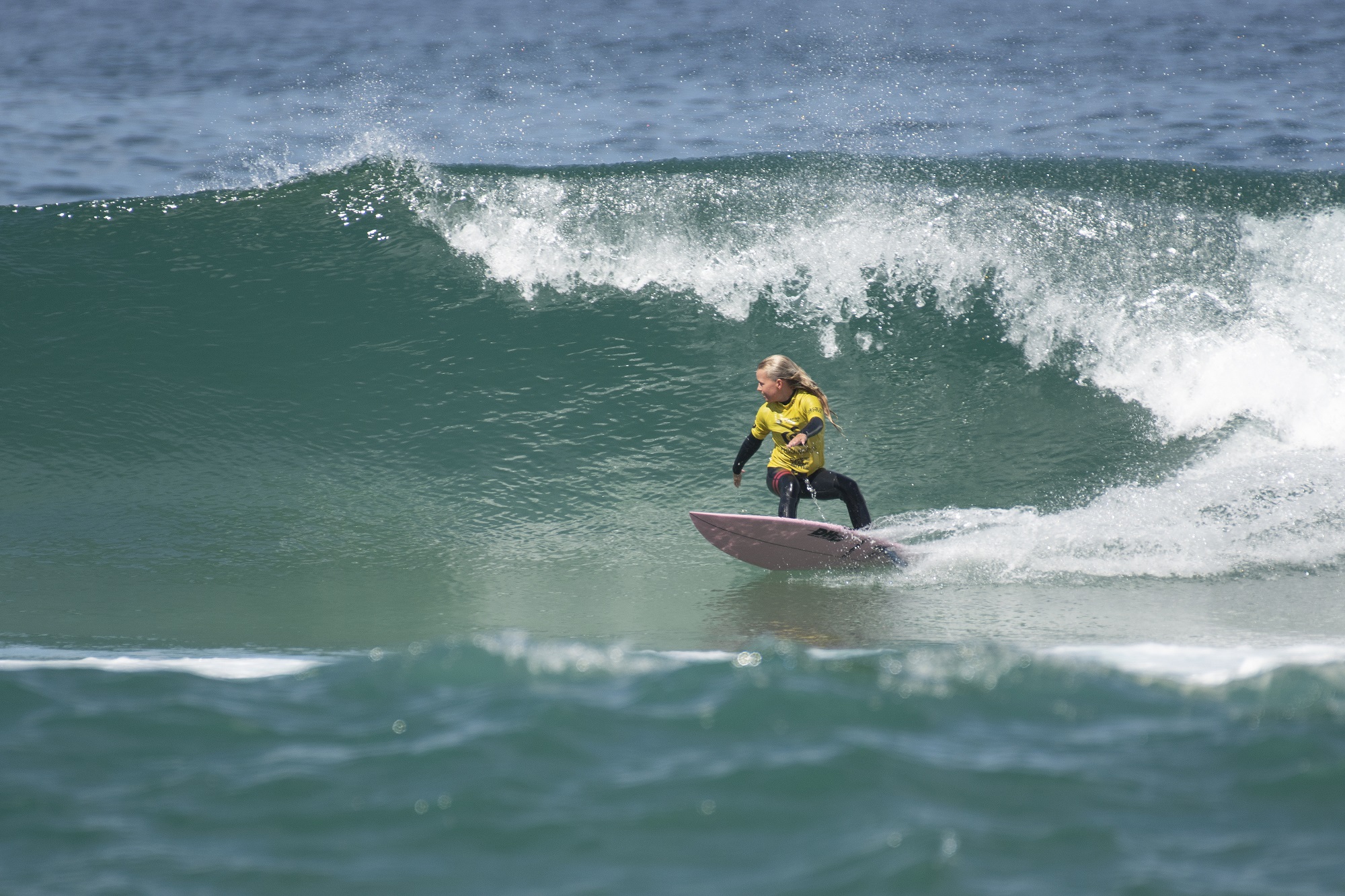 Ruby Trew - photo by Ethan Smith / Surfing NSW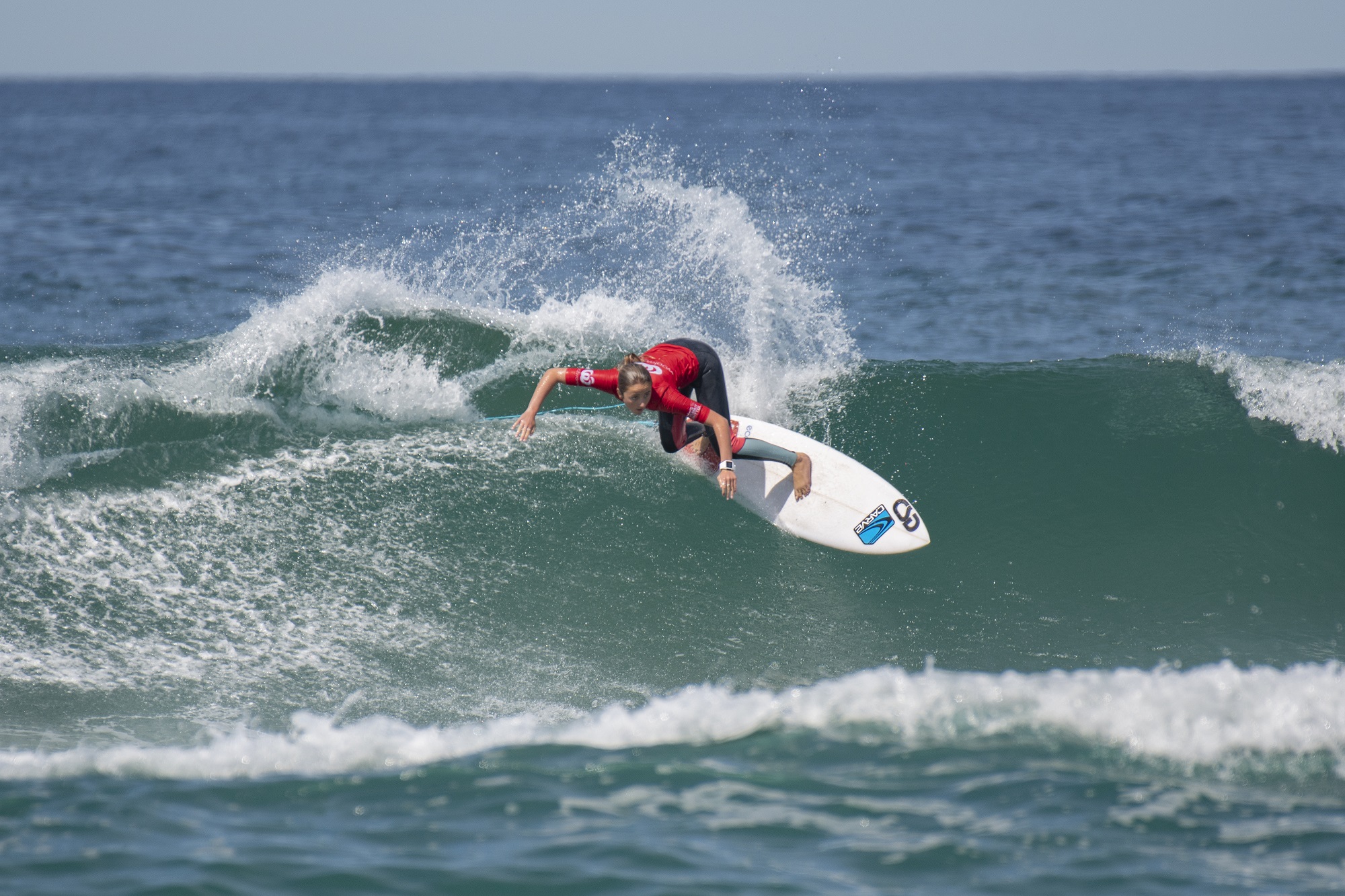 Tyla Hurst - photo by Ethan Smith / Surfing NSW

Under-12 Boys
1 – Ocean Lancaster (Merewether)
2 – Sullivan Tucker (Freshwater)
3 – Ben Zanatta Creagh (Dee Why)
4 – Felix Byrnes (Merewether)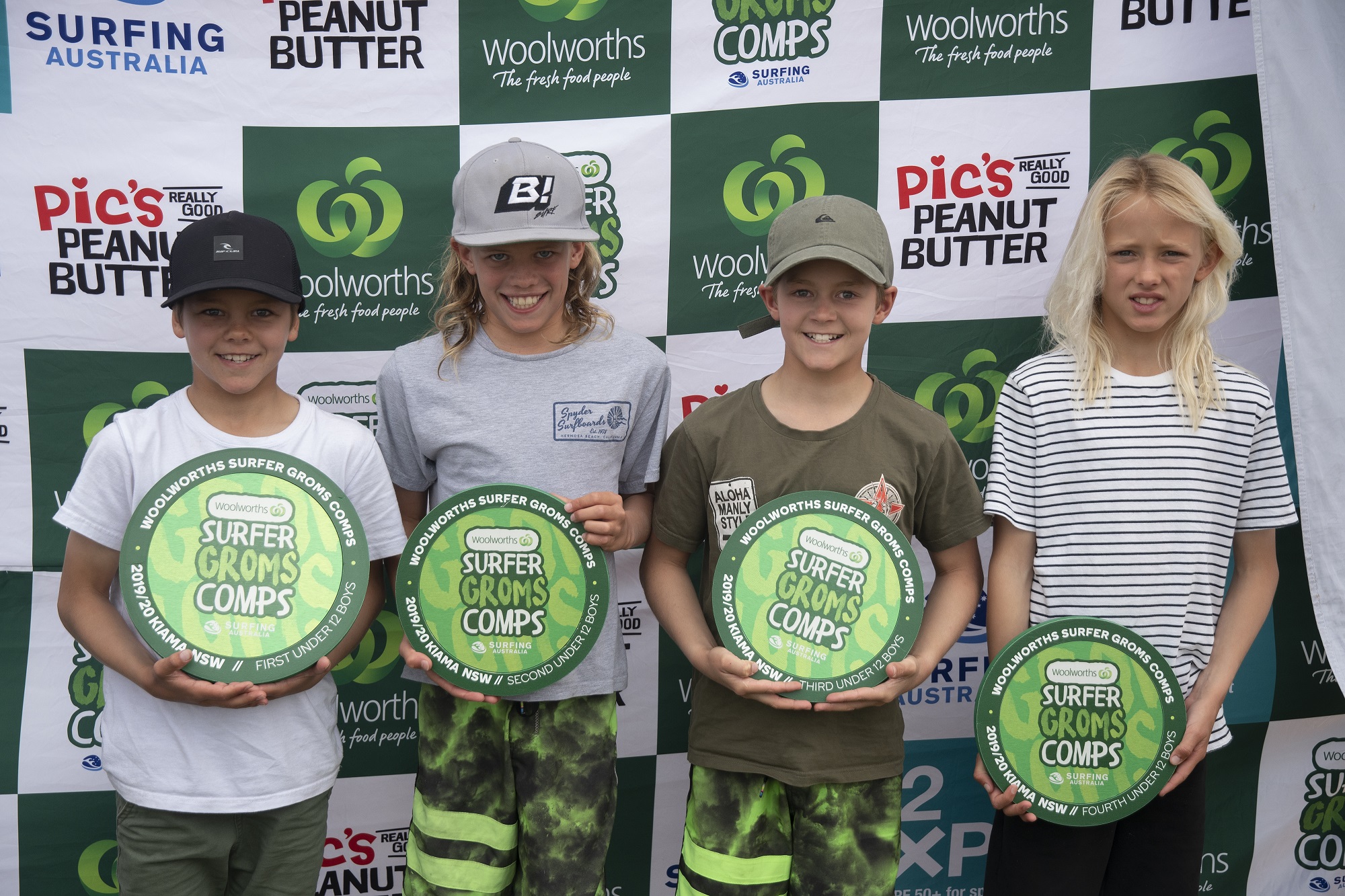 Under-12 Girls
1 – Ruby Trew (Curl Curl)
2 – Henley Smith (Suffolk Park)
3 – Annalise Wong (Cromer)
4 – Macey Jolley (Austinmer)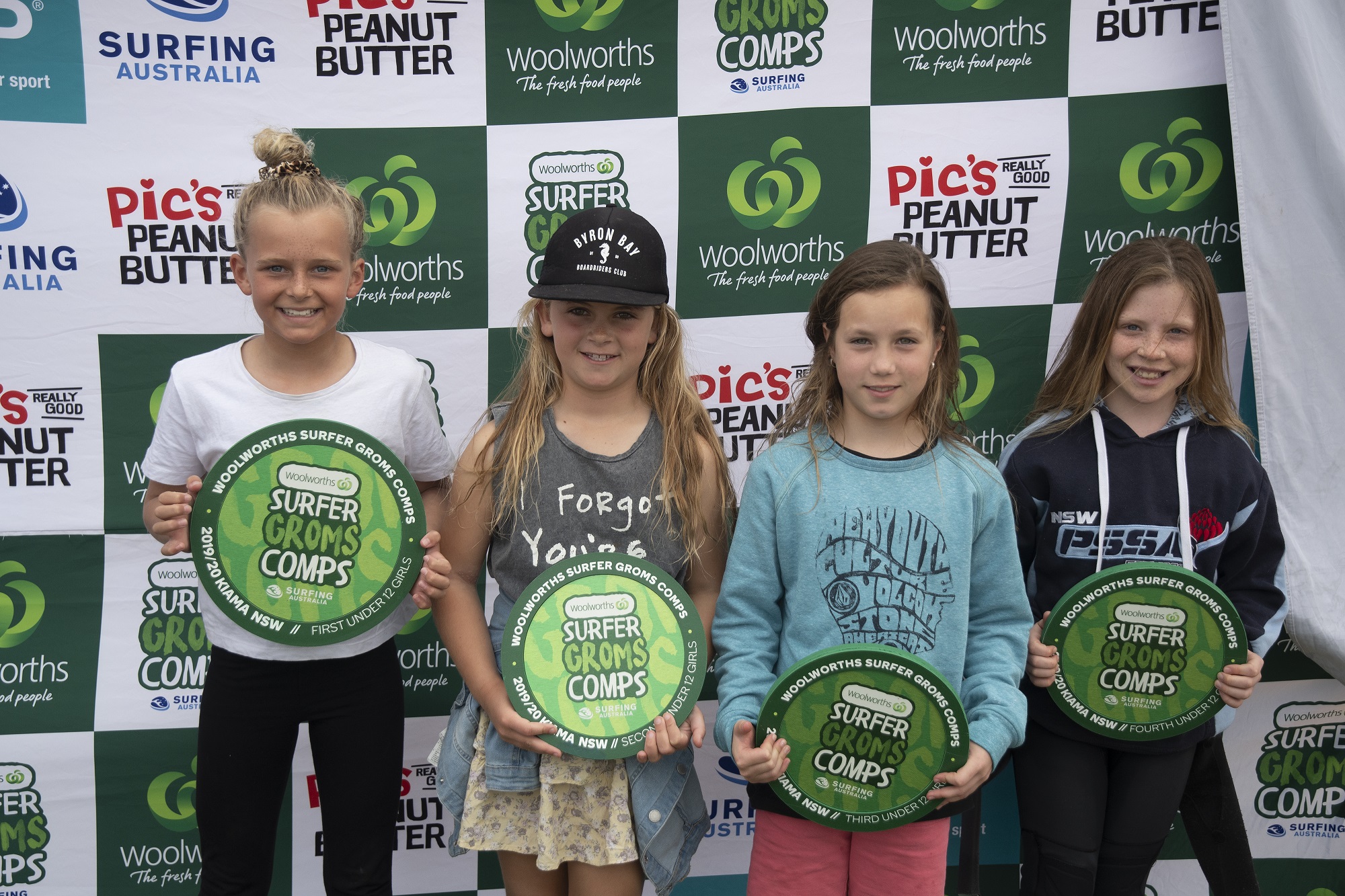 Under-10 Boys
1 – Jaggar Phillips (Maroubra)
2 – Cruz Air (Thirroul)
3 – Jax Goode (Engadine)
4 – Finn Sternbeck (Noraville)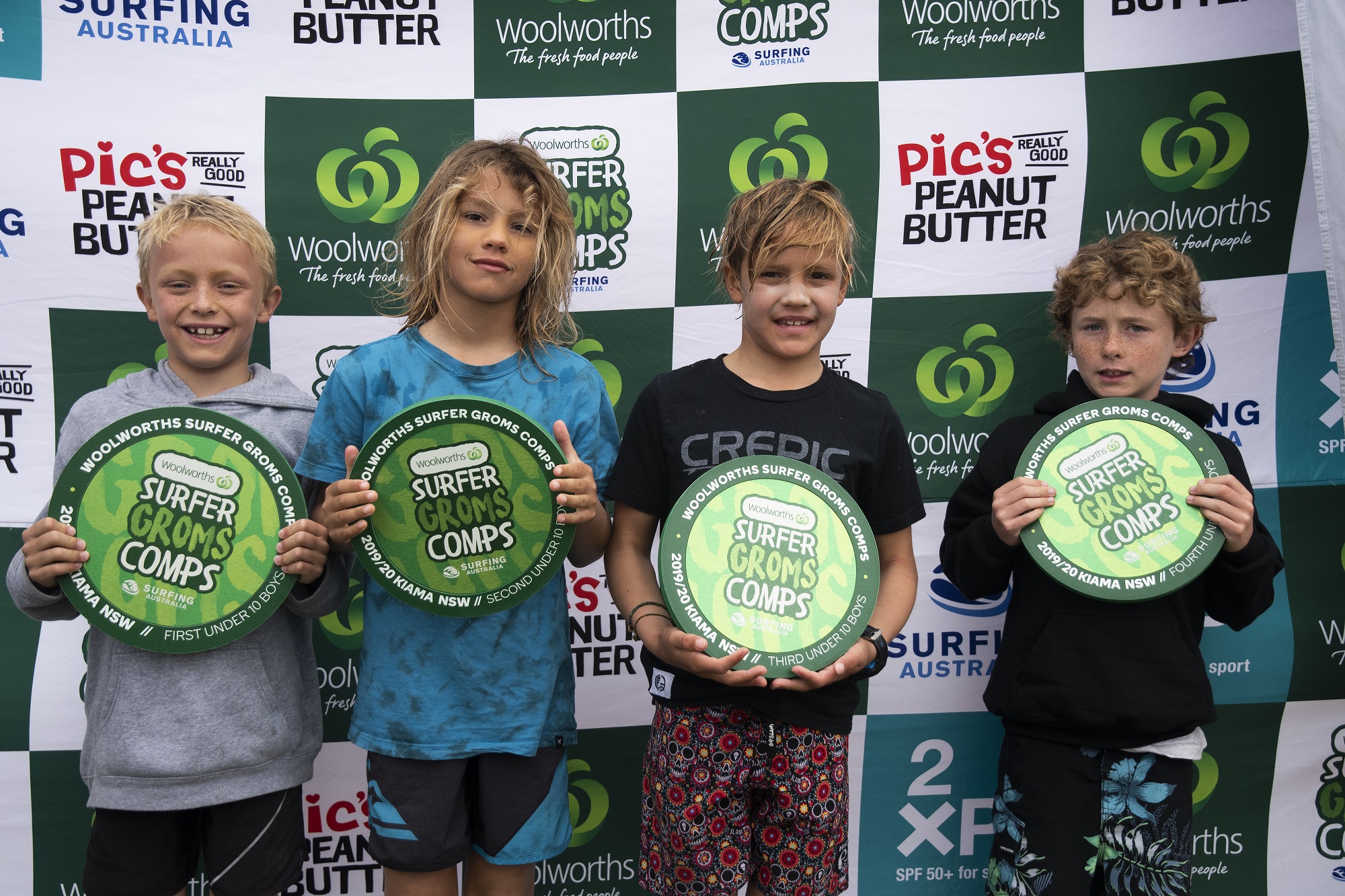 Under-10 Girls
1 – Lani Cairncross (Kiama Downs)
2 – Lucy Darragh (Gerringong)
3 – Henley Smith (Suffolk Park)
4 – Coco Seddon (Gerringong)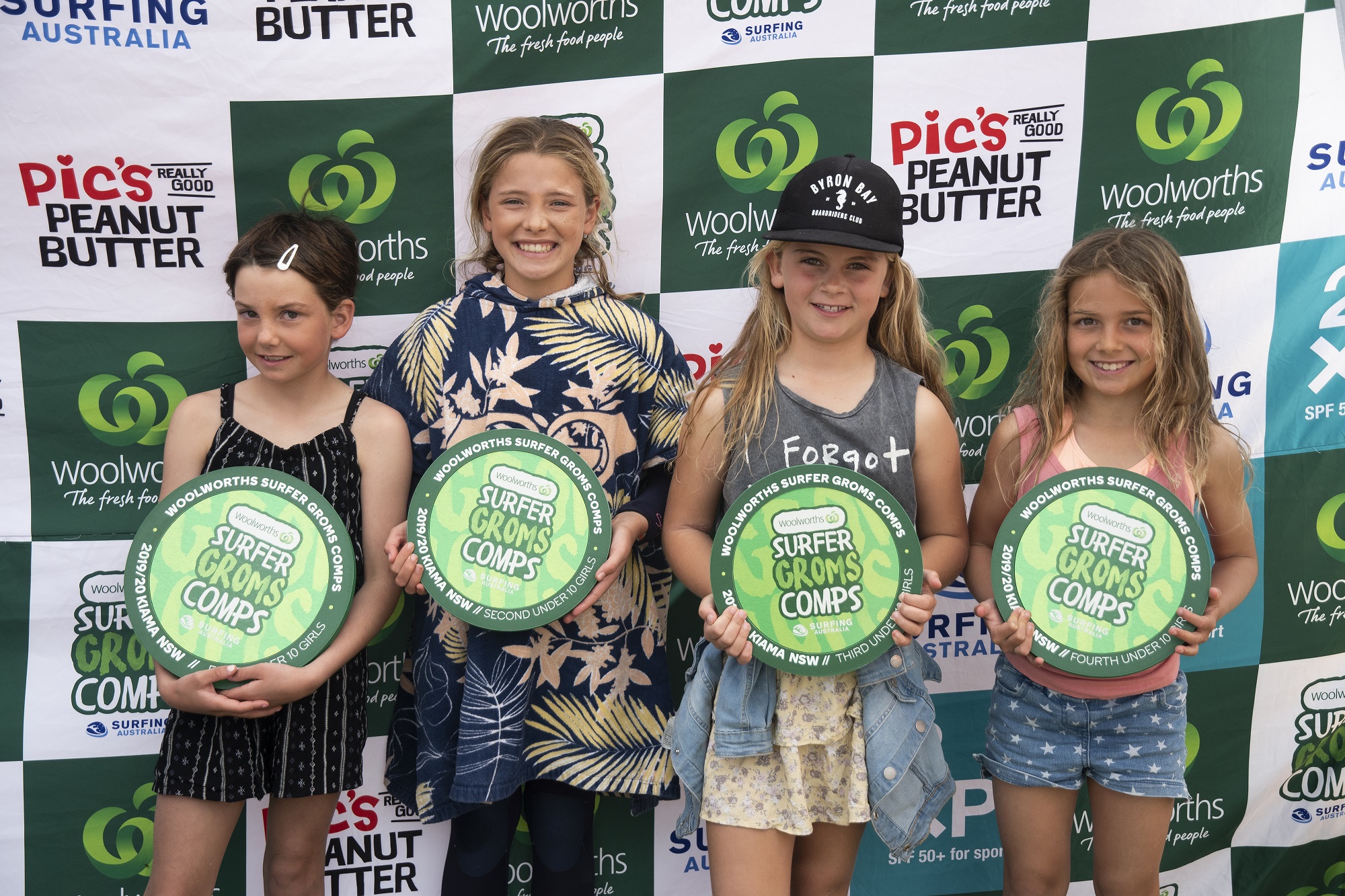 Under-8 Mixed
1 – Ashton Forbes (Coledale)
2 – Henry Smith (Mona Vale)
3 – Jay Whitfield (Maroubra)
4 – Tully Adams (Sippy Downs, Qld)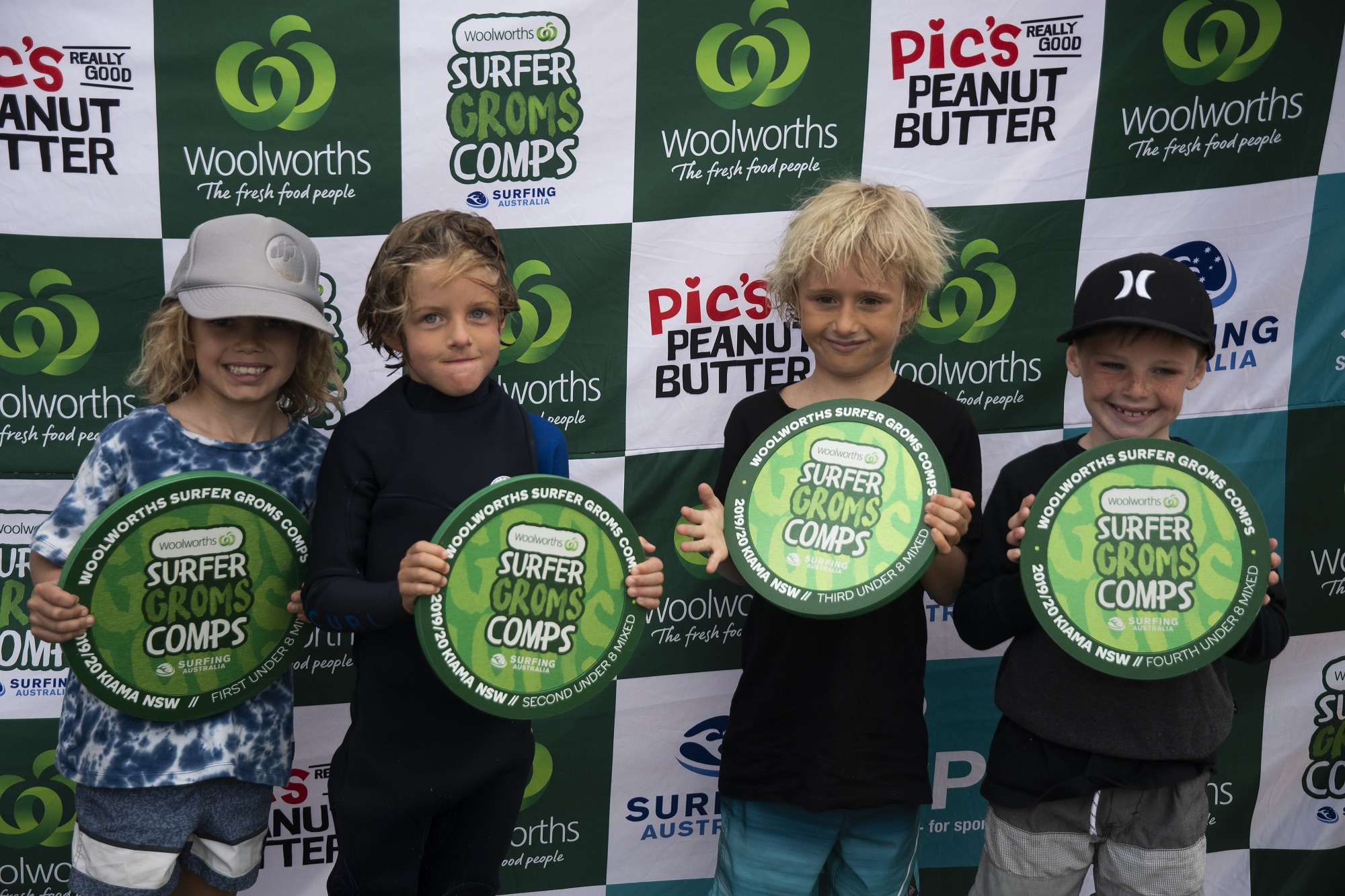 Woolworths Fresh Waves
Mannix Greentree-Squiers (U14 Boys)
Lucy Darragh (U10 Girls)
Pic Peanut Butter Star Performer
Tully Adams (U8 Mixed)
Annalise Wong (U12 Girls)
Henry Smith - photo by Ethan Smith/Surfing NSW

2019/20 Woolworths Surfer Groms Comps:
EVENT 1 - Cronulla, NSW - Aug 31 - Sept 1, 2019
EVENT 2 - Northern Beaches, NSW - Sept 7-8, 2019
EVENT 3 - Kiama, NSW - Sept 14-15, 2019
EVENT 4 - Coffs Harbour, NSW - Oct 11-12, 2019
EVENT 5 - Fleurieu Peninsula, SA - Oct 26, 2019
EVENT 6 - Ocean Grove, VIC - Nov 16 - 17, 2019
EVENT 7 - Sunshine Coast, QLD - Dec 14 -15, 2019
EVENT 8 - Gold Coast, QLD - Jan 8 - 9, 2020
EVENT 9 -Trigg, WA - Jan 25 - 26, 2020
EVENT 10 - Clifton Beach, TAS - Feb 22, 2020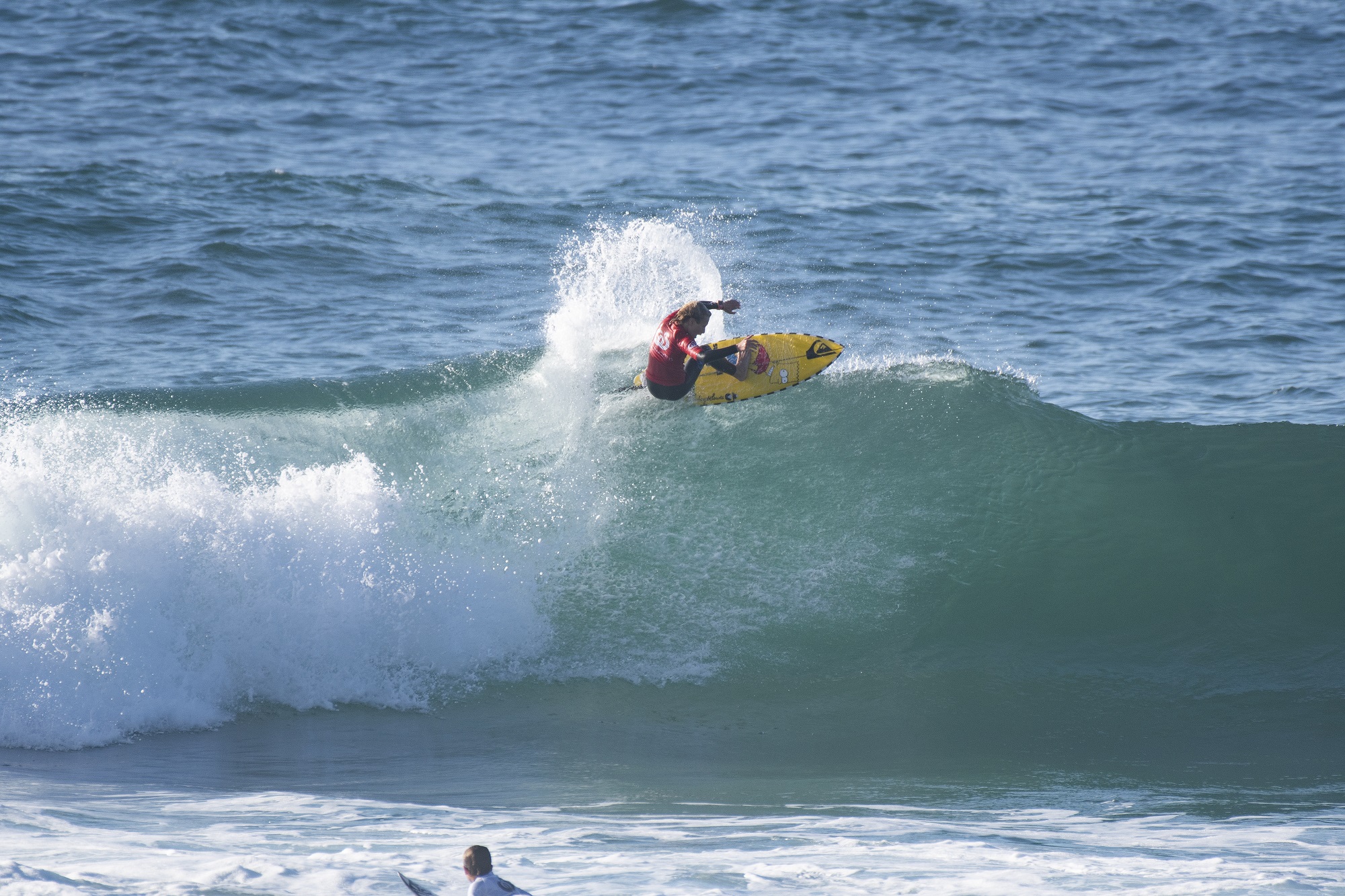 Dane Dujic - photo by Ethan Smith/Surfing NSW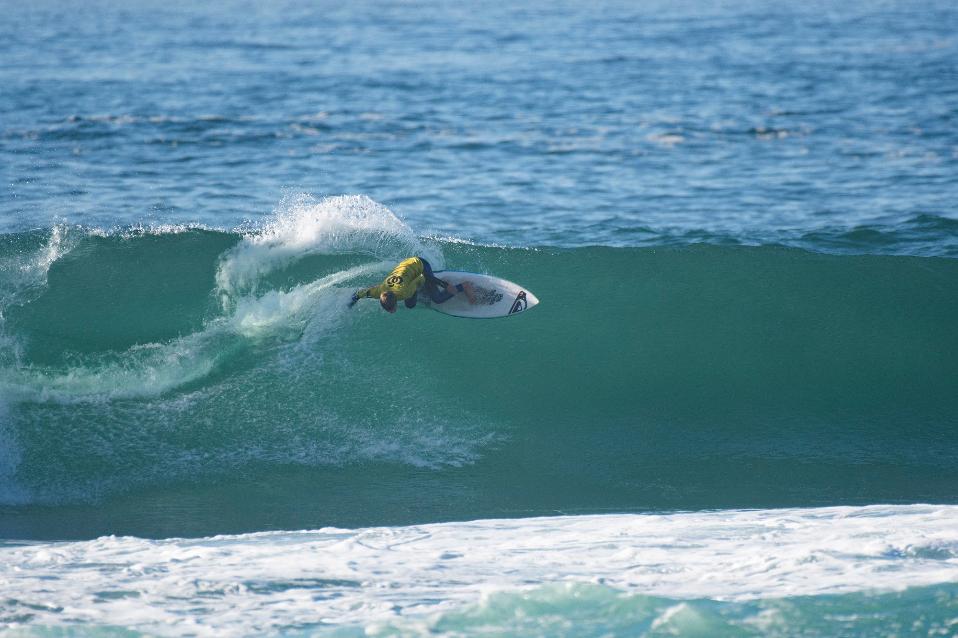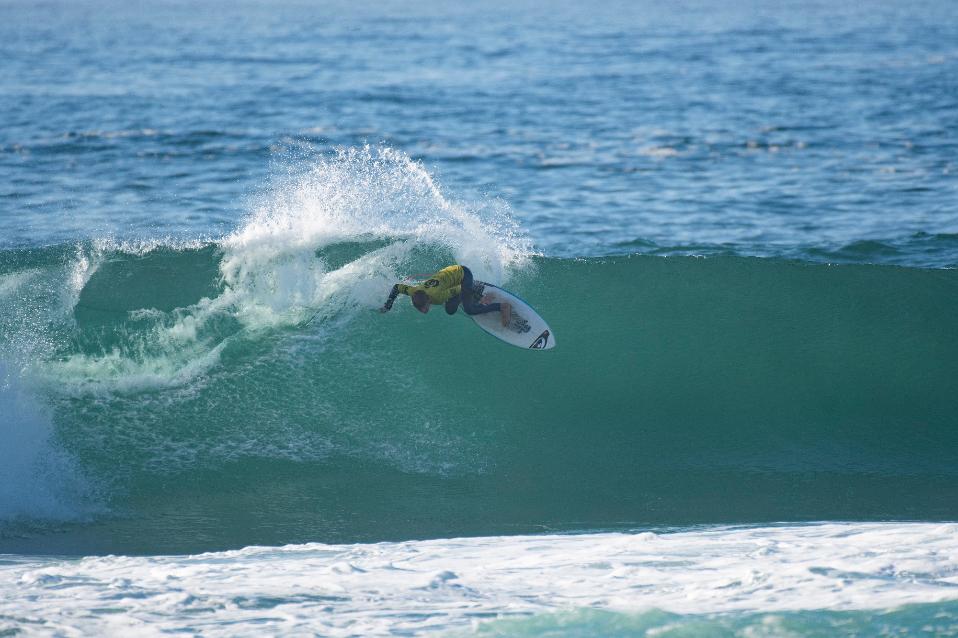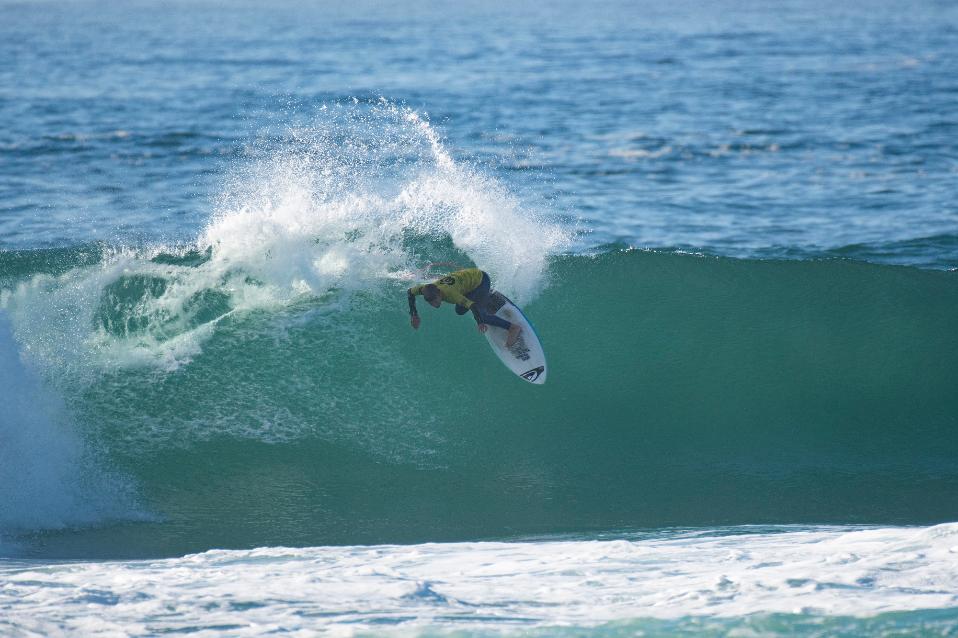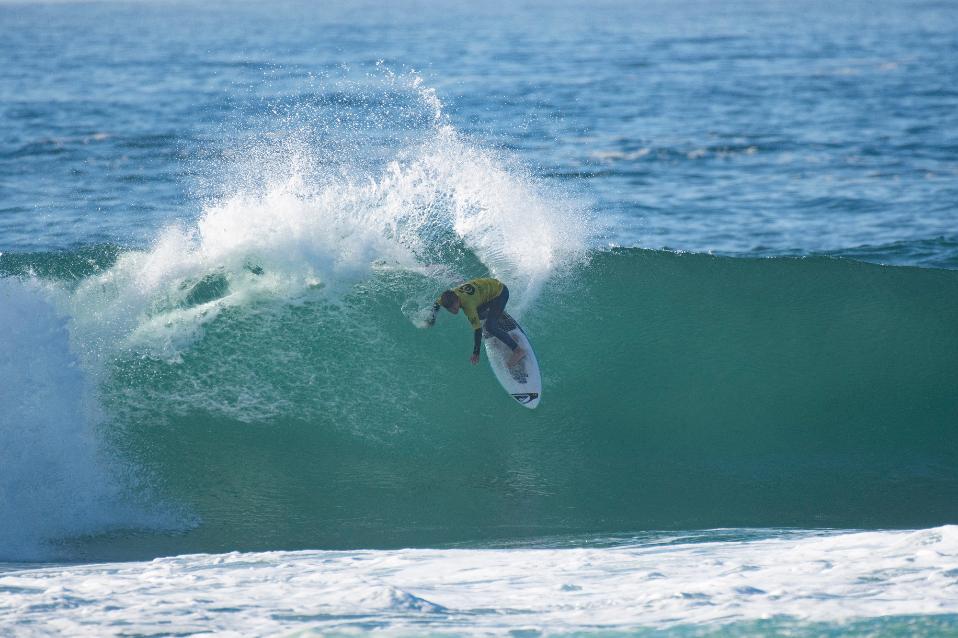 Mannix Greentree-Squires - photos sequence by Ethan Smith/Surfing NSW