December 15, 2019 - January 19, 2020: Issue 433
Champions to unite for 5.5 Metre Gold Cup and World Championship 2020 to be held on pittwater: January 2020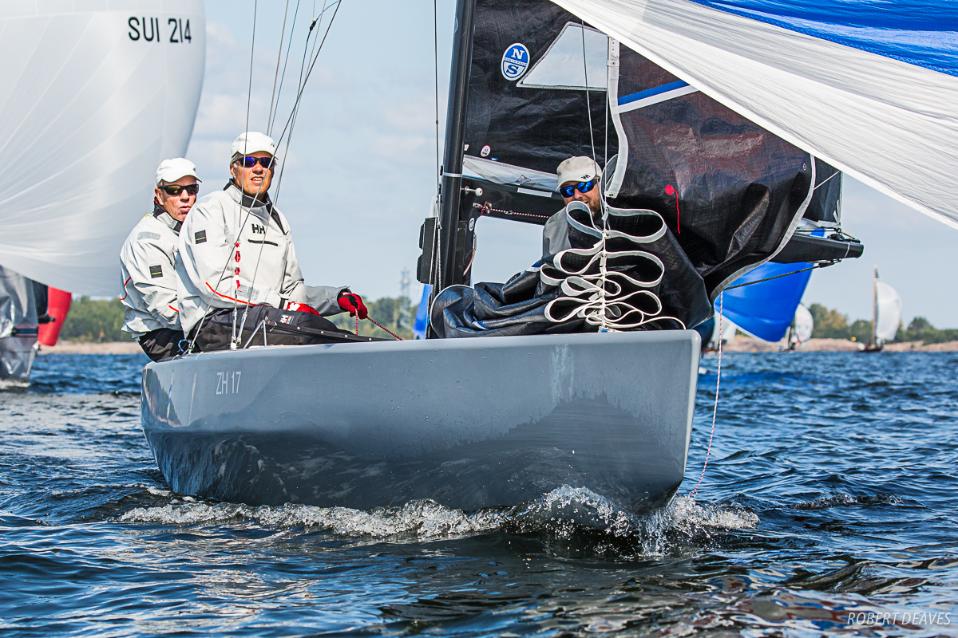 Reigning world champion Artemis XIV is entered - Robert Deaves pic - 5.5 Metre Worlds
With boats belonging to international entrants arriving in Australia, the temptation to take part in the upcoming 5.5 Metre Class World Championship proved too strong for some big names on home soil, who have now signed on the dotted line for the event, to be hosted by the Royal Prince Alfred Yacht Club (RPAYC) on Pittwater this summer.
To be held from 9-13 January, the Championship and its lead-in events are expected to attract around 27 boats; 13 Moderns, nine Evolutions and five Classic 5.5 Metre boats.
On noting the talent that would contest the Worlds, Phil Smidmore OAM and Rob Brown OAM, members of Australia II's winning team at the 1983 America Cup, have put their hands up.
Smidmore, a former winner of the 5.5 Metre Scandinavian Gold Cup the Worlds twice and mast man on Australia II, will crew on Skagerak for Steve Brajkovich. Brown, a former Australian Etchells champion, three-time 18 foot skiff J.J. Giltinan (unofficial Worlds) champion and multiple 18s Australian champion, is to helm Alpha Crucis.
"My experience in the Etchells will help. It's just a matter of putting in the time," Brown said. "I've had a go off Pittwater. We did alright, which got me excited, not to mention the overseas competition that's coming.
Among the big names heading to Pittwater from overseas are the Worlds' winners from the past three years and the top three from the 2019 Worlds: Kristian Nergaard from Norway (Artemis XIV), Mark Holowesko with his New Moon 2 and Gavin McKinney (John B), both from The Bahamas.
There are also entries from Germany, Great Britain and Switzerland, However, the Australians have been putting in practice on home turf and will be lying in wait…
"It's been amazing being out there sailing against the three eras of boats with their different shapes, but when you're out there sailing along, you forget they're different. At times you are going the same speed. I'm enjoying the class."
Brown's crew, including Simon Smith, was set to go, but his middle crew can no longer make it: "We're feverishly looking for a person who will fit in and have a bit of fun with it while being competitive. We need someone 95 to 100 kilos who is a good trimmer with a good tactical brain," the Pittwater local says.
"Thanks have to go to Martin Cross, the class president, who has put in a huge amount of work to make this Championship happen - and he got the class up and running again at The Alfreds," Brown ended.
For his part, Cross said, "Many of the historic Australian Evolution and Classic boats have been renovated. They are gleaming and ready to go," adding: "The competition in the Evolution fleet will be intense, as we have some fast former World Championship and Gold Cup winning boats going head-to-head.
Most intriguing will be the showdown between the Classics Alfredo Delli's Carabella (Italy) and Damian Macey's renovated Baragoola (Australia). Both will be out to prove which boat really is the fastest Classic.
Principal Race Officer for the Gold Cup and 5.5 Metre Worlds is Denis Thompson; one of Australia's most experienced race officials, while the UK's Jamie Clark will chair the International Jury. Among those joining Clark on the jury are Australian Richard Slater, the Chief Umpire for the 36th America's Cup, and Steve Hatch, who has officiated at the Olympic Games and Americas Cup.
For those wishing to emulate some of the 'legends' in the 5.5 Metre there is still time to buy a boat. Please see boats for sale at: www.5.5class.org/boats-for-sale
Notice of Race and all information: www.rpayc.com.au/sailing/5-5m-world-champ-2020
by Di Pearson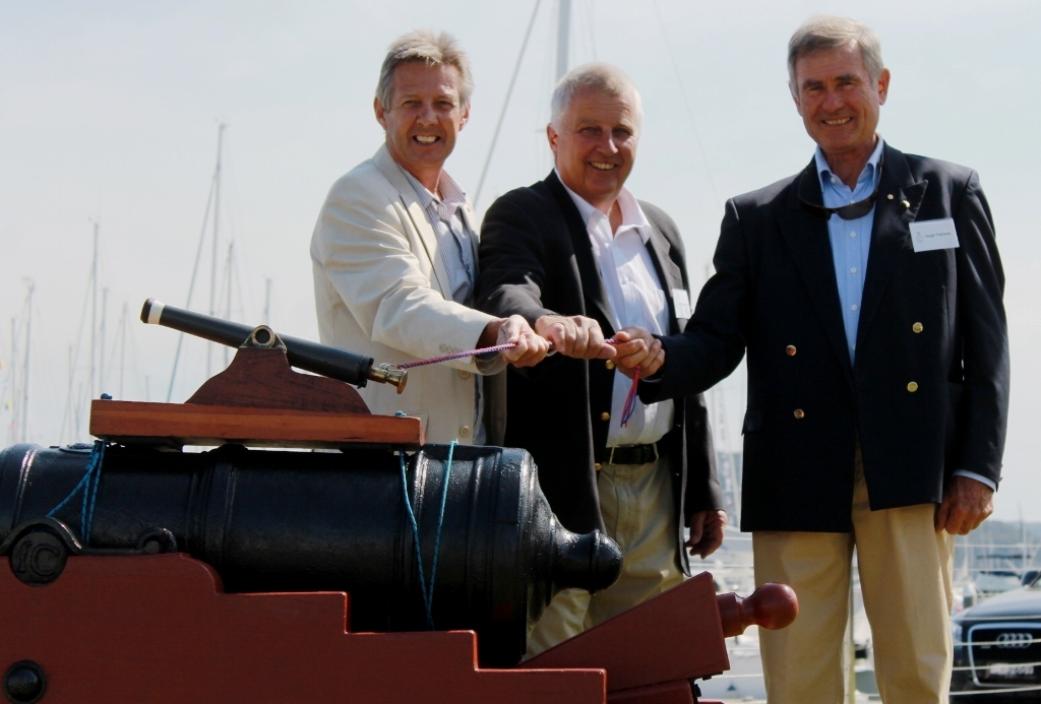 Rob Brown, Phil Smidmore and
Hugh Treharne lighting the RPAYC canon to signal the Sailing Season opening in 2013 - A J Guesdon photo.