September 17 - October 7, 2023: Issue 599
'Cathy Freeman Stand' unveiled: honours inspirational athlete embedded in our hearts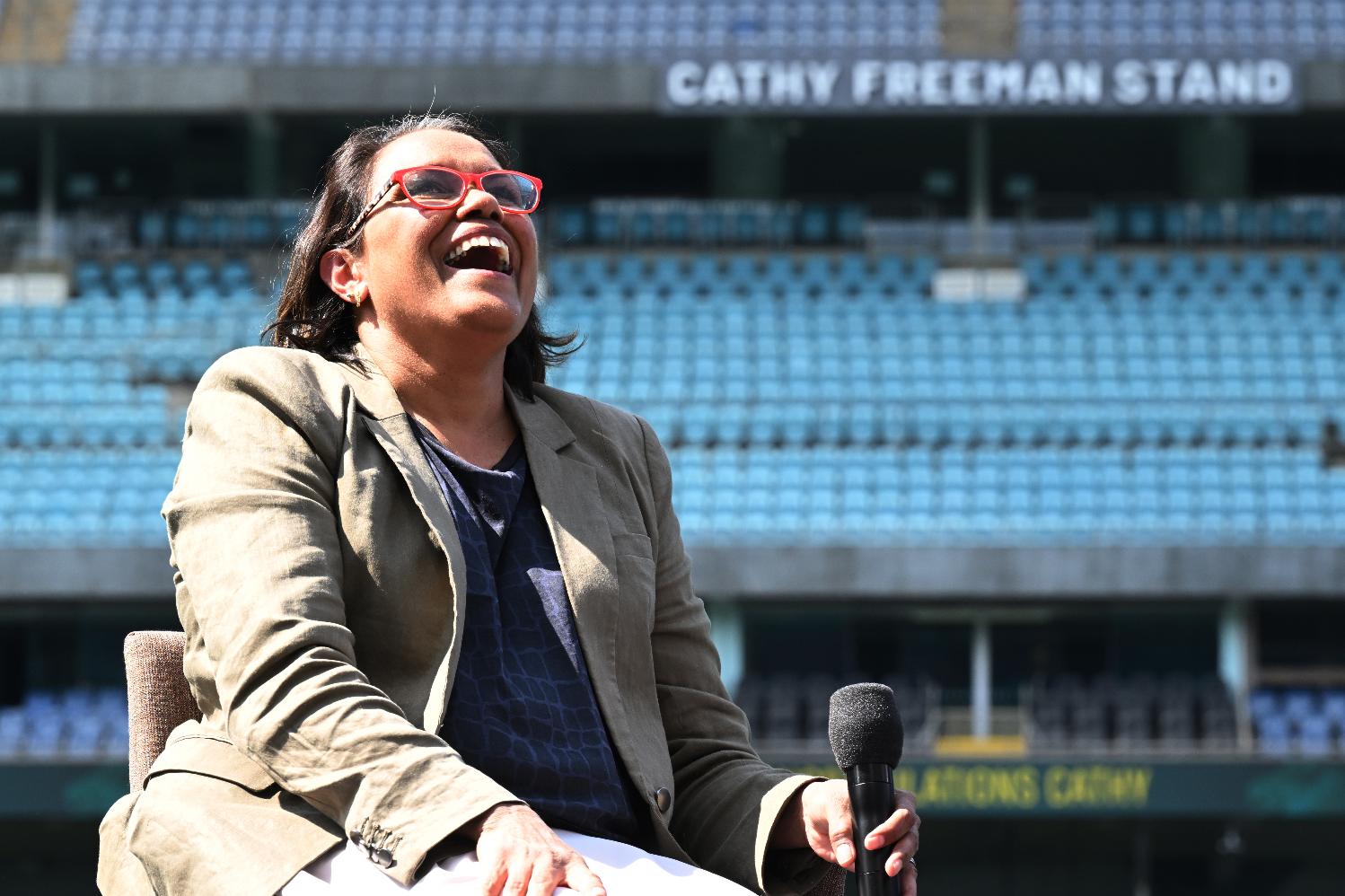 CATHY FREEMAN STAND LAUNCH - Olympic champion Cathy Freeman set against the backdrop of the newly unveiled Cathy Freeman Stand at Stadium Australia, Sydney Olympic Park, Sydney, Friday, September 15, 2023. The NSW Government named the stand in honour of Cathy Freeman at the home of her 400m Olympic gold medal during the 2000 Sydney Olympic Games. (AAP Image/Dean Lewins)
As part of a NSW Government initiative to celebrate Australia's greatest female athletes, the Eastern Grandstand at Stadium Australia in Sydney Olympic Park will now be officially known as the Cathy Freeman Stand. The launch took place on Friday September 15, 23 years to the day after Cathy Freeman lit the flame that opened Sydney 2000 Olympics.
Around 3.7 billion viewers worldwide watched that opening ceremony and all of Australia cheered Cathy on 10 nights later when she won an individual gold in the 400m final.
This significant honour to Cathy Freeman OAM came as the result of a nomination process initiated by the Minns government earlier this year. Members of the public were invited to nominate a female sporting hero deserving of a grandstand named in her honour. Cathy's name was nominated by so many some are comparing it to the proverbial country mile she opened up between herself and those running behind her when turning into the home straight for that finish line and Olympic gold.
Ms Freeman, a proud Kuku Yalanji and Birri Gubba woman, is one of Australia's most celebrated athletes. Her achievements include Olympic gold and silver medals, 2 world titles and 4 Commonwealth Games gold medals.
The stadium holds a special place in Ms Freeman's career and world sporting history.
The victory in front of a home crowd of 112,524 spectators saw her become the first Aboriginal Australian to win an individual Olympic gold medal.
Significantly, this was the 100th Olympic gold medal won by an Australian.
Her iconic gold medal run and victory lap carrying both the Aboriginal and Australian flags held the record of the most-watched television event in Australian history with 8.8 million live viewers, which was only topped in August this year by the Matildas' semi-final match against England at Accor Stadium with a peak of 11.15 million viewers.

The newly renamed Cathy Freeman Stand is the main public seating area of Accor Stadium and seats nearly 30,000 spectators.
It is the closest to the major public transport links to Sydney Olympic Park, is located adjacent to Cathy Freeman Park and houses the athlete's tunnel from which Ms Freeman emerged in a high-tech full body suit for the 400m Olympic final.
The Cathy Freeman Stand is the second female athlete recognition announcement made by the Minns government, the initiative delivering on an election commitment to acknowledge female athletes on the state's grandstands, promoting women's participation in sports.
This follows the announcement that a giant mural has been commissioned to celebrate the Matildas' historic success at the FIFA Women's World Cup 2023 tournament.
That permanent artwork, to be installed on the external façade of the eastern side of the stadium, will serve as a permanent reminder of how the team's run at the World Cup captured the imagination of the nation and inspired the next generation of female athletes.
In a true sign Australia's female sporting sisterhood, Ms Freeman met with the Matildas in the days leading into their opening FIFA Women's World Cup 2023 match, to share guidance and advice to the team. More than half of that Matildas squad, including Indigenous duo Lydia Williams and Kyah Simon named Freeman as their sporting hero.
Cathy Freeman OAM said, "I am deeply honoured and humbled by this recognition.
"This stadium and Sydney Olympic Park hold a truly special place in my heart and that will never change.
"I hope that my story continues to inspire generations of girls and boys to chase their own dreams in sport and life.
"Like the rest of Australia, I cheered on the Matildas during the FIFA Women's World Cup and I can't wait to see future generations of Australian female athletes make their mark."
Premier of New South Wales Chris Minns said, "It's about time we name a grandstand in NSW after a woman, and I can't think of a better athlete then Cathy Freeman.
"I'm so proud to announce that Cathy Freeman will have a grandstand named after her at the home of Australia's biggest sporting moments.
"Cathy's a national sporting hero. Everybody remembers where they were when Cathy Freeman produced her historic 400m race to win gold for Australia at the Sydney Olympics.
"I want the next generation of young girls to watch sport at this stadium, looking up at the Cathy Freeman Stand, thinking about their own sporting dreams."
Still glowing from the recent FIFA Women's World Cup 2023, the stadium has now become synonymous with female sporting legends.

Minister for Sport Steve Kamper said, "We have sculptures of Belinda Clark, Marlene Mathews and Betty Cuthbert at Moore Park, and now we have another deserving female sporting legend honoured at Sydney's Accor Stadium, NSW's home of major events.
"This wonderful venue has just hosted the single biggest sporting event this year, the 2023 FIFA Women's World Cup, and it is fitting that the first name to adorn the stands here is a ground-breaking and inspirational Australian, Cathy Freeman.
"Cathy wowed crowds at this Sydney stadium and around the world with her athletic achievements and the symbolic lighting of the Olympic cauldron in 2000, and now her name will be emblazoned forever in that stadium to remind us all, always, of her achievements."
Minister for Women Jodie Harrison said, "The renaming of the stand serves as a lasting tribute to Cathy Freeman's exceptional career and her immense contributions to Australian sports.
"It also symbolises the NSW Government's commitment to recognising and empowering female athletes, inspiring future generations of women to excel in the world of sports."
Cathy Freeman grew up at Mackay, where another sportsfield, Cathy Freeman Oval, is named in her honour.

Late last year a book, The Heartbeat of the Land by Cathy Freeman was released and has become very very popular with youngsters across this land since -- as soon as it comes back into libraries another youngster is waiting to check it out.

The blurb tells us:
Cathy ran barefoot every day across the great ancient land,

as her people had done for sixty thousand years before.

And when she ran, she could hear the heartbeat of the land.

Ba Boom Ba Boom Ba Boom...

Then one day, Cathy hears a cry.

She answers this cry and, with one small step at a time, the seeds of change are planted.

Cathy Freeman has always been an inspiration to young people.

Here, she does it again, through storytelling - just as her people have done, for sixty thousand years before...

Listen, and you too, will hear the Heartbeat of the Land.
Cathy was clearly amazed that her feats are still remembered so fondly.
"I was a barefoot kid running around," Ms Freeman recalled at the launch ceremony, "dreaming of big things and everything else beyond that Olympic gold medal."
Turning and looking up at her name Ms Freeman said "I'm seeing my father's name up there as well – so this is not just about me," she said.
"This is about my family, the community I belong to, and, of course, the ancestral lines that go back so long and so deep and rich."