July 11 - 17, 2021: Issue 501
Car Thefts + Theft from Vehicles: how to prevent this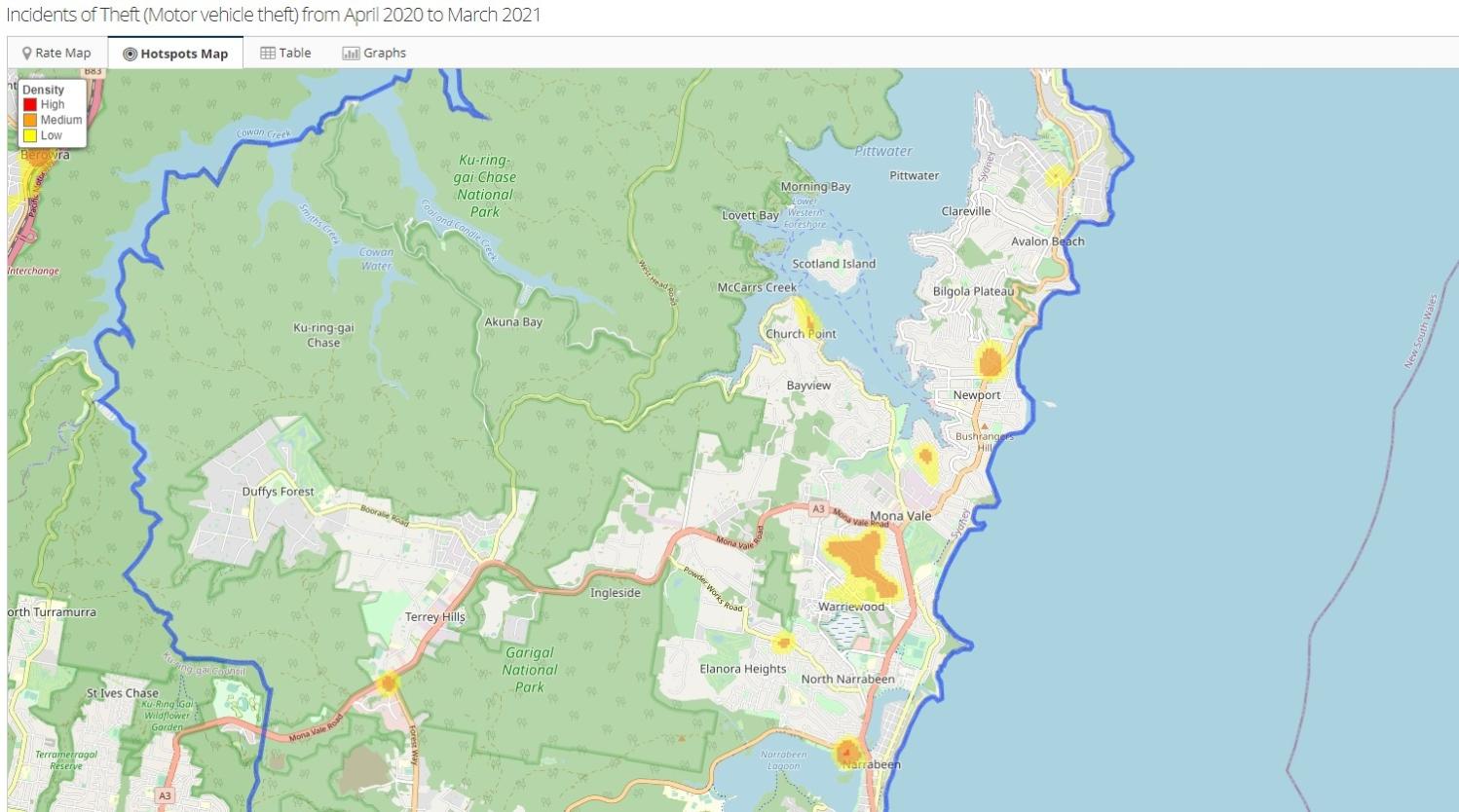 NSW Bureau of Crime Statistics and Research (BOSCAR) crime map - screenshot

In recent weeks the number of car thefts, damage to cars and thefts of articles from cars has become a daily occurrence.
At Narrabeen, Elanora Heights, in Avalon and elsewhere incidents of vehicles being taken, usually around 1-2am, with some streets seeing one a week being taken, have led to the idea that there is a rise in car thefts.
Some thieves have even come onto property to take the vehicles while others have been taken from where they were parked on the road outside homes.
One vehicle taken, a van prominently marked with 'Prawns' and other signage, was stolen from Careel Bay marina surrounds – leading to the perception that such a highly recognisable vehicle being taken may have been 'rebirthed' or stripped for parts almost immediately.
Older model Toyotas seem to be a popular choice, backing up the 'gang in action' perception.
The thefts are among a spate of similar incidents of breaking into cars and stealing possessions – loose change, credit cards, phones left in vehicles.
Earlier this week cleaners of a local kindergarten had left their vehicle unlocked in the early evening while they carried equipment inside. They returned minutes later to find a bag with their wallets, phones and keys had been stolen.
Another resident, out walking his dog and meeting the distraught cleaners, went a little further along the street and confronted two 15 year olds who had taken the items and managed to get them to hand back the stolen bag. Their details were forwarded to the police by the gentleman. The two teenagers have since been charged.
Others in the same street have reported similar thefts of items from vehicles, illustrating that there are people wandering the streets checking any car door to see if it is unlocked to access what may be inside a car. The takeaway is to check you have locked your vehicle - all doors - even if only leaving it for minutes.
Pittwater Online News spoke to NSW Police Northern Beaches PAC this week about the thefts of cars, who stated that yes, the area has had thefts of cars, but no more than usual and there is no indication a gang is working in the area in order to fulfil a 'shop list' or support a rebirthing activity.
''No particular make of car is targeted. The thieves are opportunistic and generally young joy riders. The common theme is thieves need keys to steal modern cars so they break into a home to find them or find them in cars by chance.
Modern cars have immobilisers and computers that will not start without a key that are fitted with chips to activate ignitions.'' a NSW Police spokesperson stated.
''There is no evidence of car rebirthing rackets targeting vehicles in the Northern Beaches PAC. In fact most stolen vehicles are found intact soon after their theft. ''
The NSW Bureau of Crime Statistics and Research shows there were 198 car thefts in our area (Sydney's northern beaches) to March 2020 and 190 to March 2021 - a slight decrease, with Warriewood, Mona Vale, Narrabeen, Church Point and Newport highest in Pittwater for incidents of car theft. The statsitics show that all but 14 were Juvenile offenders.
The NRMA states that Regions such as Blacktown and Campbelltown on the outskirts of Sydney, and Cessnock and Maitland just outside of Newcastle are also trouble areas when it comes to auto crime.
Cessnock and Mailtand have a rate of 953.1 and 1109.5 per 100,000 respectively, both almost double the state average of 536.6 in 100,000.
Blacktown and Campbelltown have slightly lower rates than inner-Sydney, with Blacktown sitting at 716.9 and Campbelltown at 686.6 (per 100,000).
While the cities in NSW account for a large amount of theft, there is a widespread vehicle break-in problem in our regional centres, particularly the state's central west.
From Parkes to Warren and even the Bogan Shire (yes, it's a real place), theft from car break-ins is among the worst anywhere in the state.
Other areas experiencing worrying rates of car break-ins and theft include Northern NSW towns such as Lismore and Moree, as well as Riverina towns such as Wagga Wagga and the Murray Basin.
However, New South Wales, overall, has had a decrease of 16.3% in car thefts during the same time period.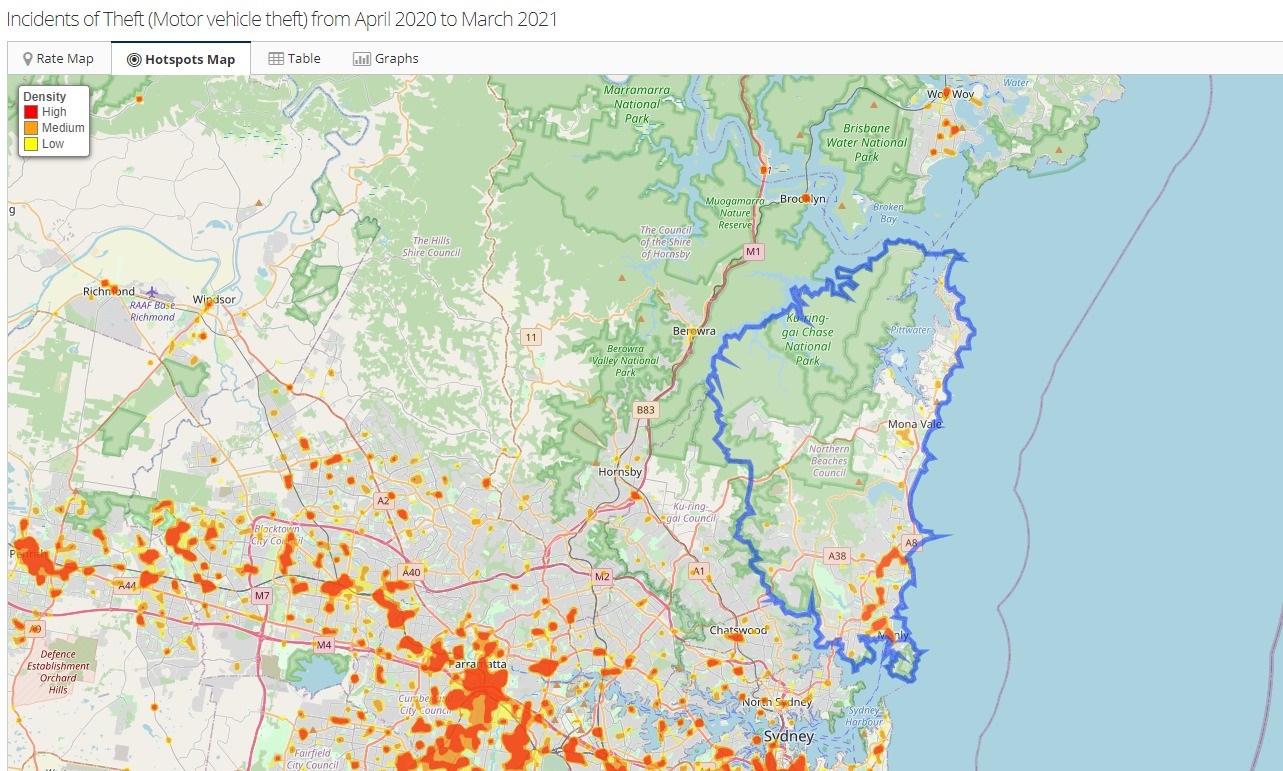 NSW Bureau of Crime Statistics and Research (BOSCAR) crime map - screenshot

Our local police are also taking action to address these thefts.
''Vehicles are stolen generally at night and Northern Beaches police perform strategic patrols at key times to prevent crime and deter thieves. Police patrols are both in uniform and by police in unmarked cars. We are also assisted by the local Highway Patrol whose hi-tech vehicles are equipped with ANPR that can instantly detect cars that a reported stolen. ''
What advice do the police give to residents to guard against theft of their vehicle?:
''Lock cars and homes. Owners often leave their cars and homes unlocked making it easy for thieves. Do not leave car or house keys in cars and secure them at home as well. Removing valuables from sight in cars will remove the temptation for thieves. ''
Keeping an eye out for your neighbours' cars is also one effective method of reducing car theft and theft from cars.
How to Prevent Car Theft
Make sure your car is properly and completely locked. When you get out of your car, walk around it and check that every door is locked. It's also a good idea to make sure the boot/trunk is closed and ensure that all of your car's windows are fully closed as thieves can use open windows to break into cars.
Don't leave anything valuable out in your car so it's visible. If you are going to store valuables in your trunk, don't put them in there until right before you leave for your destination. Otherwise, criminals might see you storing things in your trunk and then target the trunk when they break into your car.
Store your keys in a secure location in your home. Most people tend to put their keys right next to their front door- DON'T. This will only make you more susceptible to keyless or other car theft. Thieves can amplify your key's signal from your front door and unlock your car.

A good place to put your keys is inside and one of the furthest points from your car. Some state an a tin/

aluminium

container will also block signals and can be used as an alternative. Hide your spare keys in a different but equally secure location.

Park your car in your garage if you have one. If thieves want to steal your car and it's parked in your garage, they'll need to break into your garage to get to the car. If your car is parked in your garage, criminals are less likely to see it and identify it as an item to steal. Make sure your garage is secure if you do store your car in there.
Place a car cover over your car if you want to make it harder to get into. Car covers make it much more awkward for thieves to steal your car. If you don't have a car cover, use some tarpaulin or another material to cover your car. Even if the criminals unlock the car, they'll have to take the cover off the car to get in. This increases your chances of catching them in the act and scaring them off.
Place a steering wheel lock on your wheel to deter thieves. A steering wheel lock is exactly what it sounds like. It's a bar-like object that you place on your wheel and lock into place with a key. It stops the wheel from being turned and renders the car useless to thieves. If the thief can't steer the car, they can't steal it.
Install a secondary car alarm in your car for extra protection. You can get a secondary car alarm installed in your car at the local garage or car dealership. Secondary car alarms have a wide range of capabilities. The best on the market are able to tell you if your car doors are open or closed from up to 1 mile (1.6 km) away. The top of the line secondary car alarms cost around $400. However, you can get a more basic secondary alarm for $40 or so.
Use a GPS tracking device to track the location of your car in case it does get stolen. GPS tracking devices let you and the police find out the precise location of your car. Stolen cars have a much higher chance of being recovered when fitted with a tracking device. Buy a GPS tracker at your local car parts or electronics store.
Install CCTV if you don't have a garage. It might seem drastic, but you can place a camera on the outside of your home to keep an eye on your car. Link the camera to your television and you can switch to the CCTV channel any time you want to check on your car. Contact a local security company to arrange for a professional to set up the CCTV up for you. A CCTV system will cost around $1000 to set up outside your home.
Update your car's software if you have a smart dashboard. Sometimes car software is insecure or can be susceptible to hacking. Companies will bring out security updates every so often to make a car more safe and secure. Check once a month to see if there are any new software updates for your car. Navigate the menus on the dashboard screen to look for the update option. You can usually find update information in the "settings" panel.