December 9 - 15, 2018: Issue 387

Santa Stops By Avalon Beach SLSC's Carols At The Beach To Say Ho! Ho! HO!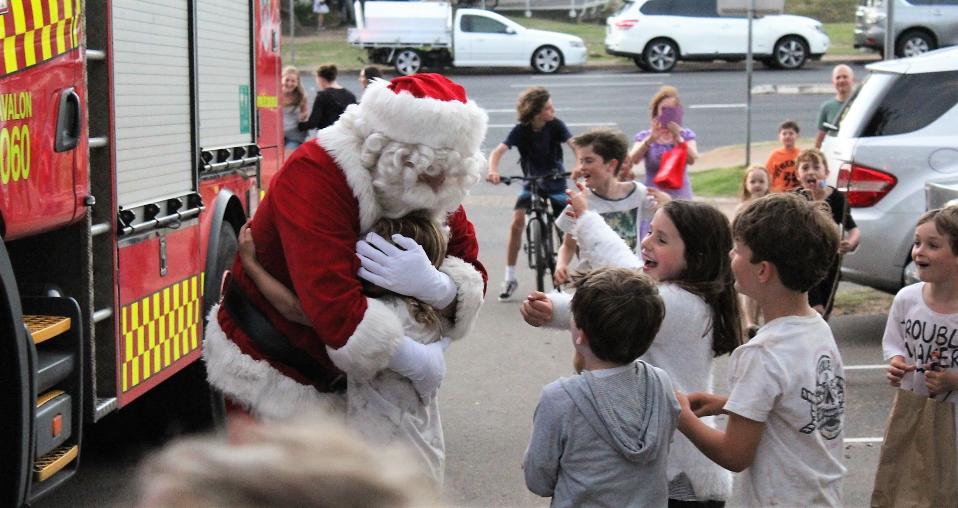 Santa Claus took a short break from his busy schedule on Saturday night to pop down to Avalon Beach and join in with a few great Christmas Carols and say 'hi!' to a some local youngsters. With Christmas Day only a little over two weeks away now that man in the jolly red suit is working hard to spread good cheer, hugs, laughter, and spend a little time with as many children as possible.
Fortunately the wonderful firemen at the Avalon station were able to give Santa a lift in their jolly red and yellow truck so the sleigh and the reindeer could help out back at the North Pole getting more stuff done so Christmas Eve will go as smoothly as possible. If that goes as well as the great evening hosted by the Avalon Surf Club things will go very well indeed!
Member for Mackellar, Jason Falinski also gave brief salutations to all, wishing everyone a very Merry Christmas, as did Member for Pittwater Rob Stokes, hitting the right note as he wished everyone an end of year chance to exhale, reflect on the year, and enjoy some time with family and friends.
President of Avalon Beach Surf Life Saving Club Ashley Cardiff reflected on the year just going too. His Address runs below - and below that - some delightful families allowing us to capture and share their enjoyment of the 2018 edition of Carols At The Beach.
An Album has been loaded up HERE for those who want a copy of their snap for their Family Albums. If you want a High Res copy please email us (still no fees there) but please let us know the image number as we're really not that psychic...
Mr. Cardiff's 2018 Carols at The Beach words:
Welcome to Carols At The Beach 2018
Avalon Beach Surf Life Saving Club is proud to host this wonderful event again this year. The Surf Club is an essential part of Australian summer culture. We were thrilled to be named as the 2-018 DHL Club of the Year at the recent SLSA National Awards ceremony in Sydney. We could not have achieved this remarkable accolade without the incredible support from our community and the work from our volunteers and committee members. Many thanks to Richard Cole for his dedication and work in co-ordinating our submission. To say that we are incredibly proud is an understatement, however we will continue to strive to make improvements where we can.
The past few Carols have been fantastic evenings with remarkable performances, great food and amazing fireworks, all within a family friendly and peaceful atmosphere set against the spectacular backdrop of Avalon Beach.
This year we are again fortunate to have JUBILATION choir performing for us. JUBILATION was formed in 1993 by world renowned singer Joy Yates. For 25 years this extraordinary, contemporary jazz/gospel vocal group has performed to enraptured audiences, including at The Carol sin the Domain for the last 15 years.
Carols at the Beach is a fundraising event, so please give generously. Funds raised over the last few years have gone towards purchasing rescue and training equipment for Avalon Beach Surf Life Saving Club. This year we have purchased a new patrol trailer, rescue tubes, replaced aging equipment and also kept our supply of First aid consumables, oxygen resuscitation tanks and emergency gear stocked up. Your funds contribute directly to this equipment. Once again, we are pleased to report that no lives were lost during patrol hours. This season saw our volunteers conduct numerous rescues, hundreds of first aid treatments and preventative actions.
Carols at the Beach would not be possible without the generous support of our sponsors and event partners. We are pleased to welcome McGrath Real Estate as our major sponsor and event partner who have committed to the Club for the next 3 years. We thank them for their fantastic support and look forward to working together. We also thank Aveo for their continued invaluable support. We thank and acknowledge the following sponsors as well; Johnson Brothers Mitre 10, the Avalon Palm Beach Business Chamber and the Northern Beaches Council.
I would like to personally thank all of our amazing volunteers. It is an extraordinary accomplishment that such an event can be run so professionally when organised and we are also very grateful to the scores of lifesavers, Club members, friends of Avalon Beach Surf Life Saving Club and local businesses who have donated raffle prizes and worked incredibly hard to set yup, run and support the event this evening.
Avalon Beach Surf Life saving Club is a community club and a community building. I invite all members of our community to participate in our classes during the week, hire our venue for celebrations or come and have a drink at the bar and enjoy the view from the verandah on Friday evenings and Sunday afternoons. We are also always delighted to welcome new members.
On behalf of Avalon Beach Surf Life Saving Club I wish you and your families a safe and happy Christmas. Our members love patrolling our wonderful beach, but we don't want you to become one of our statistics, so please, always swim between the flags.
Ashley Cardiff.
President, Avalon Beach Surf Life Saving Club