October 29 - November 4, 2023: Issue 603
Calls for Sydney to save water: dam levels dropping - duffys forest highest consumer of water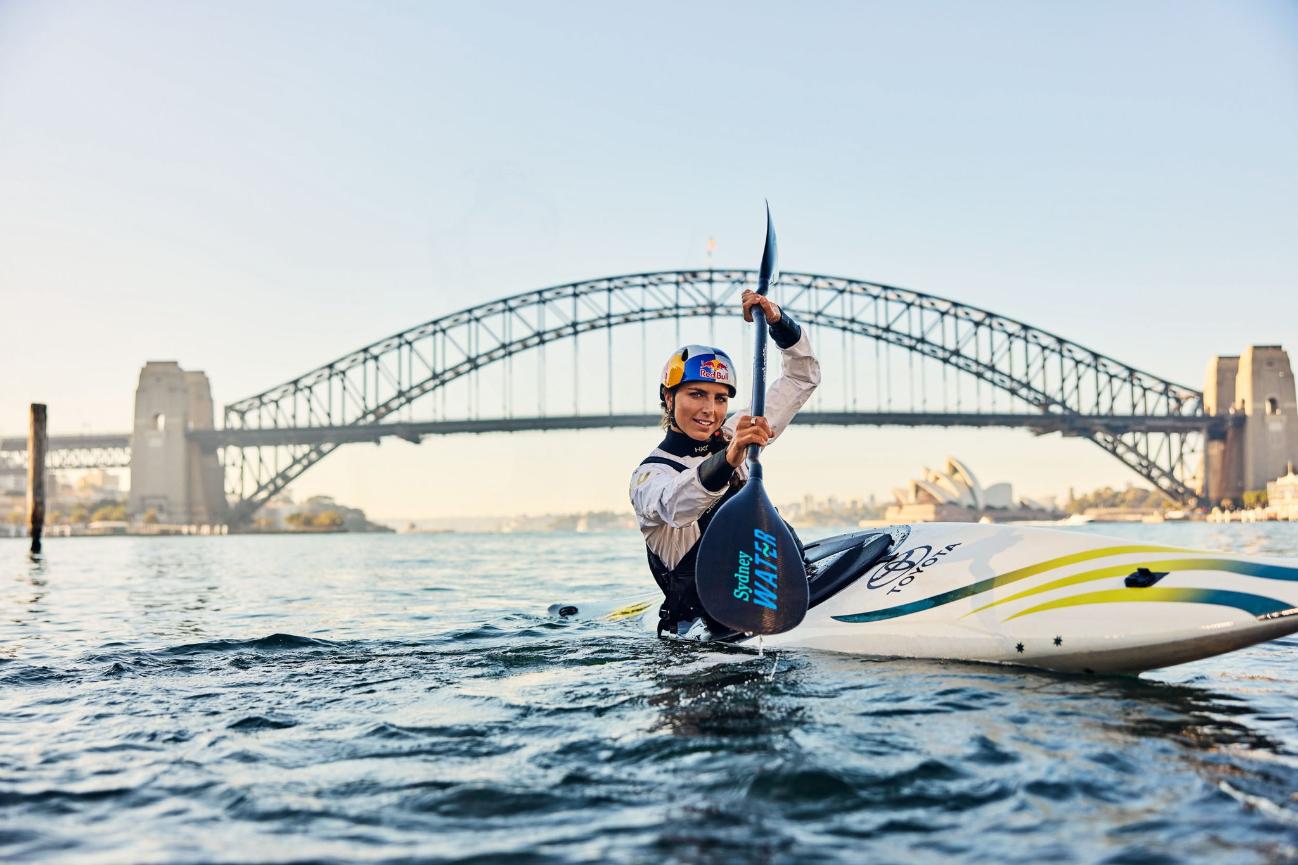 Sydney Water is urging people to stay vigilant as water usage spikes by 17 per cent and dam levels begin to fall.
As we head into what is expected to be one of the hottest summers on record, following the driest winter in 37 years, customers are urged to minimise their water use as Sydney faces a potential cycle of restrictions and inevitable drought.
With no significant rainfall since November 2022, there has been water depletion across Greater Sydney's dams, including a six per cent drop at Warragamba.
Warragamba Dam, which supplies the majority of Sydney's drinking water, has dropped to 94 per cent capacity since November 2022, when the dam was last operating at 100 per cent.
In the past week, dams have collectively dropped 0.5 per cent, even with the soaking rain we've experienced over Pittwater. Sydney Water data shows Duffys Forest residents were the highest consumers of water on the first quarter of 2023.

Source: Sydney Water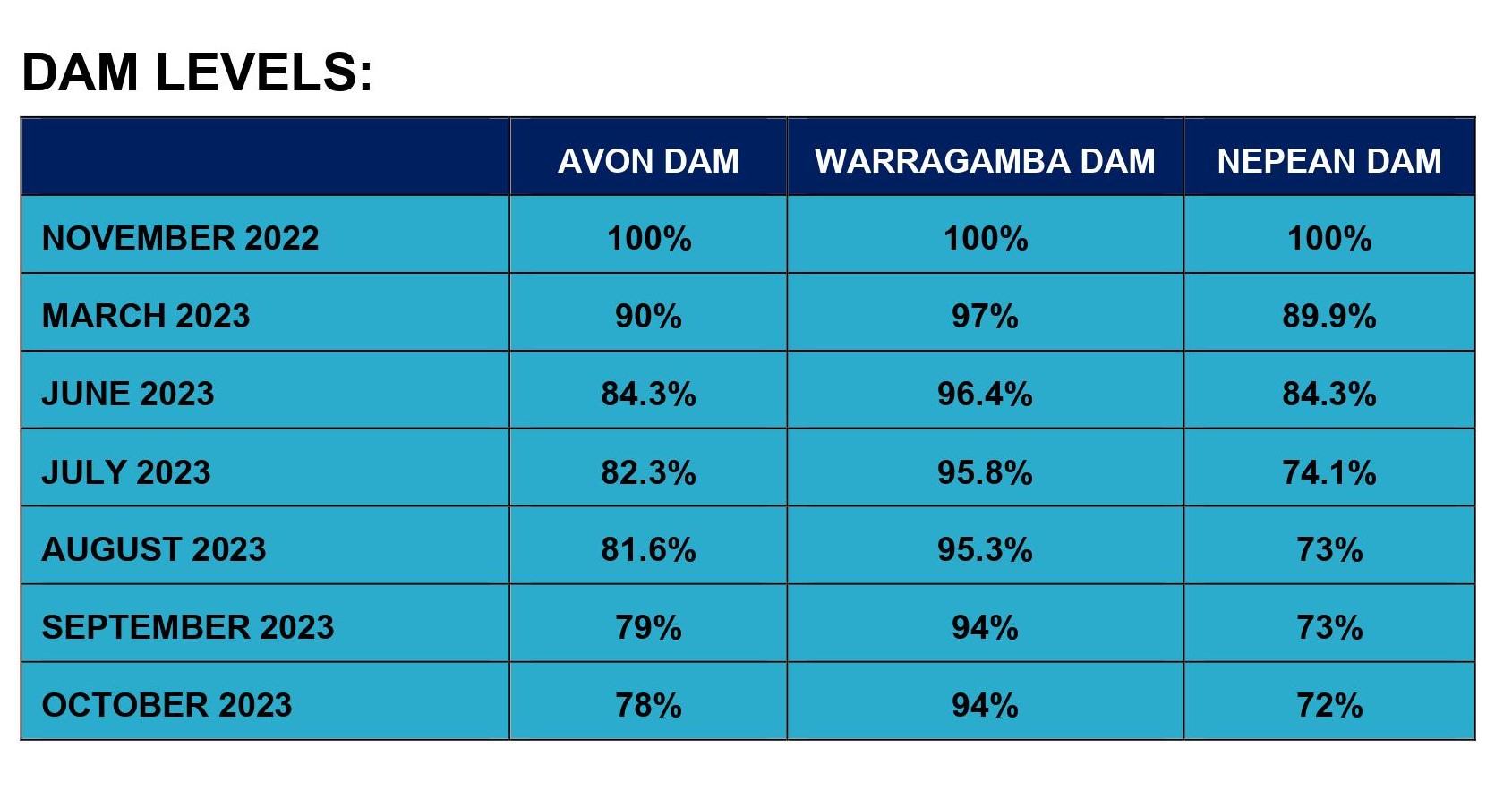 Source: Sydney Water

Olympic Canoeist Jess Fox will front a new campaign to help educate the public that we can no longer rely on rainfall.
"Everyone needs to understand, the future of water depends on all of us. It's easy to take water for granted, but with a changing climate and a growing population, the time has come for us to tackle demand," Ms Fox said.
Sydney Water Managing Director, Roch Cheroux, said $30 billion will be spent over the next 10 years upgrading existing networks and infrastructure as part of a long-term operating plan.
"While we are not going into drought next week, we are doing everything we can as an organisation to secure the future of water for Sydney.
"Drought in Australia is cyclic and inevitable, and recent advice indicates we are moving into a phase where rain is expected to hit historic lows over the next 12 months.
"It's not about today; it's about tomorrow; it was only four years ago we experienced one of the worst droughts in history," Mr Cheroux said.
Early analysis indicates if the dry weather continues, Sydney could be under Level One water restrictions in just 12 months by November 2024, or early 2025.
Sydney Water Head of Water Supply and Production, Ben Blayney, said when dam levels start to fall, they can drop quickly.
"There is a perception that the dams are full and Sydney's water supply is endless. The message is we cannot wait until the dams are empty to take action," Mr Blayney said.
"What we can see as part of our daily monitoring processes is a series of red flags. These are the same trends we experienced going into the last drought.
"The unpredictable weather patterns we've seen over the past two years are just a taste of what's to come. We need to act now so we are better prepared to minimise the impact of the next drought.
"That's why we're asking Sydneysiders to work with us to save every precious drop," Mr Blayney said.
Minister for Water Rose Jackson said as we head into another dry period we need everyone to pitch in and do their part to conserve water.
"Small changes in habits like turning the tap off while brushing your teeth or only running the dishwasher when its full can make a big difference, so with El Nino declared I encourage everyone to take a look at their water habits and assess if there are actions they can take to reduce water use," Minister Jackson said.
"The future of our water resources is in all of our hands which is why we need to use water more responsibly to help safeguard supplies during these warmer months."
Sydney Water has compiled a webpage listing a range of ways we can all save water, including Leaks, Lawns, gardens and sealed areas, Pools and spas, Bathrooms, Laundries and Kitchens, even offering to help with those leaks.
You can access all that help at: www.sydneywater.com.au/education/programs-resources/save-water
Examples include:
Visible leaks: Prioritise fixing leaks that you can see, as they are undoubtedly draining your money. A leaking toilet can squander up to 260 litres of water daily, while a dripping tap can waste as much as 200 litres a day. Contact your plumber or schedule a visit from one of Sydney Water's WaterFix® Residential plumbers for exclusive deals. They specialise in repairing visible leaks and installing water-efficient fittings in your home.
Concealed leaks: These are hidden leaks underground or within walls and can be costly. If your bill has increased without explanation, you may have a concealed leak. Reach out to a specialist plumber or contact WaterFix Concealed Leaks.
More ways to save water are:
Consider greywater reuse. Greywater is reusable wastewater from washing machines, showers, baths and basins. Untreated, it's a good source of important nutrients for many plants. When it's treated, you can also use it to flush toilets and wash your clothes.
Install a rainwater tank. If a rainwater tank is properly installed and plumbed into your home, you could save up to 40% of your drinking water supply and $200 a year off your water bills.
Set a target for the water you use. You can see your average daily water use on your water bill, and keep an eye on your water meter to track of how much water you're using.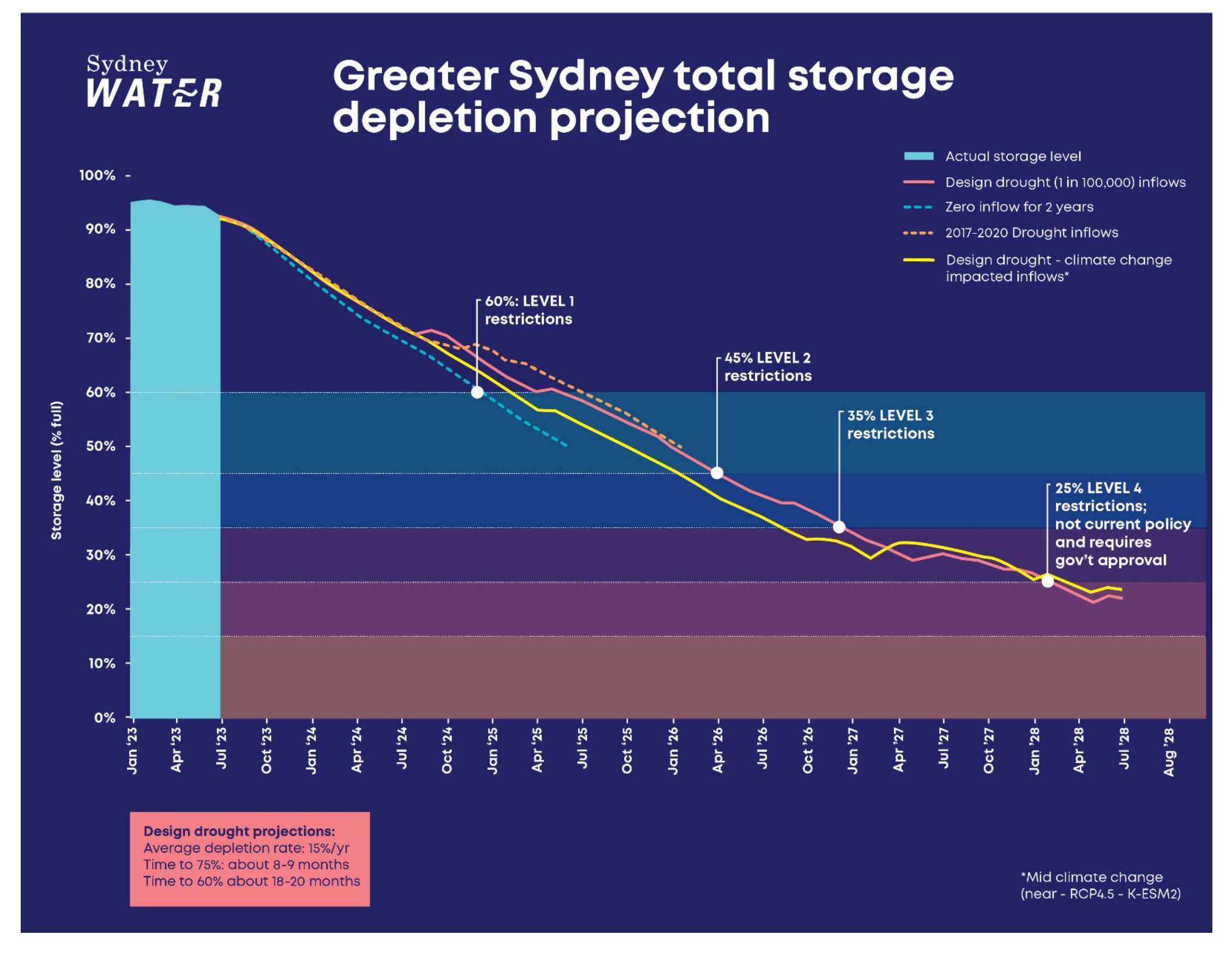 Source: Sydney Water