January 20 - 26, 2019: Issue 390
Call out for artists and writers - Art & Words Project: Saltwater theme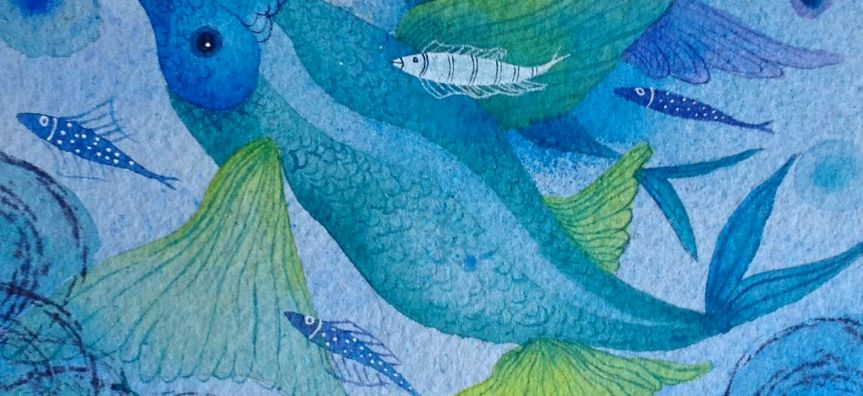 Image: 'Flying Fish' by Nettie Lodge
Visual artists and writers are being invited to take part in an exciting new community arts project that could see their work taking pride of place in a special event at the 2019 Manly Arts Festival (6 - 29 September).

In a celebration of community creativity, Northern Beaches Council's Art & Words Project 2019 is calling on participants to write and create works inspired by the theme 'Saltwater'.
Entrants will have the chance to have their works published in an anthology with the participating artists creating works directly in response to the text.
Northern Beaches Mayor Michael Regan said a selection from the anthology and the accompanying art will be displayed on a 24-hour digital screen at Manly Art Gallery & Museum and at all Northern Beaches Libraries during the Arts Festival.
"The artworks will illustrate the book alongside the words and the original artworks will be displayed in libraries across the Northern Beaches.
"The Manly Arts Festival attracts over 15,000 visitors annually and our six Northern Beaches Libraries have 177,746 members, together representing a huge audience for any aspiring artist or writer," said Mayor Regan.
The Art & Words Project is a collaborative project mentored by multiple-award-winning writer Zena Shapter and supported by the Northern Beaches Library Service and the Manly Art Gallery & Museum.
Ms Shapter, who will be providing creative support for the project, is the founder of the Northern Beaches Writers' Group and a Northern Beaches local.
"Community creativity on this scale is truly magical!" she said.
"Entry is open to anyone, regardless of genre or style, so I'm hoping to hear from a diverse range of creatives, a balance of perspectives that will reflect the thrilling yet unspoken truth of our community."
Applications for the Art & Words Project 2019 will be open from 15 January 2019. To apply and for further information visit northernbeaches.nsw.gov.au
Closing date for entries is Friday 15 March, 5pm, with selected entrants notified by Friday 29 March.