March 24 - 30, 2019: Issue 398
CYCA first National Sailing League entry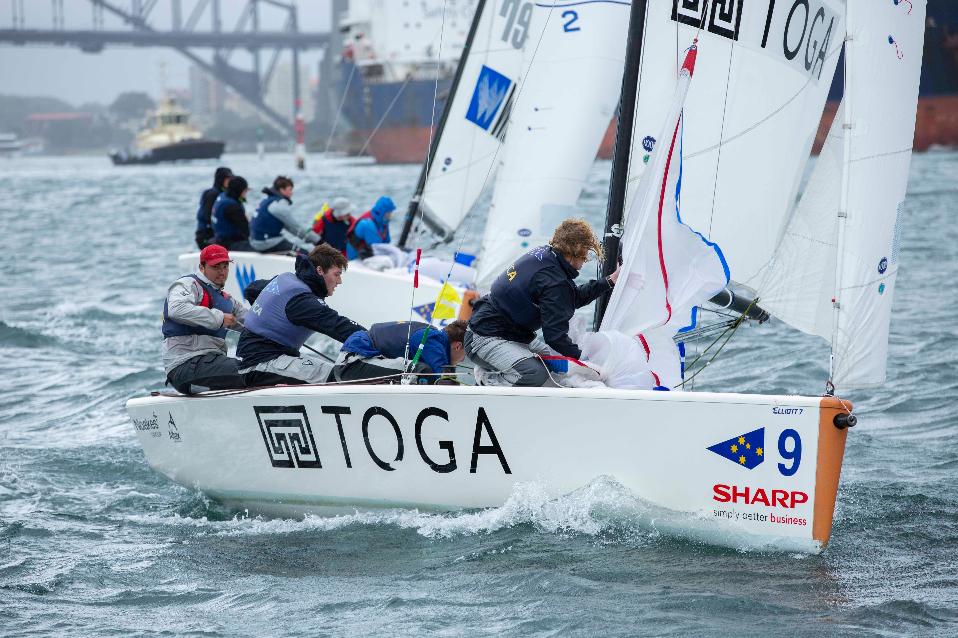 James Hodgson and his Cruising Yacht Club of Australia team at the Sharp Australian YMRC. CREDIT - CYCA Media - Hamish Hardy
Event: National Sailing League Final, April 25 - 28 hosted by the Royal Sydney Yacht Squadron with fleet racing onboard Elliott 7s on Sydney Harbour over three days
The Cruising Yacht Club of Australia, highly-regarded both in offshore and youth match racing circles, is the first club to enter a team for the April National Sailing League Final in Sydney.
CYCA Youth Sailing Academy head coach Jordan Reece won't name his youth team just yet. He still has the difficult task ahead of choosing from the large pool of advanced CYCA YSA sailors aged under 22 who competed last season with success, both nationally and internationally.
"We had a really successful season taking out the top three places at the Sharp Australian Youth Match Racing Championship and more recently winning the CentrePort International Youth Match Racing Championship in New Zealand," Reece said.
"We will select a mixed youth team, possibly two, and we are about to start promoting the National Sailing League heavily to our members and hope to see additional CYCA representation via a mixed open team and possibly a women's team.
"The National Sailing League is a great concept and I see the April event kickstarting more talk about one-design racing without the need to own a boat. I'm looking forward to the CYCA having the opportunity to host an NSL event within the next one to two years, and to the National Sailing League's expansion to staging several qualifying events each year leading into the final," Reece added.
NSL directors Mark Turnbull OAM and Howard Elliott are discussing entries with multiple yacht clubs and anticipate the starting list will include Hobart's Royal Yacht Club of Tasmania and Sandy Bay Sailing Club and Southport Yacht Club in Queensland. Victoria's Royal Brighton Yacht Club, Sandringham Yacht Club, the Royal Yacht Club of Victoria and the Sorrento Sailing Couta Boat Club have expressed an interest while in New South Wales the Royal Sydney Yacht Squadron (RSYS), Royal Prince Alfred Yacht Club and Newcastle Cruising Yacht Club are expected to field teams.
With entries initially capped at 24 teams, clubs are encouraged to sign up for the inaugural National Sailing League fleet racing event by getting in touch with their club captain, who received an invitation last month.
The first ever NSL event begins with an opening ceremony at the host Royal Sydney Yacht Squadron the evening of April 25 followed by three days of fully umpired short course keelboat racing using six Elliott 7s. A maximum four crew, at least one of those female, will crew in the open division and a maximum of five will crew in the youth and women's division
Twenty-four teams will take to Sydney Harbour to compete in 45 stadium format races of 12-15 minutes each to find the top six teams to compete in the final series.
The top Australian and New Zealand team will automatically qualify for a spot at the Sailing Champions League (SCL) final at St Moritz in August and the top youth team will be eligible to compete at the SCL Youth Event at Kiel in June.
The Notice of Race for the National Sailing League Final can be viewed here:
nationalsailingleague.com.au/2019-inaugural-championship-notice-of-race
How to follow the NSL:
Facebook
Website www.nationalsailingleague.com.au
Instagram: @nsloceania
YouTube: https://www.youtube.com/watch?v=xlWopVkrphY
By Lisa Ratcliff