January 13 - 19, 2019: Issue 389
CONCRETE POUR SETS SCENE FOR NEXT NEW BUILDINGS AT MONA VALE HOSPITAL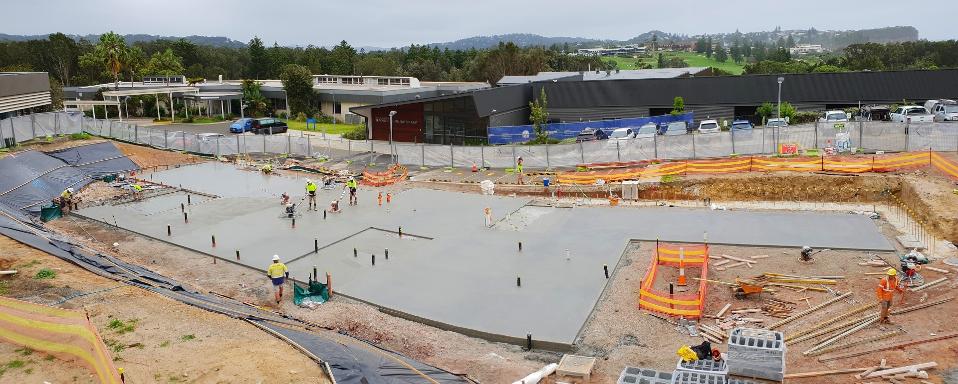 December 21, 2018

The concrete pour has been completed for the next in a series of new hospital buildings at Mona Vale Hospital.
Work is progressing on the hospital's new Support Services Building which will accommodate modern kitchen, laundry, cleaning, staff and engineering facilities. 18 truckloads of concrete have been poured, totalling over 100 cubic metres.
The new building is being constructed on the eastern side of the hospital campus and is part of a series of upcoming infrastructure projects that will continue the transformation and modernisation of Mona Vale Hospital.
"This is a key milestone in the next phase of multi-million dollar building upgrades at Mona Vale Hospital," Rob Stokes said today.
"The new Support Services Building will be the engine room of the hospital and will ensure essential support services are provided in modern, state-of-the-art facilities.
"There's a flurry of construction works underway at Mona Vale Hospital and there's lots more on the way.
"There will of course be noise and disruption associated with the construction works – but these are essential projects that are securing the hospital's future and ensuring its facilities and services are brought up to modern standards.
"We're seeing great momentum behind essential building upgrades at Mona Vale Hospital and we must ensure this continues," Rob Stokes said.
Other upcoming infrastructure projects at Mona Vale Hospital include a new 20-bed inpatient building (to accommodate a dedicated inpatient palliative care unit and specialist inpatient geriatric unit), a new helipad, new ambulance station and renovations to the Urgent Care Centre building.
Infrastructure projects completed at Mona Vale Hospital in recent years include the new Community Health Service Building in 2016, the 30-bed Beachside Rehabilitation Unit in 2014 and the expansion of the Palliative Care Outpatient Unit in 2013.