April 5 - 11. 2020: Issue 445
Bush Fire season comes to a close in NSW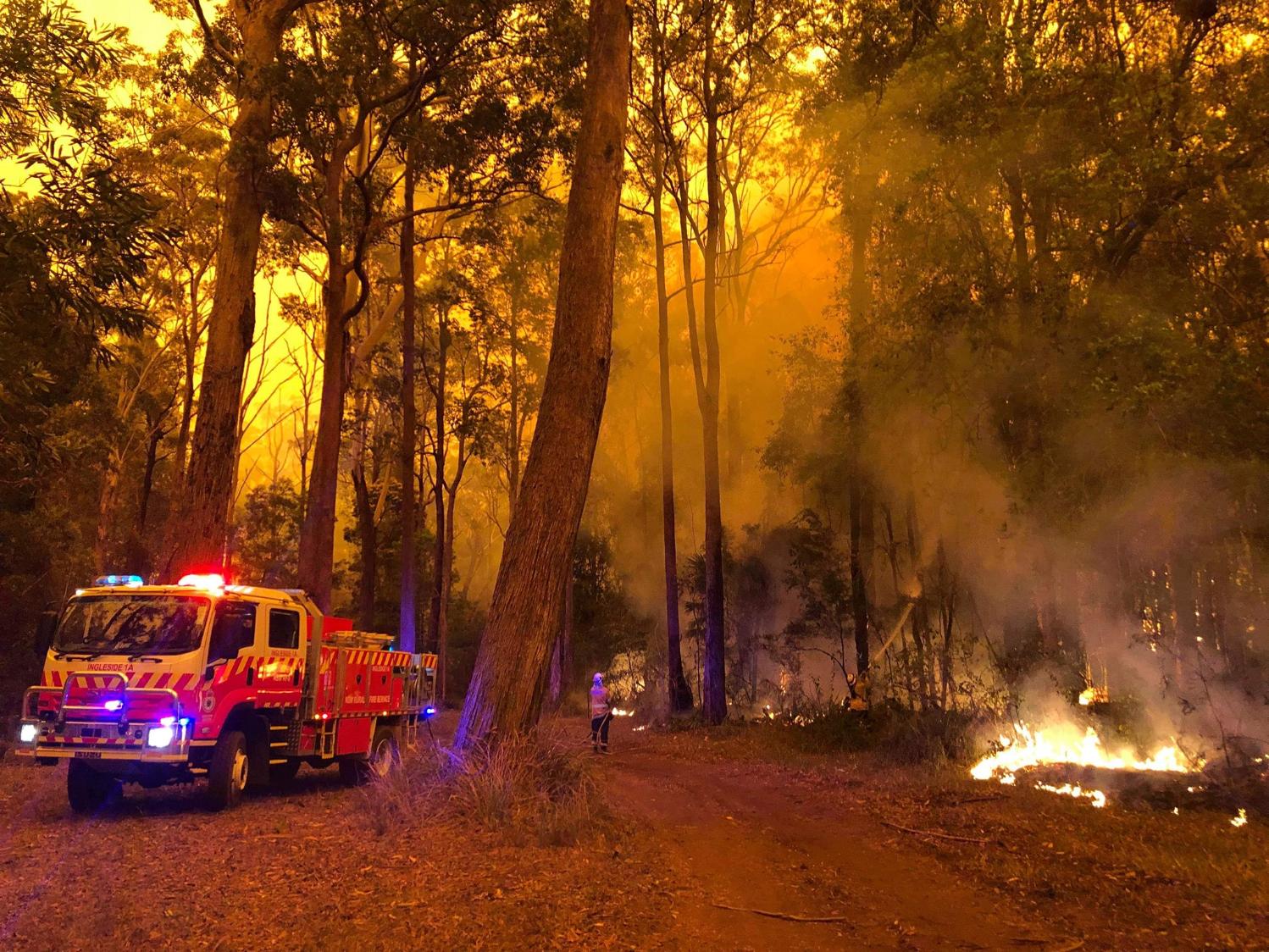 Photo: November 8, 2019 - The Ingleside NSWRFS Tanker is up in the Port Macquarie area, they left at 5am to get there. An additional 5 tankers were also responded to Taree just after lunch. Ingleside had 4 RFS volunteers involved in this bushfire effort. Then a 2nd Strike Team left just after lunch from the Northern Beaches RFS District (Friday November 8th) and ended up at the Rainbow Flat bushfire, just South of Taree - another terrible fire. By December NSW RFS Volunteer Strike Teams from our area were heading to the South Coast to meet the infernos there. Photo courtesy Ingleside NSW RFB.
March 31st marks the close of the official Bush Fire Season - a season that started in July 2019, with the New South Wales Rural Fire Service bringing forward the official start of that season, usually commencing on October 1st and running until the end of March. On August 1st 2019 NSW RFS Acting Commissioner Rob Rogers said 12 LGA's would commence the Bush Fire Danger Period (BFDP) due to prevailing dry conditions. They were Armidale Regional, Bega Valley, Eurobodalla, Glen Innes Severn, Inverell, Kempsey, Mid Coast, Nambucca, Port Macquarie Hastings, Tenterfield, Uralla and Walcha.
Acting Commissioner Rogers said then a number of factors, including local fuel conditions, are considered before declaring a variation to the statutory BFDP that commences on 1 October 2019.
"Conditions across the state are drier and warmer than average, with more than 98 percent of NSW drought affected," Acting Commissioner Rogers said.
By August 14th nine homes had been destroyed in Northern New South Wales, at Kemsey and in the Richmond Valley and the next day an additional 9 local council areas commenced their Bush Fire Danger Period early; Ballina, Bellingen, Byron, Coffs Harbour, Clarence Valley, Kyogle, Lismore, Richmond Valley and Tweed.
''Over the past week, we've seen a number of large and fast moving fires in some of these areas, and these have destroyed homes and other buildings," Acting Commissioner Rogers said.
By August 31st another 53 areas had been added to the early start of their BFDP.
"Over the past two months, we've seen more than 2700 bush and grass fires which have unfortunately destroyed homes, impacted property and closed roads," Commissioner Fitzsimmons said.

Commissioner Fitzsimmons was urging homeowners to prepare for the upcoming fire season, noting warmer than average temperatures and below average rainfall were forecast for the coming months.
"Recent research has indicated that 67 per cent of people had some sort of plan of what to do in the event a fire threatens.
"While it is encouraging that two thirds of people have discussed what they'll do, our research also shows that many people's plans are simple, and often not well thought through.
"We want people to ask themselves how fireproof is your plan? Have the conversation with your family about what you will do during a fire – including where you'll go, what you'll take and what you'll do with animals." Commissioner Fitzsimmons said.
On September 6th a RFS firefighter was critically injured fighting a fire at Tenterfield. The man was one of two firefighters in a fire truck fighting the Mount Mackenzie Road fire, south of the Tenterfield township.
The firefighter suffered serious burns to his hands, arm, legs, back, face and airways. The fire truck was destroyed by fire. He was transported to Tenterfield Hospital for initial treatment and was stabilised before being airlifted to Royal Brisbane Hospital. He is in a critical but stable condition.
The second firefighter was not injured.
An initial assessment of the Mount McKenzie Road fire, Tenterfield (60% of area assessed by September 7th), showed 1 home destroyed, 4 damaged, 3 facilities destroyed (two car yards and a pistol club), 12 outbuildings destroyed, 8 damaged, 65 homes in the immediate area of the fire were saved, while in View Street, Lidsdale (100% of area assessed); 1 home damaged, and 3 outbuildings destroyed
Building Impact Assessment Teams were unable to inspect properties at the Long Gully Road fire near Drake, due to dangerous conditions. Across the firegrounds impacted on Septmber 6th 2019, at least 160 homes in the immediate area of the fires were saved, along with 15 facilities and 81 outbuildings.
By September 17th 26 homes had been destroyed and 612 in the areas affected saved.
It took until March 2nd, 2020 for the NSW RFS to state; ''there are currently no active bush or grass fires in NSW. That's more than 240 days of fire activity for the state.''
The official end to the most devastating bush fire season in the state's history could not come soon enough for all those who have been fighting fires since July 2019 - many of them from our local RFS Brigades.
NSW Rural Fire Service (NSW RFS) Commissioner Shane Fitzsimmons said this season had been unprecedented in terms of conditions experienced, the loss of lives and property, and the threat to communities across large parts of NSW.
"NSW RFS crews and other agencies have responded to more than 11,400 bush and grass fires that have burnt more than 5.5 million hectares, the equivalent of 6.2% of the state," Commissioner Fitzsimmons said.
"Fires this season have destroyed 2,448 homes; however, the great work of firefighters saw 14,481 homes saved."
"This season there were six days where areas across NSW recorded catastrophic fire weather conditions.
"At the height of activity, there was on average around 2,500 firefighters in the field each shift with up to 4,000 on days of increased fire danger and impact.
"We have seen a combined inter-agency response from NSW RFS, Fire and Rescue NSW, National Parks and Wildlife Service, Forestry Corporation NSW, NSW State Emergency Service, NSW Police, NSW Ambulance and the Australian Defence Force come together with our interstate colleagues.
"We must also thank the international response and assistance from Canada, the United States and New Zealand."
Commissioner Fitzsimmons said that most tragically 25 lives were lost, including those of the three NSW RFS volunteers and three US aerial firefighters.
"Our thoughts will forever be with the families and loved ones of all those who lost their lives.
"We especially pay tribute to the families of Geoffrey Keaton and Andrew O'Dwyer from the Horsley Park Brigade and Samuel McPaul from the Morven Brigade, along with US aerial firefighters Ian McBeth, Paul Hudson and Rick DeMorgan Jr.
"Their loss has been felt deeply and we honour the sacrifice they made to selflessly protect communities across NSW.
Commissioner Fitzsimmons said all emergency services personnel, especially NSW RFS members, have given so much, spending time away from their families, jobs and loved ones.
"We continue to thank our members' families, colleagues and employers for allowing our volunteers to provide such a great level of protection to the people of NSW.
"Time and time again, we've heard from affected areas how the incredible work of firefighters on the ground, backed up by the crews in the air, have helped save people and property."
"While we've seen unprecedented fire activity, we've also seen an unprecedented response from the community – including use of our warnings products like Fires Near Me NSW, and importantly, taking decisive action based on quality media reports and the messages we've sent.
"Responding to bush fires is a team effort, and the community across NSW is an important team member."
"We must also be mindful of all those still enduring the very raw and difficult recovery process as a result of the fires and that efforts are sustained through this very personal challenge.
"While the focus now for all of us is rightly on the Coronavirus response effort, the next bush fire season will begin in only a matter of months, so keep your property prepared and have your bush fire survival plan up to date and discussed with those in your family and household."
Commissioner Fitzsimmons' closing words are echoed in March 20th, 2020 being forecast as a Very High Fire danger day. Thankfully steady rain in recent days has lessened the Bush Fire threat - although not as much here as that which saw these same NSW RFS out helping people during the storm of February 2020 in and around Narrabeen Lagoon and all points south and north.

An overview of what had been done by January 2020 - although it went on beyond then, may be seen in:
Mark Trollope: New South Wales Rural Fire Service Volunteer - January 2020 Local NSW RFS Volunteers Tribute and in:
Sydney Wildlife Mobile Clinic's Inaugural Run Into The New South Wales Firegrounds Has Been Supported By The World's Leading Wildlife Organisations and Carers: January 2020 - because we lost millions of innocent animals, insects and their homes in the bush, too.
One bright moment is brought to us by the Hunter Valley Zoo which asked for the public's help on February 23rd this year for a name for their new born baby koala and by March 5th announced he will be called "FITZY" after the amazing NSW fire commissioner Shane Fitzsimmons.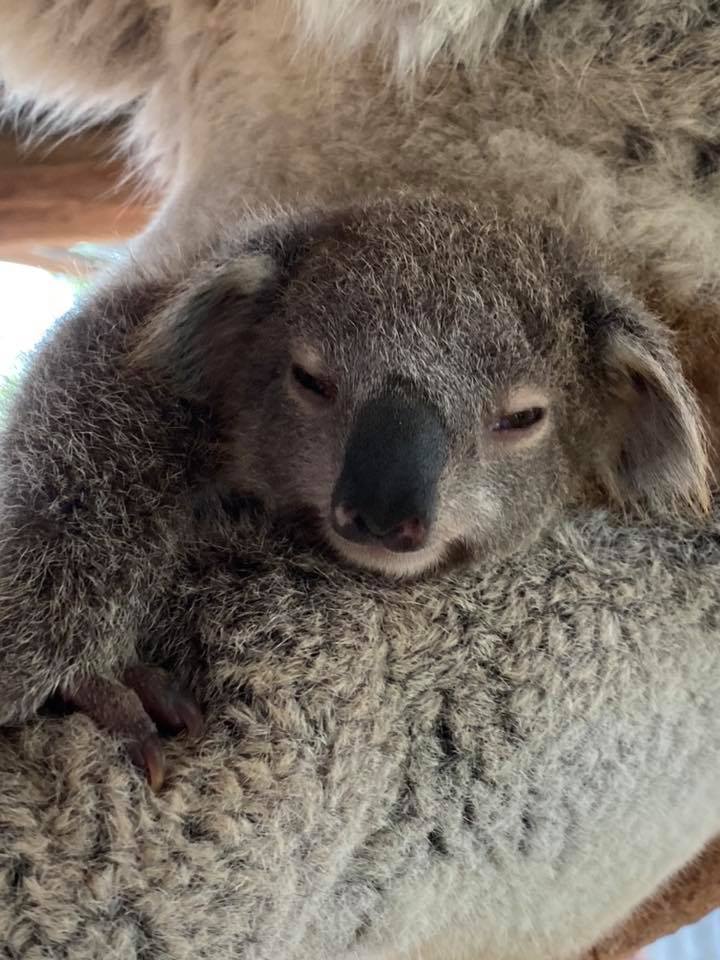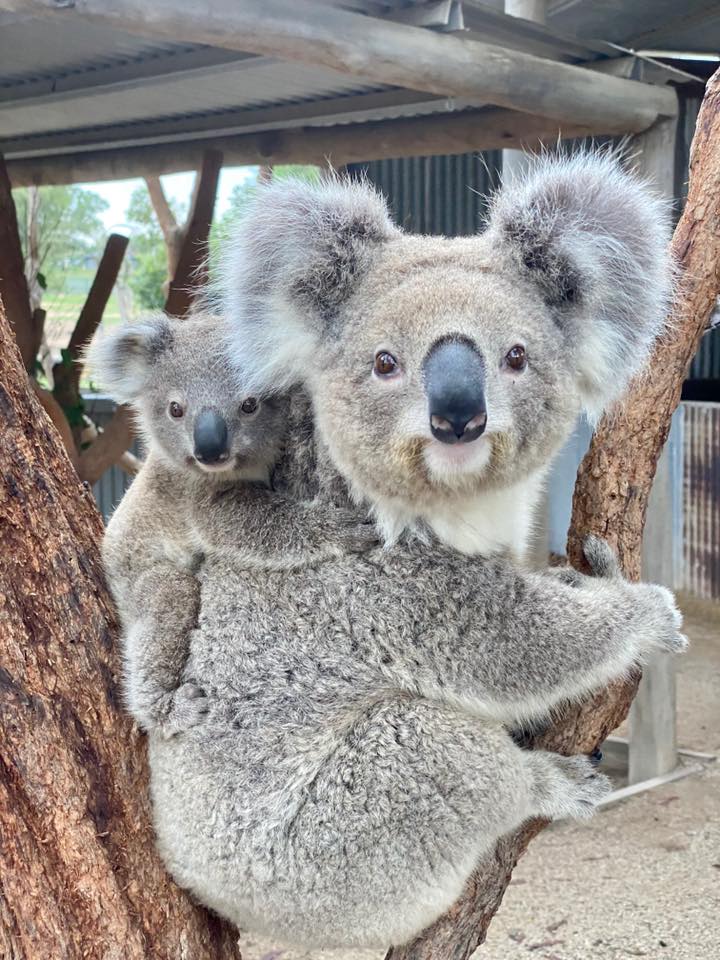 Left: ''Fitzy'' on march 5th and Right: Fitzy is bigger now and on mums back, April 3rd, 2020 - photos courtesy Hunter Valley Zoo, from Facebook post