April 25 - May 1, 2021: Issue 491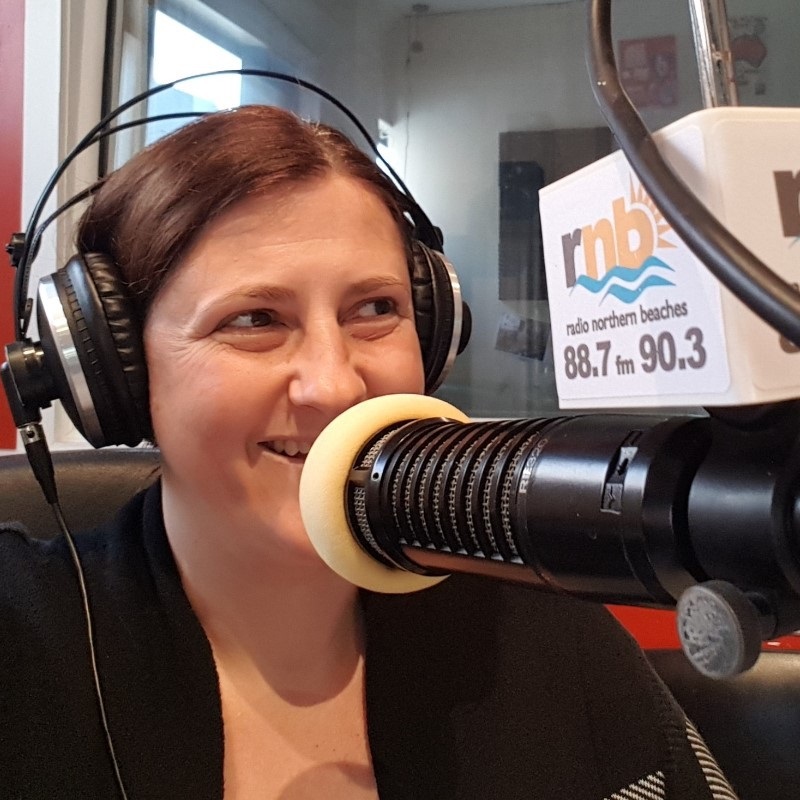 Community radio station, Radio Northern Beaches, has a wealth of talented professionals presenting a wide range of programs each week including that created and hosted by local author Brydie Wright.
Radio presenter and children's author, Brydie Wright, hosts By the Book, a weekly program about children's literature broadcast on Radio Northern Beaches (88.7/90.3FM) every Saturday at 3pm. In this question and answer session, she talks about her background and the inspiration for her show.
Our thanks to fellow Radio Northern Beaches presenter and journalist Wendy Frew for people this week's Profile together.
Brydie, tell us a bit about yourself
Ah, where to start? I grew up in Queensland but also in Sydney, and I moved to the Northern Beaches with my husband and newborn son eight years ago, so I still feel 'new' to the Beaches.
My career has been a mixed bag too. I've earned my living in TV production, business development and sales and event management, and now I work the retail sector – I'm a jack of all trades! But I have always been interested in the arts, in pop culture, and in writing and communicating. That's what led me to writing for children and producing and presenting a community radio program about children's books.
How did you get involved with Radio Northern Beaches?
I first encountered local radio via Penny Pedersen, an arts program presenter at Radio Northside. At a charity auction, I won an hour co-presenting with her on her show. I didn't cringe at hearing the playback of my recording, and my husband, my toughest critic, thought I had a voice for radio. I trained for years in speech and drama and did public speaking as a kid but had never been employed for these skills.
I saw an ad for a Radio Northern Beaches radio skills workshop about a year after my first radio performance and I thought, what's stopping me from giving this a go? I loved the course and the rest is history. The Radio Northern Beaches team put on a wonderful and engaging introduction to community radio that makes you feel you could easily host your own program.
When did you launch By the Book and why did you choose this subject matter for the show?
I launched By the Book in mid 2019 and it was really the only idea I had ever wanted to pursue for a community radio show. The needs of listeners of community radio are different from those of commercial radio or a national broadcaster, and I strongly felt I had the knowledge and wherewithal to produce and present a niche program that filled a need in the station's programming.
There were no shows for kids or for parents, and the 'mummy' audience is a huge one on the Northern Beaches. I had been a volunteer for the Children's Book Council of Australia NSW Northern Sydney sub-branch for a number of years so I knew there was a talented group of children's book creators living and working on the Northern Beaches.
By the Book isn't commercially focused; rather, it is about serving the community with relevant information and interviews about the active creative life on the Northern Beaches and about how parents, carers and educators can get their children involved with reading, with literacy initiatives, and with their local library service. I pepper my shows with children's songs and pop songs for adults, so all my content is uplifting and family friendly.
Tell me about why you decided to write your book Daddy and the World's Longest Poo?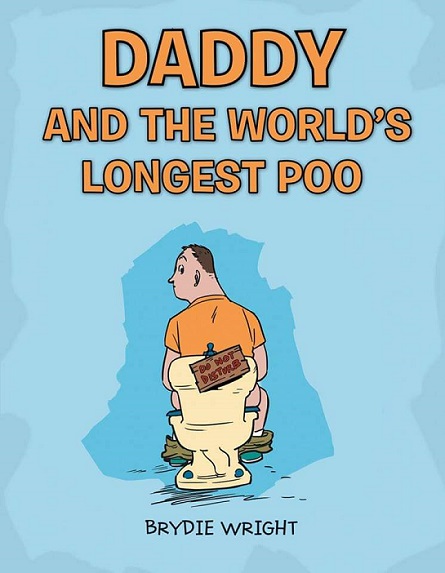 Some years ago, when I was on a short career break looking after my young son, I finally had the time to re-engage my brain with creativity and writing. My house is a pretty funny one at the best of times with a lively son and a quirky English Dad, so I took inspiration from real life events and wrote about my husband's love of long breaks on the toilet. I thought it was quite obvious - writing a book making fun of men's ability to spend hours on the toilet, from the innocence of a child's perspective. Surely, it would be an instant worldwide success and every publisher would want to snap it up? The reality was that many people found it funny but children's book publishers found it a bit controversial. So, I published it myself and invested in an international marketing campaign. To this day, kids love it and it is a very funny picture book that I am proud of.

What do you love about living on the Northern Beaches?

I love the community feel of the Northern Beaches. I have lived in many places, including internationally, and I'm not sure that anywhere I've been previously has had such a strong community bond and sense of itself. So many people have lived their whole lives on the Northern Beaches and while it's not my personal experience you've got to wonder why they stay and raise their own families here? There must be something special in the water! My English husband and water-baby son love it. If they're happy, I'm happy and I enjoy serving the local community with a radio program that celebrates the achievements and endeavours of local creative people.
What is your favourite place on the Northern Beaches and why do you love it?
I love the Narrabeen Lake area. I'm lucky enough to call it my local outdoor leisure centre. It's a wonderful place to take your dog for a walk, ride your bike, go for a picnic at Jamieson Park, hire a kayak or paddleboard, go for a dip, or meet friends at the waterside cafes.
You couldn't ask for anything more especially when our only relief during lockdown was to get some exercise. This area has endless possibilities for keeping active and clearing your head.
What do you love about doing your radio show?

Presenting your own community radio show is a wonderful gift. It's a form of self-expression but it is also an important responsibility to meet the needs of others. I love being able to bring what I hope is an hour of joy into listeners' lives every week and sharing my passion for children's books with others.

I hope I am doing some good for the community; it brings a great deal of value to my life.
Do you have a favourite episode?

I've produced about 70 episodes of By the Book and I have a soft spot for so many of the interviews I've done that it's really hard to pick a favourite. Probably, the ones that are most memorable relate to interviewing local heroes of mine, authors who are internationally successful and who are incredibly generous with their time and knowledge.
The interviews I'm proudest of are those with children's author Louise Park where she talked about the importance of fostering childhood literacy, and a recent interview I did with literary sisters Kate Forsyth and Belinda Murrell about their fascinating memoir, Searching for Charlotte, about their great-great-great-great grandmother, who was Australia's first children's author.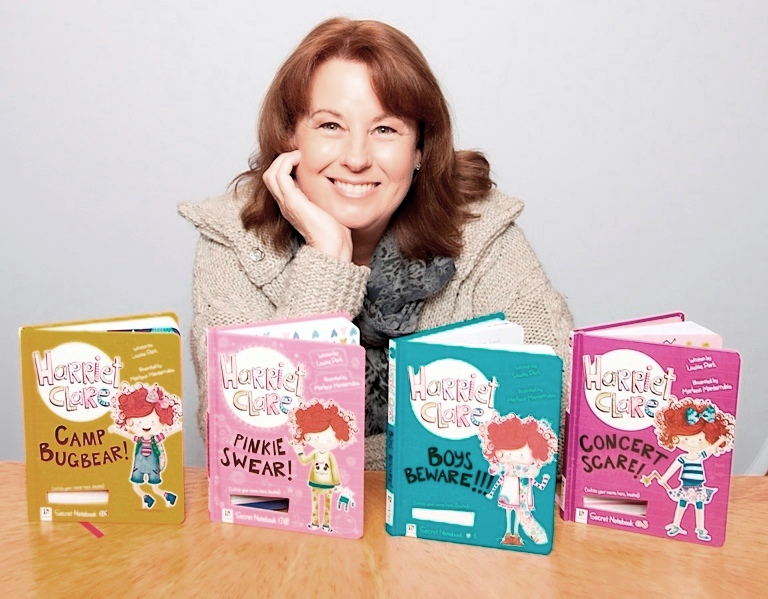 Louise Park
Photo L to R: Kate Forsyth and Belinda Murrell
What's coming up on By the Book in 2021?
I kicked off the season in January with a summer series of specials, including a school holidays episode. January also featured my interview with Sydney children's author Toni Brisland, who juggles writing with her volunteer role as Cat Adoption Officer at Monika's Doggie Rescue in Ingleside. Toni chatted about her work with rescued dogs and her inspiration for writing a biography for children about Nobel Laureate and Australian novelist, Patrick White.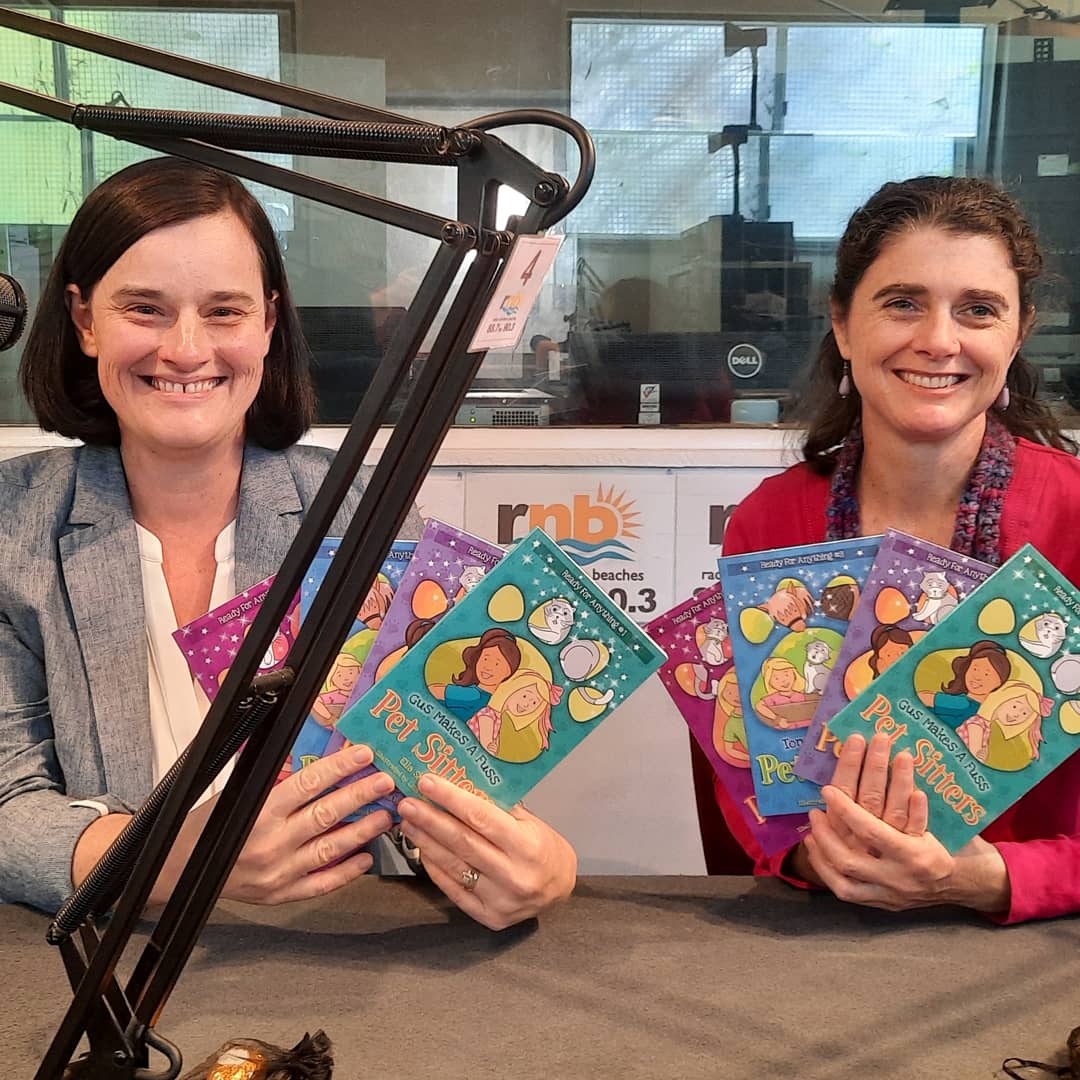 Cecily Paterson and Penny Reeve from 20th of April By the Book interview

In coming months, By the Book will air interviews with high-profile children's authors from the Northern Beaches, including Susanne Gervay OAM, one of the most influential book creators in the Sydney publishing community.
A prolific children's author herself, Susanne will share the story behind her latest publication Heroes of the Secret Underground, which will be published in April by HarperCollins.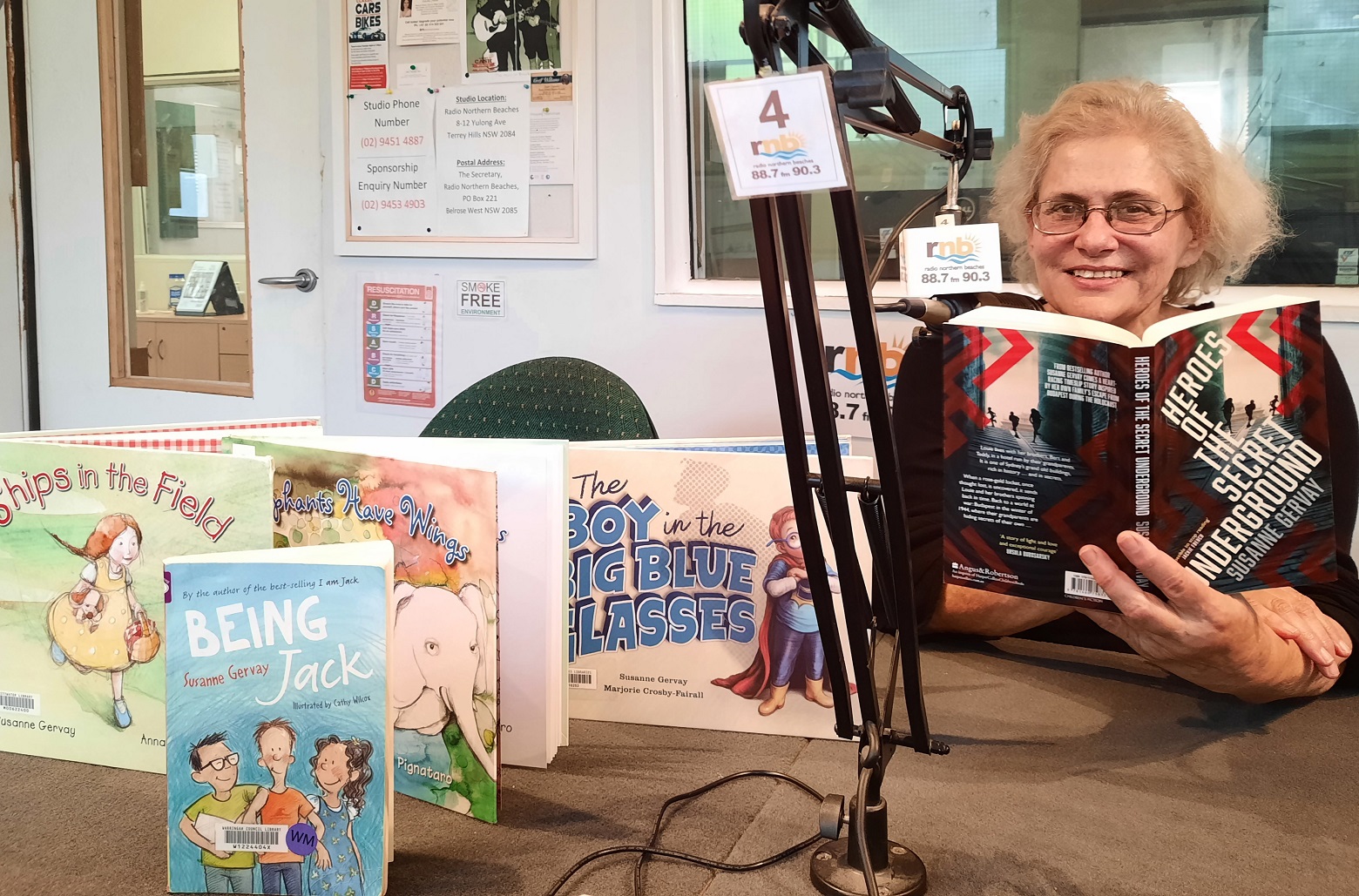 Susanne Gervay OAM

By the Book's 23rd March (9am) episode featured a special interview with local children's author, Jacqueline Harvey, whose junior fiction series Alice Miranda, Clementine Rose and Kensy and Max have sold well in excess of 1 million copies internationally.
Jacqueline shares the secret to having "the best job in the world" and the years of hard graft that it takes to become an overnight success in the world of children's publishing.
As Jacqueline launches Kensy and Max Episode 7 - Take Down, she reflects on the importance of writing intelligent literary role models for kids, getting to know your fans and giving back through literacy-based charities Australia Reads, Dymocks Children's Charities and Room to Read.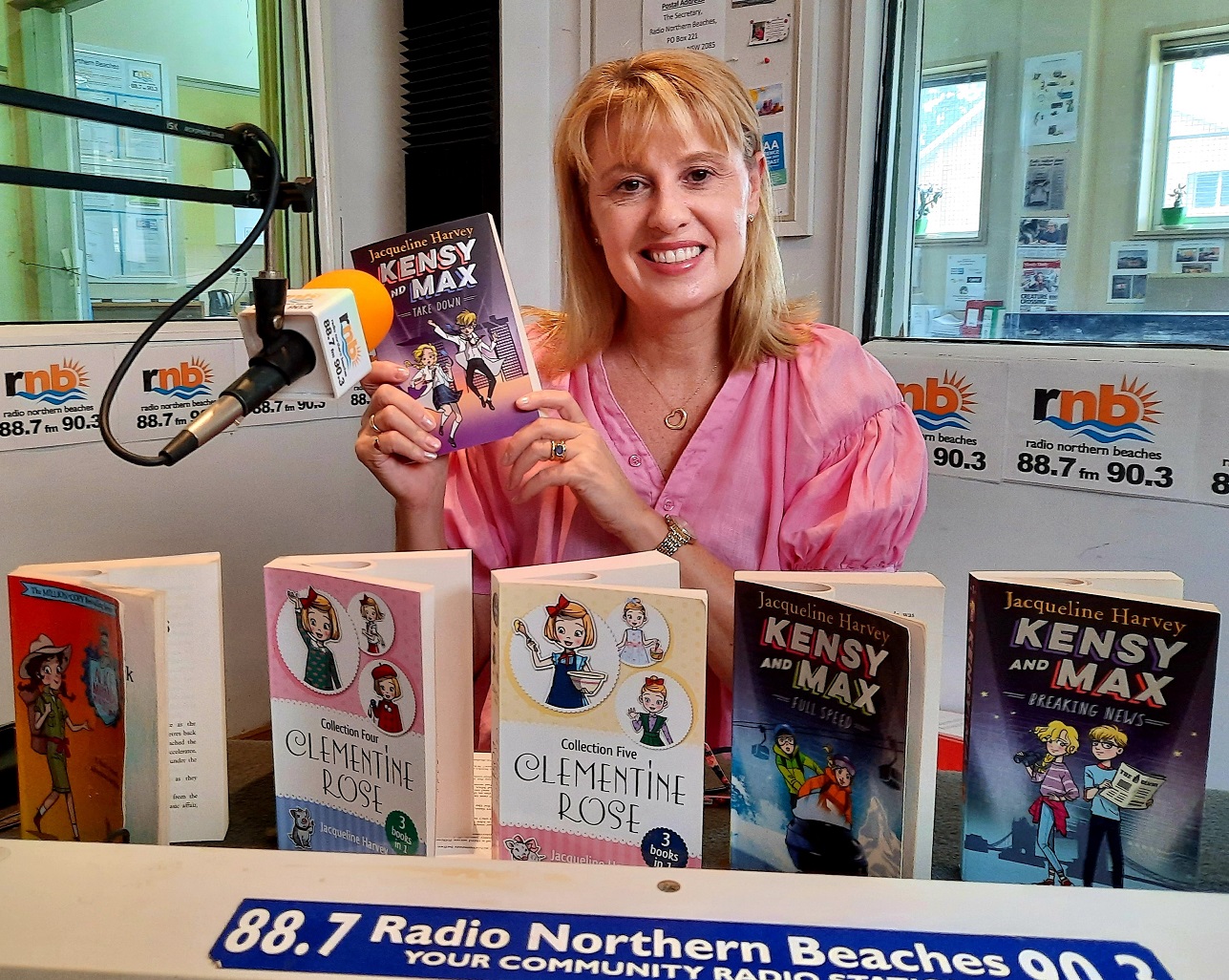 Jacqueline Harvey

You can listen to Brydie Wright's show, By the Book, on Radio Northern Beaches (88.7/90.3FM) every Saturday at 3pm, and Tuesday at 9am, or stream it from rnb.org.au. You can also listen at any time to any episode you missed at www.mixcloud.com/brydiewright.