December 18, 2016 - January 7, 2017: Issue 294
Marine Rescue Broken Bay Marine: Promotions, Citations and Summer Safety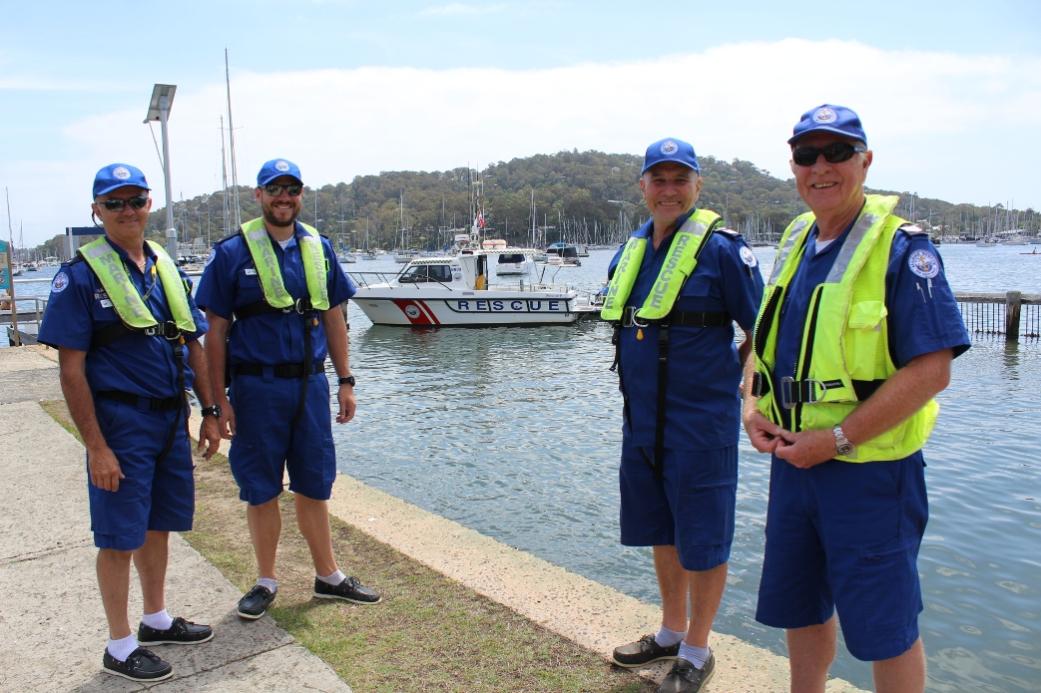 On Saturday 10th of December 2016 several members of Broken Bay Marine Rescue Base at Rowland Reserve (Bayview) were awarded for promotions and the award of a citation for rescuing a yachtsman on Sunday 23rd October 2016 was presented.
On Sunday 23/10/2016, Rescue Vessel Broken Bay 20 (BB20) at about 12:30pm was located near the entrance to Careel Bay. Fortunately, the crew of BB20 overheard a VHF radio call to Marine Rescue Sydney saying that a "man-over-board" (MOB) from a yacht had occurred. Soon after it was escalated to a "may-day" situation. The crew of Rescue Vessel Broken Bay Two Zero consisting of John Sutton, John Weaver and Joe Ellams
proceeded at full safe speed to the broadcast position. (BB20 is a 6.5 metre rigid hull inflatable boat with the crew having little protection from incoming seas). The position was approximately 1.5 nm due East of Macmasters Beach where it was thought that the sailor had fallen overboard. (Later it was discovered that the sailor had been washed overboard).
The sea conditions at this location were rough, 4-5 m swells together with 40kmph wind. BB20 arrived in the vicinity at about 12:55 p.m. and immediately turned due East in order to cover the area in the yacht's wake. The sailor was sighted by BB20 quite soon and safely recovered by 1 p.m. This was most fortunate because the sailor was wearing dark clothes and not wearing a life jacket. This helped to explain why neither of two helicopters in the search area had been able to spot him. This sailor was bruised and cold but otherwise unharmed. He was immediately wrapped in a space blanket. Due to the strong SE swell, and to avoid further injury to the rescued sailor BB20 had to make a lengthy passage back to Pittwater heading SSE before turning back into Pittwater once abeam Barrenjoey lighthouse. On return to Pittwater, the sailor was transferred to a Police vessel and BB20 returned to Base at Bayview as soon as practicable to avoid getting hypothermia themselves.
Promotions and Citations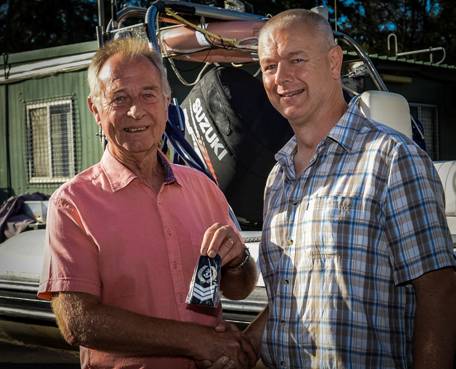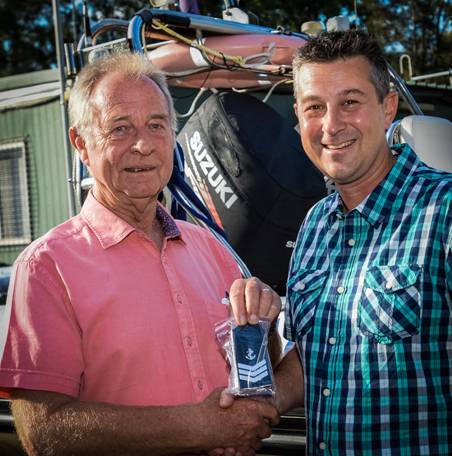 Michael Charlton "Coxswain"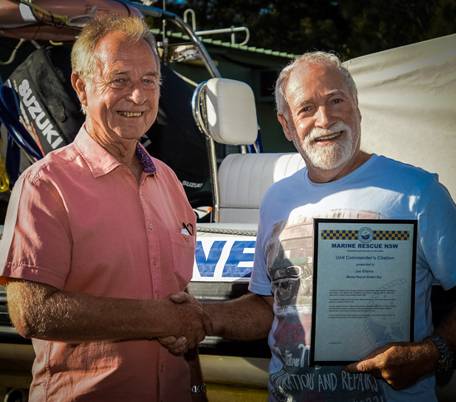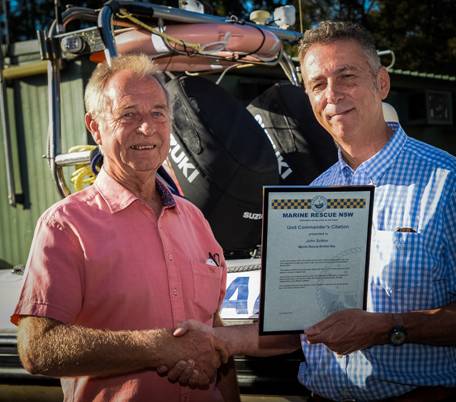 Joe Ellams one of the rescue crew of the "over board" yachtsman and
John Sutton Skipper of rescue vessel that found and saved the yachtsman.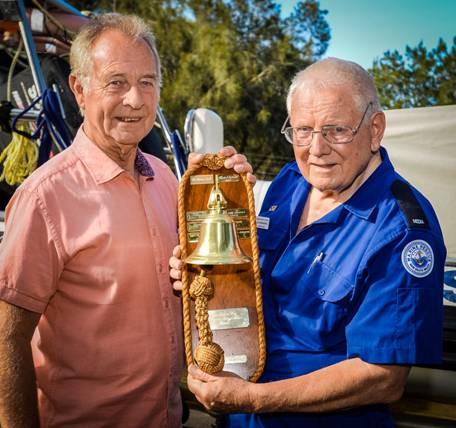 Victor Lawrence Unit Commander of Broken Bay Unit, and
Lt Alan Turner-Morris, holding the bell: awarded for promotional work on behalf of the Unit.
Qualification of those receiving awards.
"Coxswain": This person can be in command of vessels up to 8m long and go to sea up 15nm.
"Master": a person with more experience than a Coxswain, who can command a vessel to sea up to 30nm.
Top 10 tips for safer summer boating
With extra traffic on our waterways up and down the coast, Marine Rescue NSW has reminded boaters to make safety on the water their top priority this summer.
MRNSW's handy Top 10 Summer Boating Safety Check List was designed to help boaters ensure they were well prepared for an enjoyable and safe outing.
Tell your local Marine Rescue radio base when you go out and when you'll be back. Log On with your marine radio so MRNSW knows you're out there and Log Off to let us know you're back;

Wear your lifejackets. Lifejackets save lives – but only when you wear them.

Travel at a safe speed and keep a good look out. A safe speed is one at which you can stop quickly in an emergency. A good look out means the skipper is always aware of conditions around the boat;

Check your mechanicals and electricals before you go. More breakdowns are caused by mechanical and electric faults than any other cause. See www.50pointcheck.com.au for the Boating Industry Association safety check;

Check your safety equipment before you go. This includes lifejackets; marine radio; anchor and chain or line (attached to the boat!); emergency flares; EPIRB if going out 2 nautical miles or further; bailing bucket; fire bucket; fire extinguisher; navigation lights, orange V-sheet; and waterproof torch. Smart skippers will also have First Aid and tool kits on board;

Make sure your fuel is fresh. Old fuel causes serious problems that can leave you stranded at sea. This is a common problem with fuel tanks for outboards;

Call your local Marine Rescue radio base for a radio check. The Marine Rescue operator will tell you if your radio signal is strong and clear – or if it's not, so you can fix it before you need it;

Check the weather forecast before you go. Go to www.bom.gov.au first. Then listen for weather updates on your marine radio or call your local Marine Rescue base for the latest information;

Know your position. If you break down out there or any other emergency strikes, we need to know where you are to come and help. If you don't know where you are, it's harder for help to reach you.

Take extreme care crossing bars. Do not attempt to cross a bar you've never crossed before without getting local advice. Then prepare and plan your crossing. If in doubt, don't go out.
Marine Rescue Broken Bay
Boating Emergency
Radio for help!
VHF Channel 16 (distress & emergency)
or 27 MHz Channel 88
Contact our Base
Telephone: (02) 9999 3554
VHF Ch 16 of 27MHz Ch 88
In addition to our primary role of safety on the water, both on Pittwater, Broken Bay and out at sea, Marine Rescue Broken Bay provides education to the boating public, including Boat & PWC licence courses, Marine Radio (Both SROCP and LROCP) courses and Flare usage and demonstration.
Marine Rescue Broken Bay is available Weekends and Public Holidays from Sunrise to Sunset to assist distressed vessels in need of a hand.
Pittwater and Broken Bay is found amongst the backdrop of Sydney's northern beaches, it hosts some of the best recreational boating grounds found anywhere in the world. There are over 103,000 boat licence holders in the Pittwater, Hawkesbury and Brisbane Water region, many of which are sailing, fishing or water-skiing most summer weekends.
Like any harbour or waterway, the weather plays an important part in your ability to enjoy your boat safely. Sea state and wind conditions can change rapidly, in addition to tidal movements..what was a nice day can suddenly become a dangerous situation. When bad weather is combined with mechanical failure - lives are at risk.
Marine Rescue exists to prevent tragedies from occuring on the water. As a rapid response service for boating craft in any kind of trouble, we have the capability to jump-start batteries, tow boats to safe locations, administer first-aid, assist NSW Police in coordinated search and rescue operations and provide water-safety for aquatic events.
However, in order to serve you more efficiently we need to provide for the purchase of new vessels in the near future. To provide these new assets will require significant fund raising from the public. Please support our volunteers when you see them, buy a raffle ticket or a sausage. Donations are always gratefully received.
Report by Lt. Alan Turner-Morris, Broken Bay Marine Rescue