October 13 - 19, 2019: Issue 424

Broken Bay Barges & Sydney Commercial Diving Services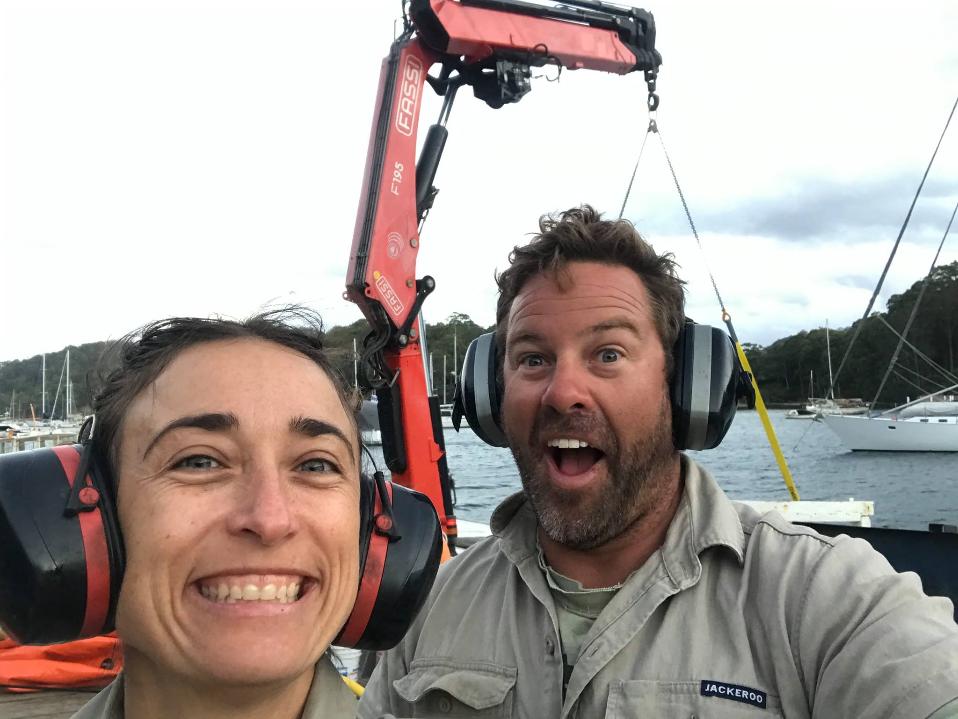 Taylor'd Marine Services T/A Broken Bay Barges & Sydney Commercial Diving Services are owned and operated by Lovett Bay locals Brent and Bianca Taylor.
We service Broken Bay from Pittwater to Brisbane Waters and the Hawkesbury River.
Brent is a commercial diver and has been a member of the Pittwater off shore community since 1996.
Brent Taylor co-director of Broken Bay Barges has worked in Sydney and Pittwater as a professional diver since 1998 and has vast experience in salvage, search and recovery, underwater demolition, aquaculture, hull cleaning, mooring inspections and repairs.

Brent is one of the most accredited operators within the industry:

Master < 24 Unrestricted
MED3
Commercial Diver AS2815.2
Cert IV Trainer and Assessor
60ton Mobile Crane Operator
Senior 1st Aid
Heavy Rigid Truck Licence
Frontend Loader Operator
Brent's mermaid Bianca is a long distance ocean swimmer and Production Manager in Film & TV.
Bianca has 21 years experience in Film and TV production. As a freelance Production Manager, Bianca adapts her approach to the clients needs from conception to completion, creating and maintaining budgets, cost reports, risk assessments and safety management systems, insurances, crewing, travel and logistics, accounts and final delivery of projects on time and on budget.

OUR SERVICES
Quality Work, Great Rates
Together, with our barges Bruce and Bradstow, we offer all above and below water services including:
Barge Hire
Salvage
Vessel Recycling and Disposals
Mooring Management
Diving Services
We pride ourselves on community engagement and are passionate about recycling and cleaning up our waterways.
With 'Bruce' a 12 x 8m road transportable crane barge equipped with a Fassi F195A.25 crane that can lift 5100kg @ 2.6m and 500kg @ 19.3m. and the Bradstow, we are available to tackle all of your above and below water needs.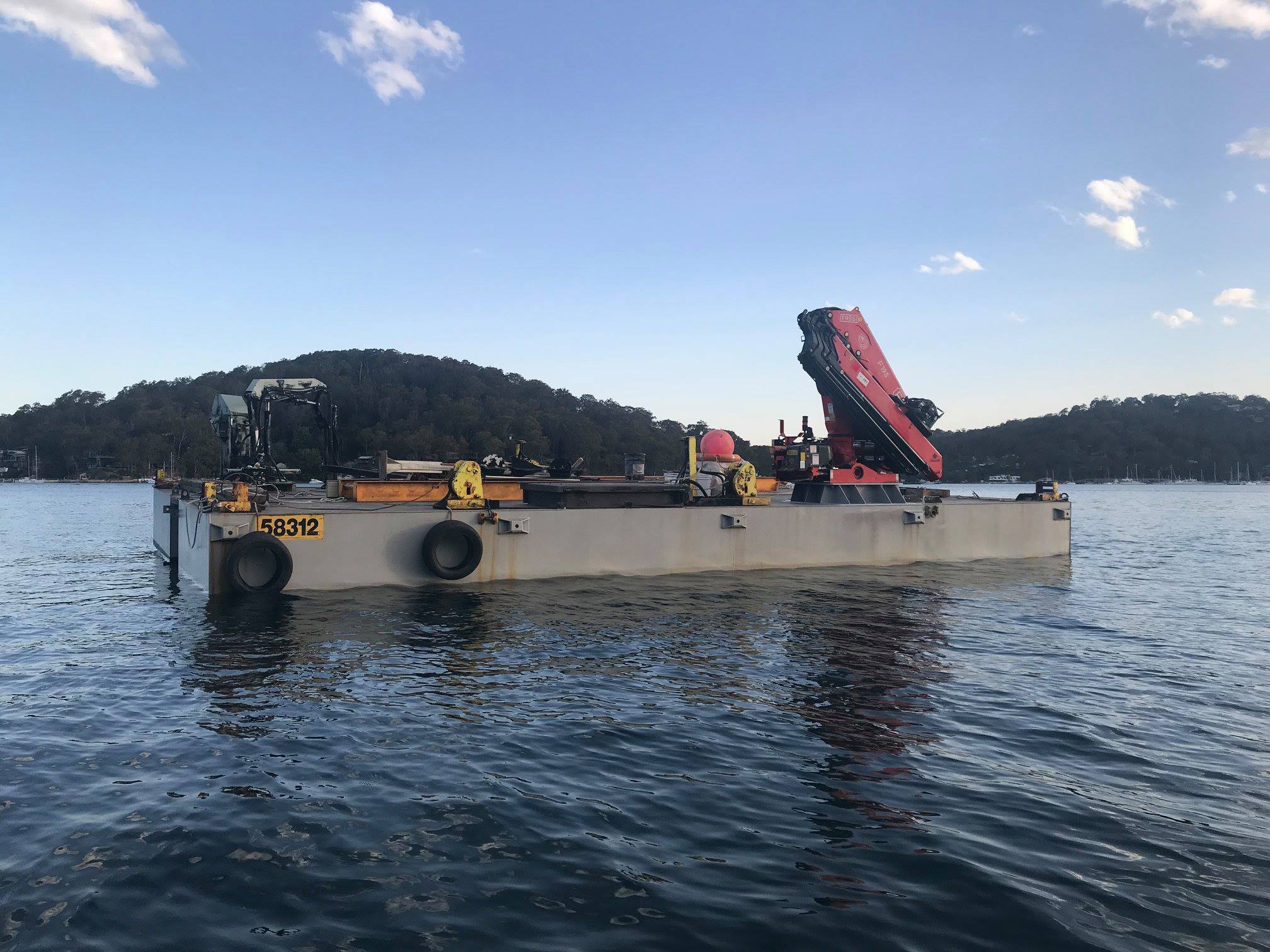 Bruce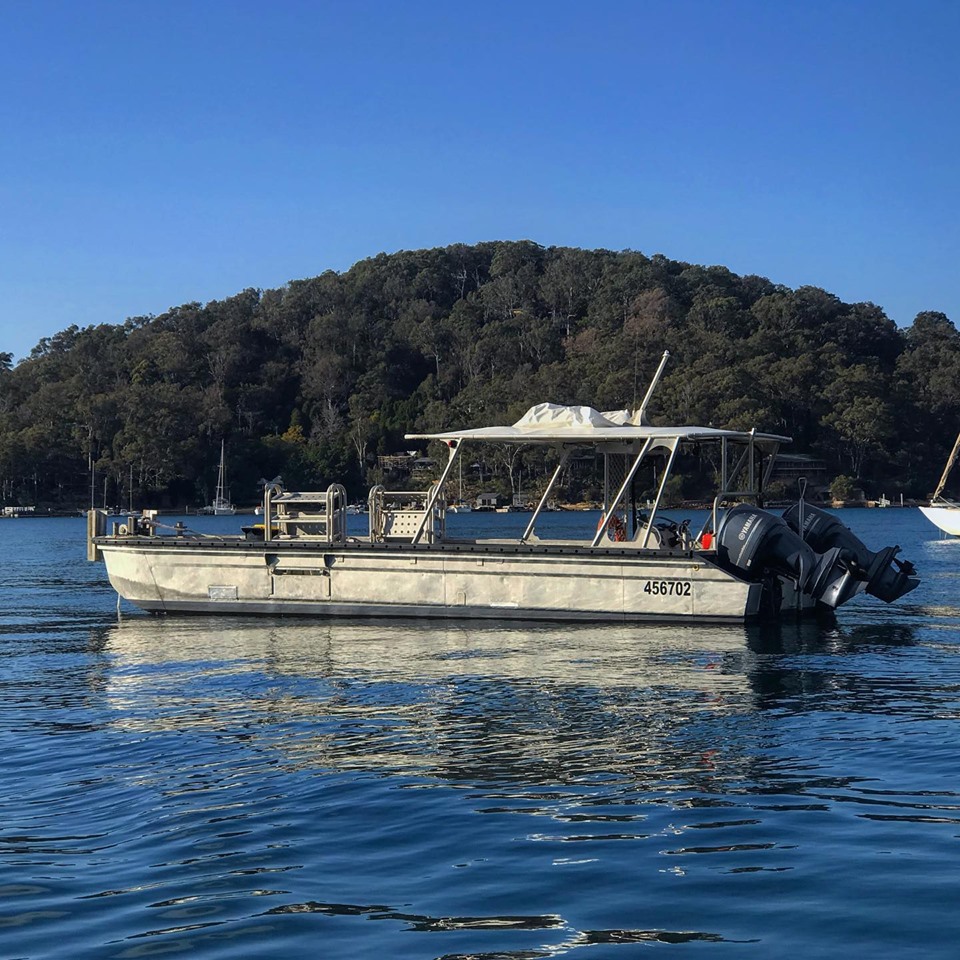 The Bradstow

SALVAGE
We provide an efficient and quick response salvage service, no matter how big or how small the vessel.
We can lift 30t + with crane and lift bags.
VESSEL DISPOSAL
​We live by a strict environmental code and provide a fully transparent, cost effective environmental vessel disposal service with minimal impact on land-fill.
How?
We recycle all recyclable materials and repurpose everything we can to reduce the impact on landfill as all remaining materials are taken to the tip.
In September 2019 the team at Broken Bay Barges celebrated it's 30th vessel disposal and over 20 tonnes of materials recycled and repurposed.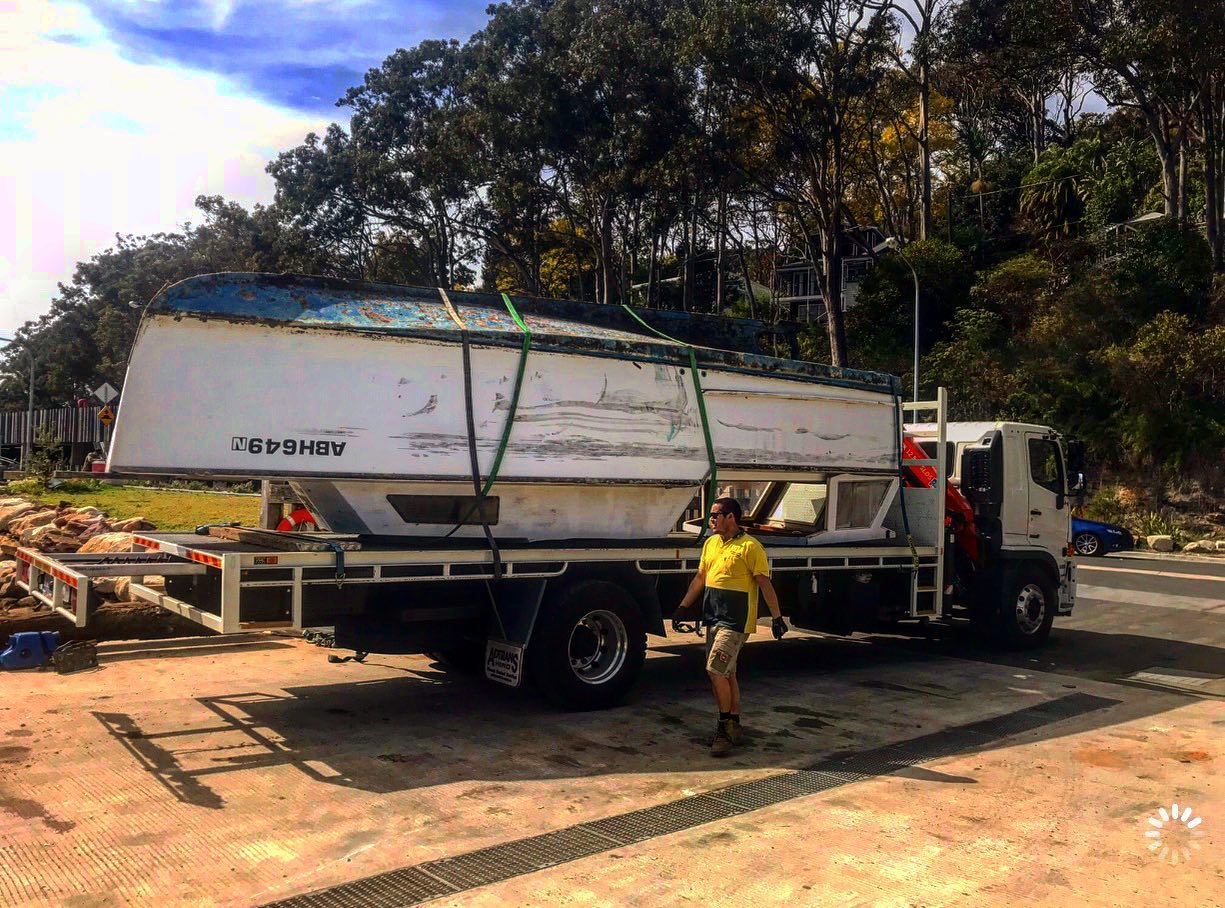 MOORING MANAGEMENT
Our Mooring Management Service includes certification and we can service your pride and joy all at the same time.
To ensure your mooring is installed correctly, Roads and Maritime recommends you engage an experienced mooring contractor and use only quality materials. To ensure it remains in good condition, the mooring apparatus must be serviced every 12 months or more frequently if it is subject to specific mooring conditions. See details below from RMS webpage on Private Moorings.

The safety and security of your vessel depends on secure mooring facilities.
We provide a complete service of mooring installation, inspections, servicing, removals, recovery and certification.
Whilst servicing your mooring we can also clean your hull and running gear and check your anodes.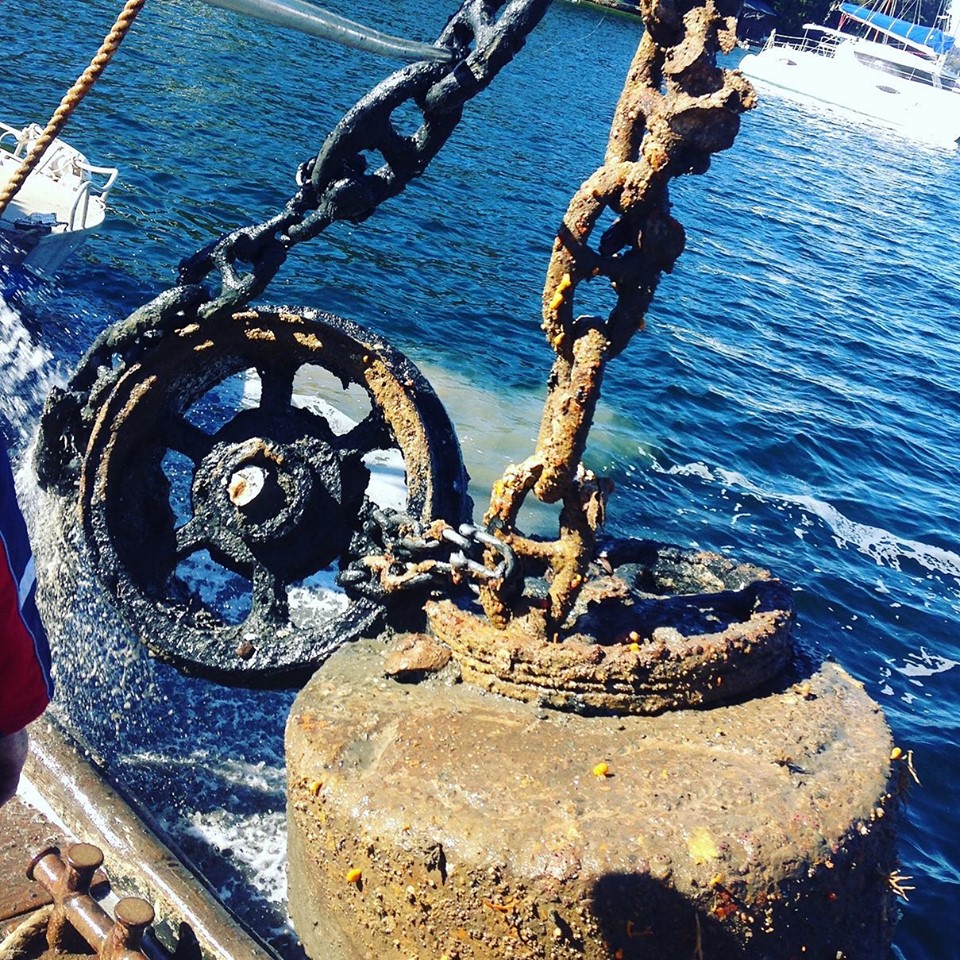 STAYING AFLOAT
Prompt action will reduce damage and repair costs. Our 10m high speed barge can get to you fast in emergencies to keep you afloat!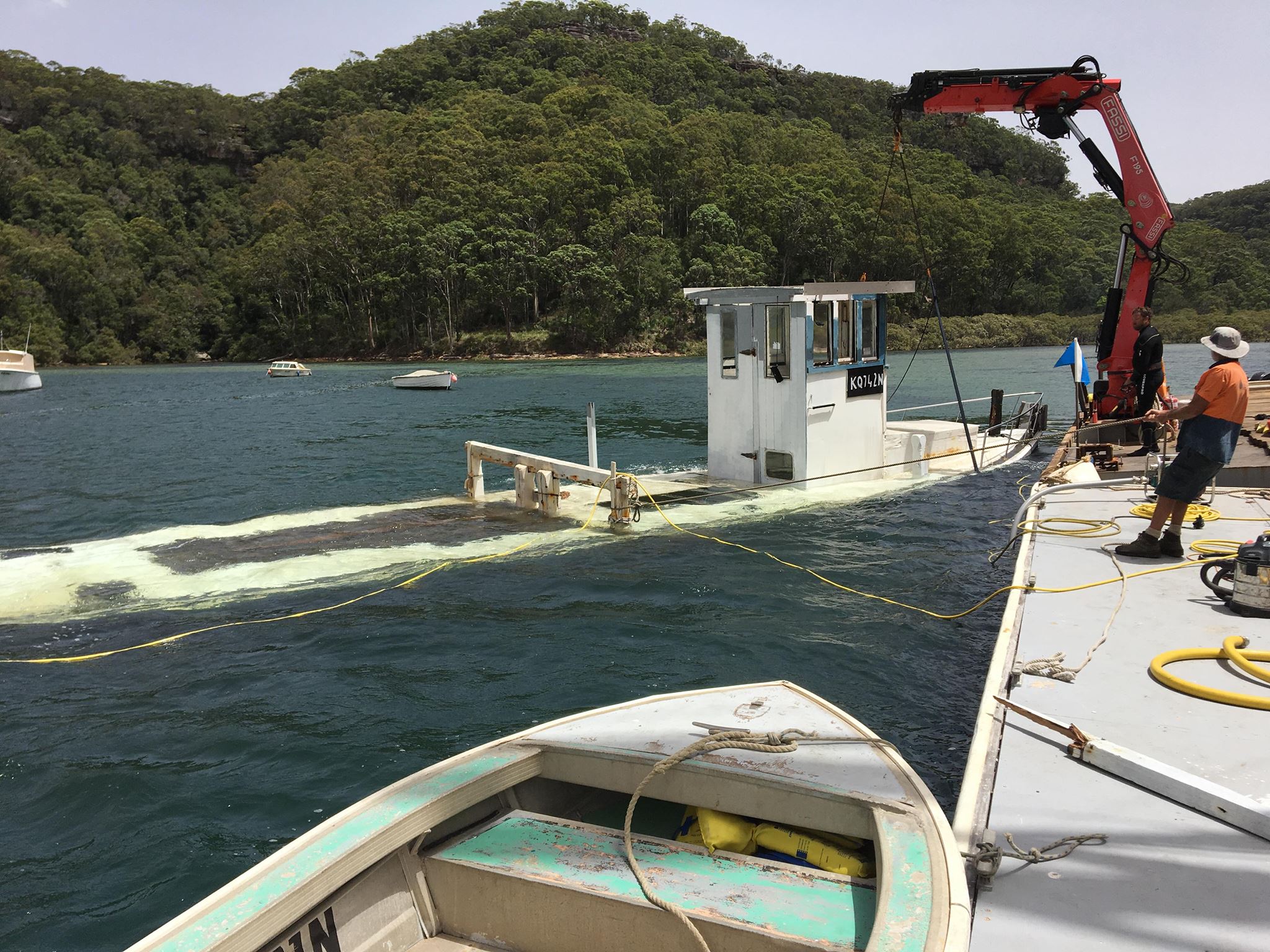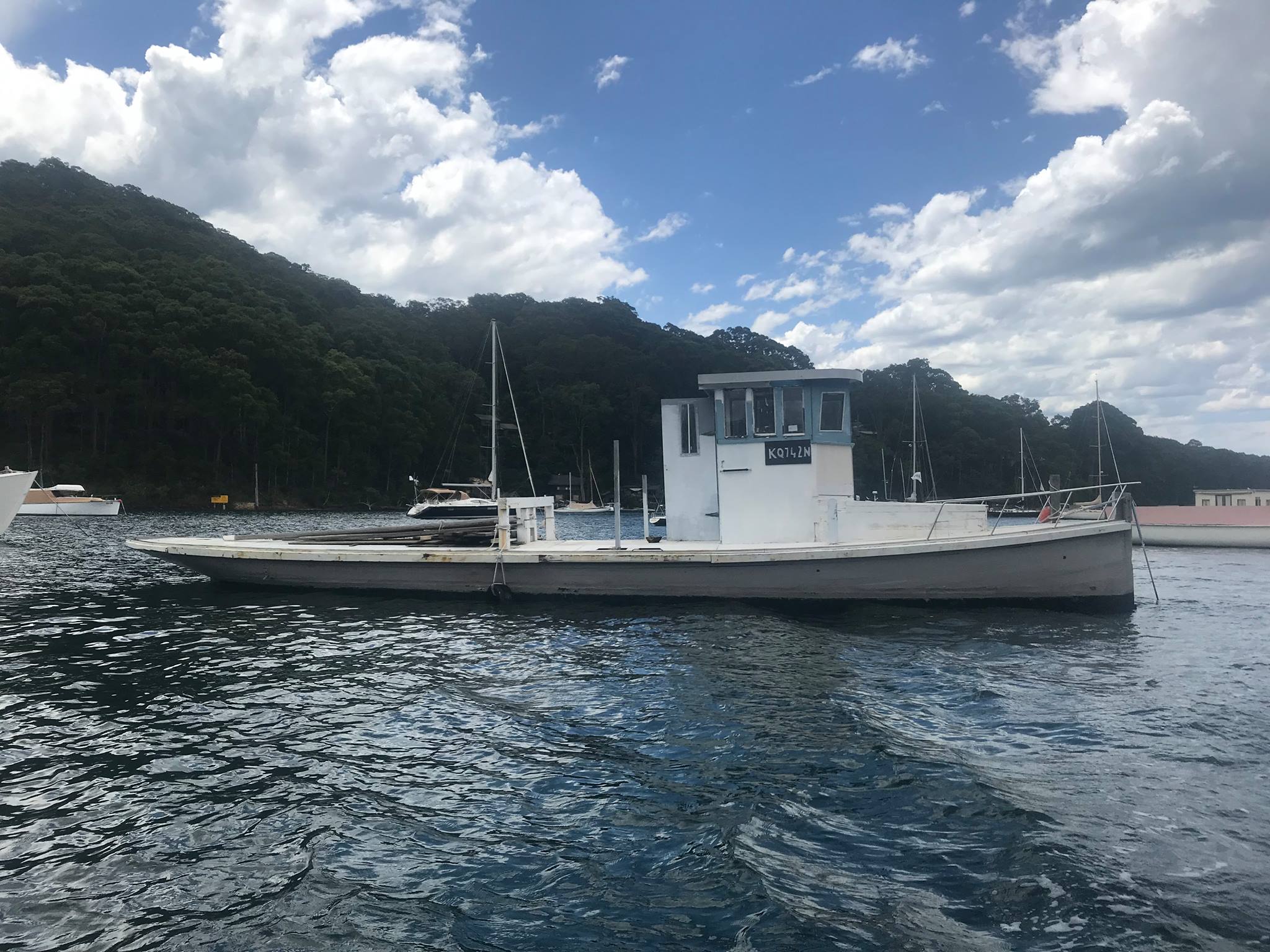 Salvaging the 60ft Tug 'Argos' in Lovett Bay in February 2019

I have to say a massive thank you to Broken Bay Barges and Sydney Commercial Diving Services for their absolutely spectacular work in raising my precious old girl from her little underwater holiday.

After a thorough assessment today, I am amazed to see that the entire re float has been conducted with such skill that the vessel is effectively unmarked - an incredible feat considering the size and weight of the vessel.

I can't recommend Broken Bay Barges highly enough, these are the guys you want on your side when the chips are down. I personally thank you, but more importantly, the Argos thanks you, for your part in ensuring her continued existence beyond her already amazing 116 year life. - Peter Duffy - owner The Tugboat 'Argos'
CARGO TRANSPORTATION
Bruce has a transport capacity of 33+ tonnes, including building materials, supplies, building equipment to water access only properties.
We offer a rubbish removal / tip service also.
BARGE HIRE
Our 12 x 8m Road Transportable Crane Dumb-Barge 'Bruce' can be dispatched at any time to be onsite quickly and start working on your next project.
We provide specialist on-water support for all drilling needs, under water excavating, dredging, salvage, bridge work, EWP on water and under bridge work.
DRONE AND FILM
We provide the perfect vessels and full production support for commercial and private film work in Broken Bay, Sydney Harbour, Central Coast and Hawkesbury areas.
BRADSTOW - the 10m high speed crew transfer and drone barge.
BRUCE has an 8 x 12 m open deck for up to 12 shoot crew and 4kva generator.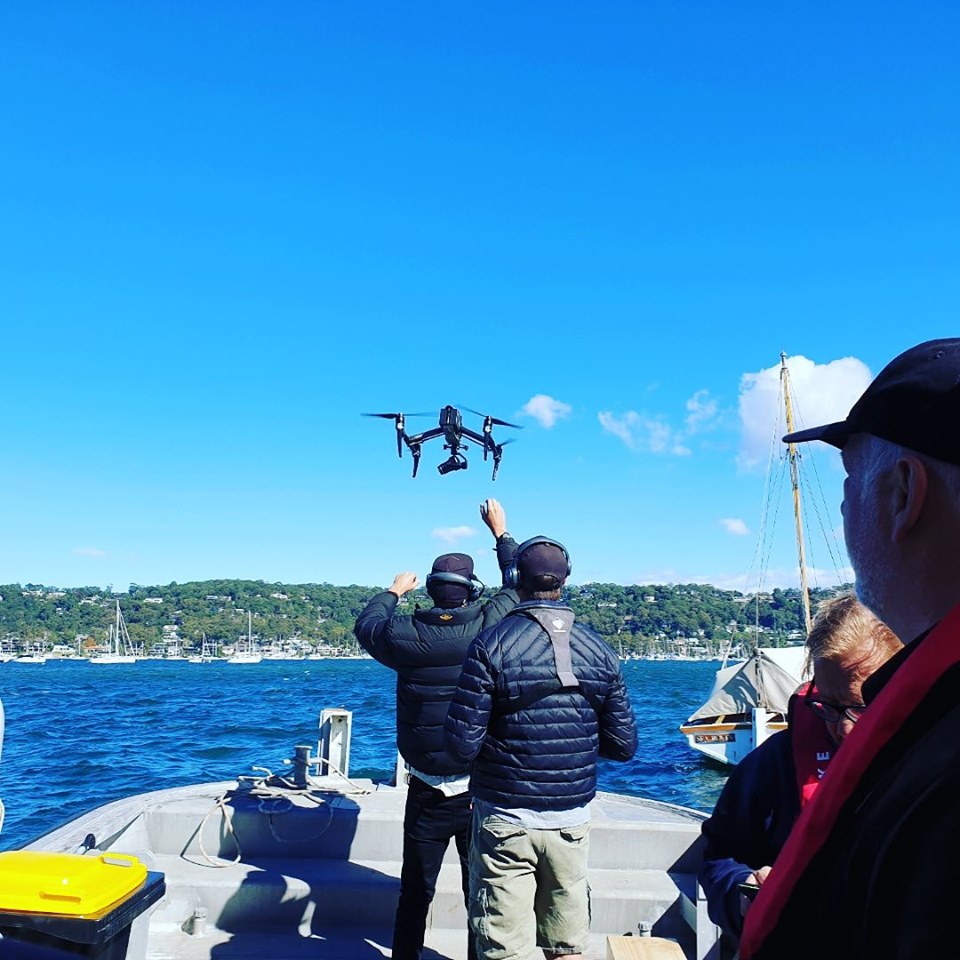 SEARCH & RECOVERY
Lost something? Don't worry we can find it, from wedding rings to vessels and everything between.
We look forward to servicing all your above and below water needs!
Brent & Bianca
0409 269 404
taylordmarine@gmail.com
www.brokenbaybarges.com.au
Private Moorings Roads & Maritime Services Information
Retrieved from: www.rms.nsw.gov.au/maritime/moorings/private-moorings.
What is a Private Mooring Licence?
A Private Mooring Licence permits you to moor your vessel on navigable waters. Renewed annually, this licence is not a lease of the seabed and there is no guarantee of tenure. The general position of the site is determined (and may be varied) at the discretion of Roads and Maritime Services. However, it's the responsibility of your chosen mooring contractor to ensure that the mooring and its location are suitable for your vessel.
A Private Mooring Licence is subject to special conditions. Non-compliance with these conditions may result in the cancellation of your licence and/or any liability insurance for your vessel becoming null and void. See the Private Mooring Licence conditions for more information.
Generally, the maximum number of mooring sites that can be accommodated in any area is subject to a number of considerations. These include water depth, navigational requirements, seagrass beds and foreshore facilities.
A Private Mooring Licence cannot be sublet or traded in any way.
For specific conditions and issues that may relate to your mooring area, please contact Roads and Maritime on 13 12 36.
Private Mooring Licence fees
The annual mooring licence fee is determined by the mooring location and vessel length. If this is your first Private Mooring Licence, an establishment fee will apply.
If you need to change the vessel on a mooring or relocate a vessel to a different mooring site within the same area, conditions and additional mooring fees will apply.
Obtaining a Private Mooring Licence
Private Mooring Licences are only issued to individuals. They're not issued to a partnership, company, organisation or association.
A person may not have more than two private moorings in the one designated mooring area.
In mooring areas designated 'Residents Only', a person may not have more than one private mooring. Please contact Roads and Maritime for more information.
A Private Mooring Licence is only issued when:
The vessel licensed to the mooring is 5.2 metres or more in length; and
The vessel is registered in NSW or holds a Certificate of Operation or Unique Identifier issued under the Marine Safety (Domestic Commercial Vessel) National Law Act 2012 at all times in the name of the Mooring Licensee.
Before the licence is issued, the vessel will be subject to a visual assessment. See visual suitability of vessels on moorings to ensure that it's suitable for your preferred mooring area.
If there isn't a vacancy at your preferred mooring area, you can, on application and payment of the appropriate fees, have your name added to a Priority Waiting List. These lists are maintained in strict order of receipt of application and payment.
What is a Priority Waiting List?
Priority Waiting Lists exist for each designated mooring area where mooring sites are not immediately available. These lists have been developed to ensure fair and equitable access for all users.
An application fee is required, based on the minimum mooring fee for the area. When your licence is issued, this fee will be deducted from your initial Private Mooring Licence fee.
Mooring apparatus
Any costs associated with the purchase, installation and servicing of mooring apparatus are your responsibility. On cancellation, you are required to remove the apparatus from the seabed.
Mooring buoys
Mooring marker buoys must be yellow in colour and clearly displayed at all times. The issued mooring licence number should be written in characters at least 50mm high. Roads and Maritime recommends that you use one of the commercially available buoys supplied by ship chandlers or mooring contractors.
Mooring maintenance
Moorings must be adequately maintained, so that they remain able to secure your vessel in the worst conditions.
To ensure your mooring is installed correctly, Roads and Maritime recommends you engage an experienced mooring contractor and use only quality materials. To ensure it remains in good condition, the mooring apparatus must be serviced every 12 months or more frequently if it is subject to specific mooring conditions.
Failure to maintain your mooring apparatus in good condition may result in mooring failure and your vessel going adrift, which can have consequences. Penalties may also apply in this situation.
Proof of mooring service must be produced to Roads and Maritime on request.
As the mooring licensee, you're responsible at all times for damage caused by your vessel and/or mooring apparatus to any other vessel or property. It's strongly recommended that you have adequate insurance to cover such contingencies as Roads and Maritime bears no responsibility.
Failure to service your mooring may result in cancellation of your Private Mooring Licence for breach of a condition of the licence and your liability insurance becoming null and void.
Vacancy
Your vessel must not be absent from its mooring for more than 28 consecutive days, unless Roads and Maritime has been notified in writing and written approval has been provided. While your vessel is absent from the mooring, no other vessel is authorised to occupy the site.
Change of vessel
You must notify Roads and Maritime if you intend to change the vessel licensed to your mooring, to allow for the re-assessment of space requirements. Once a suitable replacement vessel is purchased, you must complete an Application to Change Vessel on Mooring (and include a recent photograph of the vessel that you intend to attach to the mooring) then pay the appropriate fee.
Transferring a Private Mooring Licence
The transfer of your Private Mooring Licence is subject to conditions and subsequent approval by Roads and Maritime. An Application for Transfer of Private Mooring Licence must be completed and submitted together with the appropriate fee.