March 13 - 19, 2022: Issue 530

Brad Johns: His Bravest Battle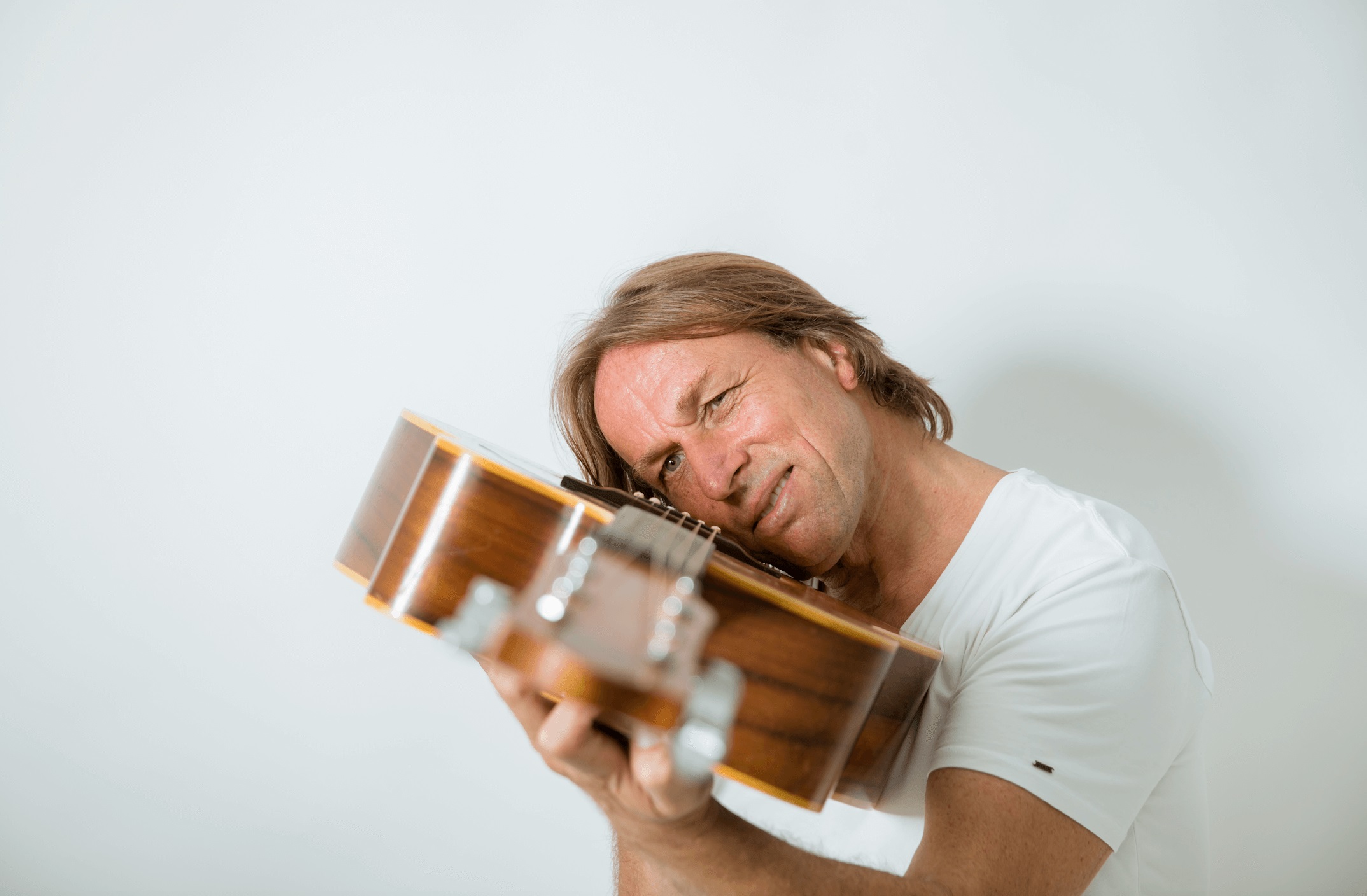 One of Australia's most well loved, hard working and most heard musicians, Brad 'The Human Jukebox' Johns, has had more than his fair share of challenges in recent months.
Firstly, like so many Artists, Covid lockdowns meant he lost all of his work and income.
On October 11th 2021 his dad, legendary musician Frankie Johns, passed away just a few days short of his 97th birthday.
A few weeks later Brad was diagnosed with pancreatic cancer.
As he explained on a fundraiser page set up to try and meet the costs of treatment;
''As many of my close friends, family and fellow musicians know I made the move to the Gold Coast at the beginning of January 2021 after being evicted from my unit and losing all my regular gigs in 2020 due to Covid lockdowns. I moved to Queensland to be closer to my father and family.

After suffering lingering symptoms similar to food poisoning that developed in April 2021, I consulted several GP's who could not diagnose any ailments prominent or relating to something as serious as Pancreatic Cancer. I had numerous CT scans and ultrasounds throughout the year to no avail.

In early November 2021 I had an endoscopy and biopsy revealing a malignant tumour 2cm by 3cm on the neck of my pancreas.

With numerous delays for treatment in the public sector of the Queensland medical service I was advised to return to Sydney for immediate treatment from an expert surgeon and oncologists who designed a chemo treatment program.

Chemo was delayed in Sydney due to underlying ailments such as a blocked bile duct in my liver and a blood clot in my portal vein. The pain and nausea sometimes threw me into a state of despair.

I went into St. Vincents Hospital and had three general anaesthetic operations three days in a row followed by three local anaesthetic operations, nine procedures in twelve days, a liver drainage bag, a metal stent put in my liver over Christmas, then four more trips to hospital extracting 11 litres of fluid, a further 5.5 litres then 13 litres. This is an ongoing process to get my liver functioning normally again.

These issues caused me to drop in weight from 85.5 kg when I was healthy to 55.5kg making it a loss of 30kg in less than four months.

Never have I felt such pain, nausea and heartbreak as I am experiencing during this chapter of my life.

I am not the type of person who seeks or asks for financial assistance being the type of musician who would work 6 to 8 gigs a week year upon year. I consider myself fiercely independent however losing my capacity to work is now rendering me financially struggling which is why I'm taking friends' advice to help raise money for my medical expenses and accept a benefit concert to help me out.

I feel I'm a staunch fighter and I don't feel like I'm ready to die just yet however I do get into moments of despair due to changes in my body from all the procedures.

I would really appreciate any financial help for the following:
Travel care to Sydney
Whipple Procedure and other treatments from Dr Haghighi in Prince Of Wales
HomeCare nursing twice weekly
Medication not covered by Medicare
Transport to and from Surgery
Accommodation whilst in Sydney
Please save the day by attending my fundraiser "Brad's Bravest Battle" to rock again on Sunday April 10th 2022 at North Sydney Leagues Club auditorium from 1pm until 6:30pm. You will be thoroughly entertained by some of Australia's big name performers as well as other activities going on throughout the day. Please come along and help me rock again!

Thank you for your love and support.

Brad Johns.''
Tickets for 'Brad's Bravest Battle' are available at: events.humanitix.com/brad-s-battle-to-rock-again-benefit at Norths, (North Sydney Rigby League Club - Abbott street, Cammeray ) the home of the North Sydney Bears, Brad's favourite team.
Artists who will be performing include:
Kevin Bennett (The Flood and Chasin The Train)
Barry Leef
Peter Northcote
Pat Powell and Kimi Tupaea (Dancing In The Shadows Of Motown)
Randall Waller (Avion, Shania Twain)
Ian Lees (Chasin The Train, Moving Pictures)
Bernie Sedgeden
Shane Flew
Liza Ohlback
Margeaux Rolleston and Julian Moss
Spencer Jones (The Voice)
Keith Armitage
Rohan Cannon
Victor Rounds
Kim Hart
Steve Tonge
Ralph Marshall
Simmone Dee
Chris E Thomas
Carmel Mesiti
Steve Sampson
Spencer Jones
Margeaux Rolleston & Julian Moss
Ralph Marshall
Chris E Thomas
Keith Armitage
Steve Tonge
The Swinging Sixties
House Band including Phil Grove, Christian Young, Adam Church, Nick Meredith
With the range and calibre of those already listed, and the auditorium at Norths made available from 1-6pm, this will be one of those gigs that becomes a celebration of all mediums of music from some of Australia's finest.
Born on the 9th of May 1966 to Frankie and Daphne in Brisbane, Brad was raised in Sydney - was a North Sydney High School boy.
So many people have great memories of the Johns home as a fun place, rooms always crowded with laughter and music, music, music. Country Music musician Frankie Johns and wife Daphne had that country ethos of course, where all are welcome and all belong and we all pull together when needed.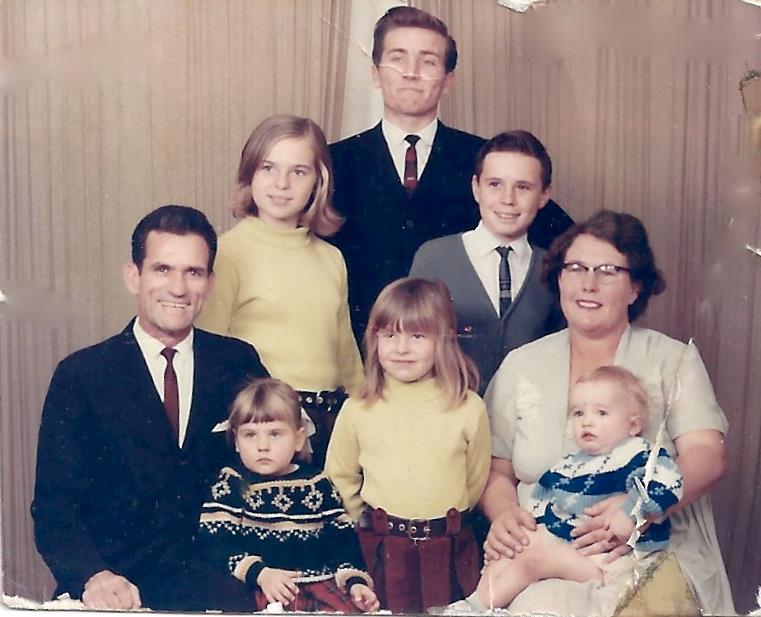 The Johns family - Brad is on his mum's knee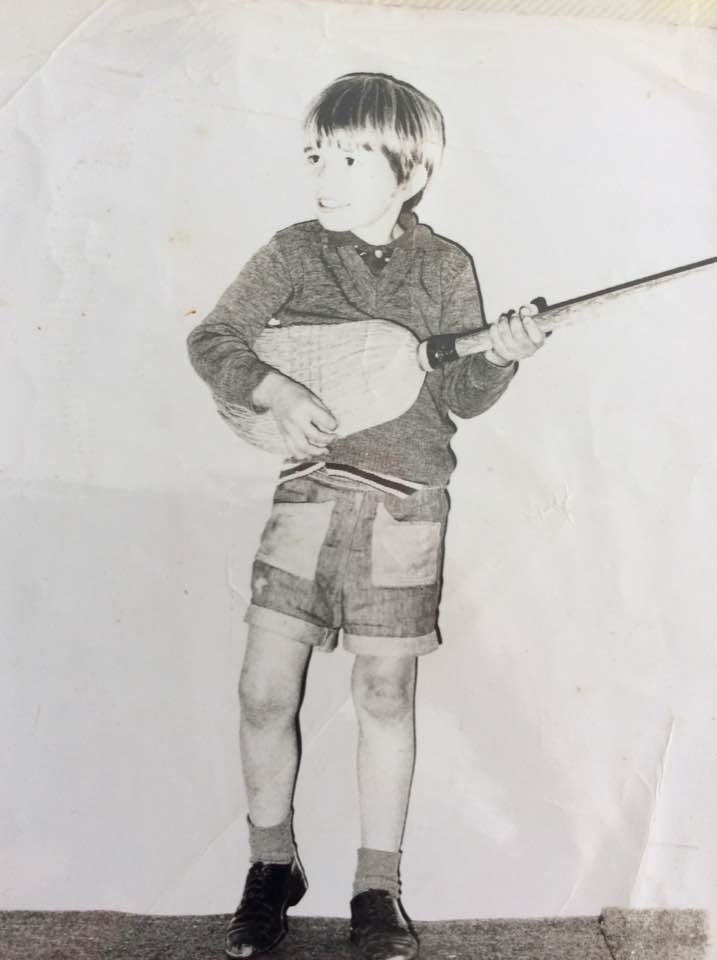 ''​WHILE MY GUITAR GENTLY SWEEPS. Here's a pic of me as a boy, 5 to 7 yrs, fascinated by guitar and music. I remember when it was taken, my dad had a photo shoot for himself, his band and the show he and mum were putting together. The photographer had some spare film so I jumped up and struck a stance! '' - Brad Johns
Brad has been playing guitar since the age of 4. He started out playing gigs with his musician father, Frankie Johns and five older musical siblings, Clay, Trevor, Karen, Beryl and Sandra. This gave Brad the broadest range of music styles including rock, blues, jazz and country.
Frankie Johns and his wife Daphne were legends in the country music scene and part of that landscape for decades. Daphne passed away in 1993 - a tribute being paid to her and music's loss on community radio station 2SER. Frankie kept playing regular spots all over Sydney and further abroad. Even when Frank's health was declining people were still contacting Brad requesting copies of his dad's tracks.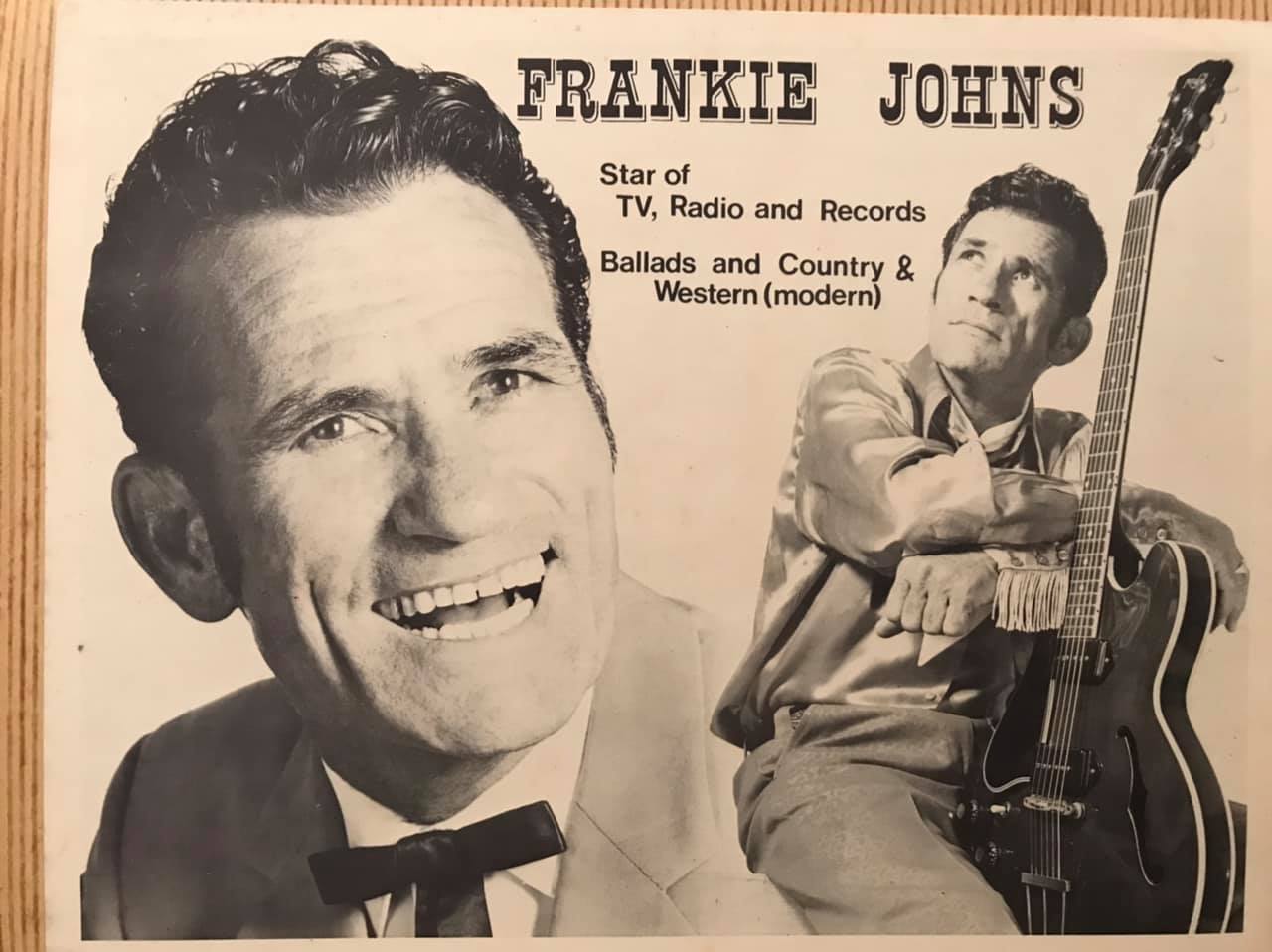 Frank Johns was also part of the what many consider to be the predecessor of the Tamworth Country Music Festival, the Capital Country Music Association. Their 'History' webpage provides:
The initial formation of the CCMA came from the foundations of the Modern Country Music Association (MCMA) in 1964. The first idea was spawned at Christmas 1963 and the inaugural meeting was held in Brisbane in February 1964.

On Saturday 15th October the Federal President and Executive member Mick Finn drove to Tamworth from Brisbane to attend the inaugural meeting of the Tamworth Branch of the MCMA. It was held in the "Hayshed" which was a coffee lounge owned by one of the members. Mick took over the meeting and the following were elected to office; President Ross Murphy; Vice President John Minson, Secretary/Treasurer Bette Frey and Committee Members Nev and Nancy Sipple.

The first Jamboree was held in June 1968 in aid of the Tasmanian Bush Fire Appeal with 65 artists and 11 musicians on the bill. The Tamworth Branch of the MCMA continued operating with a steady routine of social and charitable functions – running two Jamborees each year in January and June.

The second Tamworth Nationwide Jamboree was held on Saturday January 25th 1969 and proved another outstanding step forward for the promotion of amateur country music in Australia. A feature of that night was the presentation of a Gold Record to RCA recording artist, Buddy Williams. Mr Ron Wills of RCA Records travelled from Sydney to make the presentation before a capacity crowd of 1200. Professional artists who performed on the programme were Eddie Tapp, Paul Lester, Geoff Brown, Michael Cooke, Frank Johns and the Ranchmen, Lee White & The Comancheros, Michael Lynch, Shorty Ranger, The Kellyfolk, The Emmanuels, Bob Clark, The Williams Family (Kay, Harold and Buddy), Steve Rivers and Buddy Bishop. Retrieved From http://ccma.net.au/history.html
Continuing the Johns tradition of contributing to and promoting Australian country music, in 2019 Brad released five new singles to coincide with his entry into the Golden Guitar Awards. This was the 47th edition of this award. Presented by Tamworth Regional Council and the Country Music Association of Australia (CMAA), The Toyota Golden Guitar Awards are the nation's longest running music awards concert. They commenced in 1973, which means this year they're celebrating the 50th year, with the theme - 'Then. Now. Forever. Australian Country.' the night is sure to include a look back at the last 50 years as well as celebrate the recording excellence of the past 12 months.
This year the Tamworth festival has been shifted in dates and will run from April 18-24, providing a much needed morale boost for our rural residents in 2022 and an opportunity to kick your heels up.
Brad took part in the 2020 Great Southern Nights initiated by the NSW Government, playing a sell out gig as support for Tex Perkins at Norths (North Sydney Leagues.) Auditorium - a show that sold out.
''The crowd freakin' loved me thank god, and Tex is a top bloke.'' Brad said
The month-long event was created to kick-start the recovery of the live music, hospitality and tourism industries in a COVID Safe environment. Another Great Southern Nights will run in 2022, from 18th March to 10th April.

When Brad lost his work here and was kicked out of his home he moved up to Queensland, which wasn't then under the same restrictions. He took on work there, going back to playing as many gigs as possible with as many musicians as possible, including shows with his band The Crowd Pleasers and one memorable show in May 2021 at the QPAC (Queensland Performing Arts Centre) with the legend Marty Rhone and his salute to Cliff Richard.
From Saturday September 18, 2021;

Brad; ''Well I thought I'd seen a few places... until I started chatting with this bloke on Saturday!! An absolute Australian legend and a really good fella too. It was truly inspiring when he accepted the offer to sing a few songs with me backing him on guitar. (Lucky Starr, look him up if you haven't heard the hit song from 1962. There have been many versions of the song released worldwide since then by artists like Johnny Cash.) It was a great day. Thanks Lucky, great to meet ya!''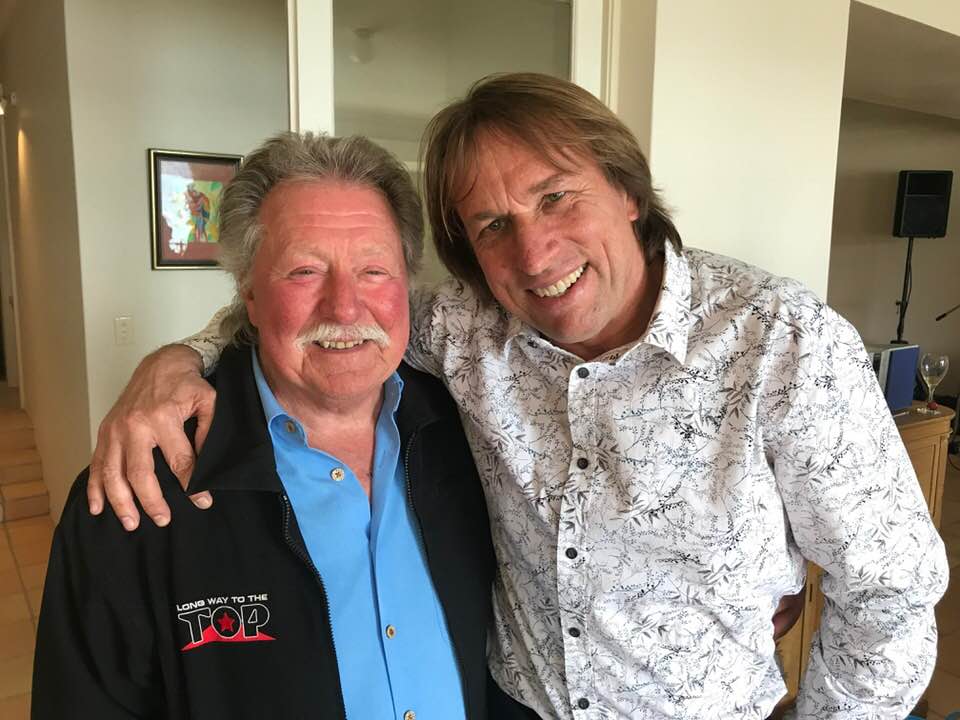 "I've Been Everywhere" is a song written by Australian country singer Geoff Mack in 1959, and made popular by Lucky Starr in 1962. The song as originally written listed Australian towns.
The Australian version starts: "Well, I was humpin' my bluey on the dusty Oodnadatta road, When along came a semi with a high and canvas-covered load, 'If you're goin' to Oodnadatta, mate, um, with me you can ride,' so I climbed in the cabin, and I settled down inside, He asked me if I'd seen a road with so much dust and sand, I said listen mate, I've travelled every road in this here land. 'Cause..." - full lyrics at base of page.
This also allowed Brad to spend more time with his dad.
The journey was tough but he faced it and did what he could when he could.
Brad said in January 2021;
''Twelve months ago I was releasing a single/ EP. The roller coaster ride of 2020 took me on some pretty unpredicted and fantastic journeys. Going to Darwin NT with my ol' dad of 96, staying on the Gold Coast with family for a few months, seeing the detriment caused to live music in Sydney. What was that Dickens book? "It was the best of times, it was the worst of times" I'll put 2020 down to being a frustrating yet enlightening year.''
Brad came out of hospital on March 4th, but as anyone who has battled any form of cancer or looked after a family member who has had cancer, it's hard to do anything other than fight for your life and getting out of hospital begins the next stages towards dealing with symptoms and praying for recovery.
Brad shares (March 10, 2022);
A good day is when you don't feel pain, nausea or fatigue both physically and mentally. You're riding high on a wave of well being and purpose. It's a life force.
I found this footage from my dear dad's wake last October in my sister + brother-in-law's backyard. Very casual but there's a lot of talent turned up and graciously got up at my request. (Michel Rose, Doug Gallacher, Pixie Jenkins, Sue Kirkby)
At age 17, Brad was performing on stage with Tommy Emmanuel, with whom he still great mates. Soon after he began playing in pubs and clubs in Sydney.
Mate Ralph Graham said on his 50th birthday in May 2016
''Playing bass in Digger's band with Karen Johns and visiting the house of Johns, there would always be these hot guitar licks emanating from a bedroom. You would go in and 16 year old Brad would enthusiastically show you his latest Clapton licks. You knew he was gonna rock the house. And so it was to be! Now for another 50 mate!''
At age 18, he was hired to tour with renowned country and pop singer, Diana Trask on her Australian tour. He went on to tour nationally and internationally with Sharon O'Neill, James Blundell and Alex Smith (Moving Pictures) and in the Australian production of the musical, "Hair". ​
Brad became the front man of The Nevilles, the resident band on the NRL Footy Show for 7 years.​
He has performed with Ian Moss (Cold Chisel), Ross Wilson (Mondo Rock), Paul Gray (Wa Wa Nee), Tania and Lee Kernaghan, Troy Cassar-Daley, Doc Neeson (The Angels), John Paul Young, Jon Stevens (Noiseworks), Glenn Shorrock (Little River Band) and Dave Gleeson (Screaming Jets).​
Brad has collaborated with some of Australia's most iconic artists, recording with Billy Thorpe and Normie Rowe and has supported Keith Urban, Renee Geyer, Mental As Anything and the Ted Mulry Gang live.​ In recent years fans have spotted him as part of the ensemble Mike Whitney has put together, as well as a host of other muscians.
Showing his versatility, Brad can be seen acting in the 2007 Australian drama film, "The Final Winter", written by and starring Australian writer and actor, Matt Nable in the lead role 'Grub' Henderson. This film explores the way in which business tore up the loyalty that was between Grub's club and family. Essentially this is a metaphor for the way in which business began to imprint the game of Rugby League during the 1980s, and saw the rise of commercialism in the game. Grub battles with an administration that want him gone and his brother and coach's betrayal. The film also deals with the domestic issues between Grub and his wife and children, as their husband and father has been transformed from who he was to who he has become. The film features many cameos by legends in the game.​
Brad has also lent his talent to the advertising industry, singing and playing guitar on numerous advertising jingles.​
Brad has released 3 albums.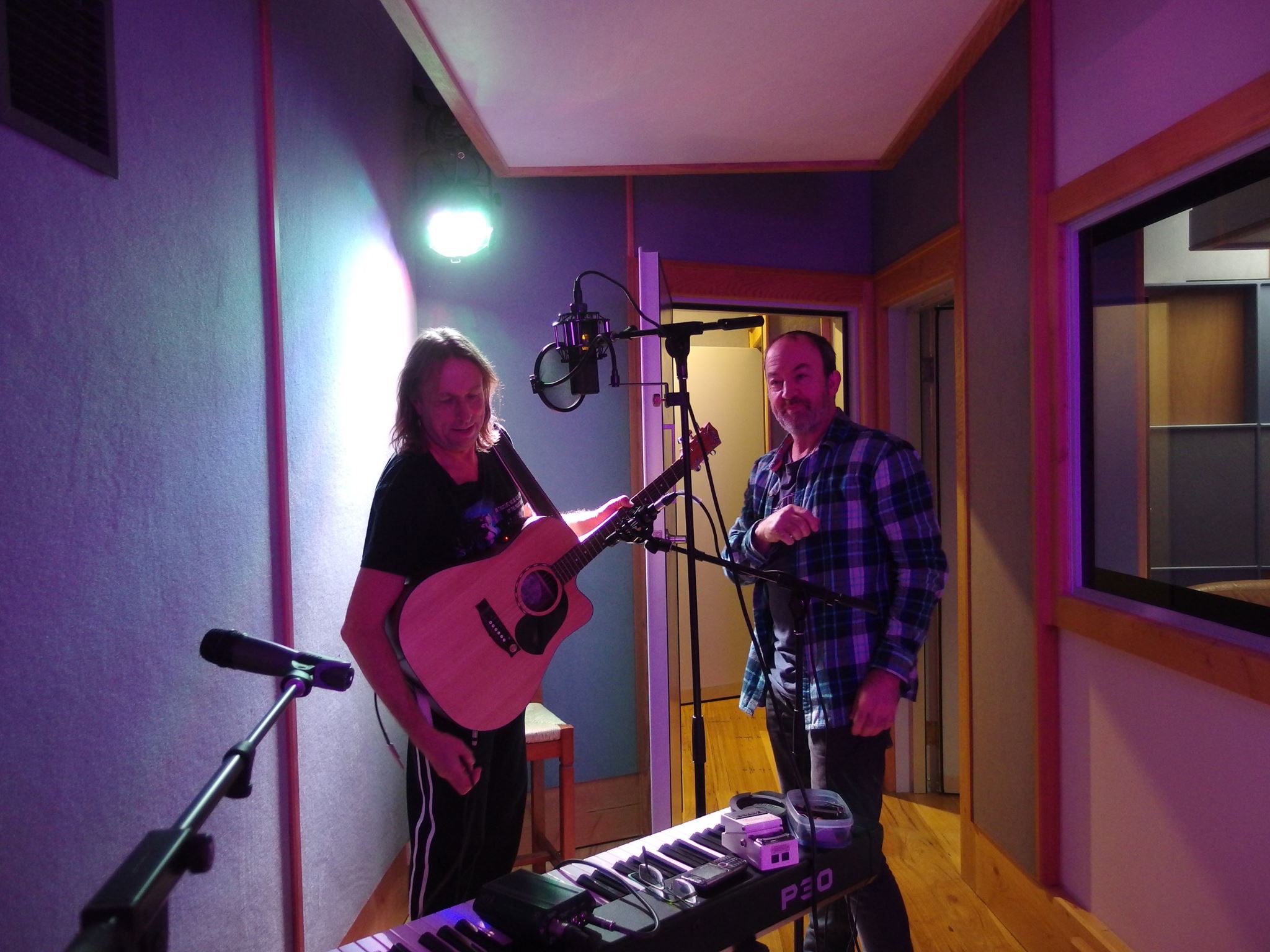 Brad Johns and Greg Ohlback at Old Pittwater Road Studios June 2016

The most recent containing all original compositions. His recently released single, "Tailgating" peaked at number 15 on the Top 40 Charts:
Brad's battle to come out the other side of what he's dealing with now has resonated with his legions of fans in our area, from Mosman to Manly and Mona Vale we love him and all the great nights he has had us up and moving to classics rendered in his inimitable style.
All those who have enjoyed this entertainer's music at his frequent shows at the Manly Fig, Manly Boathouse, at Collaroy, at Dee Why, Mosman, and a thousand other venues in Sydney and all around the country, know he lives to play music for people to enjoy.
Brad may cover others' songs excellently, but it's his own compositions and his dad's more should be heard about. Frankie's song about fishing at Yamba is a great example - who else is going to sing about 'Fishin' Off the Rocks at Yamba'? You can't get more Australian than that!
Get to the gig on April 10th or give up the price of one coffee or pie this week so we may hear more about fishing at Yamba.
Tickets still available for Brad's Bravest Battle and aside from the amazing talent and other activities like raffles with great prizes such as SHB Bridge climb for two, Café Sydney Restaurant Voucher, Audio-Technica Bluetooth Headphones, a 1999 fully team signed North Sydney Bears jersey framed for display, there will be a few other surprises.

Brad's Bravest Battle tickets at: https://events.humanitix.com/brad-s-battle-to-rock-again-benefit
Help meet the costs of fighting this disease at: https://www.gofundme.com/f/brads-battle-to-rock-again
One more from Brad for those missing his work - one of his dad's songs, done in Brad Style:
I've Been Everywhere - Aussie Version Sung By Lucky Starr: For You Brad!
Well, I was humpin' my bluey
on the dusty Oodnadatta road
When along came a semi with a
high and canvas-covered load
"If you're goin' to Oodnadatta,
mate, um, with me you can ride."
So I climbed in the cabin
and I settled down inside
He asked me if I'd seen a road
with so much dust and sand,
I said "Listen, mate, I've travelled
ev'ry road in this here land."
Cos "I've been everywhere, man
I've been everywhere, man
'Cross the deserts bare, man
I've breathed the mountain air, man
Of travel I've had my share, man
I've been ev'rywhere
I've been to
Tullamore, Seymour, Lismore, Mooloolaba
Nambour, Maroochydore
Kilmore, Murwillumbah
Birdsville, Emmaville
Wallaville, Cunnamulla
Condamine, Strathpine
Proserpine, Ulladulla
Darwin, Gin Gin, Deniliquin, Muckadilla
Wallumbilla, Boggabilla, Kumbarilla
I'm a killer
(Spoken) "Yeah but listen here, mate, have you been to..."

"I've been everywhere, man
I've been everywhere, man
'Cross the deserts bare, man
I've breathed the mountain air, man
Of travel I've had my share, man
I've been ev'rywhere
I've been to Moree, Taree
Jerilderie, Bambaroo
Toowoomba, Gunnedah
Caringbah, Woolloomooloo
Dalveen, Tamborine, Engadine, Jindabyne
Lithgow, Casino, Brigalow and Narromine
Megalong, Wyong
Tuggerawong, Wangarella
Morella, Augathella
Brindabella, I'm the fella who's been everywhere man
"I've been everywhere, man
I've been everywhere, man
'Cross the deserts bare, man
I've breathed the mountain air, man
Of travel I've had my share, man
I've been ev'rywhere
I've been to Wollongong
Geelong, Kurrajong, Mullumbimby
Mittagong, Molong
Grong Grong, Goondiwindi
Yarra Yarra , Bouindarra
Wallangarra, Turramurra
Boggabri, Gundagai
Narrabri, Tibooburra
Gulgong, Adelong, Billabong, Cabramatta
Parramatta, Wangaratta
Coolangatta, what's it matter?
"I've been everywhere, man
I've been everywhere, man
'Cross the deserts bare, man
I've breathed the mountain air, man
Of travel I've had my share, man
I've been ev'rywhere
(Spoken) "Yeah, look that's fine, but how about..."
I've been to Ettalong
Dandenong, Woodenbong, Ballarat
Canberra, Milperra
Unanderra, Captains Flat
Cloncurry, River Murray
Kurri Kurri, Girraween
Terrigal, Fingal, Stockinbingal
Collaroy and Narrabeen
Bendigo, Dorrigo
Bangalow, Indooroopilly
Kirribilli, Yeerongpilly
Wollondilly, don't be silly
"I've been everywhere, man
I've been everywhere, man
'Cross the deserts bare, man
I've breathed the mountain air, man
Of travel I've had my share, man
I've been ev'rywhere
I've been here, there, ev'rywhere
I've been ev'rywhere
(Spoken) "Okay, mate, you've been ev'ry place except one
And ya don't need my help t'get there."
(Sound of door slamming and truck driving off.)