September 10 - 16, 2023: Issue 598

Bird Photographer of the Year: 2023 Winners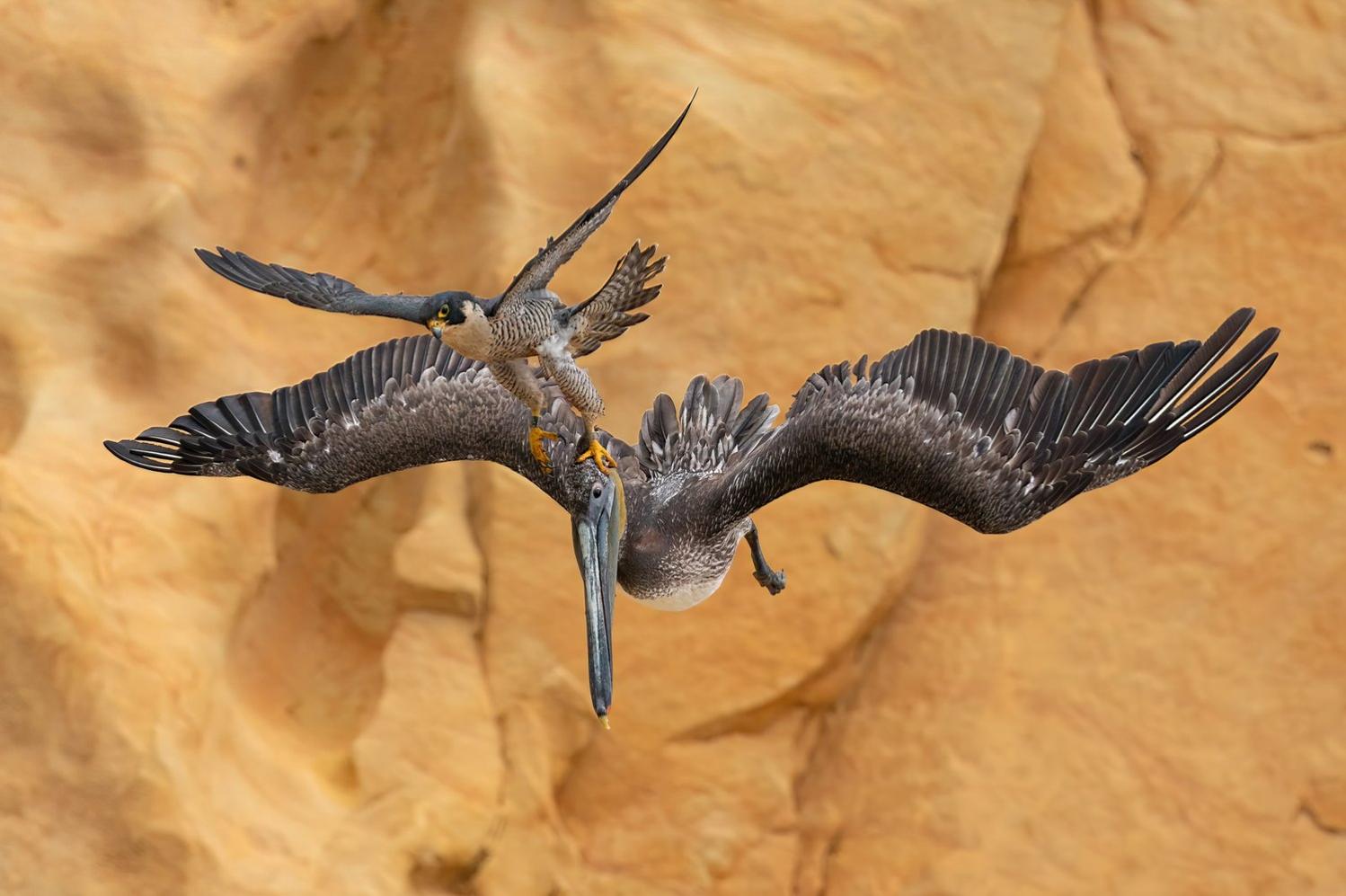 'Grab the Bull by the Horns'' by Jack Zhi ©. Overall Winner and Bird Photographer of the Year 2023.
"During the breeding season, a female peregrine falcon fiercely protects her young, attacking anything that comes near the nest. For four years, I attempted to capture these rare moments of her attacking large brown pelicans with incredible speed and agility. The high-speed chase made it challenging to capture a close-up shot with a long lens. The falcon's precision was amazing as it struck at the pelican's head."(©Jack Zhi/Bird Photographer of the Year)

With over 23,000 images entered into the competition this year, Bird Photographer of the Year is pleased to present our winners. Celebrating bird life from around the world, these images comprise some of the most incredible bird photos in the world taken by talented photographers, whilst also raising vital funds for our partner charity Birds on the Brink.

Taking the title of Bird Photographer of the Year, our Overall Winner is 'Grab the Bull by the Horns' by Jack Zhi. It features a female falcon attacking a brown pelican with great speed and agility. Zhi wins the top prize of £5,000 and the prestigious title. His image also won Gold Award in the Bird Behaviour category.
Young Bird Photographer of the Year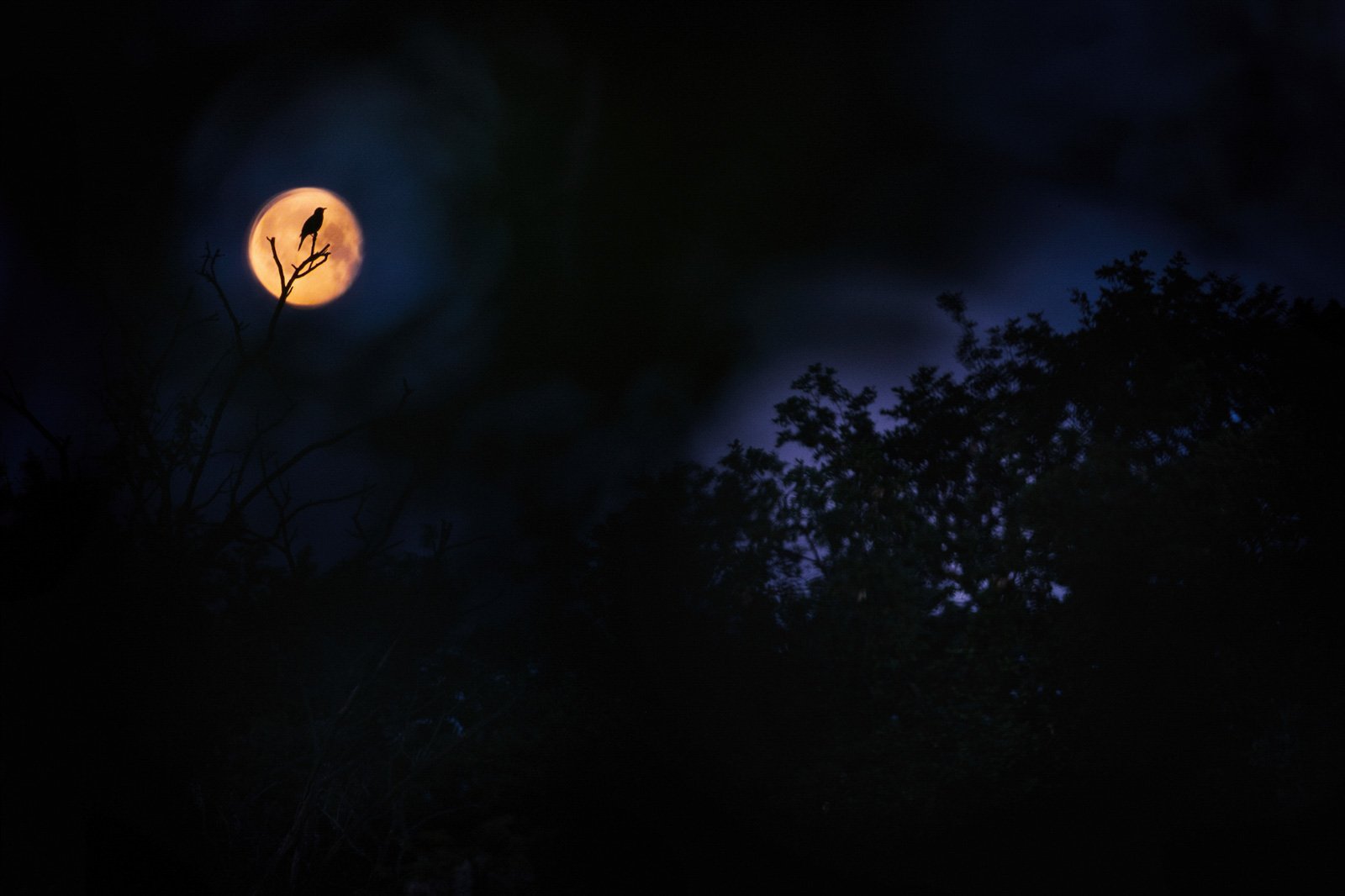 "Blackbird singing in the dead of night. Blue atmosphere and red moon. Getting up before sunrise allows you to experience the magical awakening of animals. The blackbird is one of the first animals to awaken."(©Anton Trexler /Bird Photographer of the Year)
Best Portrait
An image that best captures the character of the subject bird and its distinctive features. We look for images that include lots of detail, captured in a classic pose or showing the animal's features.
"Venturing into the tropical forest, I was excited to spot the rare glistening-green tanager. After hours of waiting, I saw the vivid-green bird on a perfect heart-shaped leaf. Its shimmering feathers reflected a dazzling array of colours. I captured every detail, grateful for this magical moment amid the lush jungle backdrop."(© Nicolas Reusens/Bird Photographer of the Year)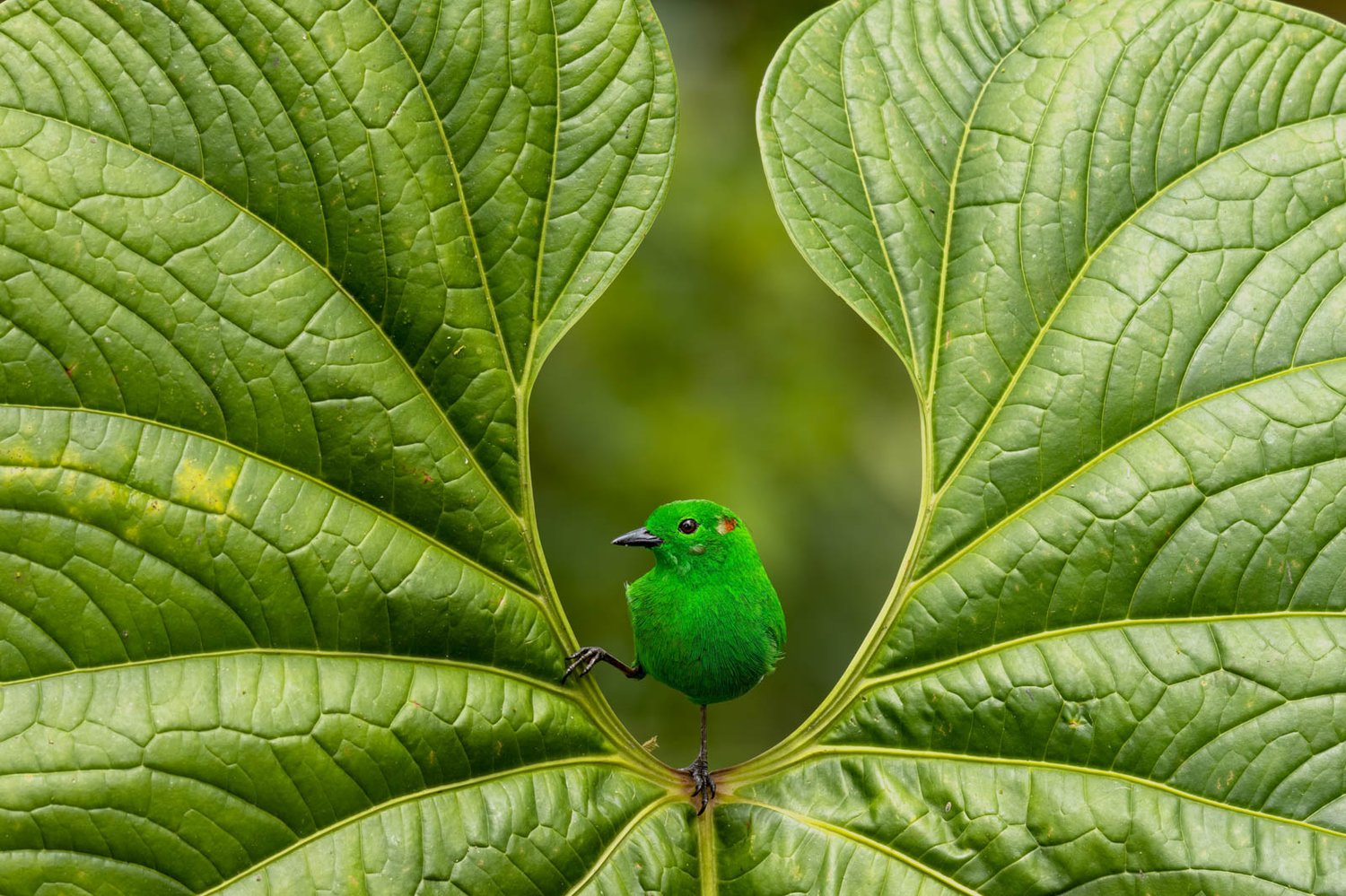 'Glistening Green' by Nicolas Reusens, Gold - Spain
Birds in the Environment
This category focuses on photos that best demonstrate the relationship between a bird and its habitat.
"Flooding meant that a field of sunflowers could not be harvested, and thousands of birds, including greenfinches (Chloris chloris), goldfinches (Carduelis carduelis) and bramblings, flocked to it in winter. Despite their colourful plumage making them easy targets, when foraging their colours blend with the surroundings, making them hard for predators to spot. Using a wide- angle lens masked with snow and dried sunflowers, I photographed a flock of bramblings from their perspective, with one perched in front of my camera."(© Mateusz Piesiak/Bird Photographer of the Year)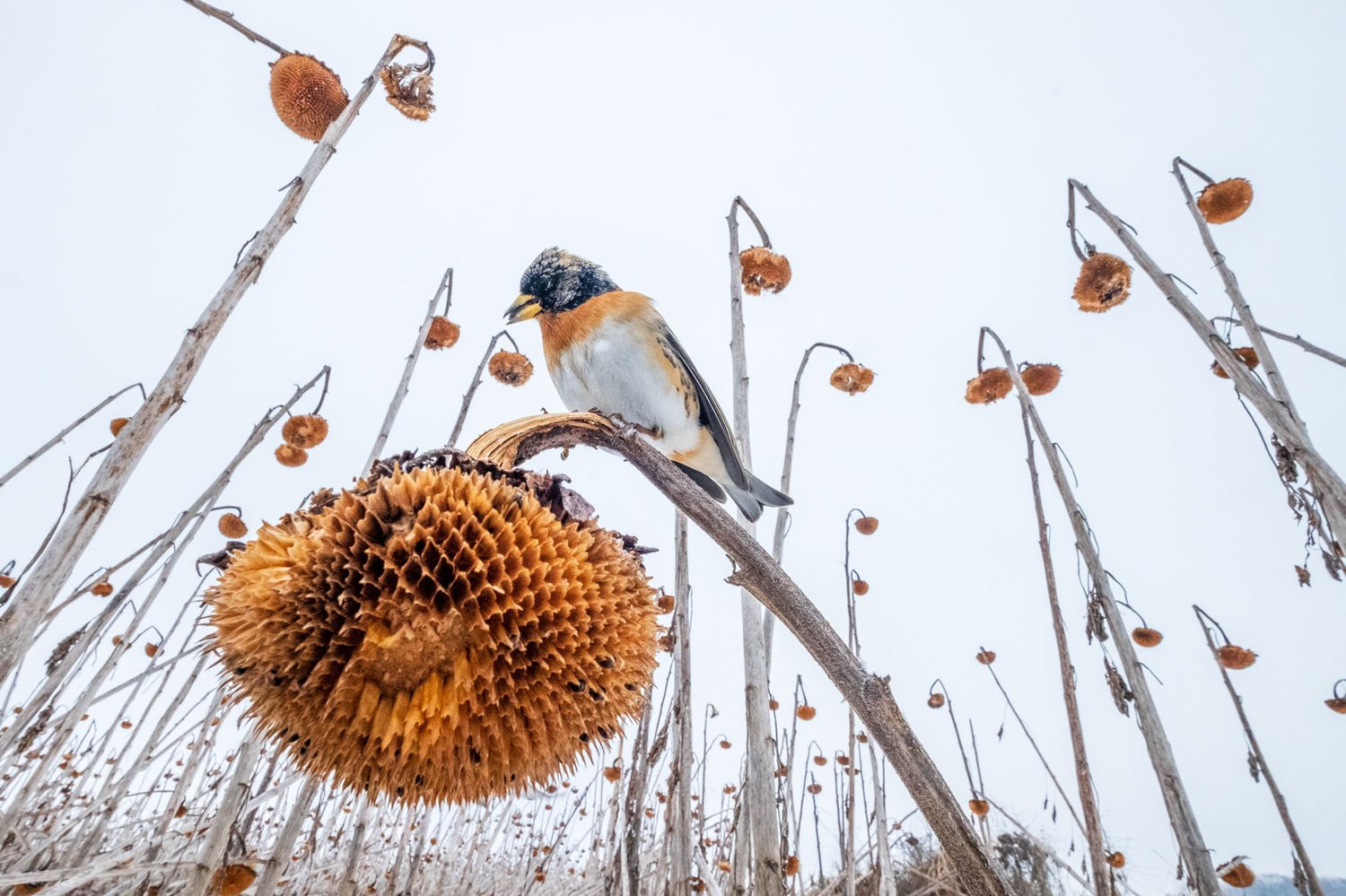 Gold - 'Sunflower Paradise' by Mateusz Piesiak - Poland
Bird Behaviour
This category celebrates images that best depict a behaviour of a bird. This might be the lekking display of a black grouse, the courtship of a great crested grebe, or a singing robin. Gold - Jack Zhi - United States
Birds in Flight
Celebrating avian mastery of the sky, this category focuses on birds in flight.
"The sword-billed hummingbird, common in the Andean forests, has the world's longest bill relative to its size. This bird's unique bill, adapted to feed on flowers with long corollas, makes it a vital pollinator, as bees and butterflies can't reach the nectar and so don't pollinate these plants. This image captures the bird approaching a feeder, with natural backgrounds and lighting."(©Rafael Armada/Bird Photographer of the Year)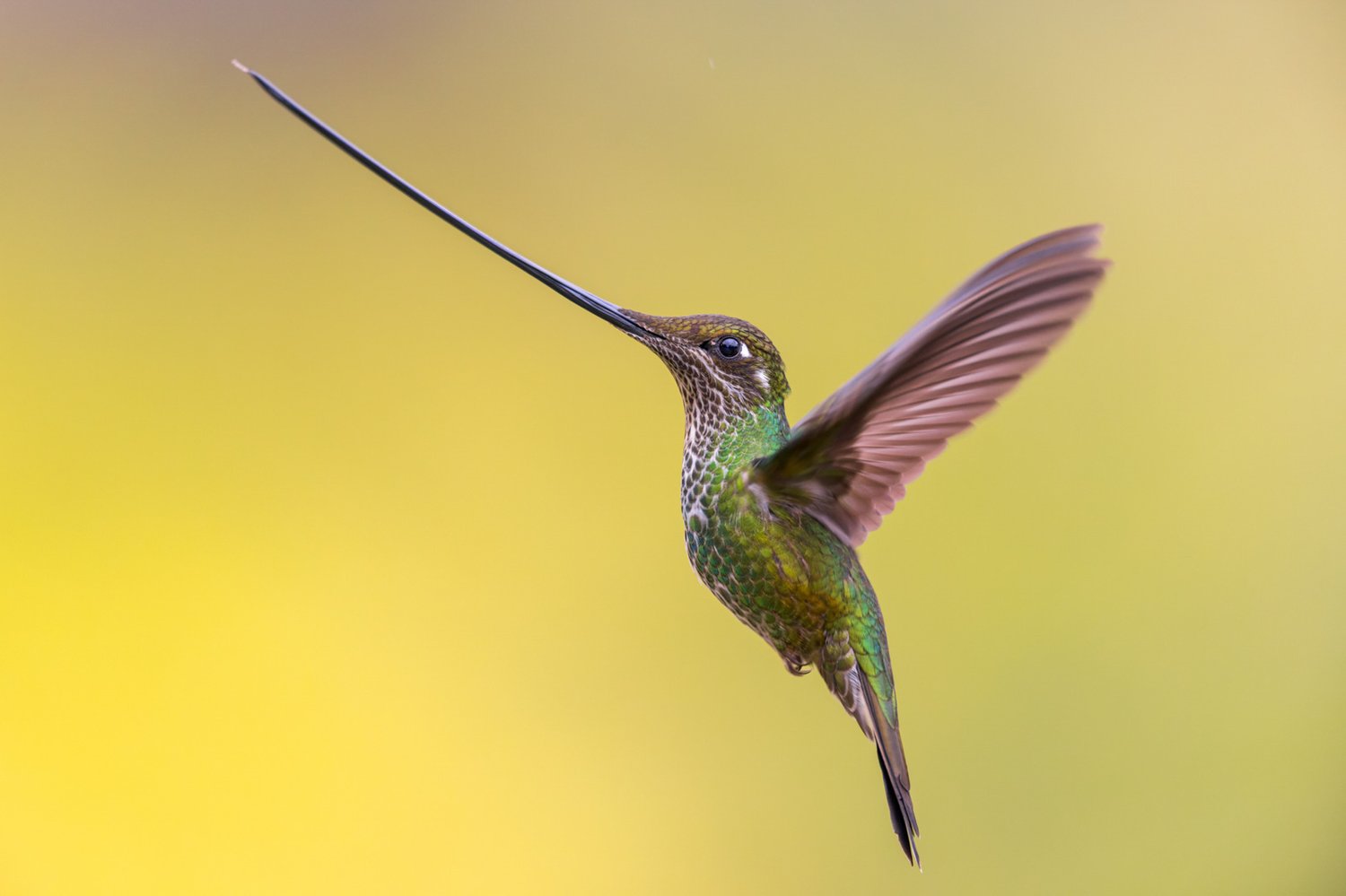 Gold - 'Flying Sword' by Rafael Armada - Spain
Comedy photo
This category encourages creativity in all its forms. Both in-camera techniques (such as multiple exposures) and post production techniques are permitted. Any digital manipulation is permitted, as long as the foundation of the final piece is an original photo. Composites, cloning, and any other effects are allowed.

"The purple heron is a migratory bird that nests in the lake basins of the Italian Peninsula and feeds mainly on fish, although it also preys on mice, snakes, toads and other creatures. In this shot, the heron caught a large crucian carp (Carassius carassius) and voraciously swallowed it after several attempts to turn the fish onto its side."(©Antonio Aguti/Bird Photographer of the Year)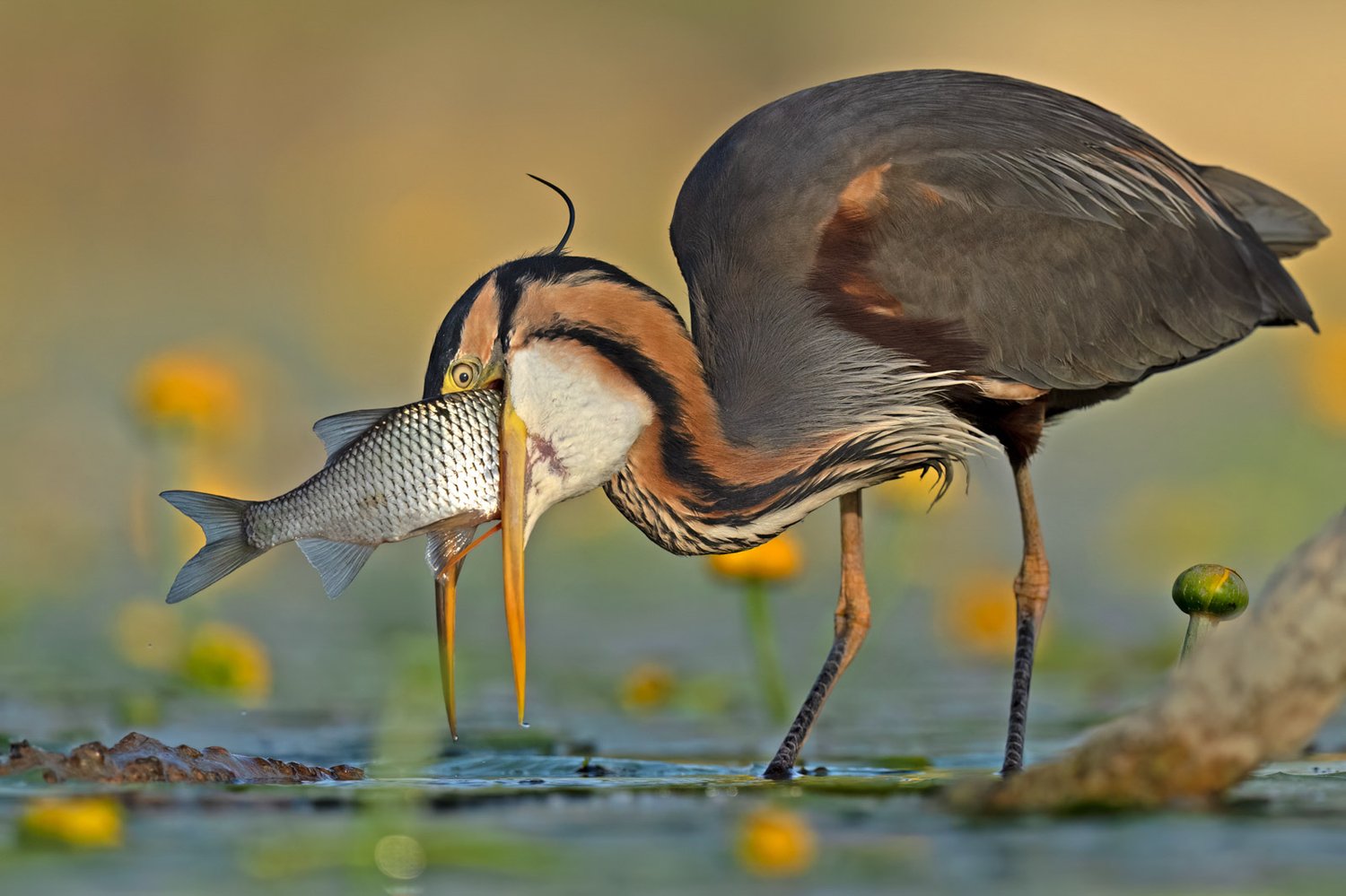 Gold -'No Way Out' by Antonio Aguti- Italy

Black and White
B&W can introduce simplicity and drama into images. This category celebrates the effective use of the monochromatic style.
"A young musk duck seems mesmerised by a drop of water falling from its mother's mouth. Of course, it's actually interested in the morsel of food that she has in her bill. Their coloration may be drab, but they more than make up for it with their beautiful expressions and fascinating displays."(© Jason Moore/Bird Photographer of the Year)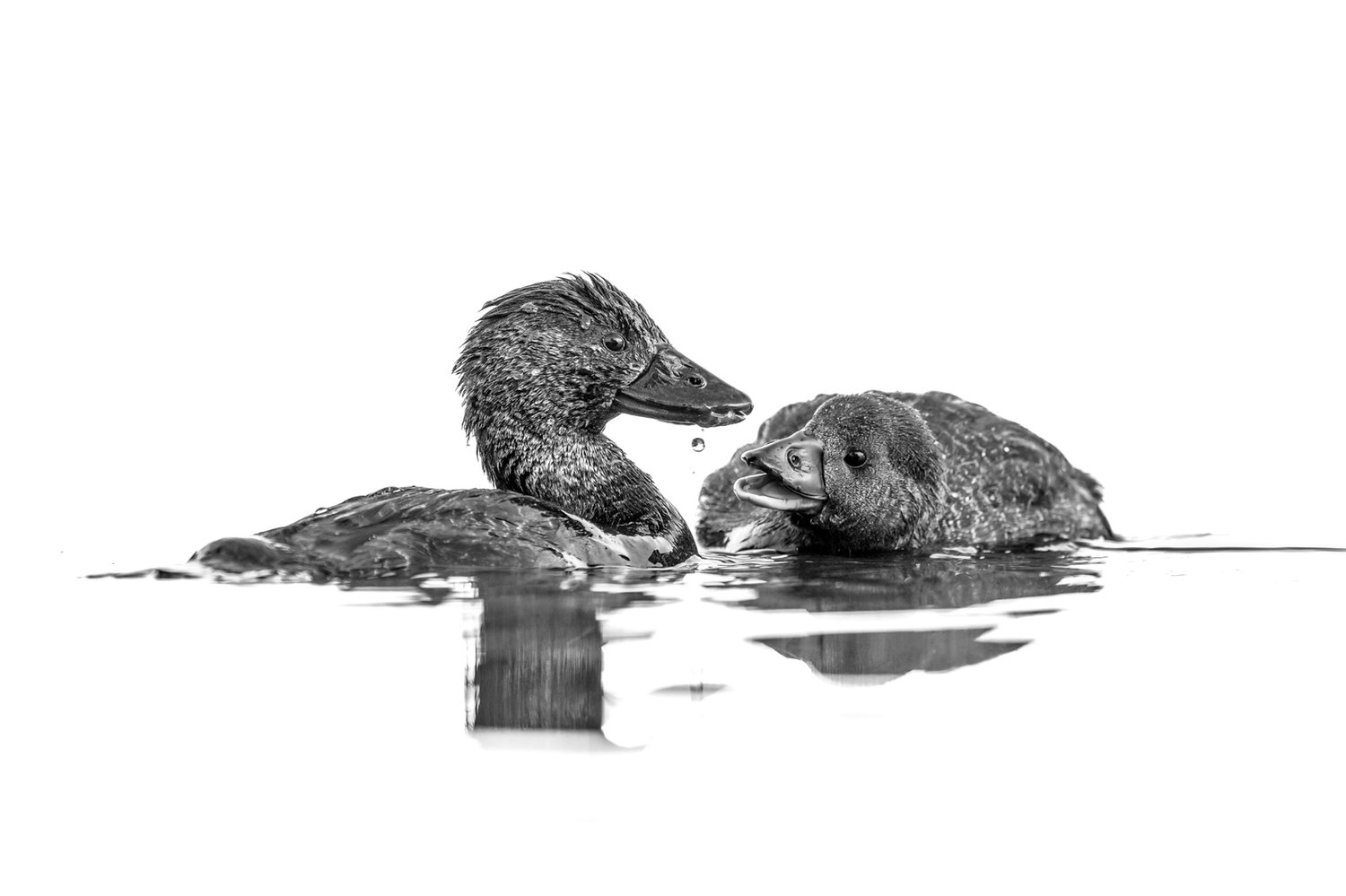 Gold - 'Fascinating Droplet' by Jason Moore - Australia
Urban Birds
In an increasingly urban world, many birds are forced to live on the doorsteps of humans. This category explores the world of urban bird photography.
"During winter migration, owls from northern Finland often head to the south where they can find more food due to less snow. This great grey owl chose a cemetery with abundant voles as its hunting ground. While hunting, the owl would often stop on tombstones or other structures to observe the area. Keeping a safe distance, I followed the owl and managed to capture a fleeting moment when it landed briefly on a beautiful angel statue."(©Arto Leppänen/Bird Photographer of the Year)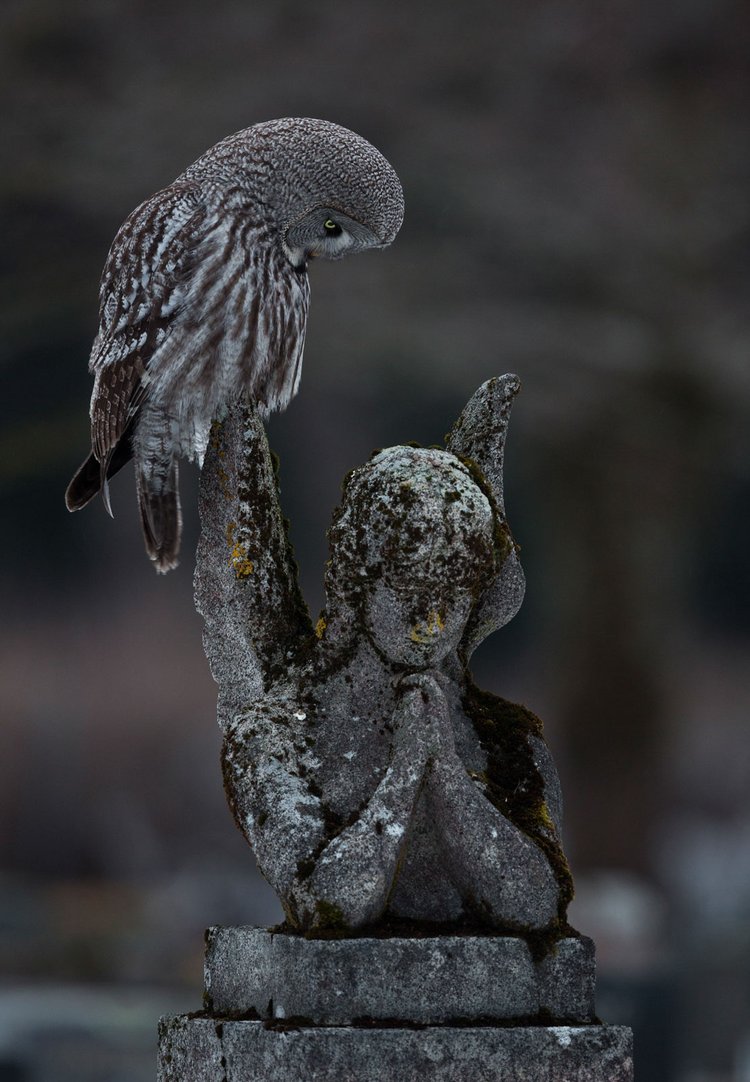 Gold - 'A Moment of Prayer' by Arto Leppänen - Finland
12-14 years
Celebrating the photography of those aged between 12 and 14 years old.
"In a small inlet in Örnsköldsvik, there are terns everywhere during summer. So, one afternoon on an overcast day, I headed down to the water with the goal of photographing terns in flight. Instead of that, I ended up photographing an Arctic and common tern perched together on a railing. By utilising the white of their bodies, the overcast weather and the bright reflections in the water, I captured a high-key image of the two terns."(© Harry Sedin/Bird Photographer of the Year)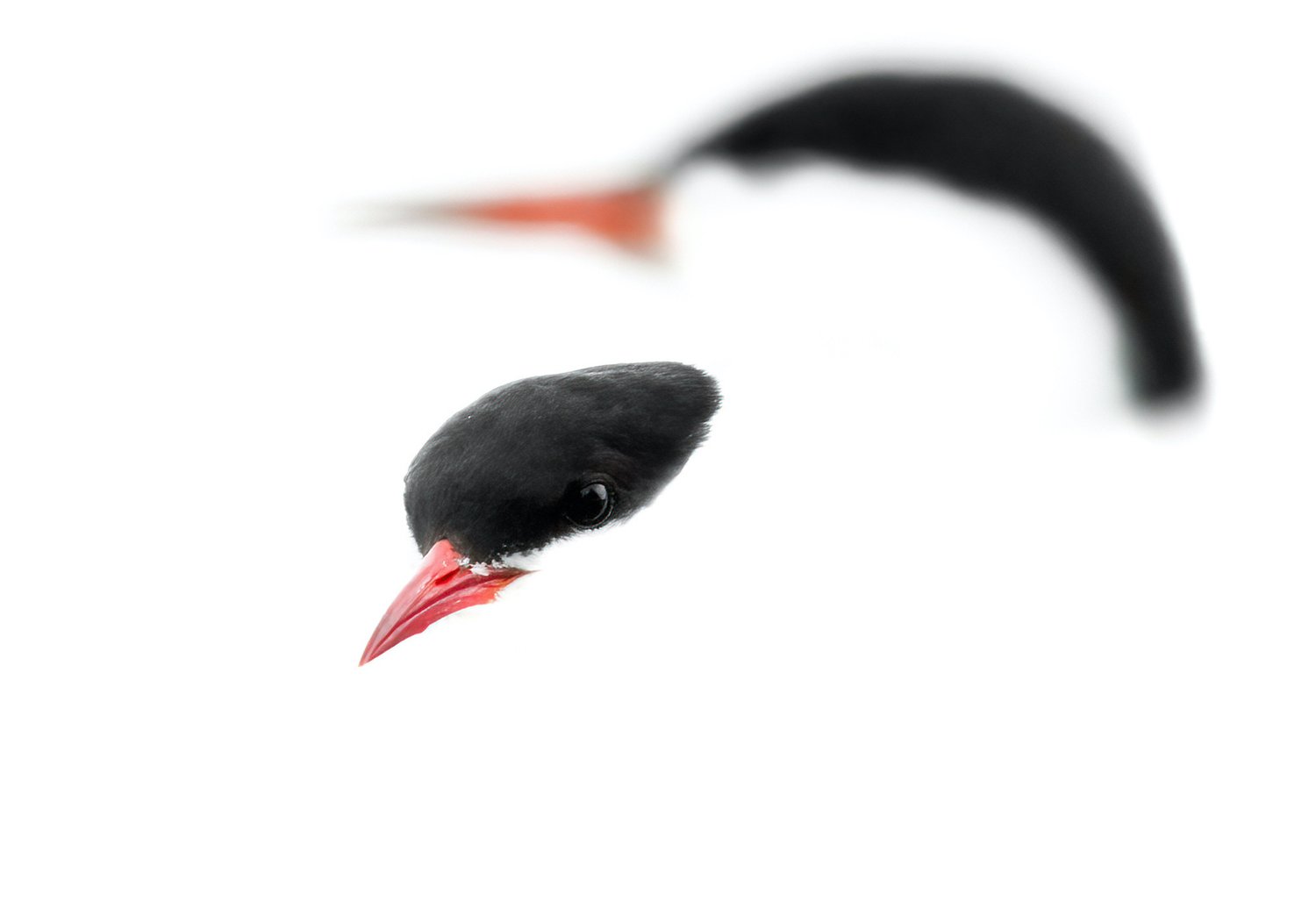 Gold - 'High-key Terns' by Harry Sedin - Sweden
11 and under
Celebrating the photography of those aged 11 years old or younger.
"Pelling is one of the most beautiful hill stations in India. I observed so many birds when I visited the area. I snapped this very colourful bird in a garden near our hotel. The extremely vibrant blue colour makes this bird so beautiful."(© Arko Saha/Bird Photographer of the Year)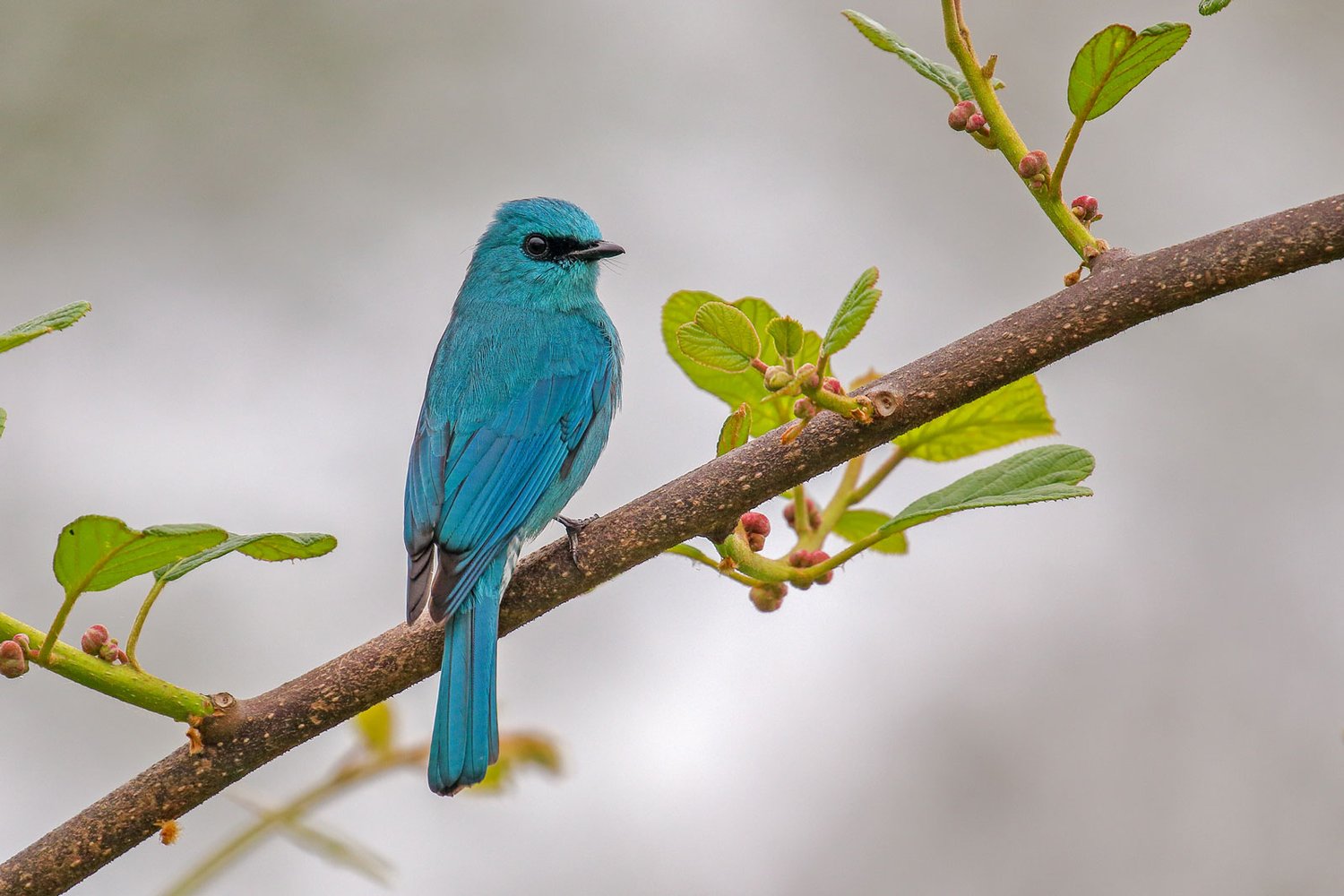 Gold - 'Verditer Flycatcher' by Arko Saha - India
Conservation Award
This category looks at images that tell a story of conservation efforts or the struggle of a particular species.
Winner - Ripan Biswas
'Birds in Peril'
Situated in the Central Asian Flyway, Murshidabad, a small district of West Bengal, India, is an important place for migratory birds. The Ganges river flows through Murshidabad, and there are numerous lakes and wetlands, making this area a favourite spot for migratory and resident birds.
Bird numbers increase dramatically during the migratory season, which starts around November and lasts until April. This is also the time when people turn to poaching, by trapping birds in gill nets hung over lakes. The poachers then sell the birds at the local market as a seasonal delicacy, though it is totally illegal to catch or sell wild birds in India.
One non-governmental organisation, the Human & Environmental Alliance League (HEAL), is fighting this illegal practice. Their volunteers actively monitor lakes during migratory season and cut down the gill nets. They also help the forest department catch and detain the poachers. During the migratory season of 2023, I worked with HEAL as a volunteer and documented the whole process.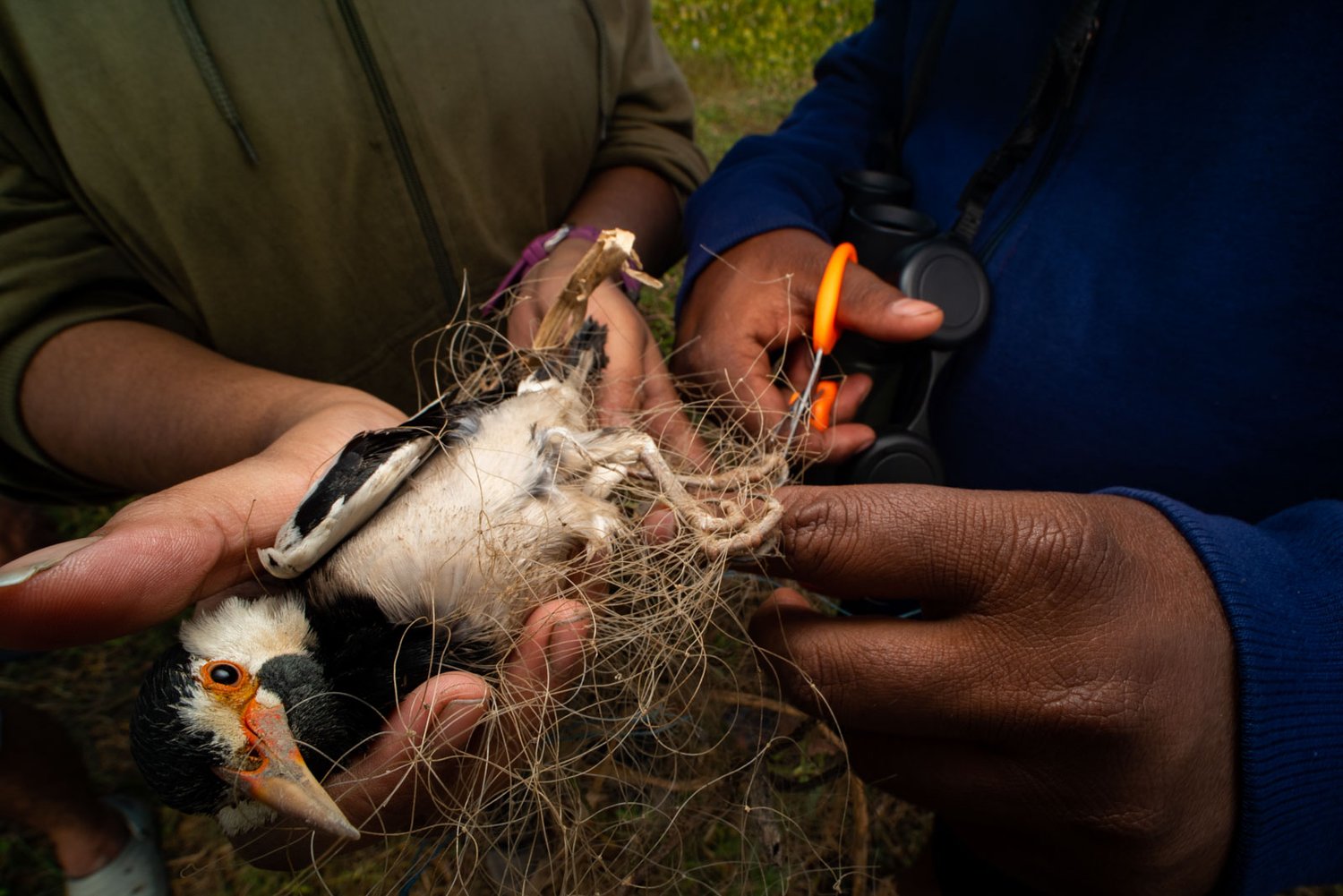 'Entangled'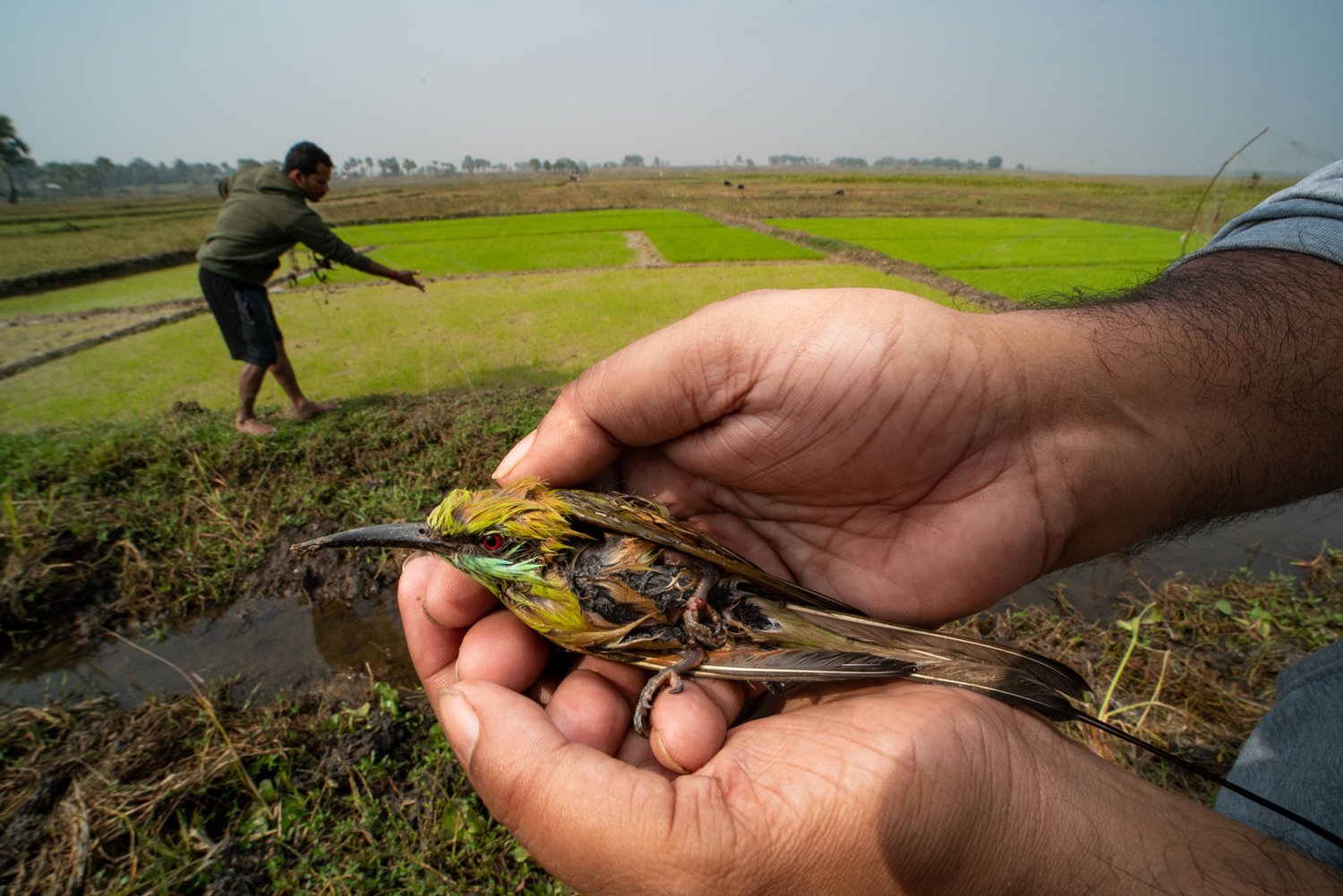 'Touch of Heal'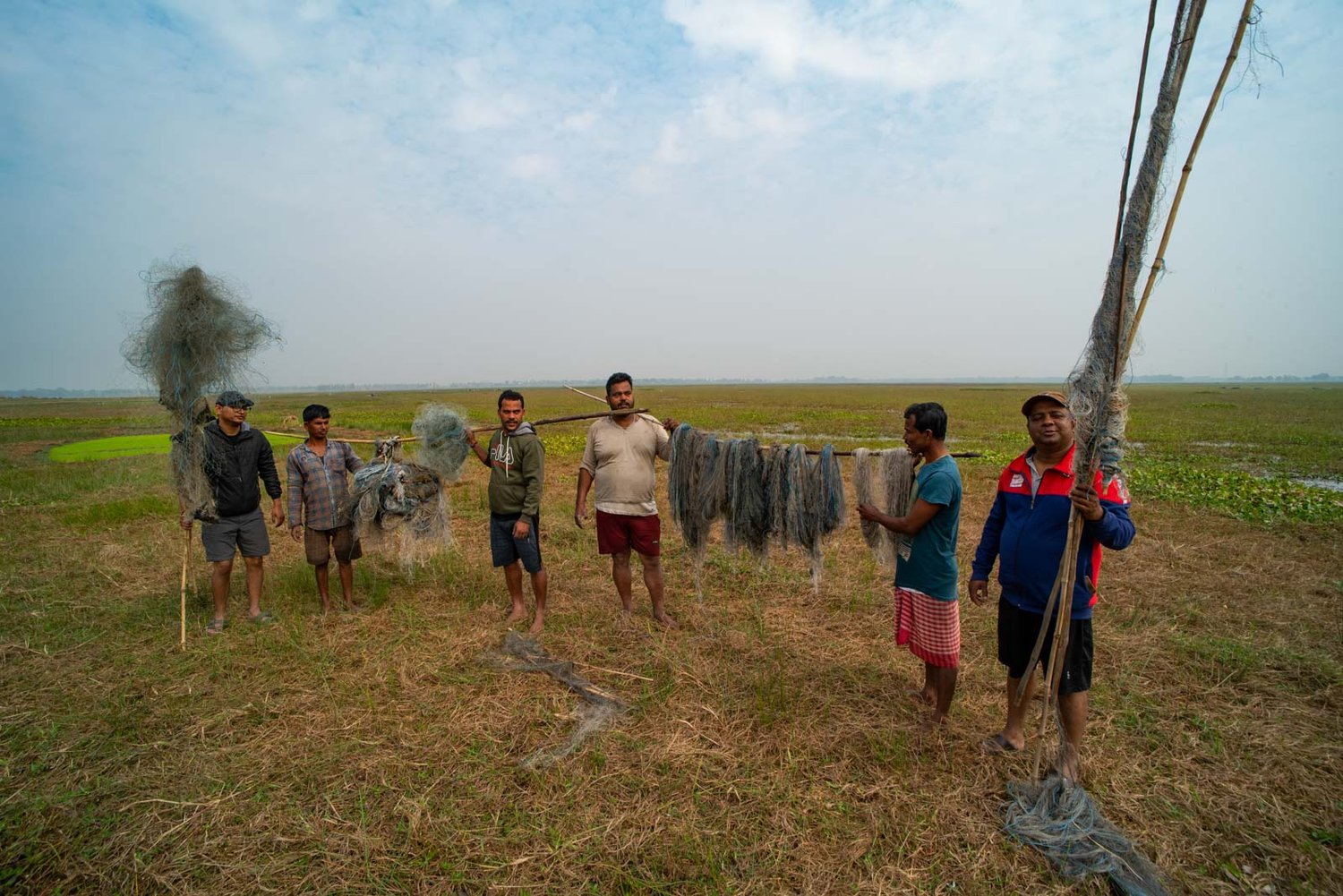 'Net Removers'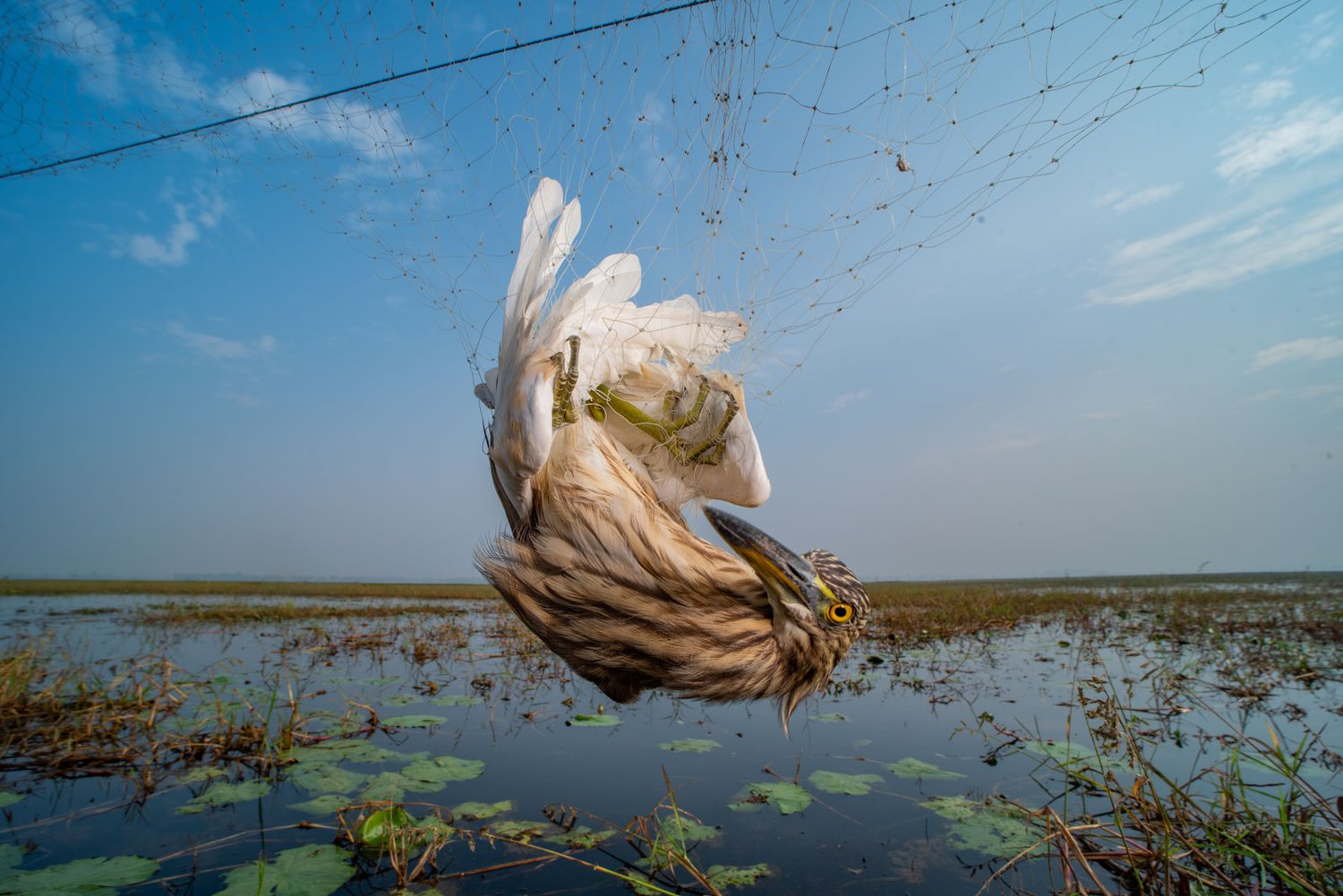 'Hangling Fate'