July 26 - August 1, 2020: Issue 459
Bilgola To Brewarrina Winter run For Palm Beach Mermaids: fundraising raffle for november 2020 Variety Resurrection Run has commenced for variety - the children's charity
On March 20, 2020 Variety The Children's Charity stated that due to Covid-19 and based upon current Government recommendations and restrictions being imposed, the NSW/ACT Board has reviewed all available medical advice and has been forced to postpone the Variety NSW Bash event at this stage.
''In the absence of any further travel restrictions being announced, we anticipate making a formal decision on our remaining Motoring Events for 2020 within the next 90 days based upon prevailing medical and Government advice at that time.'' a statement from John Dennis, Chair on behalf of Variety – the Children's Charity NSW/ ACT Board, read.
''We are also looking at alternative arrangements potentially later in the year / early 2021 and will keep our motoring events community, volunteers and sponsors appraised of any updates to this position and how funds raised now will be allocated to these future events. As a Board, we all understand how disappointing it is for participants if these events cannot go ahead based upon current restrictions and ongoing medical advice.
Our passion hasn't changed. The demand for grants is forecast to increase in communities hit by this virus and we're determined to continue to support Australia's most vulnerable children during this crisis.
But as a charity that does not rely on Government funding, and has over the years relied heavily on the fundraising success of our iconic motoring events, this current crisis will have real ramifications for our ability to continue to provide support – support that is now needed more than ever as sick, disabled and disadvantaged kids and their families are significantly more vulnerable to the negative medical and financial impacts arising from the Covid-19 virus.
We cannot continue supporting those families when they need it most if our motoring events participants stop raising funds due to this cancellation. I am reaching out to you to ask that you continue to contribute to Variety and continue fundraising.
For 45 years, Variety has supported Australian kids. We know this is a challenging time for everyone. We ask you to be patient with us and our team of dedicated staff as we work towards exploring alternative arrangements and to please, continue to look at ways of raising funds to support our most vulnerable kids. On behalf of Variety, thank you for your continued support and loyalty. We look forward to seeing you on a motoring event soon.''
In the second week of May this year, when so many schools had to close, Variety stated, ''Last week we supplied 74 laptops to kids in need, this was possible due to generous donations from our community. We continue to have a waiting list of disadvantaged kids that need technology to participate and be included at school. Please donate today, every donation over $2 is tax deductible, at: https://fundraise.varietynswact.org.au
Variety - the Children's Charity has brought together wonderful people through its works throughout its years and these people have formed personal connections with the communities and people they have met. One instance of this is Beryl Driver OAM, Beryl Driver and Viktorija McDonell, those Palm Beach Mermaids who have been on B to B Bashes together.
This week Beryl and Viktorija were joined by fellow Variety Bash veteran Sallymae Bailey on a roadtrip to Brewarrina, which begged the questions - were they missing being on a B to B Bash or making a trip into rural New South Wales to spend some money in these towns that are currently missing out on the income visitors provide?
As it turns out, the ladies were doing something that gets done a few times each year - and along the way they could invest some time in their visiting and collecting photos of the NSW Silo Art Trail.
Pittwater Online spoke to Viktorija and Beryl soon after they returned home on Saturday, July 25th.
Viktorija:
So many Silo Art photos - which is your favourite?
The kingfisher and the sunset galahs.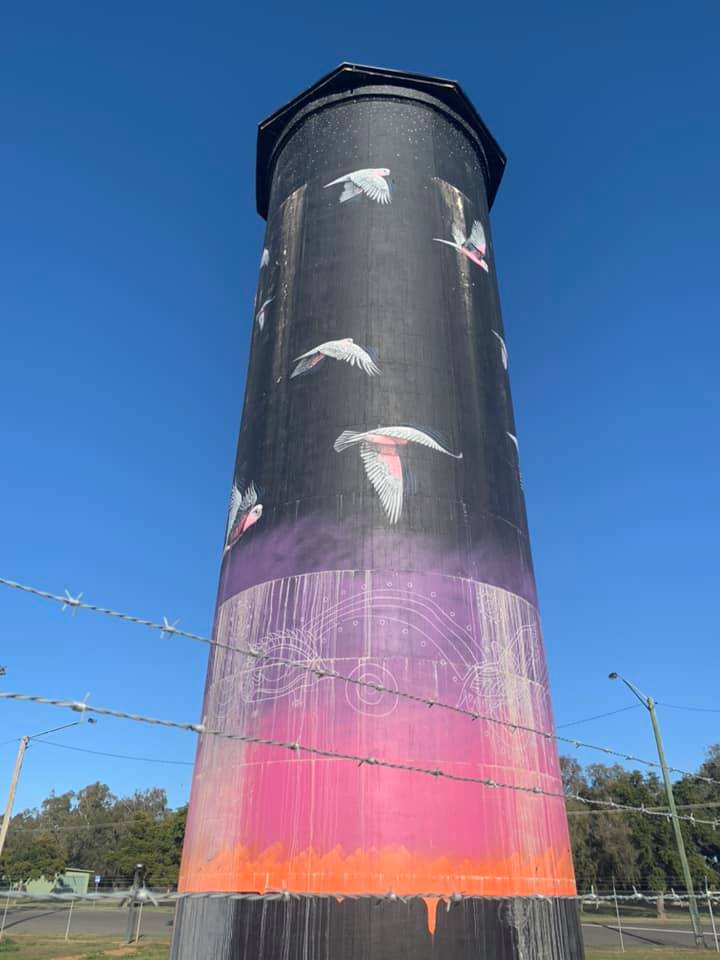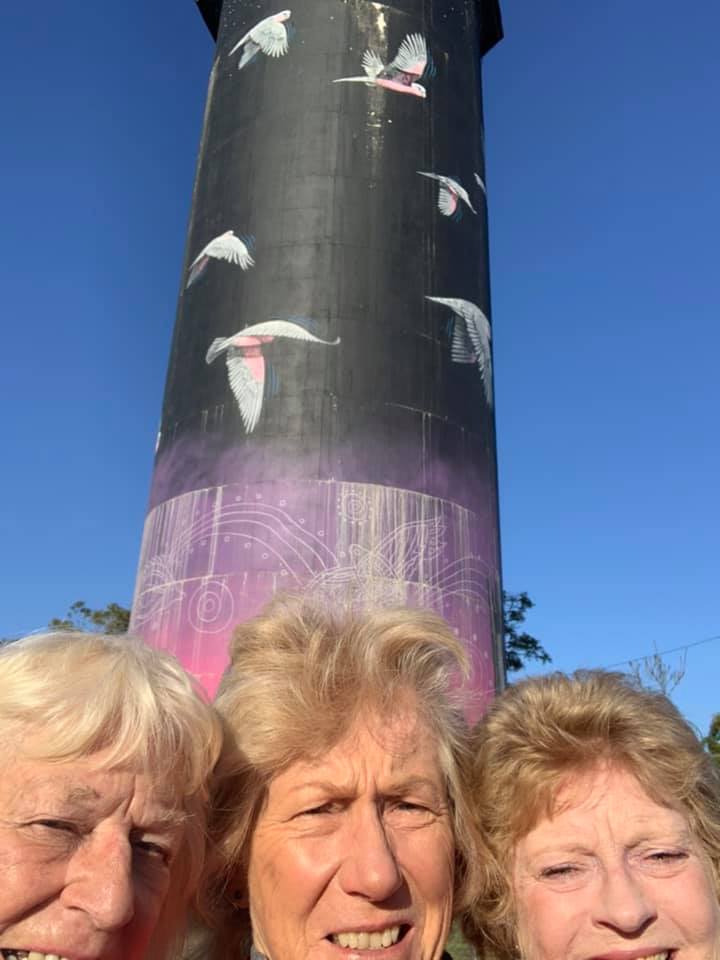 The Coonamble Water Tower mural was done by John Murray, Bob Barrett and Sooty Walsh and was completed in the Winter of 2017. Featuring Australian Galahs' and fence posts to signify the rural aspect of Coonamble, the mural also includes the sun, moon and the Southern Cross. The Aboriginal dreamtime artwork along the base was painted by Sooty Walsh.

Viktorija, Beryl and Sallymae also visited the GrainCorp Silos at Merriwa. These were painted by David Lee Pereira in April 2019 and depict sheep in red socks standing in a canola field. Merriwa is where the "Festival of the Fleeces' is held each year, celebrating agriculture in the area. The story behind the red socks is that one year a sponsor could not afford a monetary donation, so he donated a pair of red socks instead. When organisers asked each other, 'what were we going to do with the socks?', one suggested they put them on the sheep. The annual running of the sheep is now an important part of the festival.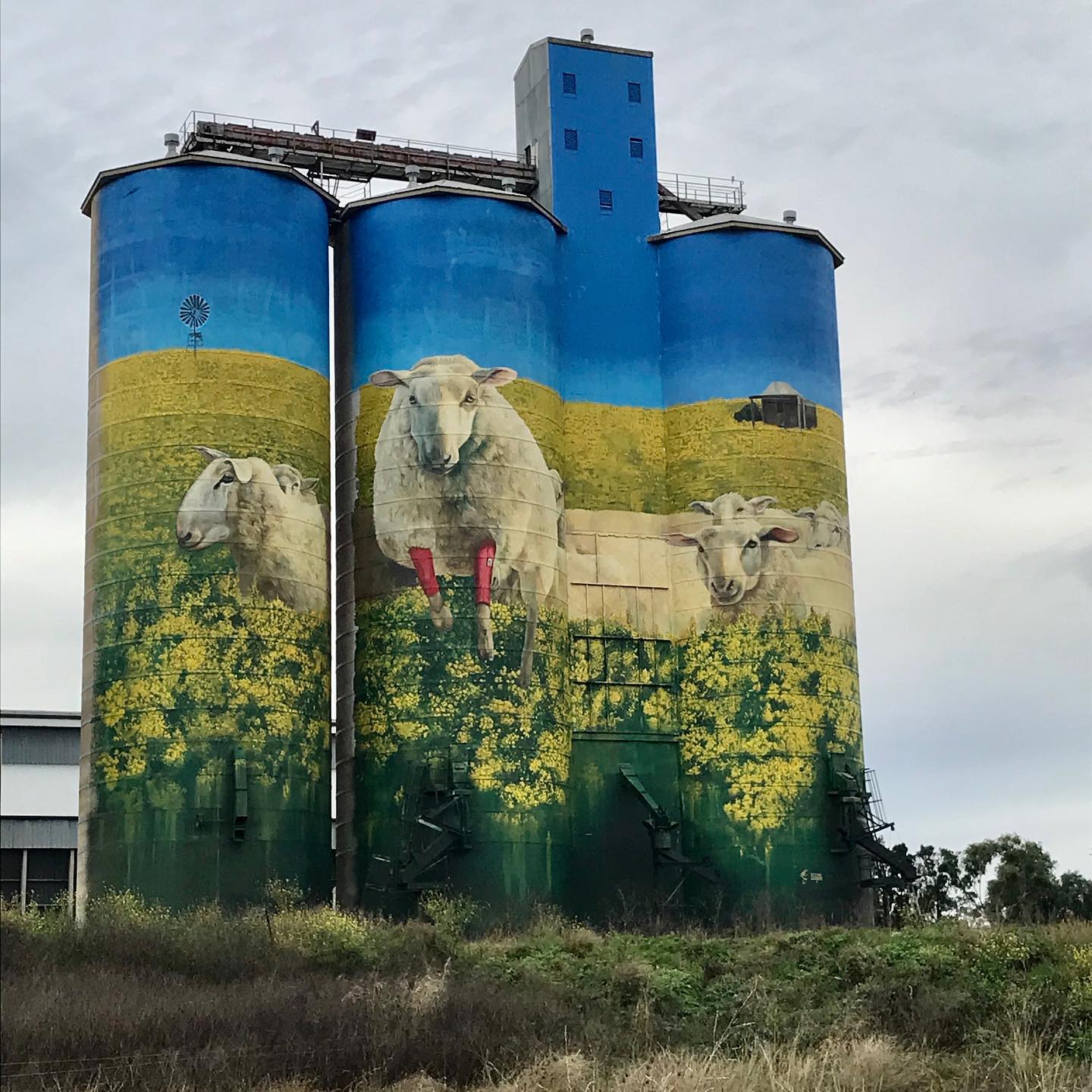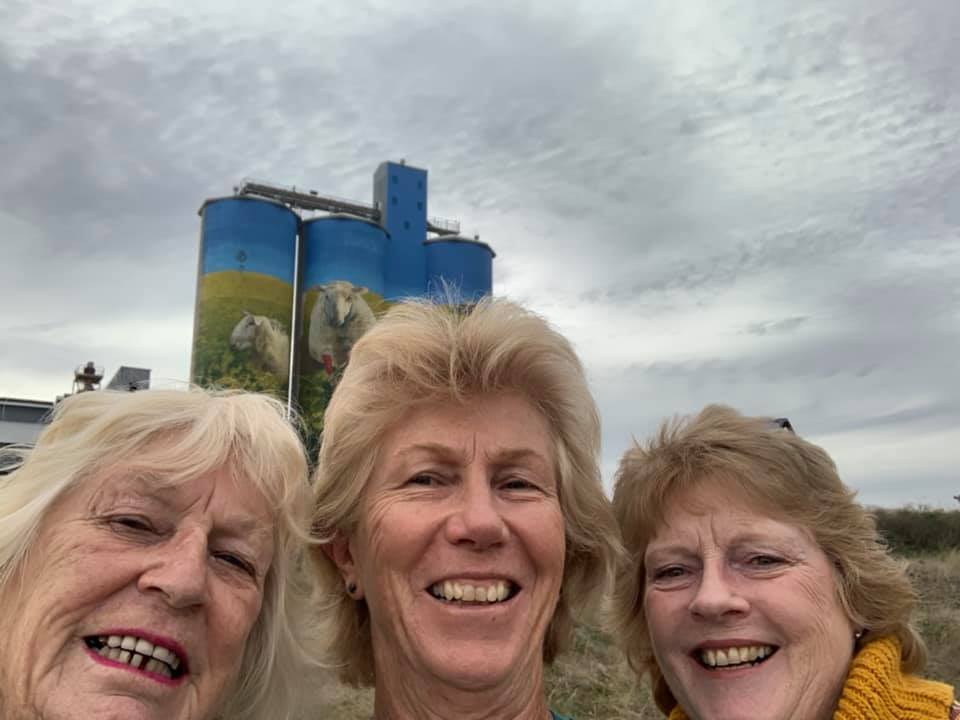 The 2021 B to B Bungarribee to Bakers Creek Bash - are you thinking about you and Beryl doing this one?
No. Not at this stage. It was lovely to get away on a little road trip with a purpose and also spend a bit of money in country towns
This mini B to B Bash you and Beryl have undertaken this week - how is Bre and did it bring back any fond memories of previous Bashes?
Very clearly a lot of effort is being put in to attract travellers. All neat and tidy, and unexpected art is always welcome surprise. We had Lunch at Muddy Waters and quick look at Weir and fish traps.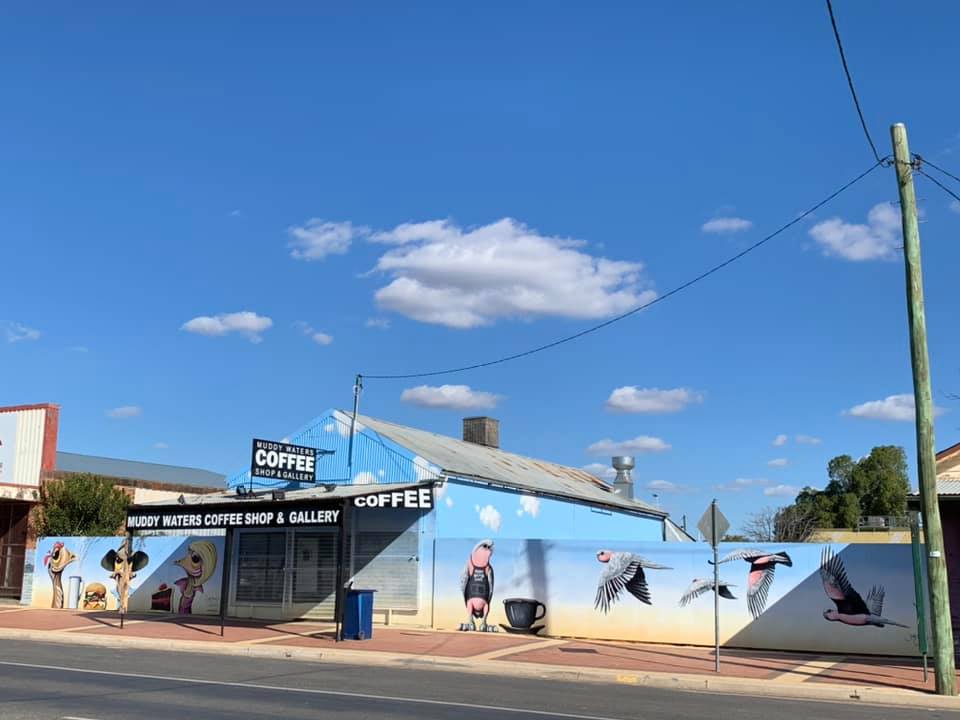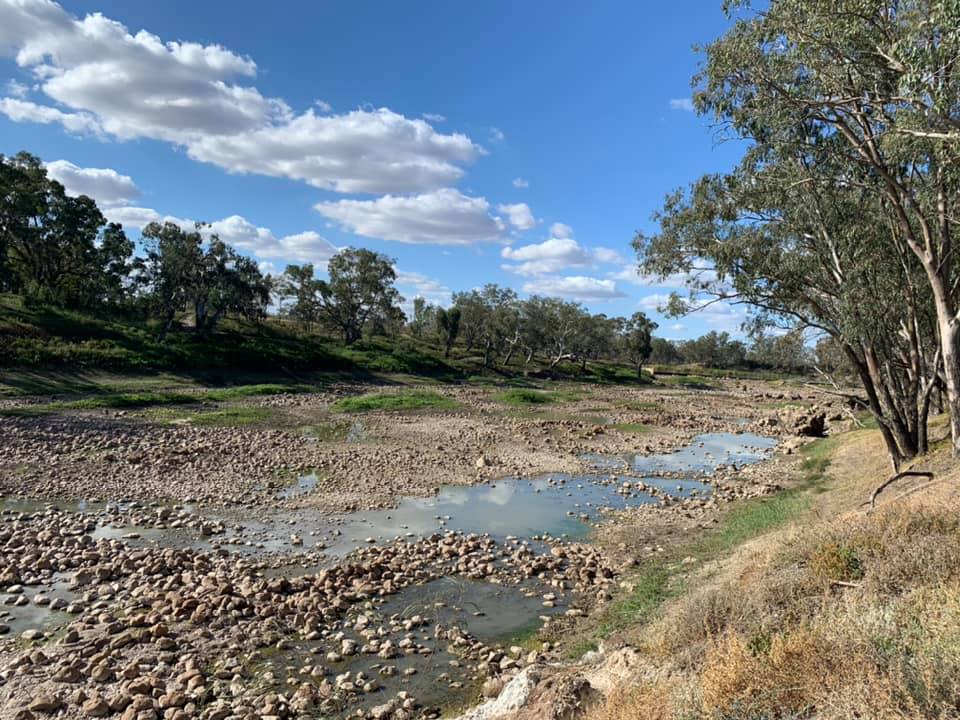 We have passed through or stayed in all those places we saw along the way on different Bashes. There was lots of green to be seen too, very welcome by locals I'm sure.
One of my fondest memories was the town of Yelarbon where we made a Cochlear donation. Unfortunately Queensland is out of reach now,, it's the same with Cochlear too. No more overseas trips to developing countries to provide support and training. So at least we could do this little trip and bring some needed things to Bre.
Every Bash is special. Especially visiting the small isolated places.
I love what Variety does and it's sad that all their fund raising events are now on hold. I wonder about all those families and kids who depended on that support.
Beryl:
No B to B Bash for 2020 Beryl – did this smaller run to and from Brewarrina suffice?
In some ways, it's a trip I've been making around 3 times a year for 16 years now. We had collected some wonderful new clothes and new toys, puzzles and books, as well as blankets and bed quilts for Winter so we delivered these to Danielle Boney. Danielle works at the Bre Youth Centre as well as for the local council there.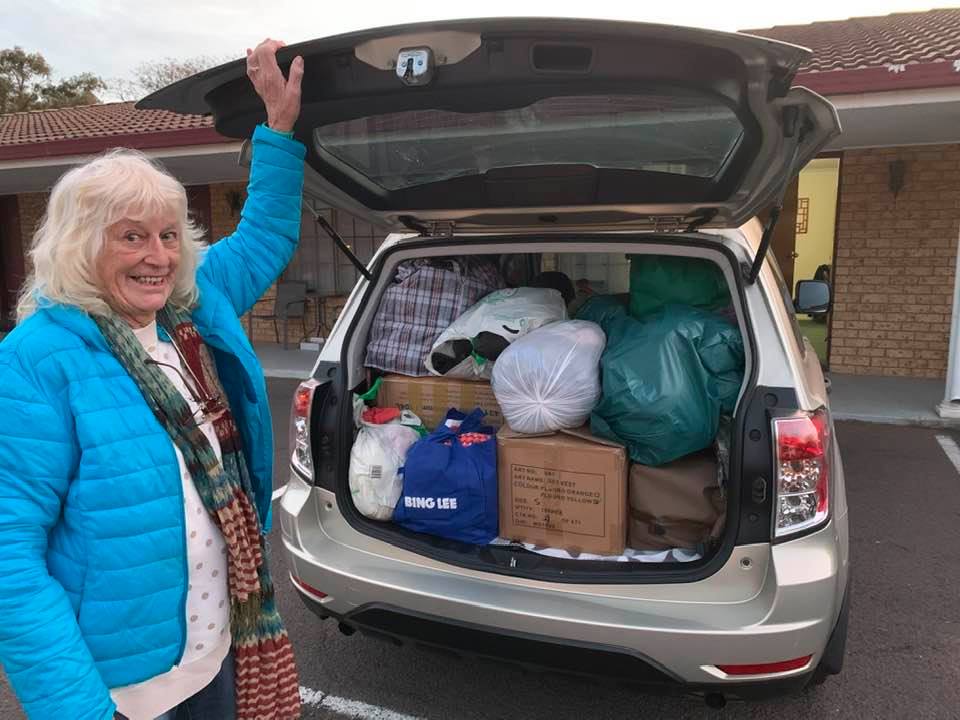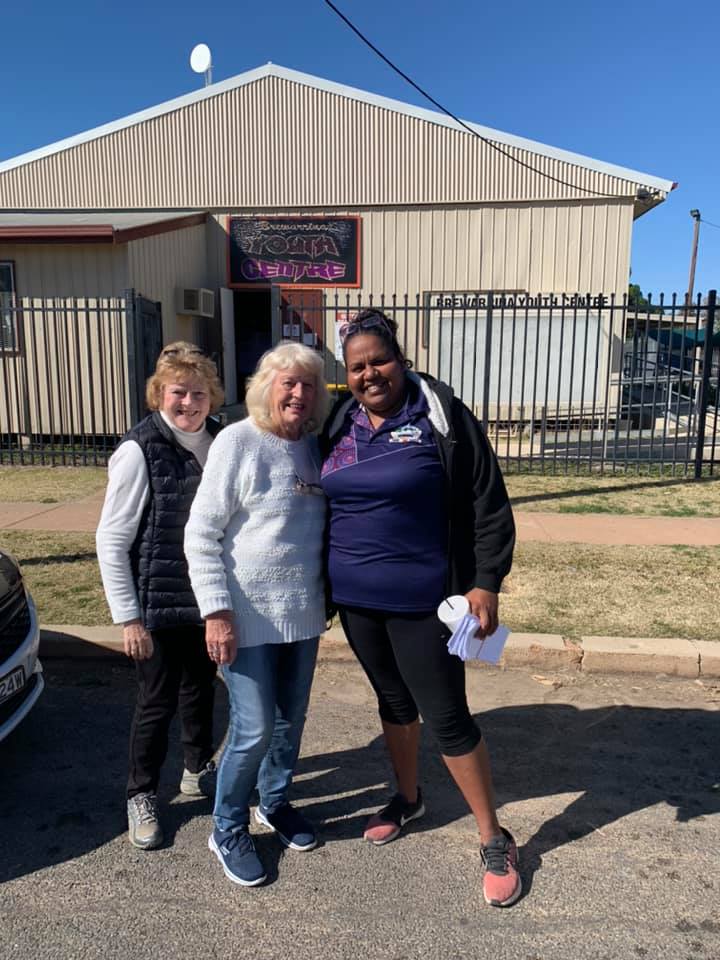 Interestingly Danielle was one of the very first children to come down to South Narrabeen SLSC as part of the Bush to Beach Variety Program. Now married with two children of her own, we keep in contact as she has taken over the work of Les and Joyce Doole, who started the Bush to Beach Program with Jack Cannon, from Variety, along with the great support of the South Narrabeen SLSC members. Les isn't too well at present so I got permission to visit him while there.
Danielle will take the car load of Winter gear to Goodooga, about 140 kilometres out of Bre, to an aboriginal community there. She will also take stuff to an aboriginal community at Weilmoringle, about 103 kilometres out of Bre.
It was wonderful to do this trip to Bre – there has been a lot of work done at the town since we went up in February – there's great new murals and artworks among many improvements that have occurred.
Variety has been sending out laptops to children doing schooling in isolation, sending out 74 a few months ago. Are you getting involved in any fundraising events this year?
Fundraising is very difficult for Variety the Children's Charity at present, and the needs have actually risen – so it's heartbreaking for we supporters. The 2020 B to B Bash (Bungarribee to Bakers Creek Bash) was moved to 2021 but they do have a Variety Resurrection Run scheduled, at this stage, for November with a 2 thousand dollar entrance fee, so we're raising funds to go in that.
Currently I'm running a Raffle, with tickets priced at $2 each or 3 for $5 and 10 great prizes on offer. The 1st Prize is a wonderful ceramic bowl Viktorija donated – this was made by her mother Jolanta Janavičius, a wonderful Artist who passed away in Spring 2019. Many of her works are going to the Lithuanian Art Museum, as well as those of her husband Jurgis. They were originally from Lithuania and came out to Australia after WWII, so winning this bowl would be something that may appeal to collectors and keep something beautiful here in Australia.
There are also some big beautiful cushions as part of this 1st prize.
A Handmade quilt is 2nd Prize – another beautiful item. For 3rd prize there is a soft white throw for a bed. Half a dozen bottles of good wine is 4th prize and a range of great golf gear, books and lots of other items – there are 10 prizes in all.
Where can people get a ticket?
My daughter Stacey is selling them at Prontos at Palm Beach for me, Elyse Cole has some or people can email me to arrange to buy some: beryldriver@bigpond.com
You had Sallymae Bailey along with you for this winter Bilgola to Bre run?
Yes – a wonderful friend who has also been on many Variety Bashes, for 20 years now. She loves being able to do for others and enjoyed the trip.
Viktorija, Sallymae and your good self seem to have added to your New South Wales Silo Art Trail photos along the way – which was your favourite?
The Winx horse one with the jockey and the trainer – this horse was born and bred at Coolmore Stud, Jerrys Plains in the Hunter Region of New South Wales while the jockey featured in the painting, Hugh Bowman, grew up on a farm just outside Dunedoo. The other figure is Chris Waller (world-class leading Australian trainer). This one has only just been finished by Dorrigo-based artist Peter Mortimore.*
I also loved the Kingfisher one at Gulargambone – just beautiful. The Gulargambone Water Tower was painted by Jenny McCracken and she titled her Kingfisher art work "Luck Dip".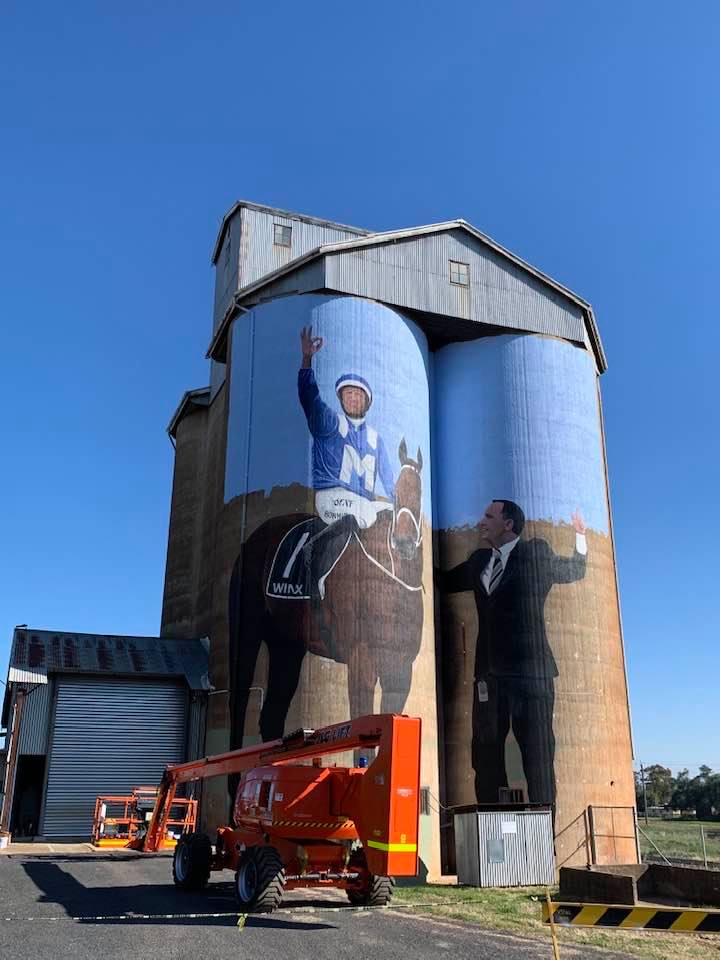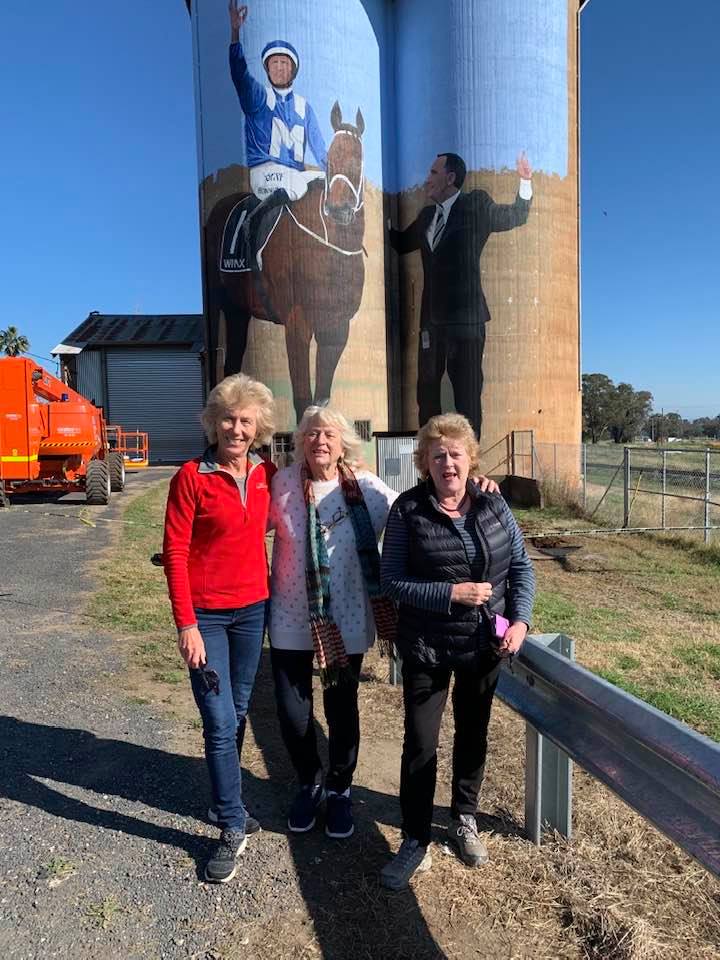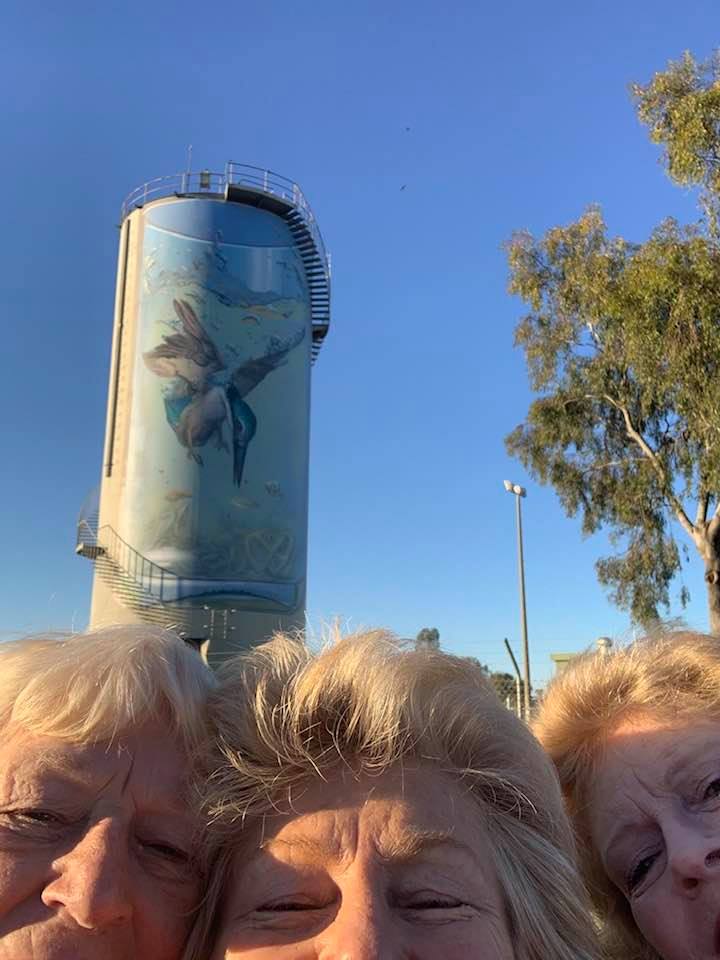 Pittwater Online News will catch-up with Beryl in Spring 2020 to see how the fundraising for the Variety Resurrection Run is going. As Beryl's son and grandson, and their better halves, are planning on going – there may well be three generations in that car come November!
Details below.
* The Winx Silo is the newest addition to the NSW Silo Art Trail. The move to create the tribute was created on former Graincorp silos that are now owned by local farmer Brett Yeo. Mr Yeo was part of the Dunedoo District Development Group that successfully applied for a NSW Government beautification grant for the Barwon electorate – with our state government investing through a $90,000 grant to make the Winx silo a reality.
Photos by Viktorija McDonell and Sallymae Bailey.
Details Of The New Variety Resurrection Run
June 30, 2020 by Bash Office
Considering the Variety Resurrection Run? We'd love to have you and here is all you need to know about where we are headed on this unique Variety Motoring Event. Of course, all these plans are reliant on the NSW Government's COVID-19 regulations which we believe will be suitable for our 'Run' in November.
Our one-off Variety Resurrection Run will be shared with our 4WD Adventures, NSW Bash entrants and B to B Bash entrants together with possibly some 'first-timers' who could join in to experience the Variety Motoring Events experience.
It is six days on the road with a journey distance of 2,200 kilometres of which 40% of that will be dirt. Here we go.
The Run begins with a mandatory CheckPoint Day at McDonald Jones Stadium, which you will find on Turton Road, Broadmeadow. We are sure you will all enjoy catching up with each other that evening prior to the start the following morning.
Day 1. Sunday 15 November: Newcastle to Merriwa to Dubbo
The Start will also be at McDonald Jones Stadium from where we head out into the upper reaches of the Hunter Valley to find our first lunch stop in Merriwa where lunch will be provided by the local Rotary Club. It's a small rural town located at the western extremity of the upper Hunter district beside the Merriwa River. It has an easy rural charm being primarily a service centre for the surrounding properties. The afternoon run sees us arrive in Dubbo where dinner will be at the Dubbo RSL. Dubbo is a major regional service centre located on the Macquarie River at the intersection of the Mitchell and Newell Highways. The area is known for its wheat and wool production, but the major attraction is the excellent Western Plains Zoo, a model zoo where animals roam freely in large open areas mostly protected from the public by deep moats.
Day 2. Monday 16 November: Dubbo to Girilambone to Bourke
We gather at the Dubbo Showgrounds where the local Police Citizens Youth Club (PCYC) will benefit from our stay there by providing our breakfast. Our morning run drops us in Girilambone where the local school's P&C will profit by providing our lunch. The long, straight Mitchell Highway from Nyngan to Bourke runs through this tiny village. There's a dead railway line, a general store and a few houses. It is sleepy and often passed by people who barely register its existence. Yet it is here that the body of Helena Kerz, murdered by the notorious killer Jimmy Governor, was brought to and buried. This happening is immortalised by the movie, The Chant of Jimmy Blacksmith. Our afternoon run takes us to into the Variety Bash's beginnings, Bourke, where Dick Smith started the very first B to B Bash back in 1985. We'll dine out at the Back O' Bourke Exhibition Centre which brings to life the story of Outback New South Wales.
Day 3. Tuesday 17 November: Bourke to Louth to Cobar
We assemble at the Bourke Jockey Club's track where the local Rotary Club will raise some much-needed funds for their town's projects by supplying our breakfast. It's also Race Day and you will be the horses in the first-ever Bourke Variety Gold Cup event! Dress up for The Fashions In The Field as we are sure there will be a marvellous prize for the winner! After the fun of a 'day at the races' we head on down the Outback dirt road to Louth for lunch at the famous Shindy's Inn. Shindy's Inn is a unique, Australian hotel and sits on the banks of the Darling River. In the great tradition of Australian Outback pubs, it's a wonderful place to spend some time. From there we head down the road to the old copper mining town of Cobar. Found at the crossroads of Barrier Highway and the Kidman Way, you'll discover a fascinating town that's rich in mining heritage and natural attractions. Tonight, is a 'Free Night' to dine anywhere in town to share the Variety love around this unique location.
Day 4. Wednesday 18 November: Cobar to Lake Cargelligo to Parkes
The Rotarians of Cobar will gather to provide our breakfast before we head off to Lake Cargelligo and lunch by the lake provided by the 'Down the Track' group. Down the Track exists to support disengaged and at-risk youth, promote engagement and self-esteem and reduce youth crime. They achieve this by providing these youth, 90% of whom are Indigenous, with training, education, employment pathways and community connection. Without the support of Down the Track, these youth are on a downward spiral of continual disengagement from their communities and positive life opportunities. We are delighted to help them in a very small way. Lana Masterson, is the Program Manager and she provided us with this video to show how it all works, click here to see it. Dinner will be in Parkes and you have the chance of self-selection for dinner with another 'Free Night' for you. We are sure you'll select a nice 'dish' for your mains!
Day 5. Thursday 19 November: Parkes to Wellington to Mudgee
Parkes Showground is the gathering spot for breakfast where the local 'Show Society' will provide the brekkie so they can earn a 'bob' to spend on their refurbishment plans for some of their older 'show' buildings. From there we wind our way through the old gold mining town of Peak Hill on the way to Wellington for lunch hosted by the Wellington Race Club. Wellington is a service centre in the heart of beef, sheep and wheat country. It is also driven by a growing wine industry and tourism. The town's centrepiece is Cameron Park which has been recognised as one of the most attractive public gardens in rural New South Wales. Then onto another beaut NSW town, Mudgee, where once again there is a "Free Night' to select some fine food washed down by the region's magnificent wines. Mudgee is set on the banks of the pretty Cudgegong River, and still possesses all the character of its 19th century past. Mudgee offers something for every kind of RR traveller.
Day 6. Friday 20 November: Mudgee to the Hunter Valley
Our final day and again we gather at a Showground where – once more – the fabulous Rotary members of the area will come together to make available our breakfast before we head off for our last little bit of dirt as we aim for the finish line in the Hunter Valley. The Hunter Valley is one of Australia's major wine regions, with a viticultural history dating back to the early 1800s. Known for varietals such as Semillon and Shiraz, it's home to numerous wineries, including world-renowned brands and family-run boutique operations. No need to stop off for lunch as there will be snacks available after we cross the finish line at the Crowne Plaza in Lovedale. Enjoy the early afternoon arrival which gives you a little chance to visit some wineries before we gather for our final night dinner at the Ben Ean Winery in nearby Pokolbin.
For those who'd prefer not to drive to the final night dinner, we are hoping to be able to provide bus transport from the nearby Hunter Valley accommodation spots to the Ben Ean Winery (and return). Further information will be available soon.
That's it,
Come on. Let's do it for the kids!
Register here: www.variety.org.au/nsw/event/varietyresrun