February 24 - March 2, 2019: Issue 394
Big names and fabulous prizes for Sydney Harbour Regatta 2019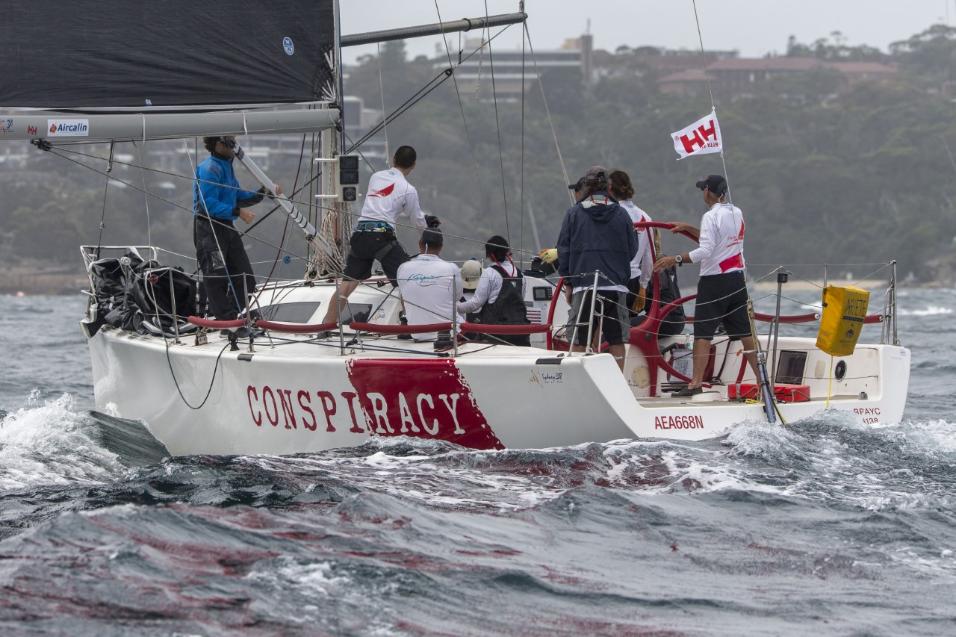 Conspiracy - won the NSW Championship in November - Andrea Francolini photo
Fabulous prizes await placegetters in Middle Harbour Yacht Club's (MHYC) Sydney Harbour Regatta to be held over the first weekend of March and already some big names have entered for NSW's largest keelboat regatta.

Each class and division winner is eligible for the Grand Prize Draw to win two return Sydney-Auckland Economy airfares courtesy of Air New Zealand, plus two nights' accommodation, including breakfast, courtesy of Middle Harbour Yacht Club, as part of its 80th anniversary celebrations. The prize also includes one week complimentary berthing at Abell Point Marina.
Second and third placegetters are eligible to win big prizes too, including complimentary berthing at Abell Point Marina.
Offering 14 classes to prospective competitors, entries have already surged in some and a TP52 fleet is looking likely and includes two-time Sydney Hobart winner, Bob Steel with his TP52, Quest.
The Super 12s are shaping up nicely. Easy Tiger VI (Chris Way) Lightspeed (Stephen Barlow) and Darkstar (John Bacon) are bringing their MC38s, while Adrian Walters' speed machine, Little Nico, is entered along with Walter Lewin's Farr 400, Vento.
"Easy Tiger VI is a recent addition to the Easy Tiger stable," said Way of his MC38. "She is the previous MC 38 champion, Menace, and this will be the first Super 12 event for her."
In the Super 30's, a mix of Flying Tigers, Farr 30's, Melges 32's and others, including Andrew York's multiple winning Reo 7.2, REO Speedwagon, will make this one of the most watched classes.
Numbers in the remaining classes are also healthy, with well over 100 boats of varying shapes and sizes already entered for the regatta that takes over Sydney Harbour on the weekend of 2-3 March.
Integrated into the regatta is the Yoti Australian Sydney 38 Championship. Up to a dozen boats are expected to take part and some new players will up the ante, leaving no room for error.
Representing MHYC is Peter Sorensen, a top performer across multiple classes, who has purchased Phoenix and re-named the 2018 Australian champion boat Advanced Philosophy. 'Sorro' is not known for settling for second best; he's been in the winner's circle too many times for that.
A second MHYC member, Mike Logan, is the proud new owner of Thirlmere, a boat that has won its share of silverware, while Stephen Teudt/Lisa Callaghan from Manly Yacht Club and Cruising Yacht Club of Australia member, Phil Tomkins, have also joined the Sydney 38 class.
"Returning are some familiar faces in Tony Levett (MHYC), who has campaigned TSA Management in 14 Sydney Hobarts with some excellent results - and The Goat - whose crew will include those from Outlaw, the recently named NSW Farr 40 champion," says Association President, Peter Byford.
The top four placegetters from November's NSW Sydney 38 Championship have also signed on: Peter Byford/David Hudson's Conspiracy (also placed third at the 2018 Australian Championship); Greg and Wade Croak's Challenge, Richard Williams' Calibre and Peter Mayo's Austral.
"It should be very competitive racing," Byford says of one of the strongest fields for some time.
This year MHYC are working hand-in-hand with Clean Up Sydney Harbour (celebrating its 30th year) to be held on Sunday 3 March. Entered yachts in the Sydney Harbour Regatta will be flying Clean Up Australia backstay flags in tandem with Clean Up activities and celebrations.
The Sydney Harbour Regatta would not be possible without the continued assistance of: the Cruising Yacht Club of Australia, Manly Yacht Club, RANSA, Royal Prince Alfred Yacht Club, Royal Sydney Yacht Squadron, Royal Prince Edward Yacht Club, Sydney Amateur Sailing Club and the Sydney Flying Squadron.
Thanks also go to key sponsors Helly Hansen, Air New Zealand, Robert Oatley Wines and Abell Point Marina, along with supporting sponsors Mercure Resort Hunter Valley Gardens, Smooth FM, Club Marine, Vittoria Coffee and KeySun.
All information: www.shr.mhyc.com.au
By Di Pearson, MHYC media