February 27 - March 5, 2022: Issue 528
Big Wet forecast to continue this week: please don't drive through flood waters + Keep an eye out for distressed wildlife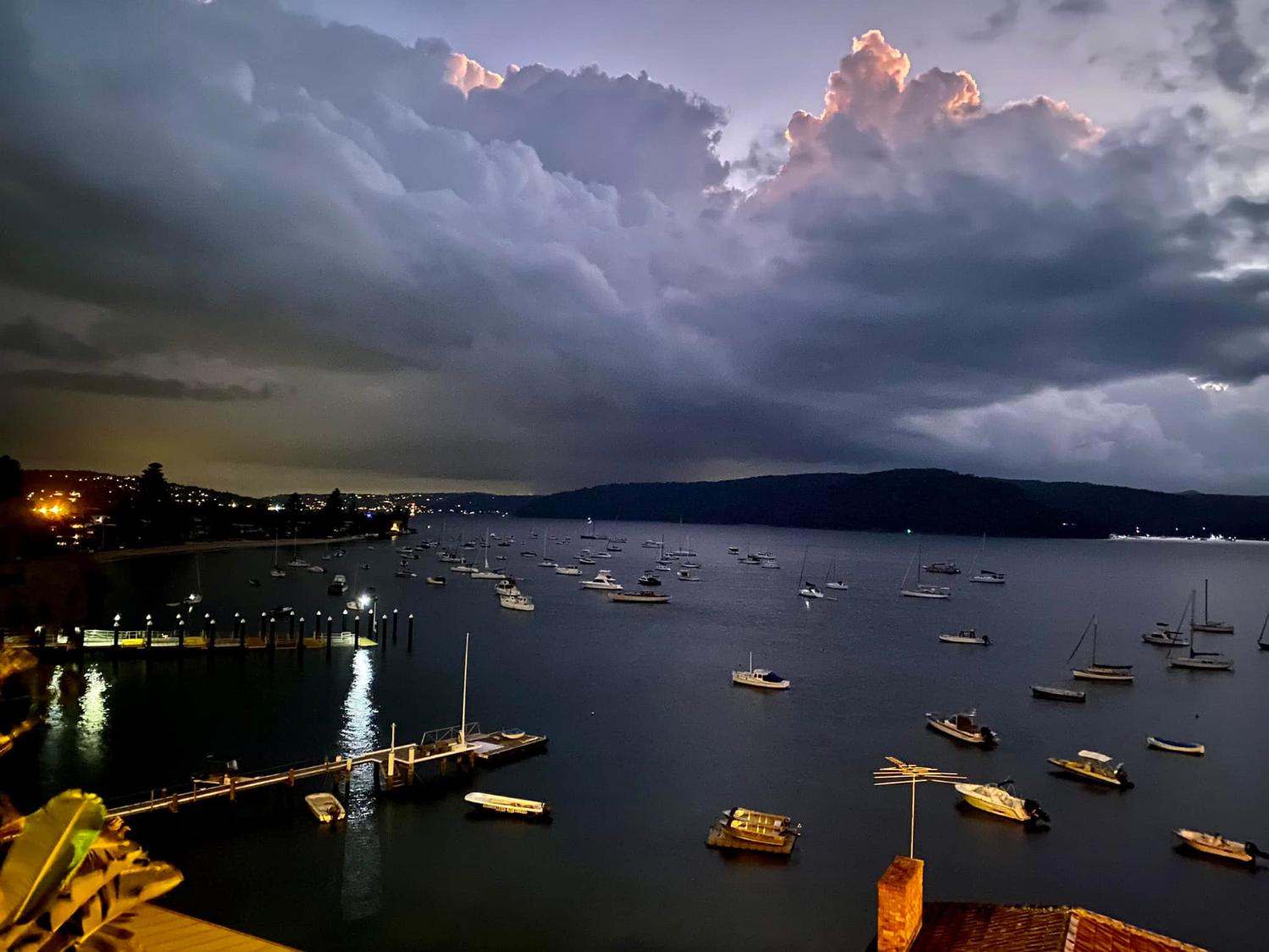 View over Pittwater at Dusk, Monday February 21, 2022. Photo: Adriaan van der Wallen
Monday February 21st was a classic late summer's day for the most part - until the clouds rolled in again.
Terrey Hills AWS recorded 21.2mm on Tuesday, 66.8mm on Wednesday, 18.2mm on Thursday, 21.8mm on Friday and 76.6mm on Saturday. Sydney AWS recorded 105.2mm on Wednesday.

The 7 day forecast for this week predicts a 100% chance of rain today, Sunday February 27th, 90% for Monday through Wednesday, 80% for Thursday, and 60% for Friday and Saturday.
So far over this Summer Sydney has had 637mm with February alone clocking up 338mm of rain against the average of 119.3mm for the same month from the records made since 1858.
This had been preceded by a New South Wales Spring (2021) that was the fourth-wettest on record since national records began in 1900, and the wettest since 2010. Temperatures were below average in inland areas, and close to or above average along the coast. Weather patterns in Spring were influenced by a developing La Niña and an ongoing negative Indian Ocean Dipole event.
The BOM has issued its updated Autumn Outlook on February 25th: 'La Nina wanes while Australia faces a potentially wetter-than-average Autumn'.

Autumn days are likely to be wetter and warmer than normal for much of Australia, the release states.
The Bureau of Meteorology's Autumn Climate Outlook for 2022 details the predicted climate and water conditions for the coming season.
Above-average autumn rainfall is likely for most areas of Australia, except the south-west and north-east. Autumn is likely to be wetter than normal for much of Queensland and scattered areas of south-eastern Australia, including areas already impacted by Summer floods.
While La Niña has led to increased rain in eastern and northern Australia, observations and climate models suggest it is likely at or past its peak and expected to end in mid-Autumn 2022.
Autumn days are likely to be warmer than normal for much of the northern half of Australia, coastal Western Australia, and parts of south-eastern Australia, while a small area of eastern New South Wales will likely be cooler than normal.
Across Australia, night-time temperatures are predicted to be higher than normal.
Australia's severe weather season runs from October to April, meaning Autumn remains a higher-risk period for storms, fires, floods and tropical cyclones.
Dry conditions in Western Australia mean bushfire risk will remain high, while areas of eastern Australia that have been wet in recent months will have below-average fire risk.
There have been five tropical cyclones in the Australian region since the start of the tropical cyclone season in November, including four over the Summer. February to March is usually the peak of the tropical cyclone season. With warm waters around northern Australia, further tropical cyclone development remains likely for Autumn.
For more details on this and other climate outlooks and summaries, visit the Bureau's website: www.bom.gov.au/climate
Locally the Narrabeen Lagoon Catchment has been living up to its functions and draining all the creeks that cascade down from the escarpment - the Wakehurst Parkway has been closed due to flooding from Oxford Falls and Middle Creek and even when reopened has had water on the road - two commuters, a car and a motorcycle, had an accident at Middle Creek that closed the road from the morning peak hour until lunchtime as the Crash Investigation Unit, Emergency services and Transport for NSW attended after the victims had been taken to hospital. The woman motorcyclist was badly hurt.
On Saturday run-off from the lagoon at Queenscliff made water on the coast brown and the deteriorating weather prompted the Competition Committee of Surf Life Saving New South Wales, which is holding the State Championships at at Freshwater SLSC, Queenscliff SLSC and North Steyne SLSC, to cancel the rest of the Age events.
''The Competition Committee advises of the difficult decision to cancel the remaining events for the 2022 SLSNSW Youth Championships. The Open Lifesaving competition scheduled for Sunday 27 February is suspended and further advice on scheduling will be provided in due course. The decision is made based on deteriorating weather conditions with the health and safety of our members in mind.'' SLSNSW stated
''As people would be aware Sydney has experienced on-going and significant rainfall over the past week. This has impacted water quality of all beaches on the Northern Beaches and significantly at Queenscliff due to the opening of the lagoon.
''The Competition Committee has met and reviewed the forecast for the week ahead and there is to be ongoing significant rainfall which will continue to affect water quality. This is coupled with a significant spike in the swell, with sea conditions predicted to be considered dangerous from Wednesday through Sunday next week. Given the expected direction of the swell, all contingency locations will be unsuitable for competition.''
''The safety and wellbeing of competitors and volunteers is always at the forefront of any Championship Committee decision. With a view to communicate changes to the competition schedule, mitigate disruption to travel and accommodation arrangements and ensure as many Championships events are conducted, the Committee determined they would amend the schedule of the events coming up.
The Age State Championships had been impacted by an outbreak of gastro earlier in the day, affecting around 40 children and causing the suspension of events mid-morning.
NSW Health had issued a Health Alert on February 24th due to concerns over a big increase in cases.
Parents are being urged to keep children at home if they are unwell following a substantial increase in the number of gastroenteritis outbreaks in childcare being reported to NSW Health.
NSW Health Executive Director of Health Protection Dr Richard Broome said 156 outbreaks of gastroenteritis in early childhood education centres were reported in NSW in February.
"Almost 1,000 children and more than 210 staff members have been affected to date, a 97 per cent increase above the number normally reported for the month of February," Dr Broome said.
"NSW Health has notified the directors of NSW early childhood education services to an increase in viral gastroenteritis outbreaks and since then there have been further notifications of gastroenteritis outbreaks across the sector."
Viral gastroenteritis is highly infectious. Viruses are spread from the vomit or stool (faeces) of an infected person. This can occur when cleaning up body fluids, during person-to-person contact, sharing of contaminated objects and occasionally inhaling airborne particles when people vomit. Viral gastroenteritis symptoms include nausea, vomiting, diarrhoea, fever, abdominal pain, headache and muscle aches. They can take up to three days to develop and usually last between one or two days, and sometimes longer.
The volunteers of NSW SES Warringah / Pittwater Unit's had completed 41 jobs by Thursday since the rain began on Tuesday, mostly tarping leaking roofs.
During Saturday's incessant downpour they were again putting tarps on rooves, 29 by lunchtime, and posting through social media that they are working their way through the list; 'please bear with us if you are waiting'.
The Unit was also advising commuters via the same to ''be careful on Mona Vale road heading east just past Terrey Hills turning and before the Kimbriki turn. The tarmac has erupted and water is bubbling up.
Drive slowly to avoid the rubble and water!''
The same SES Unit made sandbags available to the public from the NSW SES Warringah / Pittwater Unit at 3 Thompson Drive Terrey Hills from 9.30 Saturday 26th February.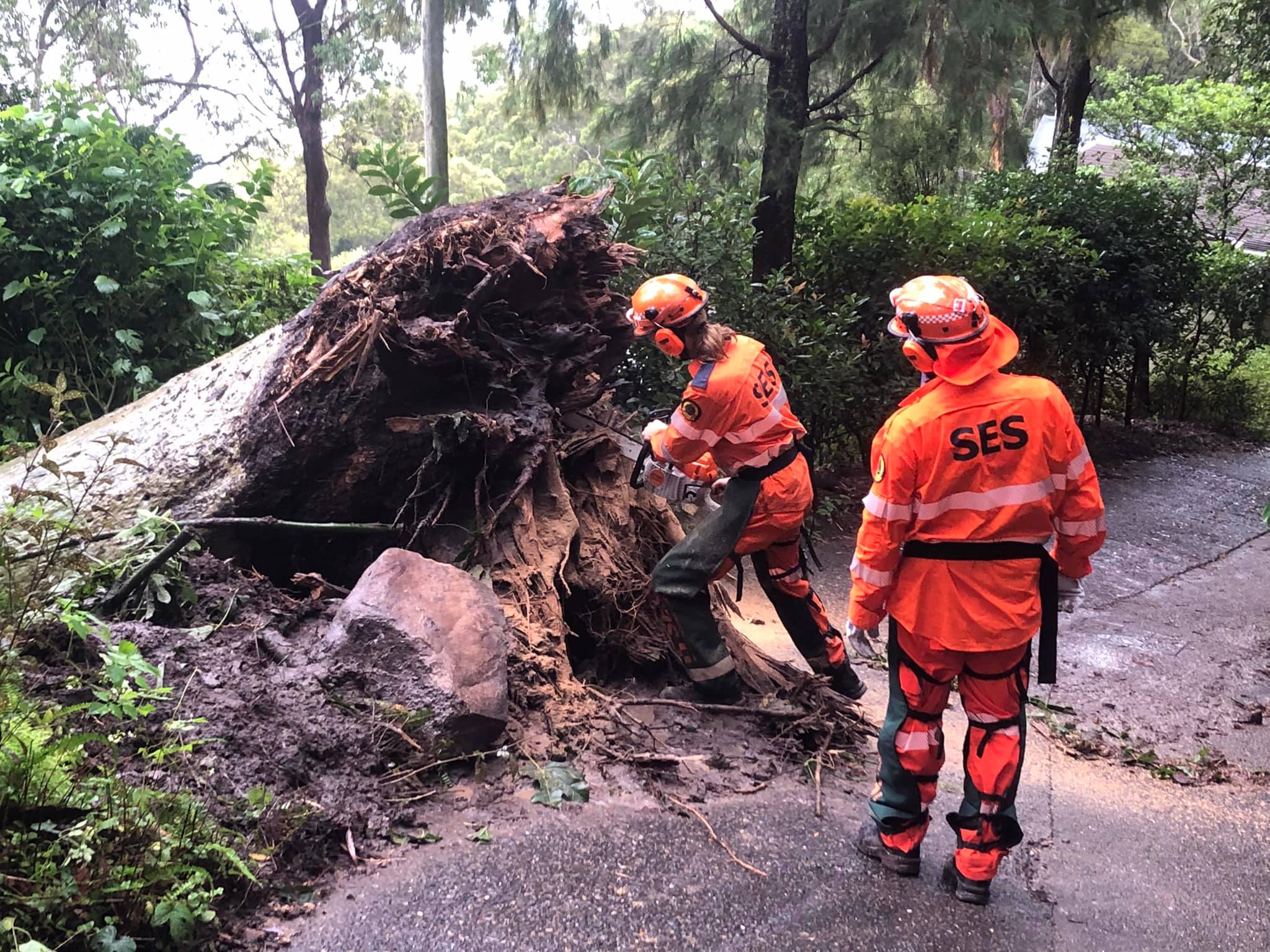 Photo and Caption: NSW SES Warringah / Pittwater Unit - 'This huge tree wore out a few chainsaws yesterday!'
If you need emergency assistance due to flood and storm damage call NSW SES on 132 500. If life threatening, call 000.

Local wildlife rescuers and carers state that ongoing heavy rains are tough for us but can be tougher for our wildlife:
Birds and possums can be washed out of trees, or the tree comes down, nests can disintegrate or hollows fill with water
Ground dwelling animals can be flooded out of their burrows or hiding places and they need to seek higher ground
They are at risk crossing roads as people can't see them and sudden braking causes accidents
The food may disappear - insects, seeds and pollens are washed away, nectar is diluted and animals can be starving
They are vulnerable in open areas to predators, including our pets
They can't dry out and may get hypothermia or pneumonia
Animals may seek shelter in your home or garage.
You can help by:
Keeping your pets indoors
Assessing for wounds or parasites
Putting out towels or shelters like boxes to provide a place to hide
Drive to conditions and call a rescue group if you see an animal hit (or do a pouch check or get to a vet if you can stop)
If you are concerned take a photo and talk to a rescue group or wildlife carer
There are 2 rescue groups in the Northern Beaches:
Sydney Wildlife: 9413 4300
WIRES: 1300 094 737
Please be patient as there could be a few enquiries regarding the wildlife.
Generally Sydney Wildlife do not recommend offering food but it may help in some cases. Please ensure you know what they generally eat and any offerings will not make them sick. You can read more on feeding wildlife here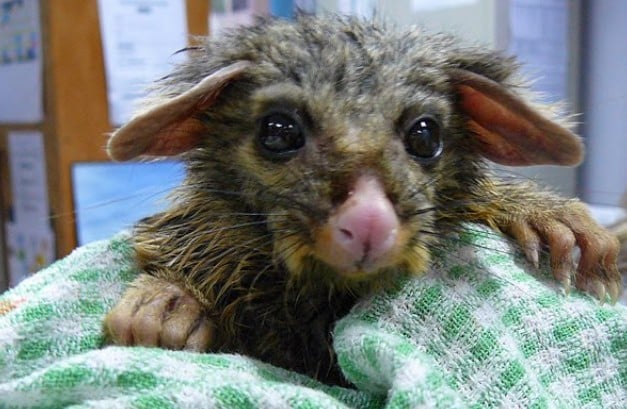 Information courtesy Ed Laginestra, Sydney Wildlife volunteer. Photo: from Esther Andrews.
Two NSWRFS rescue helicopters were positioned further north, in Lismore and Coffs Harbour, to assist in the event of possible flood rescues. By Thursday the NSW SES had completed 30 flood rescues.

Tragically Queensland Fire and Emergency Services (QFES) confirmed an SES volunteer has died while responding to a call for assistance in Coolana overnight on February 26th, the fourth person to lose their life in floods in that state.
Three other SES personnel were rescued from floodwater when the vehicle they were travelling in was swept off the road. The SES unit was assisting a family after flood water threatened to inundate their home.
On Wednesday February 23rd this video filmed by Instagramer Sky Monkey 5 captured the rescue of an older gentleman who was nearly swept away when Dee Why lagoon broke. Fortunately local surfers and bodyboarders came to the rescue of the man.
The Rescuers were Dooma Phillips, Ruben Casteigit, 'Waves Windy'(Instagram name), Fabio Silvestre and Eugene du Plessis.
Apologies if any moniker is incorrect.
With high rain totals forecast for much of this week, emergency services are asking people to take all care when travelling - don't drive through flood waters.
If you need help from the SES bear in mind there is likely high demand on the skills of these volunteers in forecast conditions.
NSW SES is asking all people in areas impacted by floods and storms to monitor the situation closely and act on all advice given by emergency services.
If you are travelling within and to the impacted locations, consider your travel plans and adjust or cancel your trip.
Caravans and campers need to pack up and move to higher ground as soon as possible.
People living or working along rivers and creeks should monitor the latest weather forecasts and warnings.
If your home could be cut off by floodwaters, get prepared.
Work out the safest route to leave or where you will find higher ground if the situation changes.
Stay away from rising water and move your car away from areas likely to flood.
Never drive, ride or walk through floodwater.
This morning, February 27th, the Bureau of Meteorology and NSW State Emergency Service are advising residents in Northern NSW of local intense rainfall leading to dangerous and life-threatening flash flooding. Thunderstorms from Sunday afternoon may produce rainfall totals of up to 250mm within a six-hourly period.
NSW SES Deputy Incident Controller, Supt. Mark Elm said rainfalls have the potential to reach 500mm in 24 hours across the northeast corner of NSW over Sunday and Monday.
In addition to the rainfall, large high tides occurring over the coming days together with a potential East Coast Low developing over Tuesday and Wednesday residents need to act now.
"NSW SES are urging residents of the Northern Rivers and Mid North Coast to prepare now for flash flooding.'' Supt. Elm said
Residents need to take the following steps to prepare their property now, and don't delay:
Clean your gutters, down pipes, and drains
Trim trees and branches from around your house
Lift furniture, valuable possessions
Have plan, know where you will go if you are ordered leave your home.
Prepare a home emergency kit
'Businesses should enact their Flood Plans, raise stock and inventory off the ground as high as possible.'' Supt. Elm said.
We are reminding all members of the public, "Do not walk, drive or ride through flood water!" It is not worth your life!''
Keep up to date with the latest information by visiting the NSW SES and Bureau of Meteorology websites and social media platforms.
Put together an Emergency Kit
An Emergency Kit can help save precious time in an emergency situation. It provides items you might need if you lose power or need to leave your home in a hurry.
Your emergency kit contents:
Portable radio with spare batteries
Torch with spare batteries
First aid kit (with supplies necessary for your household)
Candles and waterproof matches
Important papers including emergency contact numbers
Copy of any Home Emergency Plans
Waterproof bag for valuables
When leaving or evacuating your property, place in your emergency kit:
A good supply of required medications
Any special requirements and supplies for babies, the disabled, infirm and/or elderly
Appropriate clothing and footwear
Fresh food and drinking water
Keep your emergency kit in a waterproof storage container.