January 14 - 20, 2018: Issue 343

Be Brave Artspace: Avalon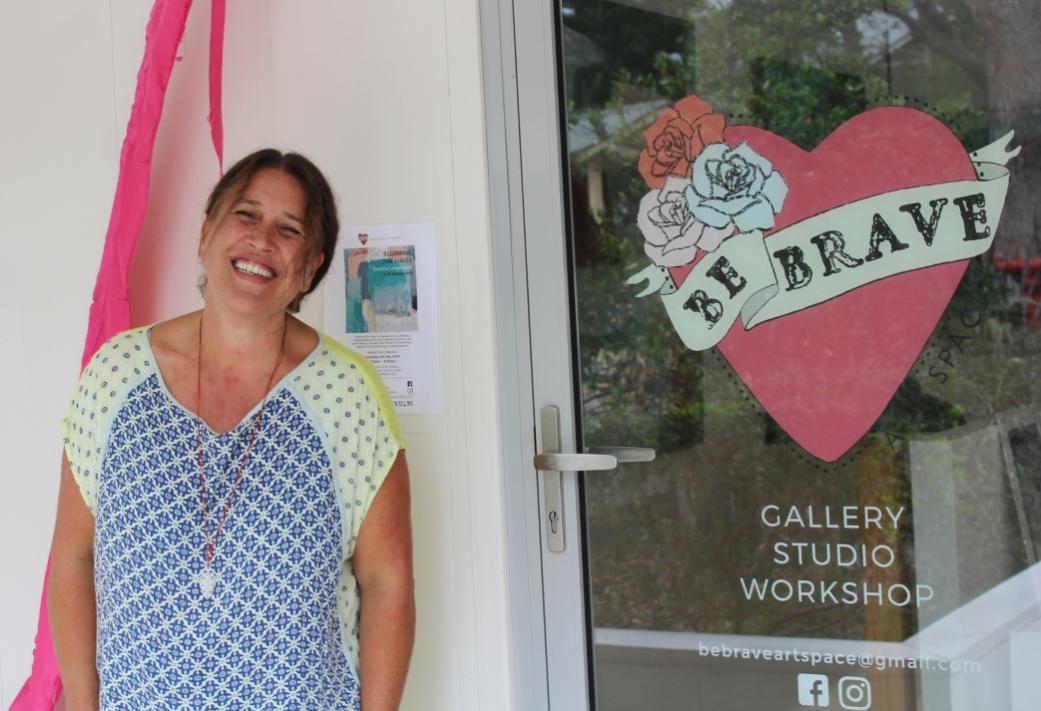 Unit 15
5-7 Careel Head Road
Avalon, New South Wales
Call: 0416 127 859
Be Brave Artspace is a new Gallery and Studio in Avalon showcasing talented artists and inspiring those in the community who share a passion for colour, form and creativity.
Be Brave Artspace was an idea that grew out of a love of all things creative. The gallery opened it's doors on December 1st 2017.
On street level a light, spacious gallery is set to deliver dynamic exhibitions of local and Sydney based artists.
Downstairs there is a workshop and studio for creators to be bold and fearless, a space where artists can exhibit, create, connect and be inspired.
Tina Berkeley is the lady who has opened the Be Brave Artspace. We caught up with her this week to find out more.
Why did you open an Art Space and Gallery?
It started as my need to have a studio; I wanted to get back to doing some of what I had done prior to raising four boys; one still growing. I started looking around and found this space in Avalon which has two stories. It came to me as soon as I walked in here that I could have a studio and an art space as well. The ideas on how to make it work just grew after finding this place which is ideal for this purpose.
This is an idea that has stemmed from loving Art, loving Creativity. At base, after finding the place, it seemed natural to give it a go and see what happens.
The spot seems more suitable as there is nothing of this sort at this end of Avalon to Palm Beach and there are popular eateries within walking distance too, so it lends itself to enjoying what is on display and then enjoying what else is on offer. After I secured the space I had to fit it out, it was just concrete – so floors had to be installed, painting – it was a real passion project.
There are a lot of Artists who have offered encouragement and support and the response has been amazing, people are really excited about the gallery and studio space.
Why 'Be Brave' – where did the name come from?
I recently took myself on a trip overseas to rediscover the Tina that used to be prior to marriage and children. It was scary at first but my motto through my trip was 'Be bold and brave'. I actually wanted to call this 'Bold and Brave' but thought that may be a little too 'Bold and Beautiful' and so went with 'Be Brave'.
To be brave is really important to me. I think as mums we put ourselves into our kids and their lives and forget about those parts of ourselves that nurture us and make us feel really good and excited about what we can do. It takes being brave to step into that world again.
You're an Artist yourself – what medium do you work in?
I paint acrylics – this is one of my old ones, called
Lotus.
I haven't painted for years, so that was the whole impetus behind this; ok I used to do that, maybe if I draw myself back into painting I may find I can do it again and even better than I used to. The trip overseas included visiting Art Galleries – I've always loved Art.
I'm Rudolf Steiner trained as well as being a Primary School Teacher.
I never did Art at school but during my Steiner training we did a lot of Colour Therapy and studied conversations in colour. I realised that I can actually paint using colour and shape, and paint from the inside out. All these ideas about creating an image that I had never thought of coalesced for me.
As an example, I used to think 'draw a horse – that's a horse'; where it's not like that at all of course – it's just an expression of what you are seeing based on shadow and colour and light.
That's why I love the gallery; you can feel and see what others are doing and that is really inspiring.
You're a Teacher and an Artist – will you be combining these and offering Art Classes?
Not with children at this stage as I'm stepping away from that at present.
What I plan to do here is open the Studio for other Artists to use on a Saturday. People have already expressed an interest in using the space and that should get up and running in Autumn when things have cooled down outside and people are looking for something great to do on a Saturday. The plan is to have some groups of 8 to 10 people here. The Arts will vary – everything from linocuts, drawing and ceramics.
There is also this outside space courtyard area for people to use as well
The other activity which will commence is a Life Drawing class once a week as I really want to do that.
There are so many ideas and ways to expand and express your Creativity, and many of these are inspired because I want to do them too and so to be able to create that space so others may come and enjoy those learnings and get the joy out of doing these different mediums underlines what Be Brave Artspace is about.
The gallery space – what has happened there so far?
The first Exhibition encompassed 15 Artists in many different mediums, showcasing the works of many, including Peta Morris, Hoysie Hoy and Nina Mathewson. This was the 'Art Has No Rules' group exhibition that ran from Opening Night, December 1st until December 20th.
So many of the Artists were great with their time and input helping me with aspects of opening a gallery I didn't know – Peta Morris from Manly Vale was fantastic as she has run galleries before.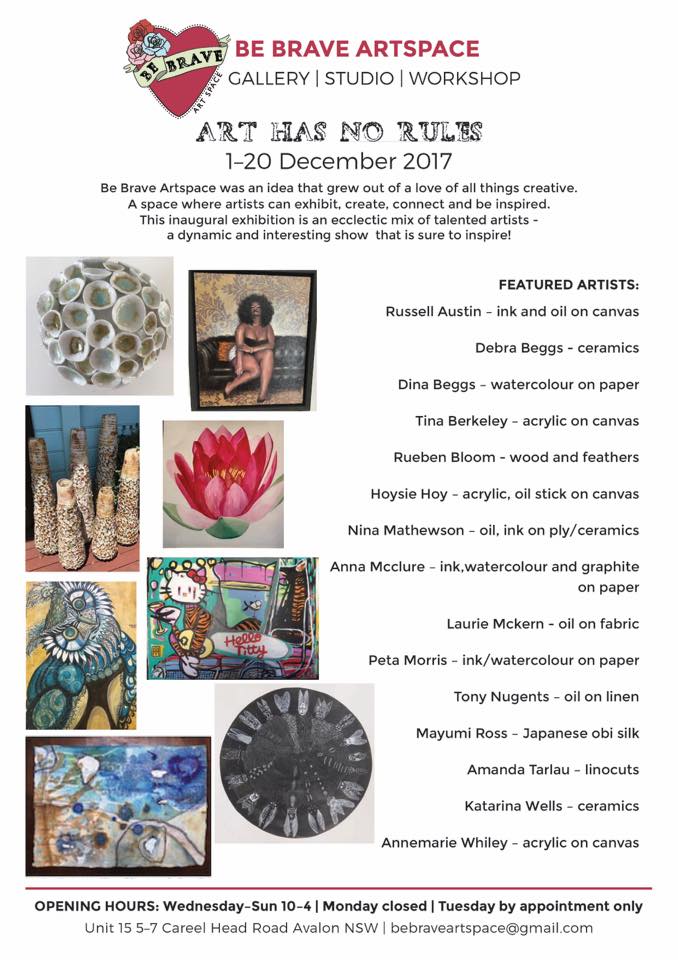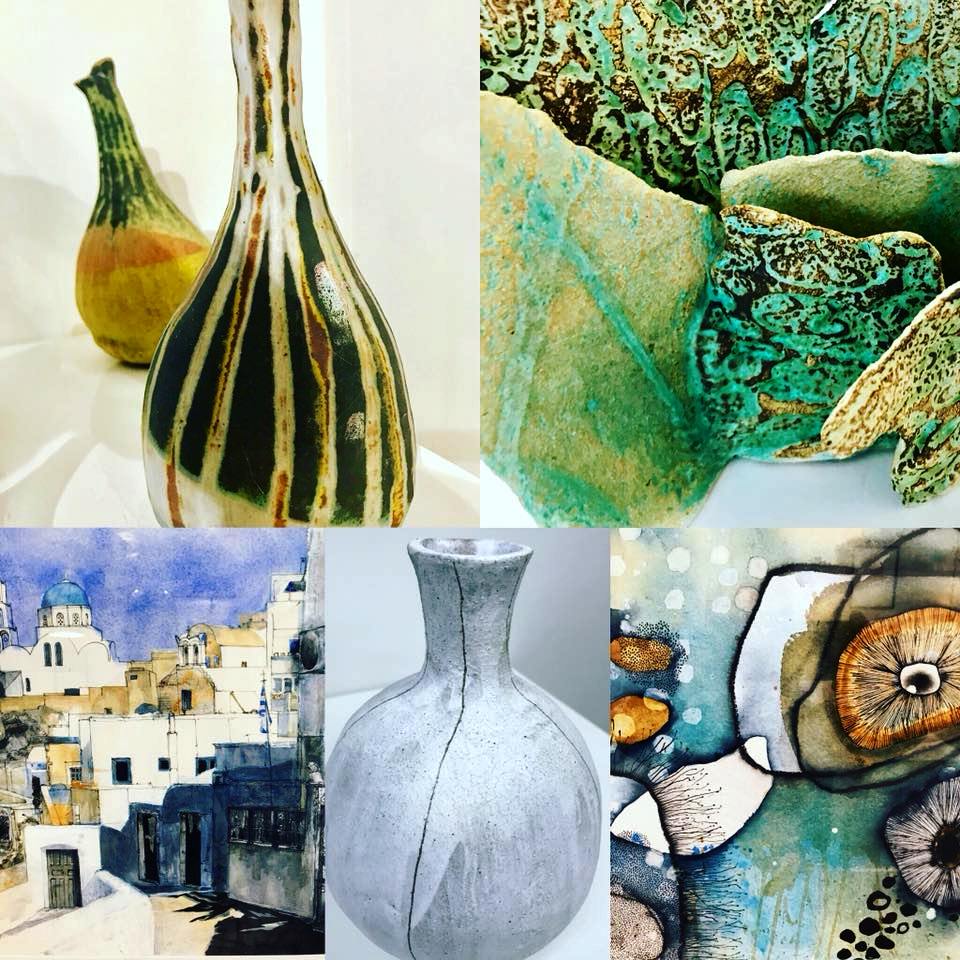 Original artworks by local Argentinian artist Patricio Polanski were in our window over the Christmas Break.
On January 6th 'Blurring the Lines' featuring new and original works by Suzanna Langenheim opened. This features over 30 hanging artworks and 40 works on paper for sale till January 28th.
Suzanna came to me when I was first fitting out and was the first person to show incredible excitement and interest. Suzanna has been creating for years and has won many awards and prizes. Suzanna grew up with Arkie Whitely and was taken under the wing of Brett Whitely - so she has a long history of developing what she does. Suzanna has now come to a point where she wishes to express what she sees more freely and her exhibition features what her eyes and self has seen and experienced during her bike rides around Narrabeen Lagoon.
"Blurring the lines" is inspired by my simplistic interpretation of the ever changing moods of the landscape while on my daily bike ride around Narrabeen Lake and the surrounding northern beaches. My morning rides start like script that is rewritten over and over once the journey begins.
While experiencing the wind on my face I observe the ongoing changes of light, shape, shadow, and texture. The landscape changes personality as the mood takes it. Watching the world awaken from its slumber reminds me of an orchestra starting ever so softly to reach a destination. Every note contributes something special.
This show is a spontaneous reaction to my surroundings. I am not trying to define the landscape but to express, celebrate, embrace and experience the different personalities and moods it represents on a daily basis. I like to let the paint dictate to me, by exposing the brush strokes and underlying thought process so the viewer can experience my visual journey. It can be raw and organic at times because that's how I see the landscape, always changing its mind to give us the variety we need.
The landscape will always be an inspiration and testing my abilities as a painter and spectator, but that is something I cherish and look forward to.
Suzanna Langenheim, January 2018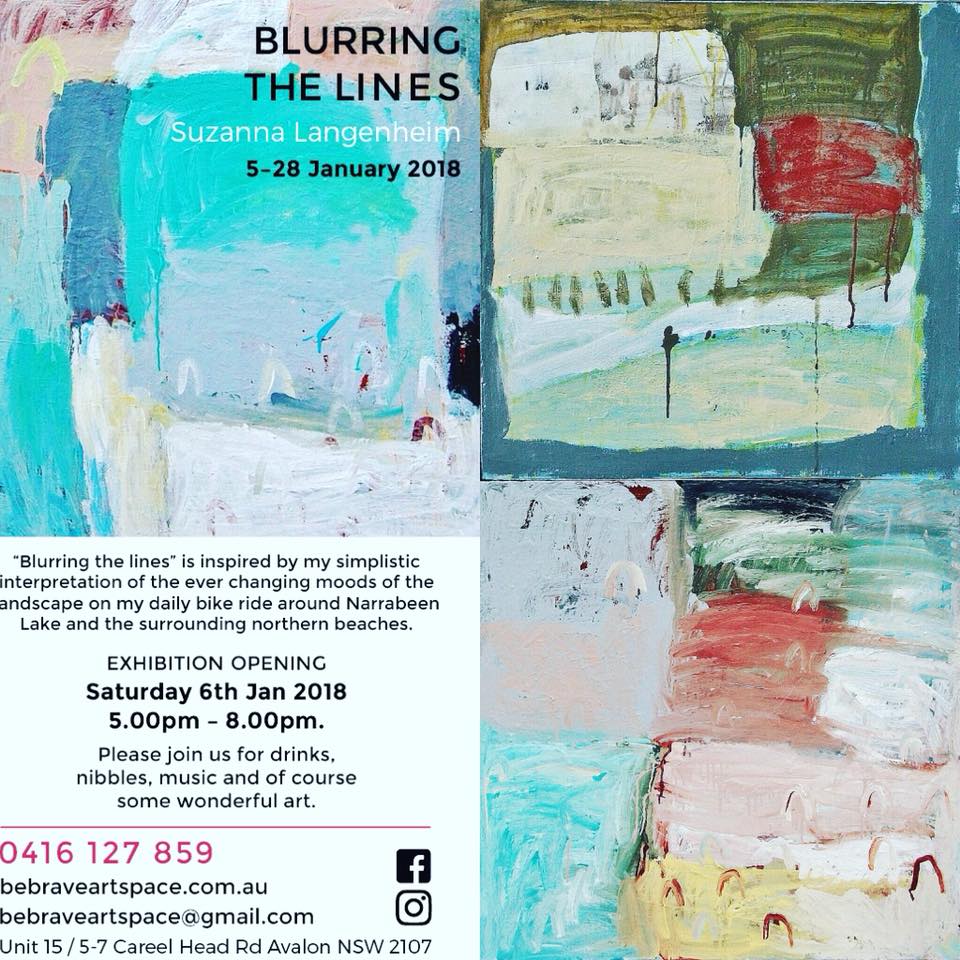 What about future exhibitions?
The gallery will turn over Exhibitions every month.
Next month my sister-in-law and a friend of hers are going to guest curate. They will be doing a Group Exhibition and have some incredible Artists lined up, all local creatives. This will bring even more people into the gallery and make them aware it's here.
In March I have an incredible Exhibition with Niki McDonald. On Instagram she goes by the name of
Tapestry Girl
.
Niki does these huge Pop Art women and then does cross-stitch over the top of these – they look amazing. They're big and bright and colourful, just wonderful.
Niki will do that exhibition with a guy called Cameron who has a focus on Pop Art cars.
Niki grew up in Avalon and when she saw me on instagram came all the way up to Avalon from Rose Bay, where she's based now, for the Opening. She is getting her brother and sister, who are still living here, to do a bit of photography and ceramics and get involved in the Exhibition – so that will be great.
At this stage, April is open so if anyone wants to come along, please contact me.
How does the fiscal side of Be Brave Artspace work?
It's done on a commission basis – I don't charge for the space.
There will be a charge for the Workshops, a flat fee for the day to hire the space.
Why is it important to you to support local Art and Artists?
It's vital, so important from my point of view. I just posted something today which says 'Earth without Art is 'eh'.' To me, that's how I fell – I love colour, I love movement and vibrancy. Art communicates all that – it takes what people experience, the colours they see and the feelings they have and gets those out where other people may access that.
To me any kind of Art is interesting. Although, in saying that, I went to a Modern Art Exhibition in the Museum of Contemporary Art in Denmark where one exhibit was literally a plastic chair and a wooden box which made me think…'Really?'.
I don't often think that as I'm into it all, my perspective always being; 'that's what someone is feeling or thinking and then expressing' – and just because I didn't respond to that exhibit doesn't mean someone else wont.
That, in essence, is why supporting Art at a local level is so important – every piece and every Artist is so different and to be able to connect with a piece of Art enriches each individual.
As my own example – that Hoysie Hoy piece there – I love it; it's bright, colourful, filled with wonderful shapes and just brightens my day just by looking at it. other people may find that just too much, too busy – so Art is a personal thing and keeping that where each person may access and appreciate that is vital.
For me, and Painting, to be able to express yourself as an Artist is a great way to get out of being solely in your head and allow yourself to be free.
That also makes more apparent why the Workshops will be so important – to be able to attend these and lose, and find yourself through doing some Art means you will go home feeling better – you're also better at what you do then; better with your kids, better with what you get on with on a Sunday or Monday morning.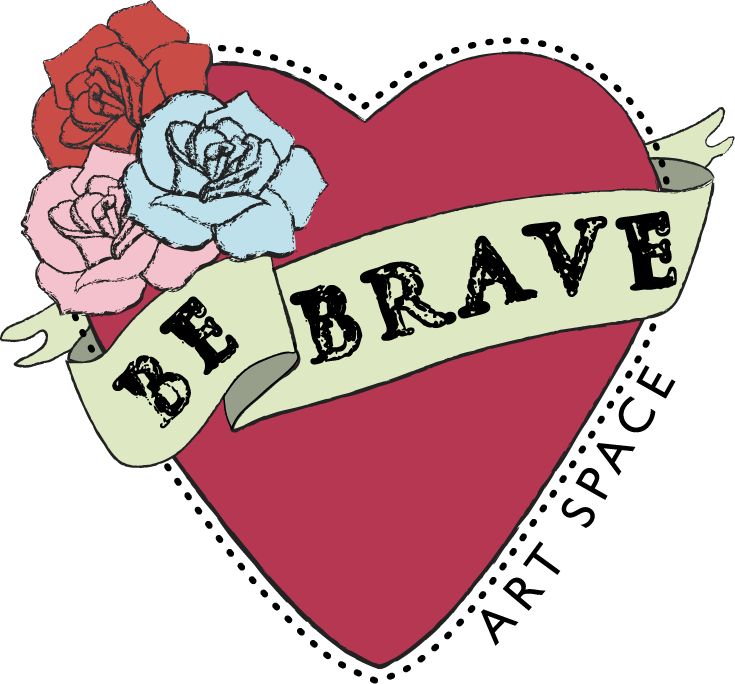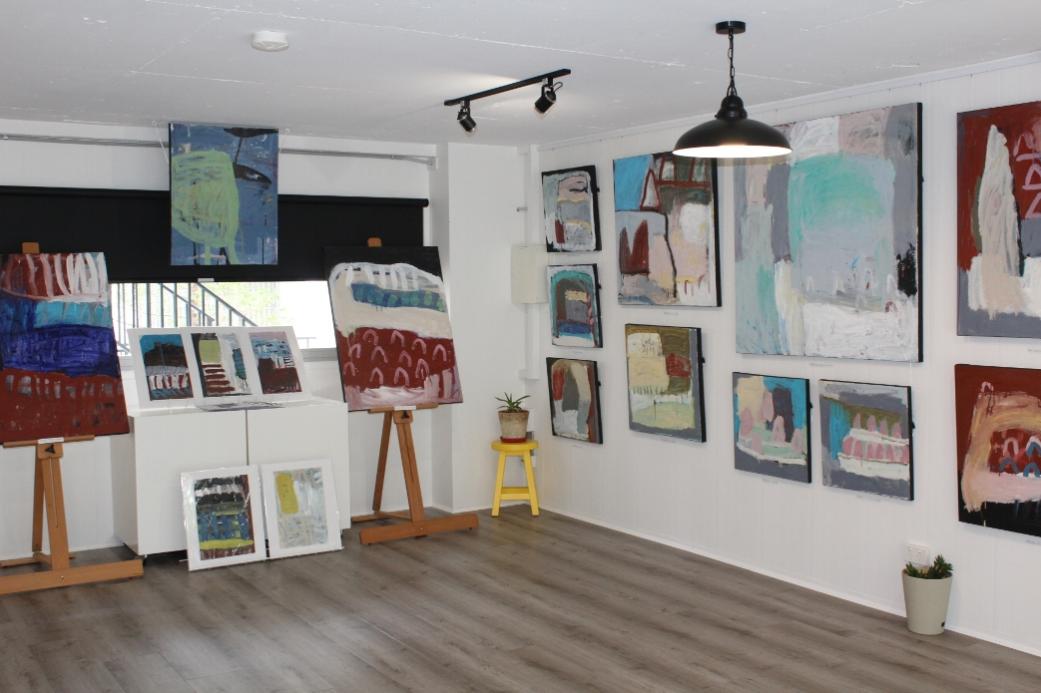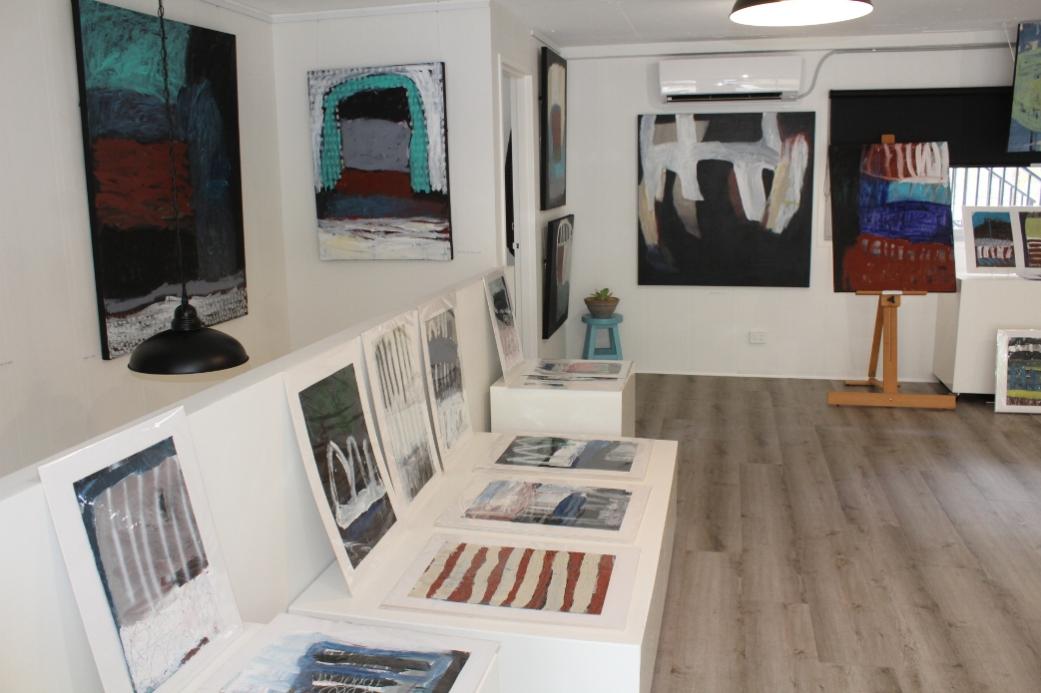 Ground floor gallery space at Be Brave Artspace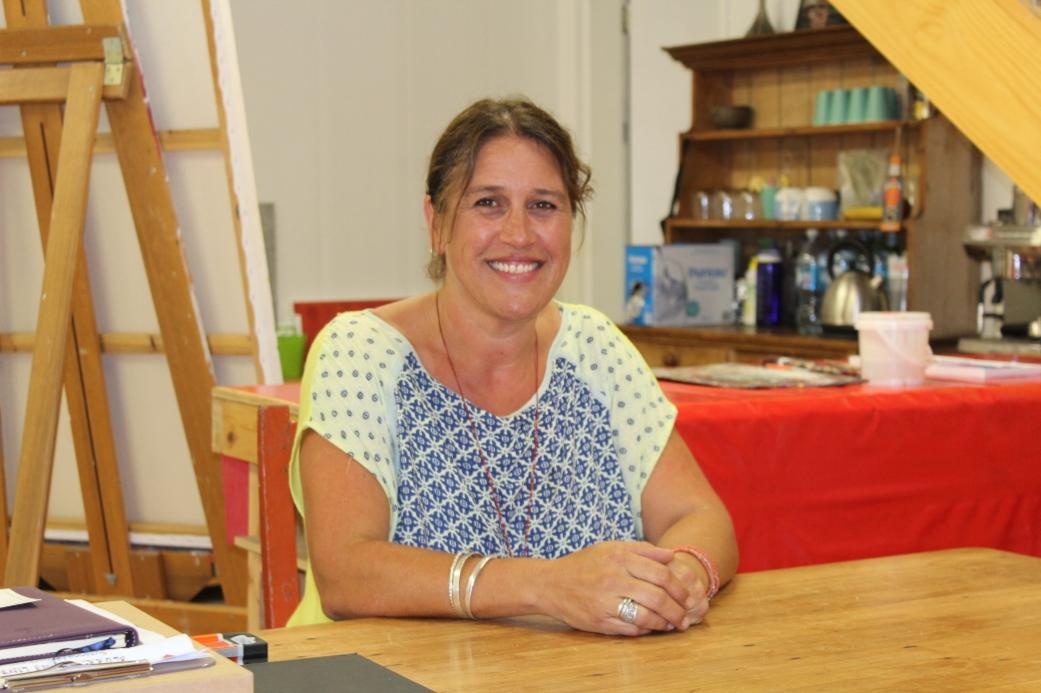 Tina, downstairs in the Studio and Workshop space - lovely air conditioned comfort.