March 7 - 13, 2021: Issue 486

BYRA Host NSW F16 State Titles With Support From PBSC
Two of Pittwater's great family focused clubs, Bayview Yacht Racing Association (BYRA) and Palm Beach Sailing Club (PBSC) joined to host F16 NSW State Titles on 26-28th February 2021.
To add to the action the F16 Association invited friends in the F18 fleets to bring their boats to the carnival and race the F16s on scratch for a combined result.

Day 1 held on Friday afternoon saw 4 heats with 2 wins apiece to Beau White and Sophie Renouf drawing with Simon Skoog /and Nick Reader both in first Place.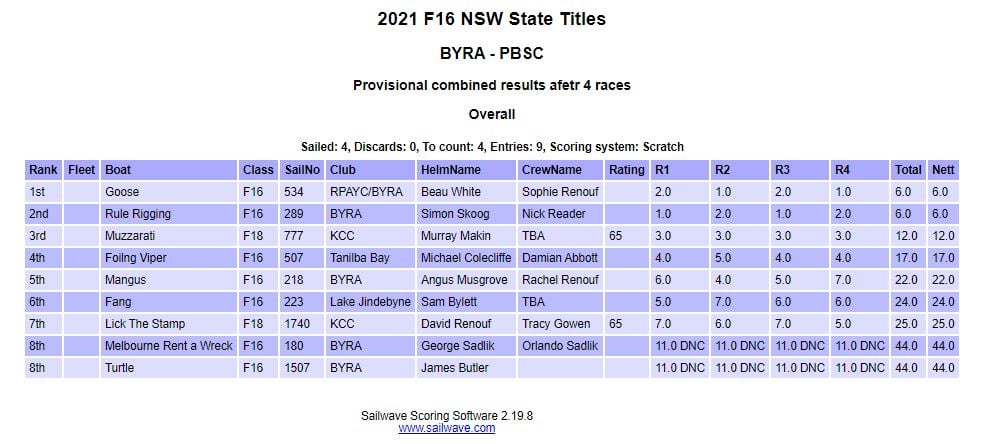 NSW State Titles provisional results after 4 races on Friday 26 Feb, 2021

Day 2 started with No Breeze.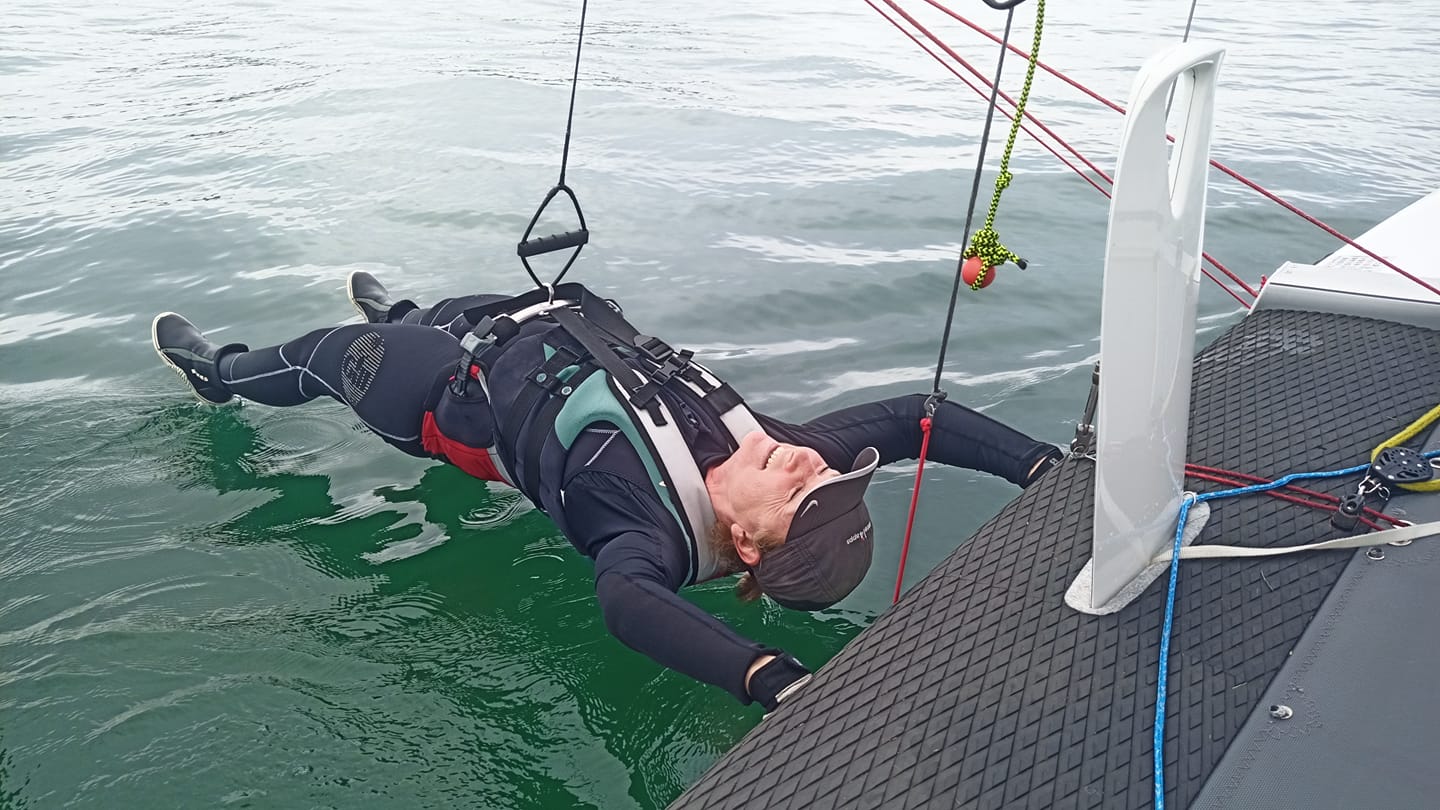 Photo courtesy F16 Association of Australia
Race Report Saturday 27th February

By Richard Lacey
Round 4 of the PBSC Club Championship and co-partnering BYRA with on course racing for the NSW Viper championships.
There was anticipation on the beach, when would the Northerly that was forecast arrive!
PBSC had 5 Hobie 16s and Bad Dog (A Class) all waiting on the beach - a phone call from BYRA came at 12.30 there were 9 vipers on the Way from BYRA with a support Rib and a spectator Boat.
By 3PM every one was waiting and were Ready to Rumble! After 45 minutes looking for something that wasn't there - and finally finding a steady 2knt NNE puff we decided to go for it.
As Jon Holies explained afterwards to whoever would listen he was Hero to Zero after nailing a port hand start and dominated the Hobie 16s until he misjudged the windward mark by 1m metre and had a fight with the Tide leaving the honours to Bad Dog (George from Patonga) Followed by Upu and Sam, Team Henman, Anthony /Evelyn, Dave and Hayley Fisher and then Jon Holies who was ruing the day he misjudged the Tide.
From the Vipers Beau White and the brains of the outfit wife Robyn nearly caught the Hobies after giving them a 5 minute headstart followed by Tracey Gowen/Dave Renouf having the race of their series in 2nd, Simon and Nick joint leaders Day 1 thought that starboard tack on the start line in a big tide was a good idea. Giving Beau and Robyn the series lead at the end of day 2 .Rubbing salt into the wound 5 minutes after racing was called off for the day a nice 12 KNT northerly arrived, - 3 hours late. All the Vipers had a nice ride home!
Good fun, spirits were high at the BBQ where Jon Hoiles recounted the one that got away.
Thank you Scott and Alicia for assistance on the start boat also Dom who did Security support on the BYRA RIB !
Once again the trailer at Low tide was a handful and a working Bee lopping trees and trailer repair day seems to be rumoured for next Saturday! Upu and Dave /Hayley are off to the VIC Hobie titles next week. Good Luck Guys safe Travels Haley advised that she was going regardless as to whether Dave or Tracey were! - Report by Richard Lacey, Commodore, Palm Beach Sailing Club, Photos by Trevor Gourlay, Palm Beach Sailing Club
The final day started out with no breeze, however the Pittwater brought a magnificent South Easterly that saw 6 sprint style two lap races knocked out in quick succession by PRO Neil, the master of turning around a start in record time. Some hasty mark relocations were executed by competitors as the breeze continued to swing to the east. It was a group effort and as usual fantastic fun.
It was excellent having the F18s on course and racing hard in the Regatta overall and their own division.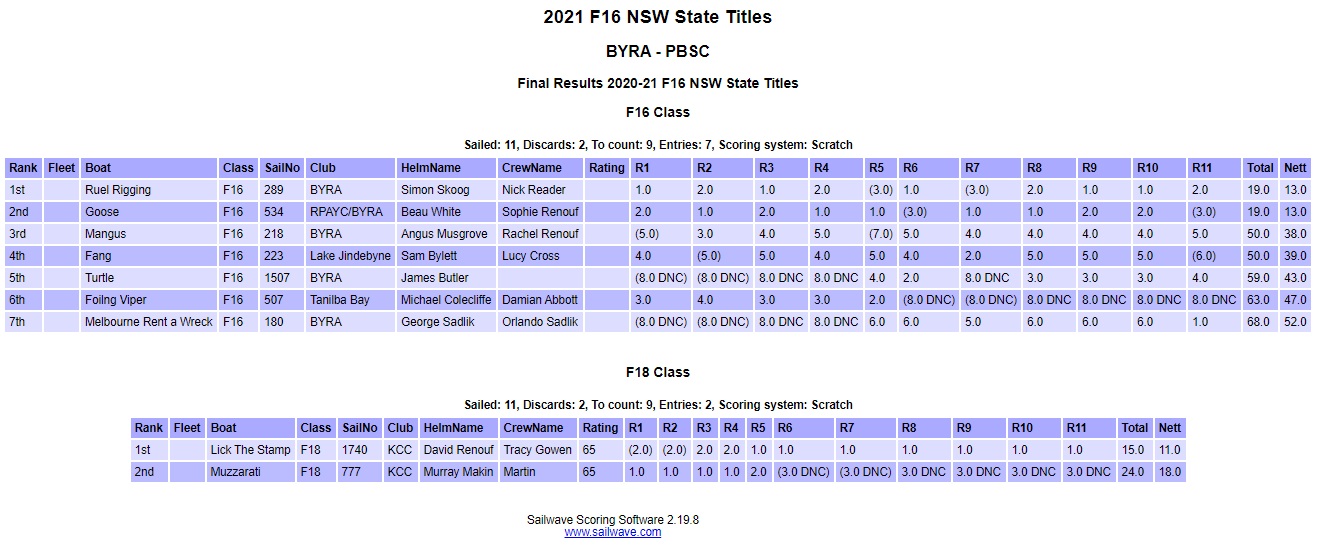 NSW State Titles Results - Finals Day, Sunday February 28, 2021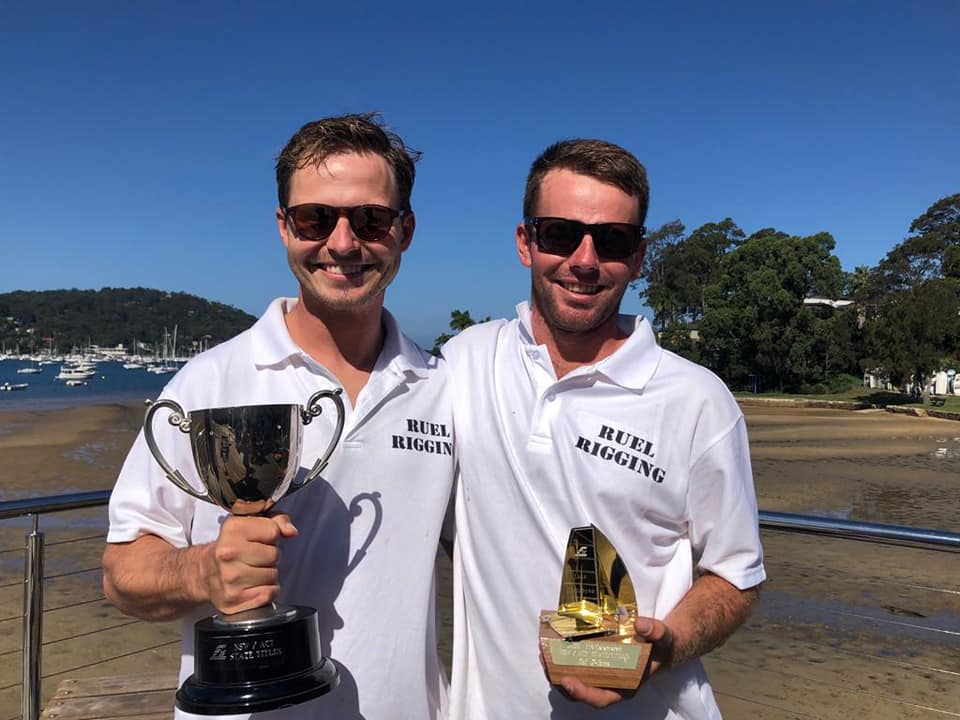 Top Dogs! BYRA's Ruel Rigging's Simon Skoog and Nick Reader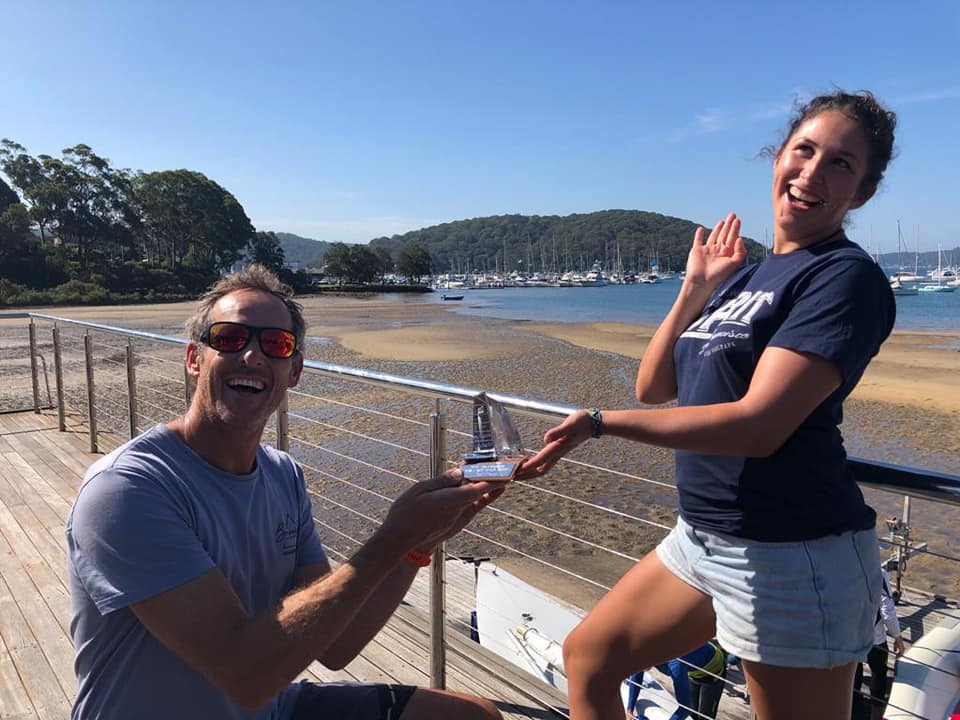 2nd place, even on points for the win... it came down to the final race on countback. Beau White and Sophie Renouf.

About The F16
The Formula 16 (F16) sport catamaran is an ISAF recognised 5 m long beach catamaran with an asymmetric spinnaker setup. It is actively sailed in two modes: doublehanded with a jib (2-up), and singlehanded without a jib (1-up). Its class rules setup is very similar to those of the Formula 18 class of beach catamarans. In effect any boat that adheres to a certain limited set of general design specifications may participate in all the official class races. The two classes, F18 and F16, govern the racing of their own class compliant boats.
The F16 class was founded in the spring of 2001, after it had become clear by the overwhelming success of the F18 class that formula classes would be the future in sport/beach catamarans and that a more versatile formula class was desired.
The F16 class was from its inception engineered towards a dual-role sports catamaran with certain remarkable qualities. A careful balancing act between the major components of the F16 boats allows this result. The result being that the same craft is used for both doublehanded sailing/racing as singlehanded sailing/racing; the craft has a very similar performance in both modes (doublehanded and singlehanded); and the F16 boats share as good as identical performance with their intellectual parent, the Formula 18 class.
Several modifications were made to the early F16 class rules to achieve this result. The founders believed this result to be important to the growth and success of the F16 class. Additionally, both the doublehanded and singlehanded F16s race each other for being first across the line as well. They are simply that close in overall performance around the race course.
The other goal that the F16 class was engineered towards was the ease of handling the boat by any singlehanded or doublehanded crew.
The F16 class has a following in the USA, Europe, Asia and Australia and class associations have been formed there. The key areas within these regions are Florida, Maryland, California, the United Kingdom, Netherlands, Belgium, Germany, Singapore, Thailand, New South Wales and Victoria. During the years 2005 and 2006 the class grew in unlikely places like Shanghai (China), Finland, Arab Emirates and places in the USA like Arizona and New Mexico. The class grows as much in areas new to beach cat sailing as well growing in volume in the traditional beach cat regions. The F16 class is therefore trail blazing a path for a large beach catamaran scene in these places. This is to a large extent due to low-cost home-buildable plans being available next to commercially sold ready-to-sail boats. A good number of these homebuilt wood/epoxy boats race and are very competitive with the glass/vinylester production boats.
The most notable event for F16s in their short history was held in April 2007 where the best 20 teams of the various US sport catamaran classes were invited to compete on Blade F16s at the US Multihull Championship for the Hobie Alter Cup. The Hobie Alter Cup is a long-running invitational championship of catamaran champions named after Hobie Alter who made beach catamaran sailing a very popular sport worldwide in the 1970s. The event was generally a five-day, round-robin on manufacturer-supplied boats to ensure the competition was a test of sailing skill and influenced by differences in boats. John Casey and John Williams won the 2007 event.
In October 2009, the F16s were again used for the Hobie Alter Cup event. This time AHPC provided Viper F16s to the organisation for their use. An unprecedented honor for a class that is still as young as the F16 class. Casey and Williams again won the event.
In November 2010 the Formula 16 Class was granted Recognised Status by the International Sailing Federation the world governing body for the sport. The Formula 16 catamaran had effectively completed its journey from a quirky, enthusiast's catamaran to the mainstream of international sailing.
The Australian F16 Association says ''An F16 catamaran is a must have wind toy in the quiver.''
Further:
''If you are a serious trophy vacuuming racer or just a weekend warrior you need an F16. There's a plethora of regattas to race at – check the events page. Apart from the growing F16 fleet, you can go toe to toe with the bigger F18s or foiling with the Nacra 17s.

If you kite, windsurf, sail big boats, race in a fleet of dinghies you need to have an F16. Its the go-to craft when the conditions are not perfect for kiteboarding or windsurfing or when you are bored with going slow. You can plan your sailing day and no matter the conditions you will be richly rewarded.

Having fun is always better when you have someone to share it with. Sailing an F16 with someone else is just a wonderful way to spend time together, to share and develop a common interest. That person may be a friend, prospective lover or kids. To teach someone to sail on such a brilliant craft is most rewarding (that includes yourself), to then watch them pass that knowledge on and teach their mates and ultimately sail against you is truly what empowering future generations is all about.''
The F16 is a great youth boat for kids to learn, develop on and race competitively. When the kids are done Mum and Dad can get on the twin hulled rocket and go for a romantic sail across the water.
Find out more at: https://ausf16.net/ and http://www.formula16.net/f16-class-history/
Bayview Yacht Racing Association (BYRA)
BYRA is the home of dinghy and yacht racing on the pristine Pittwater. Whether you're looking for a social outlet, wanting to learn to sail, a seasoned racer, or an opportunity to get the whole family out on the water, at BYRA we have something for everyone. Formed in the 1950's BYRA has a strong focus on tomorrows sailors and has an extensive Youth Sailing program. They also host 'Try Sailing' days each year as well as supporting and hosting State and National Titles.
This weekend 6-7 March 2021, BYRA is home to the 52nd Manly Junior Australian Championships 2020
Find out more at: www.byra.com.au
Palm Beach Sailing Club (PBSC)
The Palm Beach Sailing Club celebrated its 50th anniversary a few years back. This off the beach catamaran sailing sets out from Sandy Point, Palm Beach and has a focus on sharing the joy of sailing with the greater community. The club encompasses many classes of cats, F16, Hobies, Wettas - if has two hulls and can go fast, you will find an example here being sped across the Pittwater estuary. The club has numerous State, National, World and Olympic champions as members and hosted numerous State and National Titles as well as its own calendar of club races and social events.
Their motto is (in reference to the course they choose at the northern end of Pittwater in the Palm Beach Circle): If you can sail here, you can sail anywhere'.
Find out more at: www.pbsc.org.au

Photos From Day 1: Friday, February 26, 2021 NSW F16 State Titles Racing
Images by Trevor Gourlay, Palm Beach Sailing Club