December 9 - 15, 2018: Issue 387
B-Line Success - 5.9 Million Passenger Trips in First Year: Manly Vale Breathing Wall Carpark to open this month
James Griffin, MP for Manly at the Manly Vale 'Breathing Wall' Carpark this week
Wednesday, 05 December 2018

The NSW Government's B-Line bus service has carried more people in its first year of operation than the population of Greater Sydney.
Minister for Transport and Infrastructure Andrew Constance revealed more than 5.9 million passenger trips have been made on the ground-breaking turn-up-and-go service between the Northern Beaches and the Sydney CBD since it launched in November 2017.
"The B-Line has been a tremendous success since the first buses started travelling between Mona Vale and the Sydney CBD one year ago. Customer satisfaction is above 90 per cent – it's certainly been a happy first birthday," Mr Constance said.
B-Line services are turn-up-and-go, meaning customers travelling between Mona Vale and Wynyard have been able to throw away their timetable.
Member for Manly James Griffin said customers can catch a bus every five minutes during peak times in the peak direction, and every 10 minutes at other times of the day.
"The B-Line is the centrepiece of a rejuvenated Northern Beaches bus network which was designed to make it easier for customers to travel to-and-from the Sydney CBD, as well as around the local area," Mr Griffin said.
"Over the last 12 months we've added around 4,200 extra weekly services to the network, including around 2,000 B-Line services and around 1,000 new weekly services to help customers get to the new Northern Beaches Hospital and growing Frenchs Forest area. In this time we've also seen patronage across the entire Northern Beaches network increase by around 11 percent."
In another milestone for the project, the new commuter carpark at Manly Vale will open to the public later this month.
"Manly Vale is the last of six commuter carparks to be completed as part of this project. It will provide up to 150 spaces, bringing the total number of spaces available along the B-Line route to around 900," Mr Constance said.
"The Manly Vale car park is also the first to feature the rotating 'Breathing Wall' technology developed by one of Australia's leading living infrastructure specialists, Junglefy. This unique system incorporates around 9,000 plants which have been scientifically proven to remove harmful air pollutants and to provide a habitat for biodiversity and a beautiful looking façade."
The B-Line project has included a number of road improvements in the Northern Beaches and Lower North Shore designed to ease traffic congestion and improve bus reliability.
"The road changes delivered by the B-Line team include new bus lanes, tidal flow systems and indented bus bays which have helped to reduce the journey time between Mona Vale and Wynyard by around nine minutes," Mr Griffin said.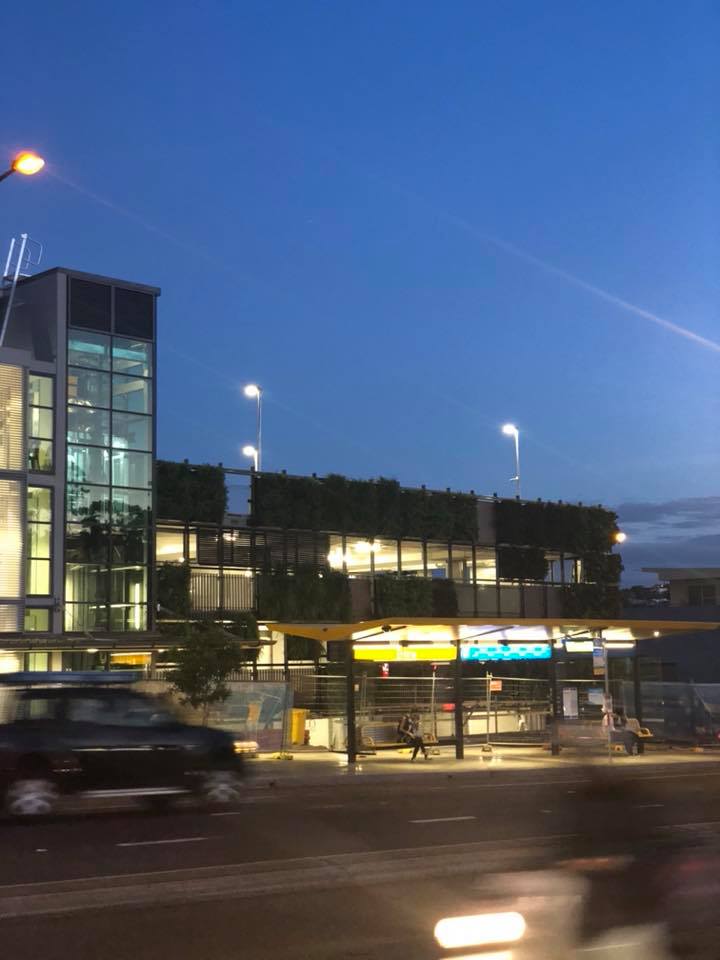 Manly Vale Breathing Wall Carpark