September 3 - 9, 2017: Issue 328
Avalon Soccer Club: Another Brilliant Season 2017: End of Year Presentations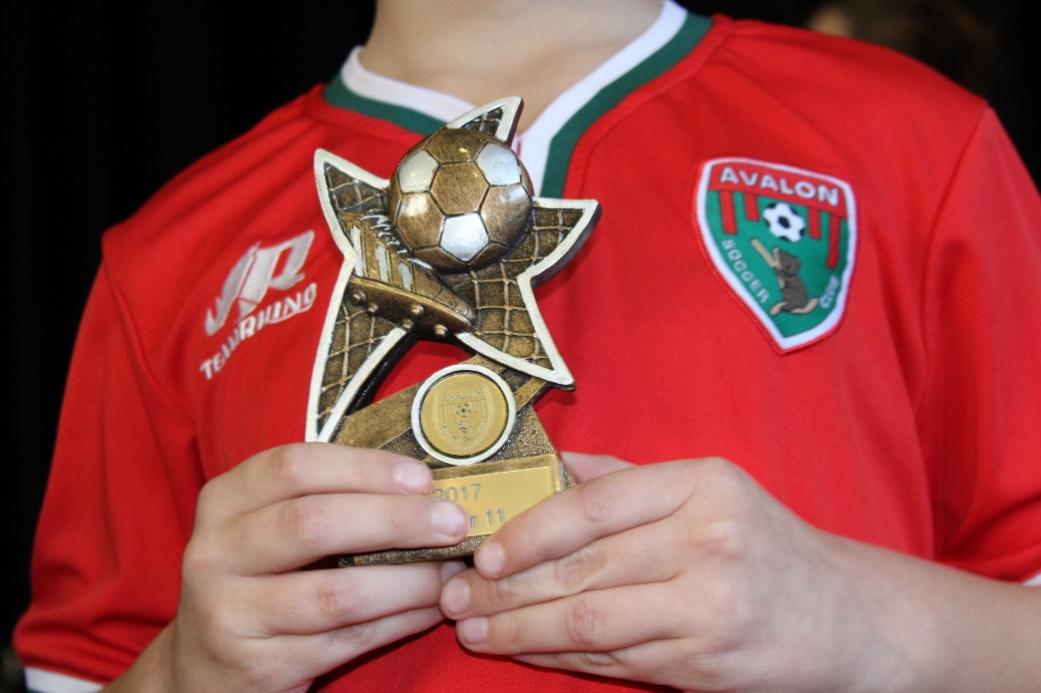 Avalon Soccer Club: Another Brilliant Season - 2017 End of Year Presentations
Early Monday morning council workers were dismantling the goal posts on Careel Bay Soccer Fields, readying them to be stored away by Roland Luke until the next season.
The bigger Rugby League posts on Hitchcock Park have also come down, ready that field for use by Cricket players over the Spring and Summer.
On Saturday September 2nd the End of Season presentations were held at Avalon Pubic School – a day long event for a club that has 88 teams and 1143 registered players - although some of these are girls who are dual registered in two teams.
John Kowtan (JK), President of Avalon Soccer Club was beaming on Monday morning last - here's why:
" A magic weekend for the Avalon Soccer Club with 8 GRAND FINAL WINS from 8.
If you include last weekend we have won 9 GRAND FINALS from 11 starts. What a great effort from all!"
What a finale! WAL3 and WPL both record 3-1 wins over Beacon Hill and are crowned Champions!! The girls go 6/6 today and the Club make it 8/8 for the 2017 Manly Warringah Football Association Grand Final weekend!! What a day!

The best finish to an amazing season! W16/1 Avalon 3 Wakehurst 1. Goals to Sascha, Ruby, Macy. An undefeated season and the trophy to take home!

Fabulous start to Grand Final Sunday! An absolutely brilliant morning with the first 2 victories. W12/1A: 2-0 win against Beacon Hill
W13/2: 4-2 win against Beacon Hill! Great work girls!!

What a start to the weekend!! Our O35/4 triumphed 4-2 over Manly-Allambie and the 045/1 completed the double with a 1-0 win over the same opponent!! Great work!!
At yesterday's presentation JK cheered of each group with a -"Have a great Summer and we'll see you all next season."
Part of the end of year presentations included 5-year certificates to a number of players, indicating the growing popularity of football.
If you visit the clubhouse at Careel Bay you will see a proud display of player shirts on the wall, the first being one that was handmade by a loving mum in the 1970's when all their shirts were made this way - underlining this really is a family orientated and based club.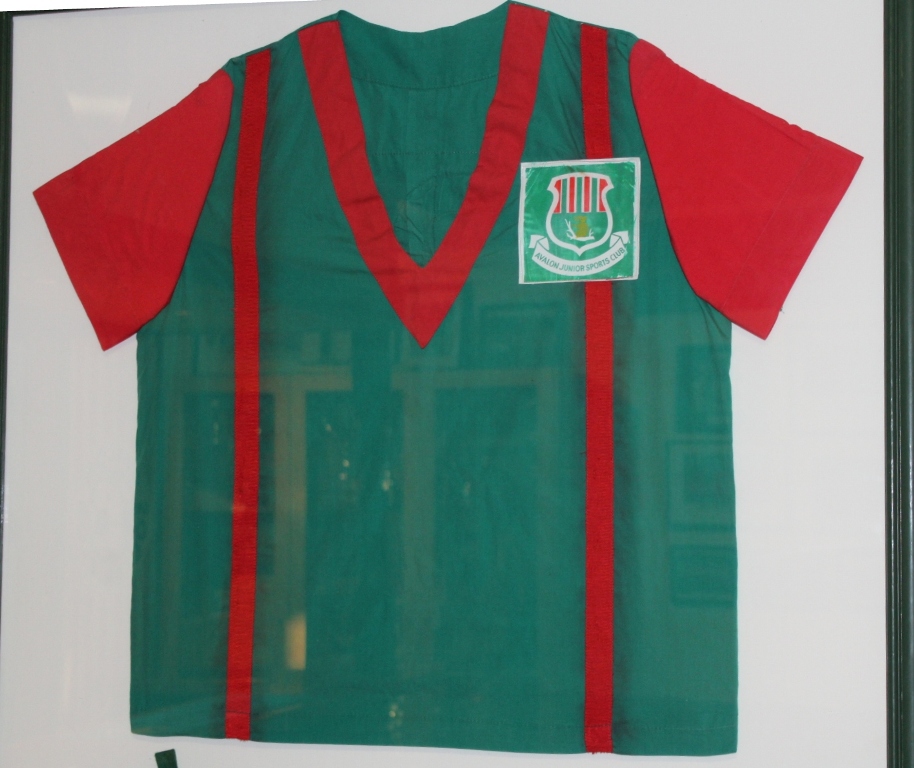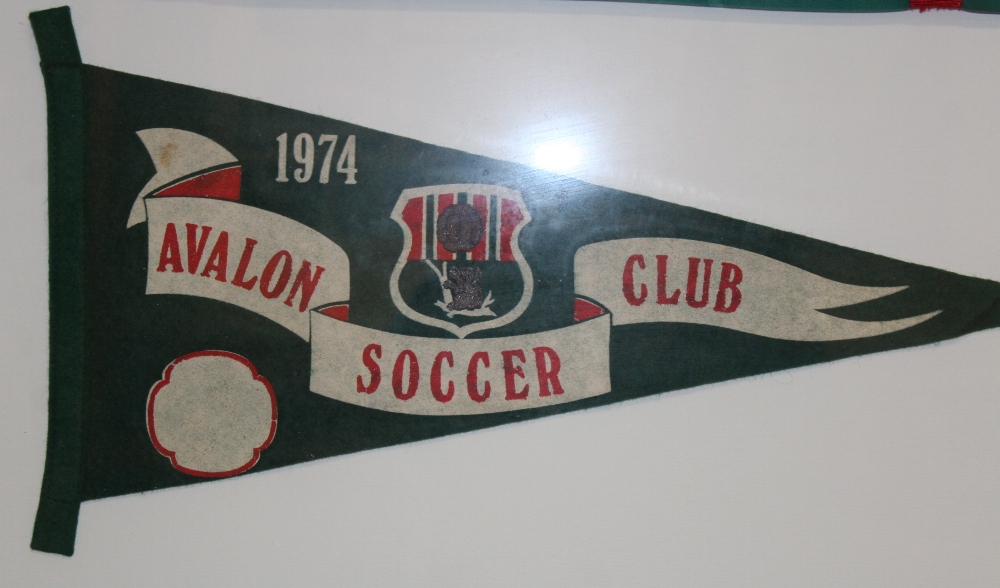 Avalon Soccer Club 1974 Shirt and pennant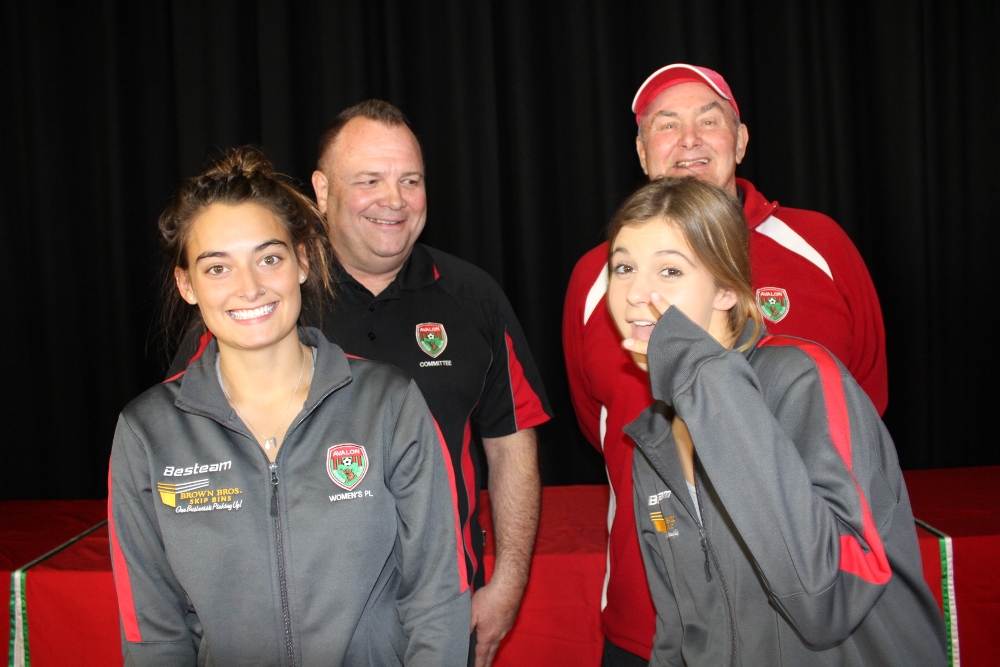 JK, Life Member Roland Luke and the girls who helped out with the U10's and U11's
Today the girls planning to go to Vanuatu are holding a fundraiser down at Bilgola - get down if you can - with warm temperatures forecast for Father's Day 2017, this will be an ideal idyll this afternoon - details: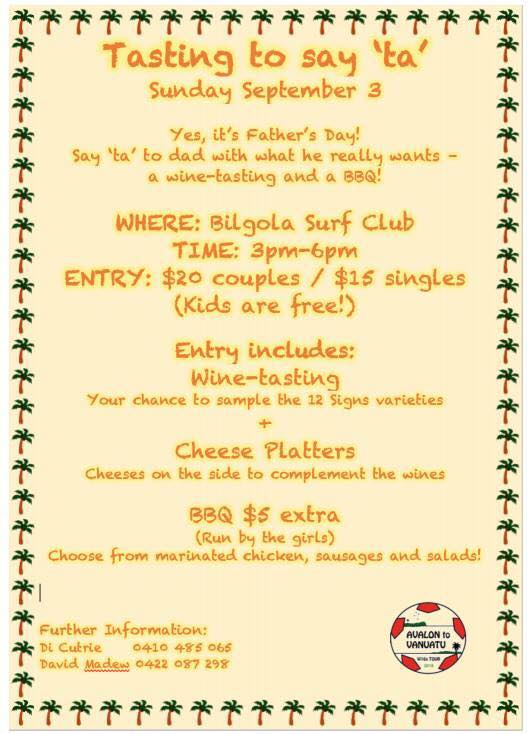 Avalon Soccer Club, the Mighty Reds,
is an amateur club situated at the northern end of Sydney's Northern Beaches. As a club we pride ourselves on our friendly, family club environment. The club is comprised of around a thousand players aged from 5 to 70, who enjoy playing the beautiful game at a variety of levels and is entirely run by a group of highly dedicated volunteers. In 2012 we celebrated the 30th anniversary of the amalgamation of the Avalon Junior and Senior Clubs.
We strive to provide the best possible playing and coaching environment that we can with the resources to our disposal. We put a great emphasis on player development and coach education at all skill levels in our club and employ two professional coaches as our Directors of Coaching.
Our home ground is situated at Careel Bay in North Avalon. The site of a former rubbish tip was converted to provide us with two full size fields and a large dedicated mini-field area to cater for the variety of small sided versions of the game played by our younger players. We are also lucky to have our own clubhouse with a great canteen that serves the "best coffee to be found at a football ground anywhere"!!!
We are one of 17 clubs playing in games and competitions organised by the Manly Warringah Football Association (Visit:
http://www.mwfa.com.au/
).
Our dedication to player development has led to some great success in recent seasons and we looking to build on this in 2015. Some of our recent achievements include:
• MWFA Presidents Cup for Best Junior Club 2013
• W16-1 Champion of Champions 2013 & 2014
• FFA Junior Team of the Year 2012 (W16-1)
• Successful tours to Vanuatu, promoting cultural exchange and women's football in the region
More next Season - in the meantime, visit:
www.avalonsoccerclub.com.au
Manly Warringah Football Association
The Manly Warringah Football Association was established in 1947 and has remained the sole focal point for the development of Football on Sydney's Northern Beaches.
The community based Association consists of 17 member clubs throughout the Mosman, Manly, Warringah and Pittwater LGAs. It has the responsibility of administering the game of Football to 18,000 male and female players from the age of under 6 to over 35.
The Manly United Football Club is an affiliate of the Association and caters for representative players from the area. The Club caters for Under 9/10 boys through to senior men's first grade and under 12 girls through to women's first grade. All compete in the highest level of football in NSW, the National Premier League NSW.

Manly Warringah Football Mission Statement.
A progressive community based Football organisation dedicated to providing a safe, integrated pathway for all participants by developing, encouraging and supporting their Football aspirations
Visit:
www.mwfa.com.au