March 11 - 17, 2018: Issue 351

Avalon Quilters 2018 Exhibition Of Members Work A Bright Star Of Handmade Love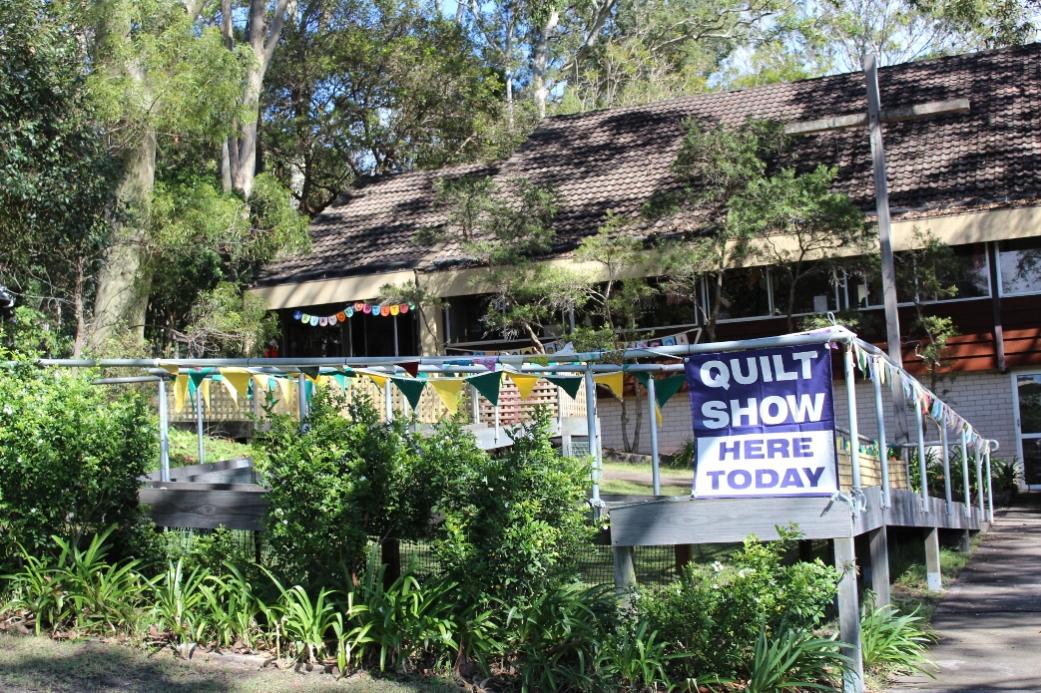 The Avalon Quilters Exhibition of their work and show was open on Friday and Saturday 9th and 10th March 2018.
This year's show was officially opened by Margie Lingard, Chairman, Fundraising Committee at Australian Mitochondrial Disease Foundation
Avalon Quilters have raised over 30k for AMDF over the last six years, funds that have enabled the purchase of an incubator to further research, as Margie explained in her opening address:
"The Avalon Quilters are a very special group and have met most Thursdays for the last 35 years. Every item displayed here has been crafted by their nimble fingers – even the marmalades and chutneys. The proceeds from this stunning quilt show are given to a charity, and for the last six years they have supported the
Australian Mitochondrial Disease Foundation
- thank you so much. We also would like to extend our best wishes to three long time quilters, Libby, Margaret and Kate who are battling illness and injury.
Mitochondrial disease or mito is a debilitating genetic disorder which deprives the body's cells of energy. There are many types which can produce a variety of symptoms such as fatigue, hearing and vision loss, poor muscle strength, strokes, seizures and, in severe cases, multiple organ failure and death.
One Australian born every week will develop a life threatening type of mito. Approximately one in 200, or more than 120,000 Australians, carry genetic changes that put them at risk of developing mito. There are presently no cures and very few effective treatments.
The quilters made a beautiful quilt for our daughter, Rose who fought this horrible, horrible disease for ten years. She loved snuggling up on the sofa with her special quilt. Yesterday on the radio I heard a woman, who's also a quilter say, "Lying under a quilt is like lying under a blanket of love" – how fitting.
The quilts here today all tell a special story. This year's raffle prize is a quilt called 'Touching Stars' from the 1930s - it was bought on line from America then these wonderful quilters finished it by adding a back and quilting the top extensively.
I hope you enjoy the quilt show and appreciate the hours of labour and love that have gone into making it such an impressive display.
And thank you again because the $30,000 you have given us over the years has allowed us to cover an Incubator Grant. One example of this is:
Professor Mike Ryan, Professor in Biochemistry and Molecular Biology at the Mitochondria Lab at Monash University is using advanced robotics to analyse 10,000 therapeutic compounds in cell models to identify potential drug candidates to treat mitochondrial disease.
The continued support of Avalon Quilters has made it possible for AMDF to fund promising research projects like this."
Annette Gero was selling some of her
American collection
antique quilts as well as her books along with two pop up shops; Cherry Pie designs while another expert crafts-lady
Pam Dwyer, who makes handbags from Antique Kimonos, was
selling the most beautiful Japanese silk bags.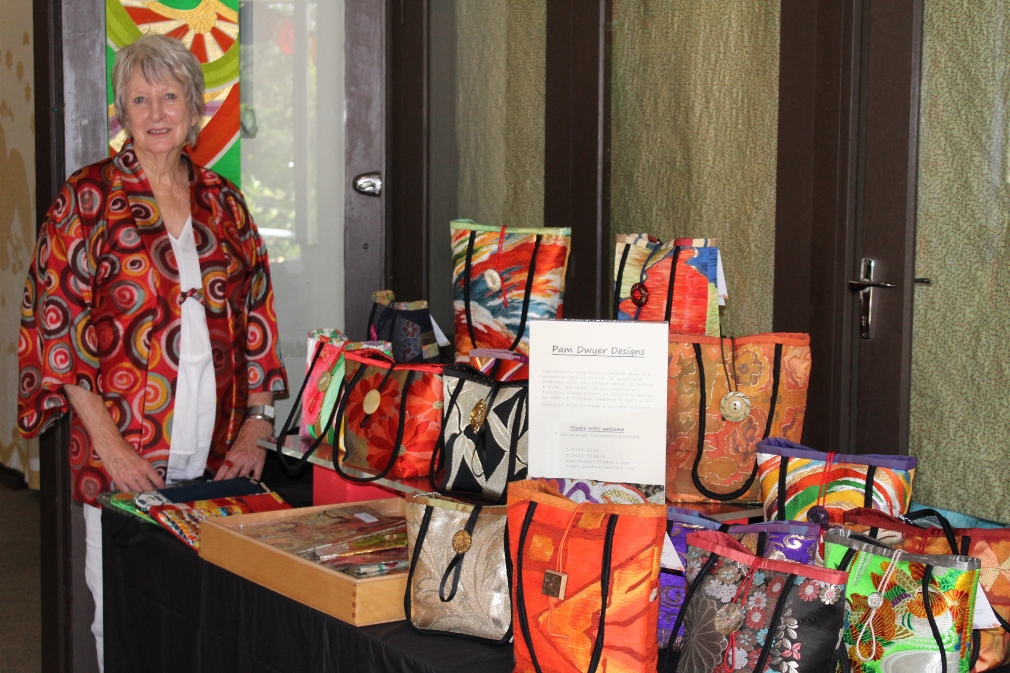 The members craft stall, stocked with jams that sell out the first day, plus a bonus pattern visitors could buy were added attractions at this year's Exhibition.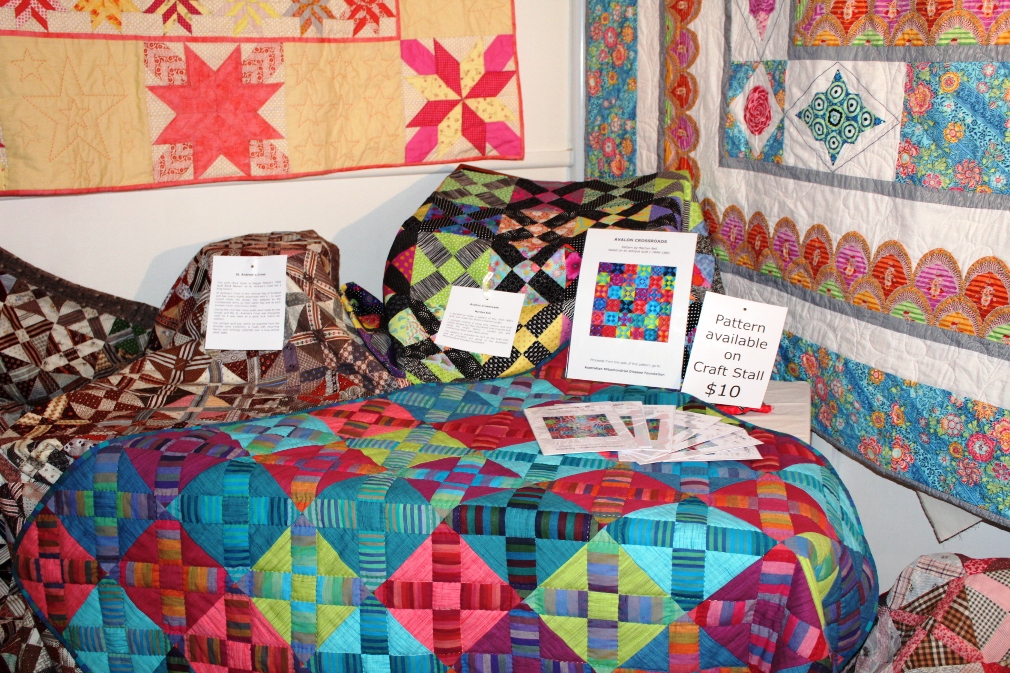 As always it is the Avalon quilters hand work on display that attracts people from all over Sydney, one couple on the bus home asking which stop to get off and 'where is
Bellevue
avenue?'. Those seen enjoying the show all had their phone cameras out taking pictures, one lady explaining, 'you forget what they looked like when you want to do the same at home' and 'this is always a great show, they do such excellent work'.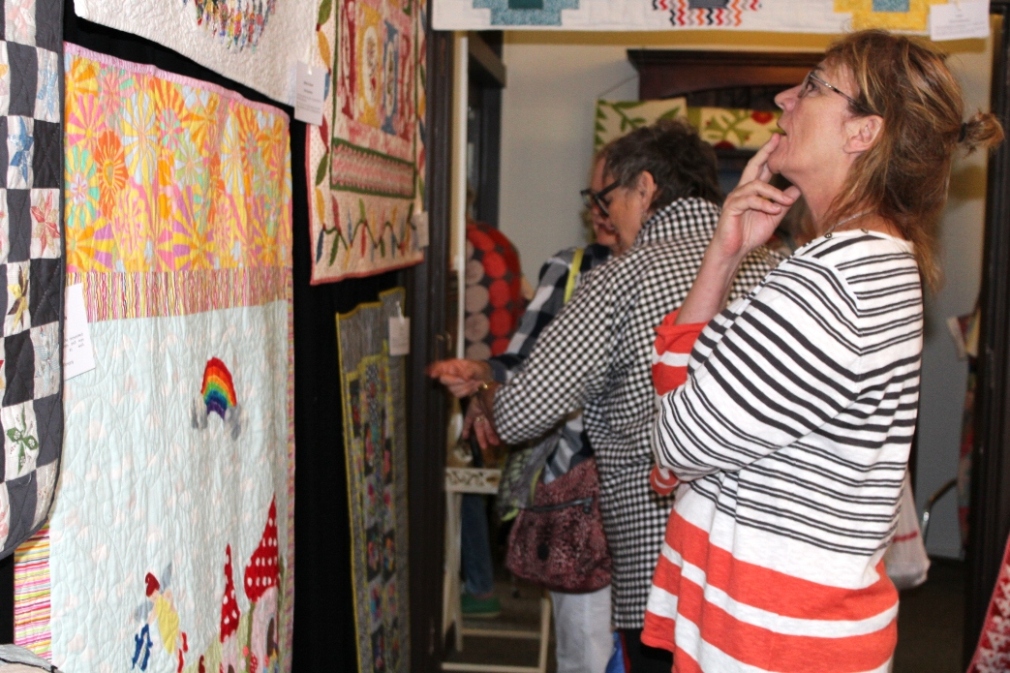 For a few years now the Avalon Quilters quilt show has included a raffle quilt. In 2018 the queen sized Vintage quilt called 'Touching Stars' - a 1930's top hand quilted in traditional patterns by group members.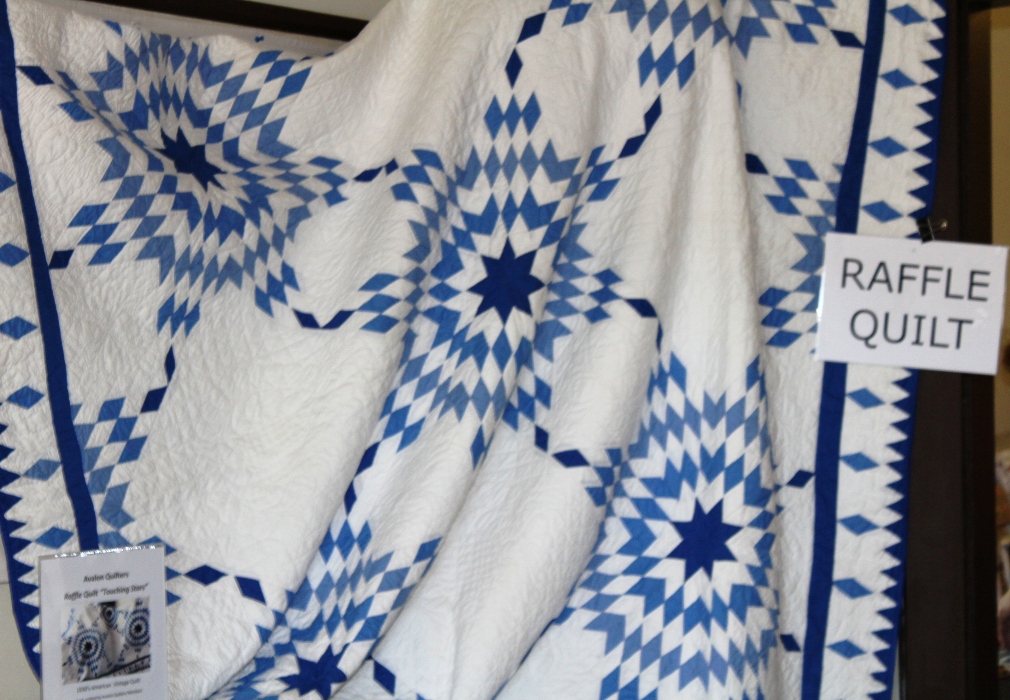 The Avalon Quilters started off in 1984. For the last several years the Avalon Quilters have met on Thursdays to pursue their love of quilting in the Avalon Uniting Church hall. They have stitched hundreds of quilts during this time, some of which were on display. A few of these wonderful works run below.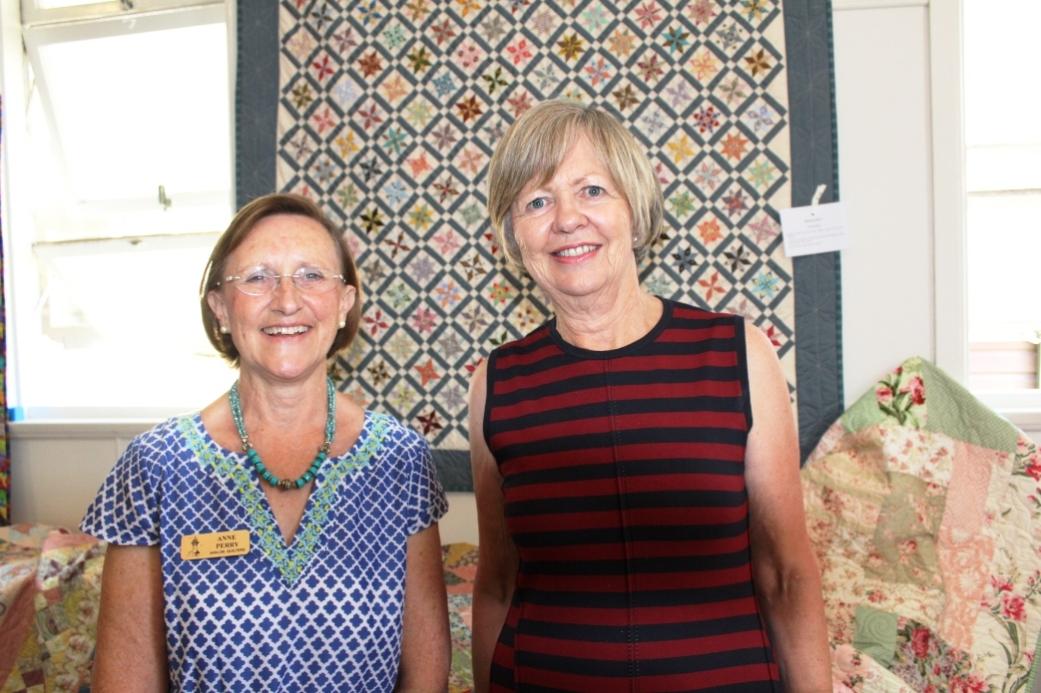 Margie Lingard and Anne Perry in front of
Anne's quilt '
Seeing Stars'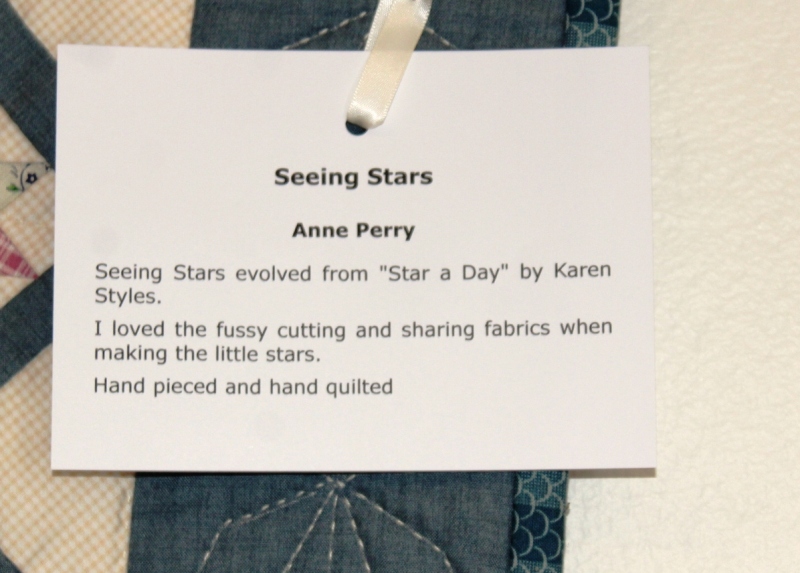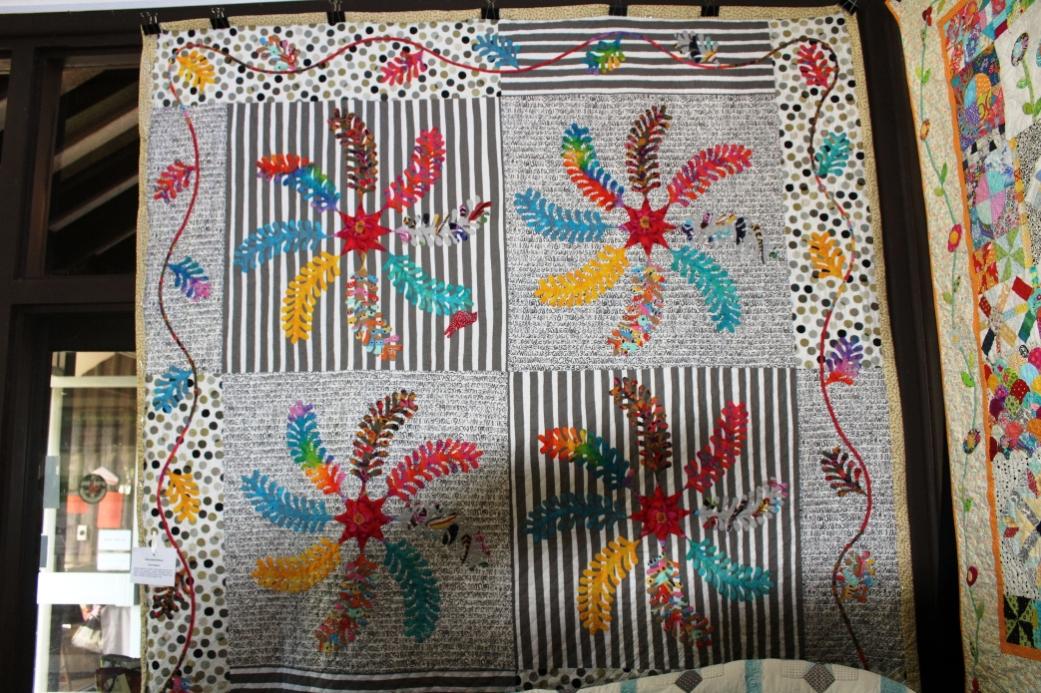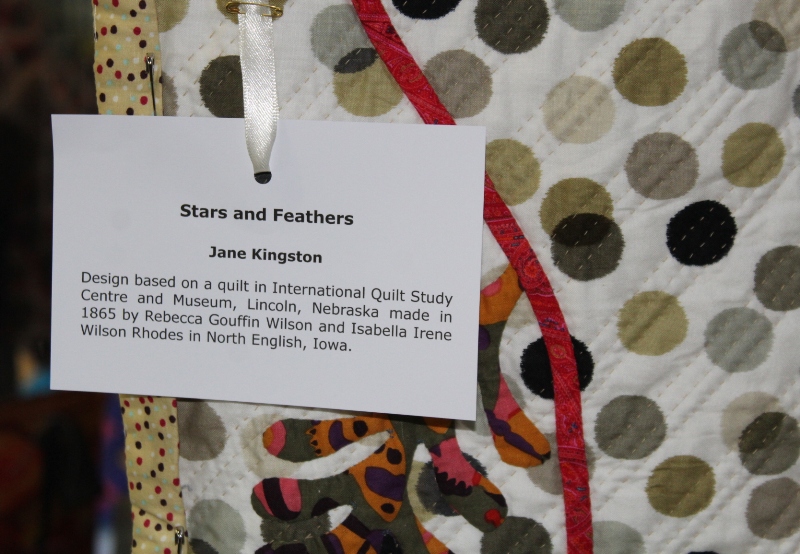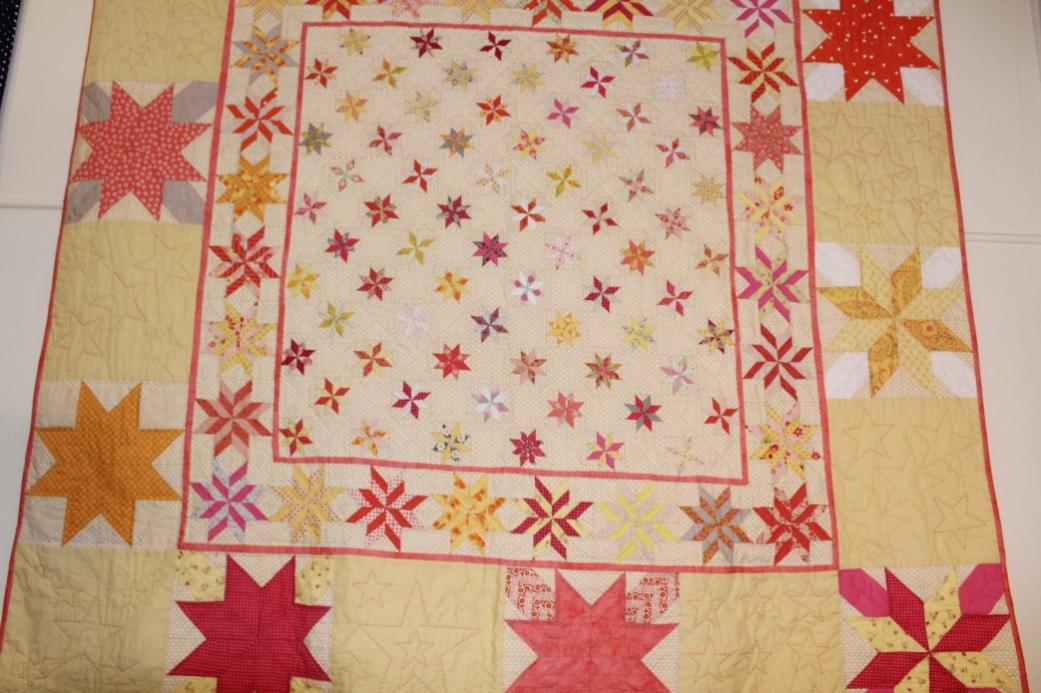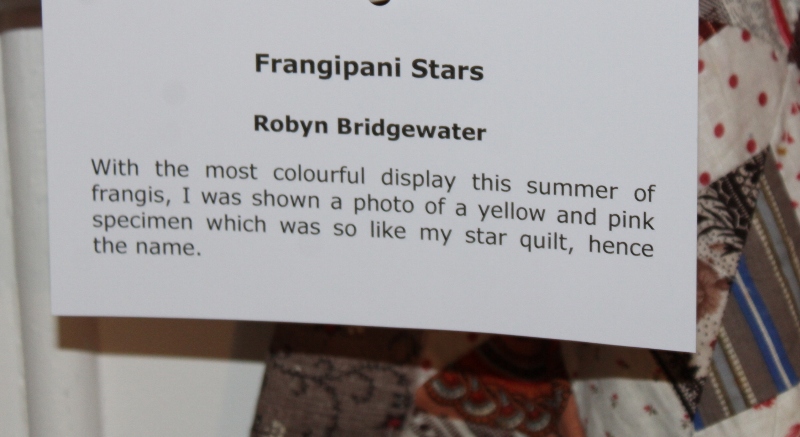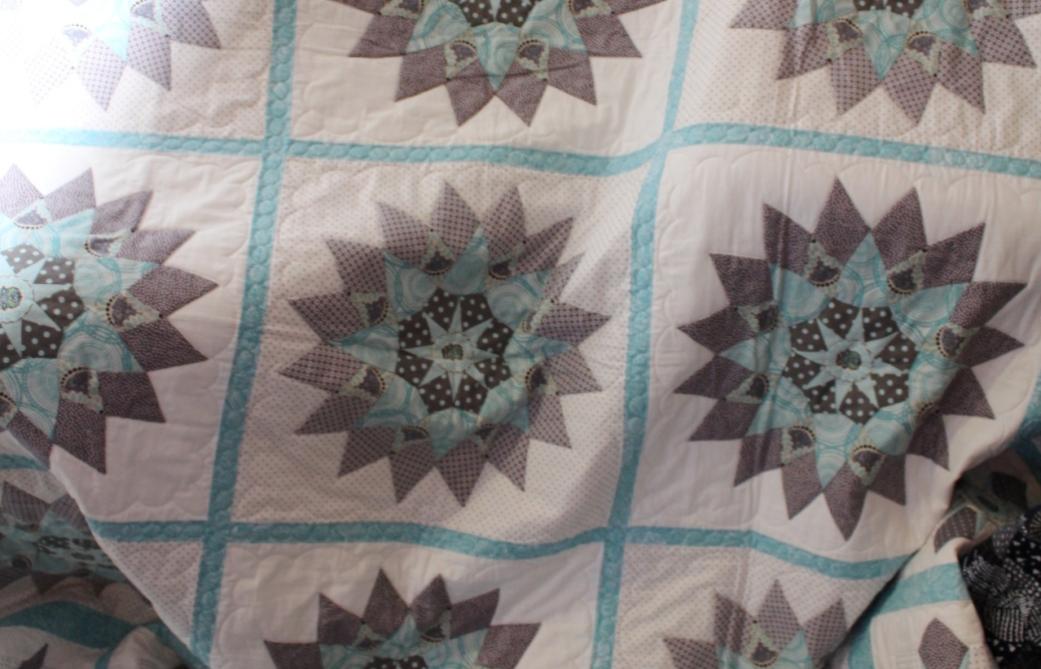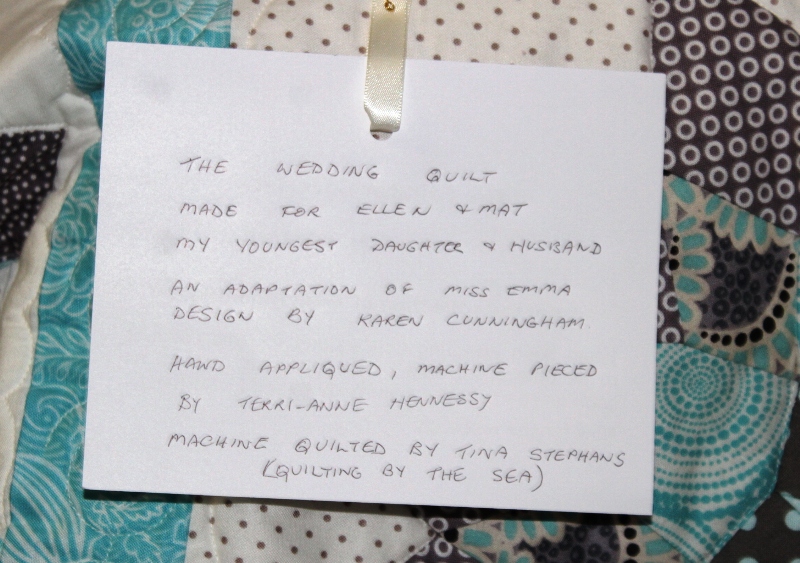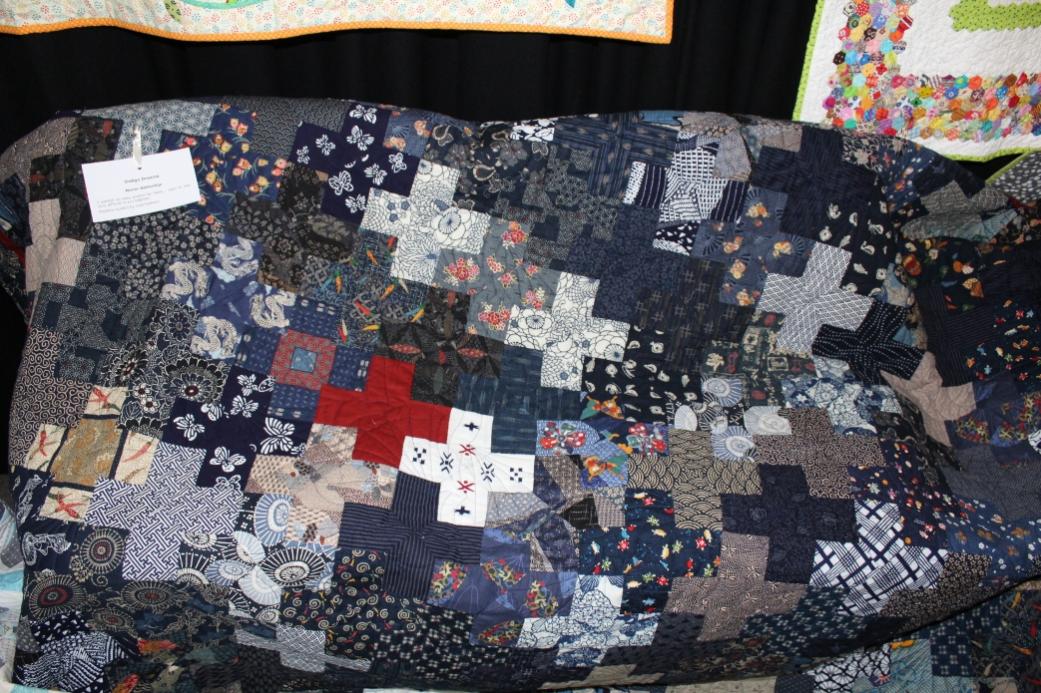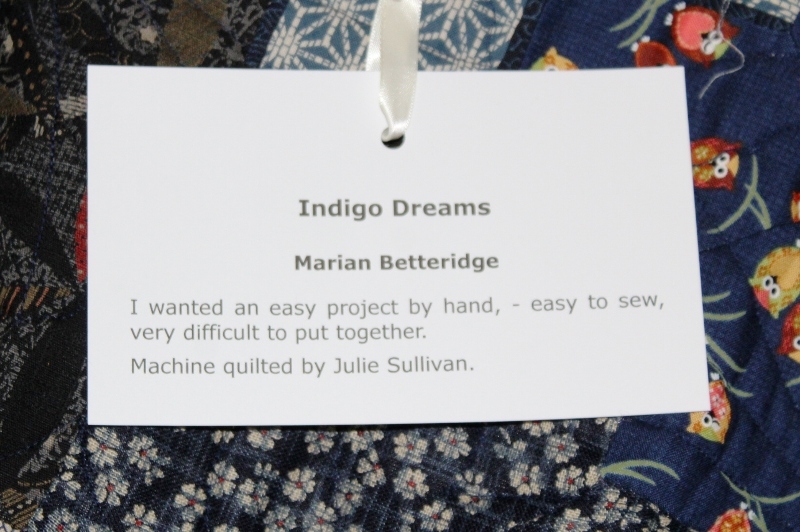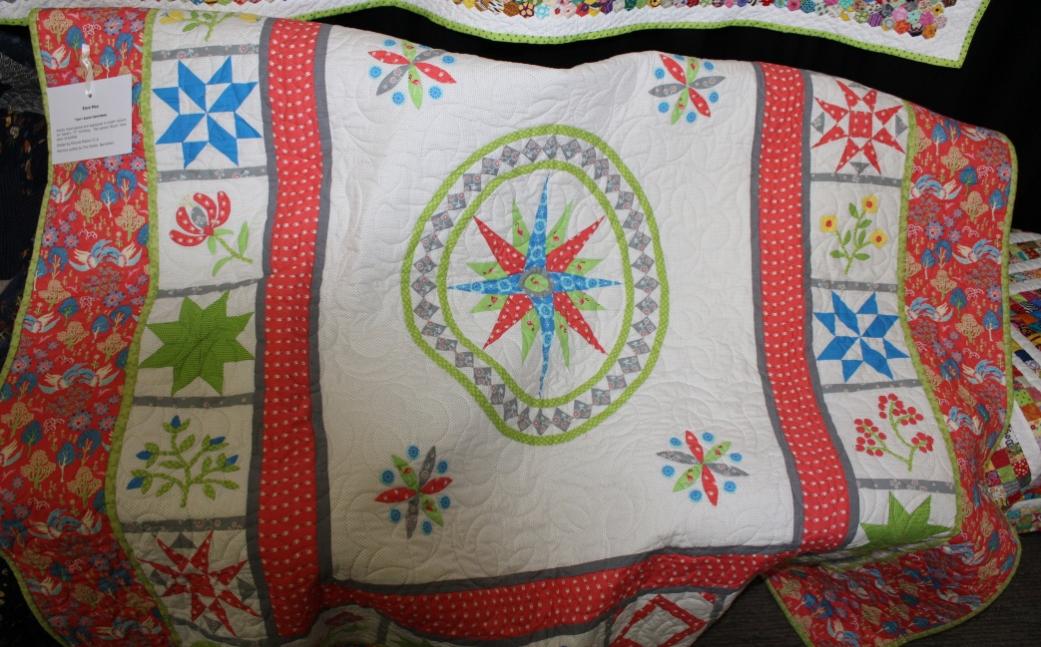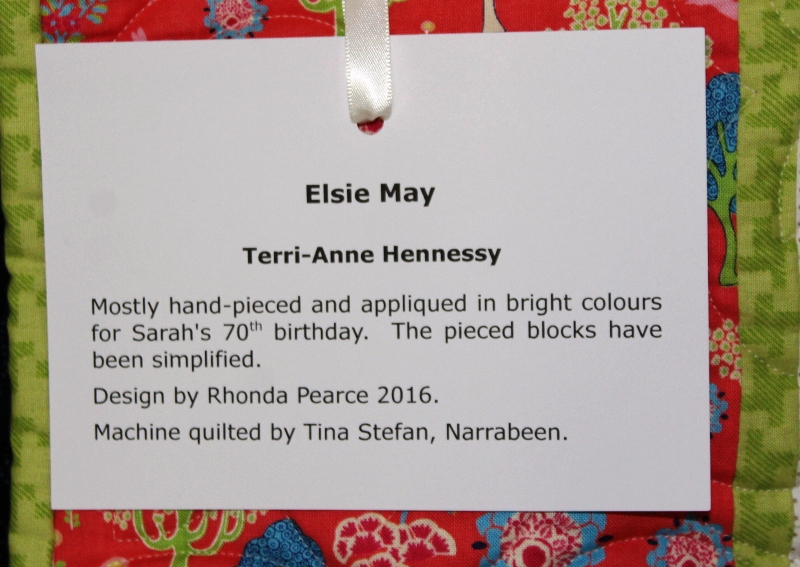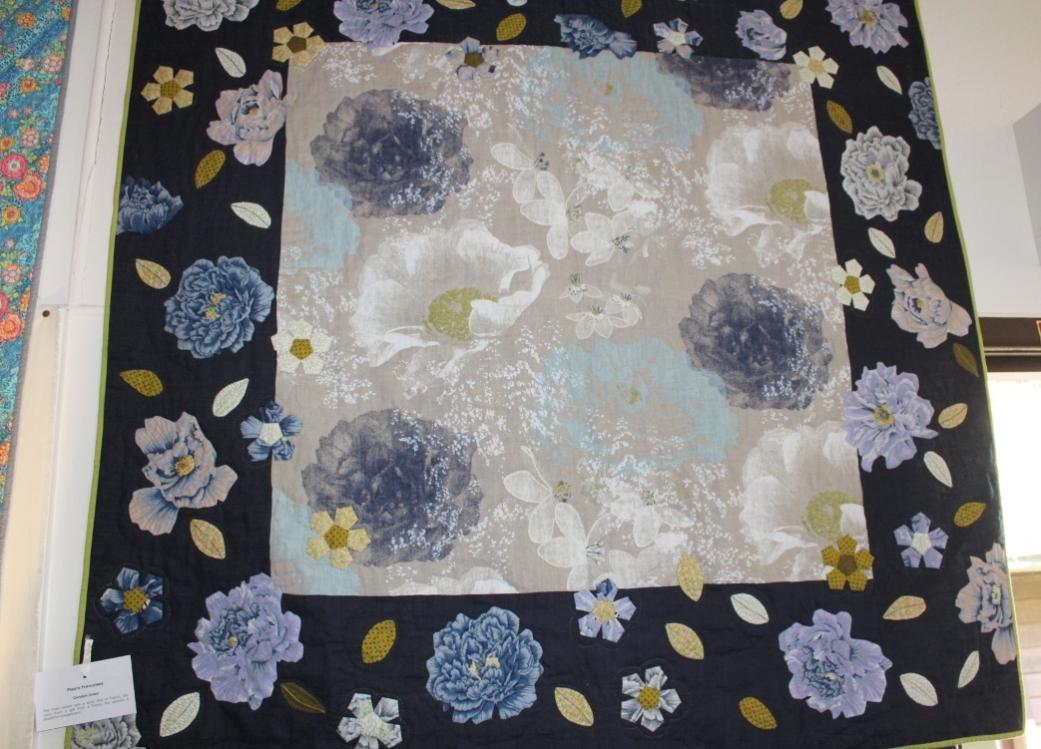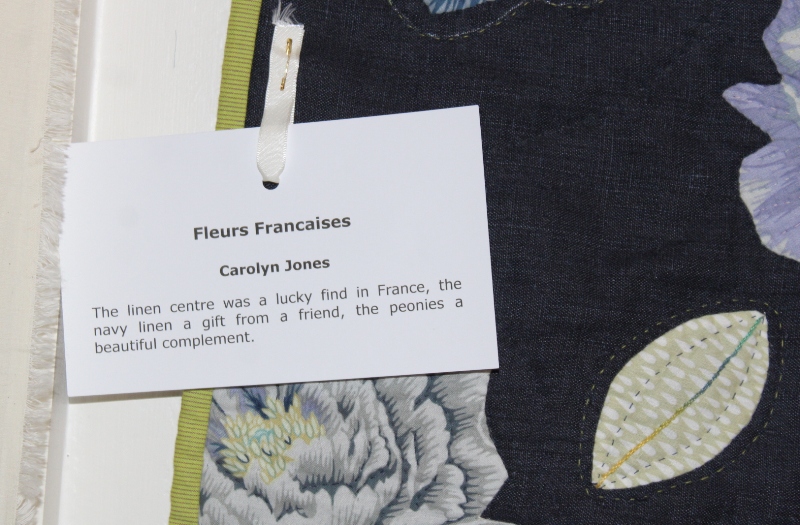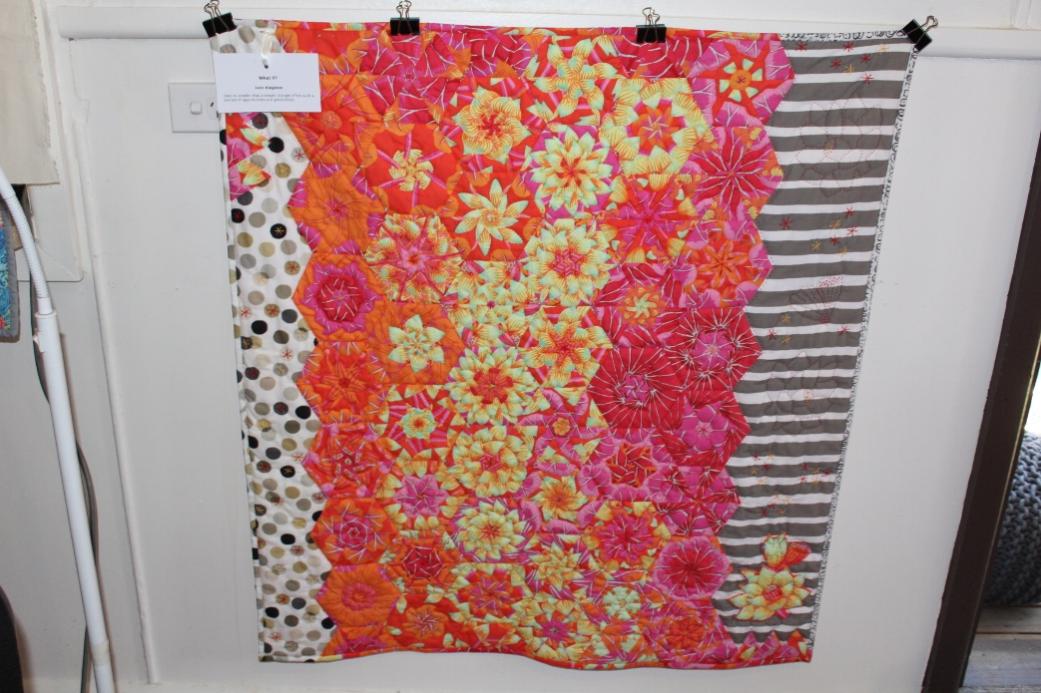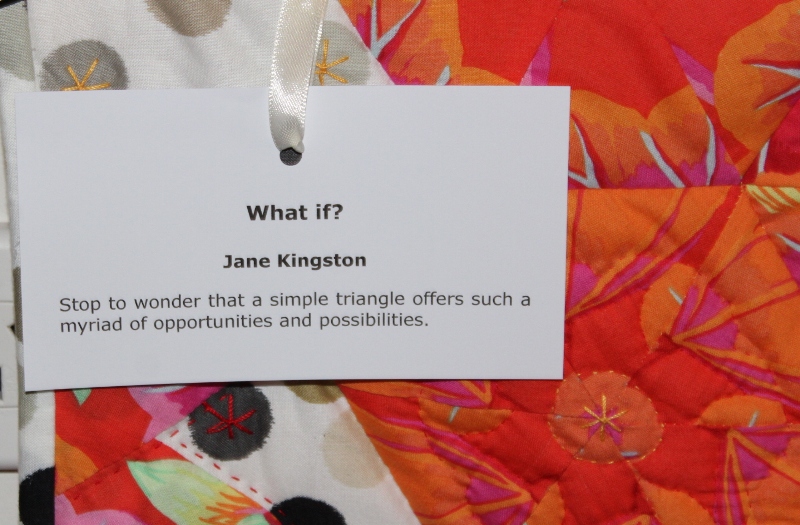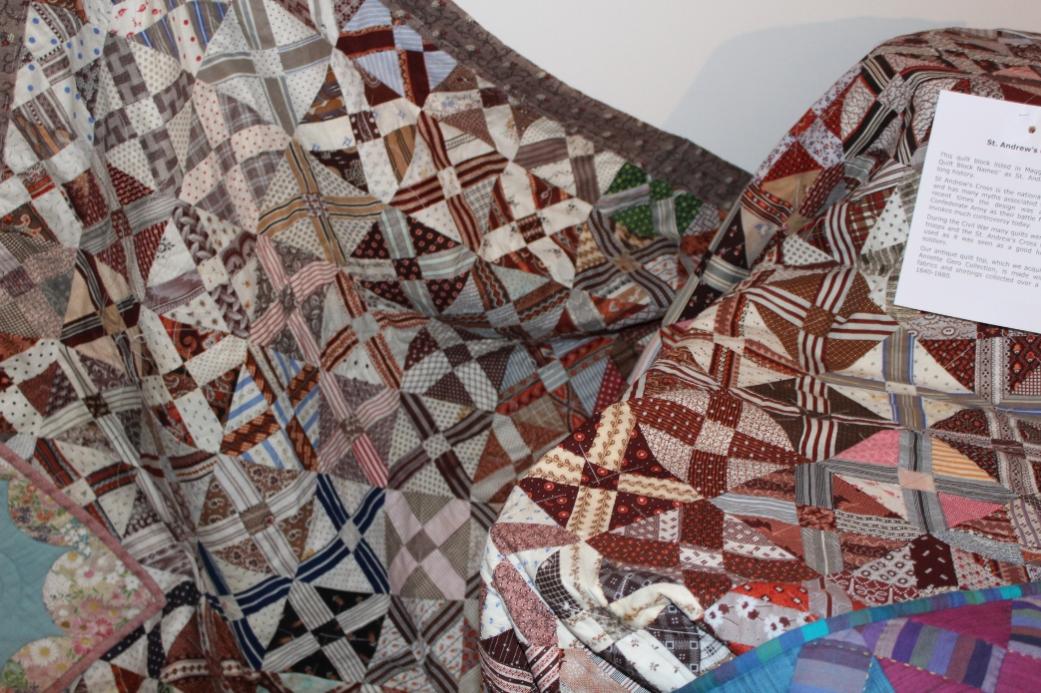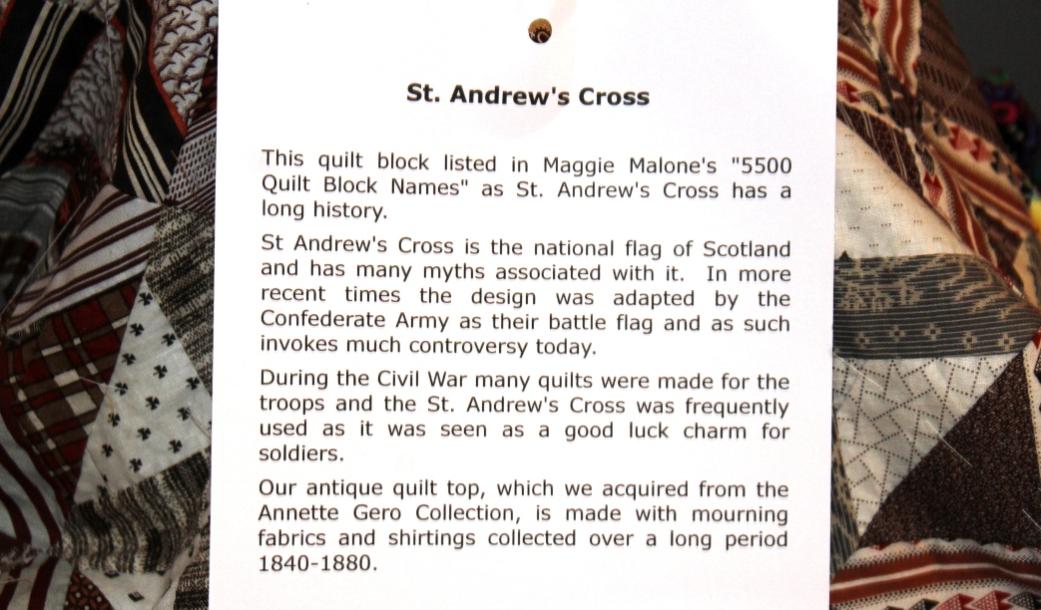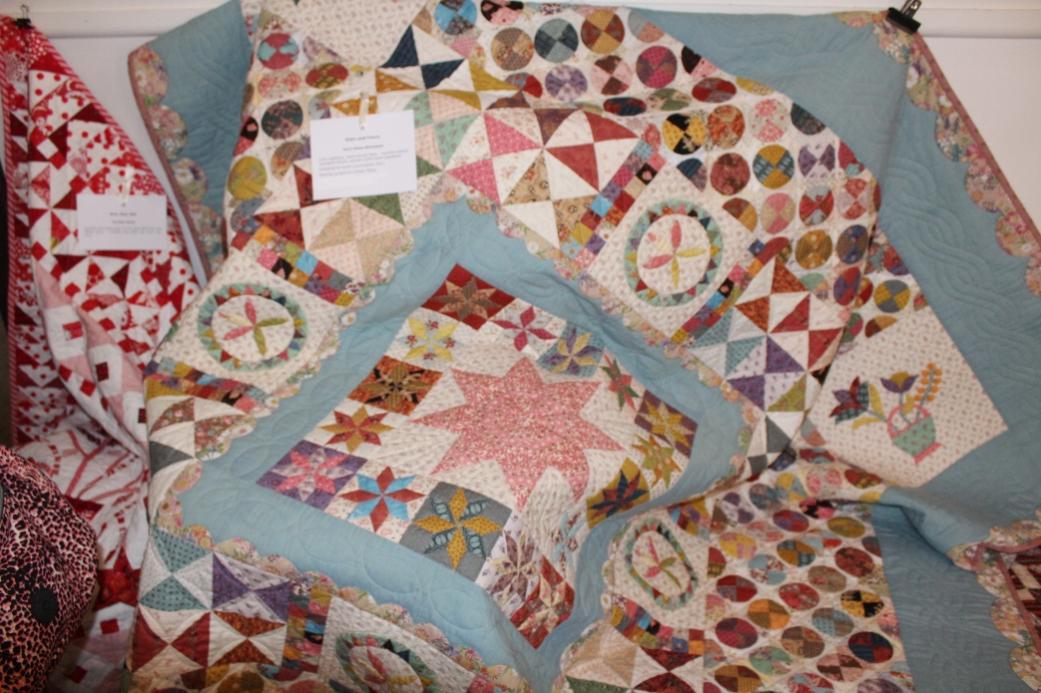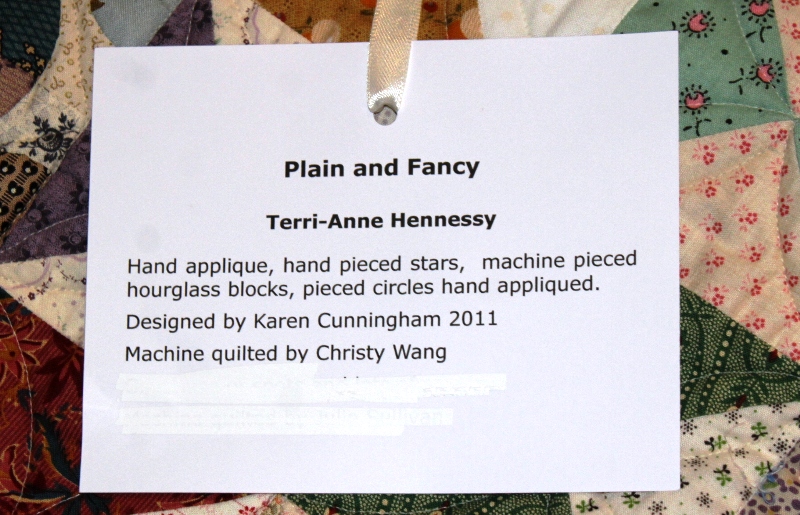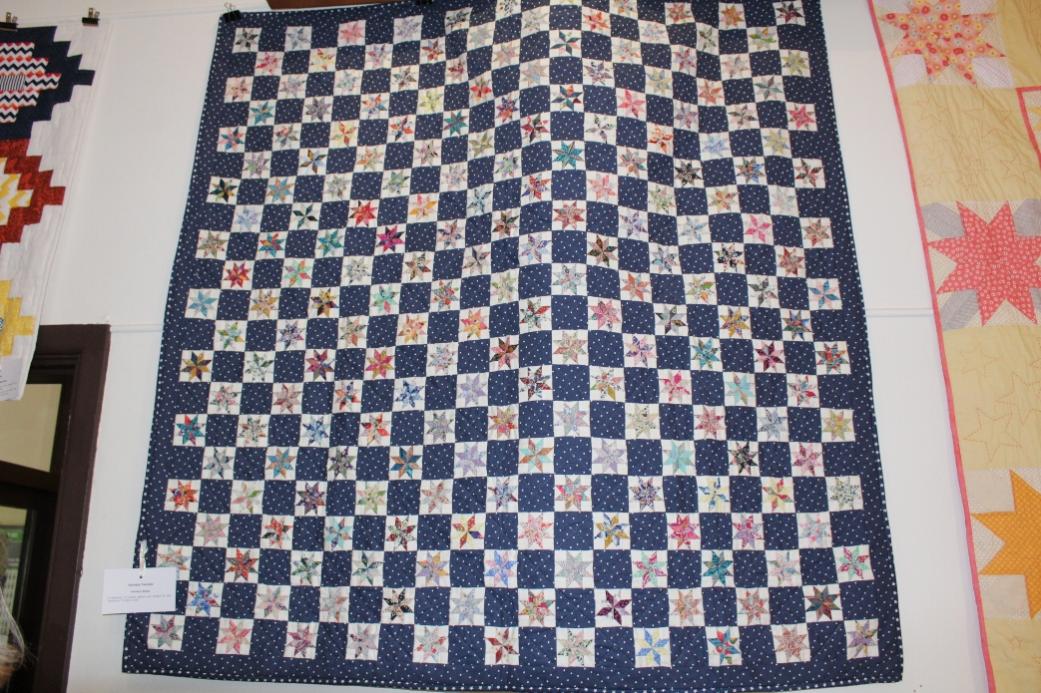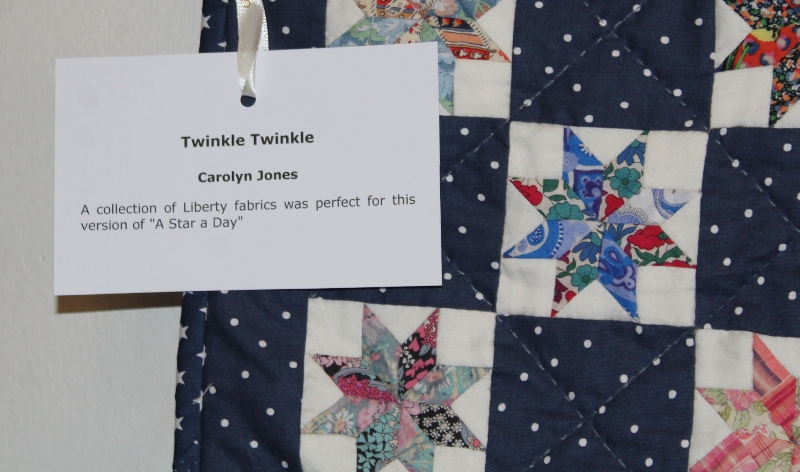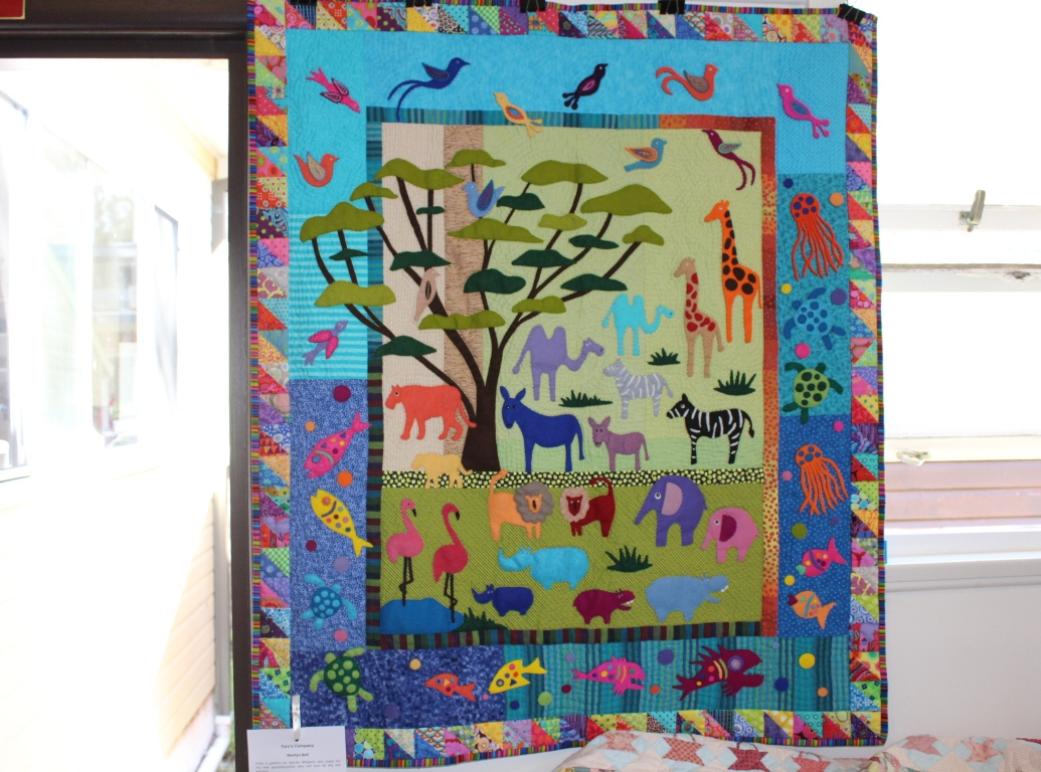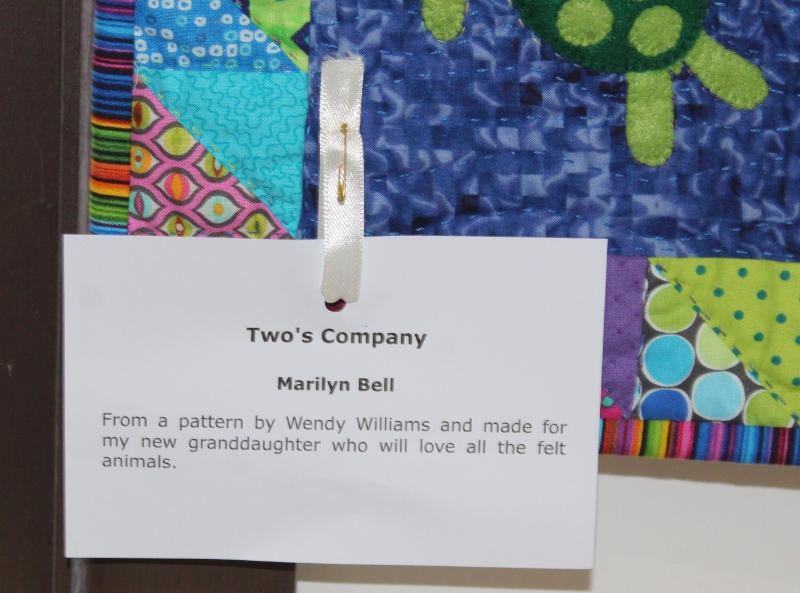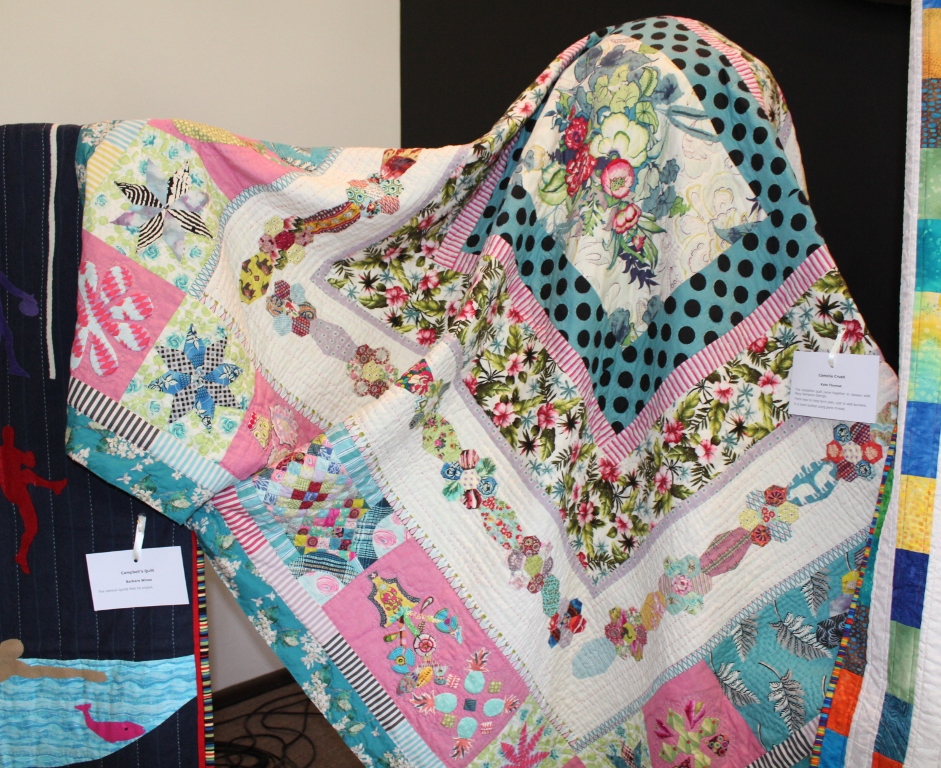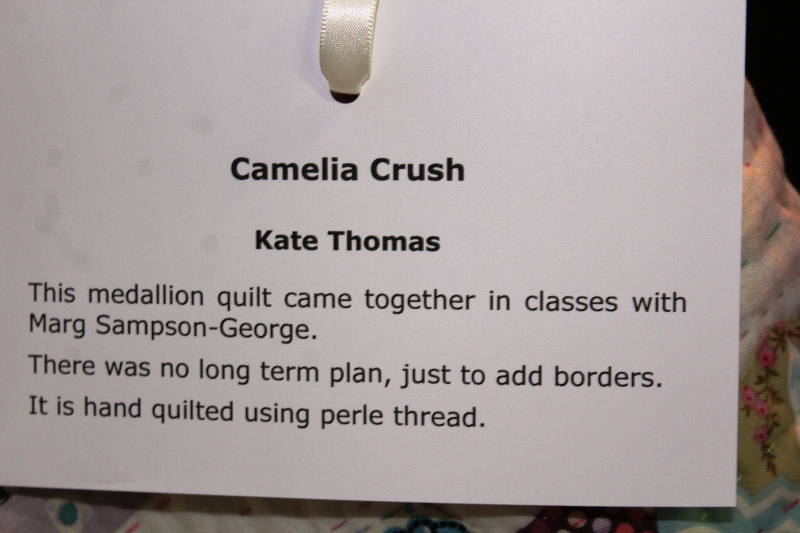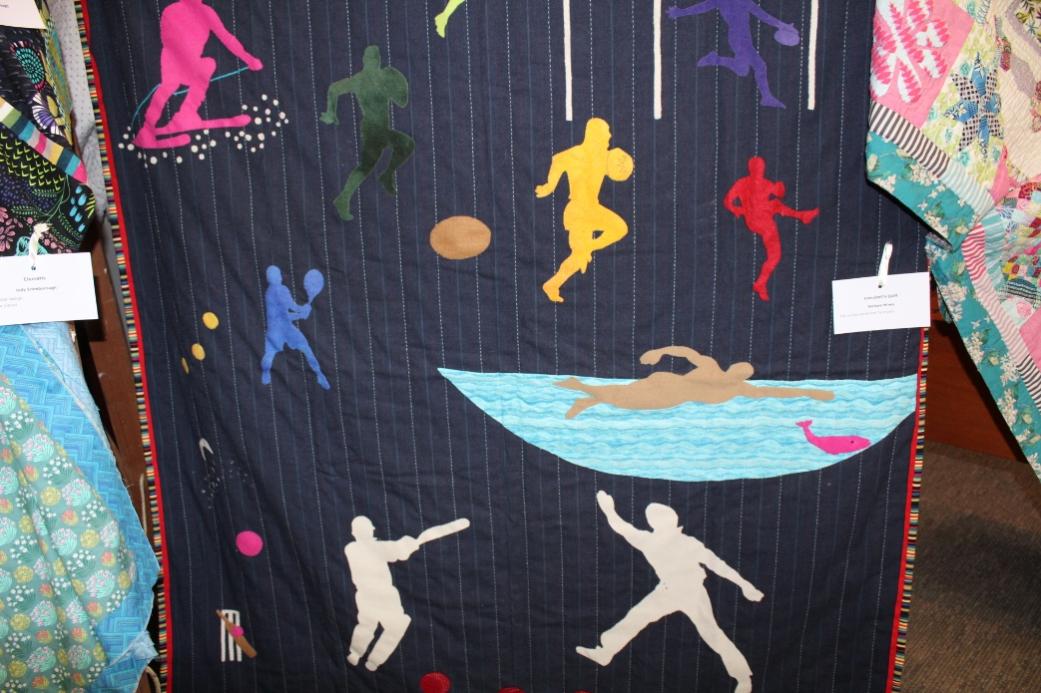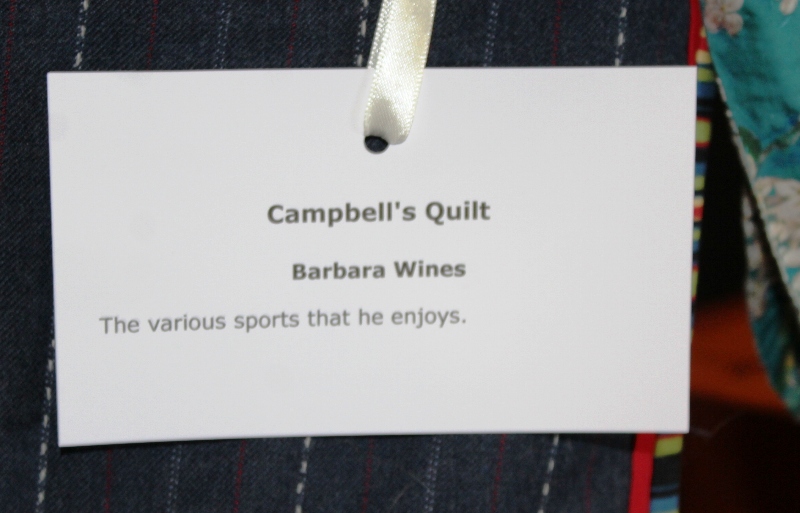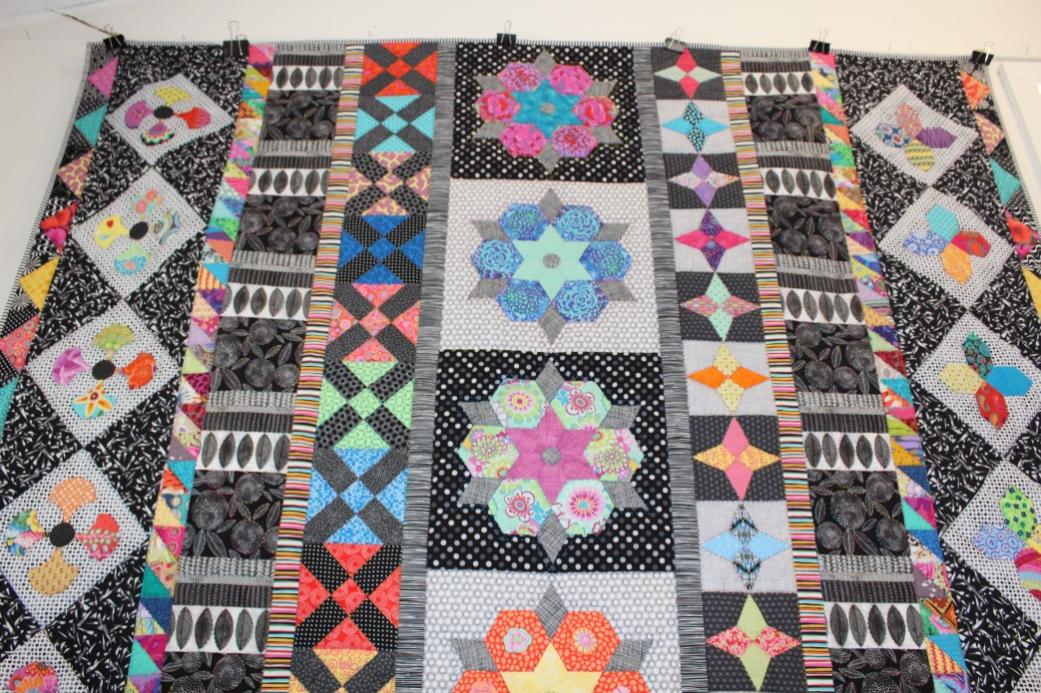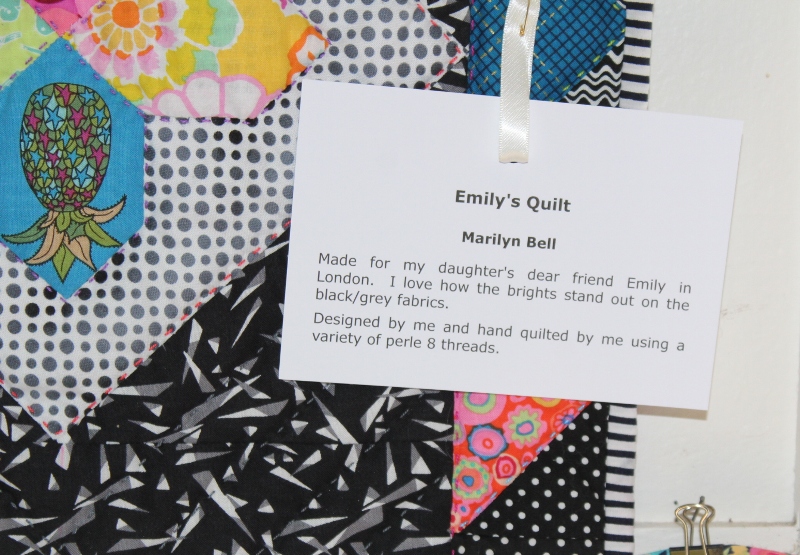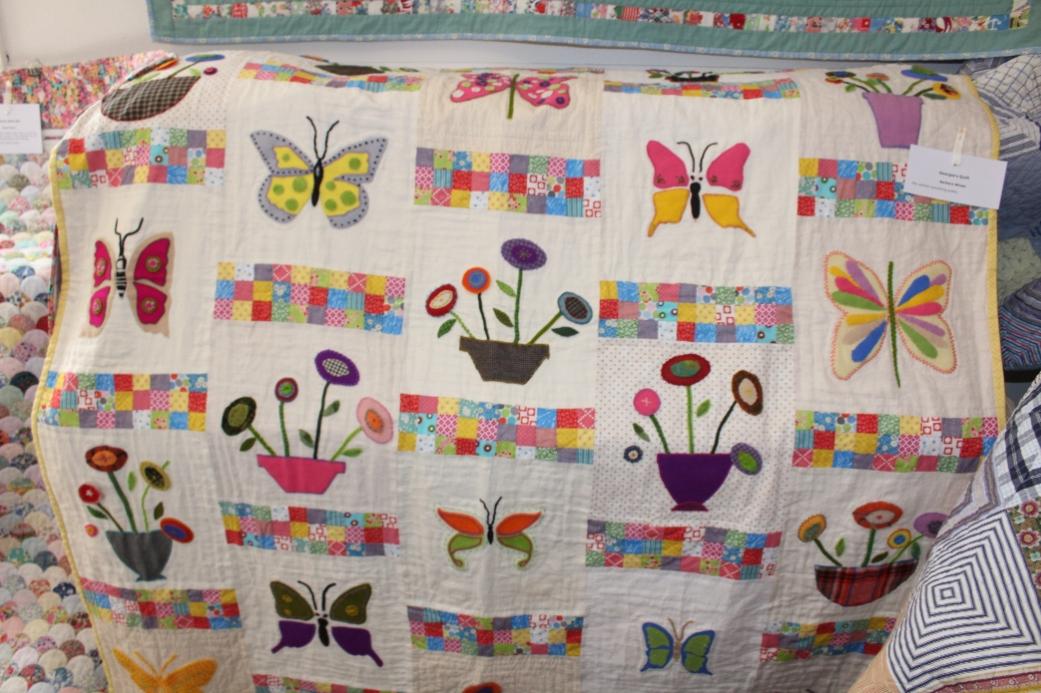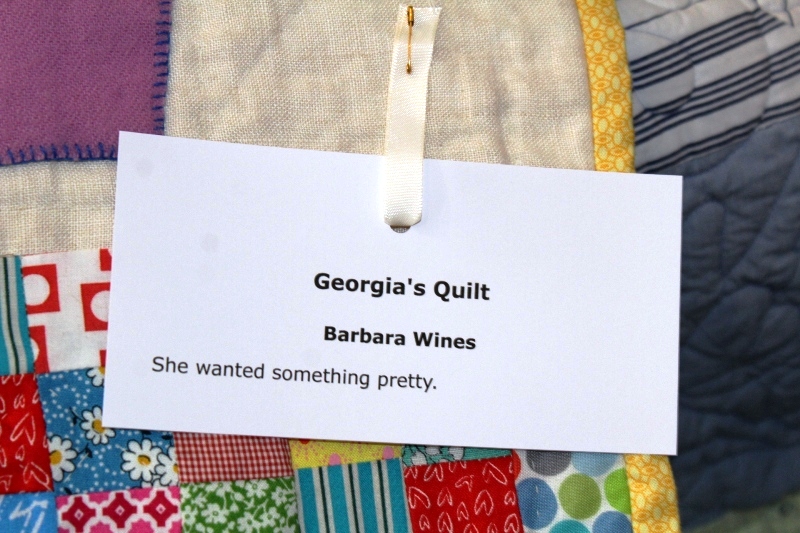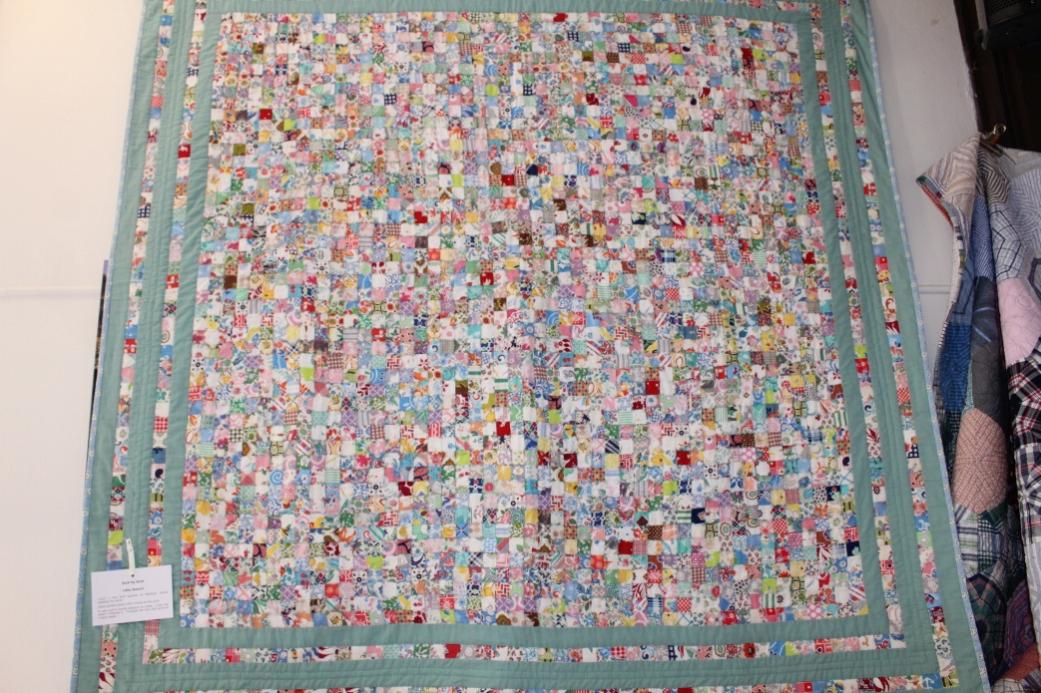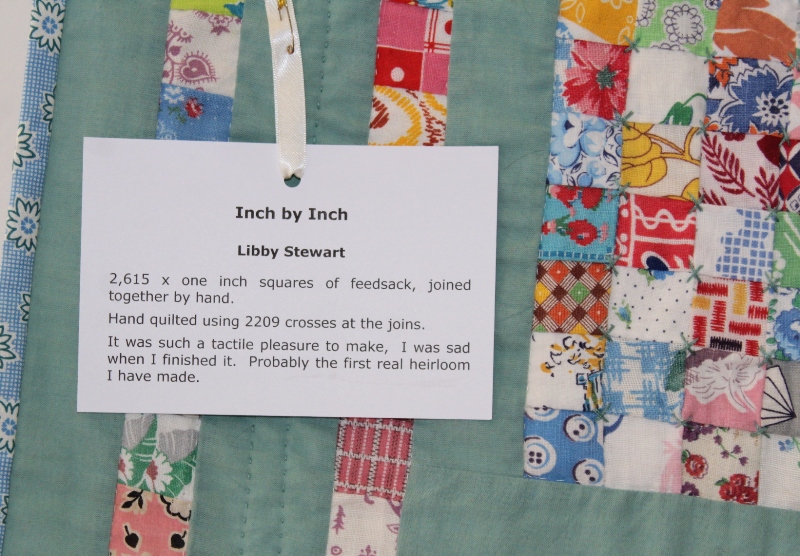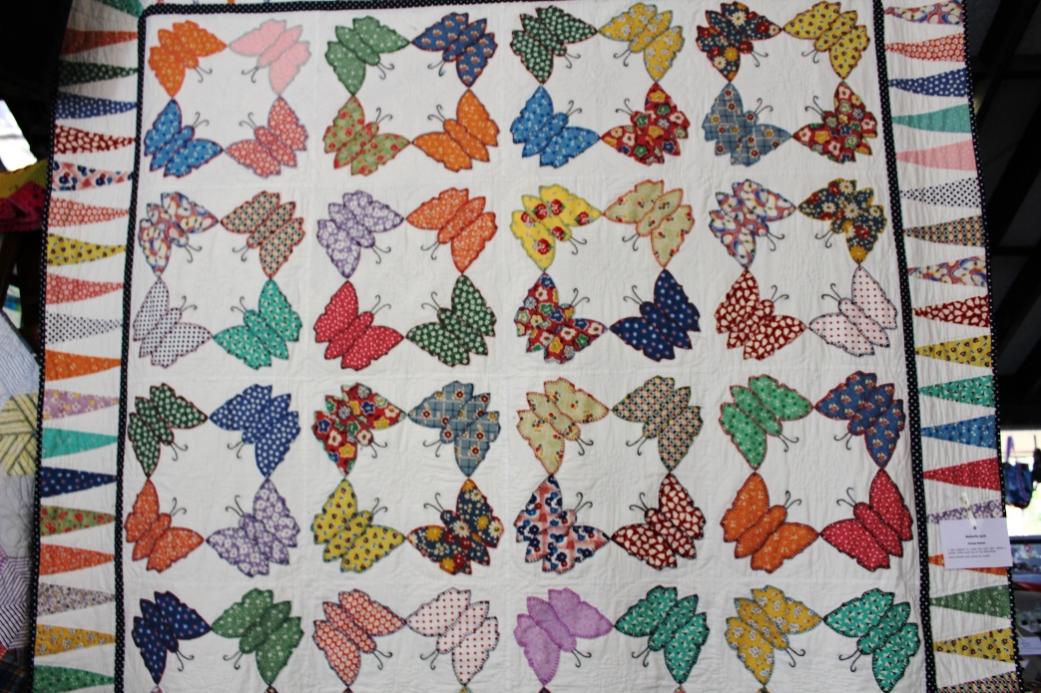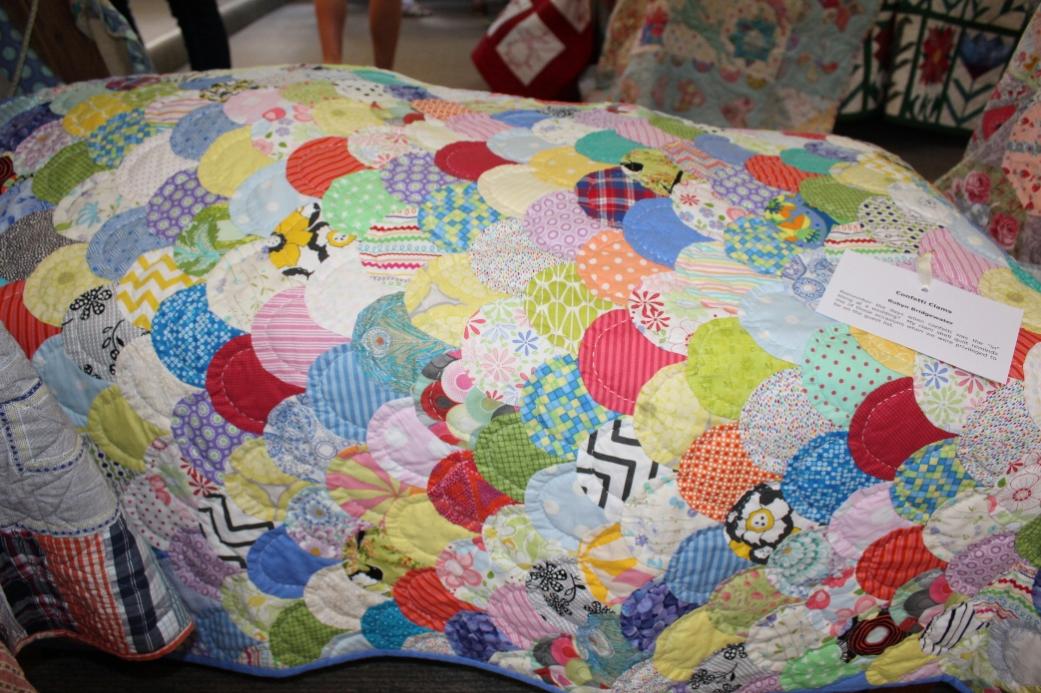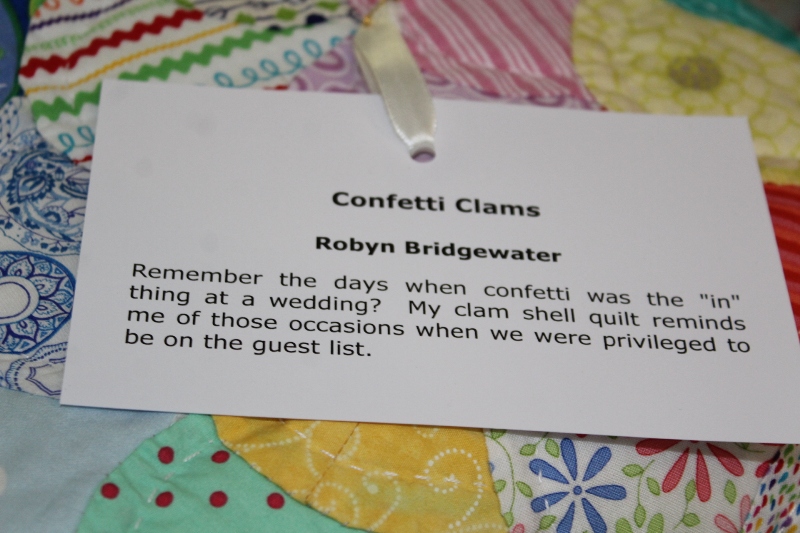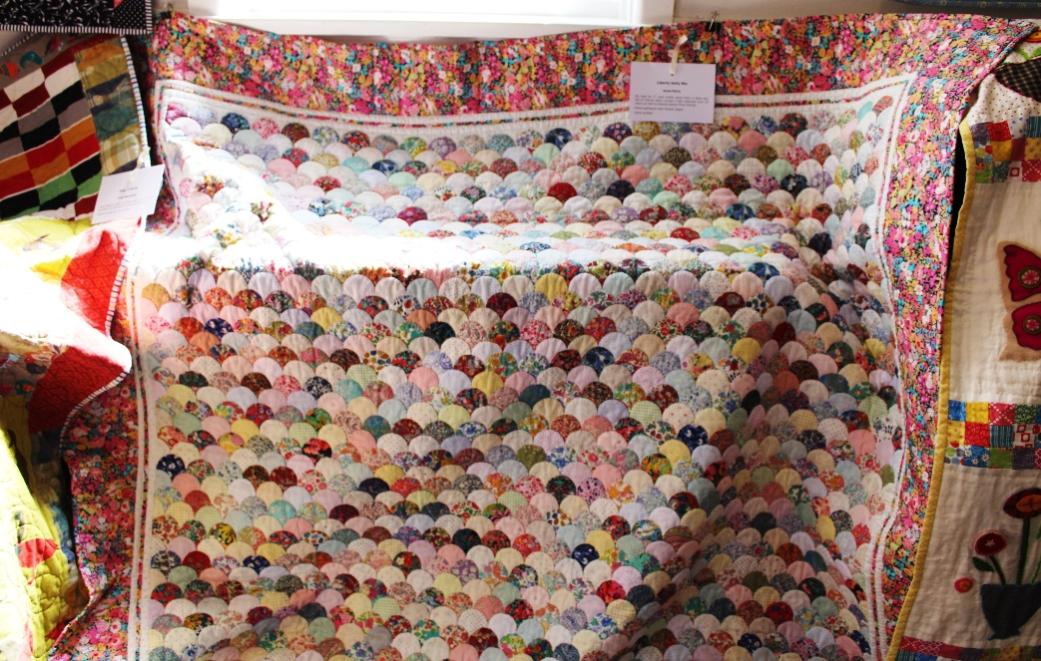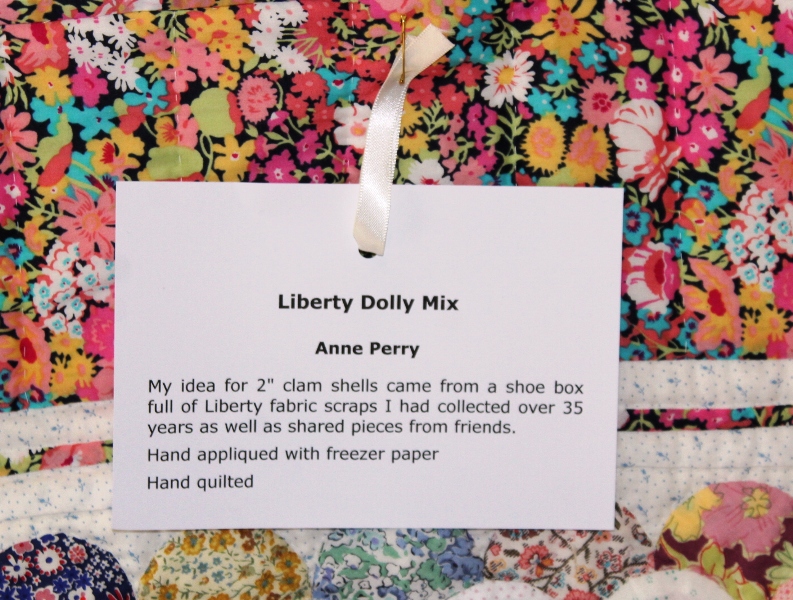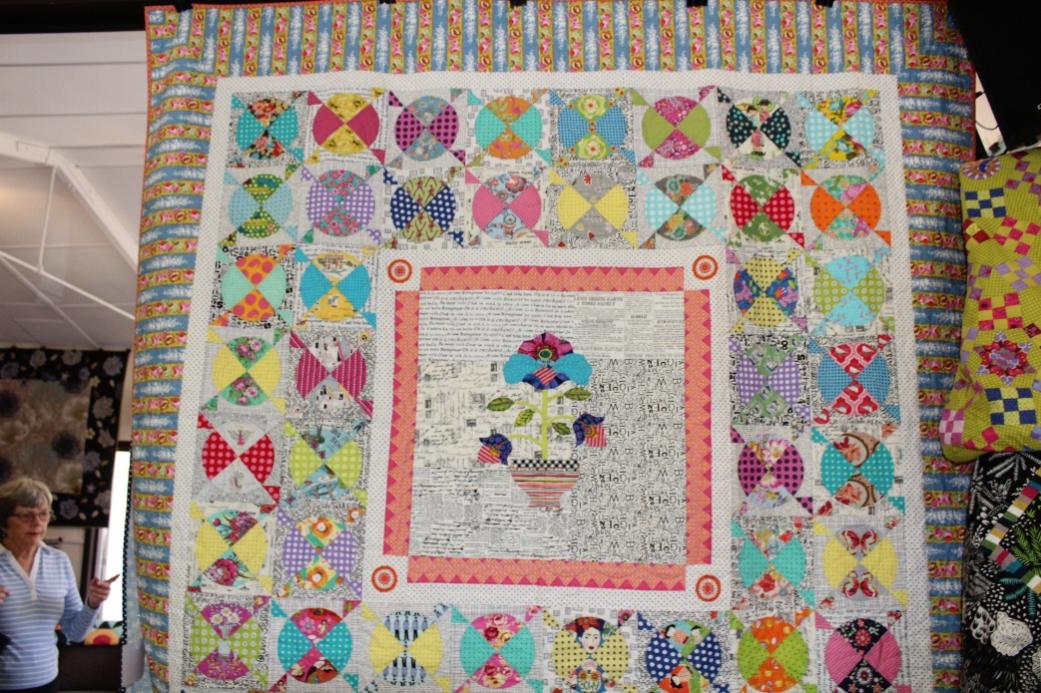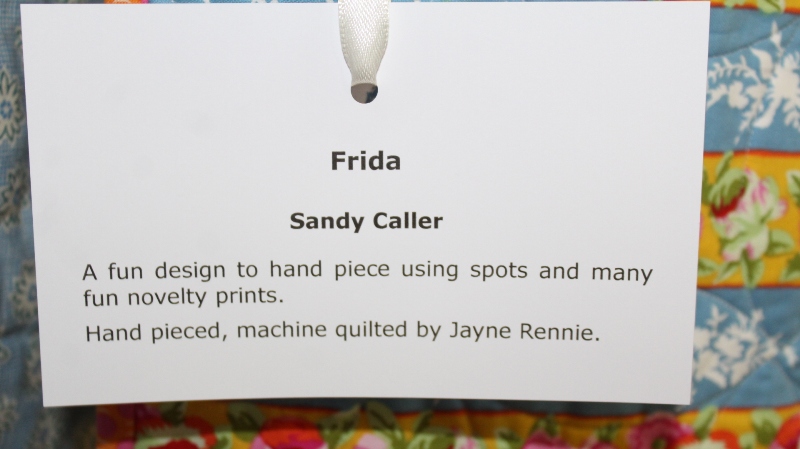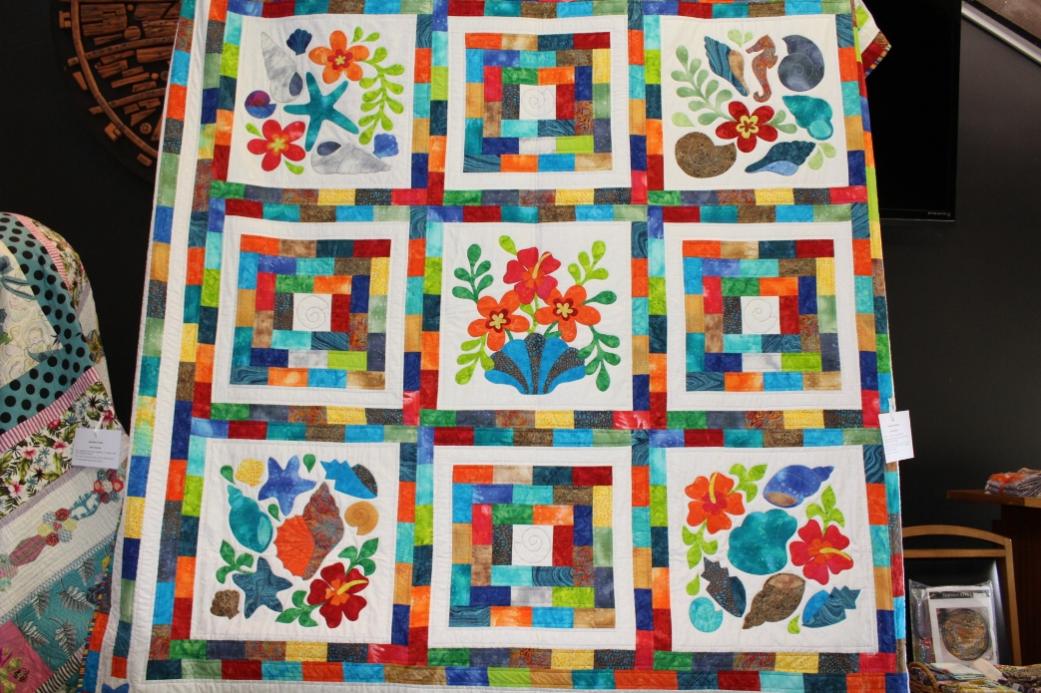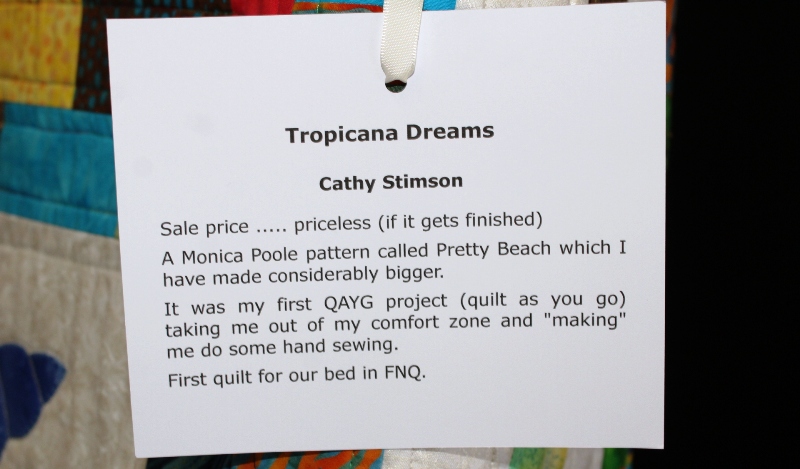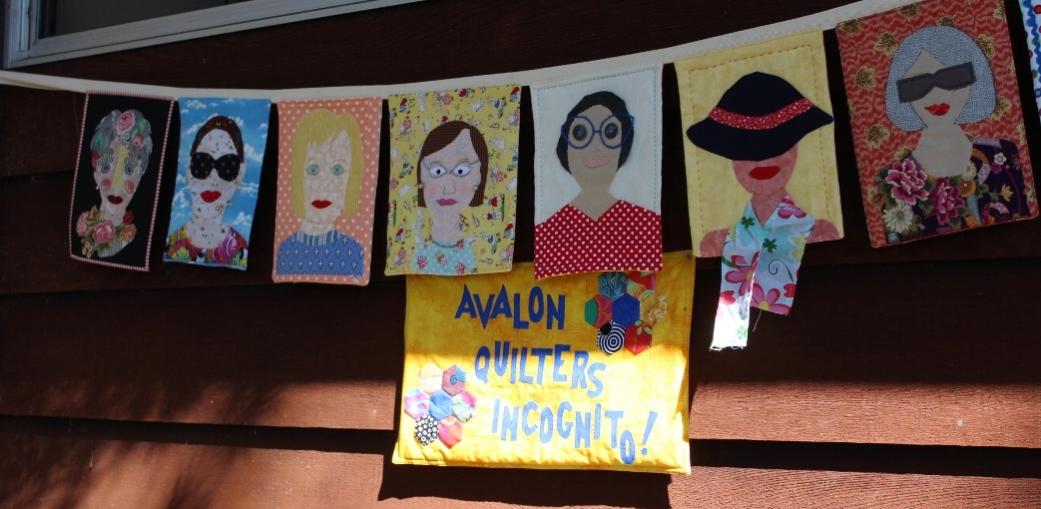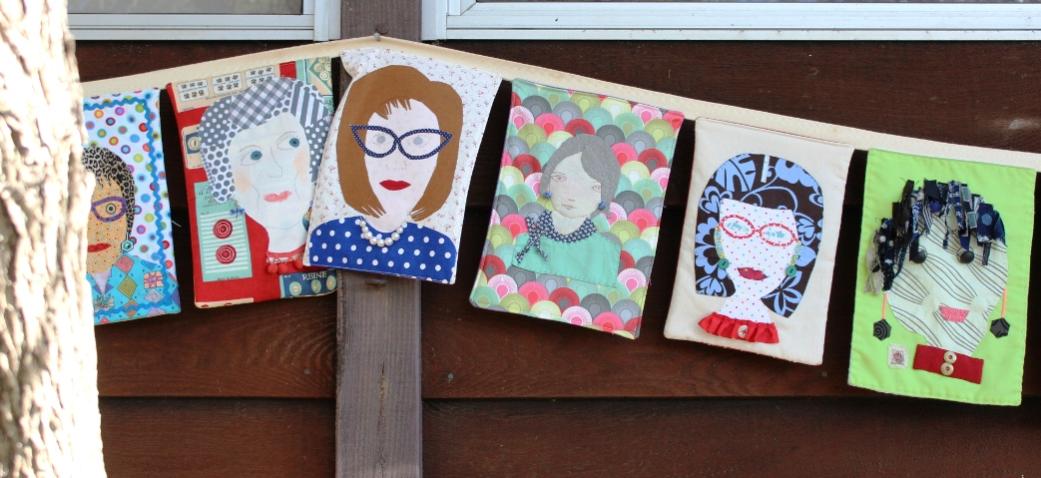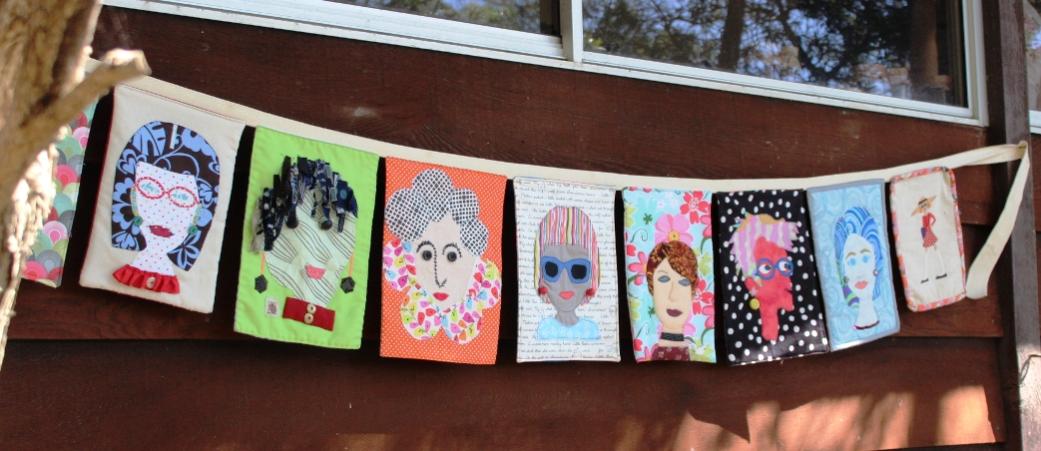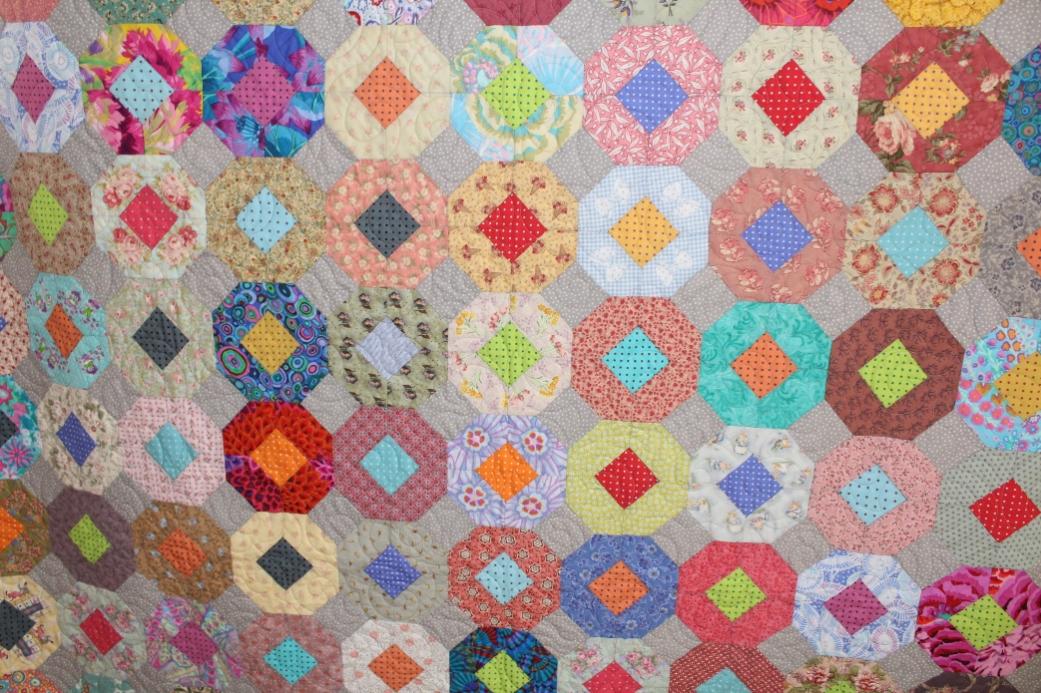 Photos by A J Guesdon, 2018