October 15 - 21, 2023: Issue 601

Avalon Community Library Celebrates 40th Anniversary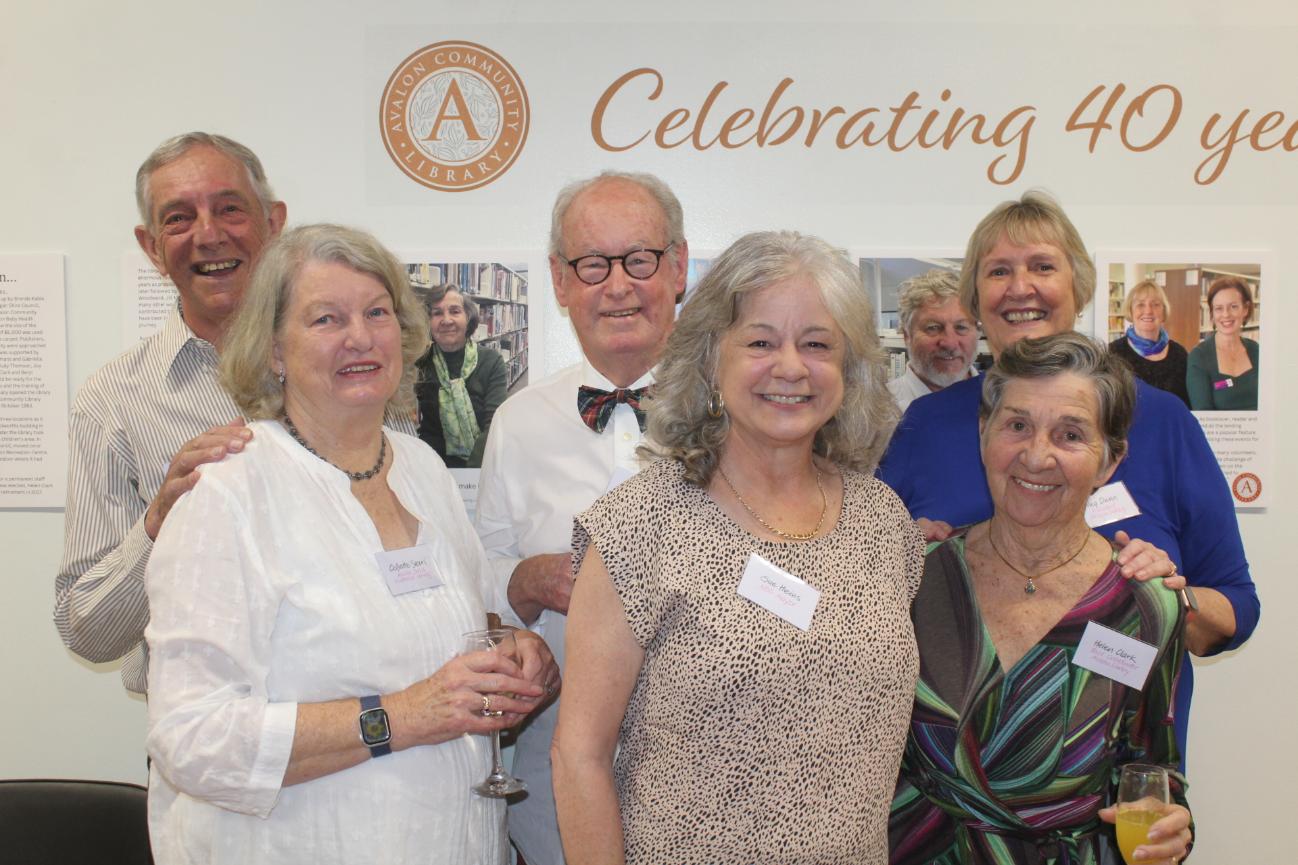 L to r: Geoff and Collette Searl of the Avalon Beach Historical Society, who put the history and photos together, Craig Boaden, founding member technical advisor to the ACL, newly re-elected Mayor Sue Heins, Library Association President Meg Dunn and (at front with Meg), Helen Clark who was Head Librarian for the Avalon Community Library for 4 decades.
A wonderful reception hosted by Council and ACL volunteers to celebrate 40 years of Avalon Community Library officially opened a historical exhibition of the library on Friday evening, September 29 2023. The actual anniversary is October 28, but taking advantage of the 2023 Labor Day long-weekend for a party, ACL volunteers and Council hosted a Historical display for the community to visit in the Avalon Recreation Centre.
The library began as a collection of donated books with a highly motivated committee, fortunate to have the guidance of professional librarian Craig Boaden (current Avalon Preservation Association President). This group of residents were, and are, yet another example of the strong community involvement in this special part of the world, Pittwater.
The mark of a great library is its capacity to be a community hub. Libraries connect people to information and connect people to people. They are safe havens for children, providing after-school homework help, games, and book clubs. They allow the curious to access out-of-print tomes, give fans of history oral histories and photos from the past, provide access to computers and, in the case of Avalon Community Library, host Autor Talks, allowing those who like to put pen to paper themselves hear how a book evolves.
Most importantly they provide free borrowing of books; both for study and for the delight curling up with a great book from a brilliant storyteller brings. They allow you to hear others' voices, feel what characters felt - realise you are not alone.
Books are important for the mind, heart, and soul - they educate, inspire, enjoin us to limitless horizons. More than that, they give you access to how we thought in the past, allow you to run your hand over a page from 200 years ago when raised print may be felt on paper, ascertain how we are thinking now and ponder what may come in the future.
They are places of enlightenment.
Below runs the short speeches given by current ACL Library Association President Meg Dunn, Mayor Sue Heins, and Mr. Boaden and below this, some captures from what was on display for those who missed it, and which requires no explanation from us due to the excellent work of and records, photographs and artefacts kept by Geoff and Collette Searl of ABHS and ACL members, along with some of the volunteers who attended, all of whom deserve a hearty round of applause for their dedication to those young and older who enjoy nothing better than curling up with a great book.
HUGE thanks to Meg Dunn and Jane Park, current Head Librarian for the Avalon Community Library, and all the volunteers who look after you all at Avalon Community Library.
Congratulations on your 40th Birthday ACL!
Meg Dunn and Jane Park
Library Association President Meg Dunn:
I begin by acknowledging the Traditional Custodians of the land on which we meet and pay my respects to their Elders past, present and emerging.
Good evening and welcome, I'm Meg Dunn, the current President of the Avalon Library Association.
Thank you to Jen, Pam and Charlie for attending to the drinks dispensing this evening.
We will hear from the newly re-elected Mayor for Council, Sue Heins and from Craig Boaden, one of the original founders who started the library this evening, and I'd like to speak about the library and a few thank yous for those who have out this evening together.
It's a happy 40th birthday to Avalon Community Library. Like Paul Kelly said, 'from little things big things grow'. And so it is for our wonderful library.
Much hard work, meetings and organisation have gone into tonight and the historical display, so I'd like to acknowledge and thank those who have contributed to what has been made available for the community this weekend and over the last 40 years.
Helen Cark who ran the library for 27 years before her retirement has been a great help in providing information on the history. As has Craig Boaden, who was here at the first meeting to form the library. I thank you both for your past contributions plus making this weekend a success.
Special mention goes to the Avalon Beach Historical Society. Geoff and Collette Searl have done an outstanding job of the display photos.
Thank you to the sponsors who donated to the raffle, catering and other costs to make this happen. They are all proudly displayed on our outside banner and around the room.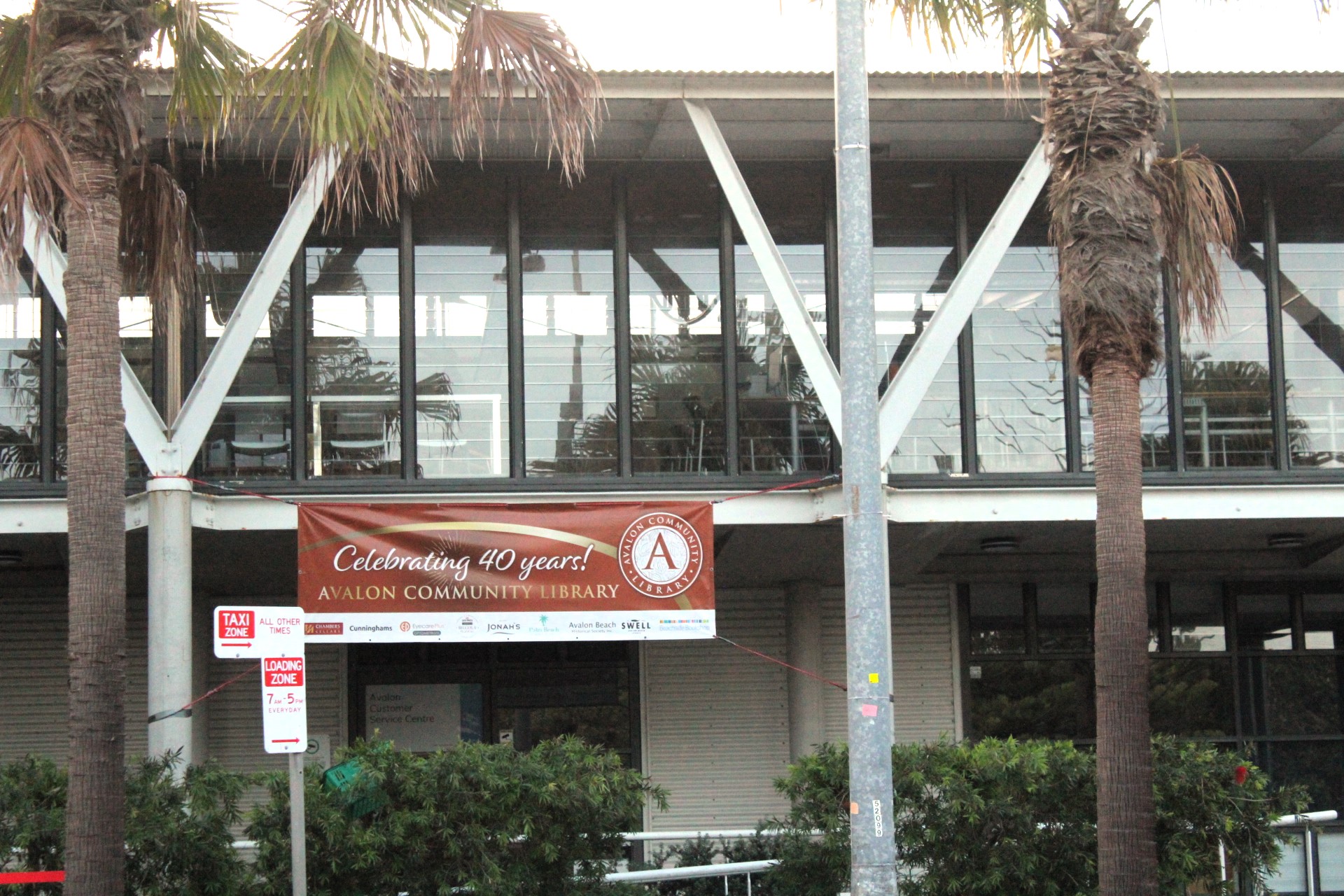 Thanks go to our Oral History subjects whose portraits are arranged around the walls tonight. You can hear all their stories on what the library means to them at: www.avalonlibrary.org.au and at the Northern Beaches Council Library Services History Hub. Our thanks to Sharelle Ravenscroft, Jackie Tonin and Zoria Drazic for their wonderful interviewing skills that have ensured we have captured an oral history of the library for future generations.
Thanks also to the Northern Beaches Council, Pittwater Ward Councillors and the Library Capability Services for their financial and ongoing partnership.
Thanks to the dedication of volunteers who have worked here over the past 40 years and stayed for many years volunteering their time. The committee of the Avalon Community Library Association made up of committed members who ensure the library remains current and relevant in an ever-increasing digital world.
Thanks to Jane Park, the Avalon Community Library coordinator, who is the backbone of the library. Special thanks for her management of this huge project and all those wonderful volunteers on the 40th Anniversary Committee. This would not have come together without your dedication.
Welcome Sue and thank you so much for coming to this event.
Mayor Sue Heins:
I'm absolutely thrilled to be here on your 40th anniversary. If it wasn't for passionate locals this wouldn't be here today.
I'd also like to acknowledge the Traditional Owners and Custodians of this land and Elders past and present and other Aboriginal people who may be present today. I'd also like to express my gratitude that we share this land today and my sorrow for the cost of that sharing. I hope that in the spirit of reconciliation that we can move forward to a place of justice, healing and partnership as we walk gently on this land. And also know that our traditional owners were the original custodians of knowledge and were the knowledge keepers – and that is exactly what you are doing here and continuing to do on these lands, which is so amazing.
It's wonderful to see so many volunteers here tonight, thank you so much for that volunteering. Many of you have been volunteering for many many years and that is a great sign of a healthy group who really love what they do and love their community enough to keep on volunteering. For that I absolutely thank you because that care and love of community is what keeps a place very special and keeps a place safe. Libraries are those kinds of places where you can go and feel safe and share and talk and find more knowledge. You can ask the wonderful volunteers around you to help find what you are looking for or just download because you are having a bit of a day.
This library started as a community project, initiated by enthusiastic locals in a public meeting with the aim of establishing a volunteer community library at Avalon Beach. Volunteers undertook a drive and collected 3000 donated books from local bookstores, authors and publishers to build a collection for the northern end of the peninsula. With Helen Clark appointed as the library Manager, and 50 volunteers ready to assist, the library first opened its doors on Friday the 28th of October, 1983.
Today you have grown to house more than 23, 000 items. These items are all accessible across the Northern Beaches Council library service – that alone is amazing and you should all be congratulated.
Council is proud to support this valued community service by providing an annual subsidy to operate this service, embedded in the Avalon Recreation Centre, and provide a fulltime staff member coordinating the operations of the library service.
The library provides a welcoming space to read, work and relax, and hosts a regular program of events, including Author Talks, and storytime sessions. Having met some of the Authors who have spoken here it is worth noting that we live in such an awesome place filled with such creative people, that we can ask these Authors to come and give an insight into their work and know these will be really well received by an enthusiastic public.
I'd also like to thank everyone, once more, for your incredible community service as volunteers and may you be here for many years to come.
Thank you.
Craig Boaden: Speech at Avalon Community Library 40th anniversary Friday 29th September 2023
Mayor Heins, distinguished guests, Avalon Community Library volunteers, friends:
It's great to be here at the 40th anniversary of this wonderful community-led and maintained initiative. Before I start talking about the early days, could I just take a moment to thank first Warringah, then Pittwater and now Northern Beaches Council for their aid and assistance in getting ACL going, providing facilities and maintaining the physical fabric of the Library.
And how did it all come to happen? I'm going to briefly dwell on what to some will seem like ancient history.
I'll start with Councillor Frank Beckman. Frank was a Warringah Councillor from 1962 until 1991, and his Ward included Pittwater. He lived in Terrey Hills and I'm sure he had a role in the establishment of Terrey Hills Community Library. Frank played a major role in ACL's establishment too. He identified that the Baby Health Centre in Avalon had a surplus space, two small rooms, one more of a supplies cupboard. He let Avalon people know, including Brenda Kable. My own involvement began with a meeting of what was then the Avalon Preservation Trust, probably in 1982. That meeting was intended to see if we could get a group going to use the space to provide a community library service. Brenda volunteered to head up the group, so we were off! At that meeting I tentatively said that I was a professional librarian and if the group wanted it, I could offer technical advice to get the library going. I was immediately seconded to the group!
In our first venue the public area in front was tiny, about 4 metres by 3 at the most, so we started small. We had some seed money from Warringah Council and we fund-raised in Avalon. With that we bought shelving and stationery. Our original collection of books consisted entirely of donations, as we had no book budget then. My job was to design the policies and processes expected of a library, which are naturally invisible to most library users. But some questions needed to be asked and answered:
What were our aims?
Who was our audience?
How would we decide what books and magazines to accept and which to reject?
What processes and systems did we need to add a book into the collection, make it searchable for the public and lend books out and receive them back?
We needed answers to all of these things and more, and I drafted standard library policies to provide those answers. I was trained for this work and I thought it was great fun. I think the other members of the committee thought it was some sort of magic! This was just as personal computers were coming on the market, but we had zero funds for that fancy stuff.
So our processes were all manual. There was a card catalogue (remember them?) and date stampers and date due slips in the books. In fact ACL still stamps the date due today, unlike the Northern Beach Branch Libraries. Quite quickly a small team of librarians (including Gabrielle O'Grady, Penny Comans and others) volunteered to help with the cataloguing and classification of new books. After the creative days of policy development, I spent time at ACL on the less popular evening shift, while I assessed possible new books and catalogued the ones we had just acquired and selected. I played this role for the first 5 years, and by that time the collection had grown so that we needed more space.
At that point there was an established group of enthusiastic volunteers and ACL was a going concern. So I "retired" on the cusp of the move to bigger premises in Avalon Parade. Of course, ACL carried on delivering many of the services we still see today.
At first, the committee and our small group of volunteers weren't at all sure that ACL would be a success. However, as time passed and more Avalon people joined the Library and came in to use it, we grew more confident. And things have grown each year – our team of volunteers, our collection, our services and facilities. I believe that, today, ACL offers more than any other community library in the northern beaches. As ever, the team was and continues to be our major success factor. The enduring enthusiasm of our local volunteers, led firstly by Helen Clark and today by Jane Park, has led to ACL becoming a highly valued and used part of the community.
As a former librarian, I don't want finish up without saying a few words about the importance of libraries in general. Public libraries especially are an essential part of the democratic foundations of countries, including Australia. Most people see libraries more as useful utilities, something taken for granted, and a good source of recreational reading and homework help. However, they're much more than that. Public libraries are bulwarks of an educated and knowledgeable population, and they're fundamental for our informed way of life. While we're all now flooded with information, how do we know what sources to trust?
Libraries are part of the answer.
Whatever the faults of modern democracies, we, their citizens, are so much better off than many people in other countries who struggle to get the trustworthy information they need to make important decisions.
Avalon Community Library may seem a humble element in all that, but it's part of a grand tradition. And being community-led, our library is a shining example of how our democracy can work at the grass roots.
We should all be very proud of what we've created here in Avalon Beach.
Before finishing, I want to mention again an enduring connecting presence from the library's early days through most of its existence – and that is Helen Clark. Helen was a member of the original planning committee, and for many years was the ongoing library supervisor. I want to acknowledge Helen and the rest of the committee too, especially the late Brenda Kable, in getting ACL up and running.
With that, I wish Avalon Community Library, its volunteers and staff, all the best for another 40 successful years serving the people of Avalon Beach. Thank you.
Avalon Community Library Historical Display
compiled by Geoff Searl OAM, president of the Avalon Beach Historical Society and wife Collette Searl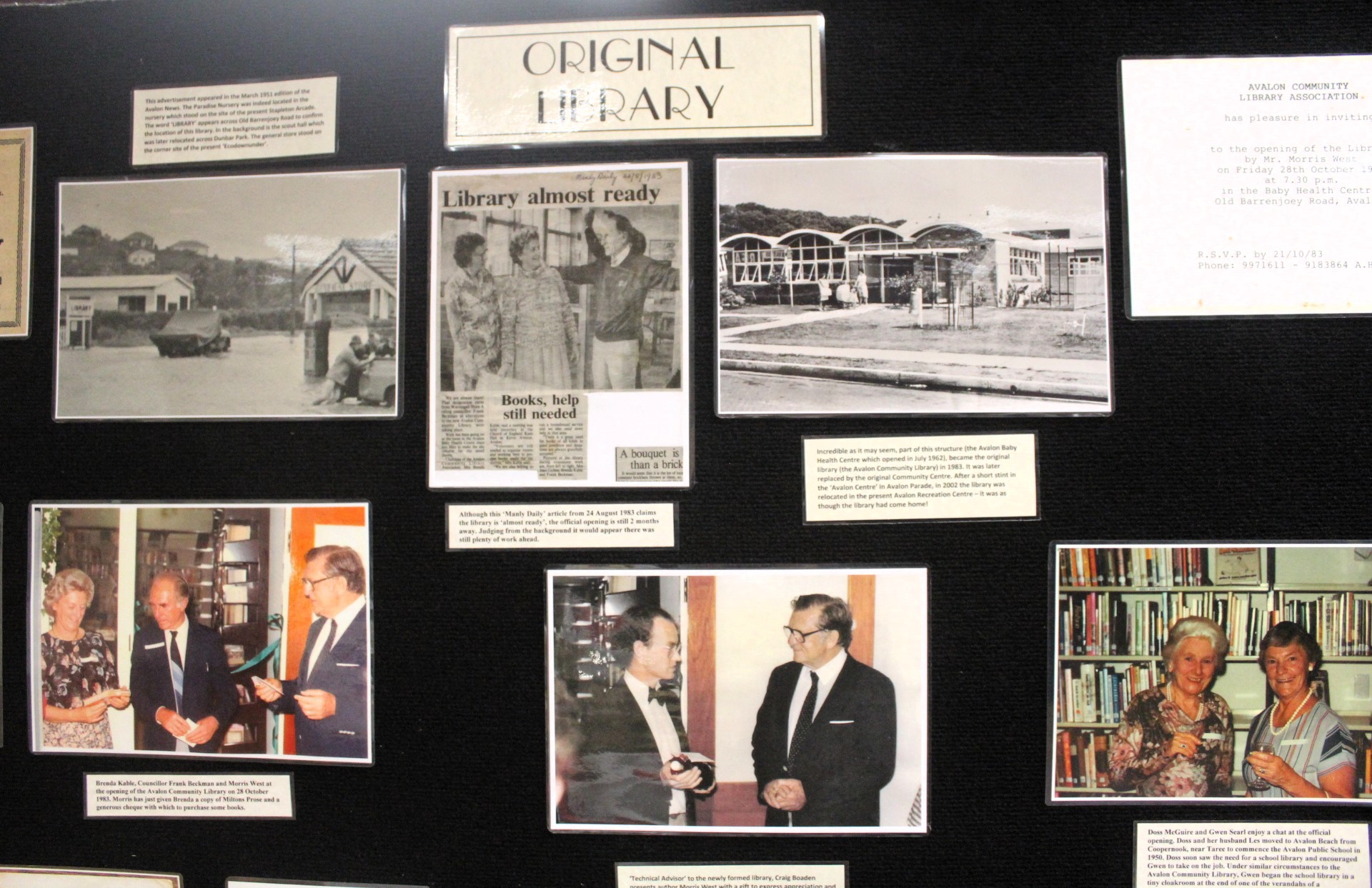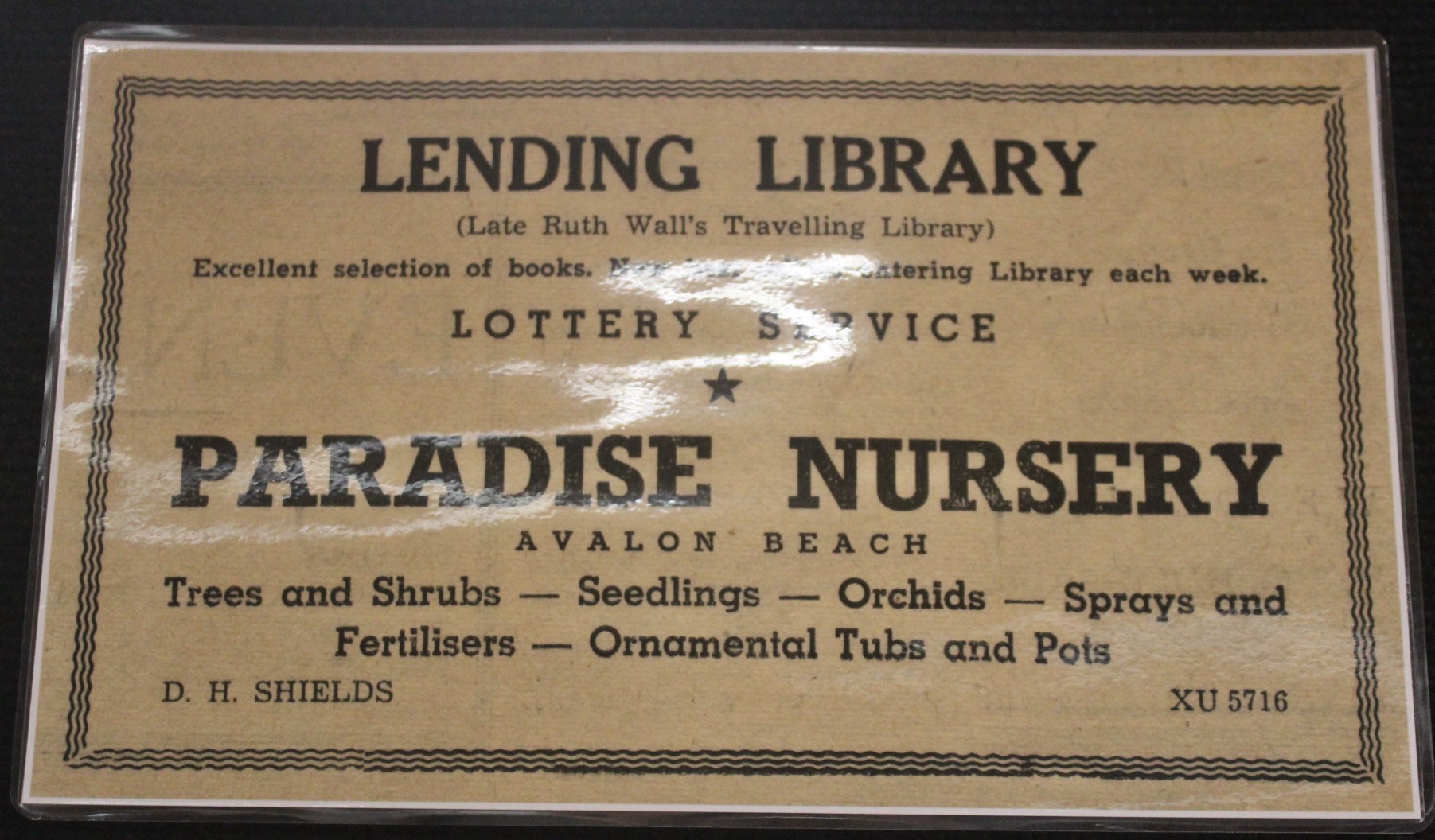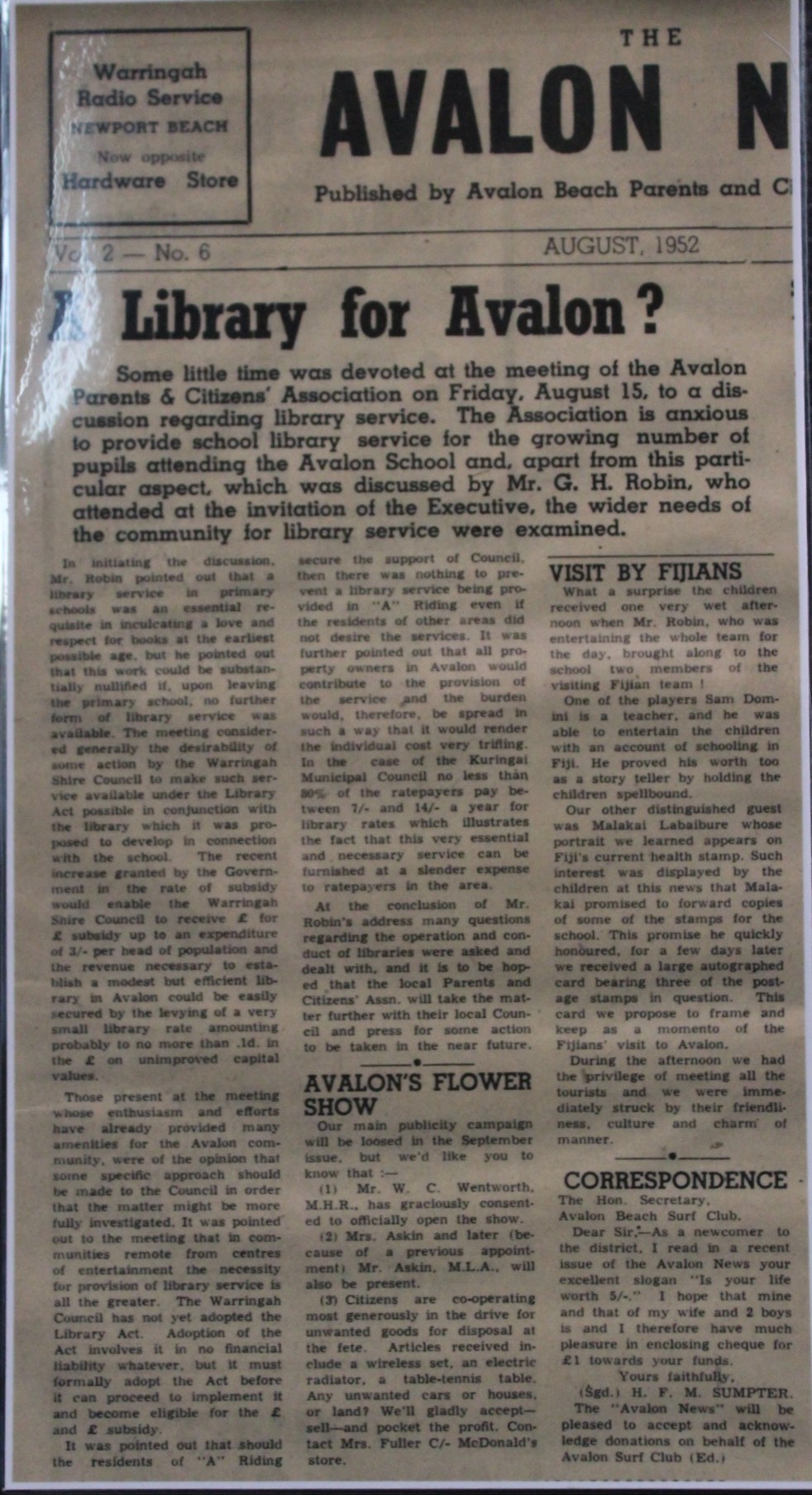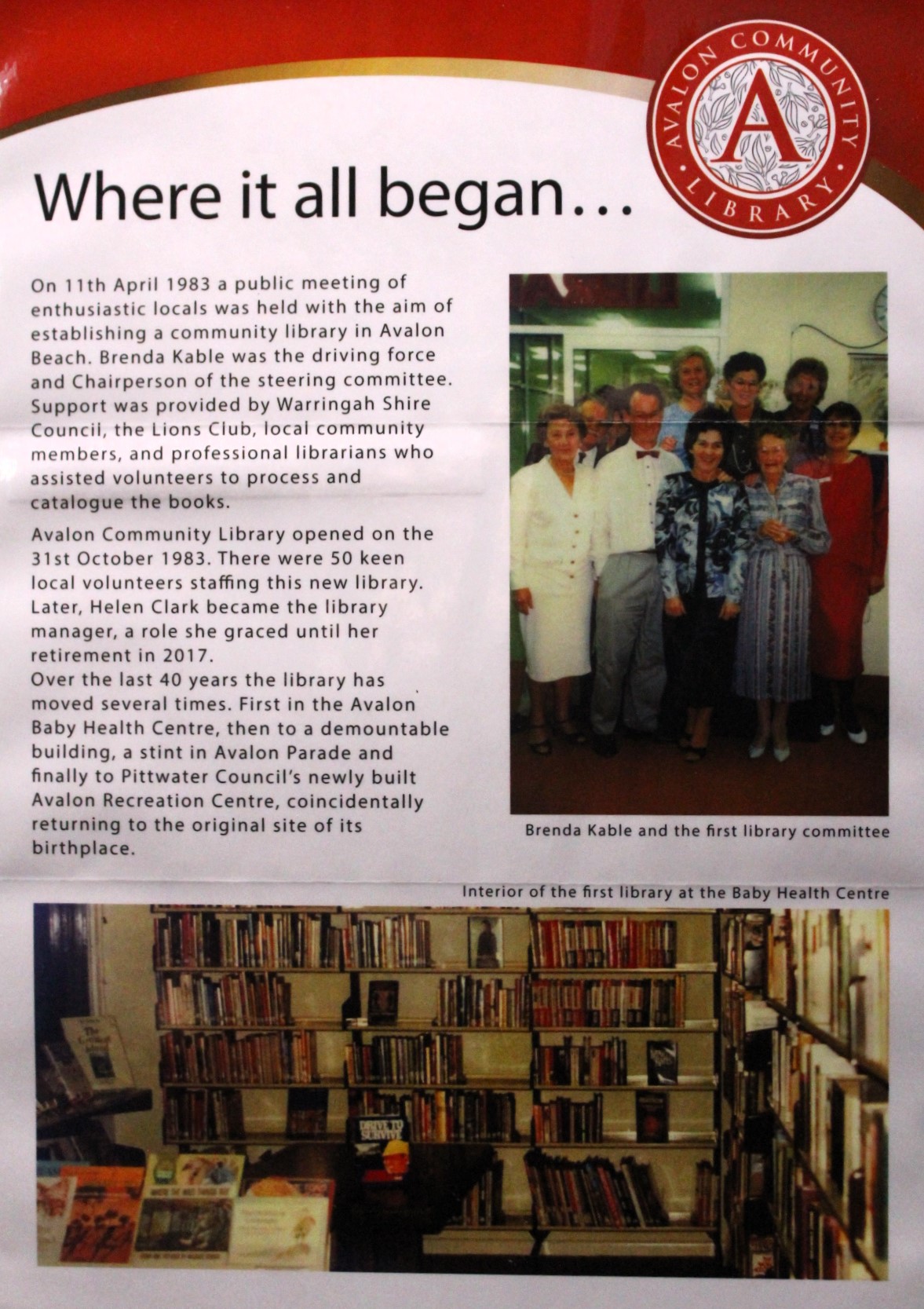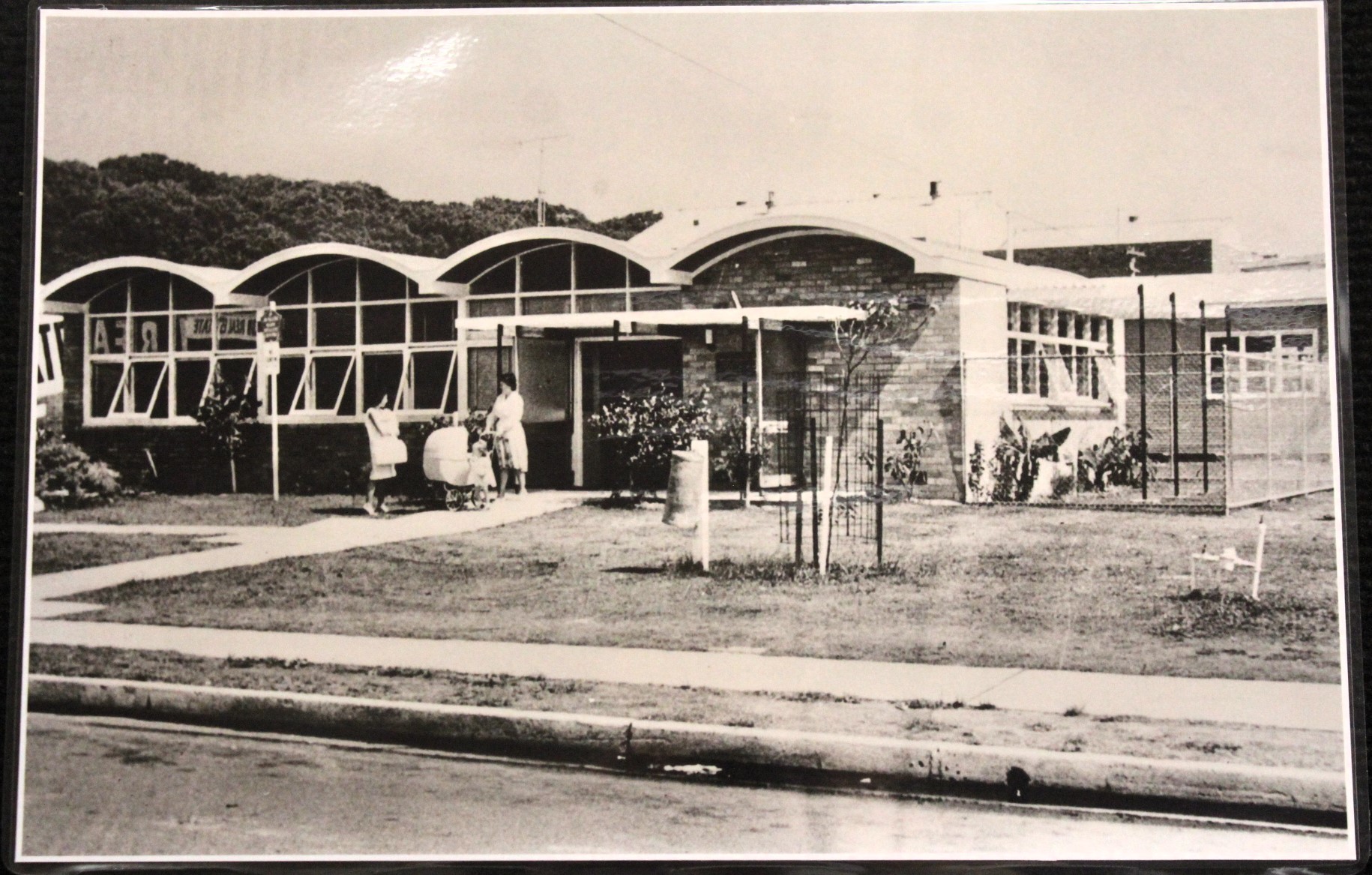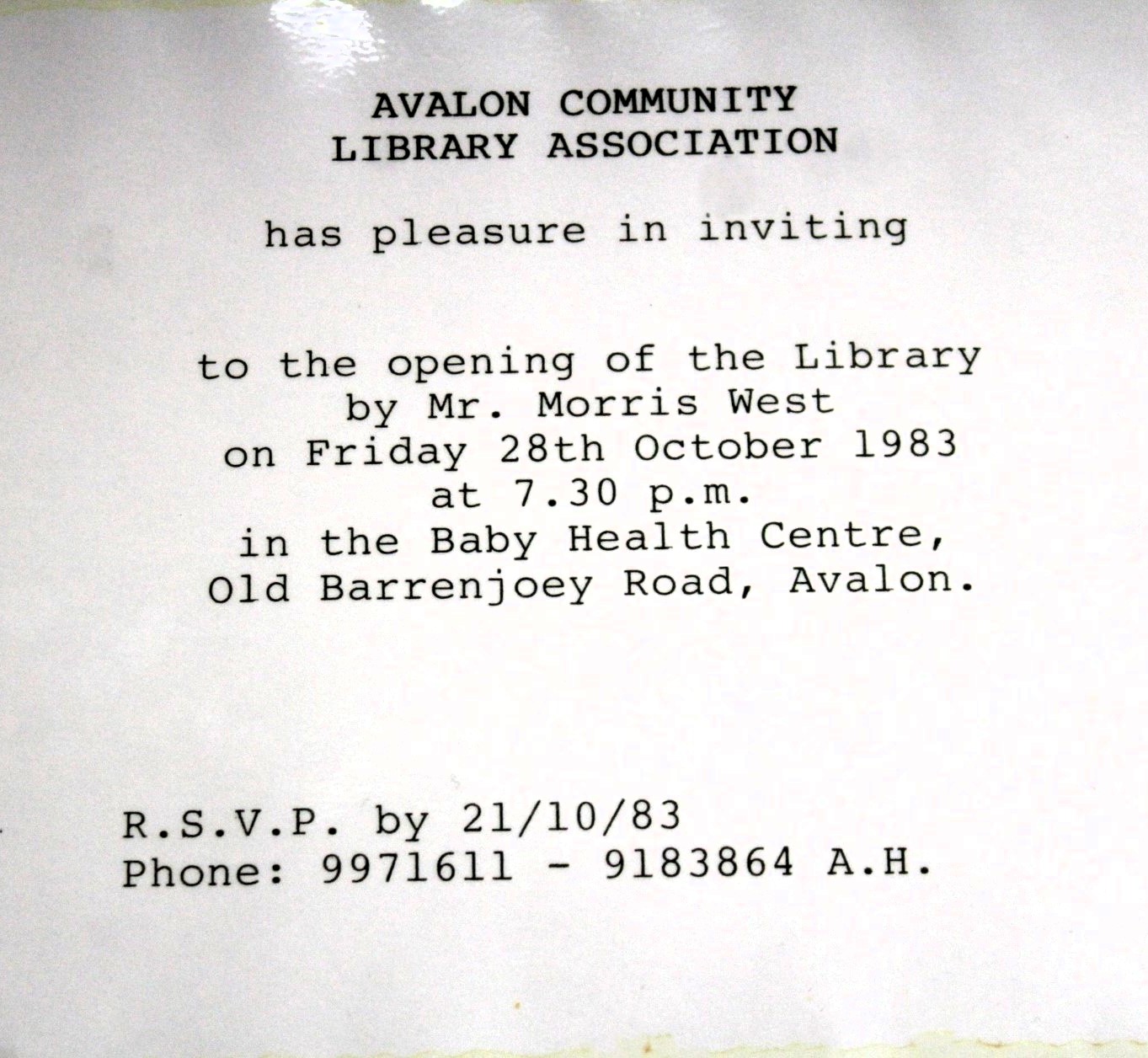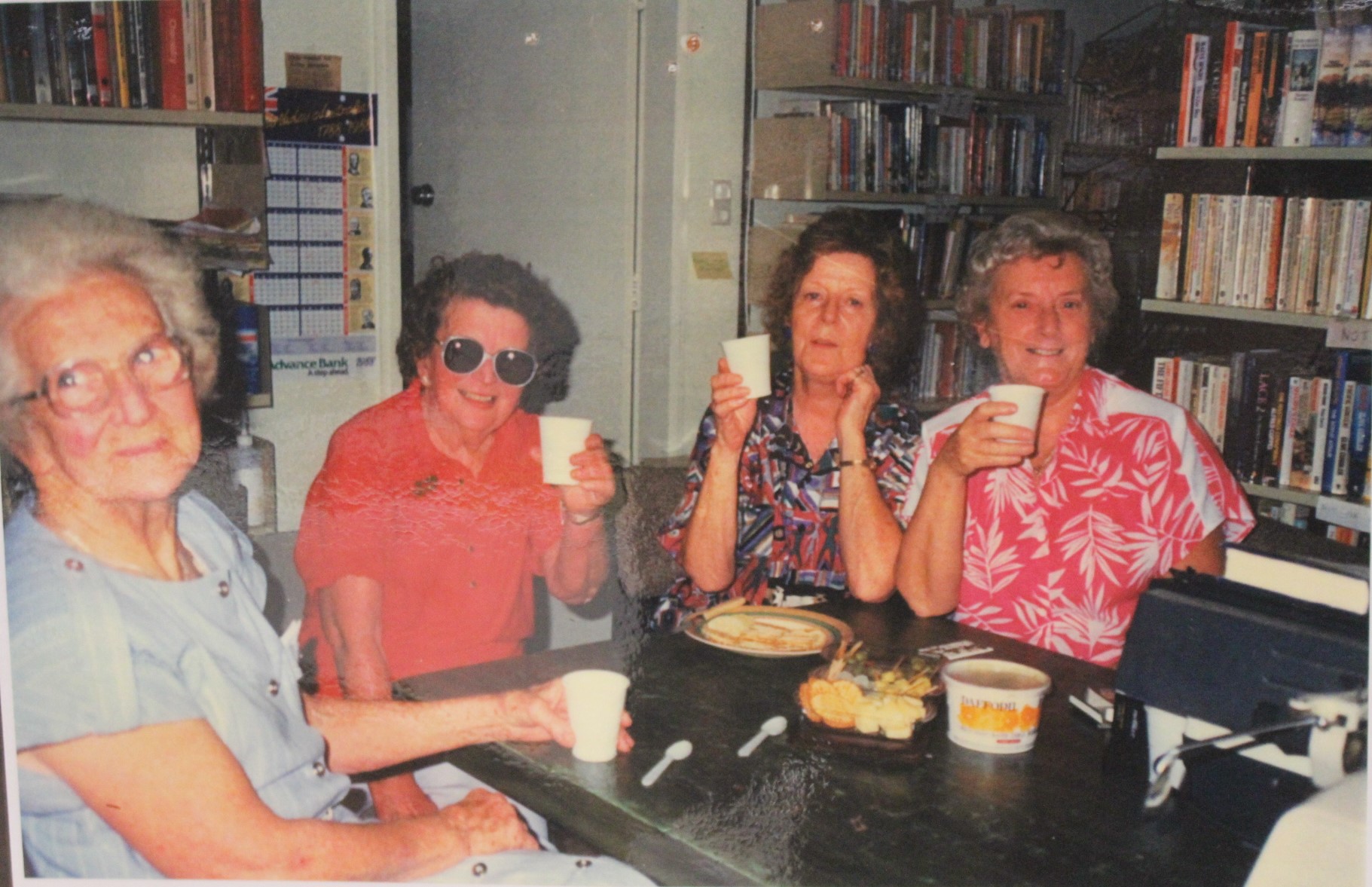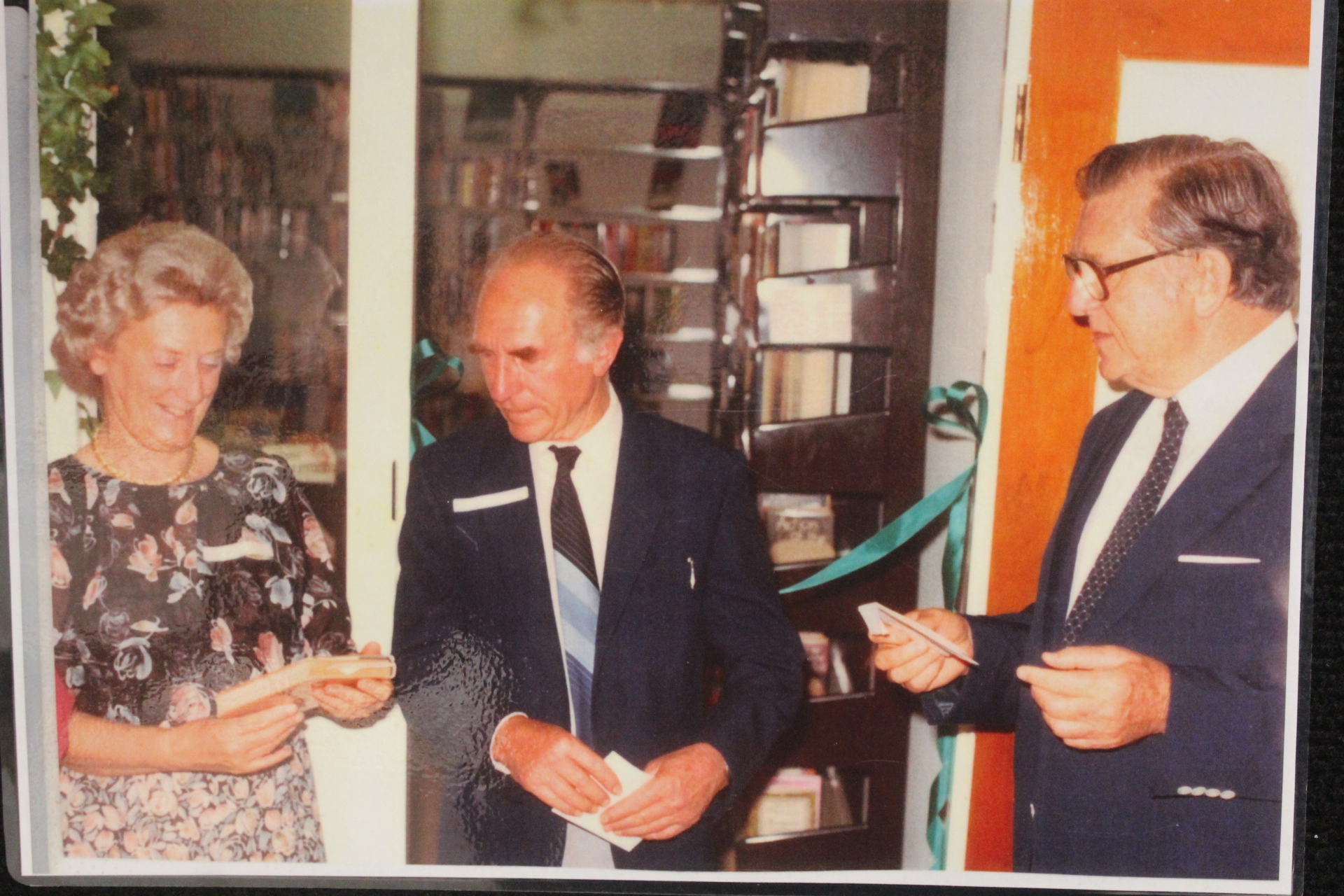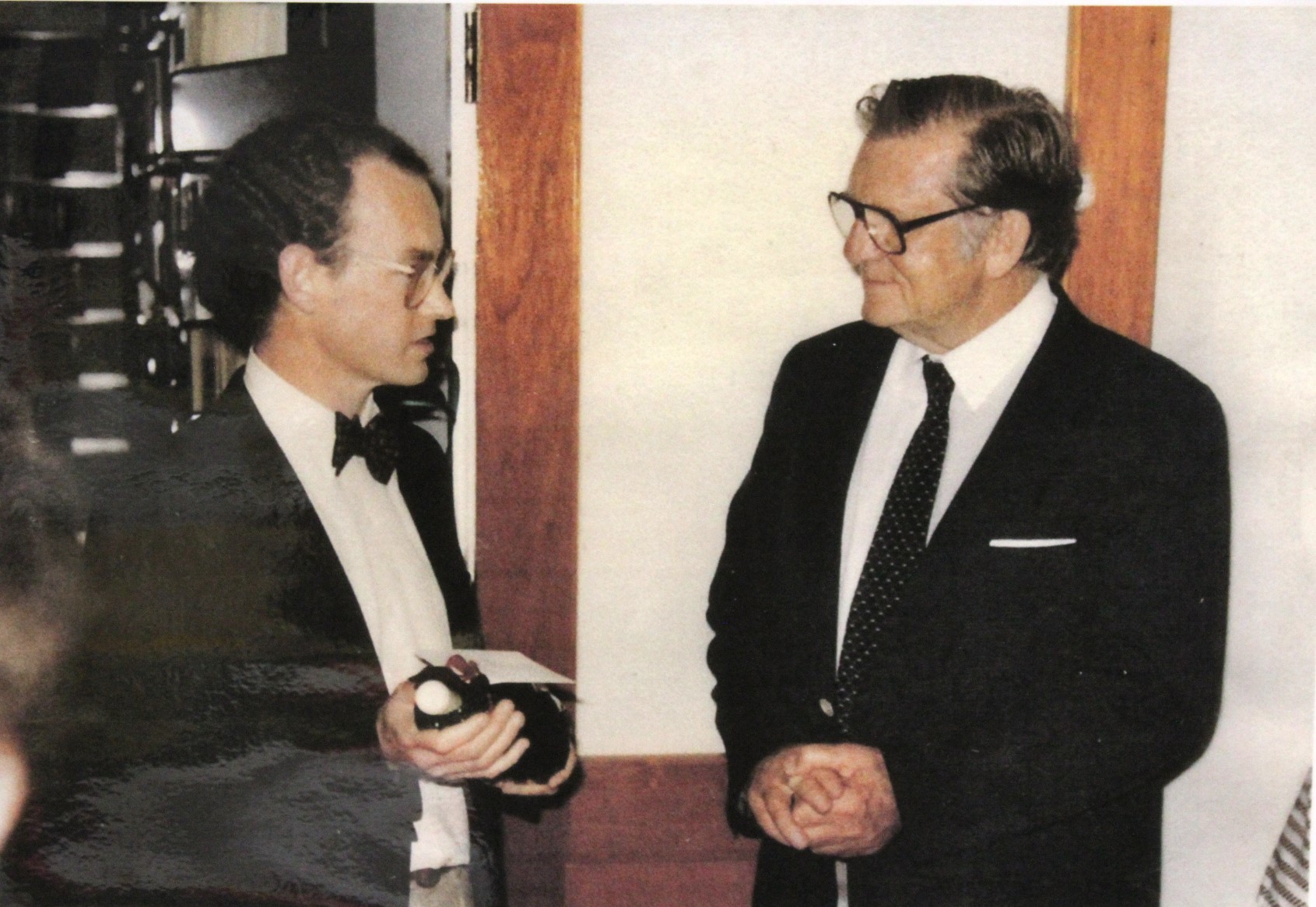 Caption: Craig Boaden, Technical advisor for ACL, presents author Morris West with a gift to express appreciation and thanks for opening the library.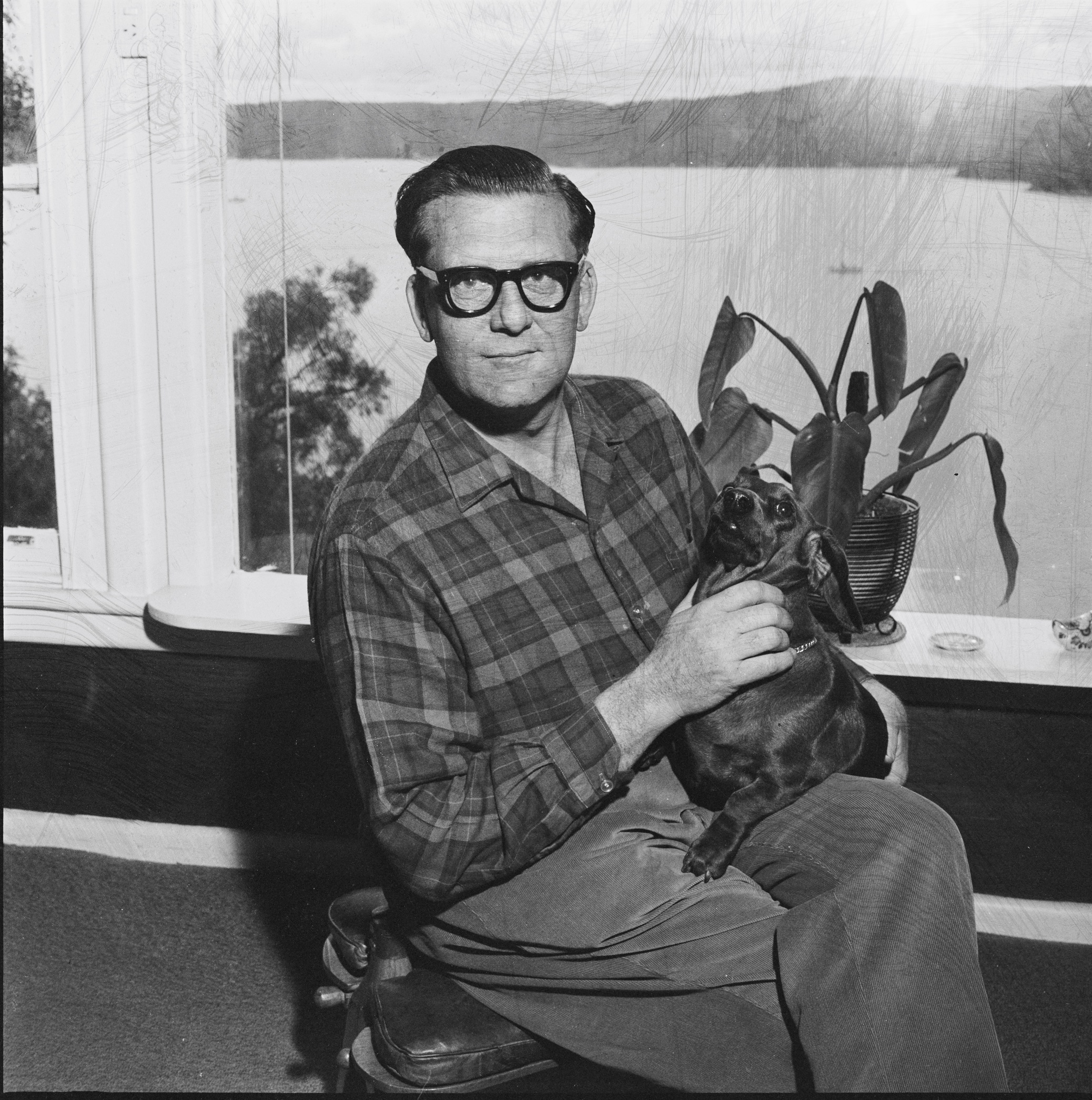 Author Morris West at Avalon (Clareville), 12 September 1960 - photograph by Wal Easton, image courtesy Mitchell Library, State Library of New South Wales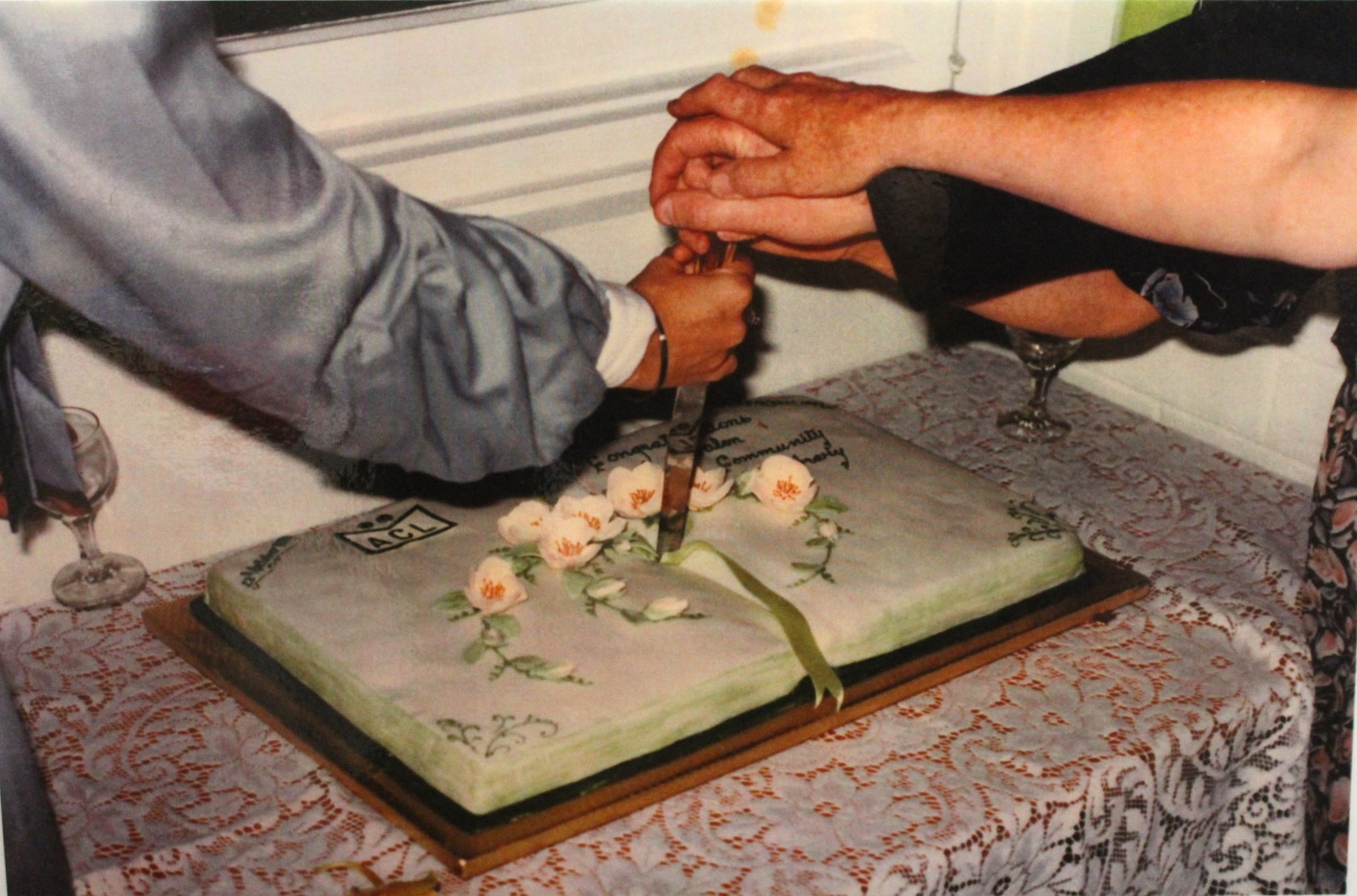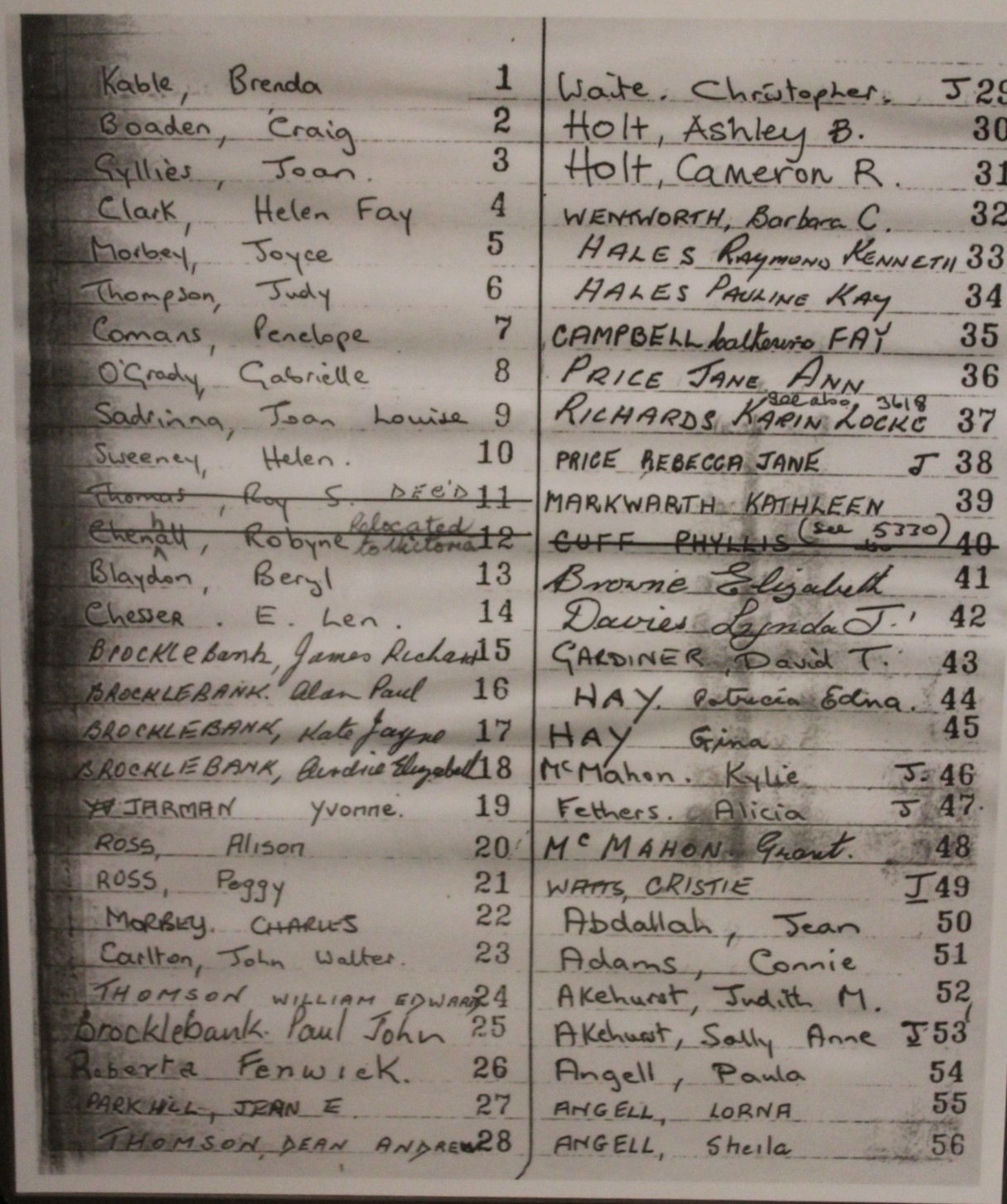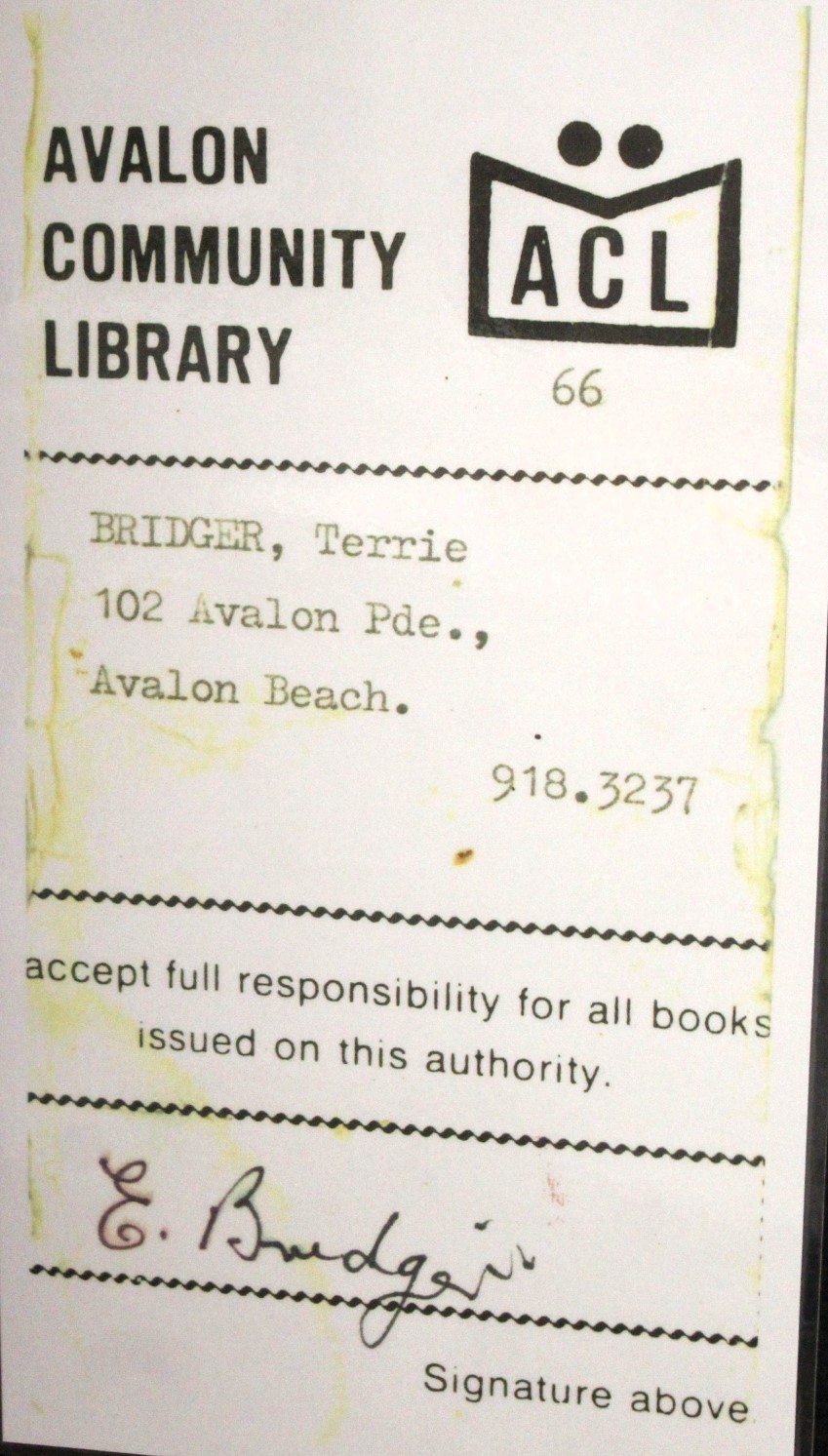 Early borrowing cards - enlarged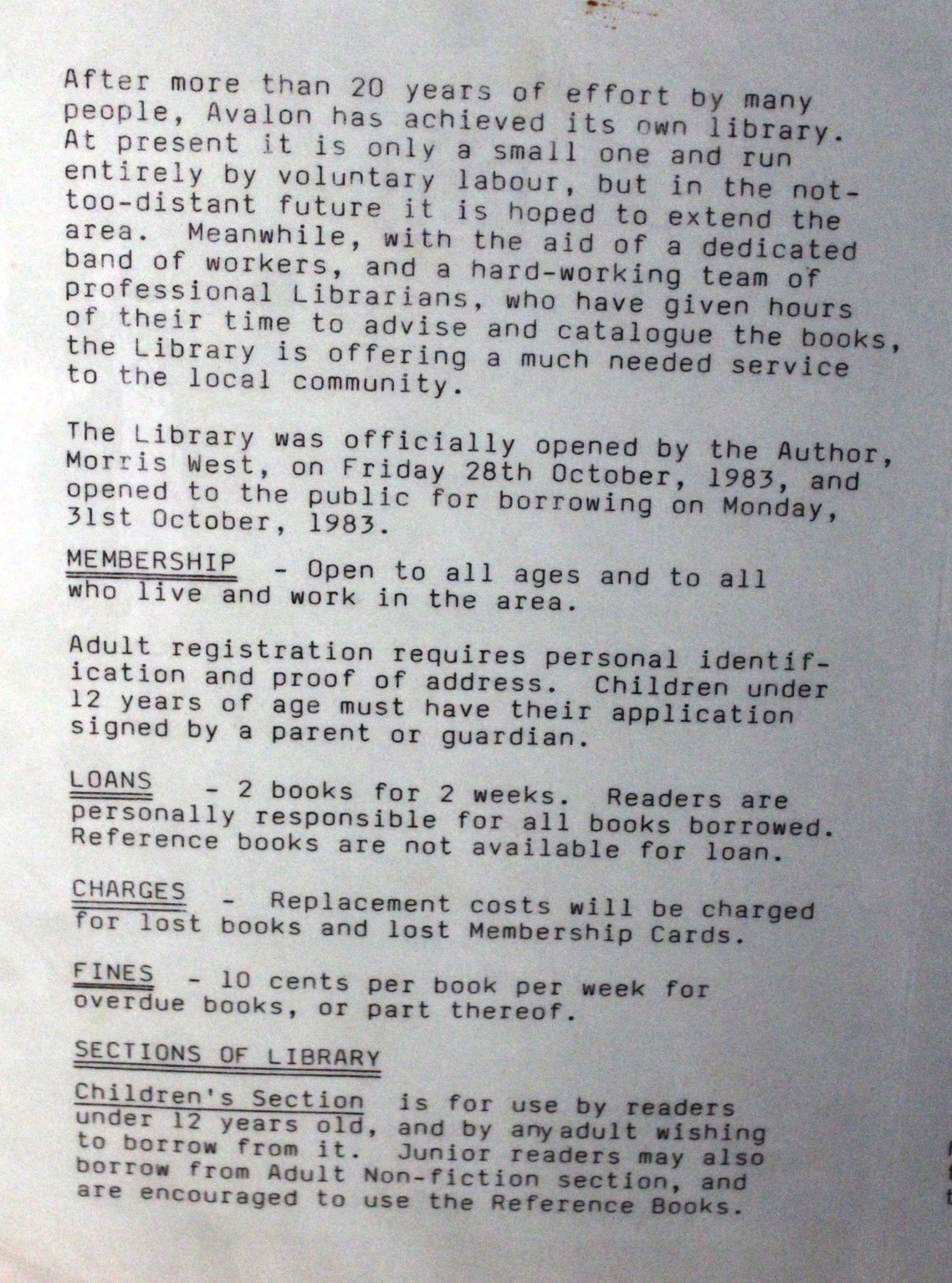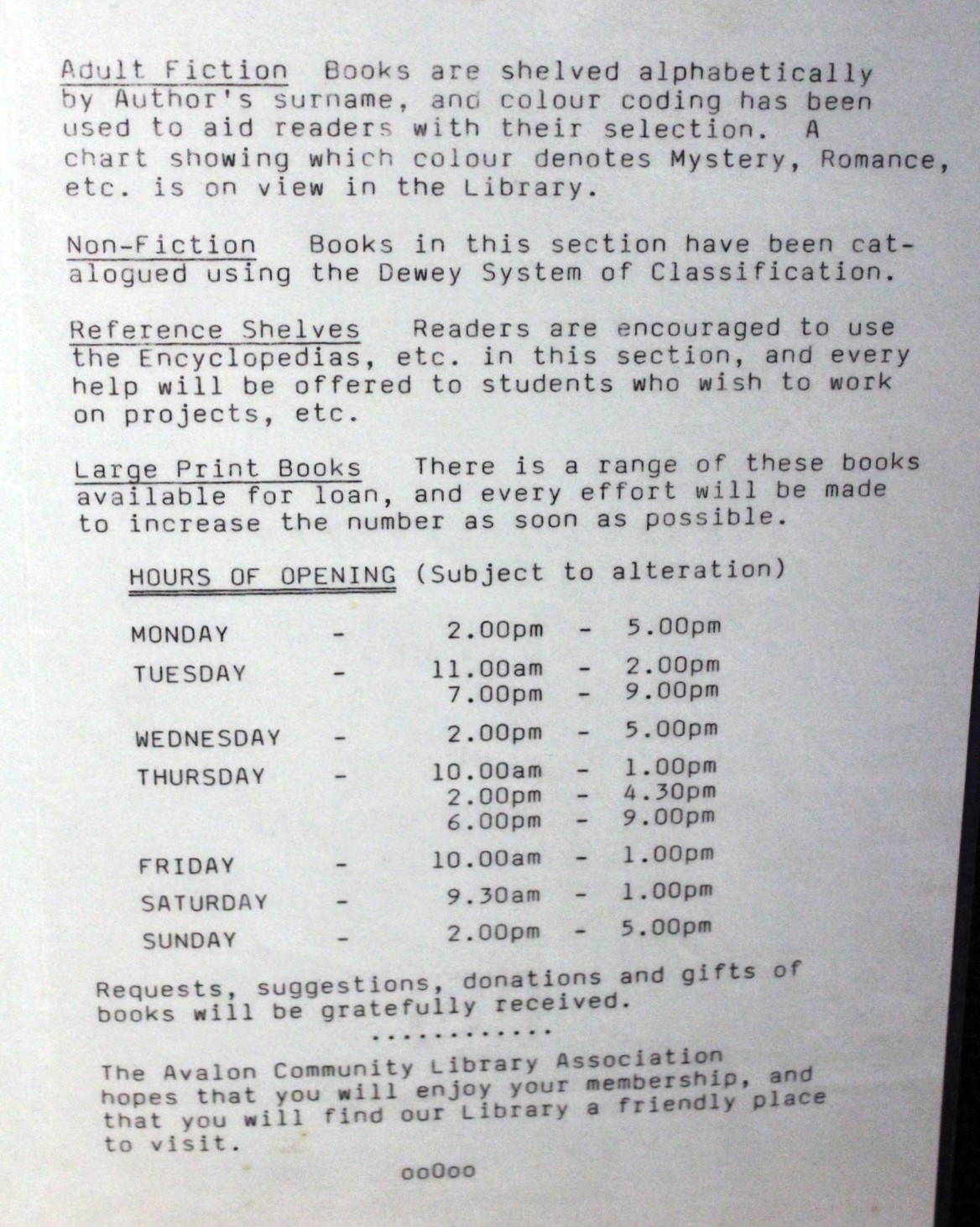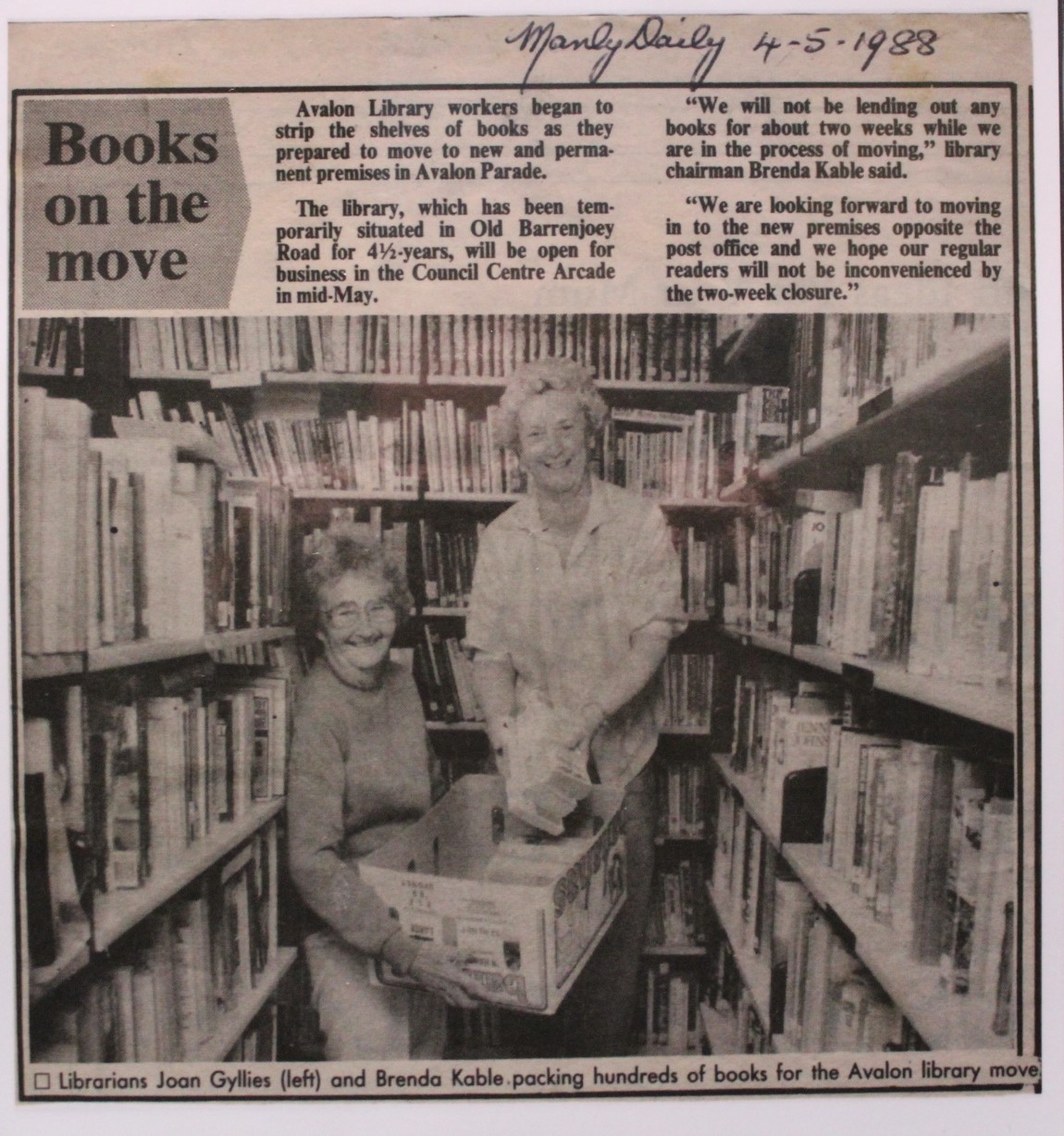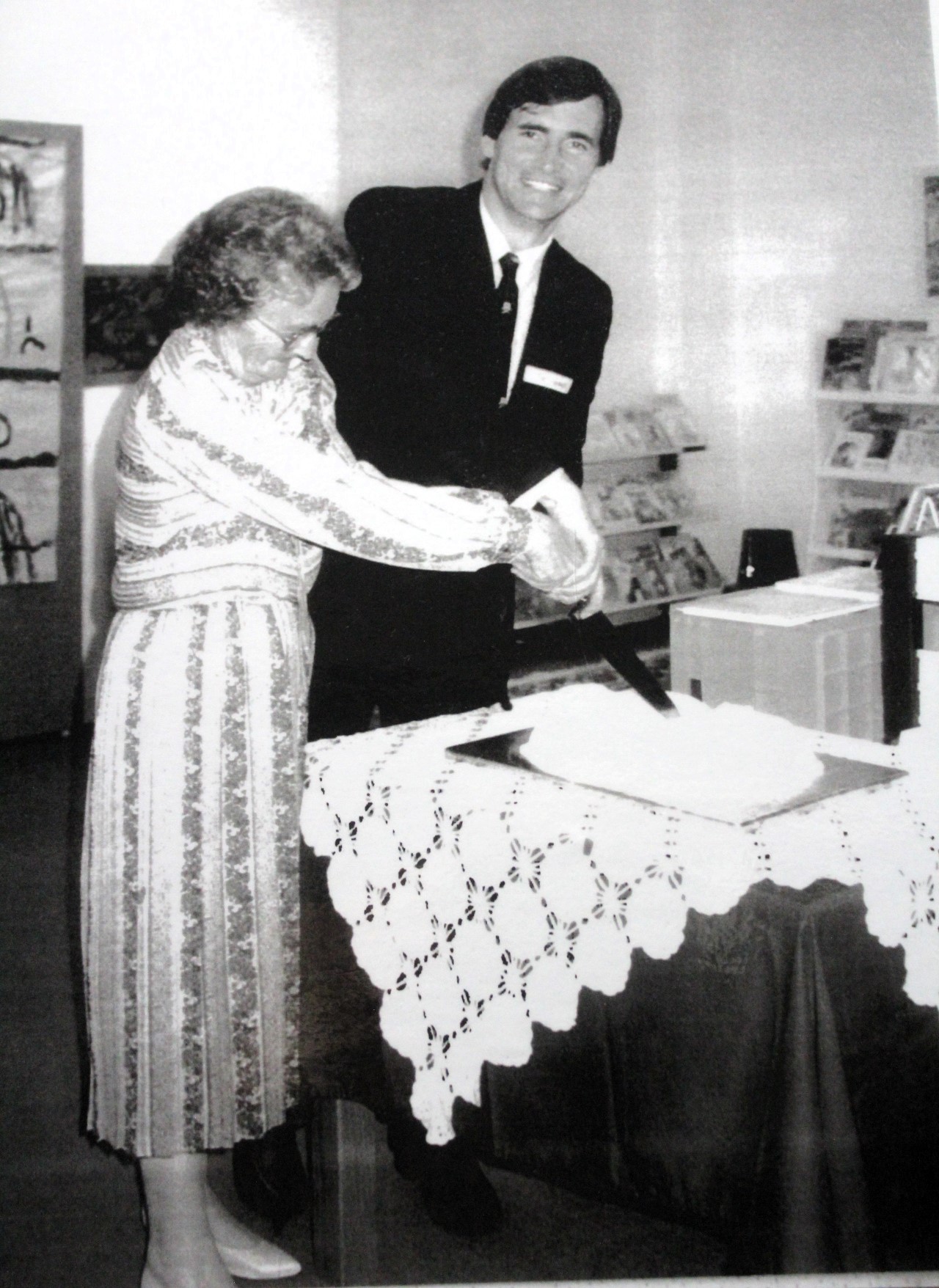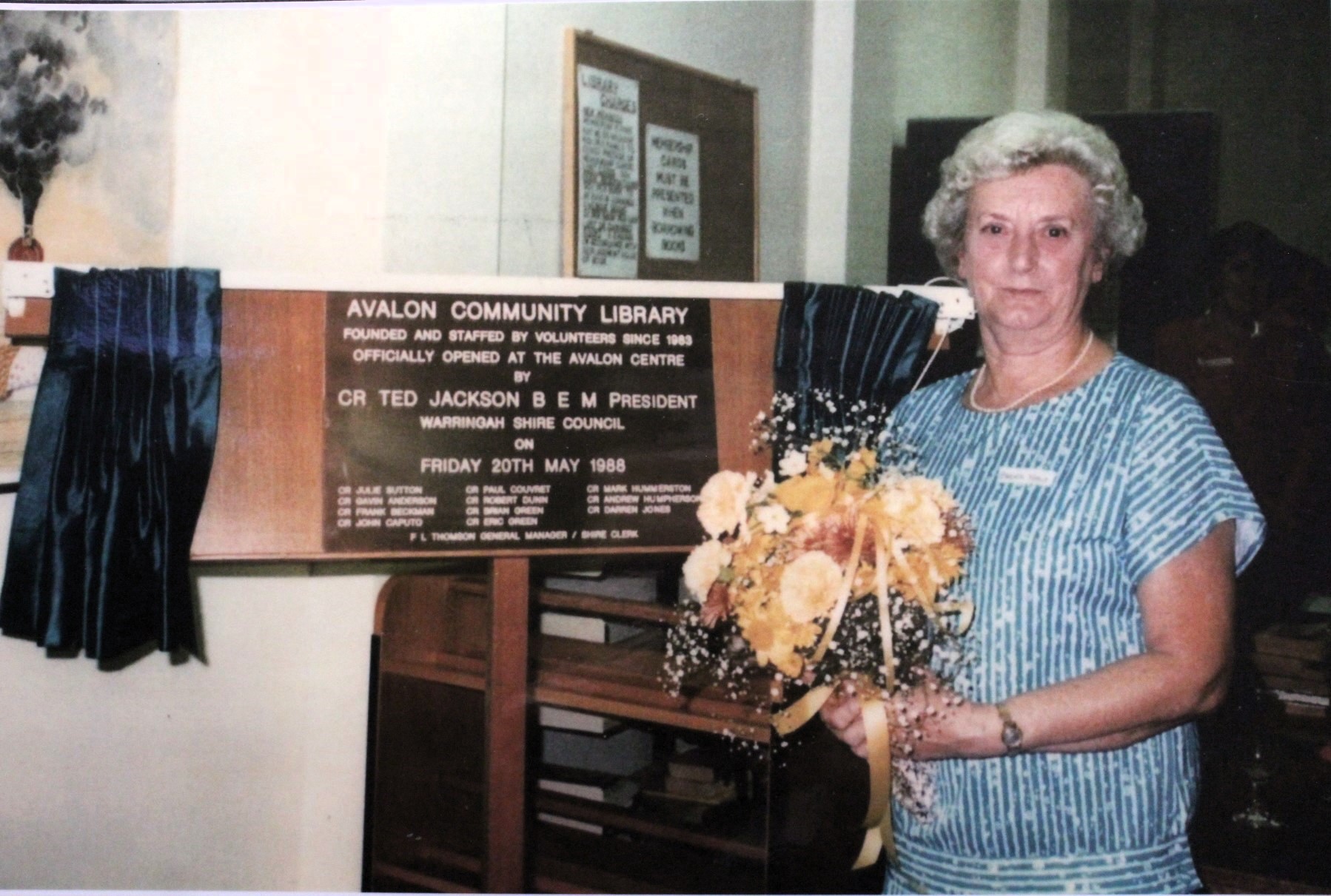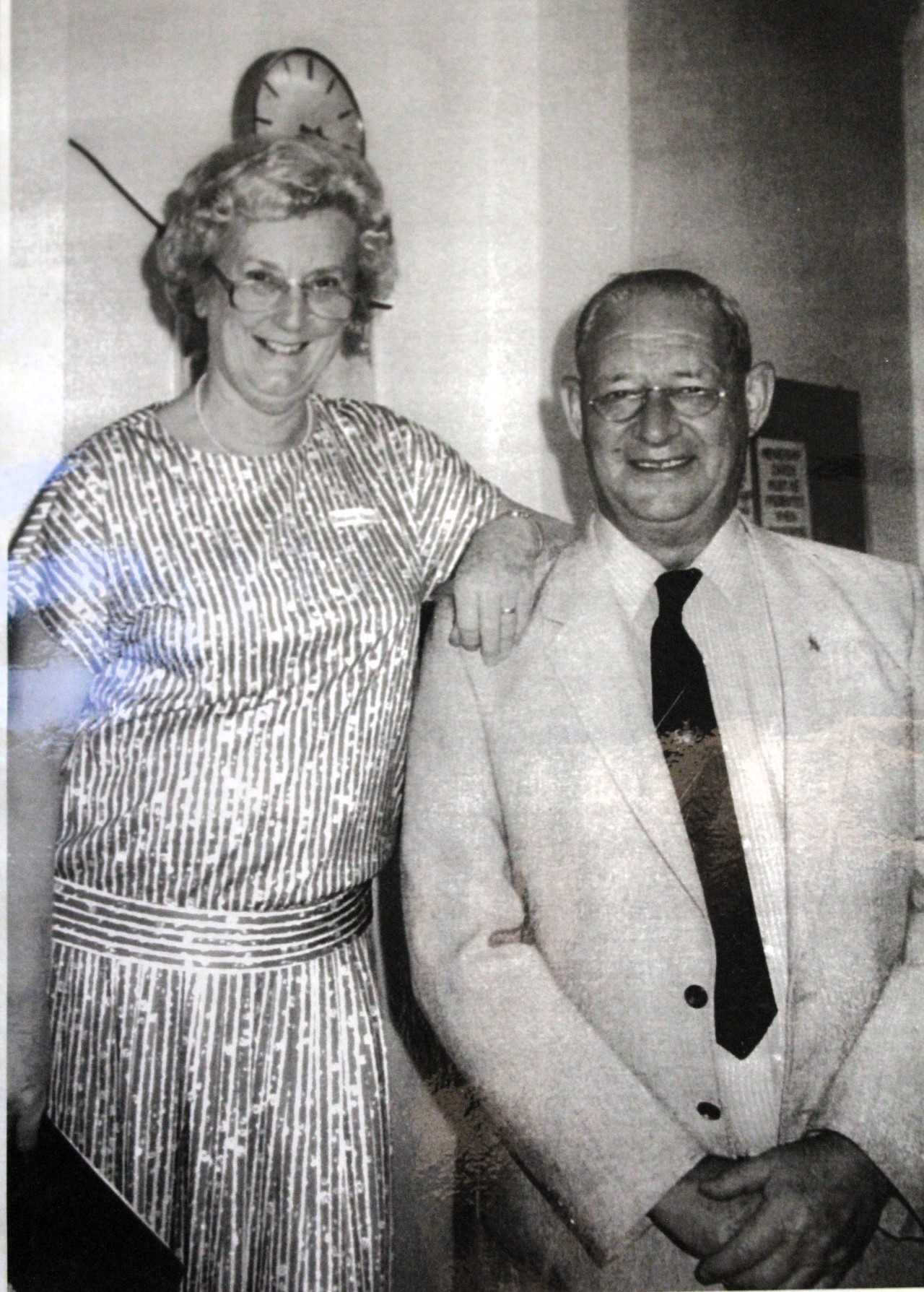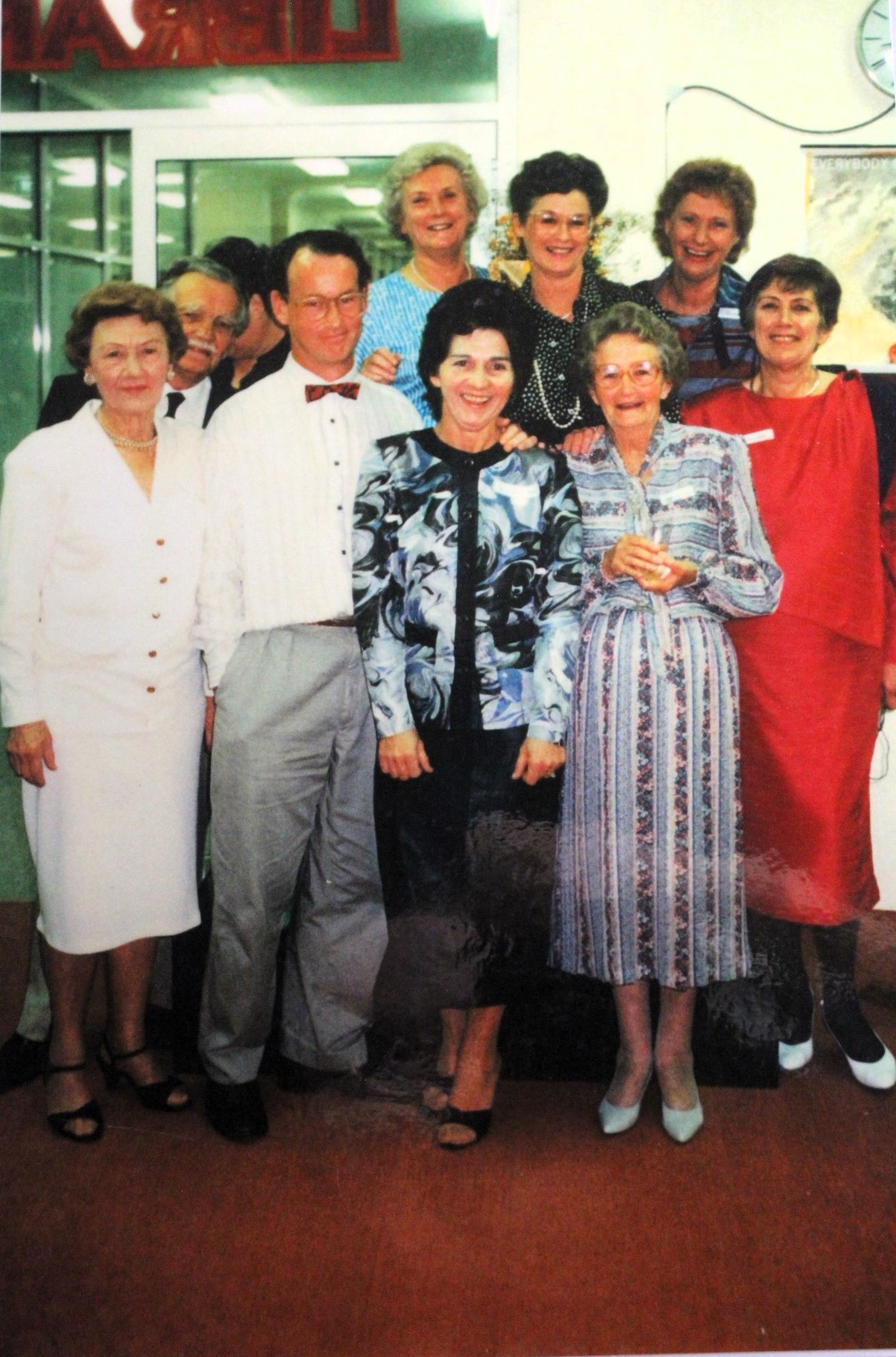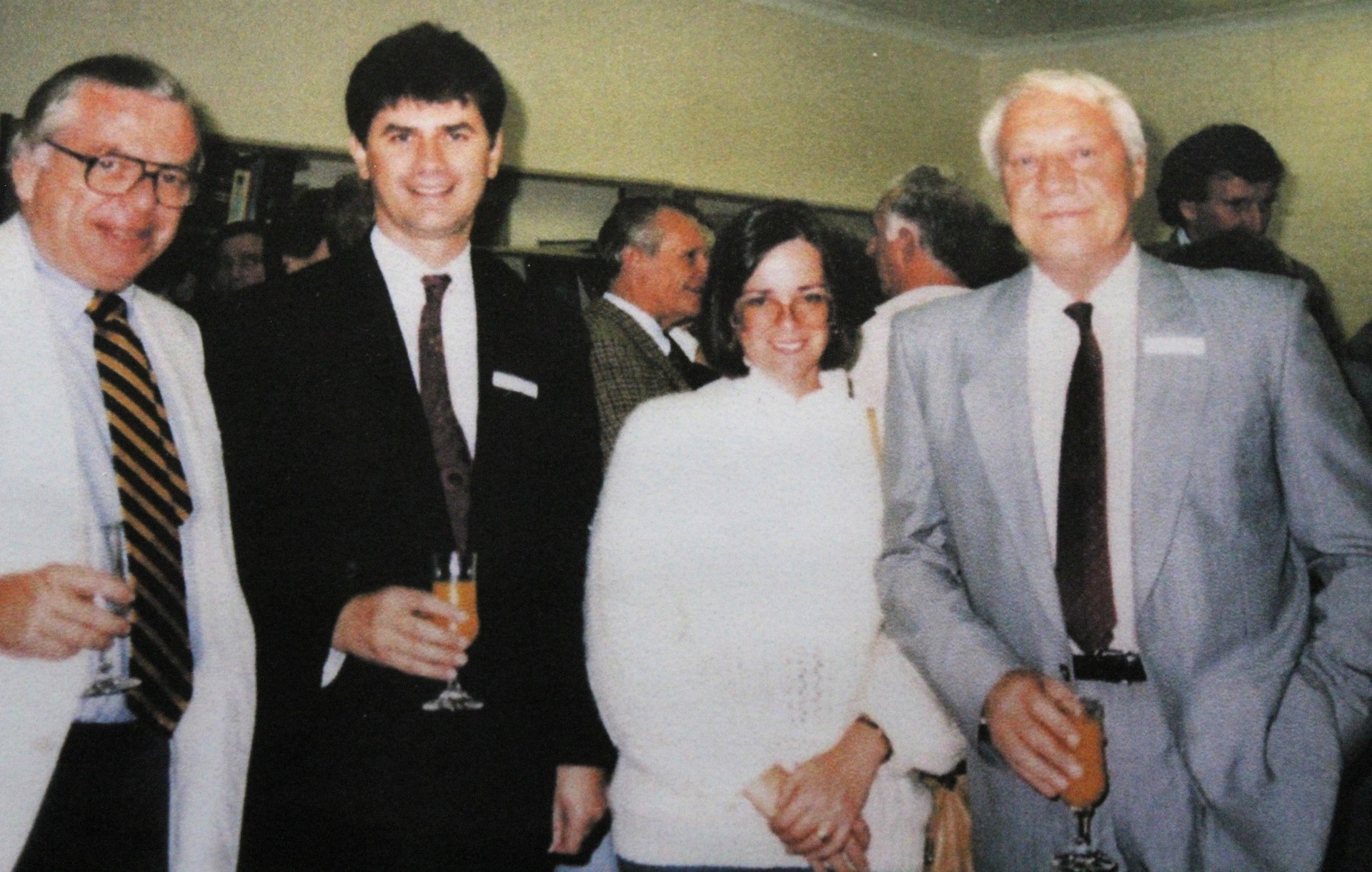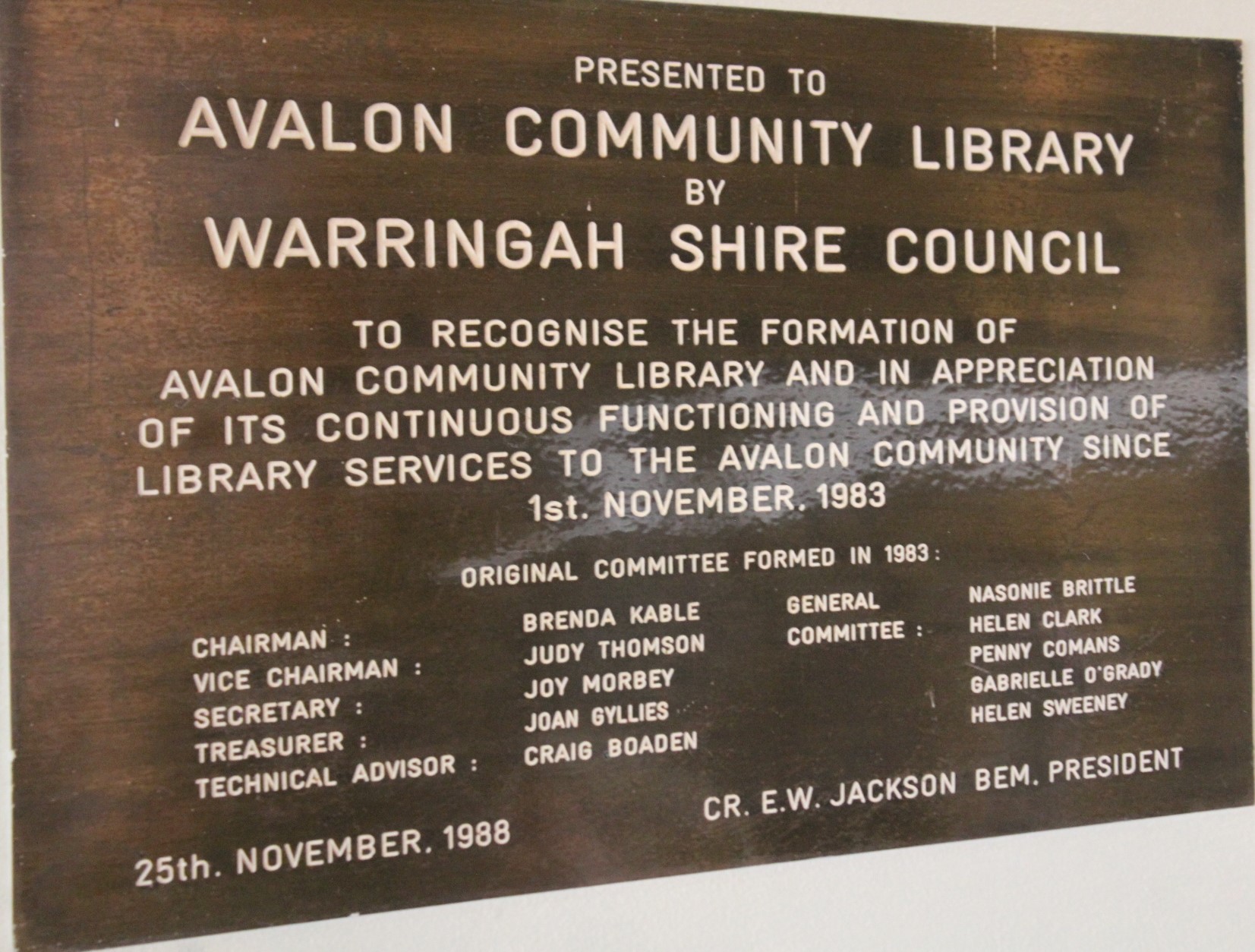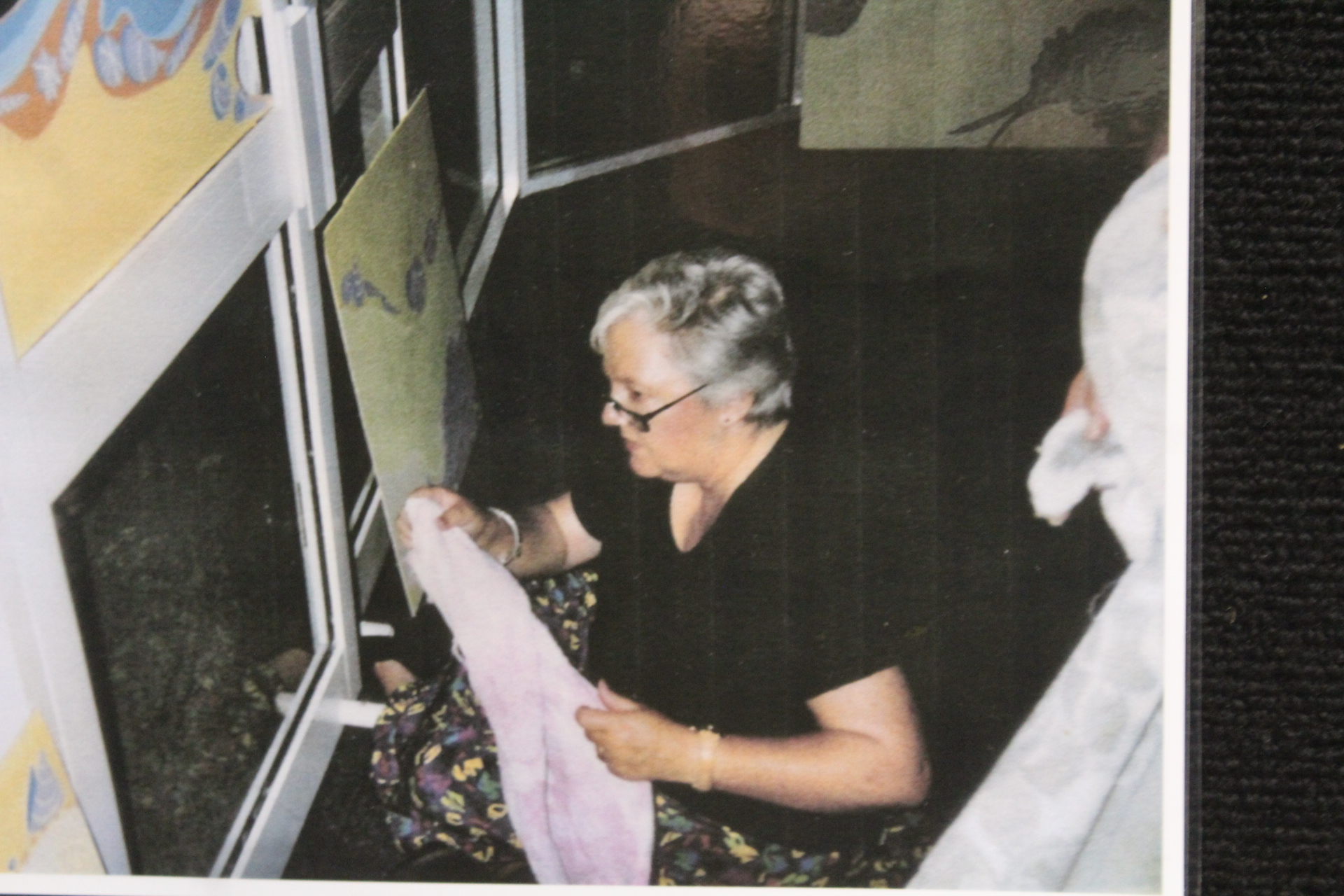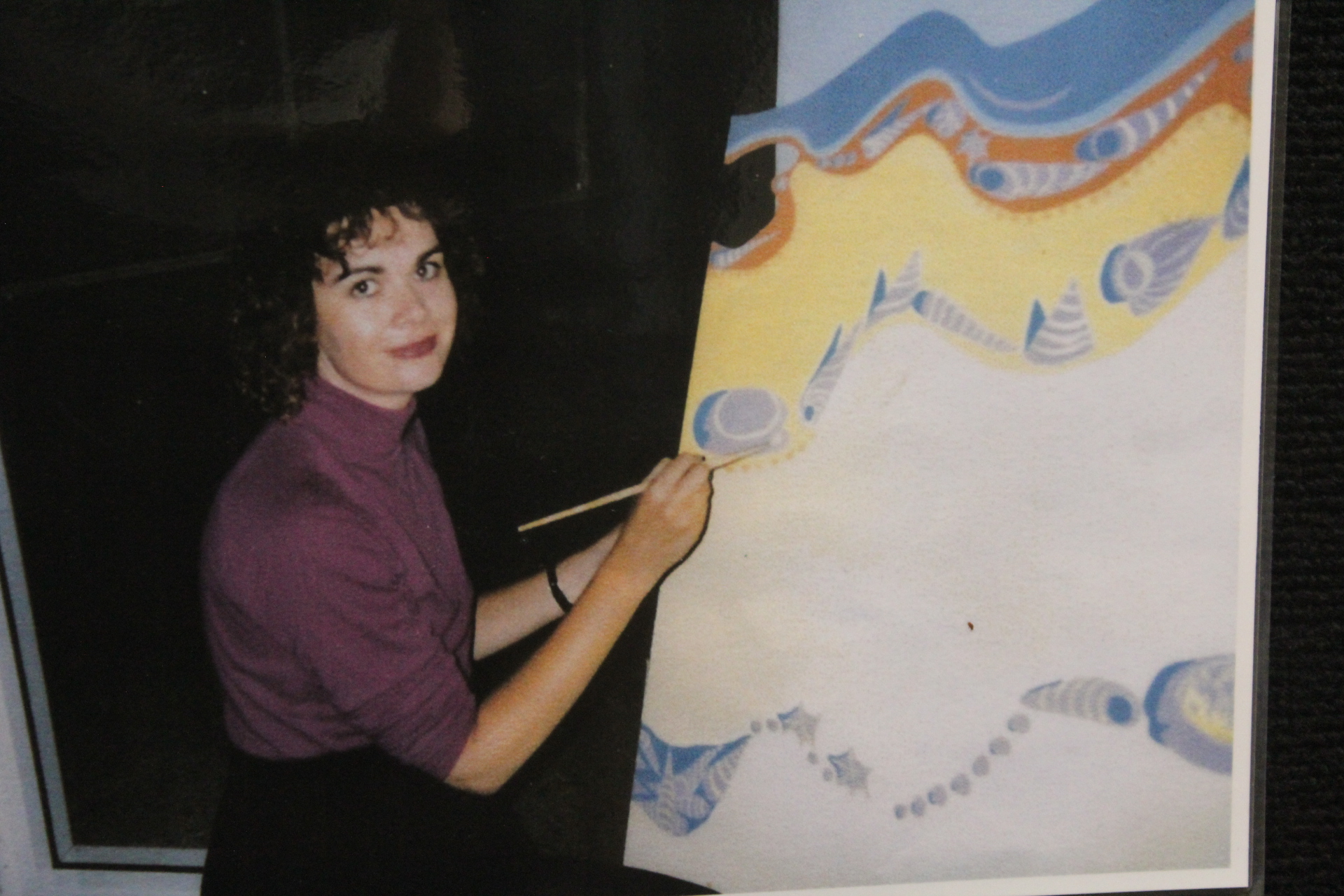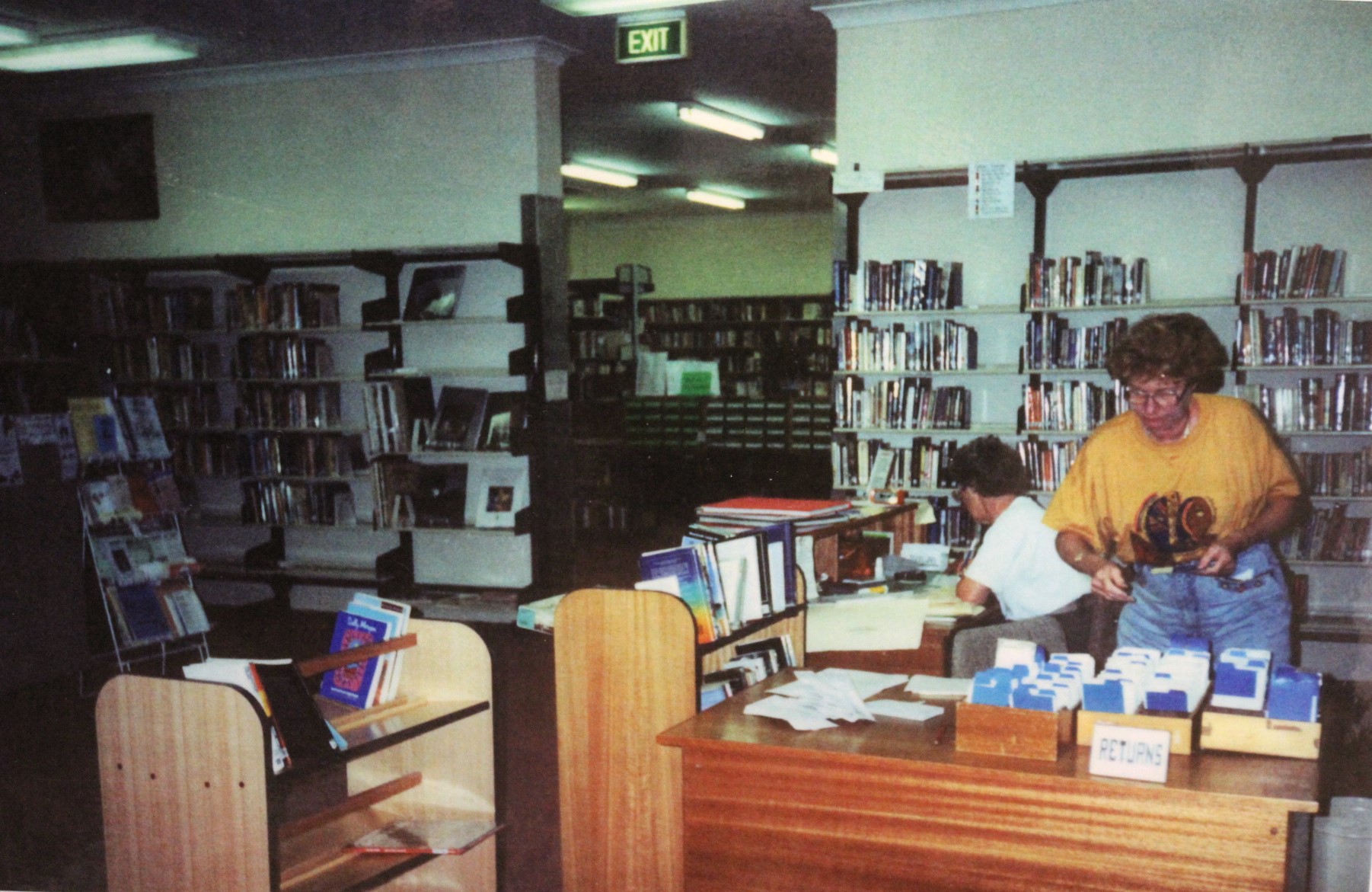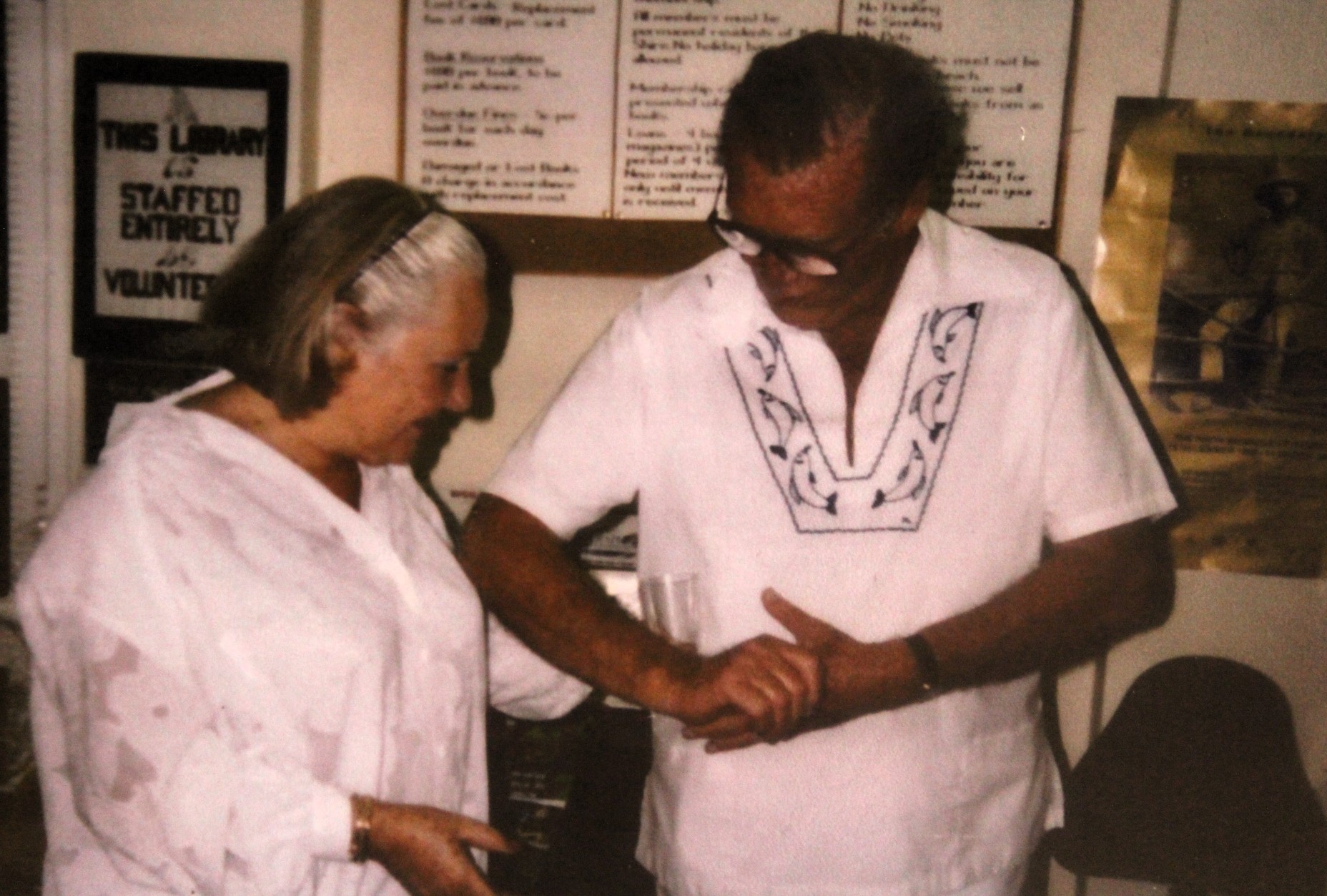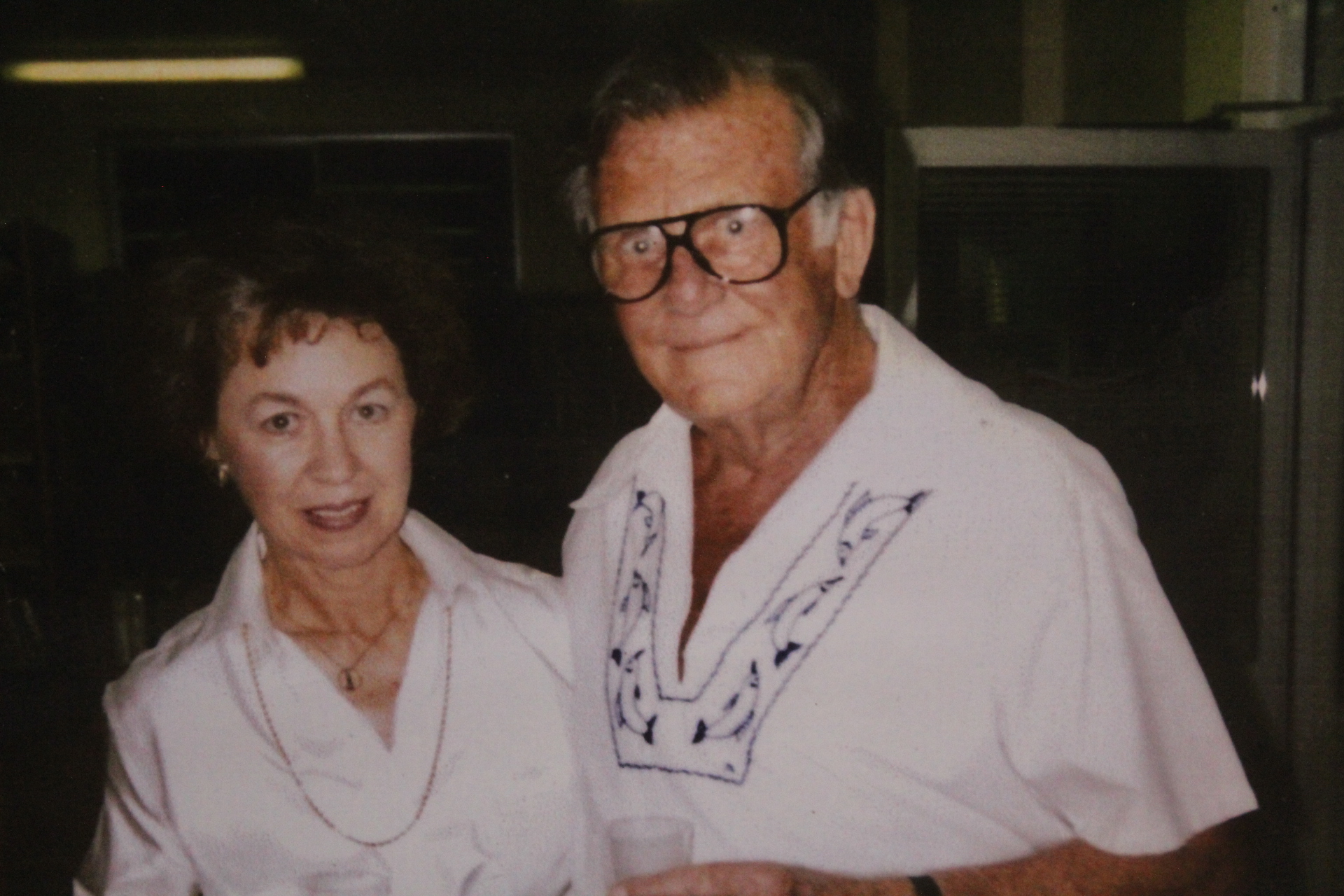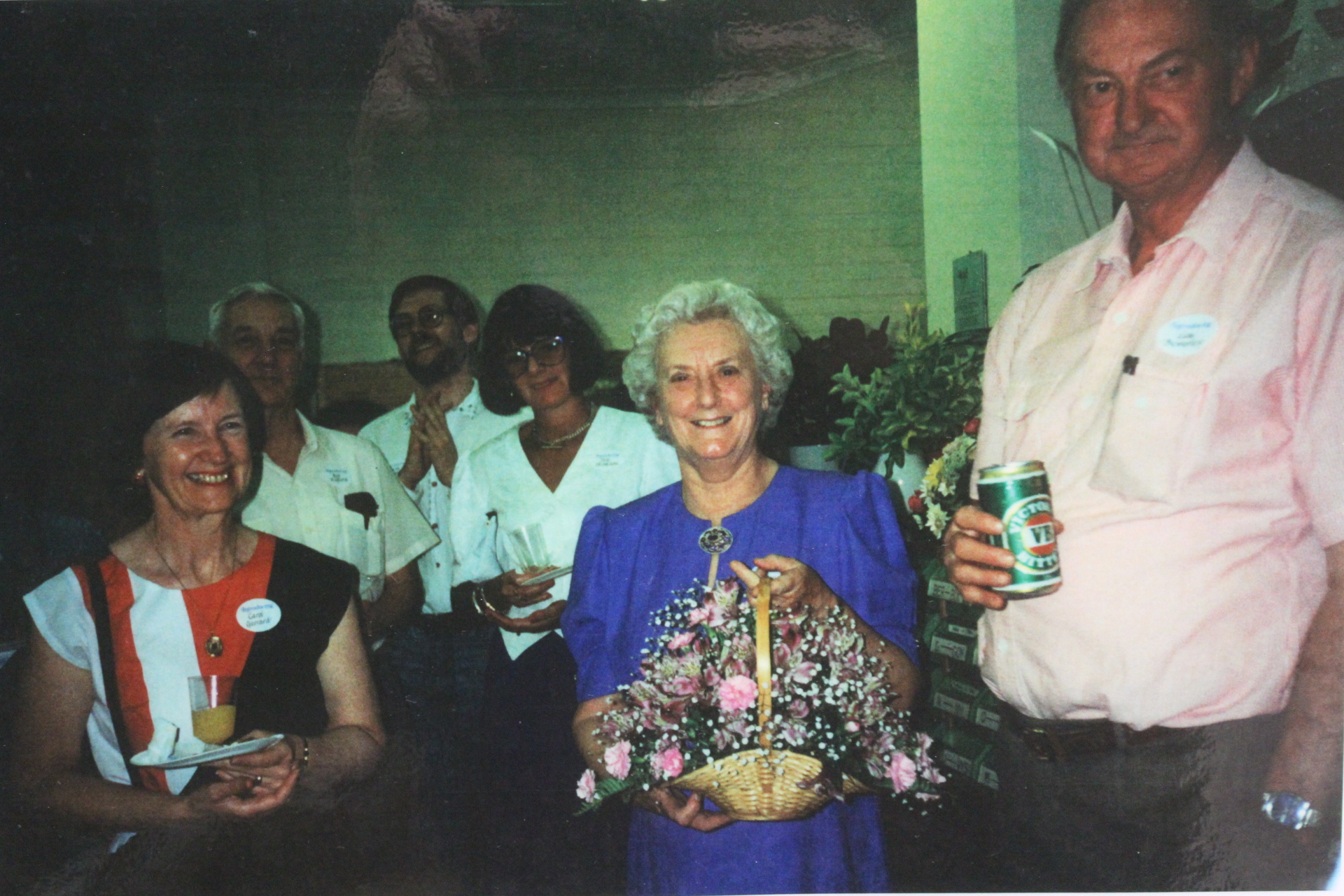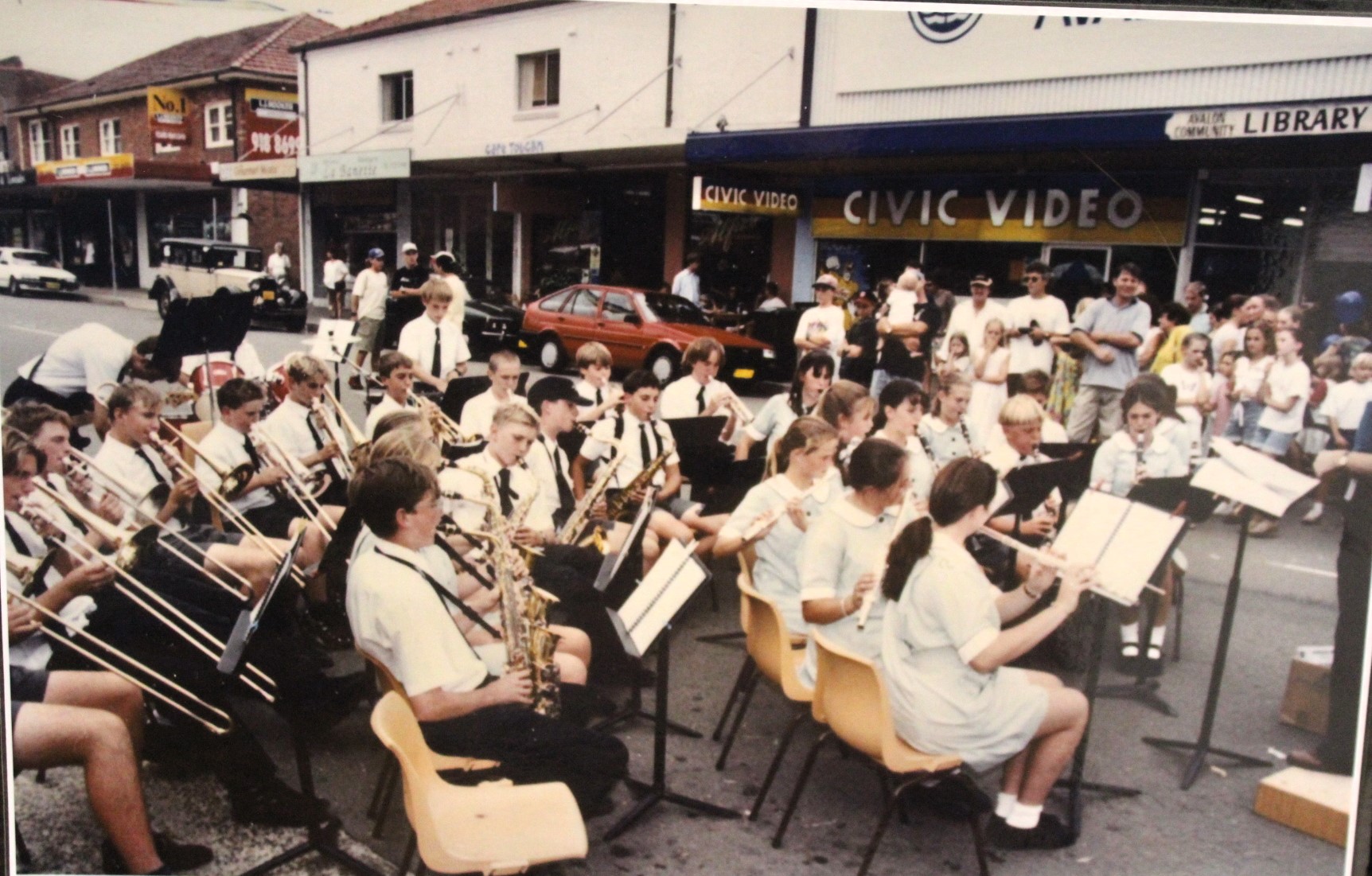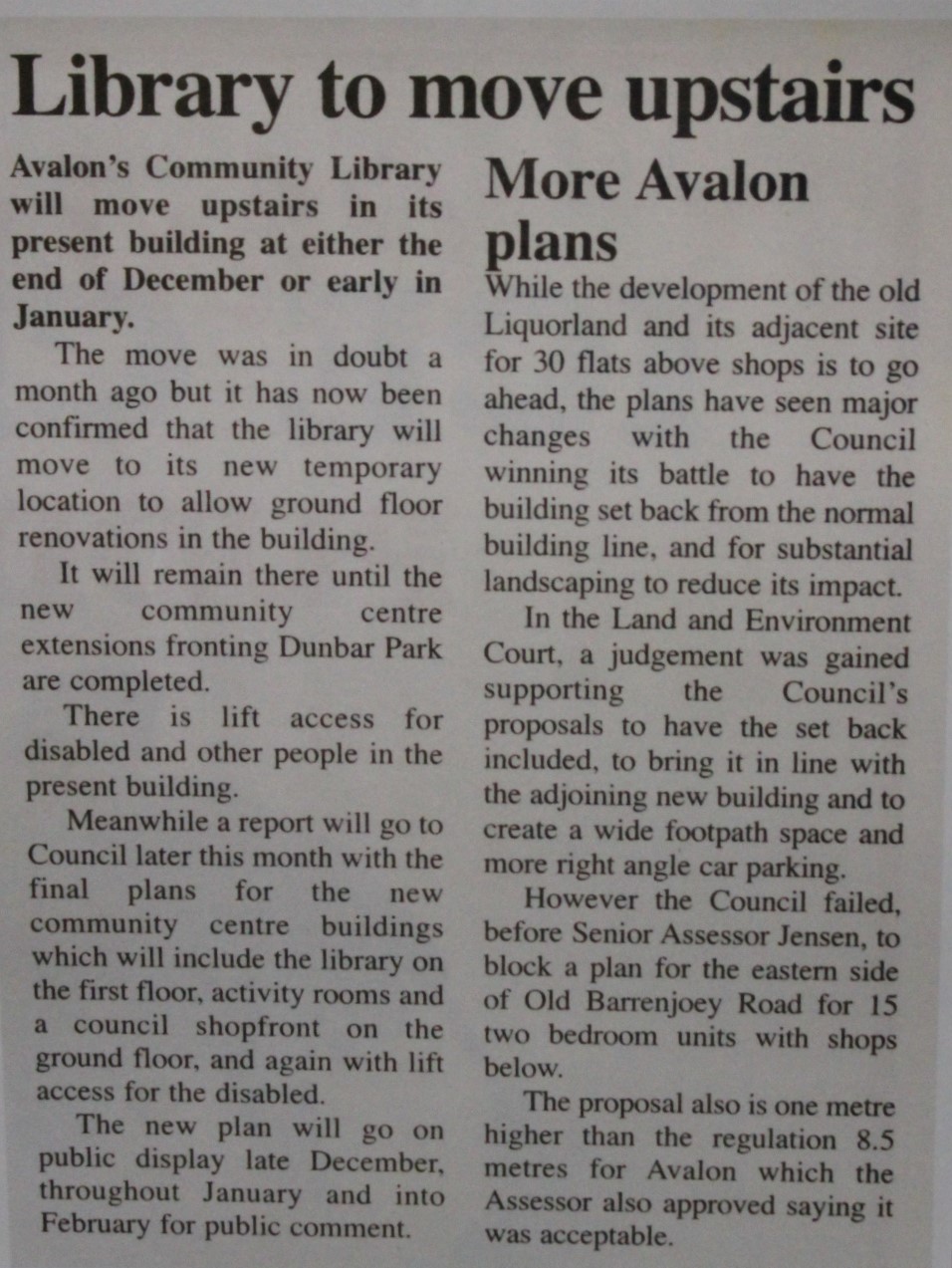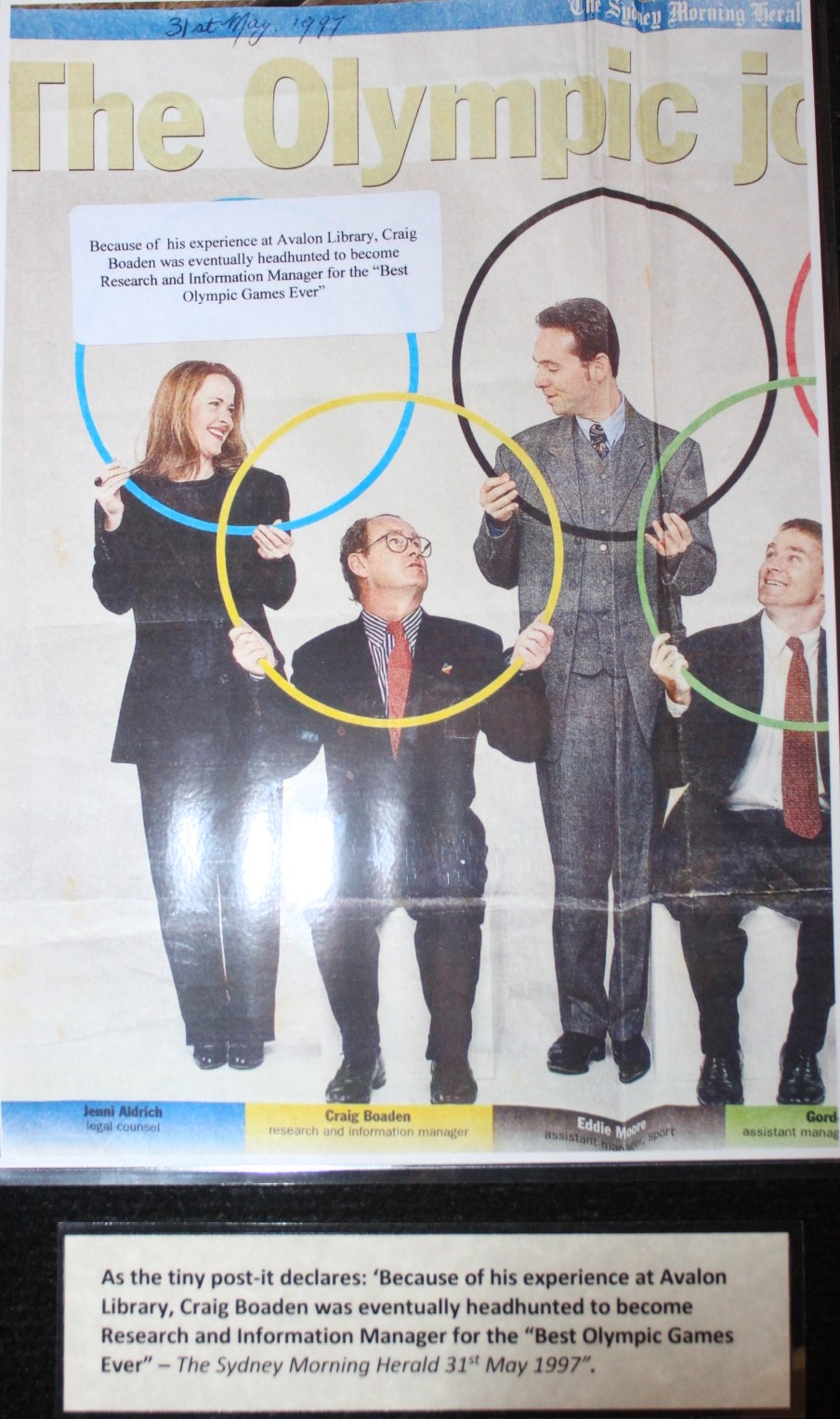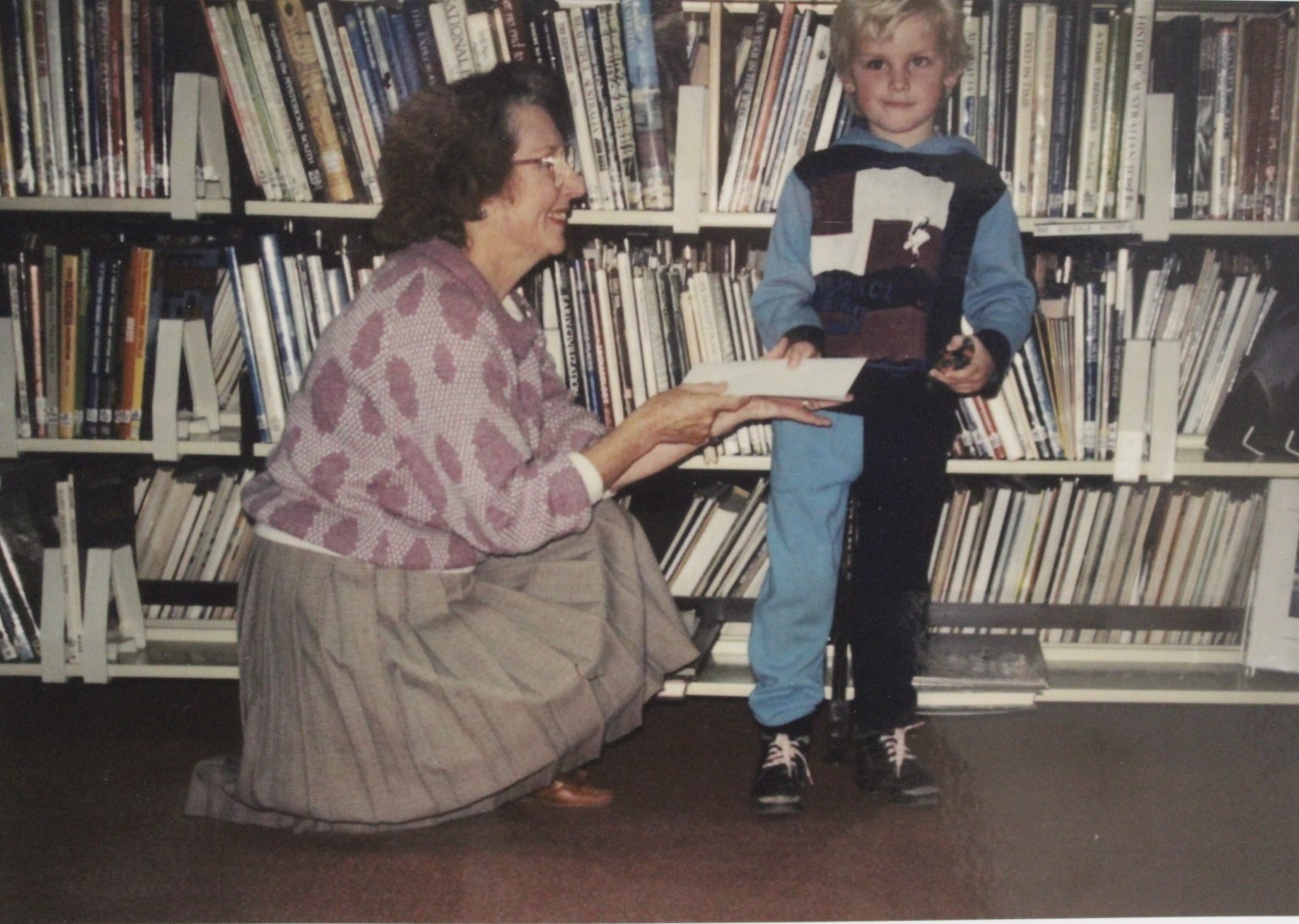 Avalon Recreation Centre was Designed by Brewster Hjorth Architects.

Commissioned by Pittwater Council.

Project overseen by Angus Gordon
When speaking to Angus Gordon OAM, Engineer and General Manager of Pittwater Council at that time, he spoke of how the brief for the new building was to construct something that was both functional and would be geared to create a natural airflow instead of installing air-conditioning, to minimise any costs related to the same.
Pittwater Council's 'Pittwater Report', Volume 8, No. 3 of November 2002, announced under 'Avalon's Jewel in the Crown';
'Avalon Recreation Centre opened in September to a fanfare of praise from our community. The beautiful building is designed to be a popular and effective focus for community and recreational activity, and operates seven days a week for a diverse range of interests. It houses a Council Customer Service Centre, Avalon Community Library, an Early Childhood Centre and facilities for hire, including a sports hall, four activity rooms and a meeting room. Residents living north of Mona Vale now have a convenient location at Avalon offering Council information and assistance with general enquiries, applications and payment of accounts.

The building exemplifies Council's commitment to sustainability, with its natural ventilation, use of glass and shades to ensure light without unnecessary heating, louvres to achieve crossflow ventilation, resulting in a light airy environment. This construction process generated a very economic building with low operating and maintenance costs. The old hall was retained and integrated back into the new building, which itself blends into neighbouring Dunbar Park, where the community can enjoy open grassed areas, soon to be further landscaped and beautified.

Avalon Recreation Centre represents a second phase of a significant change in the way Council operates within out community. The first phase was the development of the Pittwater website as a working site which allows residents to deal with Council without leaving home, as part of our policy to make information available to our community 24 hours a day, seven days a week.

The second phase is the development of Customer Service Centres - at Warriewood, Avalon, and in the future at Mona Vale - which bring Council closer to our community. Residents who are unable to use the Internet or who wish to have face-to-face contact with an officer, can do so at these centres.

We pay tribute to our dedicated Avalon Community Library volunteers, who have endured two relocations before the final site, which all agree is ''just beautiful''. Hundreds of people have joined the library since opening in the new centre in September. Reading areas are located along the front of the library, affording magnificent views. The library is in the process of changing from a card system to an electronic index, which will improve service for customers.

Two successful events have already been held in the new centre - Artfest and ''Meet the Authors'' cocktail party - with more booked in the future. A wide variety of hirers ranging from Belly Dancing to Japanese Language are taking advantage of the Centre's natural, relaxed ambience, as well as corporate clients holding training sessions. Please call Judi Wilson on 9970 1273 to book your function or activity at this wonderful building, which is already proving to be a ''hub'' of Avalon life.'

Some more insights in: Avalon Recreation Centre Celebrations: 20 Years Since The New Building Opened Celebrated - Scout Hall Built By Early Avalon Beach RSL Served As Community Hall From 1954, Avalon Youth & Community Centre Opened November 1968 - Issue 562, November 2022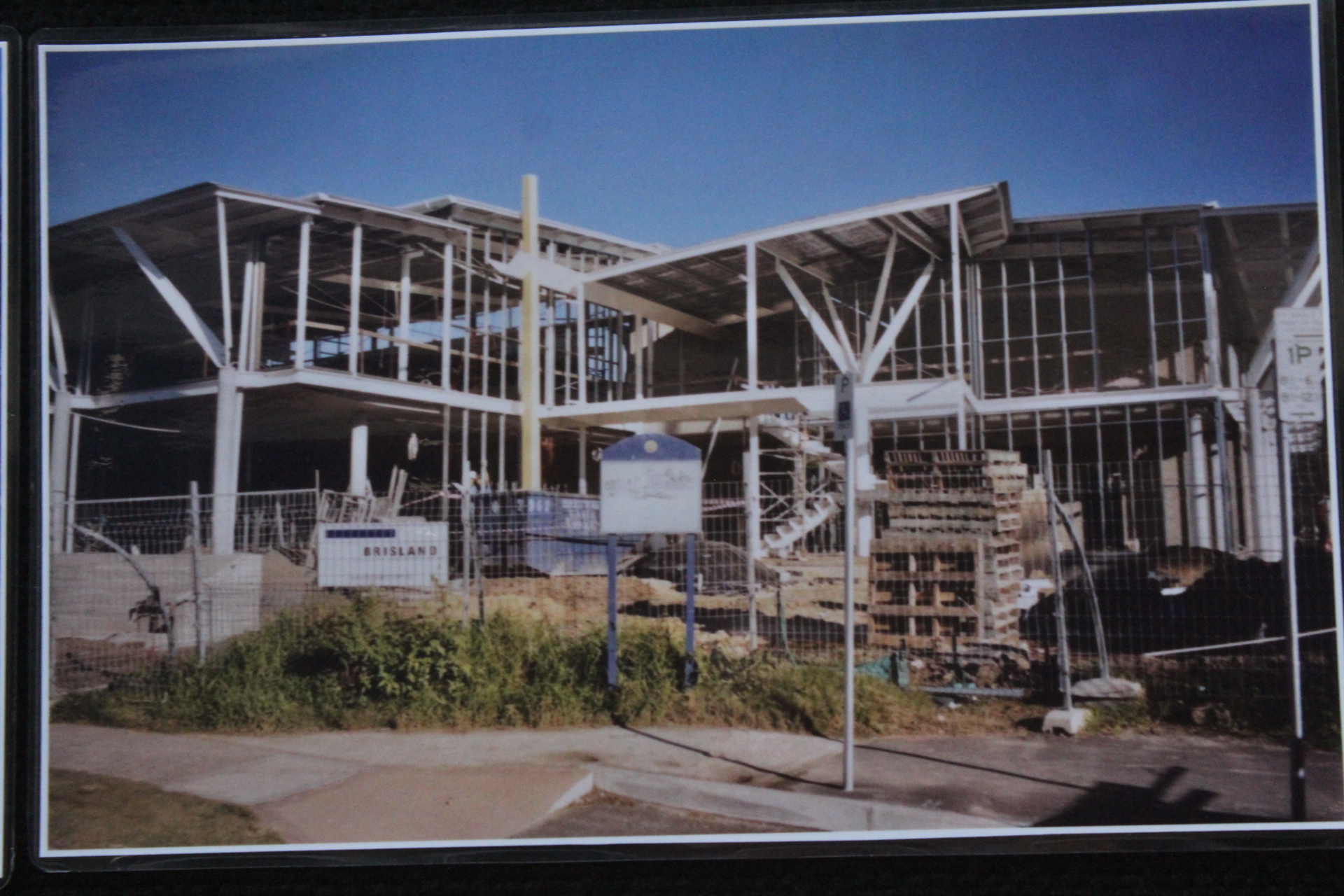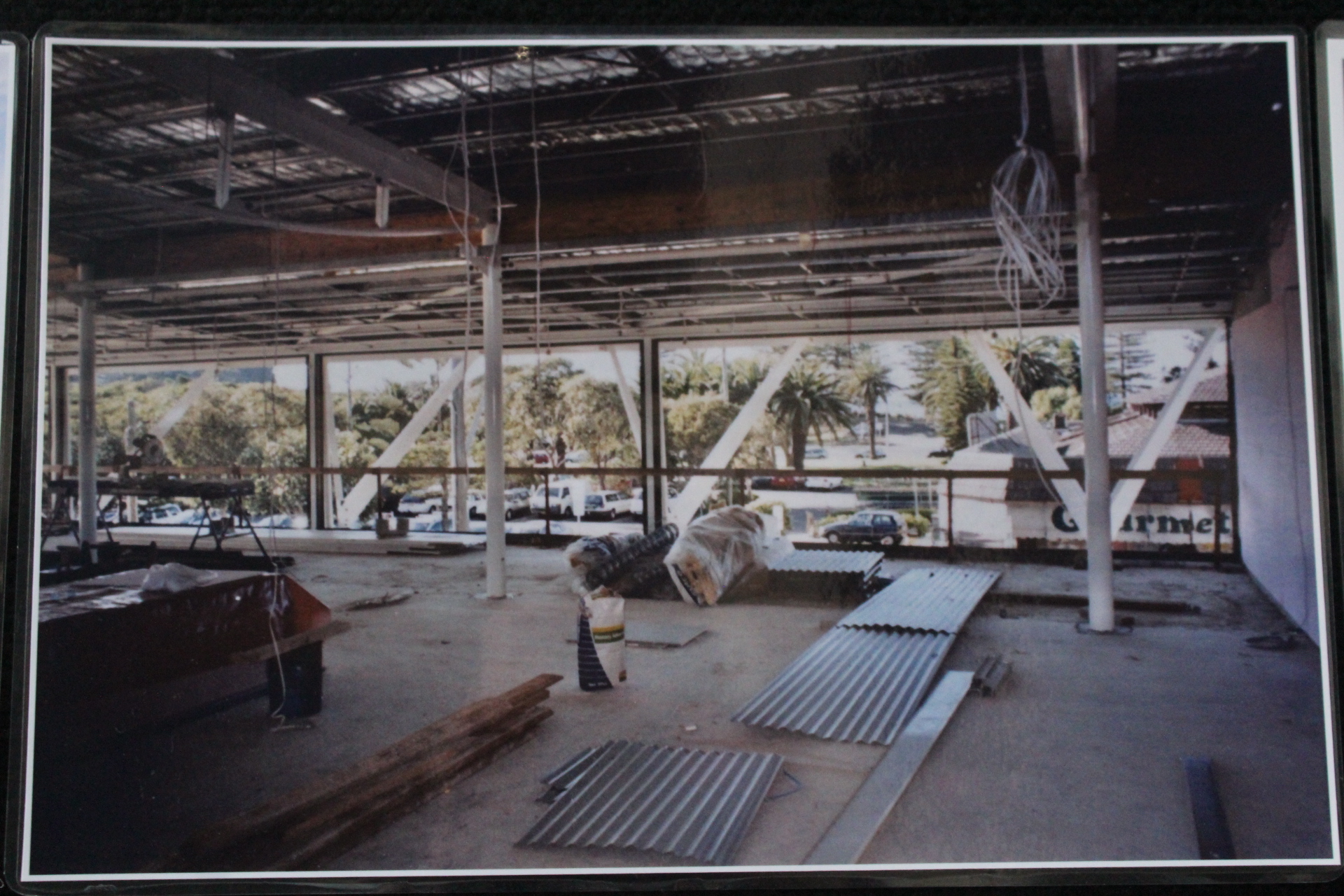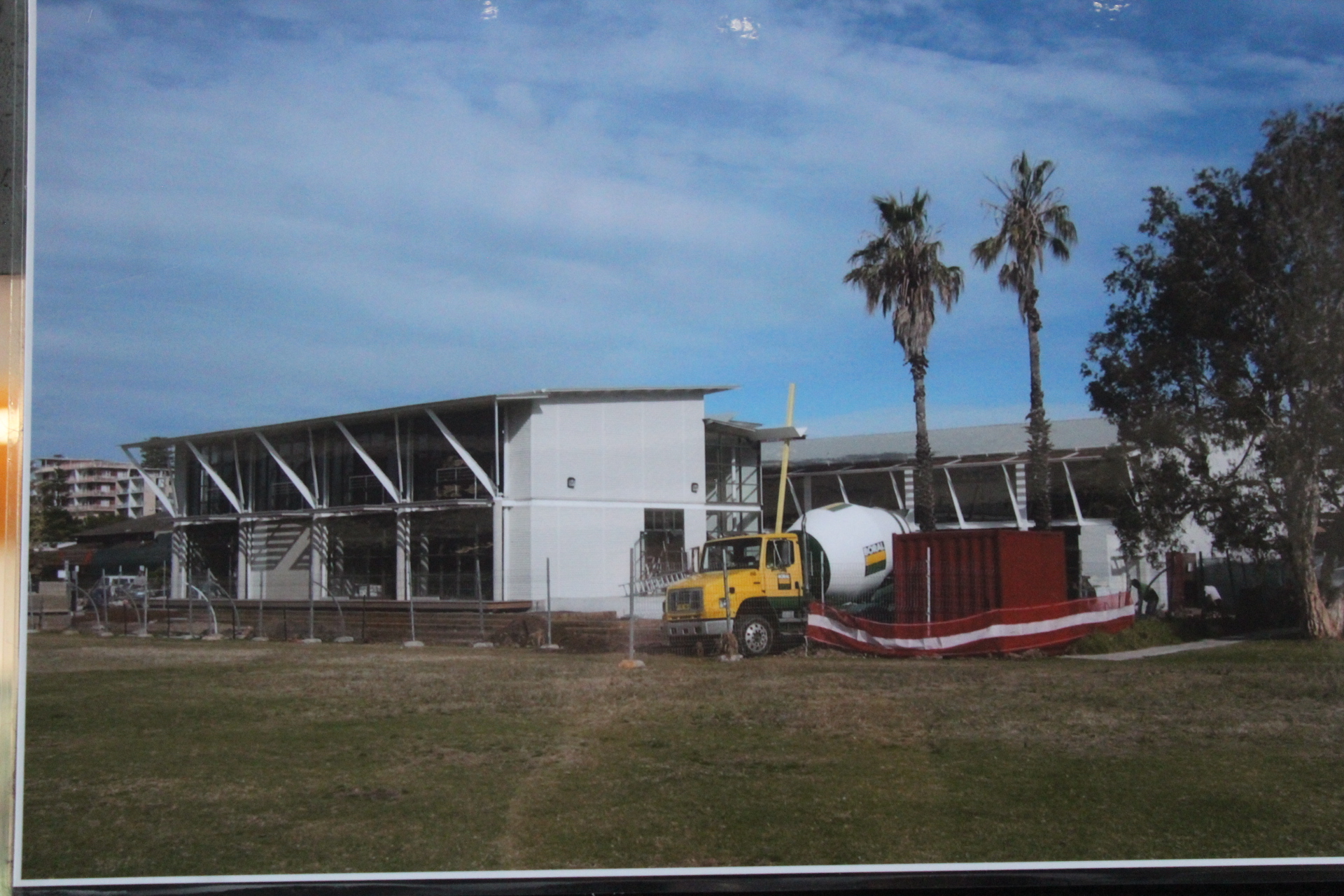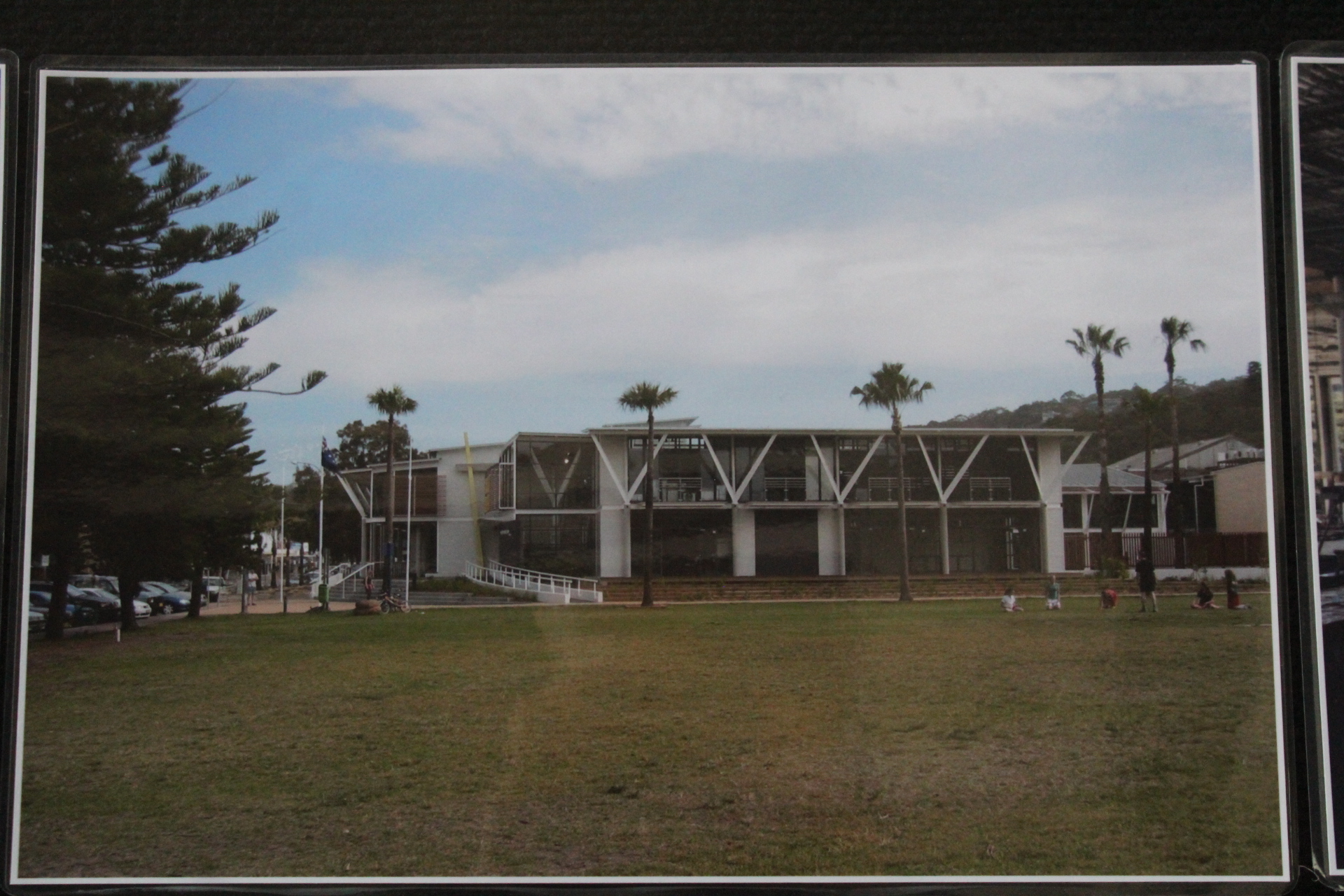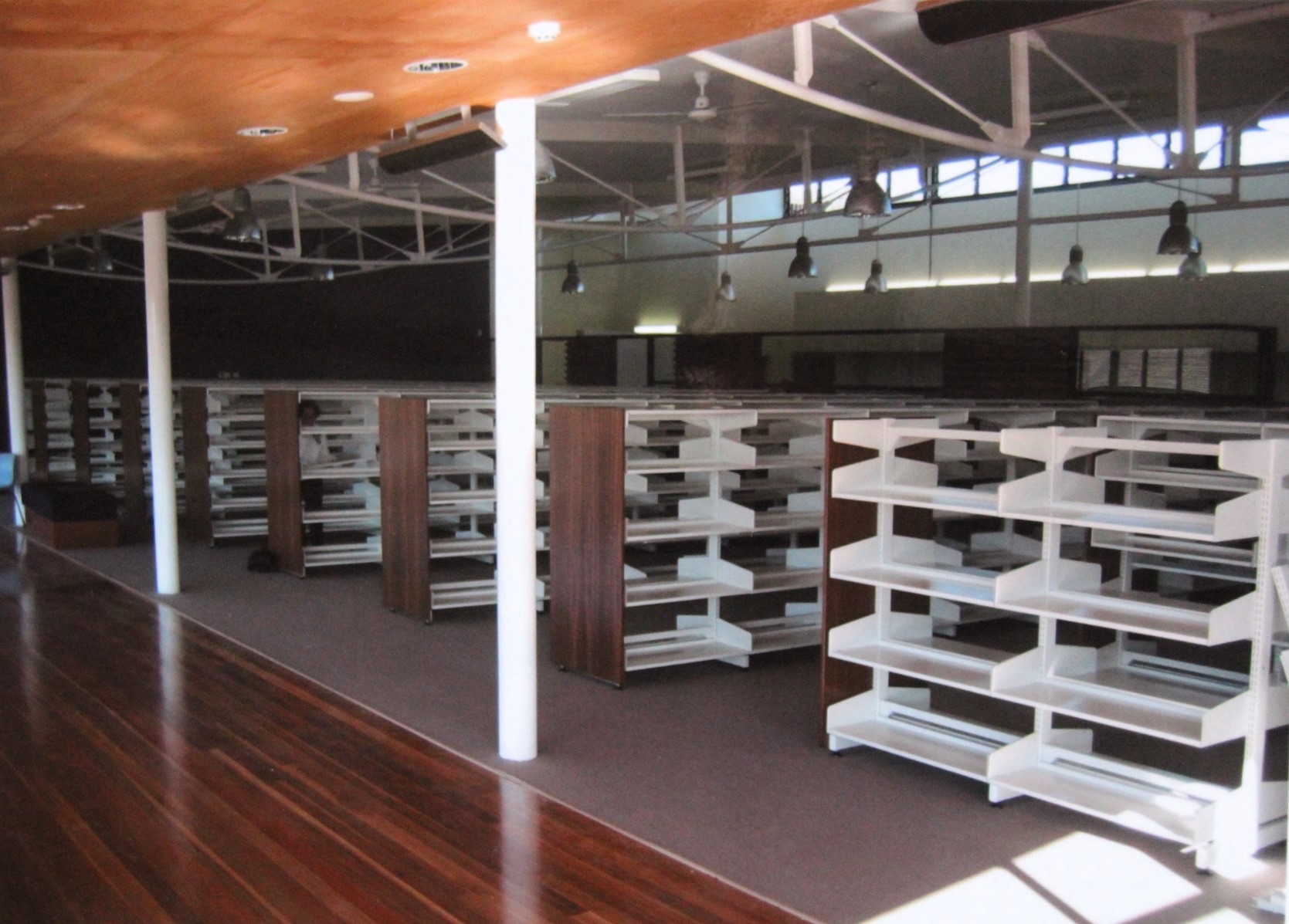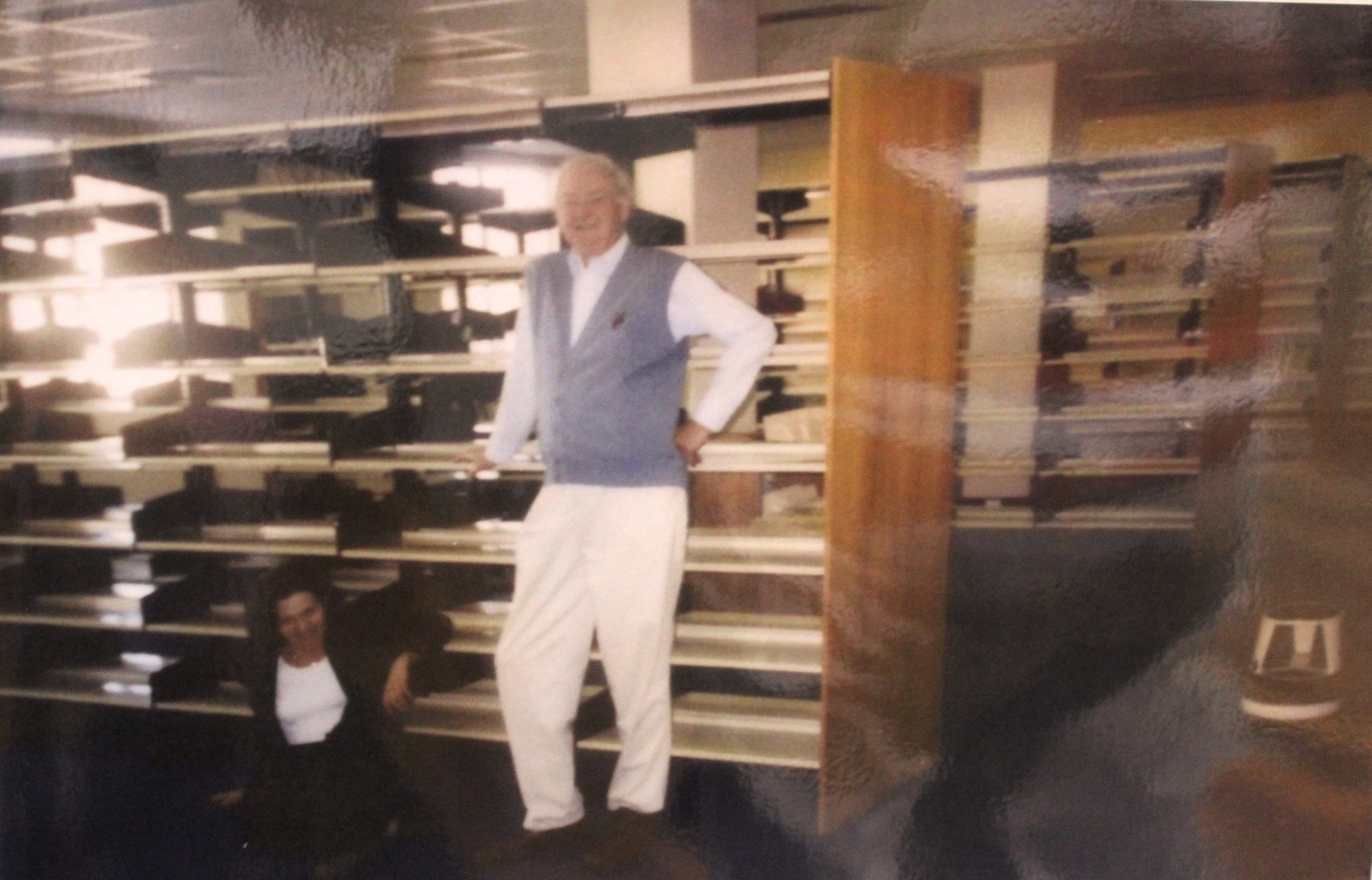 Caption: ''Just when we were really enjoying ourselves, it was time to empty the shelves and move again'' is the quote from one of the library's albums and judging by Helen and Len's appearances, the quote was also applicable to this photo.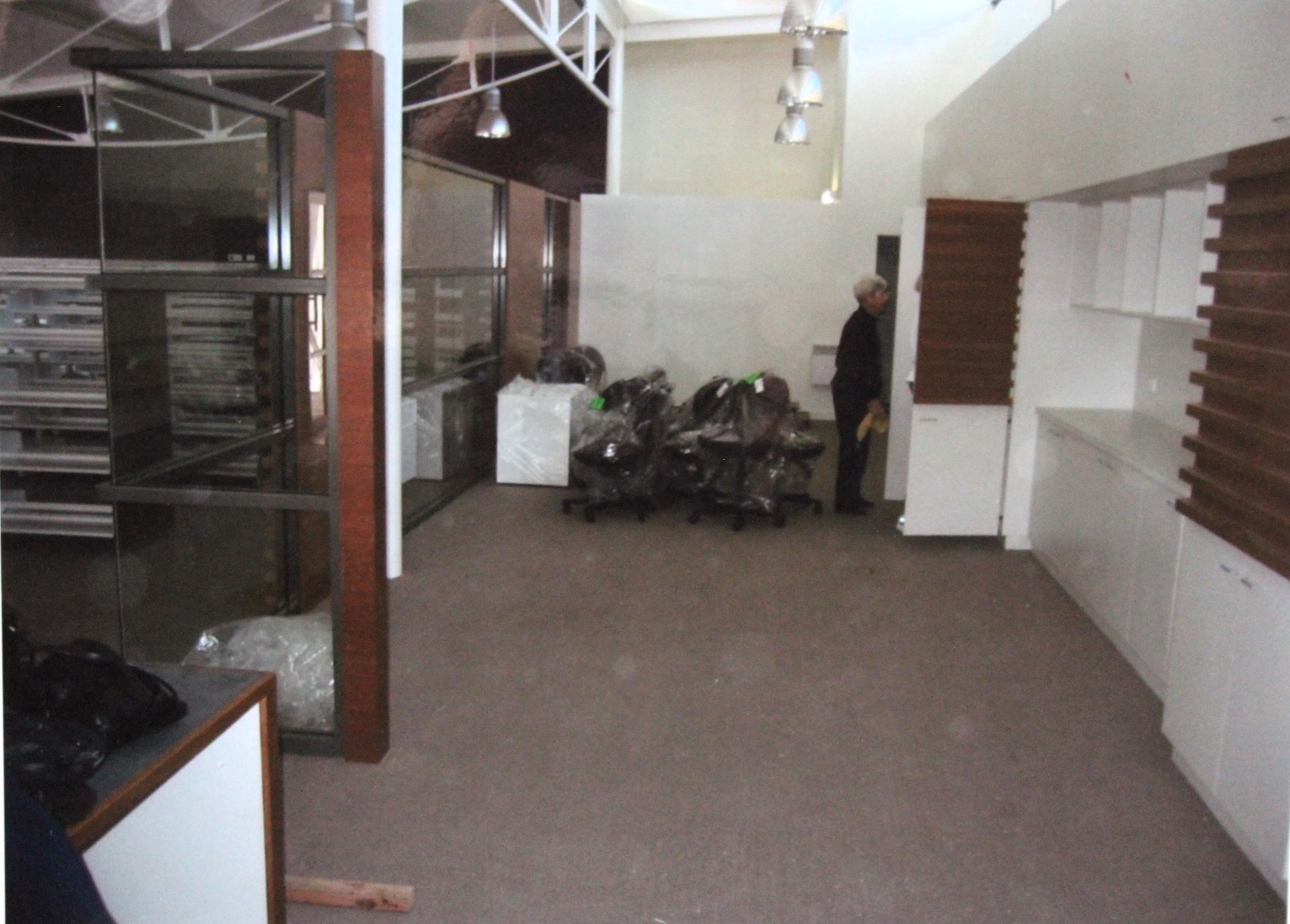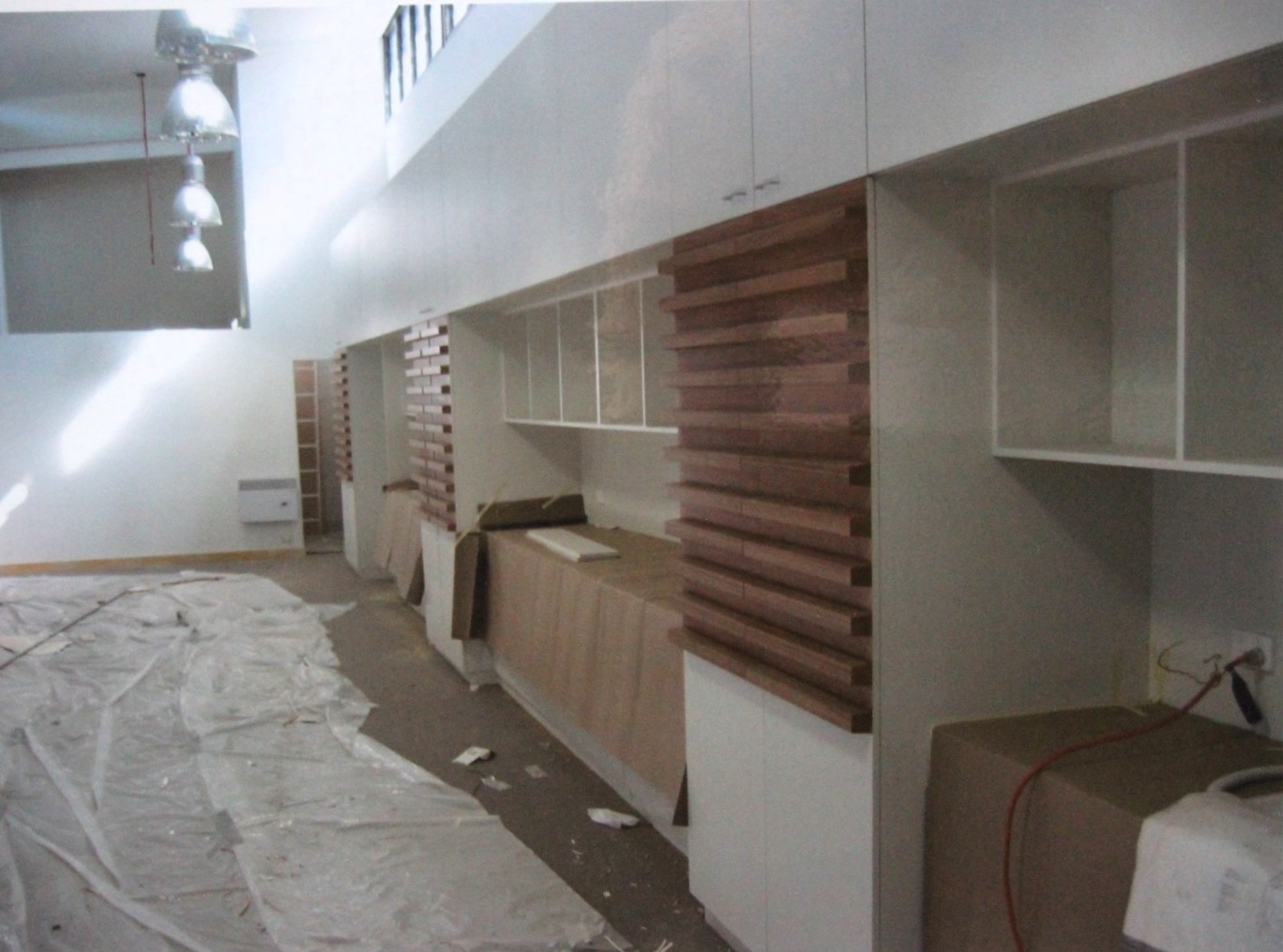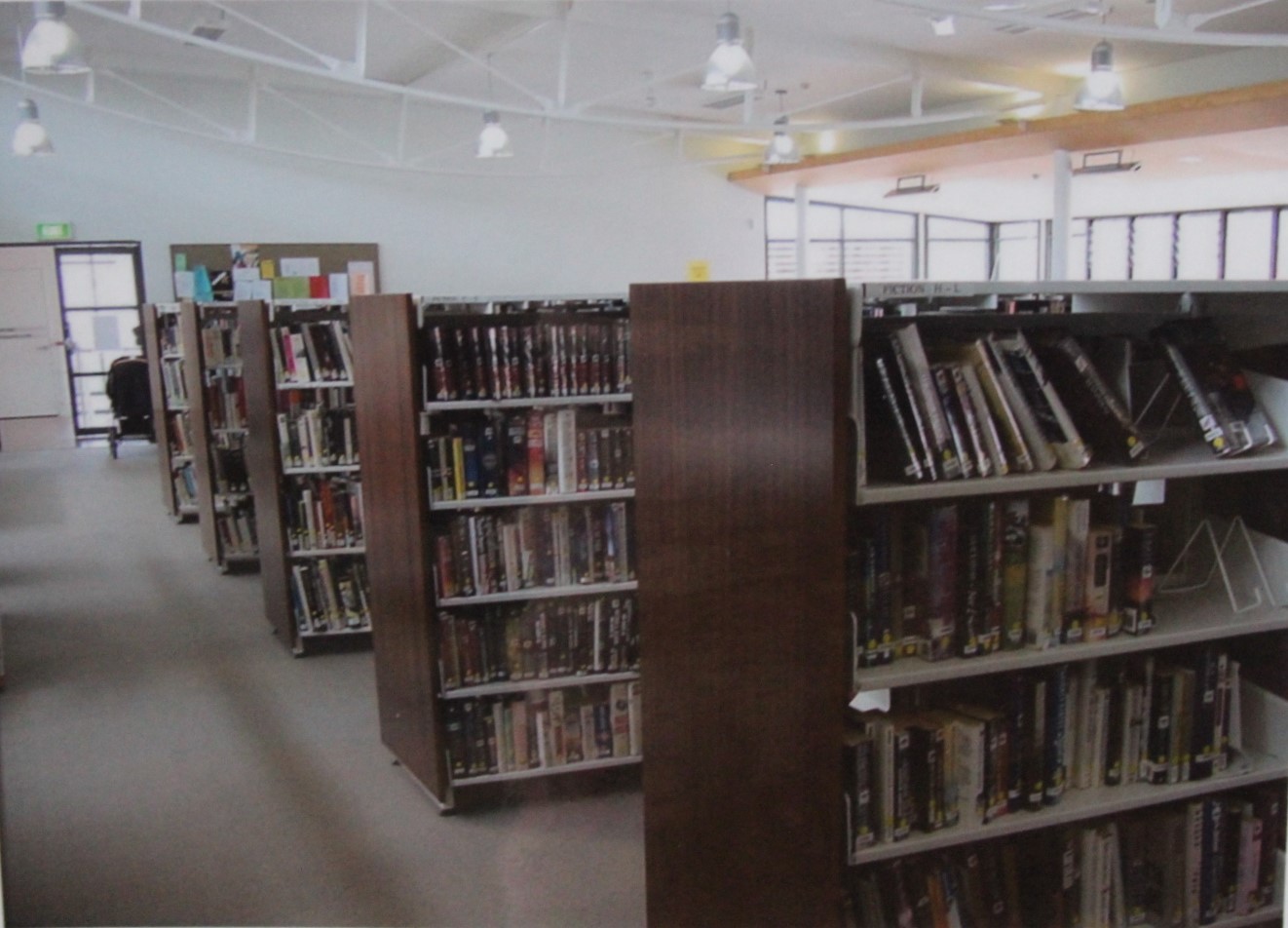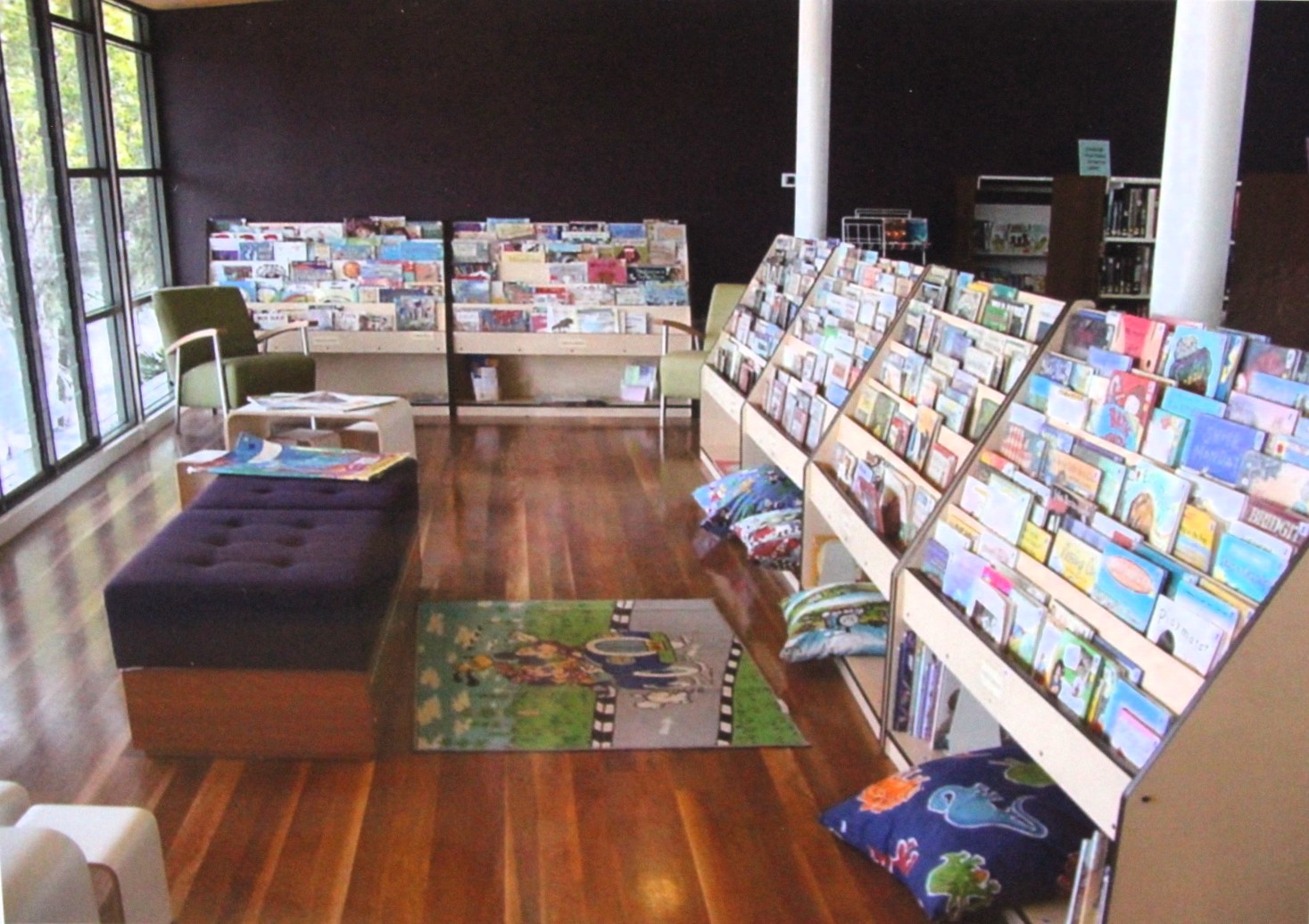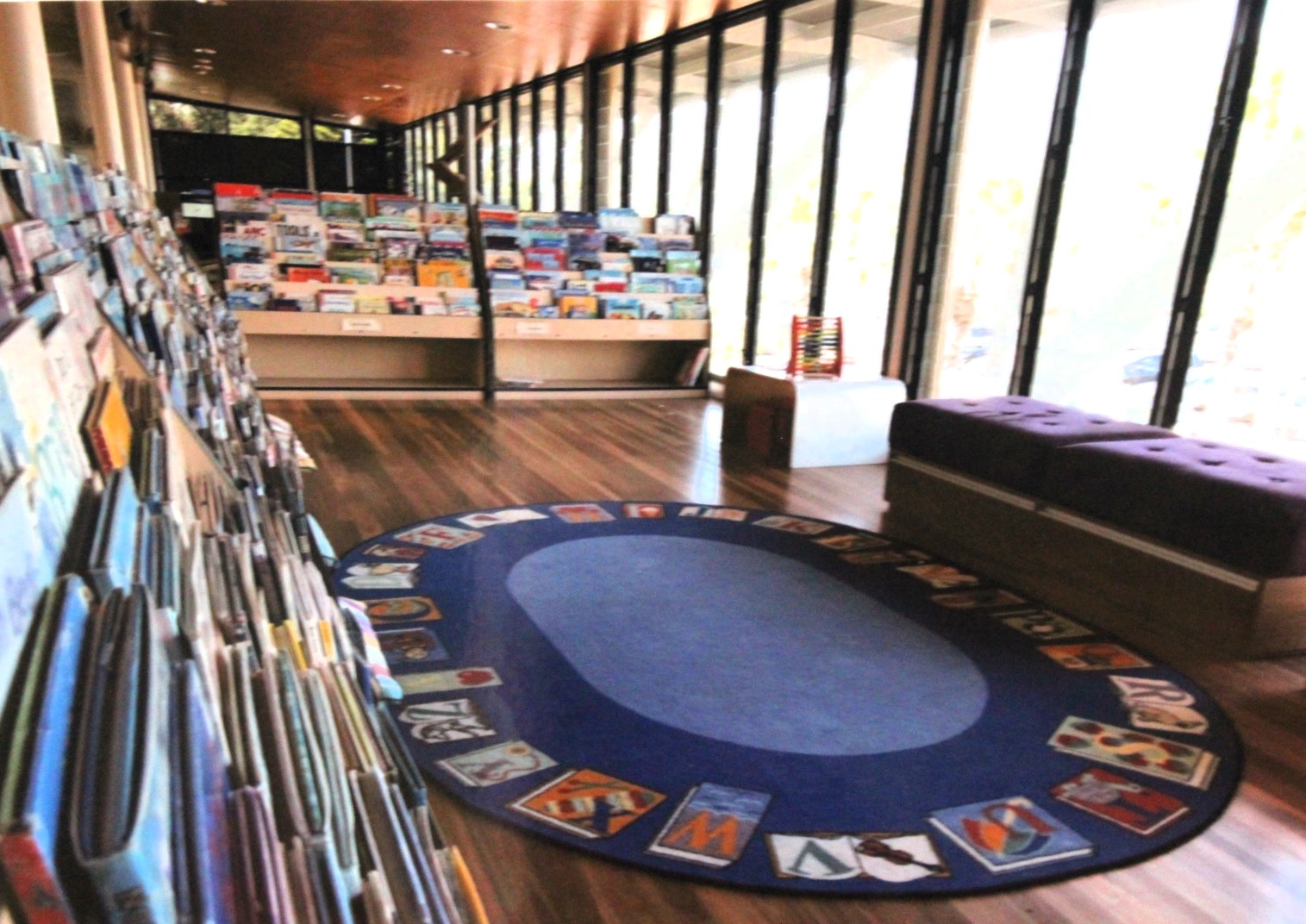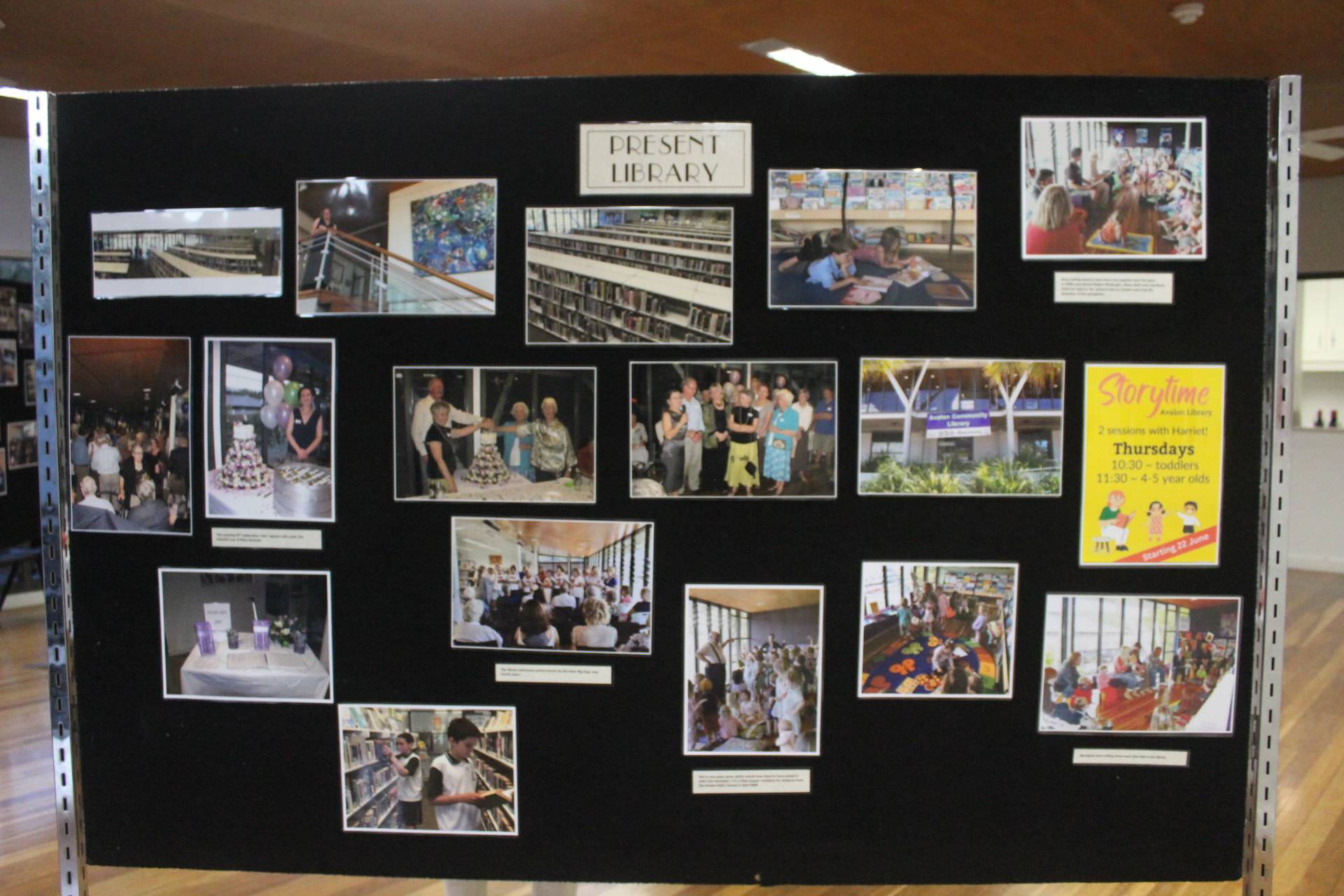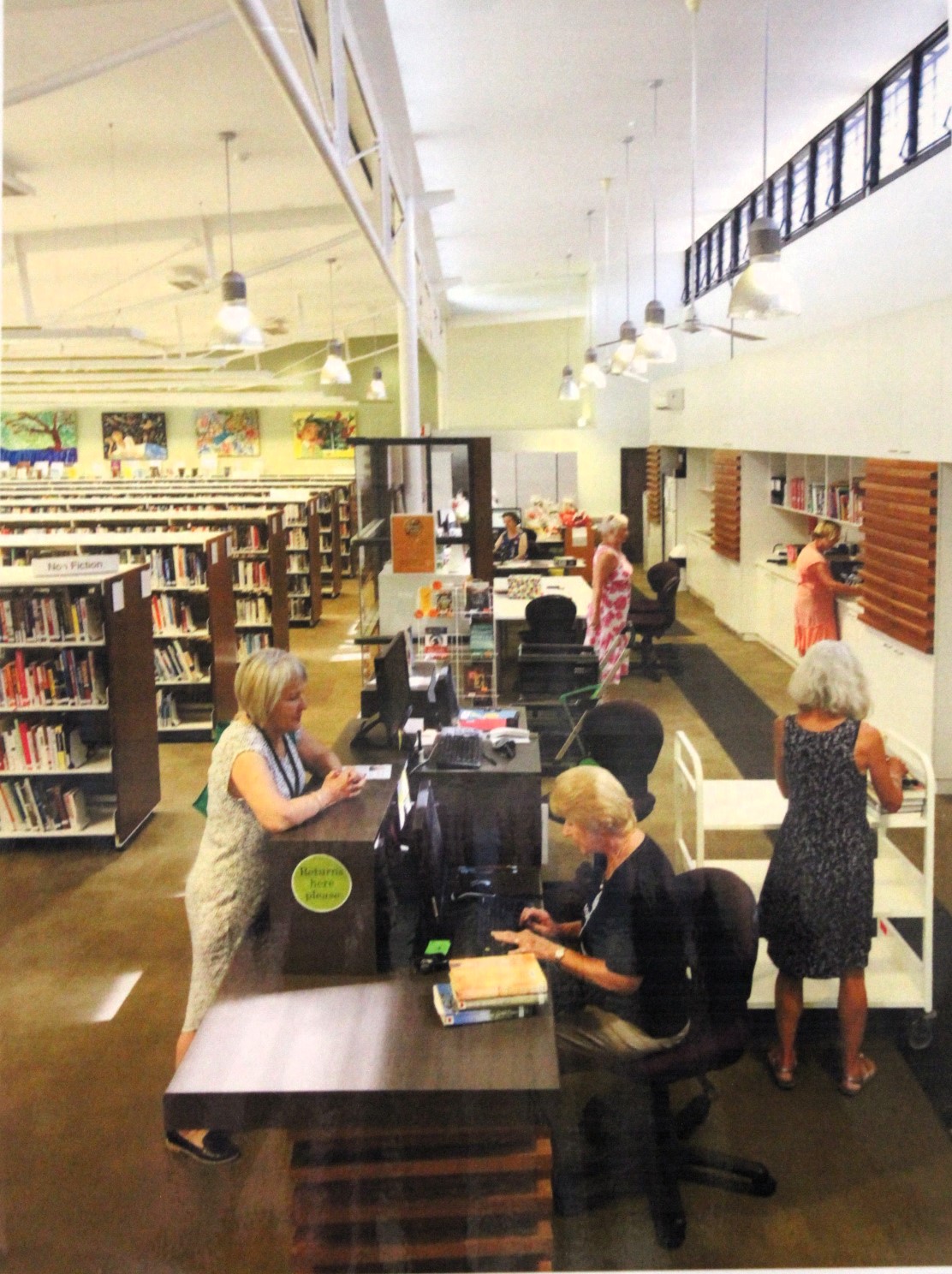 Caption: Another happy customer! - Jenny Osieck assist Robyn Elliott with a borrowing request.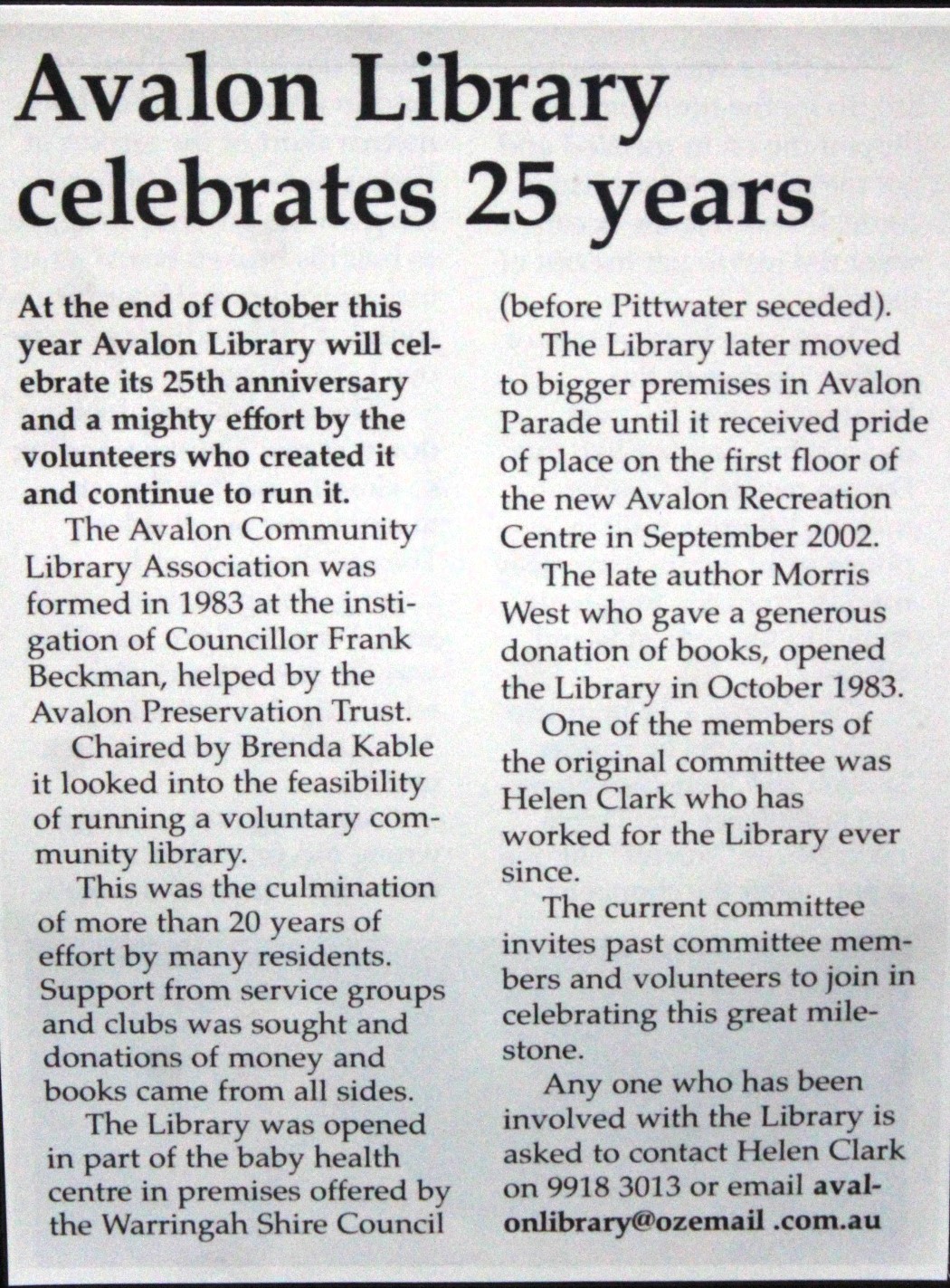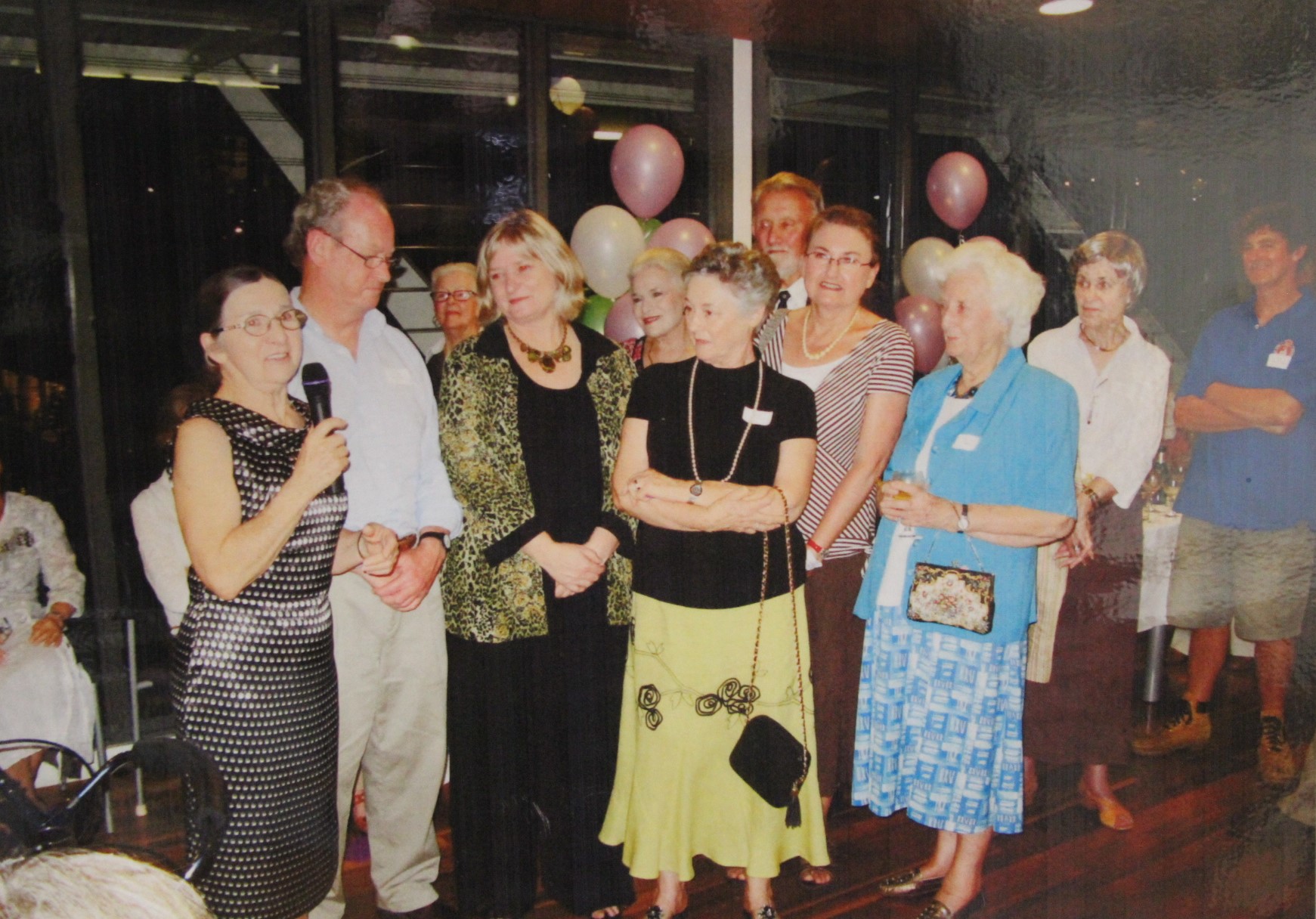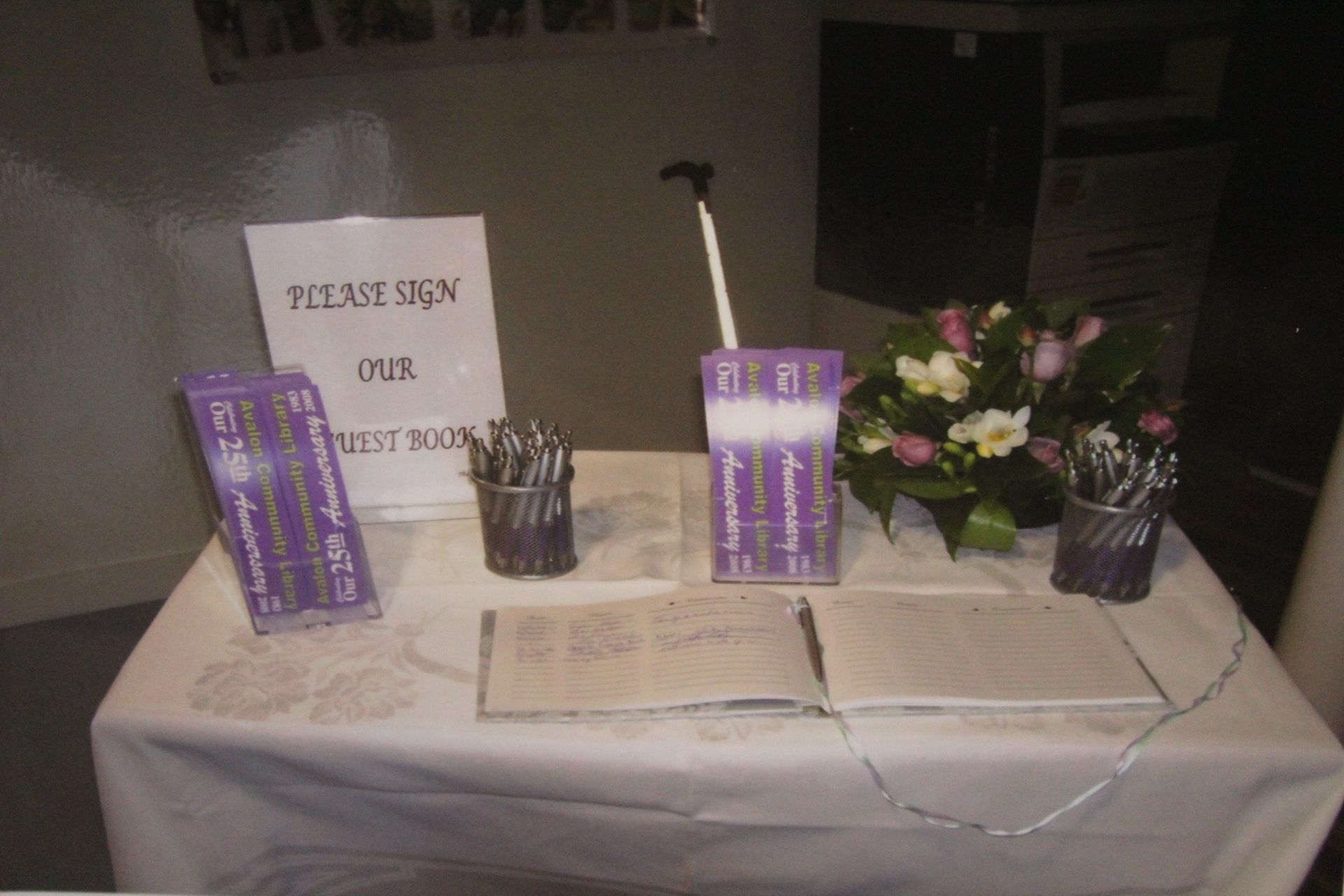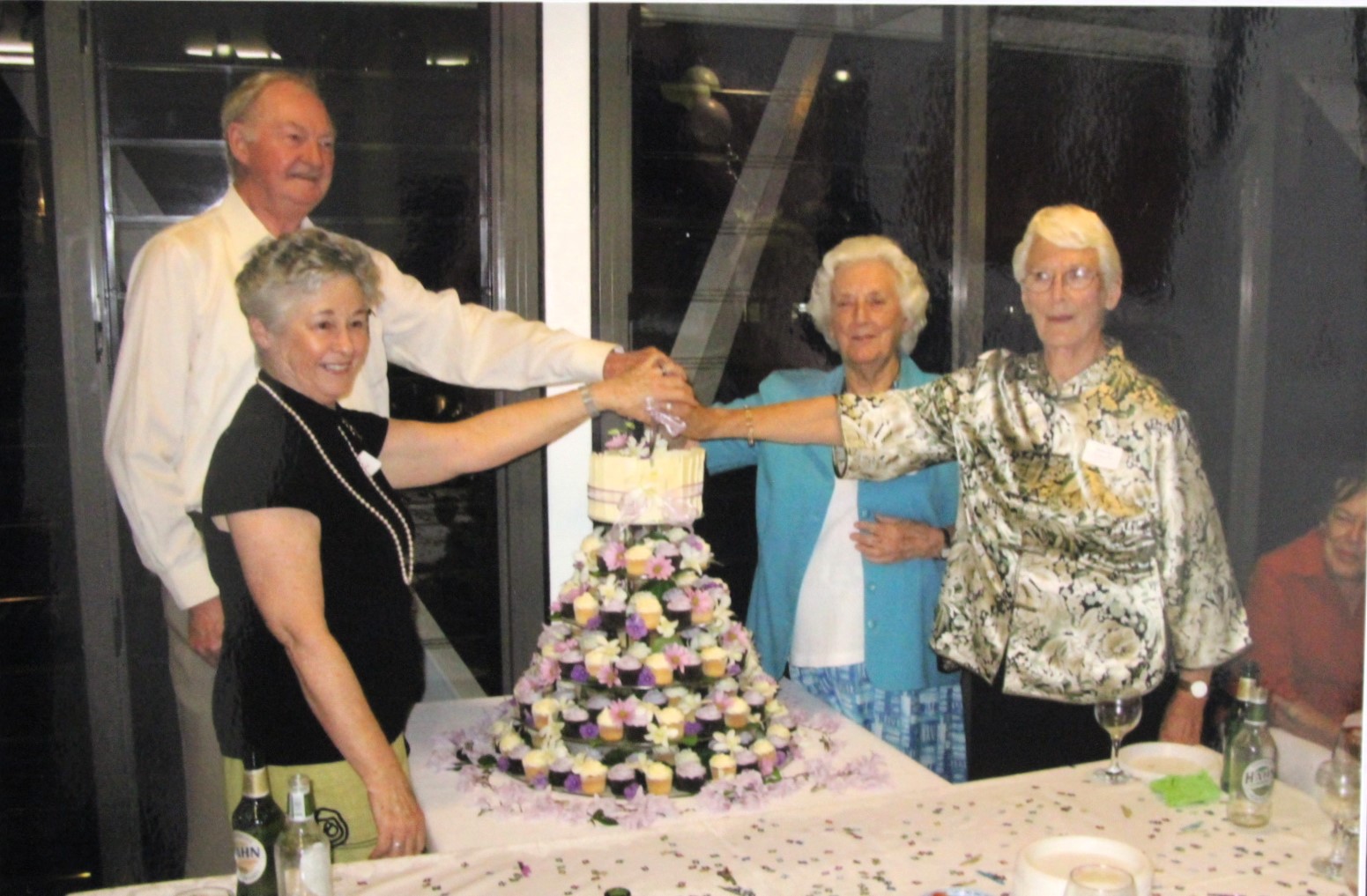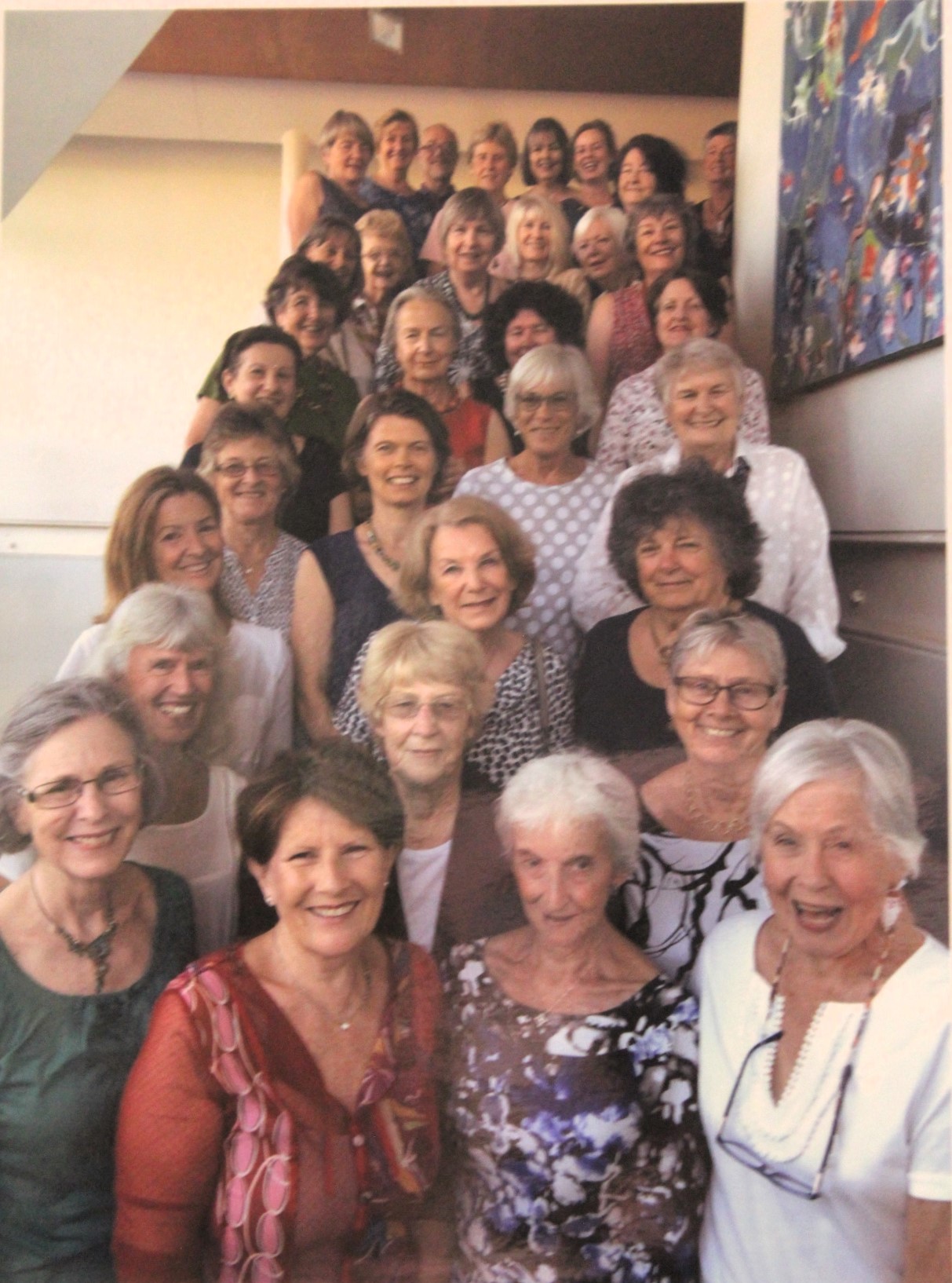 ACL Volunteers
Caption: The Committee in 2017 consisted of; L-R: Jill McArdle, Jo Kellaway, Robyn Piesse, Jennifer Fodera, Collette Searl, Jan Nelson, Gail Lonnon, Chris Jacek, Liz Liddelow and Jennie Woodward.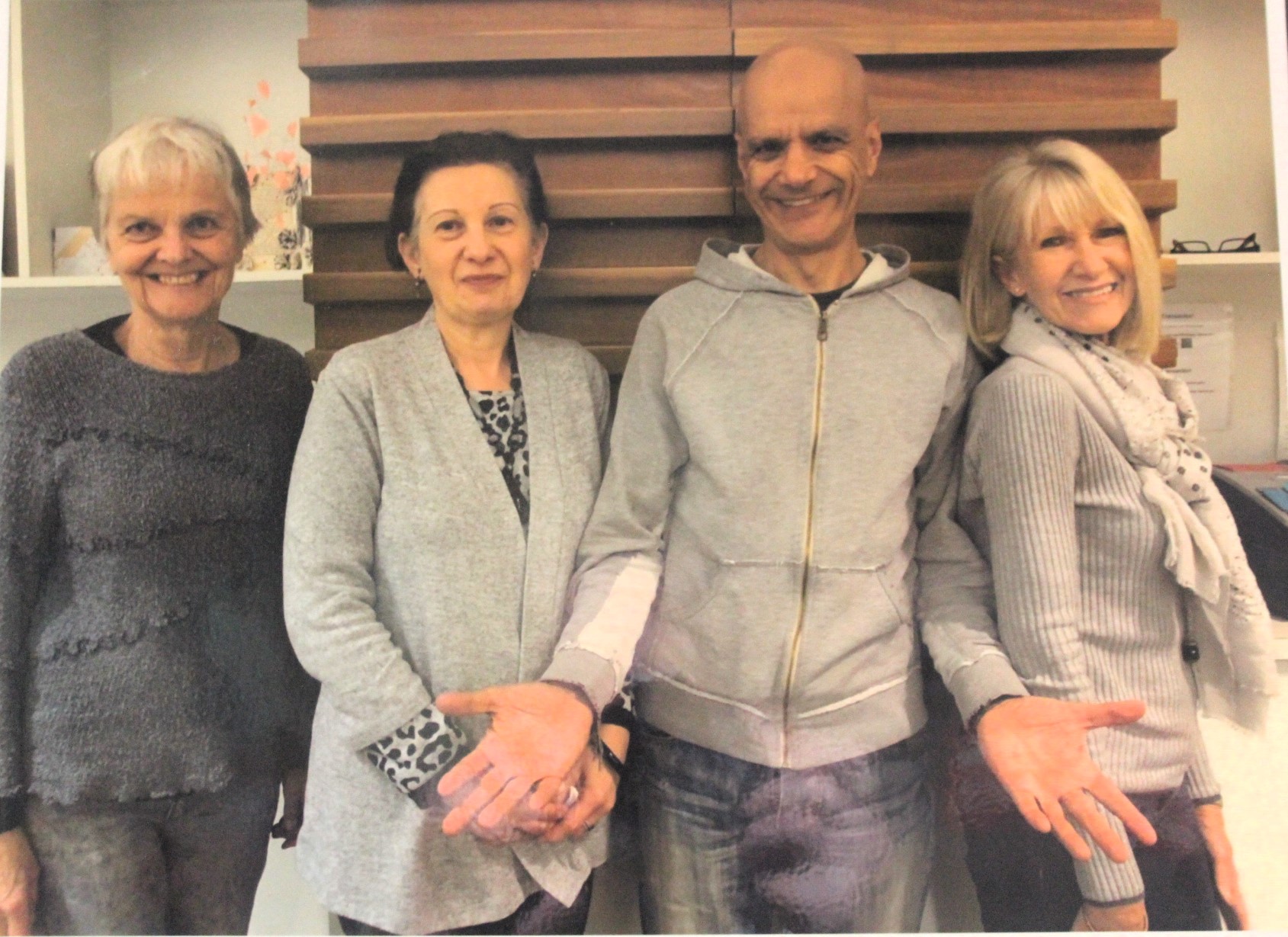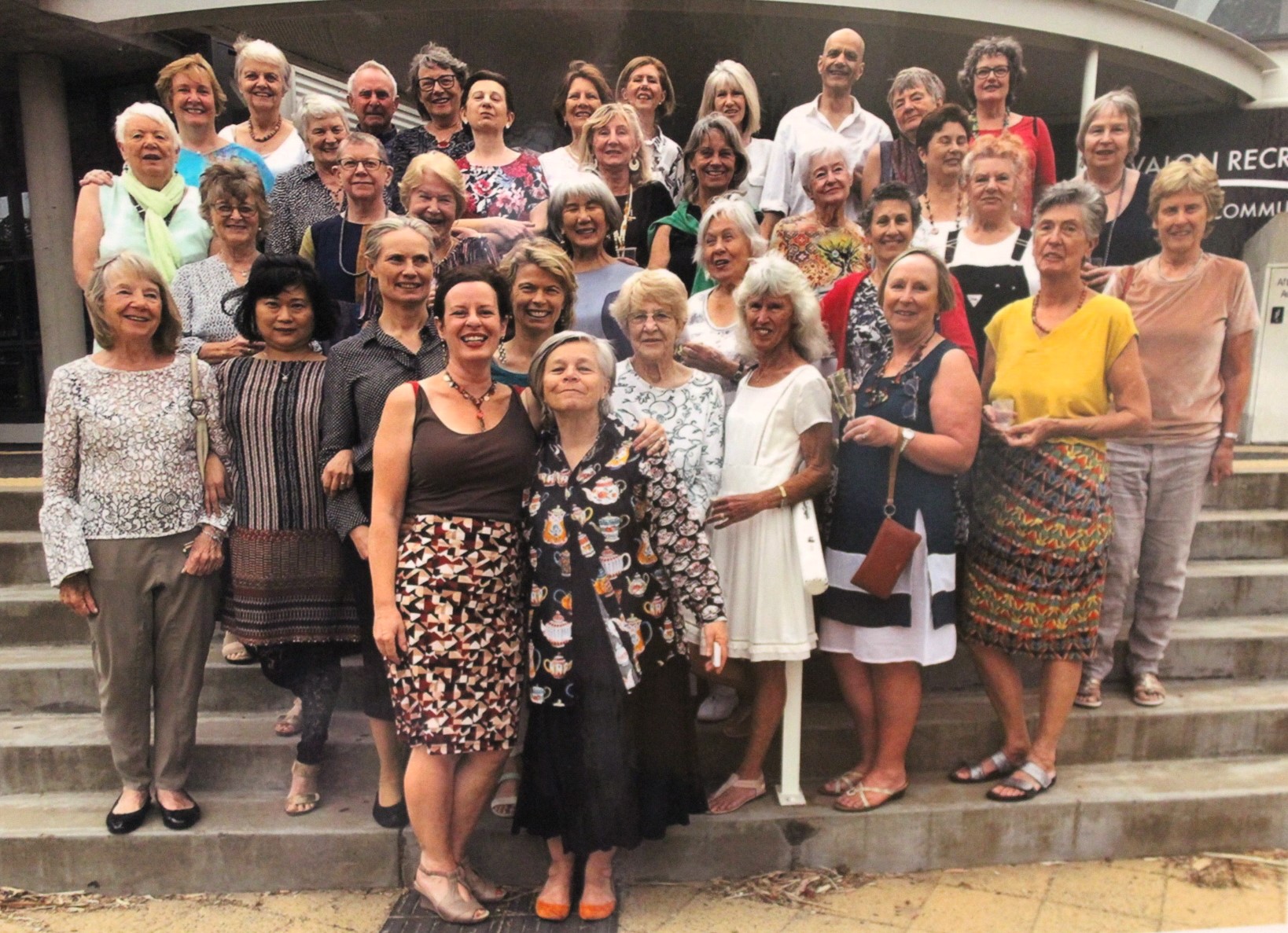 Caption: The Volunteers Christmas Party gathered on the steps of the Avalon Recreation Centre in 2019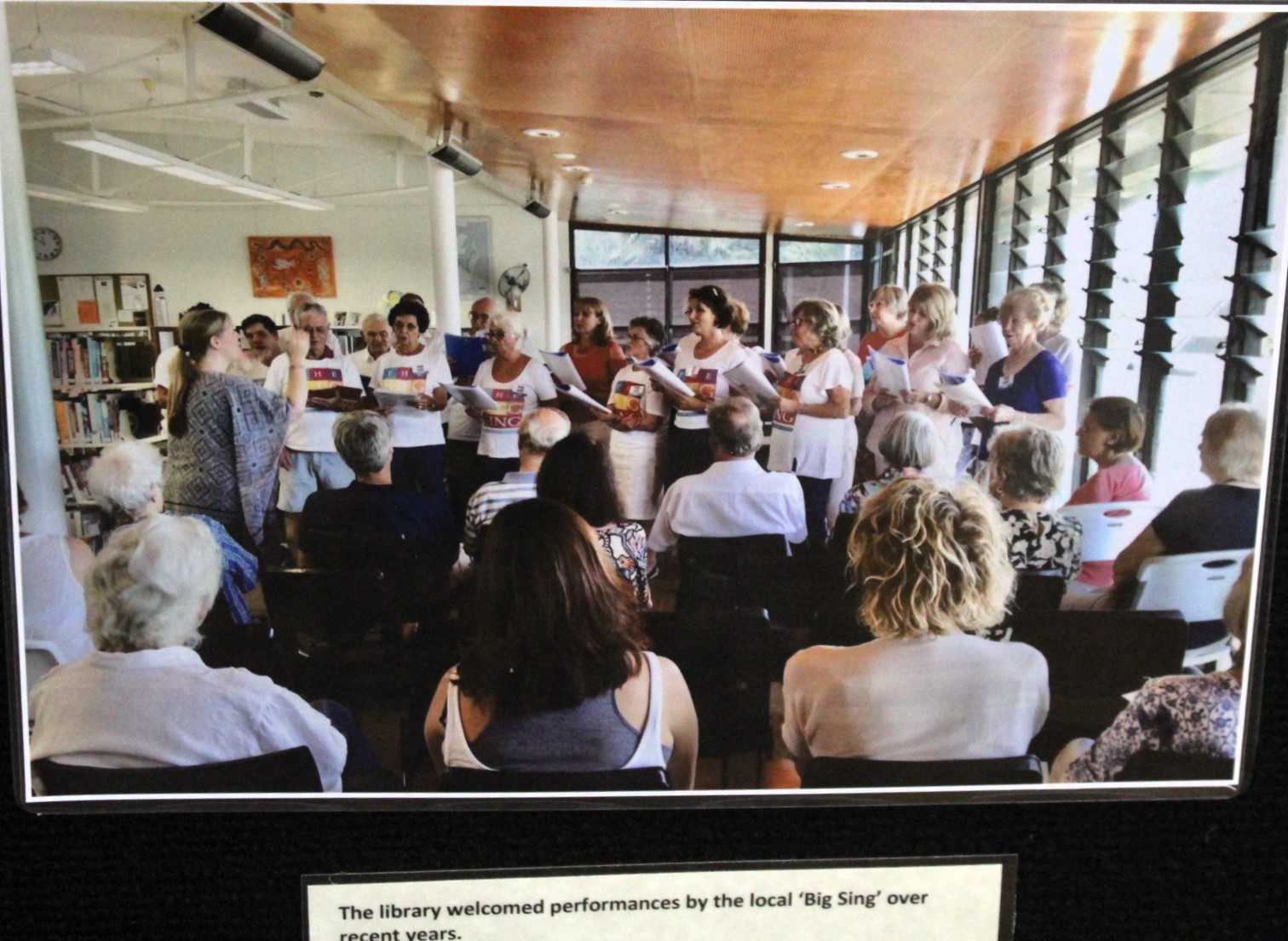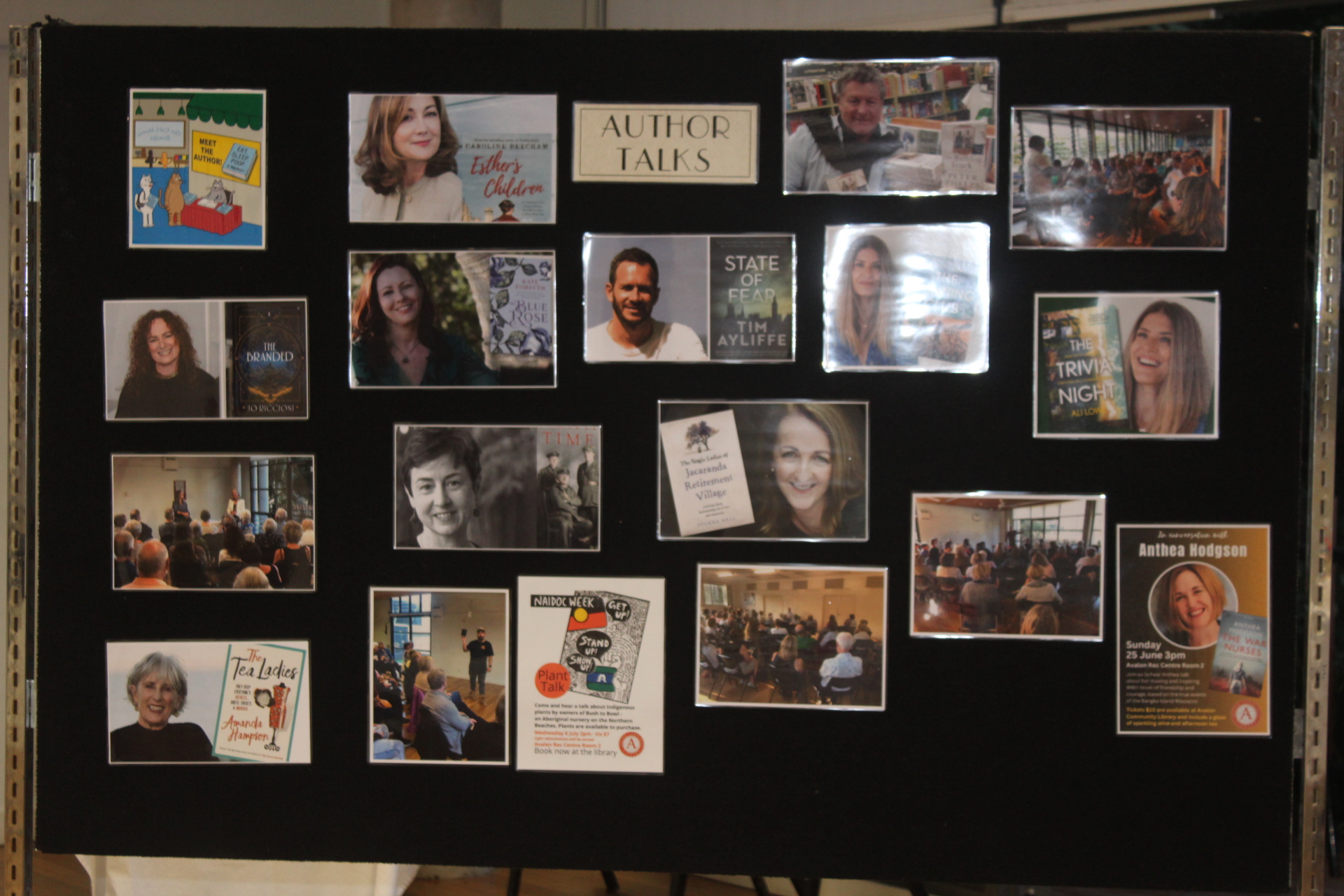 Avalon Community Library Volunteers, Staff, Sponsor Guests
attending 40th celebration on Friday September 29, 2023 - with thanks to Jane Park for assistance in guest list