November 22 - 28, 2020: Issue 475
Avalon Beach SLSC Aiming to have First Carbon Neutral Clubhouse in Australia: Christmas 2020 Silent Auction launches this week to fund saving lives + making blue skies greener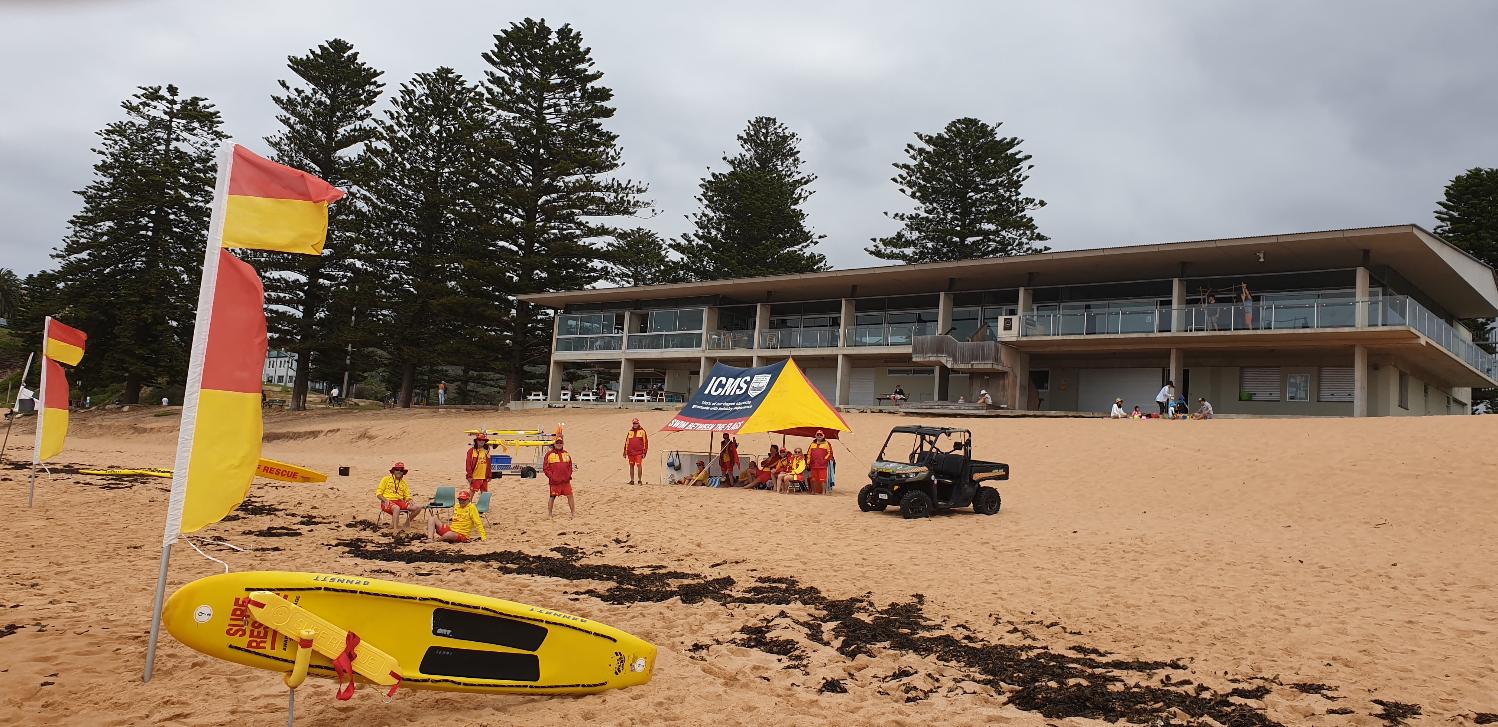 Avalon Beach SLSC Members on Patrol yesterday, Saturday November 20th, 2020 - photo by Roger Sayers, Life Member
For many years, the locals of Avalon Beach and surrounding suburbs have enjoyed the annual community event, Carols on the Beach run by the Avalon Beach SLSC. Sadly COVID restrictions for 2020 meant early cancellation of the event was necessary due to planning logistics and uncertainty.
Instead, as a boost in the arm for the community and the surf club, this year Avalon Beach SLSC is launching a Christmas Silent Auction to help the community fill their stockings with amazing items while supporting so many of the hardworking businesses of the Peninsula.
Funds normally raised through the popular Carols event are directed towards the purchase and maintenance of life saving equipment and vital training, conducted through this surf club year round. However, the club is also aiming to raise enough funds to become the first carbon neutral surf club in Australia.
Award winning Architect Richard Cole, a former President of the club and the gentleman whose plans realised the construction of the community facility currently used by surf club members and residents, explained on Saturday that a 5 kilowatt system was installed as part of the new building's construction, and now the members are aiming to install a 32 kilowatt system in 2021.
Some funding is already in place with a generous donation from McGrath Pittwater who have committed ten thousand dollars towards the carbon neutral project and the club has secured a five thousand dollar grant from the Northern Beaches Council towards the project as well.
Despite a challenging year for many small and large businesses, the business community of Avalon and the northern beaches peninsula have been incredible in throwing their full support behind the Christmas Silent Auction initiative, donating a fantastic array of experiences, vouchers and products. This has been backed by long standing supporters of the Club and platinum sponsors, McGrath Pittwater.
More items are being added all the time as contributions are offered, but at the time of going to press the following list of Christmas cheer will be on offer when the auction goes live from the 26th of November to 13 December:
Zephyr Charters, the beautiful Avalon based charter service, which hosted Bono and Noel Gallagher last year, have donated an amazing prize.
Fashion, home and lifestyle auction items include representation from Newport based Pony Rider, ARTCLUB, PE Nation (with founder, Claire Tregoning based in Avalon), a beautiful gift box from MamaPapa, Avalon based Nash + Banks, Wandering Sol and Knox + Cox candles amongst many other great contributions.
Dining and catering support from many of the Peninsula's favourite places to eat, drink, and to book catering, including Sunset Diner of Avalon, Nourished of Avalon, the RMYC, Lovat of Newport, The Boathouse Group, Palmy Platters, Le Petite Marche of Newport, Bundlfresh of Mona Vale, Prawn Pod of Bayview and Alma of Avalon.
Health, wellness and experiences generous donations include classes and support from Avalon's Balanced Studio, F45 Avalon, Cosmic Rose massage of Newport, Pittwater Sailing and a 2 hour Surfing Experience with legend Tom Carroll. Bet that one 'goes through the roof'!
After an exhausting 2020 for many, don't miss your chance to book in some R&R on a beautiful weekend out of town with a 2 night stay at the stunning Rae's at Wategos also up for grabs.
Remember, more items are being added all the time... And these are all an opportunity to feel good while doing good ....
The silent auction will go live this Thursday, November 26 and it will wrap on December 13th 2020. Auction bids will only be permitted within that period.
For updated details, including the website address for bids, please visit: https://avalonbeachslsc.com.au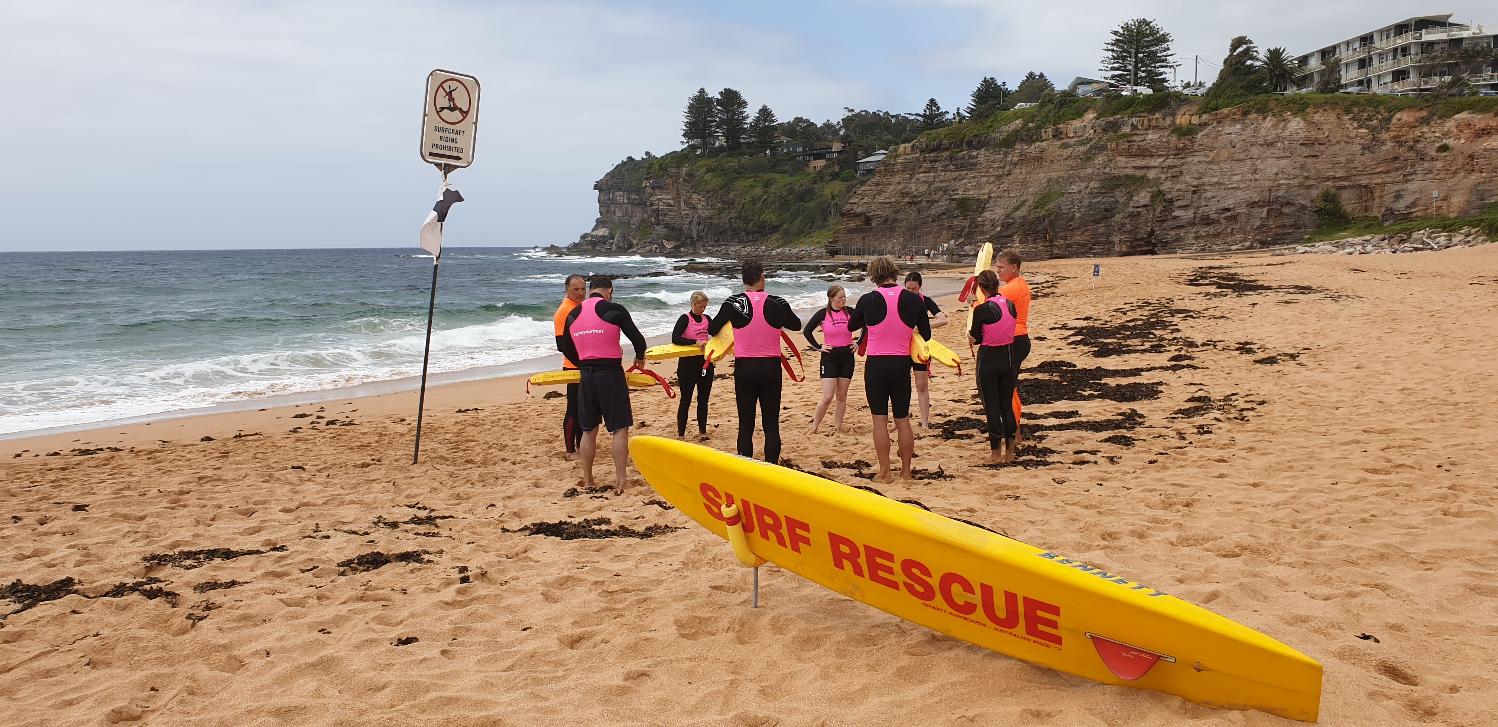 Avalon Beach SLSC Bronze Medaillion Training on the beach, Saturday November 20th, 2020 - photo by Roger Sayers, Life Member