November 27 - December 3, 2016: Issue 291
Australians Take On North American Series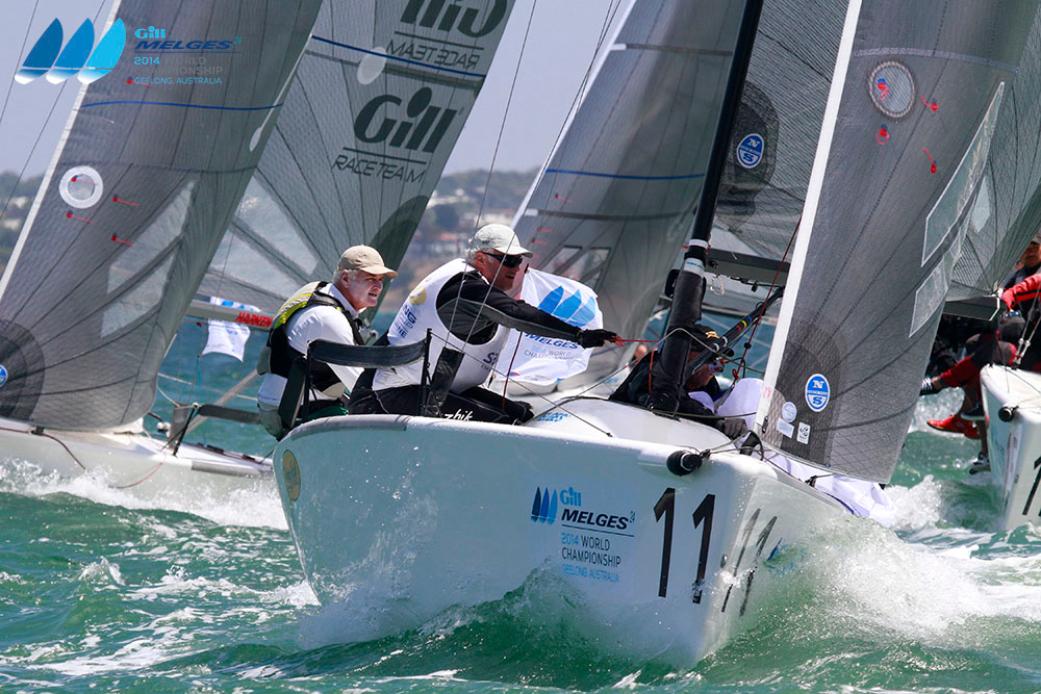 Roger That at 2014 Gill Megles world - Terri Dodds Photo
Australians take on North American series
November 22, 2016
Event: Melges 24 World Championship 2016, November 26 – December 3, 2016 in Miami, Florida USA, race management services provided by Coconut Grove Sailing Club
Australian sailors are adding plenty of Frequent Flier points to their airline loyalty programs and challenging the world's best at a number of North American championships this month.
Six Aussie teams wrapped up the Aspen Viper 640 International Championship in Bermuda on Saturday, Bruce Mattinson's Black Mamba from the South of Perth Yacht Club the best placed in fourth.
This coming Saturday, November 26, heralds day one of the Melges 24 World Championship 2016, drawing one of the highest number of participants ever hosted in North America.
Registration and practice days lead into the start of the pointscore on Tuesday November 29, when John Bacon's Roger That (Royal Prince Alfred Yacht Club) and Kevin and Glenda Nixon's Accru (Cruising Yacht Club of Australia), take on a heavily weighted USA contingent plus teams from Canada, China, Great Britain and Europe, in the ultimate one design contest.
Accru - photo by Tracey Walters
John Bacon and helm Cameron Miles were at the RPAYC late last week to dismantle their Australian Melges 24, Roger That, and pack gear and spares into suitcases in order to recreate a similar set up on the newer generation boat chartered for the world title, and be prepared for gear failures.
In Bacon's other one design, a lively MC38 called Dark Star (RPAYC), he and Miles switch seats; Bacon helms and Miles calls tactics.
The Roger That team has been in the class since 2010 and last contested a world championship in 2014 at Geelong, where they finished ninth overall and first Corinthian boat.
Based on the likely conditions for the time of year, Miami is set to offer them an opportunity well-suited to their preferred style, Miles says. "With its trade winds, swell and waves, the conditions will be good for us. It will be really hard, one start line for a huge fleet, 14 races and no layday. They are such fun boats and a real challenge for the entire crew. The skipper has a lot on, the crew have to hike like maniacs and to sail well you've got to be fit and agile."
A huge fleet of 74, sailing mostly three or four up, means the organisers can put the resources behind the series and Bacon says the world's top sailors will be there vying for class honours on two possible course areas, one inside roomy and flat Biscayne Bay and the other outside Government Cut in the 23 degree ocean.
Bora Gulari is one of the most recognised names on the starting list, the two-time Moth world champion hungry for the glitter of the Melges 24 crown having finished fourth once and third twice.
Second Australian team Accru, sailing for the Cruising Yacht Club of Australia, can race five-up and still meet the class' maximum combined crew weight of 375kg thanks to the three women on board: Glenda Nixon, daughter Bonnie and Alex Murray, wife of America's Cup regatta director Iain who is on his way back to Sydney from Fukuoka, Japan to compete in the Etchells NSW State Championship this weekend.
For five years the Nixons have run a family campaign that is two-part; first they contest a major Melges 24 regatta then follow up with a road trip.
In 2013 they purchased a second Melges for the North American circuit and never sold it. Last month at the US Melges 24 nationals on Lake Geneva, Wisconsin, birthplace of the Melges 24 class, from a starting list of 48 the Nixons finished seventh overall and second Corinthian boat. "The nationals gave us very good starting practice and a great range of breeze, exactly what you need coming into a world championship," Kevin said before flying out of Sydney.
On the rigours of Melges sailing in Miami next week he added, "Because it's outside in open water it will be taxing on the bodies of the crew hiking out, they will be buggered. We've been doing a lot of gym work…we have a planking club among the crew and when you clock your plank, you text around to the group to let everyone know. There's no requirement to supply video or photos….."
After Miami the Nixons will set off for a drive and a history lesson at Key West.
Schedule of Events:
November 26-28 - Registration and measurement
November 28 - Practice Race and opening ceremonies
November 29 - December 3 - Racing at the Melges 24 World Championship
December 3 - Prizegiving and closing ceremonies
The online entry, the Notice of Race and other information about the venue are available at event website
www.melges24worlds.com
Twitter: twitter.com/Melges_24
By Lisa Ratcliff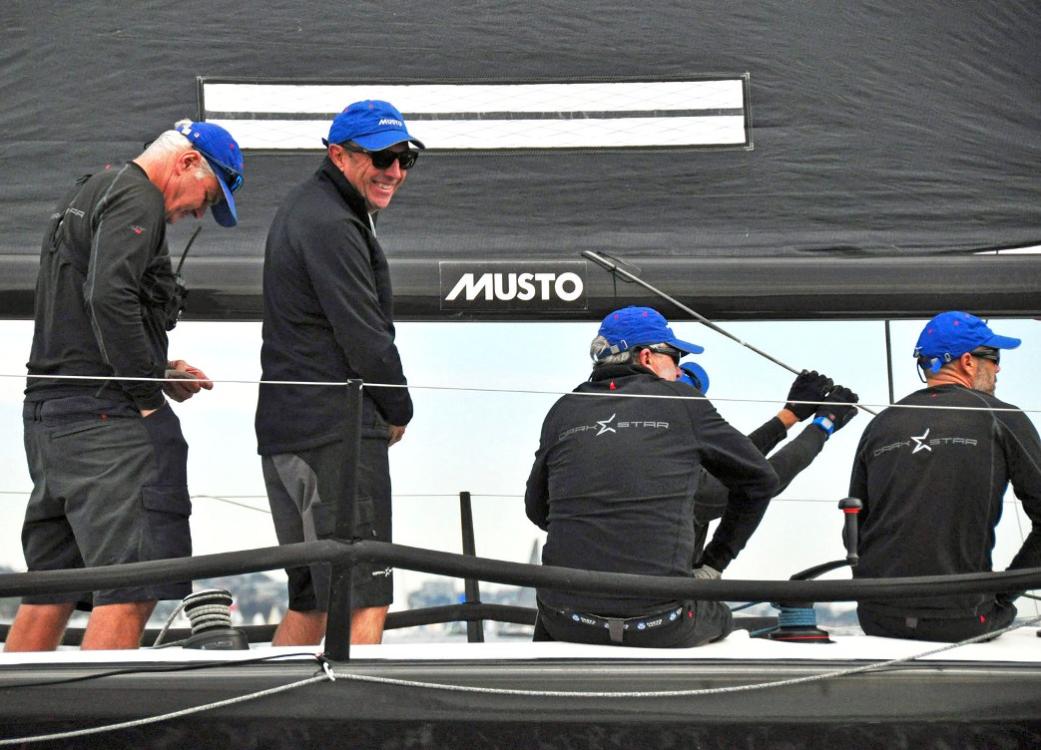 Cameron Miles (left) then John Bacon on Dark Star - photo by Bob Fowler