May 14 - 20, 2017: Issue 312
Australian Youth Life Saving Team Squad: 2018 Lifesaving World Championships
NSW Youth Dominate National Selections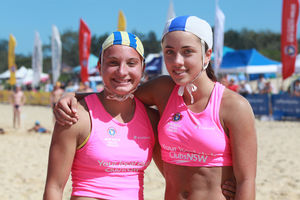 Friday 12 May 2017 - by Surf Life Saving NSW
An outstanding season by NSW athletes has been capped off with an amazing 16 athletes selected in the Australian Youth Life Saving Team Squad to have the chance to compete at next year's
Lifesaving World Championships in Adelaide
.
A total of 24 surf lifesavers have been chosen in the squad for beach and ocean events with selections for the final Youth Team to be finalised in early 2018 before competition begins on 17 November to 2 December. A further 24 athletes will be added to the squad after the Australian Pool Rescue Championships on 4-6 August.
With this announcement, the Under 18 surf and beach athletes will be training harder than ever to cement their spot in the team to represent their country and to retain the Youth Life Saving World Title. Their first chance to represent Australia will be at the International Surf Rescue Challenge in New Zealand later in 2017 with selections to be made within the next fortnight.
Avoca Beach, Elouera and North Cronulla SLSCs have the strongest representation with three athletes each. The majority of NSW athletes selected to the squad achieved podium finishes at this year's Australian Championships.
Australian Open and U17 beach flags gold medallist Alexandra Rampoldi (North Cronulla) and Thirroul's Jazmine Yew who won bronze in the U17 flags will continue their rivalry and fight it out for the green and gold cap.
Elouera's dynamic duo of Chris King and Jake Evans have deservedly been chosen thanks to their performances at the Aussies where they claimed gold at the U17 Taplin Relay with teammate Connor Levings.
2016 Australian Youth athlete and Nutri-Grain Ironwoman Naomi Scott and Emily Doyle combine well together for Manly LSC but how will they fare when racing against each other for the chance to represent their country?
Umina's Lachlan Braddish showed he is one of NSW's promising young athletes taking out the Australian Championships U15 Iron and Surf events earlier in the year.
Bate Bay speedsters Jamee Smith (Wanda) and Michael Hanna (Elouera) will be looking to cement their spot in the team after solid performances in the 2016/17 season which included Smith being crowned U17 Australian Beach Sprint Champion.
The team will be led by Currumbin surf lifesaver Brett Dowker with Rachelle King (Terrigal) and Max Gonzalez representing NSW as Assistant Coach and Team Manager respectively.
Surf Life Saving NSW Sports Manager Rob Pidgeon says it's amazing to see almost 70% of the selected athletes coming from NSW.
"Well done to the talented surf lifesavers and the future of surf sports. It has been a successful season for NSW clubs and this has been demonstrated by the selections," Rob Pidgeon said.
View the full Australian Youth Life Saving Team Squad via
www.sls.com.au
.
Australian Youth Life Saving Team Squad (NSW Athletes)
Keeley Booth - Avoca Beach
Lily Cracknell - Avoca Beach
Finn Flaherty - Avoca Beach
Chris King - Elouera
Jake Evans - Elouera
Michael Hanna - Elouera
Naomi Scott - Manly
Emily Doyle - Manly
James Finn - Newport
Alexandra Rampoldi - North Cronulla
Kira Hood - North Cronulla
Ben Highfield - North Cronulla
Nicola Owen - Redhead
Jazmine Yew - Thirroul
Lachlan Braddish - Umina
Jamee Smith - Wanda
Team Management
Head Coach – Brett Dowker (Currumbin)
Assistant Coach – Craig Holden (Elliott Heads)
Assistant Coach – Rachelle King (Terrigal)
Assistant Coach – Sam Dick (Currumbin)
Team Manager – Max Gonzalez (Bronte)
Photo: Alex Rampoldi and Jazmine Yew celebrate finishing top two in the U17 flags at the 2017 NSW Championships.