June 27 - July 10, 2021: Issue 500
Australian Youth Life Saving Team & Talent ID Squads Named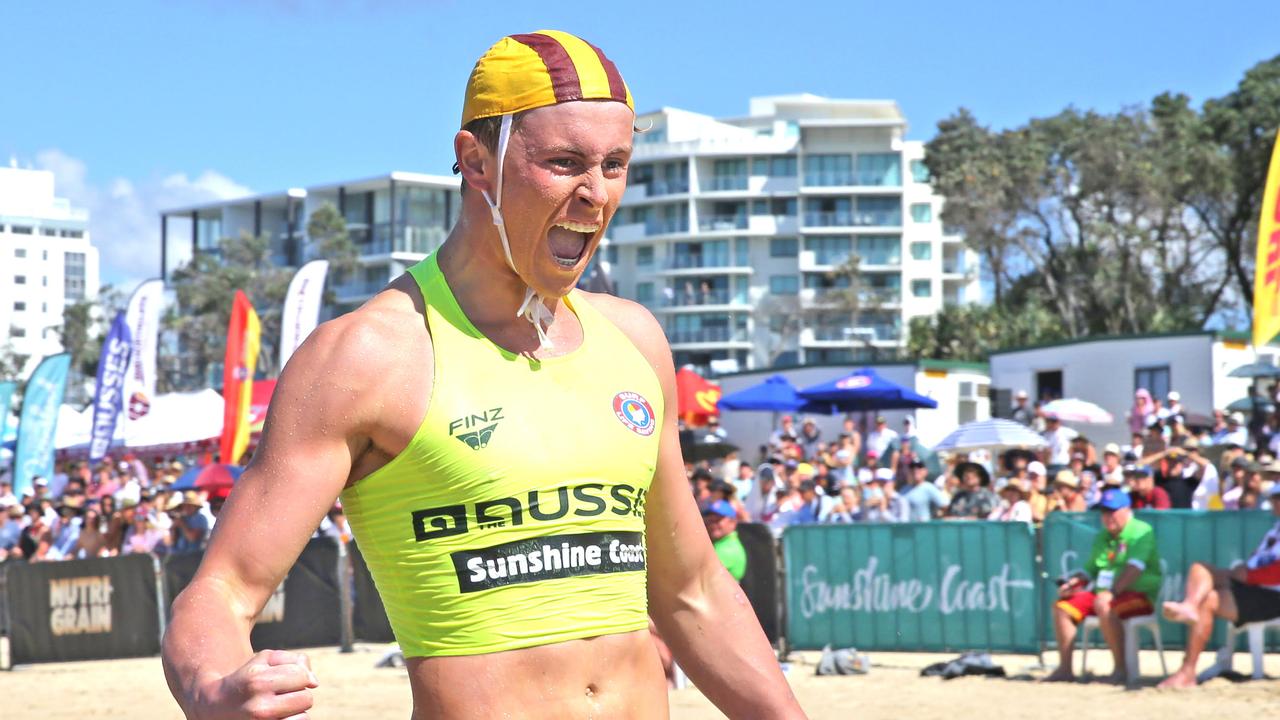 Mitchell Morris (Newport) - SLSA photo
Newport SLSC members are among those named on June 24th by Surf Life Saving Australia that will represent Australia at the Lifesaving World Championships 2022, now taking place in Riccione, Italy in from September 20th to October 9th 2022, after being postponed in 2020.
Surf Life Saving Australia stated ''the Australian Youth Life Saving Team (AYLT) has reignited the road to Riccione with the naming of 19 ocean and beach athletes in a first step to reclaiming the Youth National Team Title at the Life Saving World Championships (LWC) 2022.
Following a COVID-19 impacted past 15 months, the AYLT has named the first round of athletes who be looking to represent Australia in Riccione, Italy next September following the cancellation of the LWC2020.
The squad will be headlined by Aussies 2021 Outstanding Male Competitor of the Carnival, Mitchell Morris (Newport) who won the U17 Ironman in addition to picking up four team medals with his twin brother Jake, who will also join him in the squad. The Morris twins will be joined by Newport teammates in Kimberley Doyle and Conner Maggs with the latter picking up five gold medals across individual and team events at Aussies 2021.
Matching Newport's four athletes in the squad will be the Northcliffe quartet Jamie Perkins, Claudia Bailey, Cyra Bender, and beach athlete Asher Ward. Perkins dominated the U17 female competition at Aussies 2021 taking out U17 Ironwoman, Board & 2km Ocean Swim amongst a slew of other medals.
Fellow beach standouts Kiara Rychvalsky (Maroochydore), Emelyn Wheeler (Terrigal) & Britney Ingr (Currumbin) lead an extremely strong female contingent on the sand and will be joined by Ward and Luke Avati (Coogee).''
A new initiative to the Australian Youth Life Saving Team is the Talent Identification Squad which will incorporate athletes who are eligible for the 2024 Youth Life Saving World Championships.
AYLT Head Coach Craig Holden is excited to expand the understanding of what the Australian Life Saving Team means across all of Lifesaving.
"The primary aim of the Talent ID Squad is to identify and recognise the performances of athletes who will be eligible to take part in the 2024 Life Saving World Championships (LWC) to be held on the Gold Coast," Holden said.
"To begin that education process of our younger athletes of what a LWC Campaign looks like is hugely beneficial. The environment in which LWC are held across the five days of competition incorporating ocean, beach and pool rescue disciplines is extremely unique and challenging. The more knowledge we can pass on to these athletes will be great for future teams."
Cooks Hill SLSC has seen tremendous results across their youth athletes over the past few seasons and this continues with Alex Walker and Lani Waller rewarded for outstanding results across the 2020/21 season. Walker finished off a strong Summer, claiming a clean sweep across U14 Iron, Swim and Board events at the 2021 Aussies.
Dominique Melbourn (North Curl Curl) and Zara Foran (Swansea Belmont) have also been recognised with their selection in the squad after impressive results across a number of events at Aussies 2021, on the Sunshine Coast.
The 2022 Lifesaving World Championships Campaign has already seen the cancellation of Sanyo Cup 2021 (Miyazaki, Japan) and International Surf Rescue Challenge 2021 (Daytona Beach, USA) as international travel restrictions and mandatory quarantine periods remain in place stemming from the global COVID-19 pandemic.
At this stage the Life Saving World Championships 2022 are still planned to go head in Riccione, Italy however the situation will continuously be monitored as COVID-19 restrictions evolve following further vaccinations in Australia and the world.
With a significant lack of Pool Rescue competition over the past 12-18 months, all Pool Rescue athletes will be added to these squads following the 2021 Australian Pool Rescue Championships to be held 6th-8th August on the Gold Coast.