August 28 - September 3, 2022: Issue 552
Australian Yachting Championships decided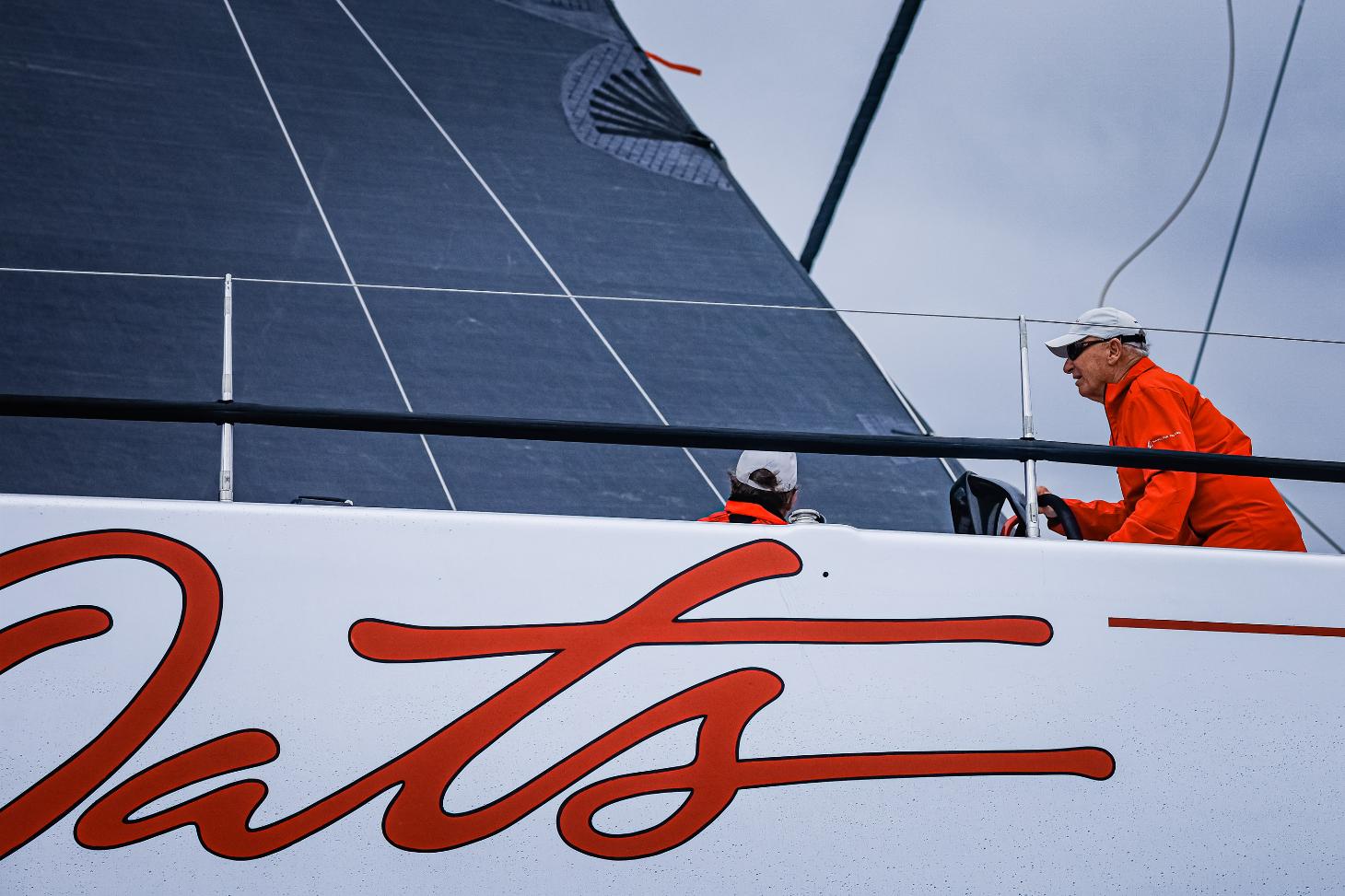 Sandy Oatley at helm of Hamilton Island Wild Oats. Photo: Salty Dingo.
There was plenty resting on the final race of the 2022 Australian Yachting Championships (AYC) at Hamilton Island Race Week today, Saturday August 27, apart from deciding the winners of each division, Sandy Oatley took the helm of Hamilton Island Wild Oats, while John Winning Sr was at the helm of Andoo Comanche for a race like no other.
Oatley, Chairman of the family company that owns Hamilton Island, does not normally race aboard the super maxi, let alone helm it. That duty usually lies with Mark Richards. And for the first time this week, 'The Oats' took line honours from her rival, perhaps Oatley was the lucky charm.
"It was good fun," Oatley said with a wide smile. "It was also very tense, swapping the lead a couple of times. It was a great competition; great sportsmanship and some luck fell our way at the end."
On taking charge of the 100 footer, Oatley said, "It was fantastic helming. I got advice from everywhere – and sometimes the advice was different. They all know what they're doing and they were enthusiastic," he said with a laugh.
When Division Zero lined up to start the islands race, the hooter sounding at 10.45am, Andoo Comanche had not put a daggerboard wrong all week.
John 'Herman' Winning Jr's 100 footer started closest to the Hamilton Island Yacht Club (HIYC) where a large crowd had gathered to watch, among them Herman's sister Jamie.
Andoo broke the downwind start, forced to return and re-start. No easy feat, given their division mates around them, not to mention the spectator boats, a misty rain and a big breeze. Hamilton Island Wild Oats sailed away, leading the fleet.
However, sailing in clear air, Andoo caught them up, the two swapping the lead during the course with the Oatley family's yacht crossing the line first as the rain fell.
Rating Divisions Zero and Multihull Racing sailed a 32.6 nautical mile race, while Divisions 1 and 2's course was 25nms. Divisions 3 and 4's course was 22.7nms. All were islands races, starting downwind in Dent Passage. Hamilton Island was not its usual sunny self and mist blanketed the course, but at least the breeze was fresh. The forecast 18-26 knots from the south-east came to fruition.
Division Zero
The division trophy rested on this final race. Phillip Turner's RP66 Alive (Tas), Duncan Hine at the helm, led the series on countback to David Griffith's Whisper (NSW). The two have gone hard at it all week, with the series lead changing daily. They were just behind the super maxis at the start, along with David Gotze's RP63, No Limit.
Alive won the race, so won the series. Whisper finished one point behind her.
Duncan Hine described their day: "A bit of chaos at the start, but a good start for us. It was a very good start by No Limit too (which placed second in the race). It was pretty fickle and the 100s take the wind from you. You have to find your own bit of what's left over when they're done with it," the Tasmanian said laughing.
As to conditions, Hine quipped, "Let's put it this way, I was pleased we chose the No. 3 and not the No 2 (headsail). The race was challenging the whole way. There was nothing in it that was straightforward.
"We're pretty pleased with our performance. We came here with the hope that we'd work out our downfalls before we went to the Maxi Series in November and I think we're on top of it."
David Griffith was pragmatic about Whisper's day after finishing the race in fourth place to claim second overall: "Everything that could go wrong, did. We had a lot of trouble, spinnaker wraps and we shredded the A2, but we finished. Good on Alive, they sailed well."
Division 1 - TP52's
The top three today were Matador, Caro (23 seconds between them) and Secret Mens Business, translating to the winning trophy going to Caro by two points. Matador took second overall and defending champion, Ichi Ban was third.
"Ichi Ban and Matador were busy with each other at the start, so we were left alone to do our own thing. That made it relatively easy from there, but conditions were tricky throughout the race. We just tried to keep our noses clean," Justin Ferris said.
"We came away with a second today, which cemented our overall win. It was a nice way to end a good week of sailing."
Ferris said the boat is on its way to Sydney. "Our next race will be a Blue Water Pointscore one to prepare for the Sydney Hobart. We were supposed to do the race in 2020, but Covid restrictions stopped us. Our crew will be pretty much the same as it was here."
Caro, the newest TP52 in the fleet, launched in 2021 and is sailed by an esteemed international crew. She was always going to be a threat. In her first Australian outing, the Swiss boat, skippered by Max Klink, lived up to expectation. Going into the final day she led David Doherty's Matador (NSW) and three-time reigning champion, Ichi Ban (Matt Allen, NSW) by three and four points, respectively.
On the start line for the final time, Caro started best at the HIYC end of the line, Andy Kearnan/Peter Wrigley's Koa with her, the latter though, had kite problems again. Further up the line, Geoff Boettcher's Secret Mens Business (SA) was quick off the start in clear air.
Ichi Ban and Matador were together mid-line with the rest with and behind them. The two looked set to race off for second and third overall, well ahead of the other TP52s on points.
Division 2
Once again, Brendan McAssey timed the start perfectly on his Farr 40, S1 (NSW), with double Olympic gold medallist, Malcolm Page, calling tactics – he is exceptionally good at it, but finished with their worst result of the series. Leigh Dorrington's Original Sin (NSW) was also up there. Maritimo (Bill Barry-Cotter, Qld), started well from the shore side, easily seen by her signage.
Two boats were in the running for the main trophy in this division. Leading going into the day's race was Bruce McCraken's Beneteau First 45, Ikon (Vic), Maritimo four points in arrears. Gerry Hatton's Bushranger was next best placed, a further three points away. And that's how they finished overall.
Maritimo won the race from Ikon by four minutes, but Ikon had already banked enough points to win the regatta, beating Maritimo overall by three points. Bushranger was third.
Division 3
Owning six wins from six races, Ray Roberts and his Team Hollywood (NSW) just had to sail the course. Competitive as ever, though, 'Hollywood's' kite was hoisted as the start hooter went and away she went. Fighting for the remaining podium places were Peter Chappell's speedy Barrett 9.5, The Cadillac (WA) and PPI, Jeremy O'Connell's Cape 31 OD (Vic), six and eight points respectively behind Hollywood, which won again today.
"We were happy to win again," Roberts said. "We were happy with the good start we had to have; it gave us a good break on the fleet. It was tricky with tide against wind after we passed the bottom rounding mark at Dent and really rough seas for 2 or 3 kilometres. Bob Wilmot did a great job on main trim and Ceadric Reader on the jib and spinnaker.
"We were confident we were going to have a top three finish; I told the crew we wanted to win every race. We are happy we achieved that goal. It kept everyone on their toes throughout. It's easy to go off track and relax – you have to stay fully focussed.
"We had Kiwi tactician, Jim Turner, who sailed the Olympics in the Stars, so he was really experienced. I wasn't sure if David (Chapman) would be back in time to do the job, but he was, so he was on wind calling and steering during the long races to give me a break," said Roberts, who is at the end of recovering from Covid.
'Hollywood's' next gig is the Kings Cup in Thailand, which he loves and has won at least seven times. Next is the Rolex Sydney Hobart: "I got a special deal on a JV72, Lucky. Its mast was damaged and rudder broken in a race in Hawaii. A deal came forth and I put my hand up," ended Roberts who will have the yacht delivered to Sydney soon.
Division 4
Get It On, Garry Holt's Adams 10 (Qld) and Ari Abrahams' X Yacht, Xpresso (Vic), just two points apart going into the final race, battled for the trophy. Holt won the day when he won the race from Xpresso in this close series.
"We had a fantastic day, a great sail. The run home was exciting, we got the boat up to 17-18 knots surfing all the way home. In all honesty, we had a great team. A great bunch of sailors who put in a real team effort," Holt surmised.
"We were improving the boat every day by fine tuning the rig for the conditions and it certainly paid off.
"I bought Jessandra, the Corby 36 in Thailand, so will sail it there. Then we'll will defend our Queensland title with Get It On, in November at Southport Yacht Club, where I'm a member. We may go to the Festival of Sails in January."
A separate battle for third went on between all will be fought for by the other Adams 10, Flyaway The Red Boat (Ian Ford/Jared Macquart) and Cicero, Mark Hellyer's Italia 11.98 (NSW). On 18 points apiece, the former was leading on countback, but Cicero placed third today to take third overall.
Multihull Racing
Two Whitsunday multis, Michel Van Der Zwaard's Angus and the Dale Mitchell skippered ORMA 60 Rex, diced all week,. Angus came out on top, although only Rex sailed the course today. Bob Engwirda's Stealth 12 cat, Coconuts, took third place overall.
The 2022 Australian Yachting Championships were held in conjunction with Hamilton Island Race Week. As is witnessed by the results, racing was a close as it could be and everyone enjoyed the Island's hospitality.
For full results and news, please visit: www.yachtingchamps.org.au
For all the news on all divisions at Hamilton Island Race Week, please visit: www.hamiltonislandraceweek.com.au/media-centre/news
By Di Pearson
August 27, 2022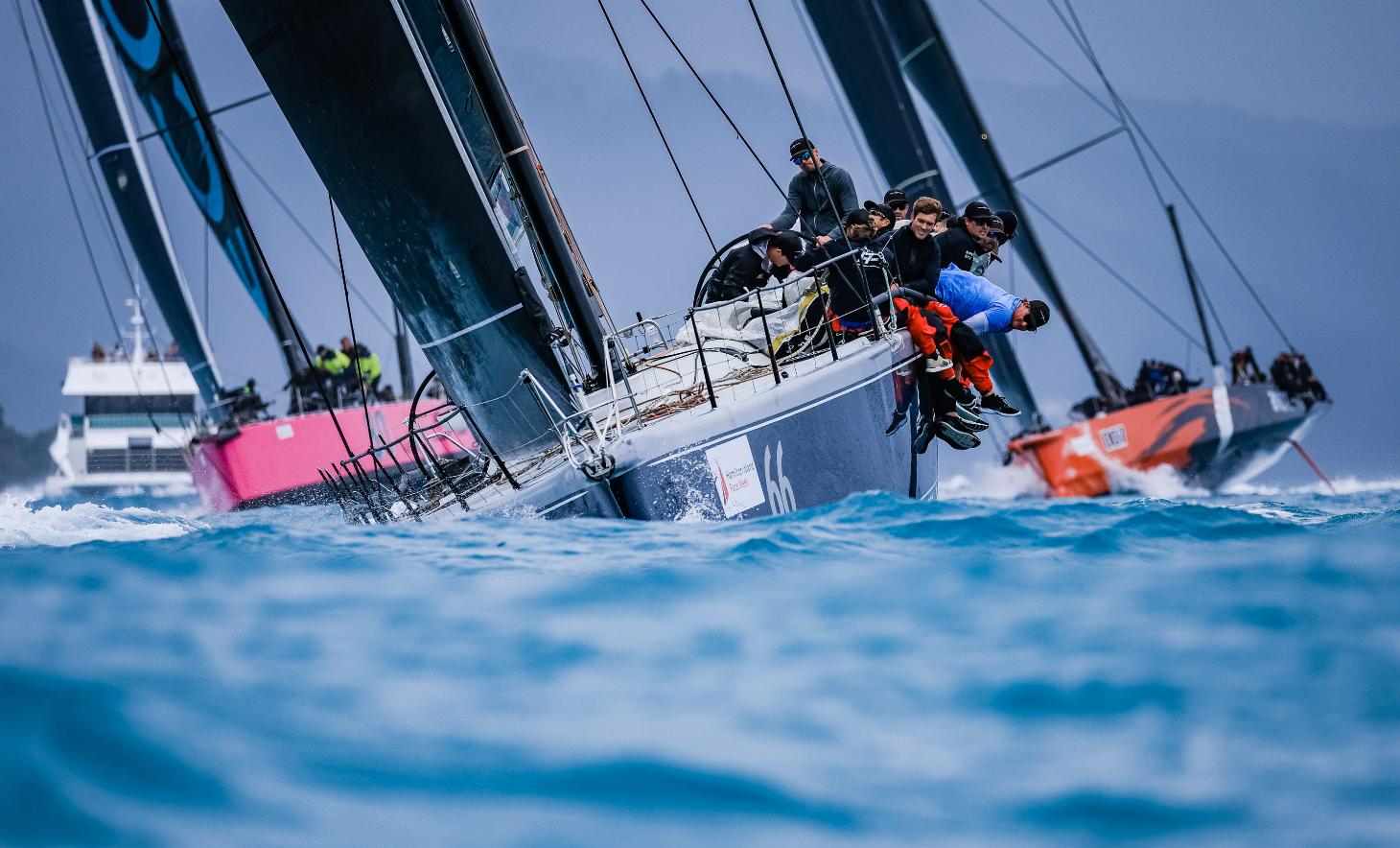 Stefan Racing, Alive and Andoo Comanche. Photo: Salty Dingo