February 19 - 25 2023: Issue 572
Australian Surfing Awards Winners announced: cooper chapman - the good human, emma dieters, para-surfer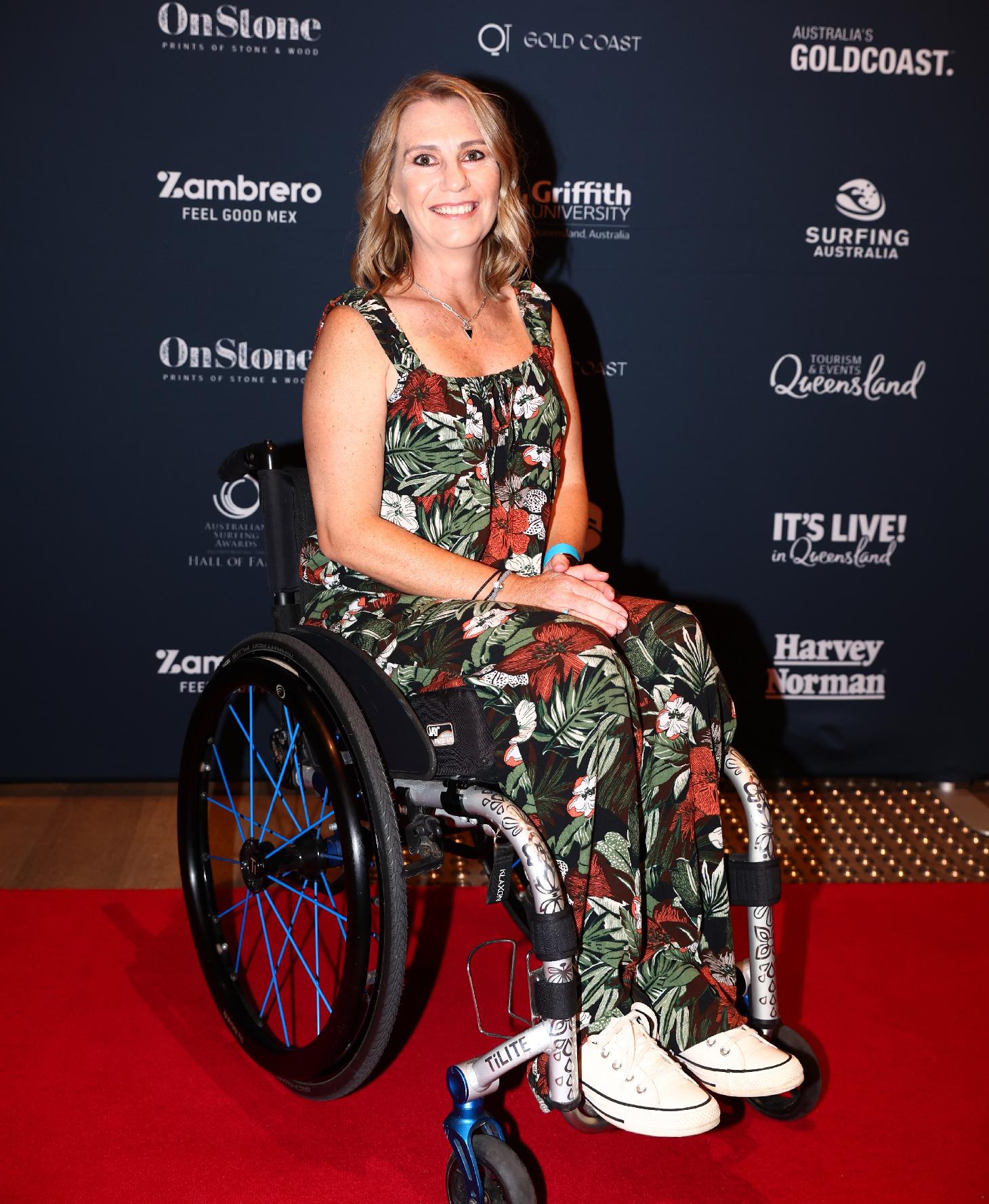 World Para Surfing Champion Emma Dieters is the Australian Surfing Female Para Surfer of the Year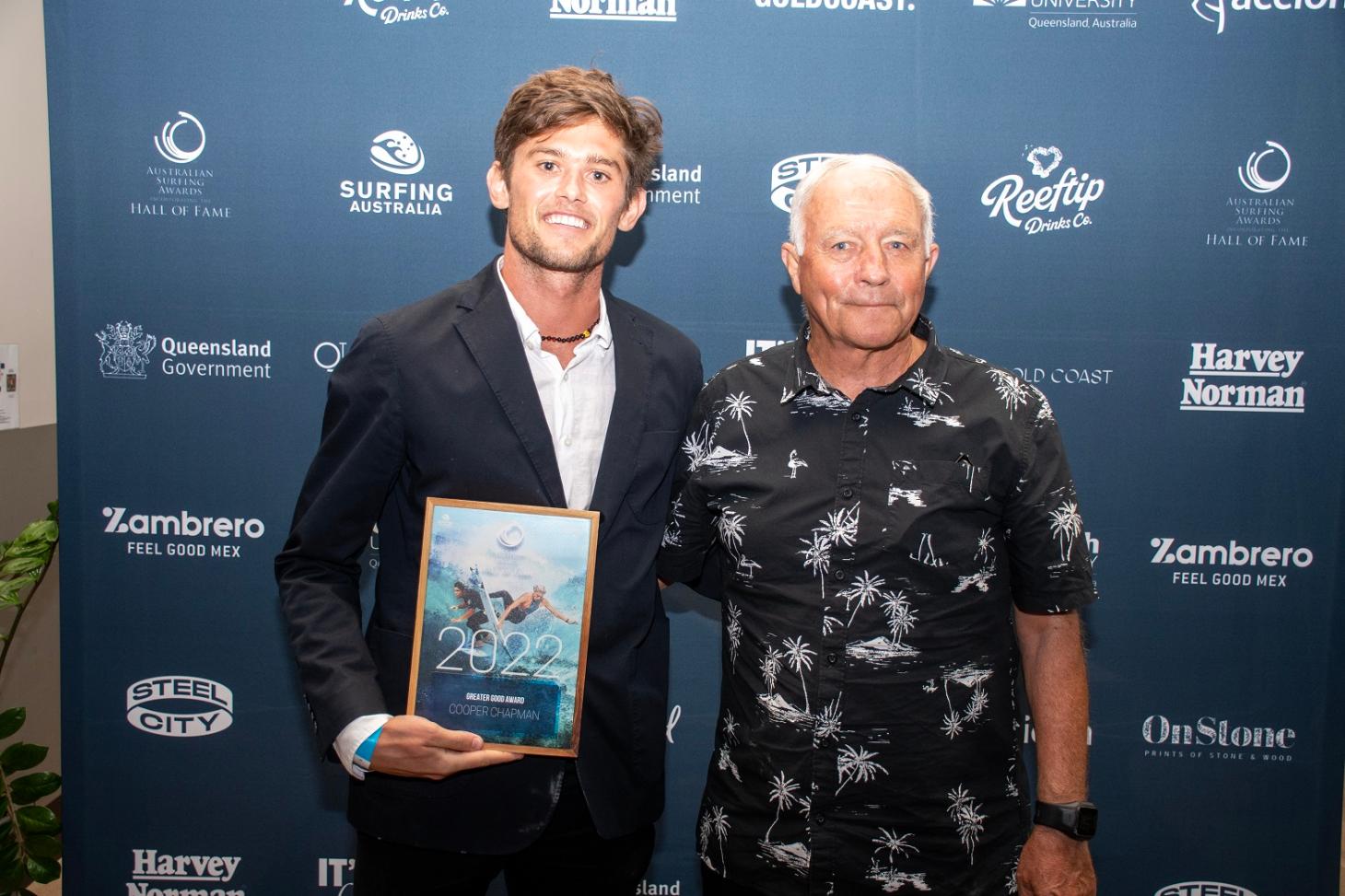 Cooper Chapman was named the Reeftip Great Good Award winner for The Good Human Factory. His award was presented to him by Rod Brooks
Some of the biggest names in surfing have hit the red carpet this week at the Australian Surfing Awards with Jack Robinson and Steph Gilmore taking out the highly coveted Male and Female Surfer of the Year awards, respectively.
Held on the Gold Coast on Thursday February 16th , both Gilmore and Robinson accepted their honours from Hawaii where they're competing in the World Surf League's Sunset Beach event.
Steph Gilmore said: "Thank you so much for this award. Last year was a huge moment in my career, I always dreamed of winning eight world titles and that event in Trestles was something I'll never forget. It was a really special moment. A highlight of the career, but I hope there's still more to come. I just want to thank you all for the support, Surfing Australia, everything you do for us."
Jack Robinson said: "I'm super stoked to get this award again. Thank you guys so much for the support. I wish I could be there, we're in Hawaii at the moment. Hopefully next time we can hold it off for a little bit longer so we can get home in time. It's super cool and look forward to inspiring the next generation to surf. Means a lot. See you guys all soon."
The awards honour the best surfers over the past 12 months across 17 categories. ISA U16 World Junior Champion Willis Droomer and Oakberry Tweed Coast Pro Junior winner Sierra Kerr were crowned Griffith University's Male Rising Star and Female Rising Star, respectively and Taj Burrow became the 45th inductee into the Surfing Australia Hall of Fame.
Other highlights of the night included blind surfer Matt Formston taking home the Heavy Water Award recognising his incredible feat taking on the world's biggest wave, Nazare in Portugal and our own World Para Surfing Champion Emma Dieters winning Female Para Surfer of the Year.
It's been a BIG week for Emma.
On Saturday February 11th the first ever Northern Beaches Para Surfer Boardriders Club event took place, with great help from the Mona Vale Boardriders Club and the Mona Vale Surf Life Saving Club keeping a weather-eye out as well.
On the Northern Beaches Para Surfer Boardriders Club Instagram page Emma posted:
Great day at @monavaleboardridersclub yesterday. They welcomed us @northernbeachesparasurfer_bc with open arms Really looking forward to working with them to get more Northern Beaches and surrounds people involved in the sport. Please share and spread the word. '
And:
WELCOME TO NBPSBC

Bringing Para Surfers together for regular, friendly competitions assisted by the Mona Vale Boardriders Club

Keen? Contact us & let's go surfing

So stoked to have you here and interested in the club. NBPSBC is in the start-up phase. The plan is to integrate into the Mona Vale Boardriders Club and build a membership base. Once at an appropriate member level we can branch out and start running some comps along the beautiful Northern Beaches.

The first comp was on the 11th February 2023. Kicking off with 4 members. 3 have represented Australia!

2 members integrated in to their perspective able bodied categories and absolutely crushed it @kirkonboard, Kirk Watson, a blind surfer and @john.crampton68, John Crampton, a leg amputee had a great time and amazed people with their skills. Both super keen to return next month.

Sam Bloom @samjbloom and @em_dieters, Emma, had our own Para Surfer heat, being a combo Prone 1 & 2. It was great conditions for us and we were pumped to be out in the water to practise for the upcoming international competitions. We came up the beach after a great surf and were acknowledged by the crowd with applause.

We were all so kindly welcomed into the @monavaleboardridersclub community. Also need to thank the guys from @monavalesurfclub who keep an eye out for us too. Was definitely a wonderful community experience.

Special mention to @jms_electrical_2103 @beachboy2103 @jeffreyjatkinson for really getting behind this! Appreciate it very much.

So no matter your age or lack of ability, we wish to work with you to accommodate your needs so you can become part of the NBPSBC & MVB community and get out in the water next month. Please share and spread the word … DM for more info.
You can DM at the Northern Beaches Para Surfer Boardriders Club Instagram page.
Another item on Emma's radar is to get Beach Wheelchairs available at every beach along the peninsula.
Council's website advises that Beach Wheelchairs are available at Manly Beach, Collaroy Beach, Newport Beach and Bilgola Beach, and that it's best to 'book a Beach Wheelchair well in advance to ensure it is available. You will receive confirmation of your booking and notification of the availability of a Beach Wheelchair.'
One of the Pittwater Online photographers spotted one at Palm Beach SLSC on Saturday, so they may be a movable piece of equipment between clubs.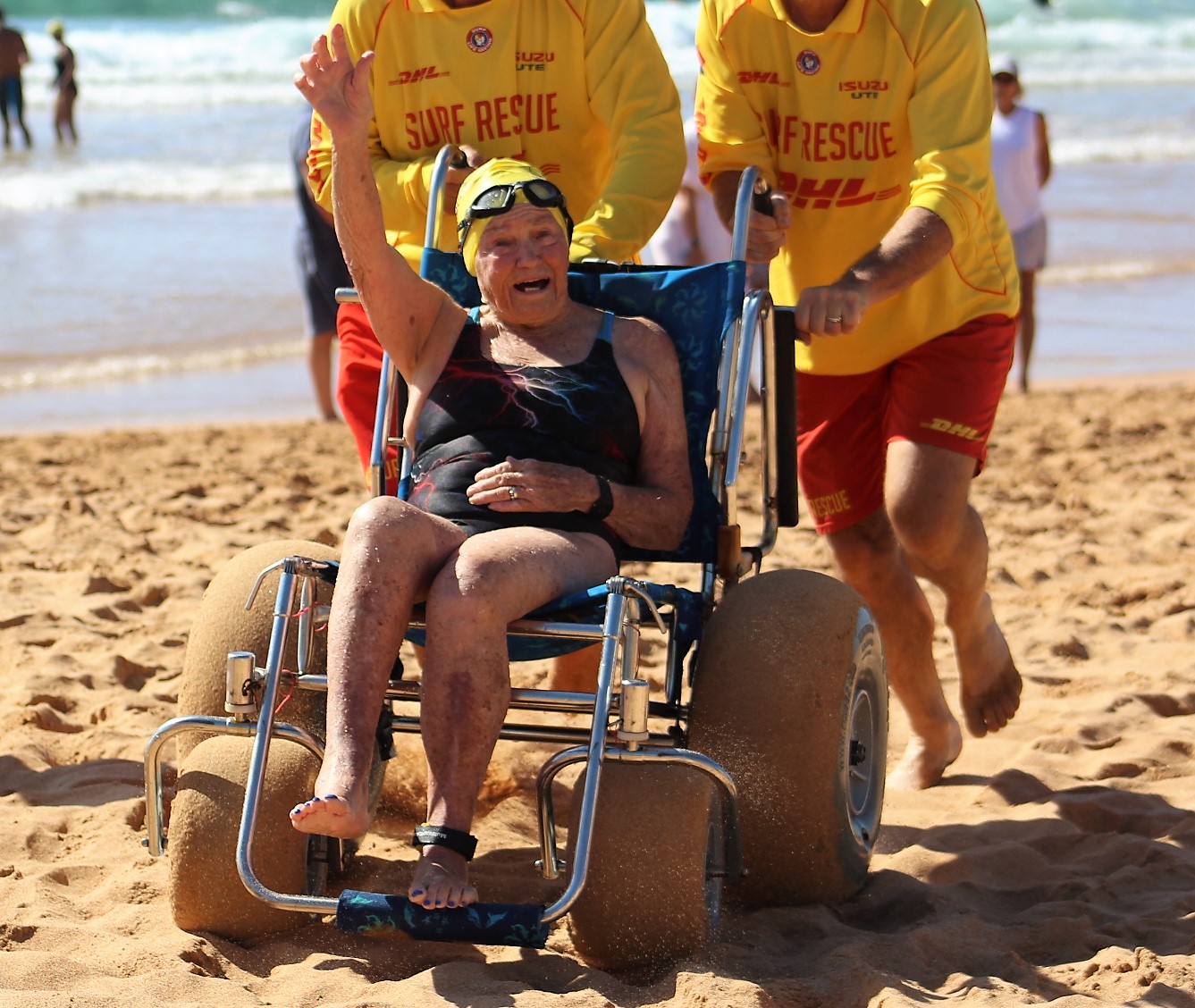 Virginia Head in the Bilgola SLSC Beach Wheelchair at their Ocean swim in January - Virginia can still swim well but the sand can be a challenge
Another local awarded for a long-term commitment to others was Cooper Chapman who was named the Reeftip Great Good Award winner for The Good Human Factory.
The Good Human Factory was founded by professional surfer, Cooper Chapman in 2020.
After watching his sister lose multiple friends to suicide in her last year of high school, he had to do something about it, so The Good Human Factory was born.
The Good Human Factory aims to inspire their community and workshop participants to think about mental health a little differently. Their message is that mental health is not mental illness, and we all need to become aware of – and take care of – our mental health.
The Good Human Factory provides their audience with the tools to continually grow and improve their quality of life through science-backed skills such as mindfulness, gratitude, kindness, empathy, and taking responsibility.
Their high school workshops have been well received by over 20,000 students and 2000 corporates since 2020. They have also built a highly respected team of ambassadors with some of the world's best young athletes to help spread their message and make mental health cool and relatable for high school students.

Two wonderful human beings doing great things in the local community and further afield.
The new Surf School of the Year award went to Maroochy Surf School and Warren Smith took out the Peter Troy Lifetime Achievement award. While former Surfing Australia CEO, and Chief Executive of Surfing WA, Mark Lane received Surfing Australia Life Membership.
Perth-born, Mr Lane has had a significant impact on surfing in Australia for more than three decades, though the encouragement, promotion, and administration of the sport.
He has been actively involved in introducing first time participants to the sport all the way through to coaching, managing, and assisting athletes in National Teams and World Championship Tour events. He's raised tens of millions of dollars to support the development of a WCT Men's and Women's surfing event in WA and was a driving force behind the decision and negotiation for the WSL to hold two WCT events in WA in 2021, a Covid-ravaged year. Among his many other achievements, Mr Lane established WA's first and Australia's third Surfing Museum - The WA Surf Gallery and helped obtain a new home for Surfing WA.
Mr Lane was the chief executive of Surfing WA from 2000 to 2006 before becoming chief executive of Surfing Australia from 2006 to 2009. He subsequently returned to his role as chief executive of Surfing WA from 2010 a role he continues in today.
An avid surfer himself, Mr Lane's reputation amongst his peers is one of utmost respect. In their words, Surfing in Australia would not be where it is today without his endless effort. He is also highly regarded for his dedication to charity work.
Mr Lane said: "I am deeply honoured to receive this award and very appreciative of the recognition.
"It's been an incredible privilege to work in the surfing industry over the past 35 years. When I first started, full-time jobs in surfing were extremely rare, so not only am I grateful to have an enduring career in an industry that I love, but also to feel like I've made a difference along the way."
Surfing Australia Chair, Layne Beachley said: "Mark Lane's impact has been felt across every level of the sport during his 30+ years of dedicated and distinguished service. Passionately driven to increase participation, provide quality coaching and manage World Championship events, Mark's legacy runs deep and wide through his encouragement, promotion and administration of Surfing in Australia. As the recipient of a Lifetime Achievement Award it's only befitting we elevate, recognise and honour his incredible career with Lifetime Membership. I wholeheartedly congratulate him and I look forward to celebrating his achievements at the Australian Surfing Awards next month."
Life Membership of Surfing Australia is recognition of a person who has rendered distinguished or special service to the sport of surfing at the national level. It is awarded from time to time when the Surfing Australia Board and the Annual General Meeting of members believe it is warranted.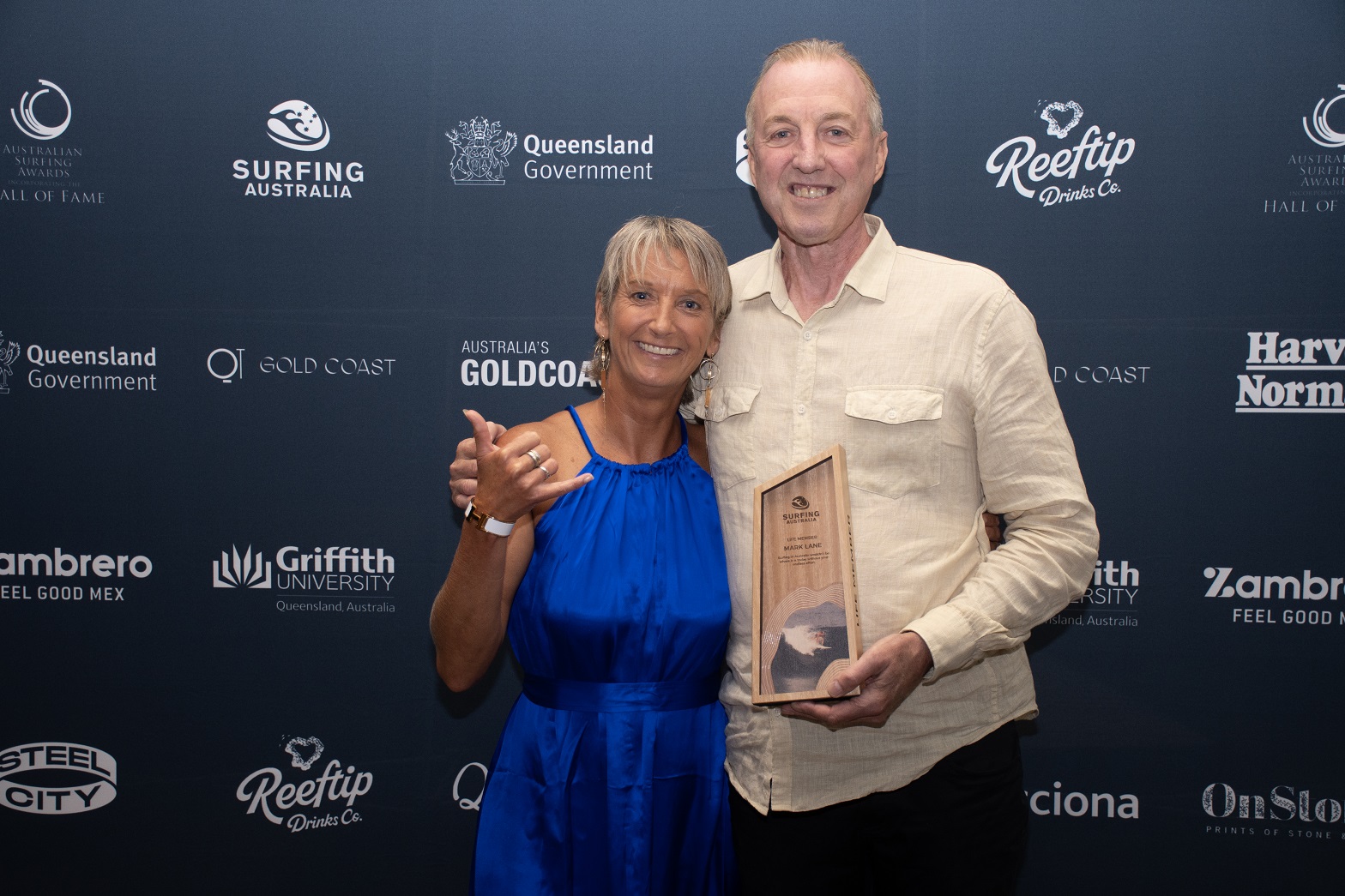 Surfing Australia Chair, Layne Beachley and Mr Lane

The 39th Australian Surfing Awards also inducted Taj Burrow into the Hall of Fame this year.
Taj follows in the footsteps of Joel Parkinson, who was inducted last year.
Australian Surfing Awards Curator Nick Carroll said Taj Burrow has been one of the most creative and successful Australian surfers of the past 30 years.
"Taj was born in Yallingup, Western Australia and was destined to surf - both his parents surfed, and took turns looking after baby Taj on the beach. As a teen wonderkid he qualified for the top tier of the world tour, only to knock it back in favour of a year's training in heavy surf to prepare himself. He went on to a spectacular innings on the Championship Tour, competing for 18 years, winning 12 majors and over $10 million in prize money and ranking second in the world twice.
"Taj has marked his surfing life in many other ways than competition. His brilliant creative performance style influenced a whole generation of kids worldwide and he is an enthusiastic backer of youth surfing - his "Taj's Small Fries" junior event, held in Yallingup each year, is a mainstay of grommet-world."
Taj retired from professional surfing in 2016.
Surfing Australia CEO, Chris Mater said: "It's a pleasure to welcome Taj as our 45th Australian Hall of Famer. Starting out as a child surfing prodigy he went on to have one of the most incredible surfing careers ever. A surfer that could do it all and always with style to burn. Congrats."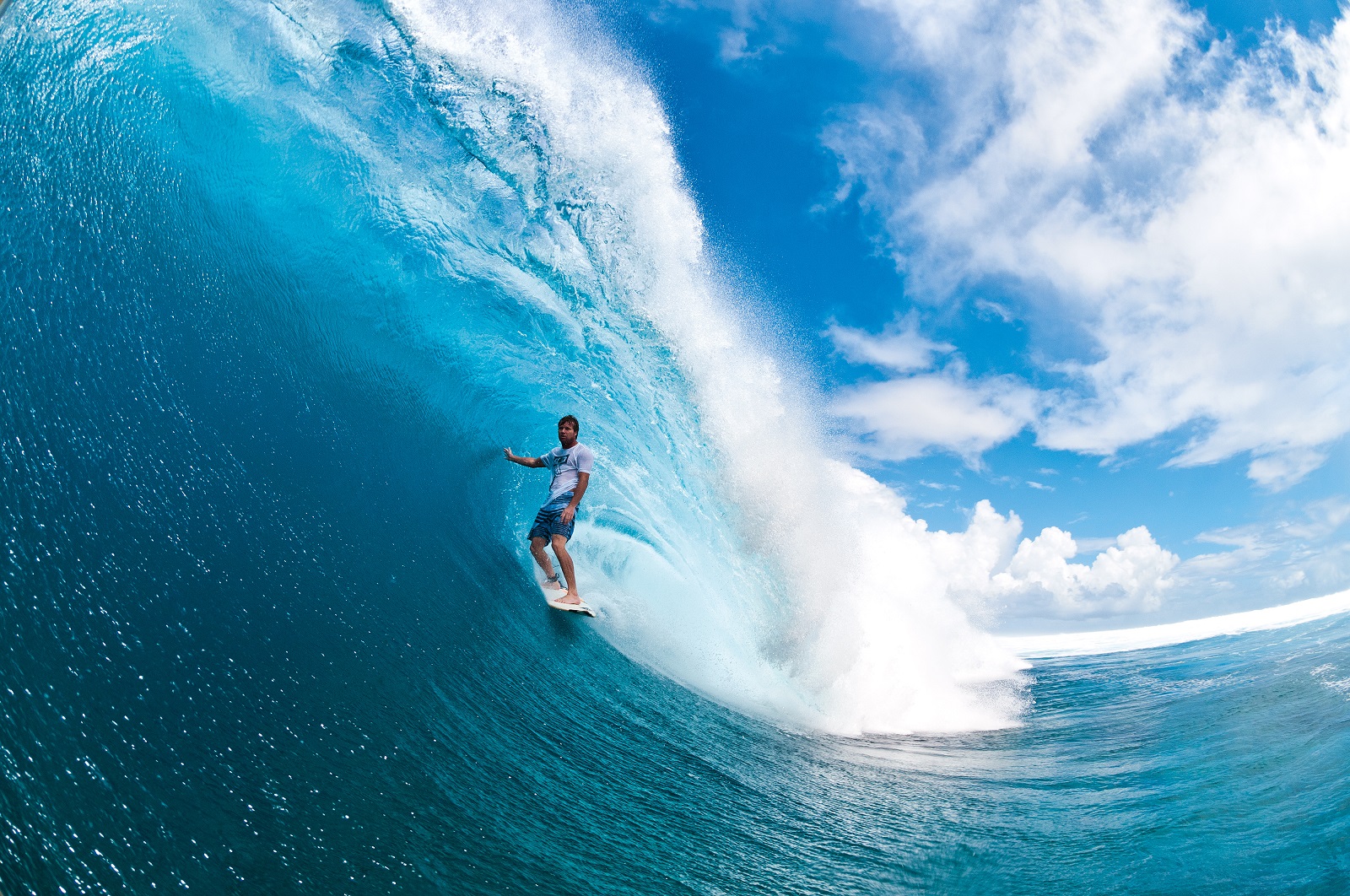 Taj Burrows. Photo: Andrew Shields

2022 Australian Surfing Awards Incorporating The Hall of Fame WINNERS:
MALE SURFER OF THE YEAR - The Australian surfer who has pushed performance boundaries and captured the surfing public's imagination more than any other over the past year.
Jack Robinson
HARVEY NORMAN FEMALE SURFER OF THE YEAR - The Australian surfer who has pushed performance boundaries and captured the surfing public's imagination more than any other over the past year.
Stephanie Gilmore
GRIFFITH UNIVERSITY MALE RISING STAR - The Australian junior surfer (18 and under) whose surfing performances in the past year, along with his and her character, hint at future greatness.
Willis Droomer
GRIFFITH UNIVERSITY FEMALE RISING STAR - The Australian junior surfer (18 and under) whose surfing performances in the past year, along with his and her character, hint at future greatness.
Sierra Kerr
MALE PARA SURFER OF THE YEAR - The Australian Para surfers whose achievements both in and out of the water have set new standards for this evolving area of surfing.
Jack Jackson
FEMALE PARA SURFER OF THE YEAR - The Australian Para surfers whose achievements both in and out of the water have set new standards for this evolving area of surfing.
Emma Dieters
HEAVY WATER AWARD - The Australian surfer, male or female, who in the past year has most pushed the boundaries of big wave riding in or out of competition.
Matthew Formston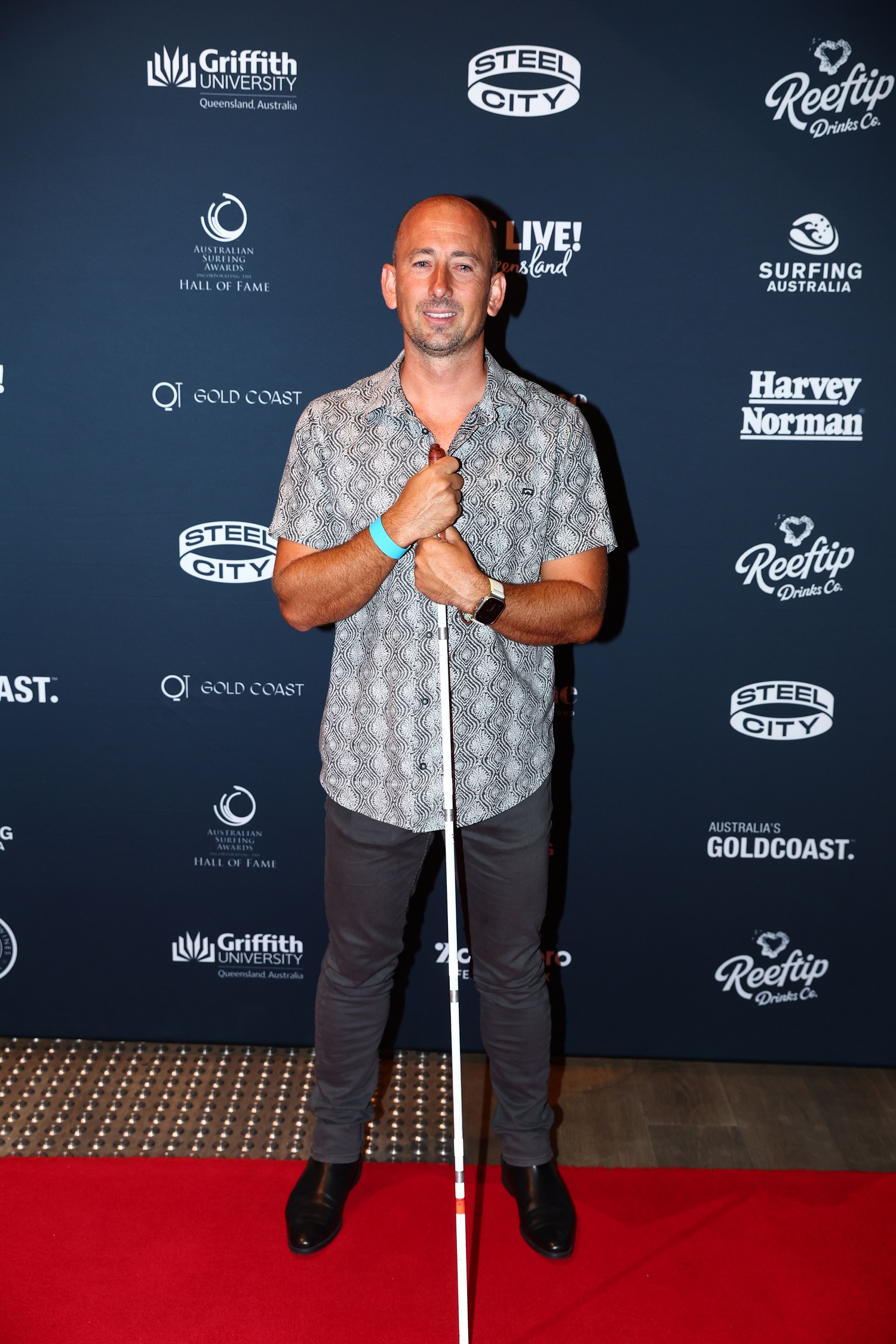 Matt Formston

REEFTIP GREATER GOOD AWARD - The person or group who in the past year has given back to Australian surfing through extraordinary results in a charitable, humanitarian, environmental, or philanthropic cause
Cooper Chapman - The Good Human Factory
PETER TROY LIFETIME ACHIEVEMENT AWARD - The person who has given his or her life over to surfing, and in doing so has enriched the lives of other Australian surfers over time.
Warren Smith
RUFFIE COACH OF THE YEAR AWARD - The person who in the past year has, through his or her capability, influence and effort, made a significant contribution to enhancing other Australians' surfing skills at any level of the sport.
Tom Whittaker
SURF SCHOOL OF THE YEAR AWARD - Recognising Surf Schools providing outstanding learn-to-surf programs connecting both our local surfing community and providing a development pathway for future opportunities within local boardrider clubs.
Maroochy Surf School
ACCIONA INNOVATION AWARD - The person or group who in the past year has produced a significant innovation in a field directly related to surfing, with the potential to benefit many or all Australian surfers.
Garmin Instinct Solar - Surf Edition
ZAMBRERO SURF CULTURE AWARD - The person or group who in the past year has produced creative work that best captures and explores a quintessential aspect of Australian surfing culture. Entries may include (but are not limited to) books, art and design, documentaries of all kinds, articles and features both online and print, degree theses, events, festivals, and exhibitions.
Legends of Surf 72 - Andrew McKinnon, Karen Neilsen, Rod Brooks
SIMON ANDERSON CLUB AWARD - The Australian boardriders club whose outstanding performances in the water has been matched by contributions of all kinds to the benefit of its wider local community.
Mermaid Nobby's Miami (MNM) Boardriders
WOOLWORTHS INDIGENOUS SURFING COMMUNITY CELEBRATION AWARD - The person or group who in the past year has, through the person or groups capability, influence and effort made an outstanding contribution to the Indigenous Surfing Community.
Macquarie Sports (Macquarie Group)
SURFING AUSTRALIA SURF VIDEO OF THE YEAR
Facing Monsters | Garage Entertainment
SURF PHOTO OF THE YEAR
Ted Grambeau
HALL OF FAME
Taj Burrow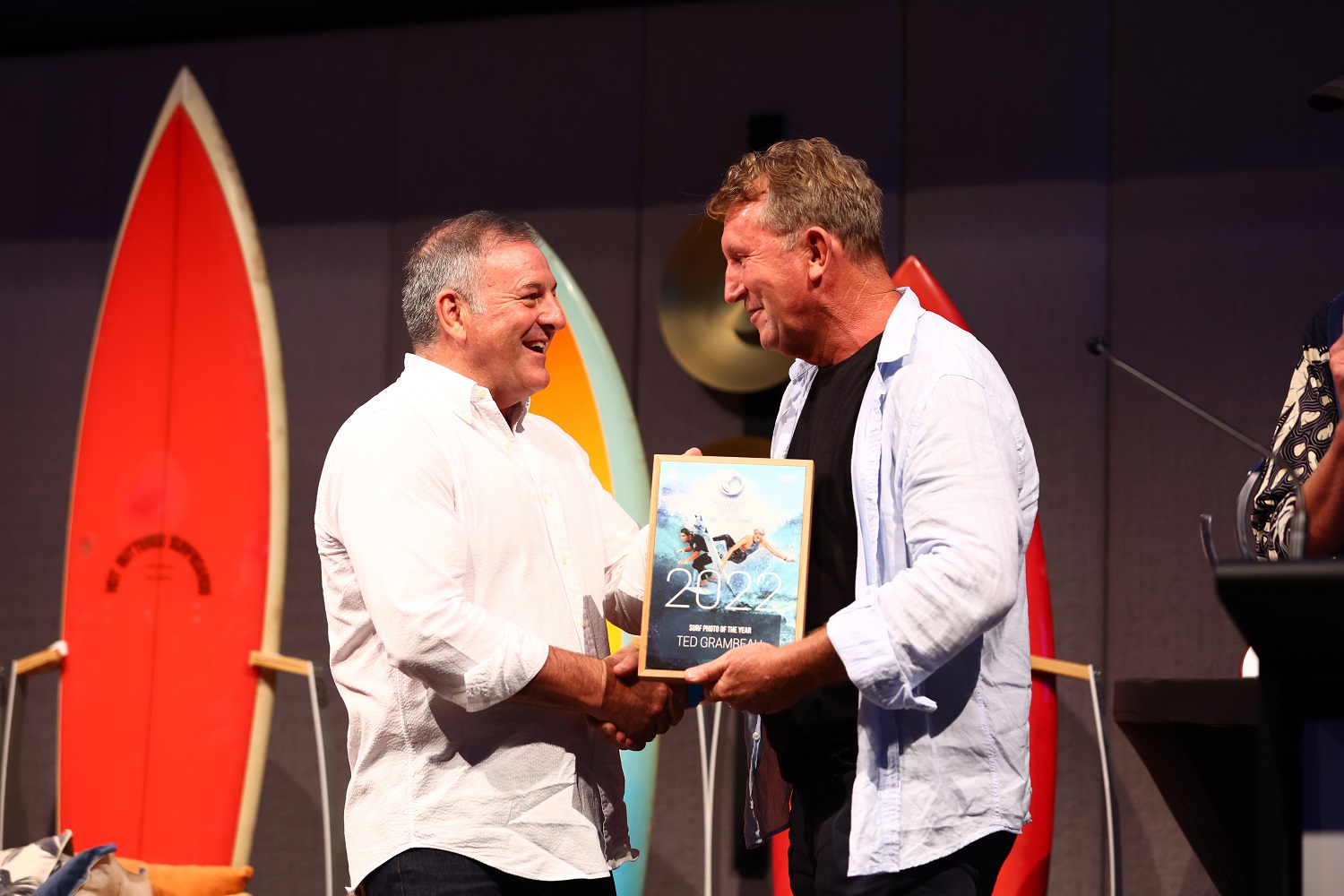 Don O'Rorke presents Ted Grambeau with hs Award for Photo of the year

Photos in report: Surfing Australia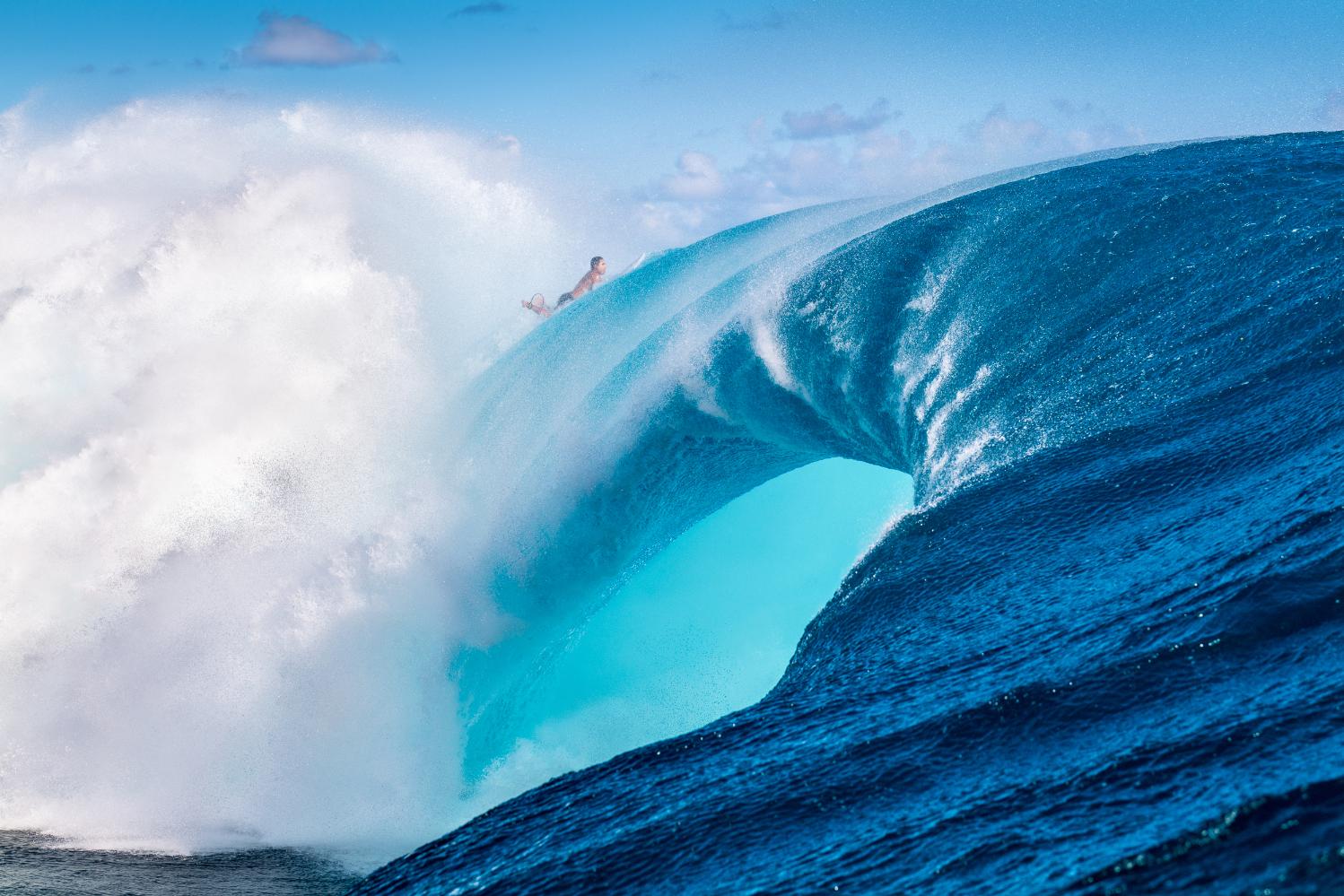 Surf Photo of the Year by Ted Grambeau