April 7 - 13, 2019: Issue 400
Australian Surfing Awards 2019 Winners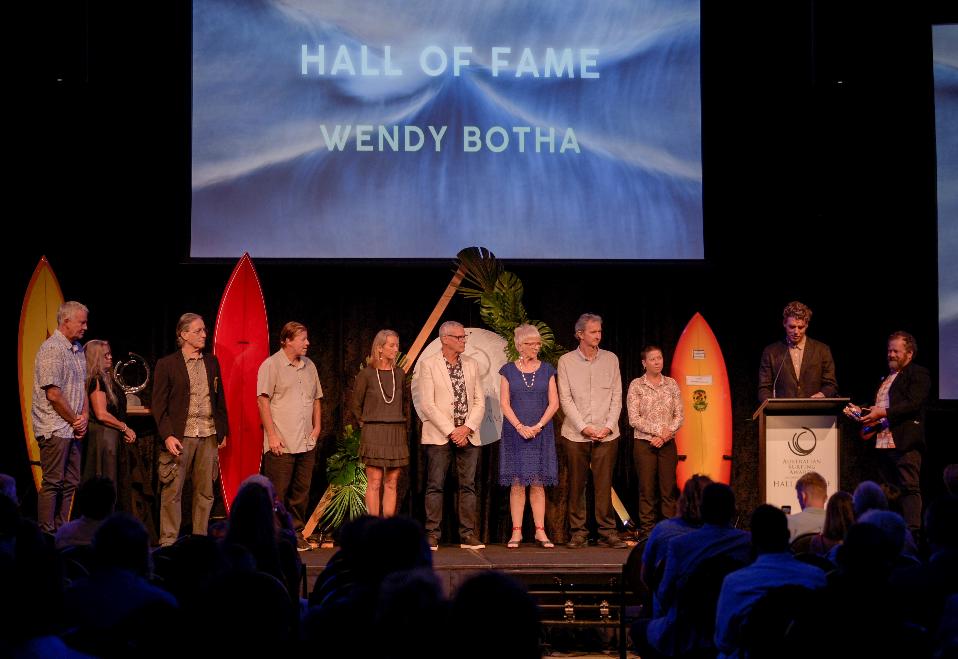 The Australian surfing community gathered on the Gold Coast on Tuesday this week, April 2nd, to honour four time Women's World Champion Wendy Botha who was inducted into the Australian Surfing Hall of Fame.

Powerful and relentless in competition, friendly and warm in person, Wendy Botha defined an era in women's pro surfing competition. At a time when women were struggling to be recognised in the sport next to an all-consuming men's roster, Wendy stepped in to assert her rights — both to world titles and to the attention women truly deserved in the sport.
"It is really an honour to be named amongst these icons," said Botha. "Thanks to all the amazing women surfers that came before me, without their determination and resilience we wouldn't have had the opportunity to be apart of this incredible sport of surfing."
Wendy was born and raised in East London, South Africa, where she grew up surfing Nahoon Reef. Her determination can be gauged by the fact that Nahoon Reef was around ten kilometres from her home. She would set out walking to the beach, hoping for a ride, and often finding one from the local crew who would see her hiking along the road.
Like her fellow countryman Martin Potter, Wendy began travelling to surf early in life and moved to Australia soon after turning full-time pro in 1985. This gave her a base from which she was able to fully develop the power surfing approach that became a hallmark of her career, and inspired future champs like Lisa Andersen and Layne Beachley. (It also led to a series of complex knee surgeries, the bane of top pros in the 1980s.) She won her first world title in 1987, became an Australian citizen soon afterwards, and went on to crush three more titles in magnificently fierce style. Her seven tour victories in 1989 is a women's CT record that may never be matched.
Botha's induction as the 41st member in the Australian Surfing Hall of Fame was one of a number of presentations as part of the 2019 Australian Surfing Awards at QT Gold Coast.
After taking a record-equaling seventh world title in 2018, Stephanie Gilmore was always going to be hard to beat, winning Female Surfer of The Year. After a battle that went all the way to the wire in Hawaii, Julian Wilson took home top honours as Male Surfer of the Year. Young Avoca phenom Caleb Tancred and Cabarita's Zahli Kelly won the Male and Female Rising Star Awards.
South Coast charger Russell Bierke won his first Heavy Water Award. Russell had a break out season on the World Surf League (WSL) Big Wave Tour, cementing himself as one of the elite in world big wave riding.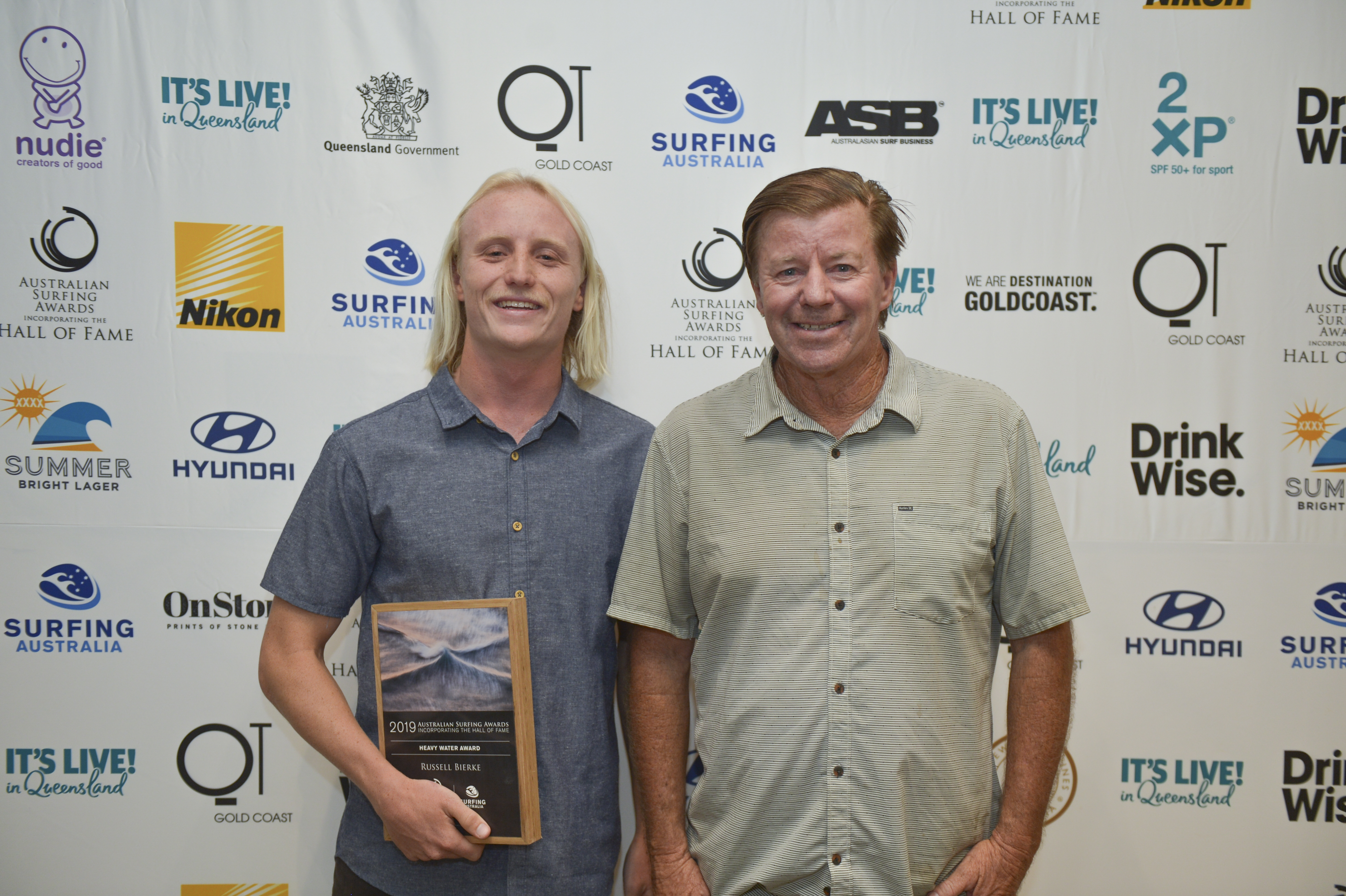 The Peter Troy Lifestyle Award which is presented to the person who has given his or her life over to surfing, and in doing so has enriched the lives of other Australian surfers over time was awarded to Al Hunt. Having overseen the careers of almost all of Australia's champions, Al is a living legend of the sport of surfing.
The ASB Greater Good Award was taken out by Patagonia's Fight For the Bight Alliance who early this year led a petition with their latest campaign "Big Oil Don't Surf "of surf brands opposing drilling in the Great Australian Bight.
The Surf Culture Award for a project that captures and explores a quintessential element of Australian surfing culture was won by "Never Town" whilst the Simon Anderson Club Award was taken out by Noosa Boardriders Club.
Stu Gibson's committed and dramatic water angle of Mikey Brennan at Shipstern's Bluff was named the Nikon Surf Photo of the Year while Chippa Wilson's 'Number 4 – Octopus' took out the Nikon Surf Video of the Year.
The winner of the Nikon Surf Video of the Year Award will receive the new Nikon Z 6 kit while the winner of the Nikon Surf Photo of the Year Award will take home the new Nikon Z 7. Each will come with the new Nikkor Z 24-70mm f/4 S and FTZ adapter.
2019 Australian Surfing Awards Incorporating The Hall of Fame Winners List:
Male Surfer
Julian Wilson
Female Surfer
Stephanie Gilmore
Rising Star - Male
Caleb Tancred
Rising Star - Female
Zahli Kelly
ASB Greater Good Award
Patagonia & Fight For the Bight Alliance
Heavy Water Award
Russell Bierke
Peter Troy Lifestyle
Al Hunt
Simon Anderson Club Award
Noosa Boardriders Club (Qld)
Surf Culture Award
Sean Doherty, "Never Town"
Nikon Surf Video of the Year
Octopus – Chippa Wilson
Nikon Surf Photo of the Year
Stu Gibson - Mikey Brennan
World-renowned Surf Journalist Nick Carroll continues in the role of Curator of the Australian Surfing Awards incorporating the Hall of Fame.
Operated with the support of Tourism and Events Queensland, the Australian Surfing Awards is renowned for recognising the best in surfing talent.
The Australian Surfing Awards incorporating the Hall of Fame is proudly supported by Tourism and Events Queensland, QT Gold Coast, Nikon, nudie, Hyundai, Australasian Surf Business Magazine, 2XP, XXXX Summer Bright Lager and DrinkWise.