April 3 - 9, 2022: Issue 533
New look Australian Sailing Team prepares for Princess Sofia Trophy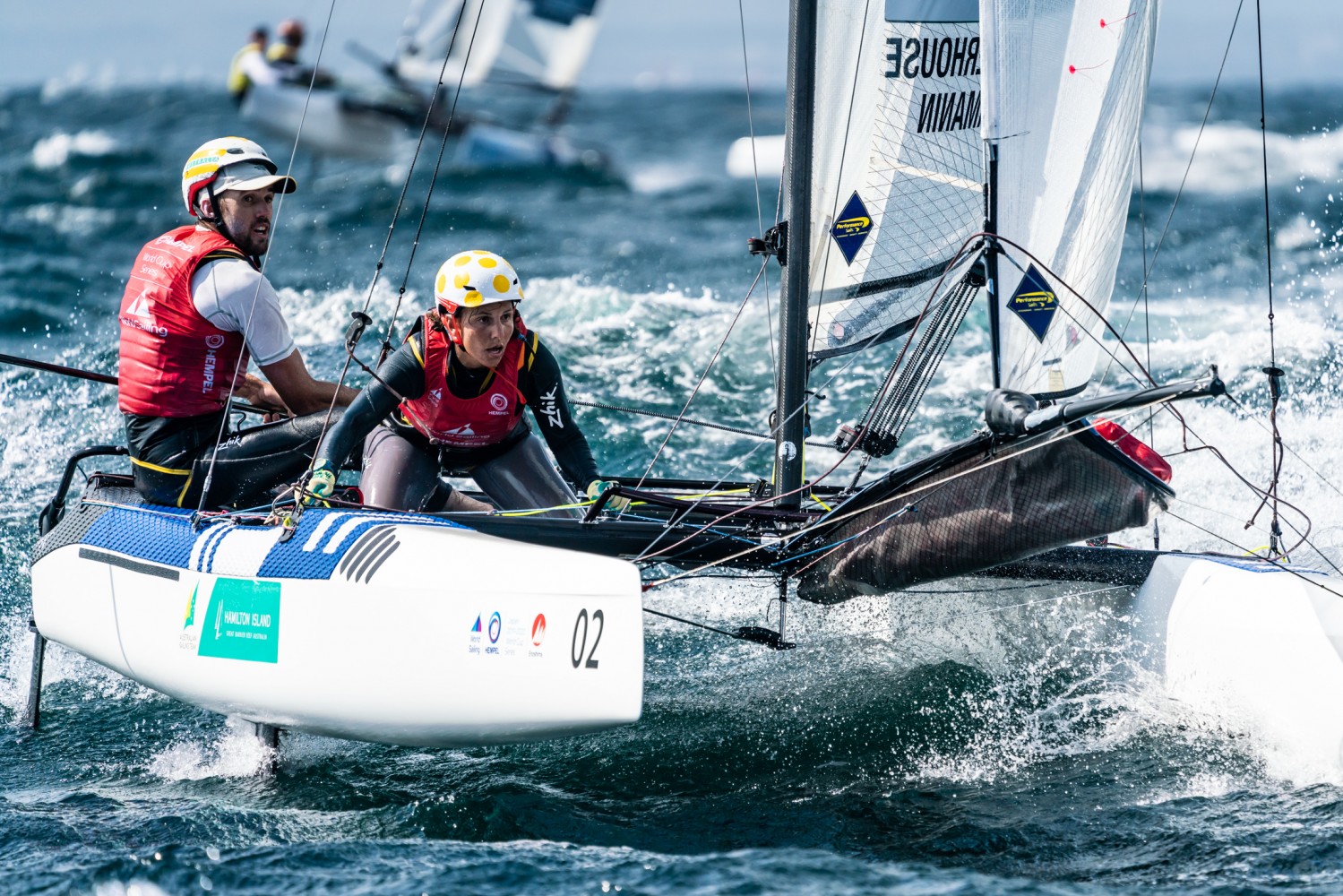 Jason Waterhouse and Lisa Darmanin won at Palma in 2019. Photo credit: Beau Outteridge
Tokyo Olympic gold medallist, Matt Wearn OAM, heads the Australian Sailing Team (AST) and Australian Sailing Squad (ASS) line-up for the Princess Sofia Trophy in Palma, Mallorca from 1-9 April, when competitors from around the globe meet for the first all-classes international Olympic regatta to be held since 2019.
The 51st edition of the Spanish regatta marks the international unveiling of three new classes and the return to Olympic classes sailing for Olympians with their sights set on the 2024 Paris Games.
Joining 'Wearny' in the ILCA 7 (formerly Laser) competition is Luke Elliott, Ethan McAullay, Finn Alexander and Zac Littlewood who earned AST selection with his recent Under 21 ILCA 7 World Championship win, in a class that Australia has produced Olympic Gold at the past three Games by as many sailors.
Tokyo Olympian, Mara Stransky, heads a strong field in the ILCA 6 (formerly Laser Radial). She will be joined in Palma by Zoe Thomson and Elyse Ainsworth, along with Victorian Institute of Sport athlete Casey Imeneo. The four will push each other hard all the way, as they did for Tokyo selection.
Rio Games silver medallists in the Nacra 17, Jason Waterhouse and Lisa Darmanin, are one of the teams to beat in the class, having won at Palma in 2019. The cousins finished fifth at the Tokyo Games and will be joined in Palma by Lucy Copeland who will sail for the first time internationally with skipper Jake Liddell.
Returning to the 49er fleet are the teams of Tom Needham and Joel Turner, and Jim Colley and Shaun Connor. New to the ASS are the Sydney-based team of Jack Ferguson with Max Paul. Australia's Tokyo representatives in the class are not currently campaigning, so these teams will see this as a chance to stake their first claim for Paris selection.
Tokyo Games campaigner Annie Wilmot is back in the 49erFX with new sailing partner Laura Harding, while London 2012 match racing silver medallist, Olivia Price, returns from a two-Olympics hiatus to contest the class with Evie Haseldine.
Three new classes for the Paris Games make their international debut in Palma: 470 Mixed, Formula Kite and iQFOiL. Australia is represented in all three.
From the defunct Men's and Women's 470 dinghies, Chris Charlwood and Amelia Catt have teamed up for the 470 Mixed, as have Nia Jerwood and Conor Nicholas. At Sail Melbourne in January, the two teams finished first and second respectively.
Townsville siblings Breiana and Scott Whitehead make their Olympic classes regatta debut in Palma. Brimming with the confidence of youth, the pair are ready to make an impact in this exciting class.
iQFOiL sailors Grae Morris and Caelin Winchcombe also make their Olympic classes regatta debut in Palma. The two are being coached by Arthur Brett who mentored Laser legends Michael Blackburn and Tom Slingsby at the Athens and Beijing Olympics respectively.
Morris, from NSW, has come up through RS:X and Techno 293 sailboards and placed third in the latter at the 2019 Worlds. Western Australia's Winchcombe has travelled a different route through the ILCA 7 and won the 2017 Australian Youth Championship. He has made an excellent transition to the iQFOiL.
Morris has so far had the upper hand in Australian regattas, beating Winchcombe to win at Sail Melbourne 2022 and the Australian iQFOiL Championship. Sailing against a large international fleet in Palma will be a new concept for both.
Australian Sailing Team High Performance Director, Iain Brambell OLY, said from Palma: "The Australian Sailing Team is keenly optimistic and excited to be returning to big fleet international racing. There is an immense vibe of positive energy within the boat park, with many athletes returning to international competition for the first time since the Covid-19 closer.
"Those who raced in Tokyo are looking to advance on their experiences and performances from Enoshima," he said.
"We have a strong contingent of Australian sailors in Palma, all focused on getting their individual and collective team campaigns off on the right footing to Marseille and the 2024 Paris Games."
New look coaching staff
A new-look coaching staff is led by High Performance Director, Iain Brambell OLY, who was appointed to the role in November 2021, while Michael Blackburn has moved up from his gold medal winning ILCA 7 coach position to Technical Director.
Returning coaches are Arthur Brett, who shifts from success as an AST ILCA 7 coach to National iQFOiL coach. Darren Bundock returns as National Nacra 17 coach, having taken Jason Waterhouse and Lisa Darmanin to Silver at the Rio Games and fifth in Tokyo. Euan McNicol is back as National 49er coach.
New faces are Carolijn Brouwer and Ben Walkemeyer, who are coaching the ILCA 6 squad. Brouwer, the new National ILCA 6 coach, represented the Netherlands and Belgium at three Olympic Games in three different classes and was named World Sailor of the Year in 1998 and 2018.
Spaniard Victor Paya, the 2020 49erFX World Championship winning coach who coached his team to fourth at the Tokyo Olympics, is now the AST's National 49erFX Coach.
Fellow Spaniard, Rafa Trujillo, coached Jake Lilley to seventh in the Finn class at the Tokyo Games and replaces Michael Blackburn as the National ILCA 7 coach.
The Australian Sailing Team is assembled and training in Palma. Racing gets underway in the Men's, Women's and Mixed Dinghy classes, along with the Men's and Women's Windsurfing classes on Monday 4 April local time. The remaining classes begin their competition on 5 April.
Follow the regatta at: https://www.trofeoprincesasofia.org/en/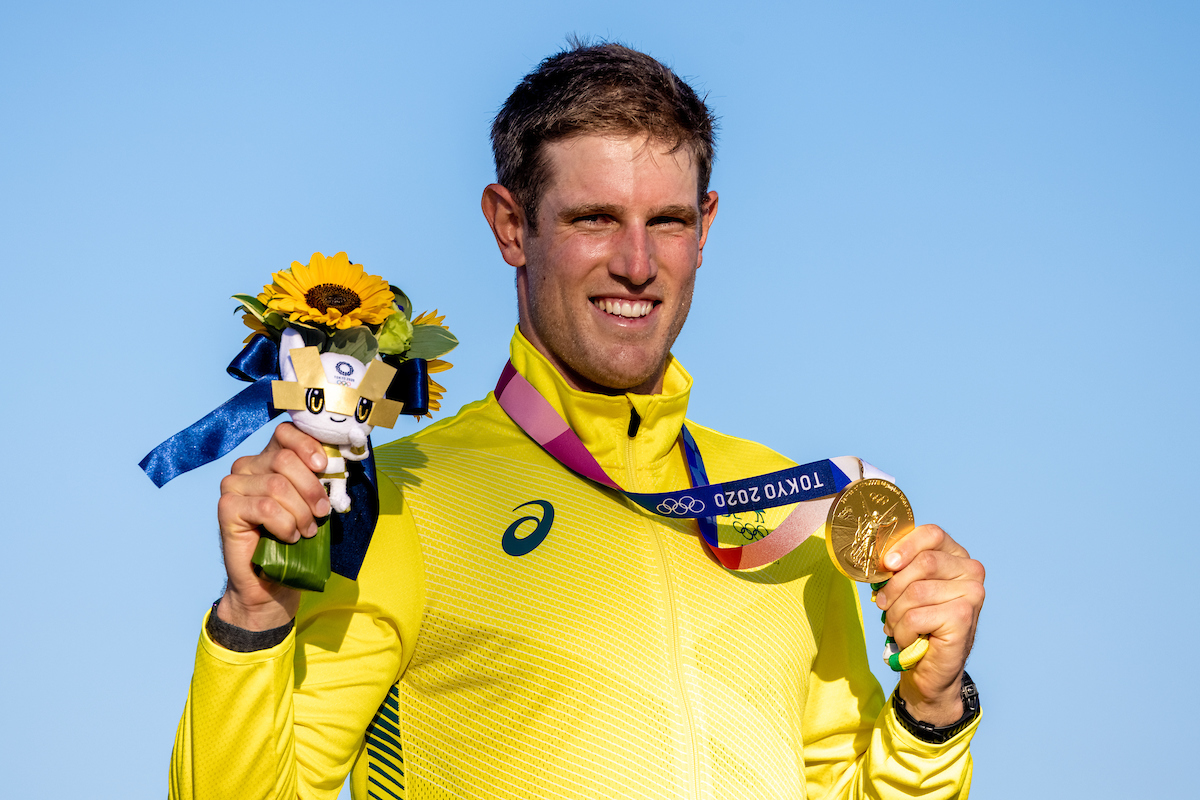 Matt Wearn OAM with his gold medal in Tokyo - photo courtesy Australian Sailing

Australian Sailing Team and Australian Sailing Squad entries:
470 Mixed
Chris Charlwood and Amelia Catt (ASS)
Nia Jerwood and Conor Nicholas (ASS)
49er
Jim Colley and Shaun O'Connor (ASS)
Jack Ferguson and Max Paul (ASS)
Tom Needham and Joel Turner (ASS)
49erFX
Laura Harding and Annie Wilmot (ASS)
Olivia Price and Evie Haseldine (ASS)
Formula Kite
Breiana Whitehead (ASS)
Scott Whitehead (ASS)
ILCA 7
Matt Wearn OAM (AST)
Luke Elliott (AST)
Zac Littlewood (AST)
Finn Alexander (ASS)
Ethan McAullay (ASS)
ILCA 6
Mara Stransky (AST)
Elyse Ainsworth (ASS)
Casey Imenio (ASS)
Zoe Thomson (ASS)
iQFOiL
Grae Morris (ASS)
Caelin Winchcombe (ASS)
Nacra 17
Jason Waterhouse and Lisa Darmanin (AST)
Jack Liddell and Lucy Copeland (AST)
By Di Pearson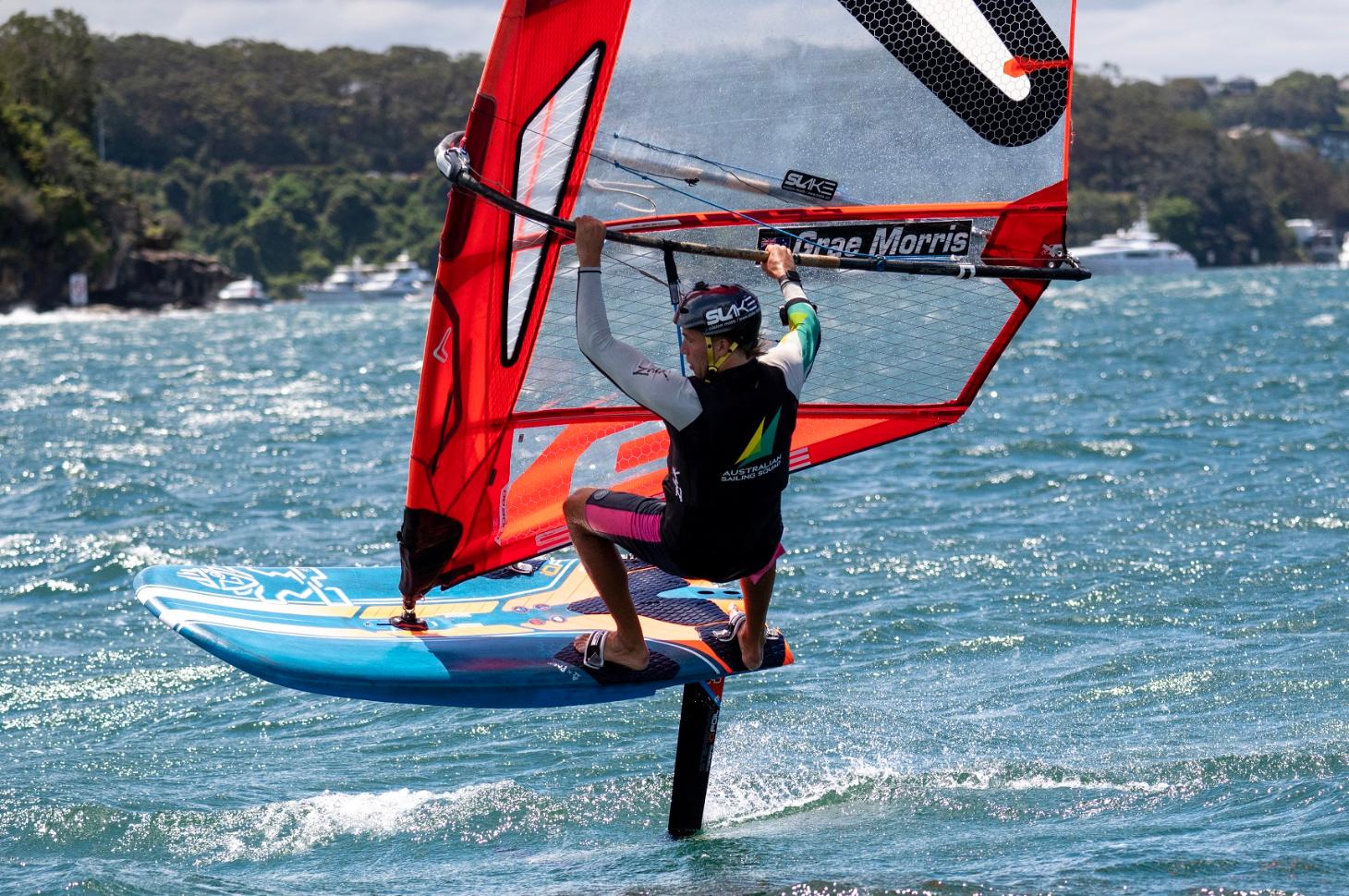 Grae Morris shows his foiling style. Photo: Jon West