May 12 - 18, 2019: Issue 404
Australian Sailing Team: Next stop European Championships in Weymouth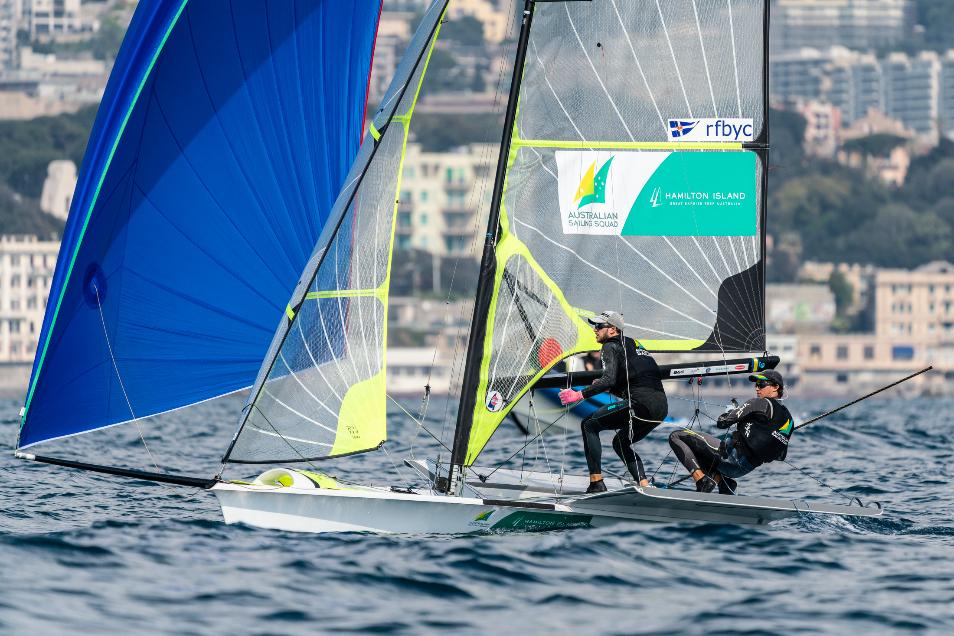 David and Lachy Gilmour in gold medal for in Genoa - Beau Outteridge photo
The Nacra17 class will take to the waters of the London 2012 Olympic sailing venue off Weymouth, England for the 2019 Volvo Europeans. Supported by the R.Y.A., the Weymouth & Portland National Sailing Academy will host fifty-seven foiling Nacra 17 teams hungry to secure national selection as the Tokyo 2020 Games grow ever closer.

From 13-19 May, members of the Australian Sailing Team (AST) will compete at the 49er, 49erFX and Nacra 17 European Championships at Weymouth, home of the London 2012 Olympic Sailing Competition.
Three weeks ago, the Australians competed at the Hempel World Cup Series – Round 3 in Genoa, Italy, the second European event for the season. Coming away with range of results, the best performed were West Australian siblings, David and Lachy Gilmour, who took Gold in the 49er skiff.
As the saying goes, 'you are only as good as your last result', so the pair will have a big job on their hands to come away with the gold medal again. Joining the brothers in Weymouth in the 49er class are Australian teams of Thomas Needham and Joel Turner, along with Kurt Hansen and Simon Hoffman and the Victorian Phillips brothers, Will and Sam.
The Australians will face, among others, reigning world champions and relative newcomers to the class, brothers Sime and Mihovil Fantela (CRO) and the quickly improving Olympic silver (London 2012) and gold (Rio 2016) medallists, Peter Burling and Blair Tuke (NZL), following their recent return to the class.
Tess Lloyd and Jaime Ryan were best of the 49erFX teams in Genoa, finishing 26th, and like the other Australians in the class, still have some work to do to be amongst the best. The pair will be pushed hard by fellow squad members, Natasha Bryant and Annie Wilmot, as well as Amelia Stabback and Caitlin Elks.
Australia's Nacra sailors were not in Genoa, but two pairs competed in April's Princess Sofia Trophy in Palma, where Jason Waterhouse and Lisa Darmanin won Gold. The Rio silver medallists will not be in Weymouth, but Paul Darmanin and Lucy Copeland, who finished 21st in Palma, will. They will be spurred on by brother/sister combination, Nathan and Haylee Outteridge, who are making their first European appearance of this season.
Although he has lacked Nacra 17 competition of late, Nathan Outteridge is no stranger to Olympics or to foiling boats; and possesses 49er gold and silver medals from the London and Rio Games respectively. The NSW Central Coast sailor also has foiling experience from skippering America's Cup boats, Moth competition and the SailGP series, in which he just finished second in San Francisco.
In their most recent Nacra 17 events, the Outteridges finished second at the Hempel World Sailing Championships in Aarhus, Denmark and fourth at the World Cup Series in Enoshima, Japan, which was won by Waterhouse and Darmanin.
Those who sailed at Palma and Genoa will now have to switch their game from the extremely light conditions they mostly sailed in, to those of Weymouth, which have been favourably compared to Australian conditions by competitors at the 2012 Olympic Games and its two Test Events.
"We'll see the Olympic venue at a different time of year – but we expect good wind and a bit of chop. Environmentally, it's much more similar to what we get back in Sydney," Australian Sailing's Performance Director Iain Murray confirmed.
"We had good results at the 2012 Olympics and some of our Olympic prospects have had good things happen there. Nathan Outteridge is returning to where he won his 49er gold medal and Dave Gilmour has sailed there a bit. It will be a good test for us; a mix up after the light conditions of Palma and Genoa.
"Dave could have won Hyeres a year ago and was well placed at last year's Europeans. He has had an up and down history in the last 12 months. With a new boat he sailed well in the light breeze of Genoa. Generally, the good guys are at top of scorecard, so it's up to Dave."
Of the 49erFX teams, Murray said, "We've seen up and down results. The ball is in their court to keep the results up on a more consistent basis. They're a work in progress."
Murray said Emmett Lazich, who coached Outteridge to gold and silver Olympic medals and has been working with him at the SailGP events, will be in Weymouth.
"As the speed king of high performance boats, he will be there to assist the national coaches; Darren Bundock (Nacra 17), Tessa Parkinson (49erFX) and Euan McNicol (49er); and that is a good thing."
Parkinson won 470 Women's Gold with Elise Rechichi at the Beijing 2008 Games, while Bundock won Silver at Sydney 2000 with John Forbes and at Beijing 2008 with Glenn Ashby. McNicol has campaigned a Nacra 17 and 49er for past Olympics and won the 29er Worlds in 2002 and 2005 after placing second in 2000.
Racing in Weymouth starts on 13 May with the Qualifying Series', followed by three days of fleet races, ahead of the Medal Race for the top ten in each of the classes on 19 May. For all fleets, seven Qualifying Series races are required to be completed to constitute a series.
The Australian squad in Weymouth will face the world's best as they campaign towards selection to the 2020 Tokyo Olympic Games.
Full entry list and more information: https://www.rya.org.uk/racing-events/2019-europeans
The Australian Sailing Team in Weymouth comprises:
49er
David and Lachy Gilmour
Will and Sam Phillips
Thomas Needham and Joel Turner
Kurt Hansen and Simon Hoffman
49erFX
Tess Lloyd and Jaime Ryan
Amelia Stabback and Caitlin Elks
Natasha Bryant and Annie Wilmot
Nacra 17
Nathan and Haylee Outteridge
Paul Darmanin and Lucy Copeland
By Di Pearson/Australian Sailing Team media manager