June 26 - July 2, 2022: Issue 544

Australian National Herbarium's

Quest To Digitise 1 Million Plant Specimens
The Australian National Herbarium in Canberra is imaging nearly a million plant specimens using an automated system developed by Netherlands company Picturae.
CSIRO Group Leader for Digitisation & Informatics, Pete Thrall, who oversees digital assets at the National Research Collections Australia, managed by CSIRO, Australia's national science agency, said the project would help inform bushfire recovery and biosecurity.
"Digitising the herbarium is a huge leap forward for sharing specimens for research. As a result, we'll be able to provide information quickly for projects like bushfire recovery and biosecurity," Mr Thrall said.
"Creating a digitised replica also provides security for the herbarium's irreplaceable physical specimens," he said.
Parks Australia imaging manager Ms Emma Toms, located at the Australian National Herbarium, who is coordinating the Picturae project, said the work would be completed over the next 9 months.
"To digitise these specimens in house would have taken us about eight years using a standard camera rig," she said.
"The first step is a visual check of each specimen to ensure it is in good condition and has a barcode to link to its digital record.
"Three people operate Picturae's conveyor belt, which moves specimens under a camera to take a high-resolution photograph. Two people unpack the specimens at the start of the conveyor belt and one person repacks the specimens and checks the photographs for any errors," she said.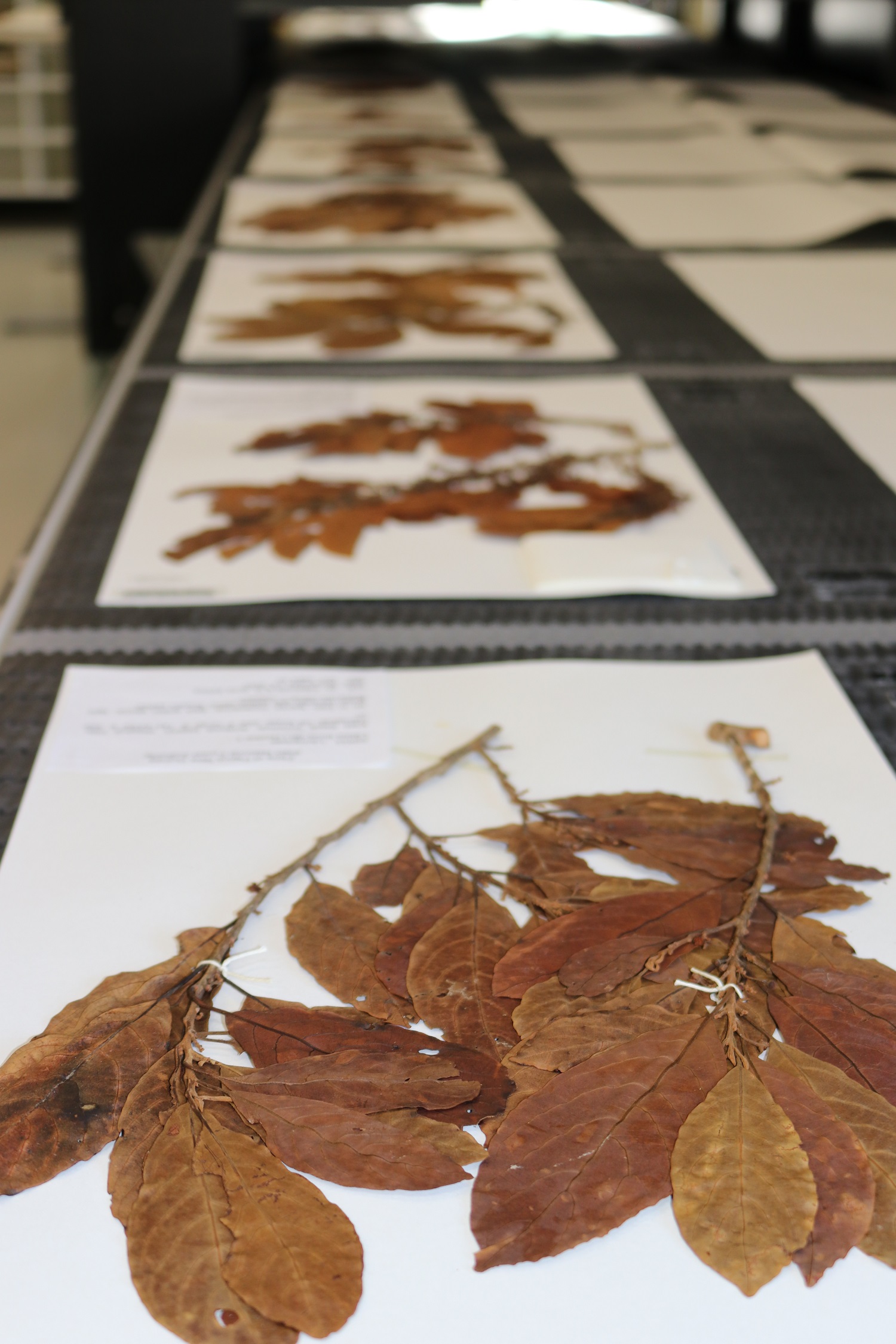 Specimens of plants in the laurel family travelling along the conveyor belt to be photographed. Image courtesy CSIRO

One of the new technologies transforming the utilisation of collections is artificial intelligence (AI).
CSIRO Postdoc Dr Abdo Khamis said machine learning and AI enables researchers to extract trait information from images.
"We can use digitised herbarium specimens to understand how plants are responding to climate change, for example by determining how the reproductive structure of flowers is changing with time," he said.
The team will continue to grow the herbarium's digital assets as more plant specimens from Australia and the region are added to the collection.
"We will have an inhouse digitisation programme once this process is complete, so new specimens will be photographed before they are incorporated into the collection," Emma Toms said.
The full digital collection of the Australian National Herbarium will be made available through the Atlas of Living Australia, including for the general public.
The Australian National Herbarium is part of the Centre for Australian National Biodiversity Research, a joint venture between Parks Australia's Australian National Botanic Gardens and the National Research Collections Australia at CSIRO.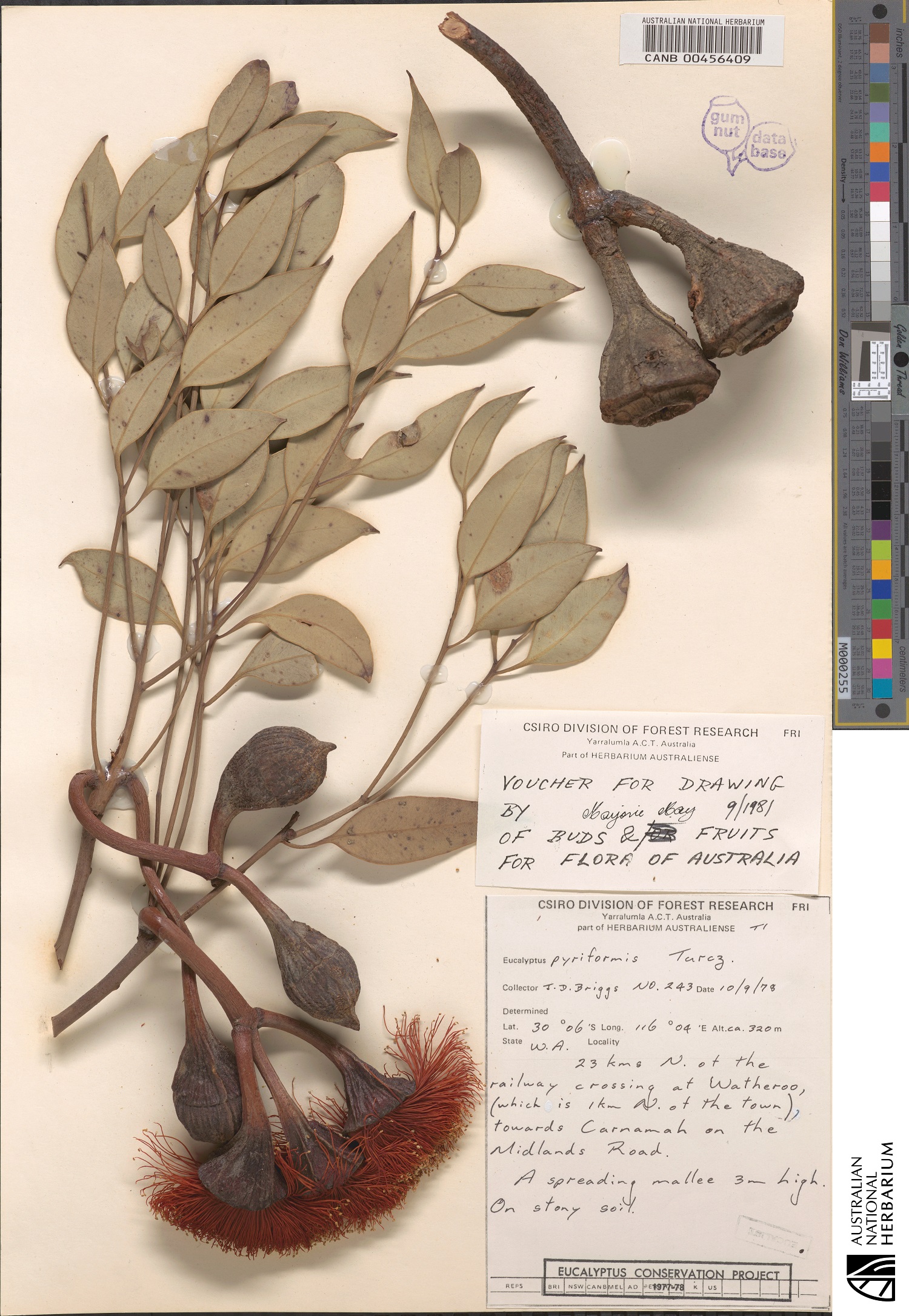 Australian National Herbarium specimen, Eucalyptus pyriformis imaged by Picturae. Image courtesy CSIRO

About the Atlas of Living Australia
The Atlas of Living Australia (ALA) is a collaborative, digital, open infrastructure that pulls together Australian biodiversity data from multiple sources, making it accessible and reusable.
The ALA helps to create a more detailed picture of Australia's biodiversity for scientists, policy makers, environmental planners and land managers, industry and the general public, and enables them to work more efficiently.
The ALA is the Australian node and a full voting member of GBIF – the Global Biodiversity Information Facility – an international network and data infrastructure funded by the world's governments and aimed at providing anyone, anywhere, open access to data about all types of life on Earth.
Vision
To deliver trusted biodiversity data services for Australia supporting world-class research and decision-making.
International leadership
The ALA plays an important role in developing and maintaining international biodiversity data standards. We have membership roles on the Biodiversity Data Standards (TDWG) Executive Committee, Humboldt Core Task Group, Audubon Core Interest Group, Taxon Names and Concepts Interest Group, and the Machine Observations Interest Group.
Our users
The ALA is an essential resource for:
Researchers in the fields of ecology, new species discoveries, systematics (relationships between living things), taxonomy (naming and classification), and digitisation of biological collections
Researchers and practitioners in biodiversity conservation and environmental monitoring, sustainable ecosystem development
Government agencies and land managers responsible for natural resource management and environmental impact assessments
Community and education groups involved in ecoscience education and citizen science activities.
Data standards
The ALA uses the Darwin Core set of standards to mobilise and deliver biodiversity data. Darwin Core is the internationally agreed data standard to facilitate the sharing of information about biological diversity.
Explore at: https://www.ala.org.au/
About the Australian National Herbarium
The Australian National Herbarium (ANH) has more than one million plant specimens, making it one of the largest and most significant plant collections in the country.
The ANH has a national focus with an international reputation for the quality of its collection and its management and dissemination of plant data.
Some of the ANH's specimens were collected during Captain Cook's 1770 expedition to Australia.
These specimens are particularly valuable not just because of their cultural significance, but also because they are a record of the pre-European flora of Australia.
The ANH also houses specimens taken from the Australian National Botanic Gardens and helps to verify the scientific names used in labelling the Gardens' collection of living plants. Specimens are also used for ongoing taxonomic and evolutionary research, population biology and ecological studies.
Groups that are particularly well-represented in the ANH's collections include eucalypts, wattles, lilly pillies, melaleucas, orchids, mosses, lichens, fungi, and plants from Papua New Guinea.
Our research
Our research focuses on the native plants of:
Australia and New Zealand
the south and west Pacific
south-east Asia.
Our scientists use a range of techniques in molecular biology, environmental modelling and community ecology in their research. Plant groups undergoing active research at the ANH include:
eucalypts
orchids
melaleucas
daisies
liverworts and hornworts
lichens.
The ANH operates a loans and exchange program to share plant specimens with Australian and international botanical research institutions.
Although the research collection is not open to the public, we maintain a reference collection to allow interested people to identify their own plant collections.
Tours of the ANH are sometimes offered to special interest groups by request.
The ANH is supported through a partnership between CSIRO and the Australian Government's Director of National Parks.
What is the collection used for?
Coupled with our specialist facilities and expertise, the collection is an important resource for:
classification and naming of plants
examining the evolutionary history of plants
mapping current and past ecological and geographic distribution of plants to help with land management and modelling
studying the changing nature of plant communities over time
invasion biology and weed ecology
building plant identification tools and resources
molecular phylogenetics.