August 14 - 20, 2022: Issue 550
2022 Australian Surfing Championships
The 2022 Australian Surf Championships began on Saturday August 6th with 17 days of action-packed competition. Over 500 surfers have descended on Port Macquarie | Biripi Country in the heart of the NSW mid-north coast for the event.
There are several local surfers among the NSW Team, full list below.
The Australian Shortboard Titles began with the Open Men's and Women's heats.
The Australian Titles were first held in 1963 and won by some other locals, Robert 'Nat' Young and Phyllis O'Donnell.
Phyllis O'Donnell (born 1937) is an Australian surfer who became the first Women's World Surfing Champion in 1964 at Manly Beach at the age of 27, Midget Farrelly being the other First World Champion. At the time, surfing was dominated by men, and her championship was regarded as a step forward for women's recognition in the sport.
Phyllis also won the women's division of the Australian National Titles in 1964 and 1965, as well as 1963.
Although it has been widely reported that O'Donnell began longboard surfing in 1960 when she moved to Tweed Heads, New South Wales with her parents. In fact, her older sister had a boyfriend who surfed and had left his board at their home in Drummoyne, New South Wales when O'Donnell was in her late teens. Already keen bodysurfers at Manly Beach, the two young women took the board to Harbord. O'Donnell concentrated on paddling before taking to her feet. Her teacher was another local legend, Snowy McAlister, the first inductee in the Australian Surfing Hall of Fame, and remained her mentor and friend until he passed away in 1987. Phyllis was inducted into the Australian Surfing Hall of Fame in 1996, the second woman to be honoured, Isabel Letham, another local, being the first in 1993.
"I bought my first board from Nott and Kirby which was the equivalent of getting one from a supermarket but it was a Joe Larkin board that I won the event with." Phyllis said in a 2018
"There were 50,000 people on the beach that day and no one thought I could beat the American champ Linda Benson but I did."
Robert Harold "Nat" Young (born November 14, 1947) grew up in the small coastal suburb of Collaroy, also living at Warriewood. In 1964, he was runner-up in the Australian junior championship at Manly, and two years later was named World Surfing Champion. Nat won the title again (then called the Smirnoff World Pro/Am) in 1970. He won three Australian titles in 1966, 1967 and 1969, and won the Bells Beach Surf Classic three times. Nat ran for the NSW Parliament in the 1986 by-election for the seat of Pittwater after the resignation of Richard Max Smith. He was narrowly defeated by Liberal candidate Jim Longley.
Both now live up on the North Coast of NSW, Phyllis at Pottsville and Nat inland from Angourie, near Nymboida, one of several homes that was lost during the 2019/2020 fires that ripped across NSW. Nat became a wordsmith in the late 1970's, with his most recent book, Church of the Open Sky, 2019, celebrating surfing as a way of life.
2022 marks the 57th Australian Championship event in which NSW has won 34 Men's and 30 Women's Titles.
The 2022 Australian Surf Championships run from 6-22 of August. Details of events are:
Australian Surf Championships | Port Macquarie, NSW August 5 – 22, 2022
August 5 – Opening Ceremony for the Australian Shortboard Titles
August 6 – 10 – Period for the Australian Shortboard Titles (Further division scheduling to follow)
August 10 – Opening Ceremony for the Australian Longboard Titles
August 11 – 19 – Period for the Australian Longboard Titles (Further division scheduling to follow)
August 20 – Australian Para Surfing Titles (All divisions on standby)
August 21 – 22 – Period for the Reflections Holiday Parks Australian Bodyboard Titles
For all event information and updates visit www.australiansurfchampionships.com.

Below run reports by Surfing Australia of what's happened so far.

First 2022 Australian Surf Champions Crowned
August 7th, 2022
Freya Prumm (NSW) and Reef Heazlewood (QLD) are the first 2022 Australian Surf Championships for 2022. Both Prumm and Heazlewood are long-time competitive surfers and first-time Australian Champions.
Finals day of the first event of the Australian Surf Championships was all about heat strategy. The competition was run under small 1-2 foot conditions at beautiful North Haven Beach, south of Port Macquarie.
Freya Prumm (30) from the NSW Far South Coast has been to a number of Australian Championships but was stoked to win her first Title today.
"I'm as frothing as you can be when you surf for 13 years without a big victory," said Prumm after her win.
It was the game-day experience that helped her win her Title today. Under priority Prumm caught a back-up wave on a separate bank to the rest of the field. It gave her the edge she needed to steal the lead from fellow Team NSW surfer Charli Hurst.
"It was tricky out there, especially surfing against the younger girls who have an advantage in small surf but it's not just about surfing, it's about playing the game and it's no secret that I love playing the game," Prumm added.
Reef Heazlewood (22) from Queensland's Sunshine Coast is also no stranger to the Australian Championships. He has won a number of Australian Junior Titles in his time and has now added an Open Title to the list.
"It was tough out there but it makes the win really nice," said Heazlewood.
"I was able to show my competitive skills and stay sharp. There was a set at the start of the heat that I got a seven point ride on and backed it up with an eight towards the end."
Heazlewood pulled out his trademark aerial manoeuvres to impress the judges and stayed busy between the banks to find the highest scoring left-hand waves.
"It was a really fun final. All the boys really pushed each other, there were a couple of stressful moments but that made it a great one to compete in," he added.
Not only do both winners return home with a National Title, but also a cool $4,000 in prize money.
The Australian Shortboard Titles continues this week with the Over 35 through to Over 60 divisions ahead of the Longboard and Logger Titles next weekend. View heat draw for Australian Shortboard Championships.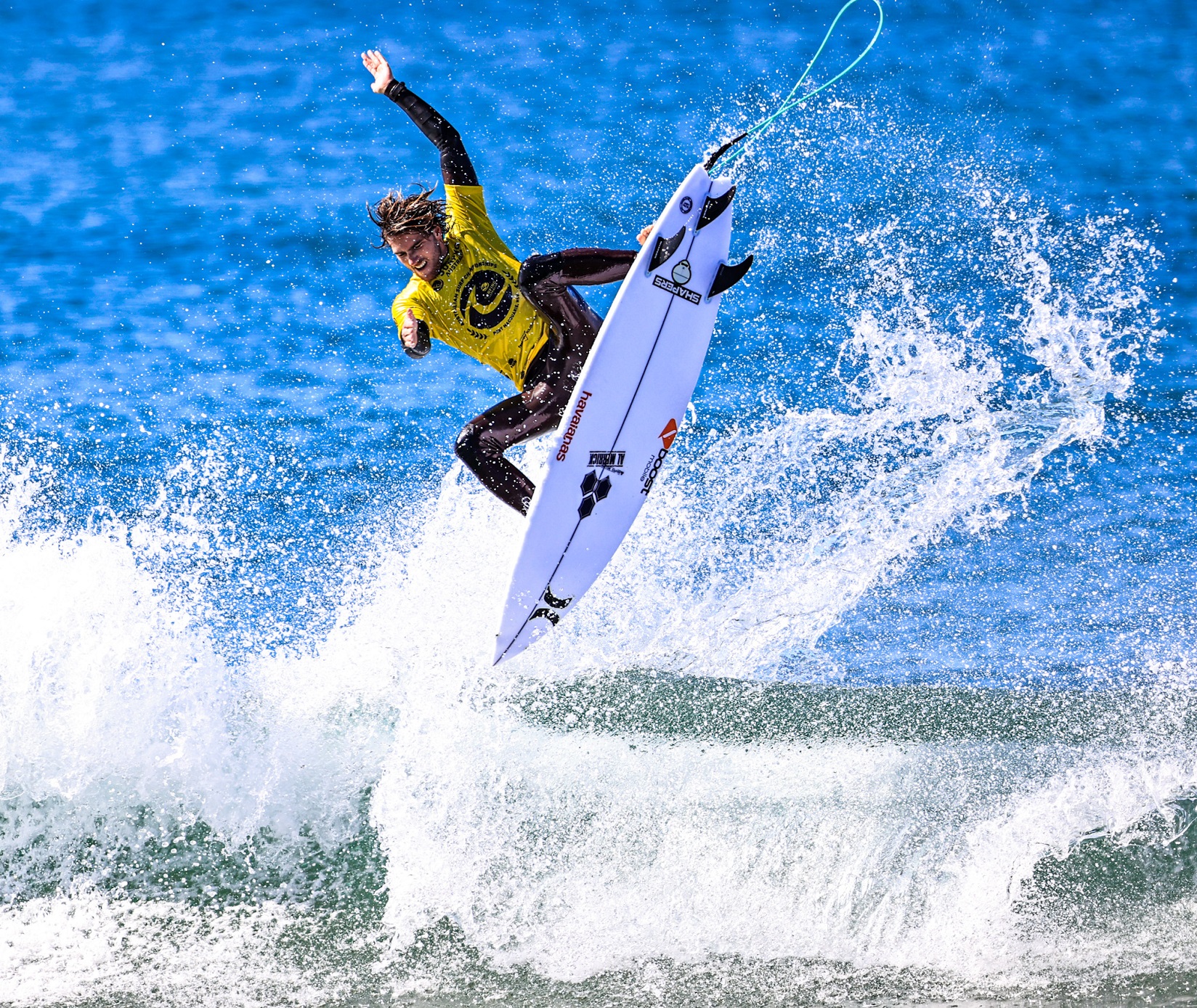 Reef Heazlewood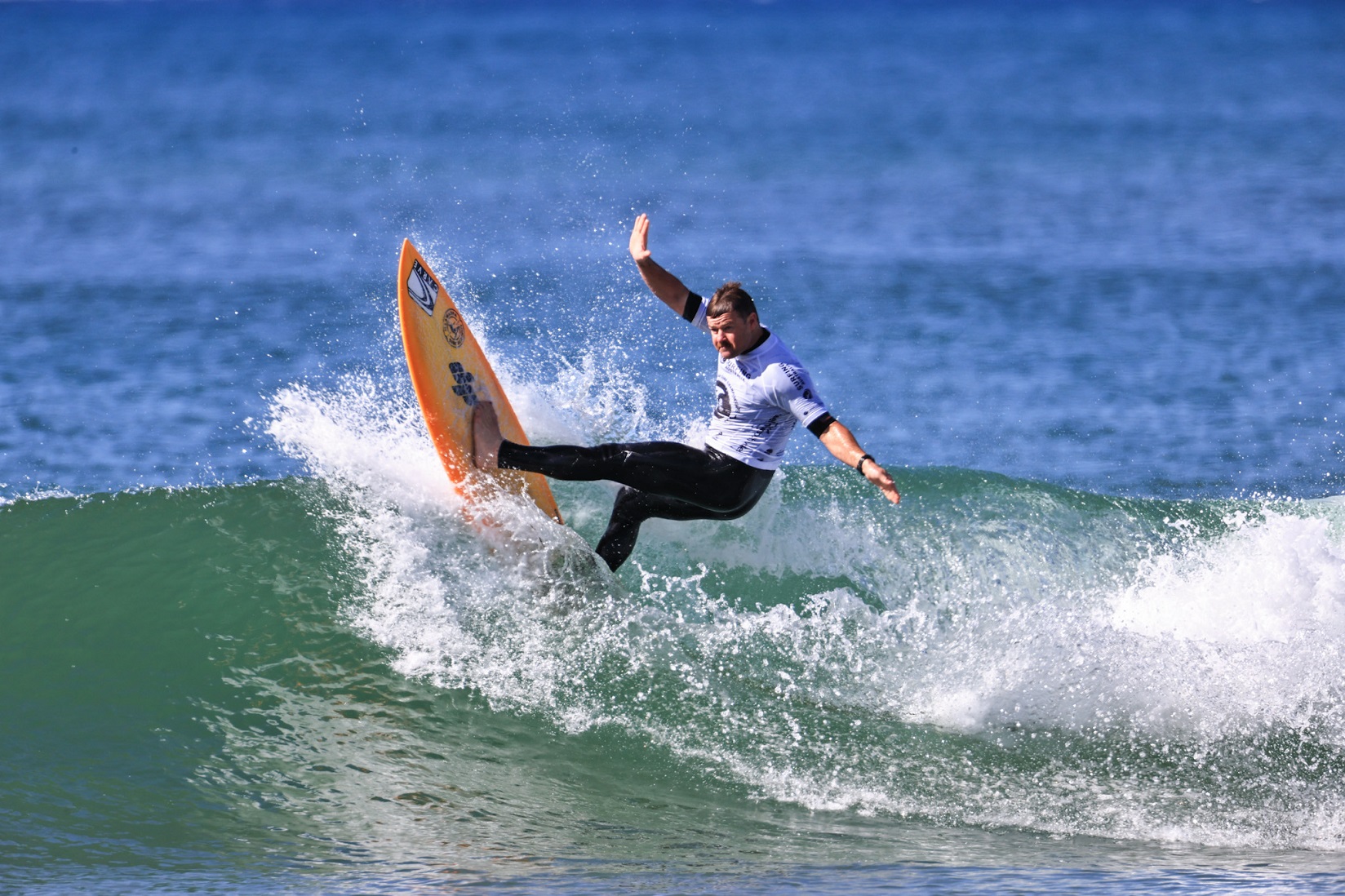 Nic Squires

Open Shortboard Results
Open Men
1st Reef Heazlewood (QLD) 15.5
2nd Micah Margieson (NSW) 11.65
3rd Nic Squires (NSW) 9.6
4th Maddy Job (QLD) 8.55
Open Women
1st Freya Prumm (NSW) 12.4
2nd Charli Hurst (NSW) 11.35
3rd Tru Starling (NSW) 8.15
4th Eva Bassed (VIC) 7.5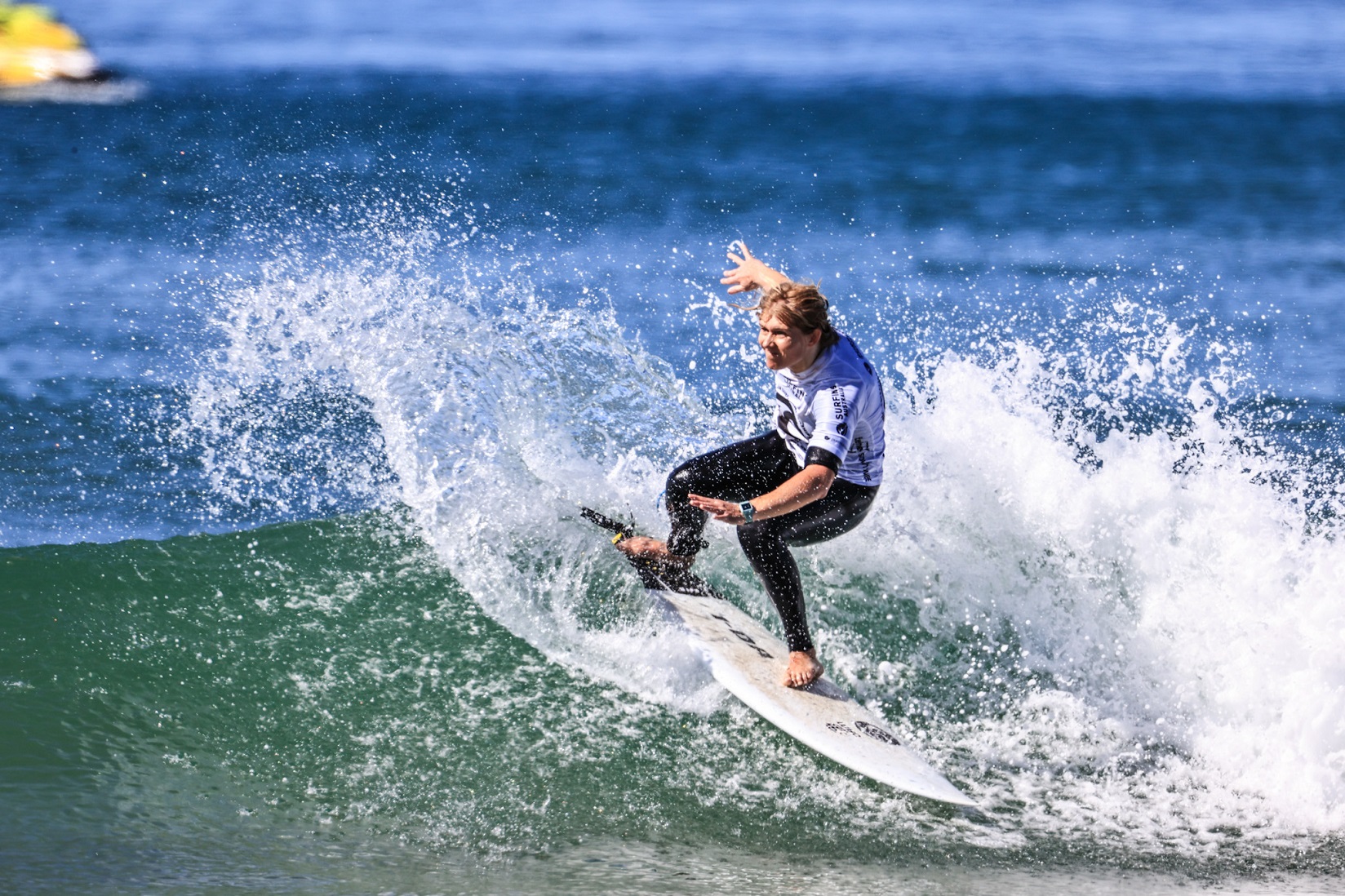 Freya Prumm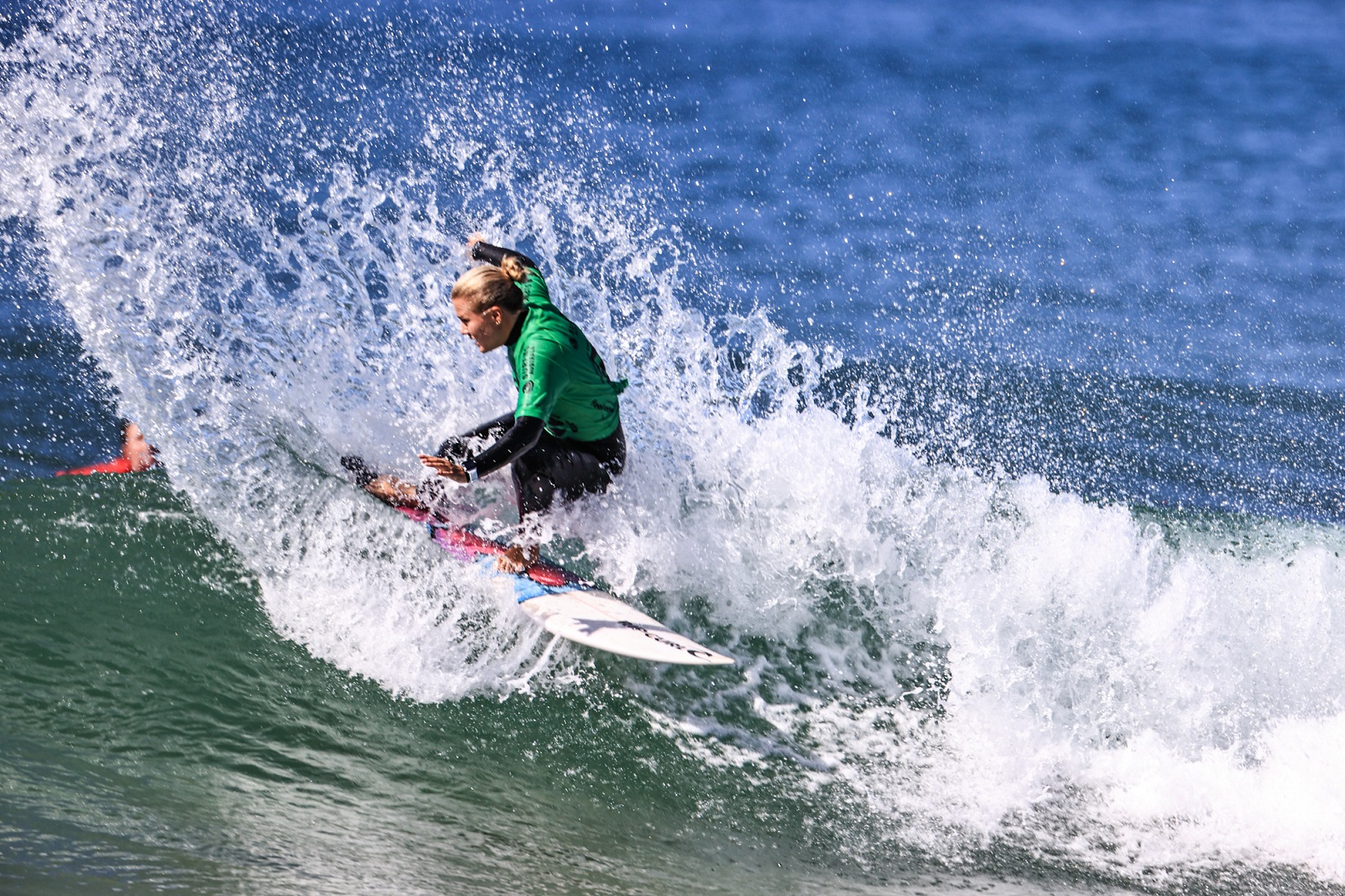 Tru Starling

Photos by Kurt Polock - Lighthouse Photography

Final Australian Shortboard Champions Crowned at North Haven Beach
August 10th, 2022
The 2022 Australian Surf Championships has concluded the Shortboard Titles today at North Haven Beach in the Port Macquarie region.
State hosts, Team NSW dominated the finals across the week, taking home seven of the 11 Australian Championship Titles. Despite this domination, it's Team WA and QLD who are arguably best prepared for the upcoming Longboard and Logger Titles starting tomorrow with a solid team across all divisions.
Conditions throughout the week moved from small to sizable 4-6 foot waves with offshore winds on offer for the finals of the Masters divisions.
NSW Far South Coast athletes enjoyed the chilly and familiar breakwall conditions at North Haven. Freya Prumm (Merimbula, NSW) and Matt Hoar (Dalmeny, NSW) represented the Sapphire Coast region and returned home with an Australian Title in the Open and Over 35's divisions, respectively. Both echoed each other about the impact the wins will have on their towns and the surf community to inspire people in the sport.
"This means so much because it shows the kids back home and the people from the south coast that it's possible to be a good surfer and be competitive at any level," said Hoar, who owns the Dalmeny Surf Academy.
Surfing Australia CEO Chris Mater commented how the Australian Surf Championships are the pinnacle of the surfing pathway in Australia.
"It's inspiring when competitors from our most regional areas and small towns get the win at the Australian Surf Championships," he said.
"It's what we're all about, and for the surfers it's about being able to represent your community on the national stage to show that geography isn't a barrier to being a great competitive surfer."
Team Victoria got a win on the board today when Gayle Main took out the Over 60's Women's final. In the two-heat, points-based system where first place to fourth put a score on the board, the Victorian surfer laid the foundation for success early with a seven-point ride and a heat win in the first.
Western Australia also got their first Australian Title today after Paul Dupuy impressed the judges with an excellent range eight-point ride in the Over 50 Men's Championship final.
To round out the Women's Masters surfing it was 1999 Open Women's Champion Sandra English (NSW) who claimed the Over 50's Women's Title. The Central Coast surfer is no stranger to competitive surfing finals and today brought her elite game to the table against Belinda Koorey (NSW), Samantha Vanderford (WA) and Kathy Cornish (NSW).
State Champion Rod Baldwin (NSW) earned the play of the day after scoring not only the highest wave of the day with a near-perfect 9.25, but the highest heat total as well (17.4) in the Over 55's final to take the crown.
After treating the Over 55's as the warmup he paddled straight back out for the Over 60's final where he continued to wow the judges. He took his second win in as many heats, earning back-to-back Australian Titles and proving age is no barrier for a competitive surfer.
2022 Australian Shortboard Surf Champions Results
Open Men - in full above
Reef Heazlewood (QLD)
Open Women - in full above
Freya Prumm (NSW)
Over 35 Men
1st Matt Hoar (NSW) 11.95
2nd Christo Hall-NSW 11.90
3rd Samba Mann-NSW 9.85
4th Lachy McDonald-VIC 9.65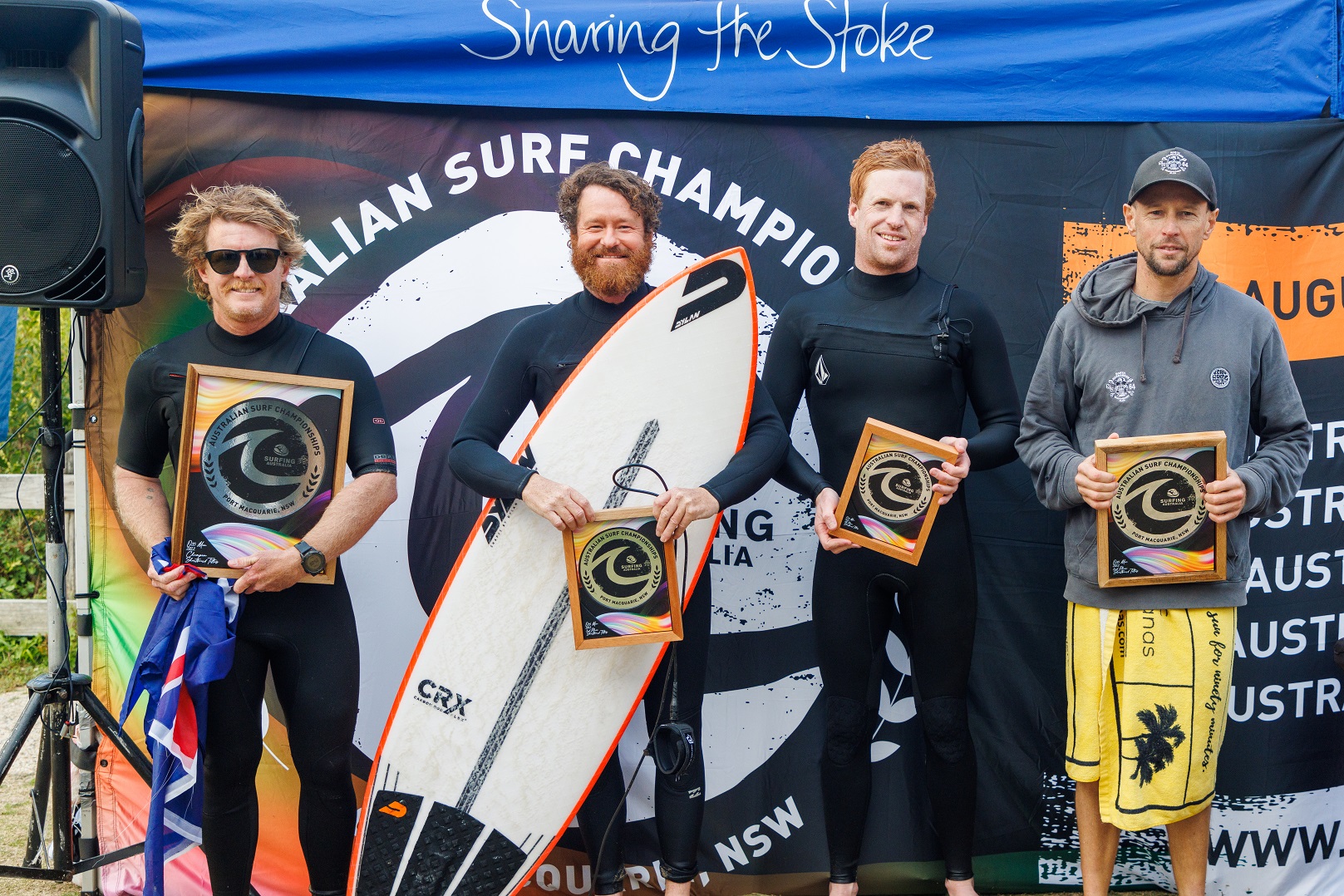 Over 35 Men

Over 35 Women
1st Lauren Poor (QLD) 14.15
2nd Amee Donohoe-NSW 9.70
3rd Melissa Bartz-NSW 9.10
4th Belinda Christine Koorey-NSW 6.85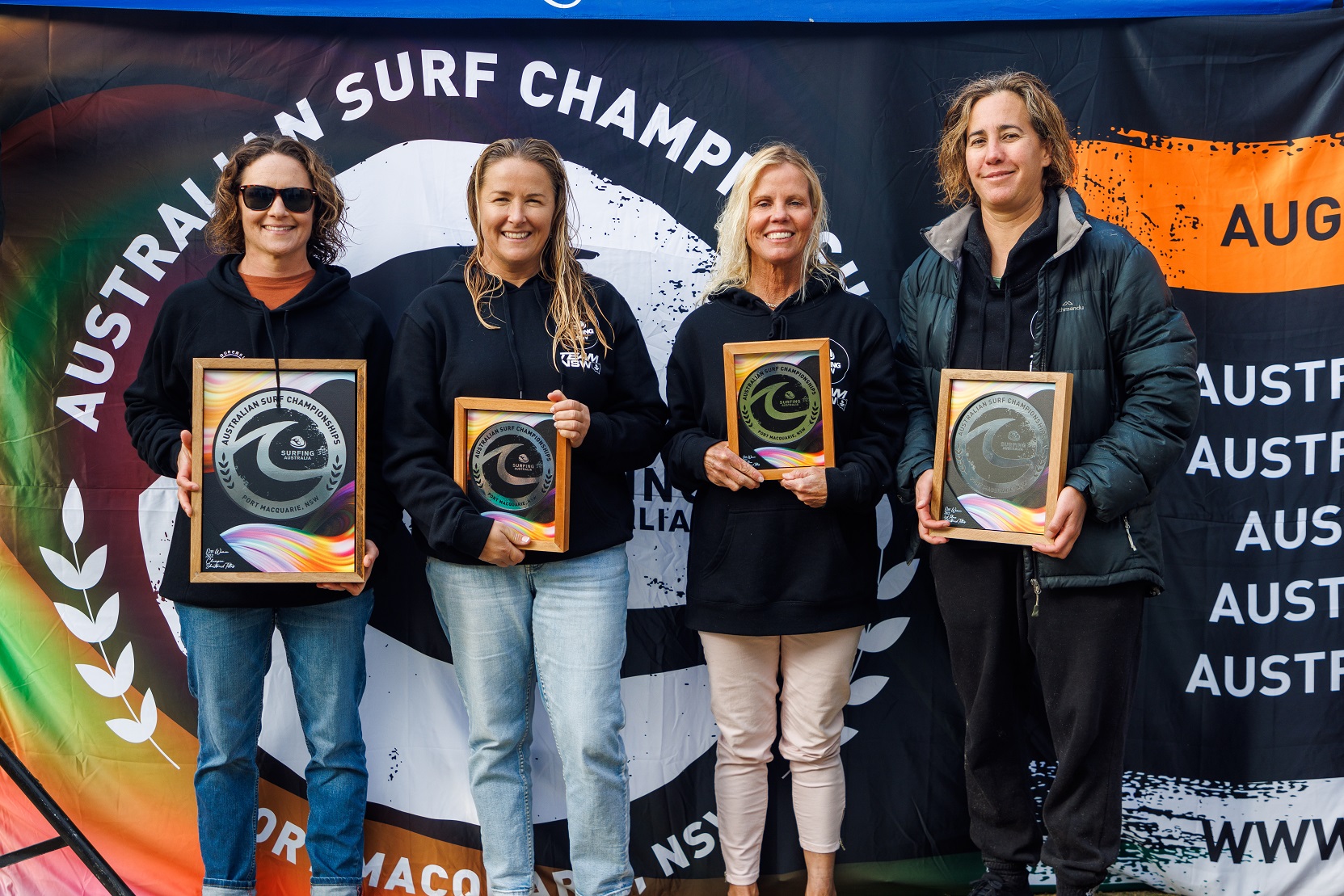 Over 35 Women

Over 40 Men
1st Christo Hall (NSW) 14.25
2nd Rodney Morgan-NSW 11.40
3rd Shane Conwell-NSW 10.55
4th Cameron Sharpe-NSW 6.85
Christo Hall

Over 45 Men
1st Paul Snow (NSW) 12.45
2nd Troy Dowker-QLD 11.65
3rd Shane Bevan-QLD 11.40
4th Dan Digman-NSW 8.90
Over 50 Men
1st Paul Dupuy (WA) 14.25
2nd Glen Valaire-NSW 12.00
3rd Ian Spencer-NSW 10.20
4th Christian Lock-SA 6.70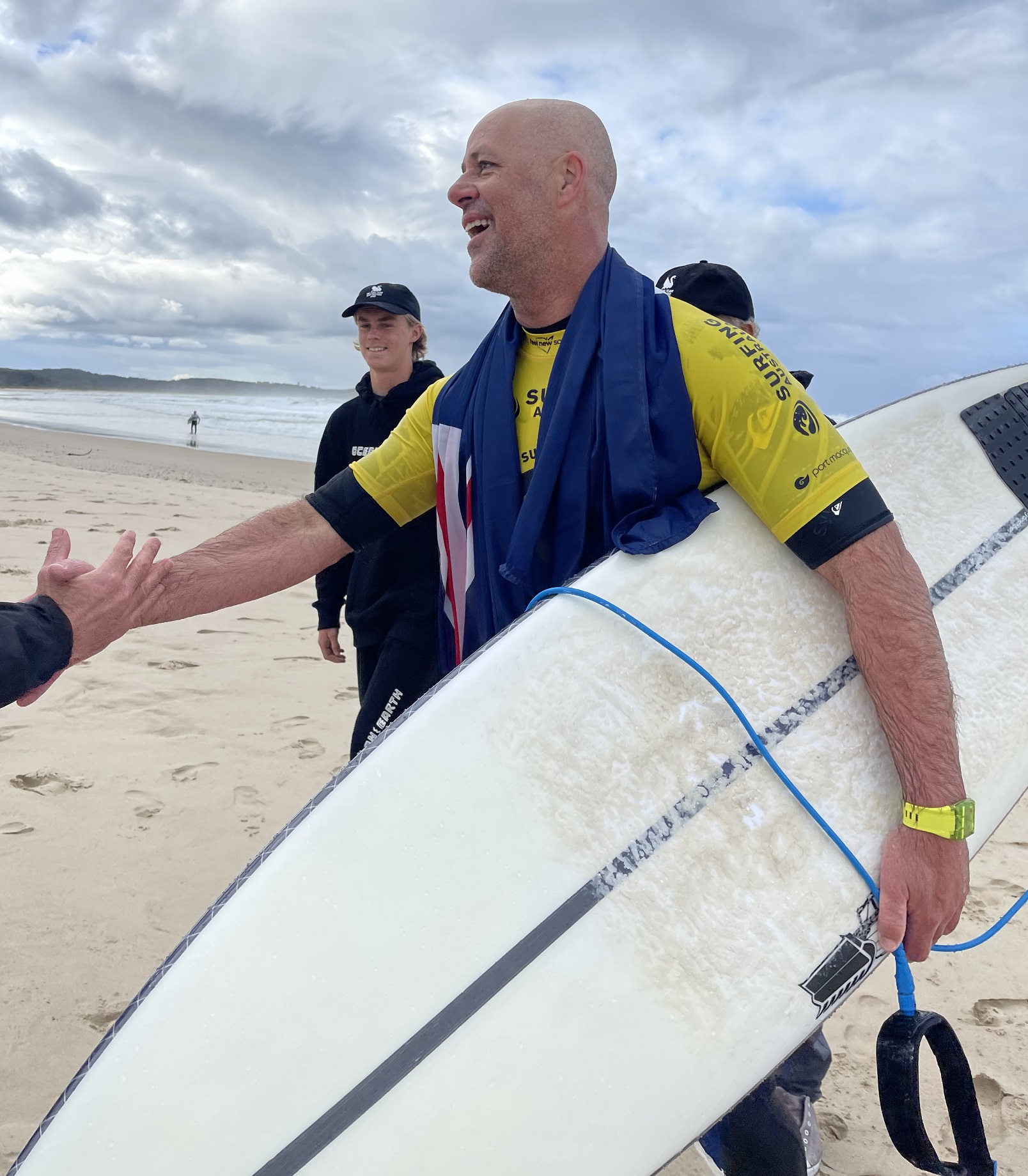 Paul Dupuy

Over 50 Women
1st Sandra English (NSW) 12.50
2nd Belinda Koorey-NSW 11.65
3rd Samantha Vanderford-WA 8.65
4th Kathy Cornish-NSW 4.35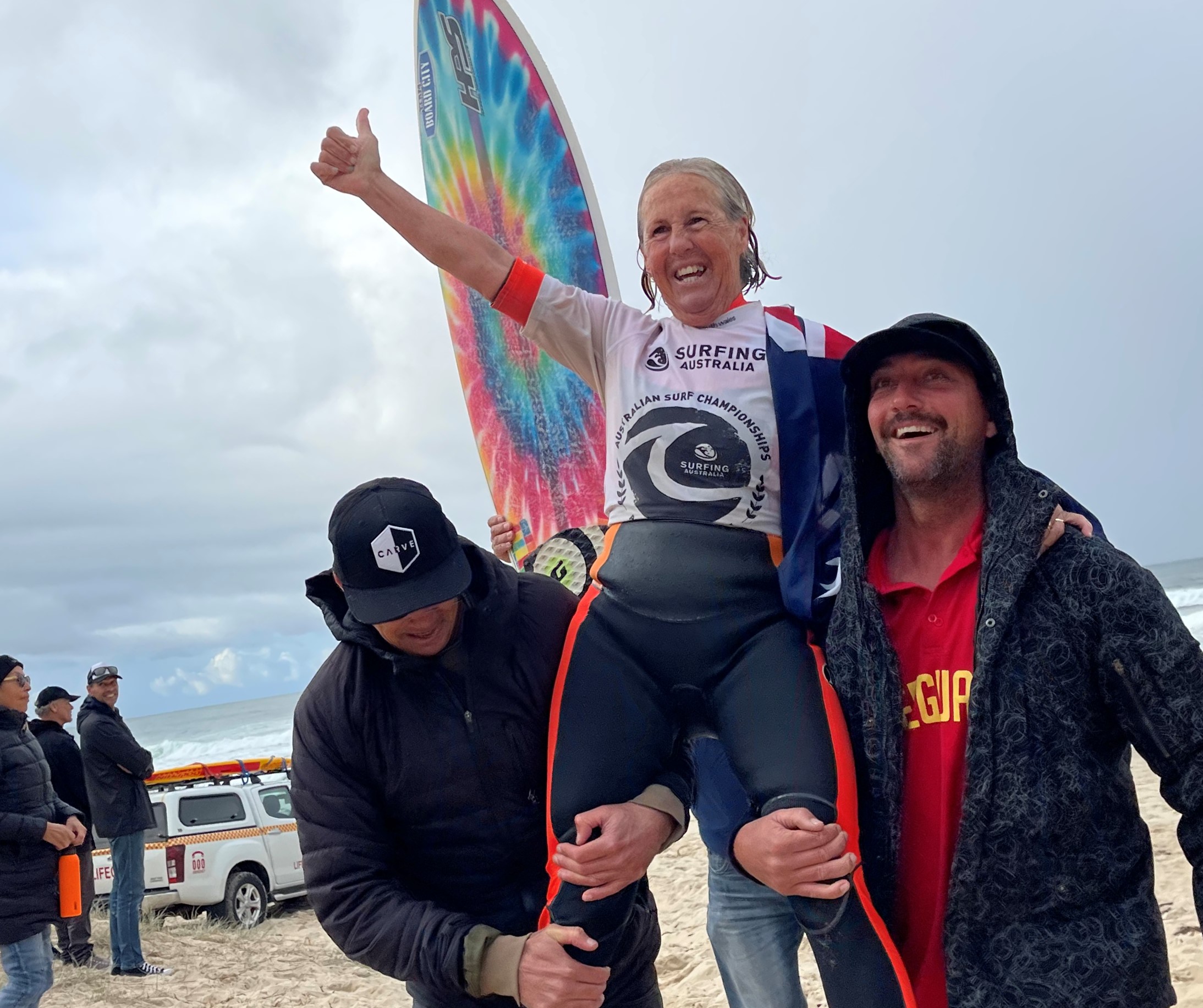 Sandra English

Over 55 Men
1st Rod Baldwin (NSW) 17.40
2nd Terry Landsberg-QLD 13.75
3rd Brad Cowan-WA 10.10
4th Glen Valaire-NSW 9.85
Over 60 Men
1st Rod Baldwin (NSW) 14.65
2nd Dean Shaw-NSW 8.25
3rd Jack Gallacher-NSW 7.25
4th Bruce Dunne-QLD 6.15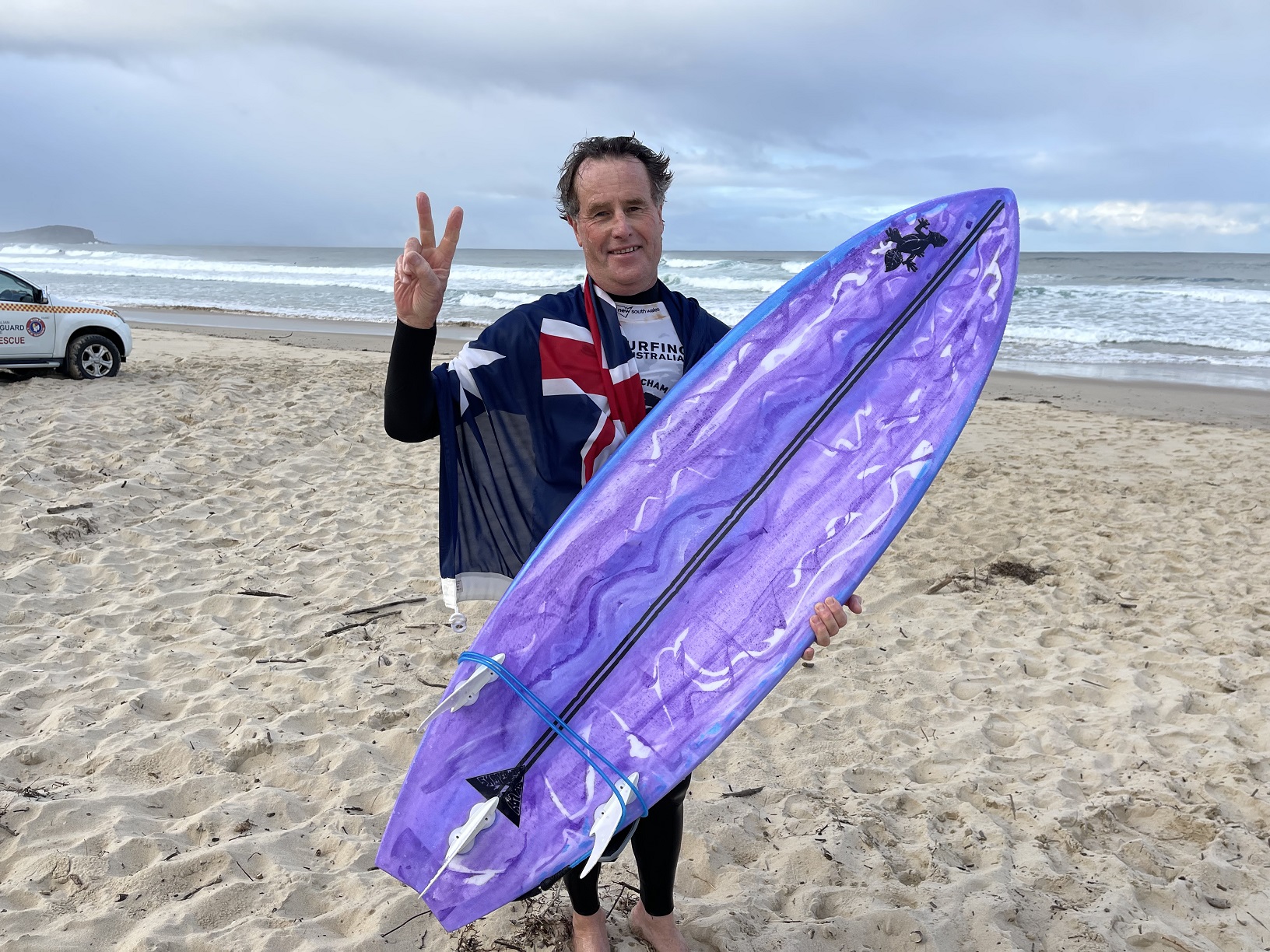 Rod Baldwin

Over 60 Women
1st Gayle Mayne (VIC) 14.75
2nd Leith Goebel-QLD 7.90
3rd Gayle Main-VIC 3.55
4th Cheryl Buck-SA 2.60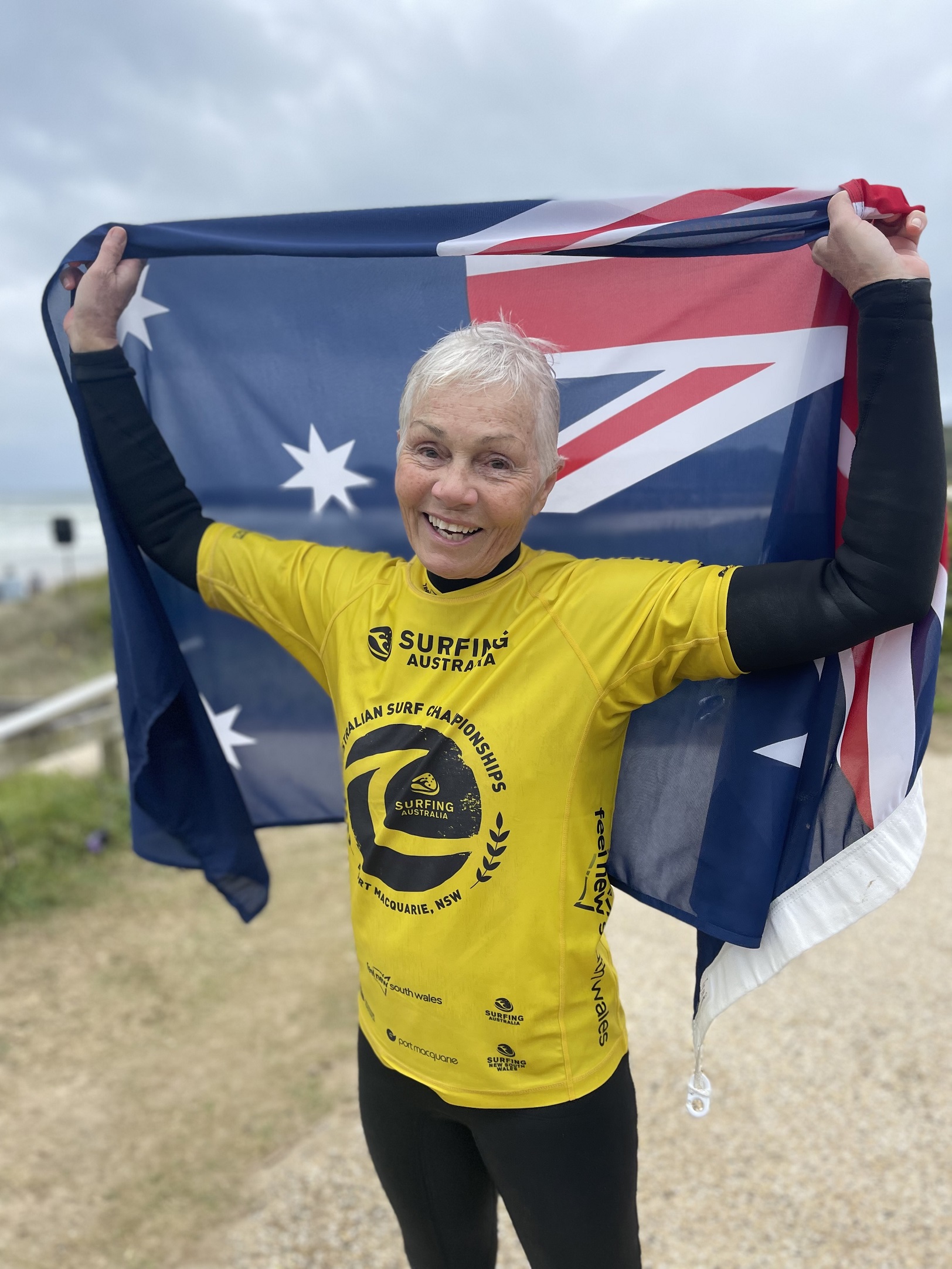 Gayle Mayne

The 2022 Australian Longboard and Logger Championships begin run from 11-19 August in Port Macquarie. To view heat draws for Australian Longboard and Logger Championships and for all event information visit www.australiansurfchampionships.com.
Surfing Australia is working in conjunction with Surfing NSW to bring the 2022 Australian Surfing Championships to wave-rich Port Macquarie to crown the newest Australian Shortboard Champions.
four Australian Open Longboard & Logger Champions Crowned
August 12th, 2022
The Australian Surf Championships continue today with the Australian Longboard and Logger Titles being held between 11-19 August alongside the Shortboard, Para Surfing and Bodyboard Titles.
Melanie Staunton (NSW) and Declan Wyton (NSW) took out the Open Longboard Titles whilst Kirra Molnar (QLD) and Ben Considine (VIC) were the champions of the traditional Logger Titles.
The second event of the Australian Surf Championships kicked off yesterday with a big southerly swell that tested the surfers. There was sufficient protection thanks to the North Haven breakwall and surfers were able to find workable sections to impress the judges within their 25-minute heats.
Declan Wyton (NSW) and defending champion Clinton Guest (QLD) were clear standouts in the Open Men's Longboard and Logger opening rounds. Wyton, who has just returned from the second World Longboard Tour event in California, scored a near-perfect heat total in Longboard round three with two nine-point rides. Meanwhile, Guest continued to impress in his heats across two days.
The rivalry between the pair fuelled the anticipation of the Longboard finals as they went wave-for-wave from buzzer to buzzer. However, it was Wyton who got the edge with a high scoring eight and then held strong to combo the field and take the win, bringing Guest's reign to an end.
The Open Men's Logger was like ground-hog day for the pair, this time with Evan Ledger (WA) and Ben Considine (VIC) in the mix. It was the Victorian who took the upset of the day after taking the lead and a double-crown from Wyton with a pair of six-point rides.
Considine (25) from the Victorian Surf Coast is now a three-time Australian Champion and said the feeling was still the same. "I'm so stoked to win with such tough competition. I wanted to stay busy in the final to keep Declan at bay because he had a number of 9's throughout the event. He's such a well balanced surfer and is always difficult to beat. I started with a six and continued to build the house from there. I ended up getting the wave I needed to clinch the crown."
In the Open Women's Logger, 19-year-old Bea Conroy (VIC) set the level high from the get-go with the highest heat total for the women across both divisions after being awarded an 8.25 for an excellent wave.
In the finals, Conroy held the lead until the final five minutes when Kirra Molnar (QLD) dug deep to find a nine-point ride - an excellent range score and all she needed to seal her first Australian Title.
Conroy had 25 minutes between finals as she then turned her hand to the longboard. The Open Women's Longboard final saw Lucy Small (WA) collect a pair of five-point-rides early to put her in the lead. A solid seven by Melanie Staunton (NSW) posed the first threat to the Western Australian before a late 6.8 sent Bea Conroy like a bullet from third to first with just two minutes remaining.
Looking likely to take out her second win on the day, Staunton then spoiled the party with a last minute move. It was the 4.5 score that would earn her the 2022 Australian Longboard Title.
At just 17-years-old, Staunton from Ulladulla on the NSW south coast was stoked to win.
"I was a little bit nervous with the wind coming up but the rain settled it down," she said.
"I knew where to sit and where the waves were so it was about getting the right waves and surfing. It was unreal. I was in third and a wave came through. I'm so happy. This is my first Australian Title, it's such a surreal experience, it's amazing."
Open Results
WOMEN'S OPEN LOGGER
1st Kirra Molnar (QLD)
2nd Bea Conroy (VIC)
3rd Chelsea Tingle (NSW)
4th Layla Deighton (NSW)
WOMEN'S OPEN LONGBOARD
1st Melanie Staunton (NSW)
Tied 2nd Bea Conroy (VIC) on 11.25
Tied 2nd Lucy Small (WA)
4th Sasha Jane-Lowerson (WA)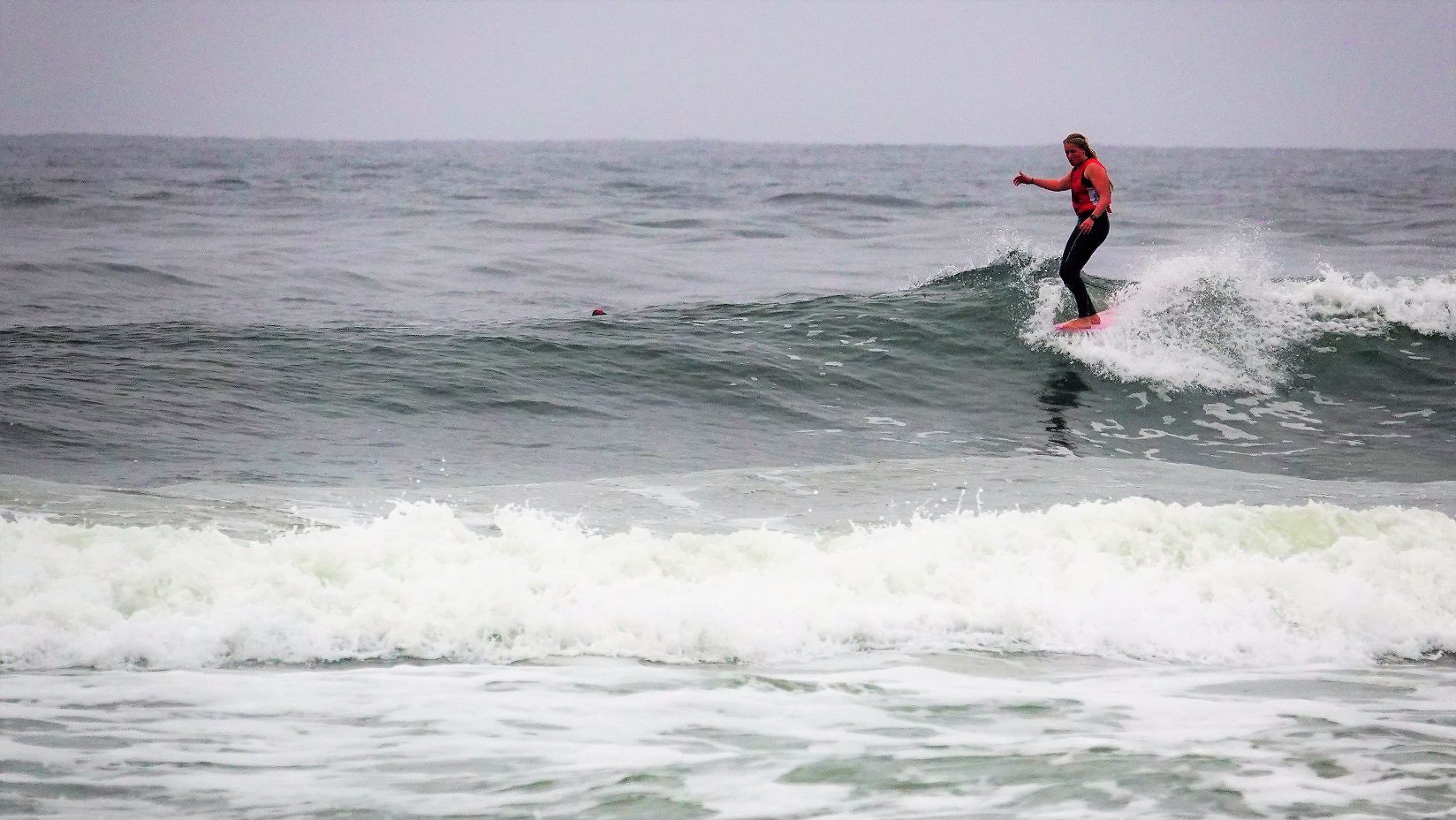 Melanie Staunton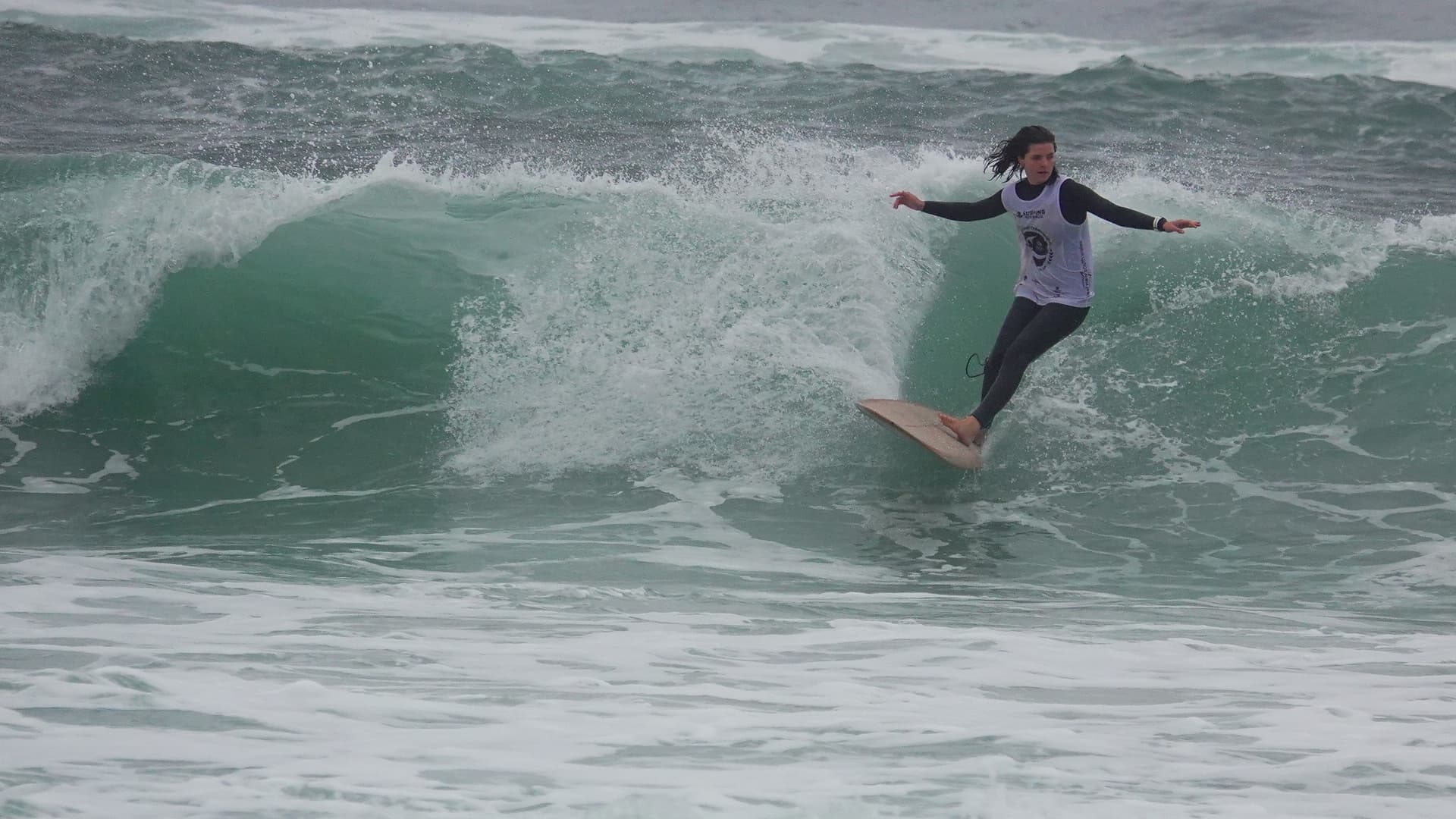 Lucy Small

MEN'S OPEN LOGGER
1st Ben Considine (VIC)
2nd Declan Wyton (NSW)
3rd Evan Ledger (WA)
4th Clinton Guest (QLD)
MEN'S OPEN LONGBOARD
1st Declan Wyton (NSW)
2nd Tasman Dunton (VIC)
3rd William Crowe (NSW)
4th Clinton Guest (QLD)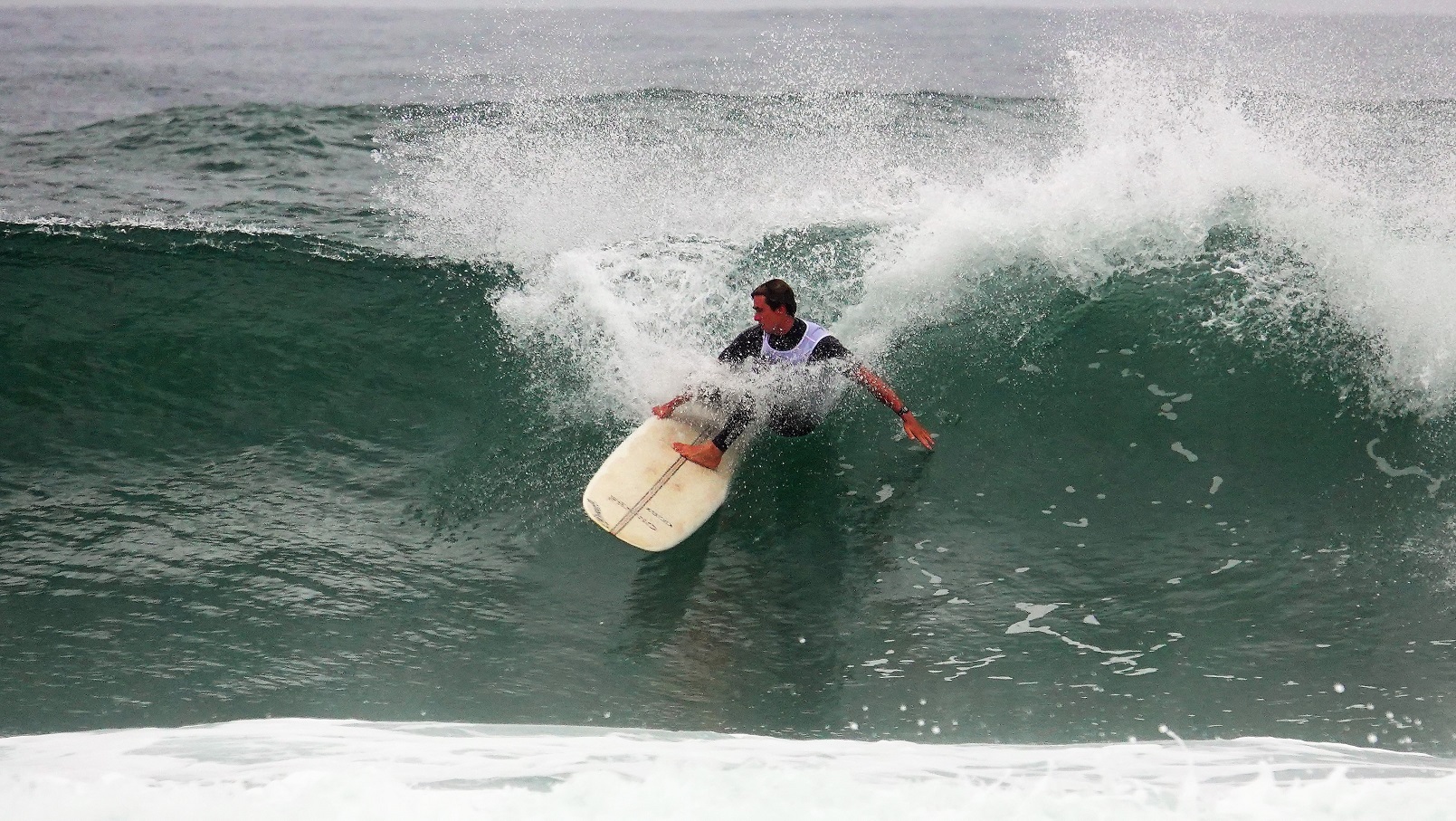 Declan Wyton

The Longboard and Logger Titles continue tomorrow with the Under 18 Men's and Women's divisions that will conclude on Sunday, as well as the opening rounds of the Masters divisions to conclude next week.
Longboard and Logger Titles Schedule
13-14 August: Longboard and Logger Under 18 (presentation on Sunday), Over 40, Over 45, Over 50, Over 55, Over 60, Over 65, Over 70
15-19 August: Longboard and Logger Over 40, Over 45, Over 50, Over 55, Over 60, Over 65, Over 70 (presentation after each final)
What's the difference between the Logger and Longboard Titles?
The Logger divisions are a homage to traditional surfing from the '60s and '70s where more traditional manoeuvres performed with a continual motion, style and grace with emphasis on creativity are scored highly. Boards used in the Logger divisions have specific requirements including a single fin and traditional board measurements around shape and design.
Longboard divisions have a greater judging emphasis on performance, expression and progression. Surfers are scored on their ability to be dynamic with manoeuvre in the most critical parts of the wave while combining speed, power and flow. The boards in the Longboard divisions are a multi-fin setup.
Longboard Divisions for Men and Women include:
Open
Under 18
Over 40
Over 45 (men only)
Over 50
Over 55 (men only)
Over 60
Over 65 (men only)
Over 70
Logger Divisions for Men and Women:
Open
Under 18
Over 40 (men only)
Photos by Gary McEvoy

TEAM NSW
TEAM NSW MANAGERS
Shortboards – Corey Ross, Michael Crisp, Rohan Fell
Longboard – Tim Reilly
Bodyboard – Scott Mace
SHORTBOARD
Open Men: Nic Squires, Josh Levey, Micah Margieson, Eden Hasson, Oli Ryssenbeek, Darcy Crump, Shane Holmes, Tye Koolis, Kayle Enfield, Charli Hurst, Freya Prumm, Jesse Starling, Tru Starling, Imojen Enfield, Amelie Bourke
O35: Jeremy Cohen, Christo Hall, Nick Cowan, Joel Gribble, Matt Hoar, Declan Lee Smith, Peter Hayes, Mel Bartz, Amee Donohoe
O40: Christo Hall, Rodney Morgan, Randall Sharpe, Jeremy Cohen, Damien Wills, Shane Conwell, Declan Lee Smith
O45: Rob Hazelwood, Paul Snow, Dan Dignam, Matt Hardy, Cameron Sharpe, Kieran White, Wade Lazich
O50: Glen Valaire, Scott Myers, Wade Lazich, Schott Schindler, Gary James, Belinda Koorey, Sandra English
O55: Rod Baldwin, Glen Valaire
O60: Rod Baldwin, Dean Shwa, Jack Gallacher, Mark Gobbe, Julia Magliano
LONGBOARD
U18: Caelan Pitkeathly, Cooper Kelaher, Melanie Staunton, Jasmin Howarth, Chelsea Tingle, Layla Deighton
Open: William Crowe, Ceclan Wyton, Braden O'Rourke, Mitch Conwell, Mel Straunton, Jasmin Howarth, Blaze Roberts, Juliana Scopel
O40: Wendy Stevenson, Juliana Scopel, Tati Guedes, Dan Rowlands, Shane Baker, James Arichibald, Kieran Plim
O45: Jason Livingston, Simon Cox, Jay Carter, Troy Moorhouse, Mal McKay
O55: Tim Reilly, Richard Smith, Neale Ashby, John Fraser, Renne Kocis, Simon Cox, Mike Pimm
O60: John Fraser, Craig Jones, Mike Pimm, Jay Carter, Tim Reilly, Neil Frederiksen, Geroge Watt, Renne Kocis, Andrea Bohm
O65: Neil Frederiksen, Storm Carter, John Murray
O70: Greig Bedggood, Earle Page, Jeff Livermore
LOGGER
OPEN: Tom Bennett, Harrison Steward, Caelan Pitkealthy, Mitch Conwell, Tyson Letts, Michael Finlayson, Chelsea Tingle, Layla Deighton
O40: Kieran Plim, John Fraser, Neal Ashby, Shane Baker, Tati Guedes, Juliana Scopel
Junior: Caelan Pitkeathly, Cooper Kelaher, Chelsea Tingle, Layla Deighton
BODYBOARD
Open: Jimmy Leayr, Ryan Hill-Smith, Anthony Miller, Lloyd Odgen, Holden Stubbs, Billy Vercoe, John Cruickshank, Hayden Cruikshank, Josh Kirkman, Kaylah Pisani
U18: Jordan Waights, Harrison Podvinec, Ryan Hill-Smith
U16: Marlon Riley, Anthony Miller, Ryley Holie
U14: Sunny Williams, Archie Williams, Ollie Williams, Archer Thoms
O35: Nathian Davis, Shane Chalker, Paul Klasssen, Marc Abbott
45: Shane Chalker, Matt Riley
Dropknee: Ryan Duck, Jimmy Leayr, scott Kitchen, Mitchell Brown, Azza Glossop, John Cruickshank